Fall Kitchen & Vintage Ashtray Display
I love my kitchen as much today as I did when we renovated 11 years ago. I always have fun decorating this blank slate and adding fun seasonal touches. For fall, I added an assortment of vintage finds that add so much personality. I am so excited to share my colorful vintage ashtray display. Pull up a seat in my fall kitchen and I'll slice you a piece of warm caramel crumble.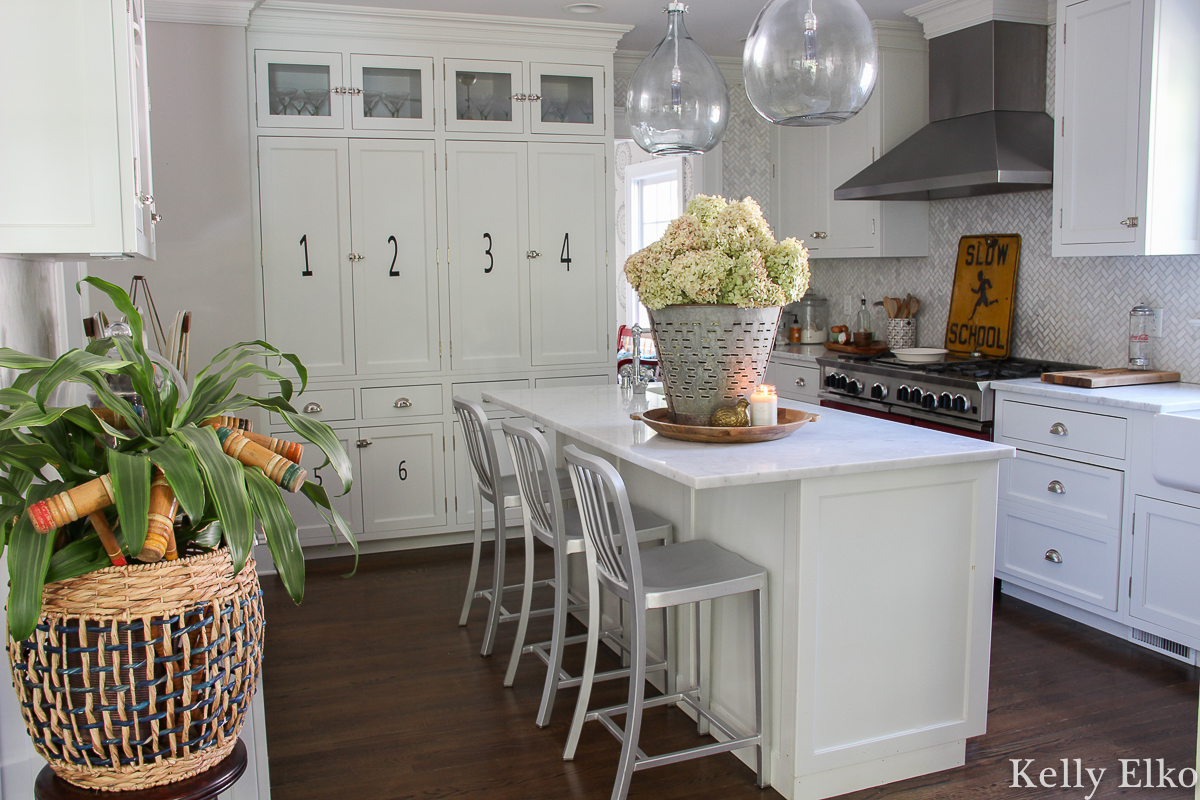 It's funny, I love to constantly change things in my house and love moving stuff around but I have not changed one thing in 10 years in my kitchen. I prefer my accessories (and the food!) to be the star of the show. I have a thing for oversized lighting and this pair of demijohn lights are so dramatic while not taking up a ton of visual space.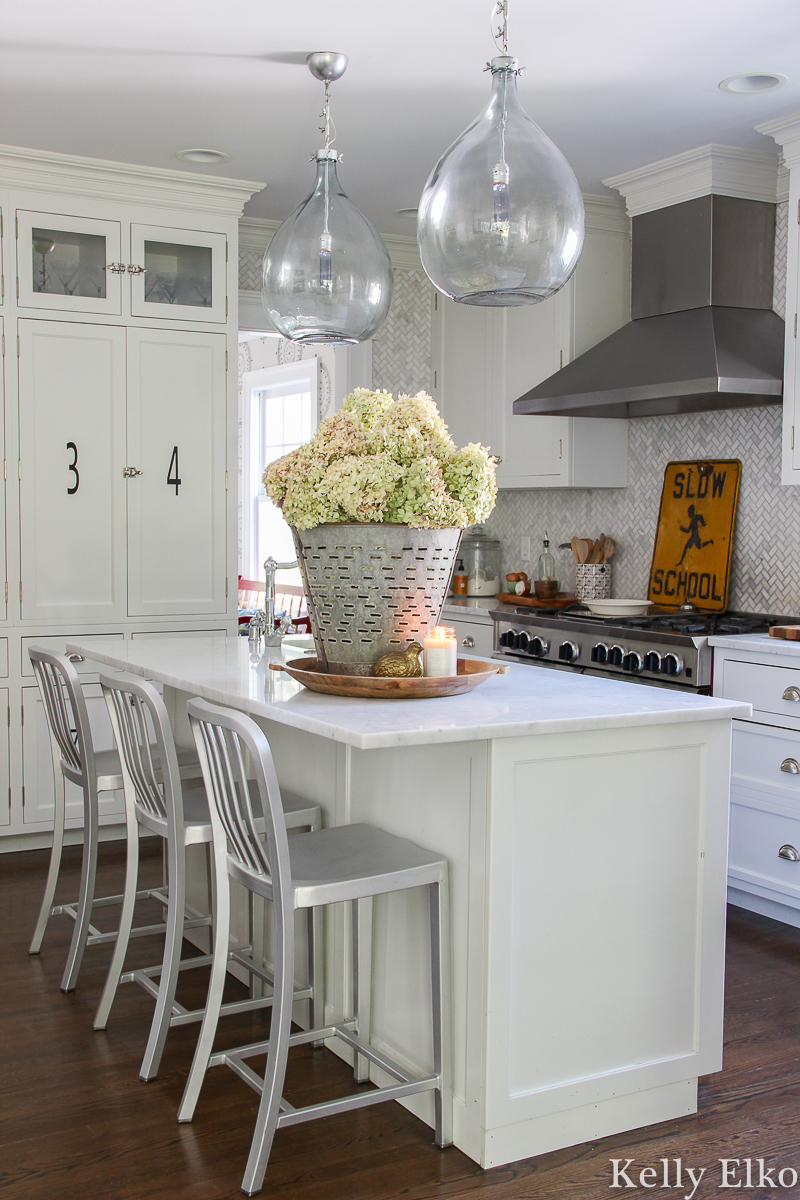 Instead of a bunch of little things cluttering up the counter, I chose to go simple with a big bunch of dried hydrangeas from my garden in an old zinc bucket on this huge tray (I love the shape of the handles!) that does double duty as a charcuterie board.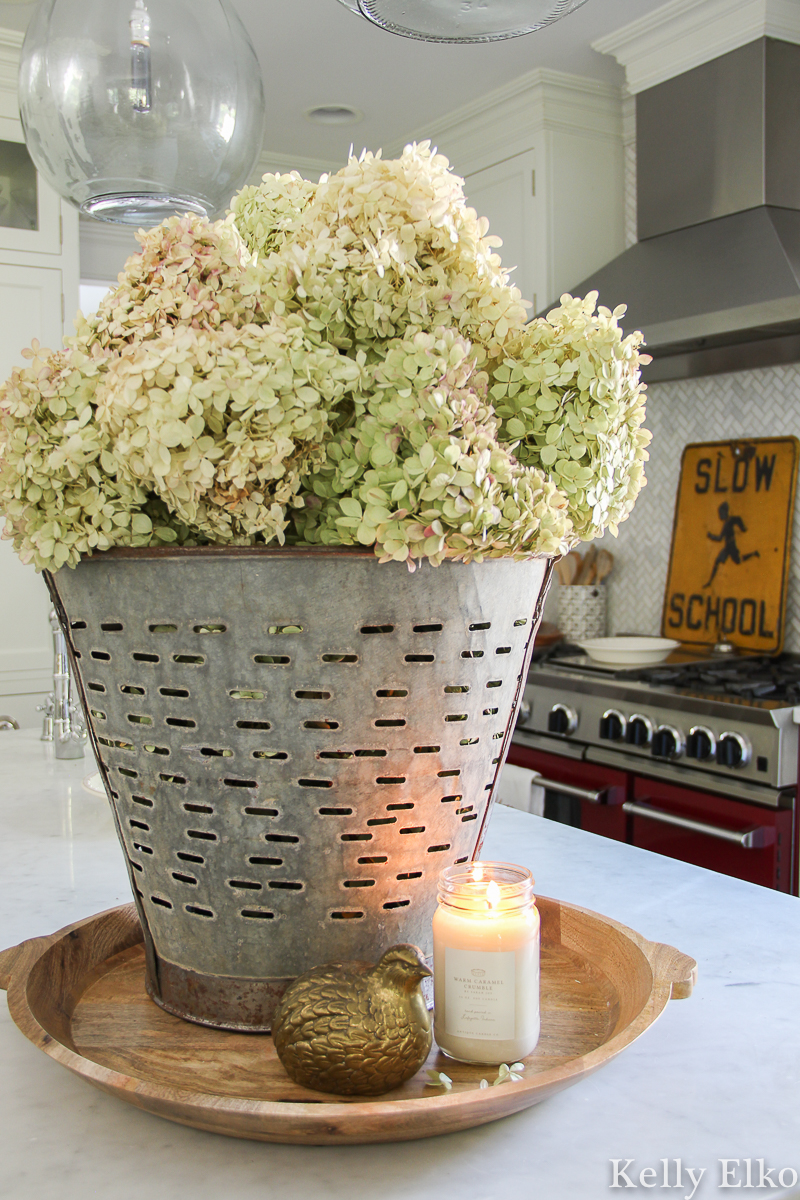 My pot heads haven't had a haircut since the start of the pandemic and they like to silently judge me when I eat too many sweets!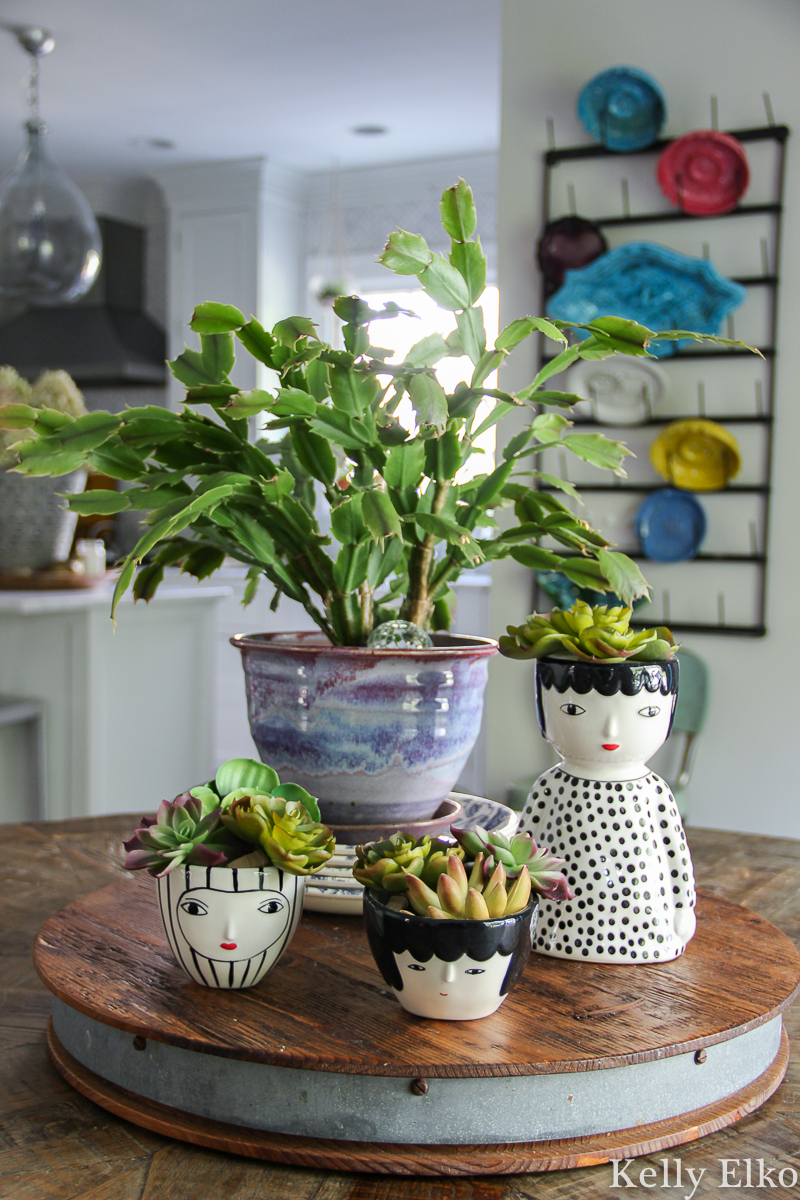 I have used my bottle drying rack to display everything from plates, to mason jars filled with flowers, to my Rae Dunn mug collection to holiday decor and more but I am really loving the way my vintage ashtray collection looks here.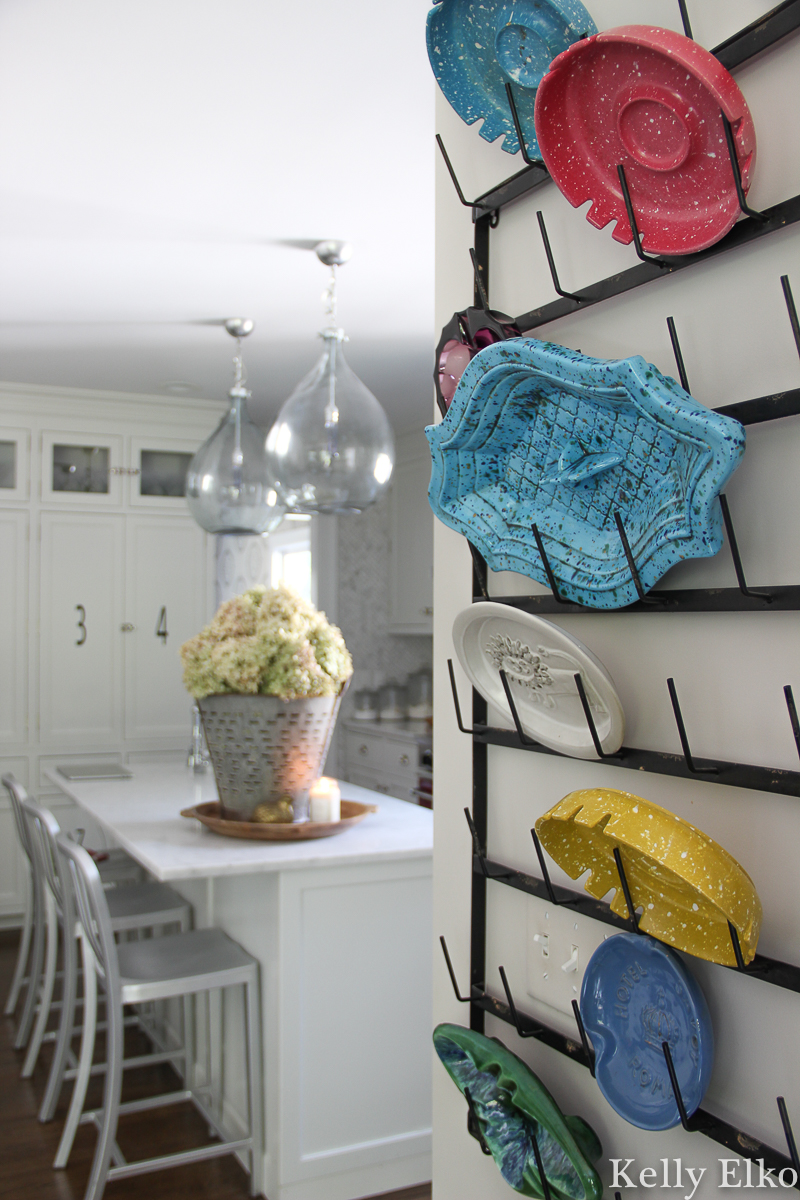 One of my all time favorite deals was this old blue stepping stool that I scored for $1 on the last day of an estate sale right before the sellers tossed it into a dumpster.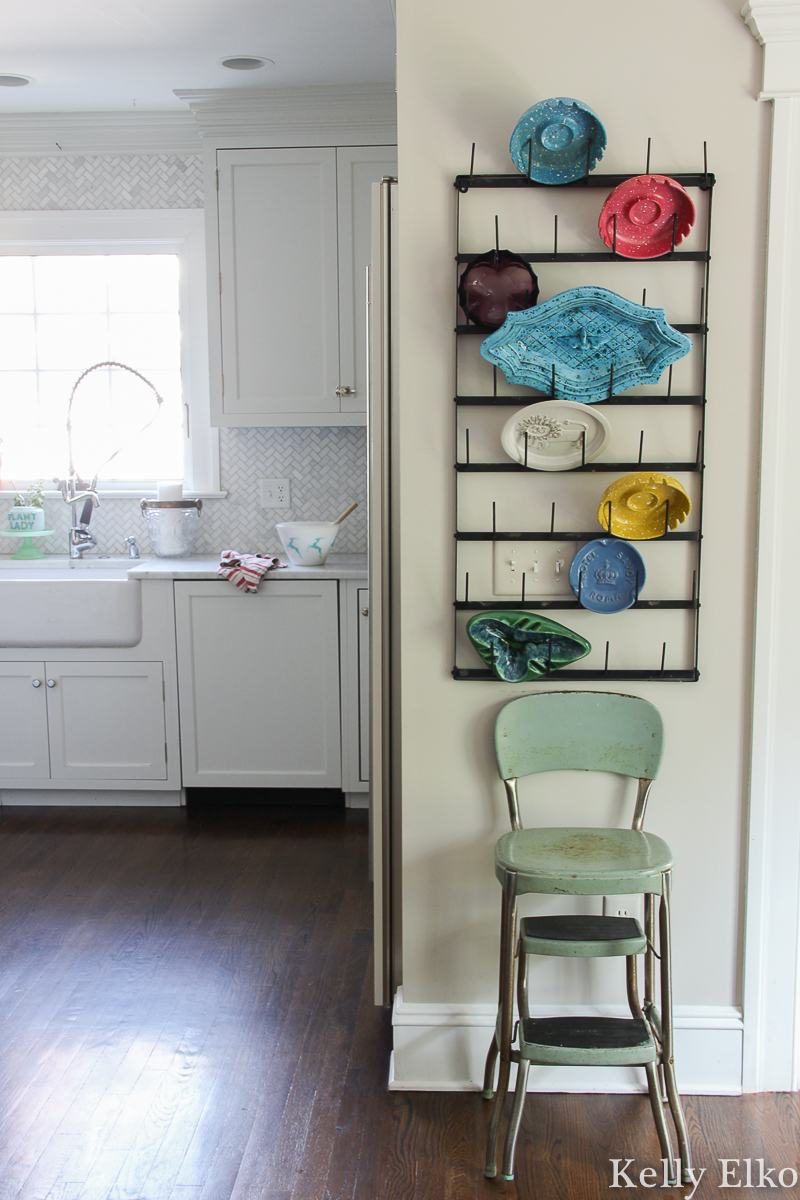 My girls are back at their colleges so it's just my hubby, Sushi and me and the endless amount of meals we have to cook!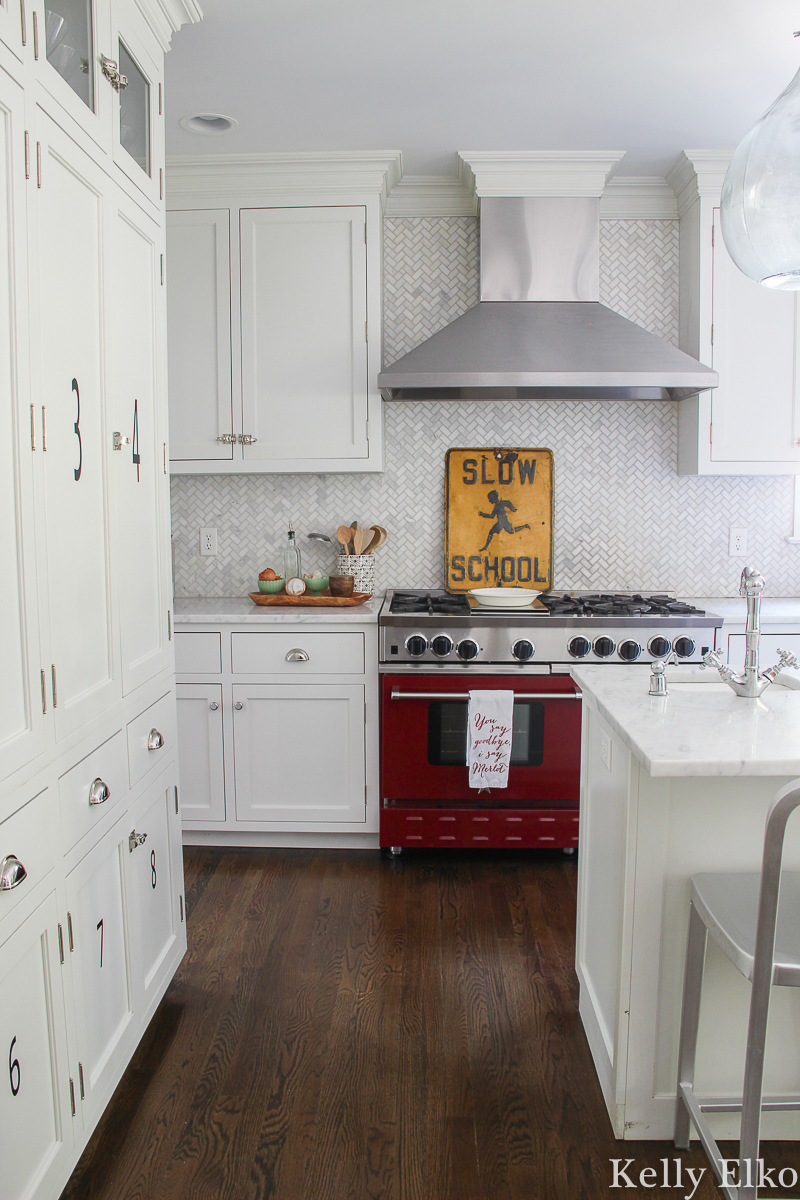 I can't resist an old metal sign especially one with this really cool graphic.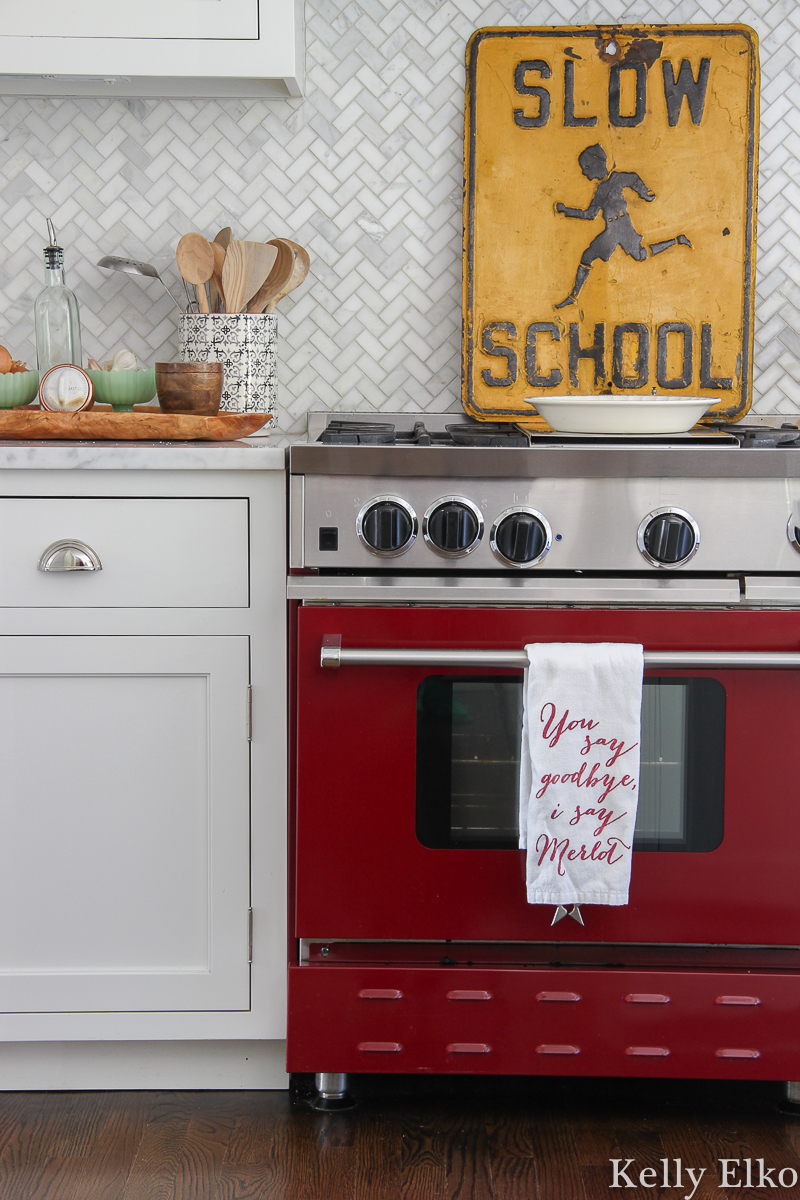 I made sure to add in some open shelves when we renovated the kitchen but not too much. I know myself and realize that I need closed storage to hide all the clutter!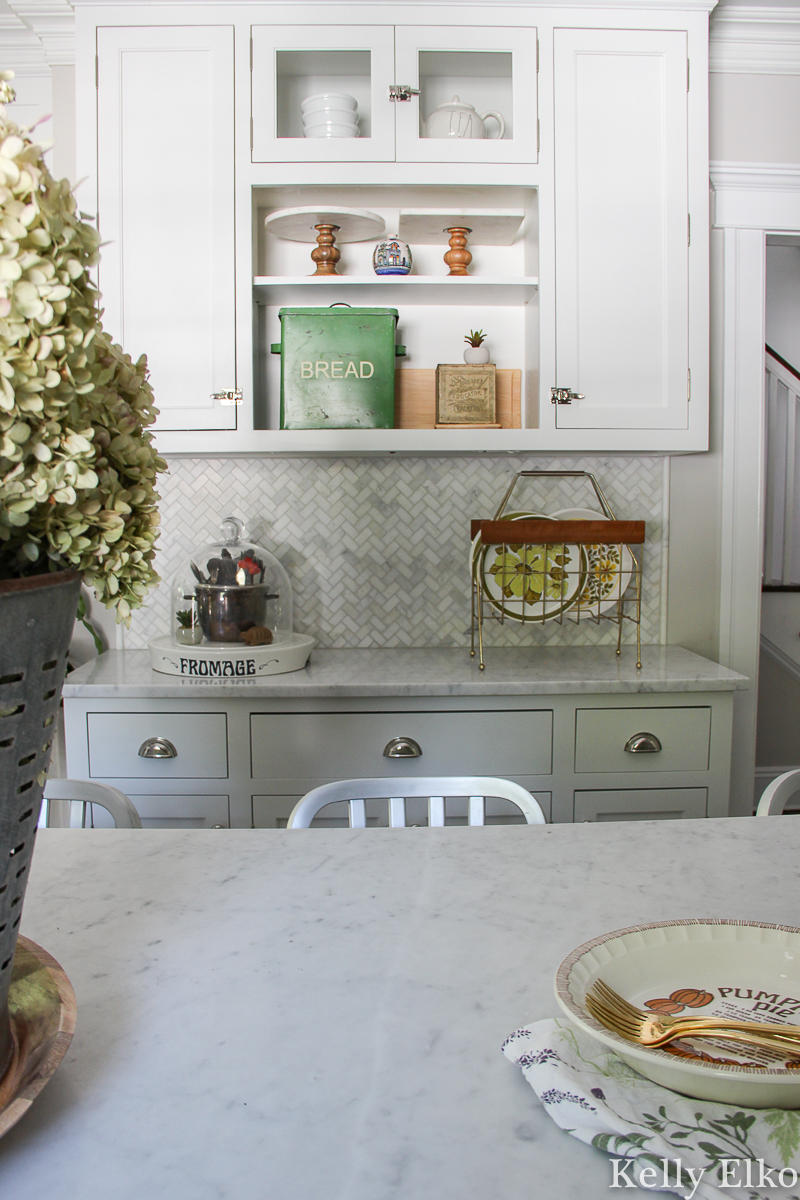 I love using things in unexpected ways like this mid century magazine rack turned plate rack. It was sitting naked and afraid it in my basement with the $3 thrift store price tag still attached. Avocado colored plates bring back memories of an oven of the same color we had when I was a kid.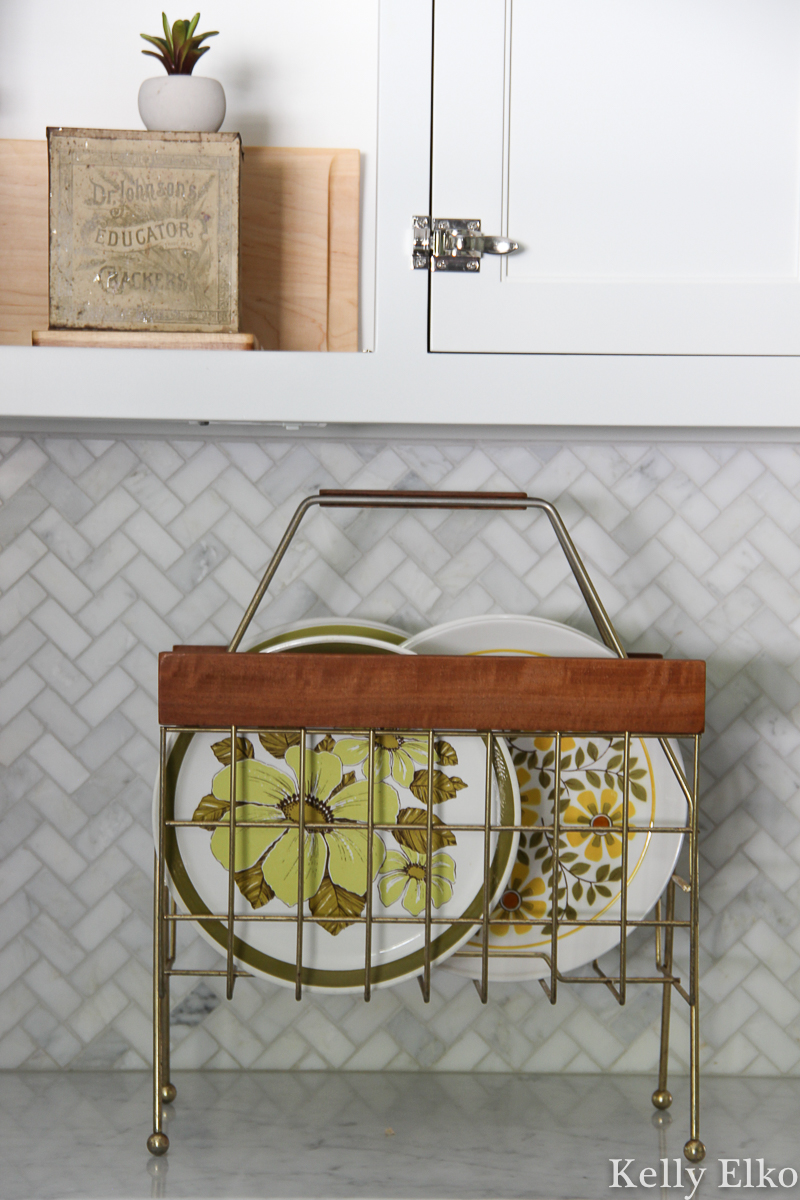 If you like it, then you better stick it in a plant and vintage croquet mallets add color and interest.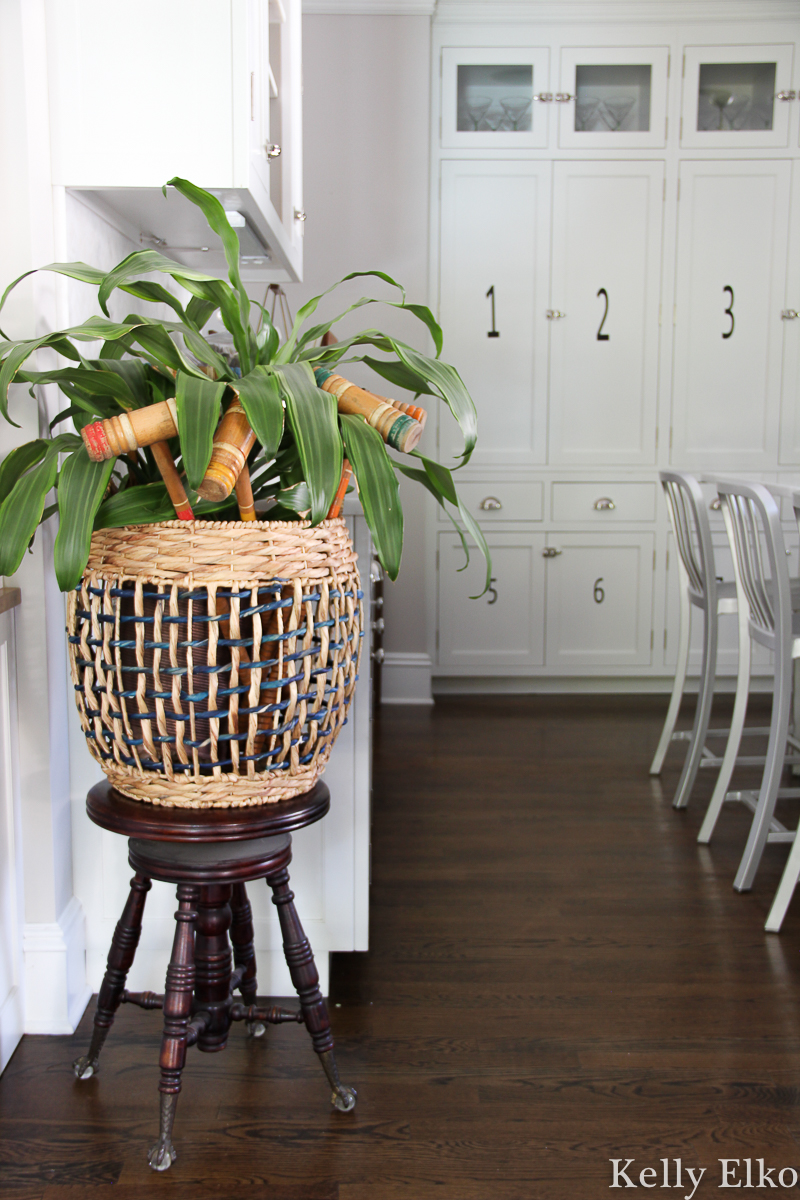 Someone was giving away this old piano stool and in my excitement to photograph it, I didn't notice the disgusting layer of dust on it! Let's avert our eyes from that and instead focus on the brass clawfoot feet clutching glass marbles.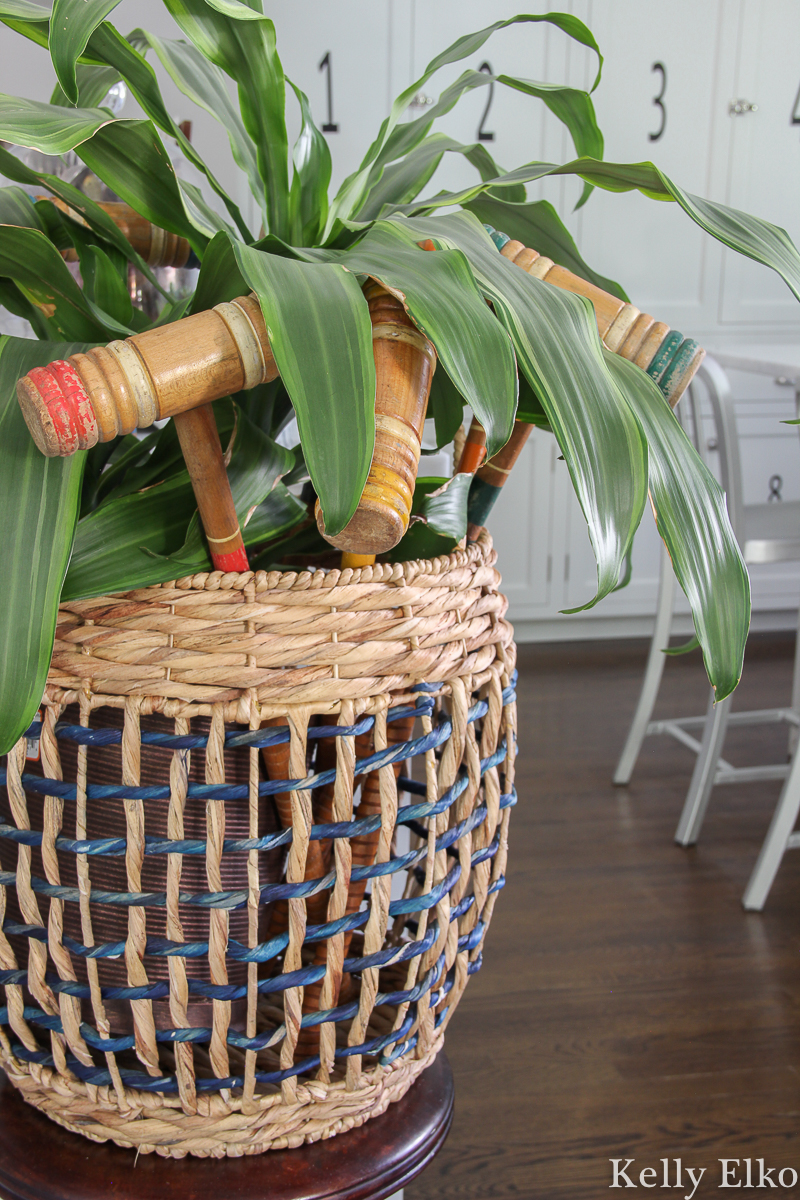 My freezer has been on the fritz for a long time so it's time to get a new fridge. Unfortunately, built in refrigerators are now a bit taller than they were when we bought ours! That means we need to have a woodworker pull out the cabinet above the fridge and make a new one. I'm not looking forward to that but I am excited to have a freezer that doesn't have to be defrosted every few weeks because mama needs ice for her cocktails!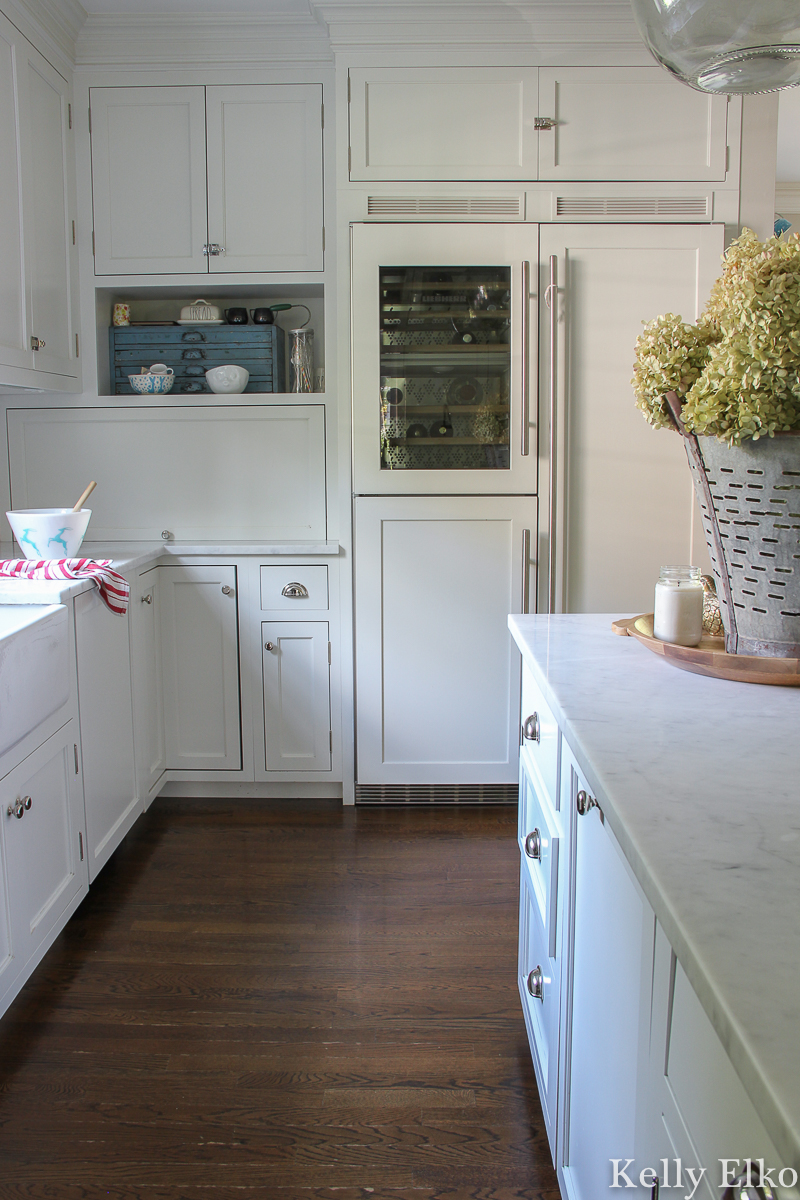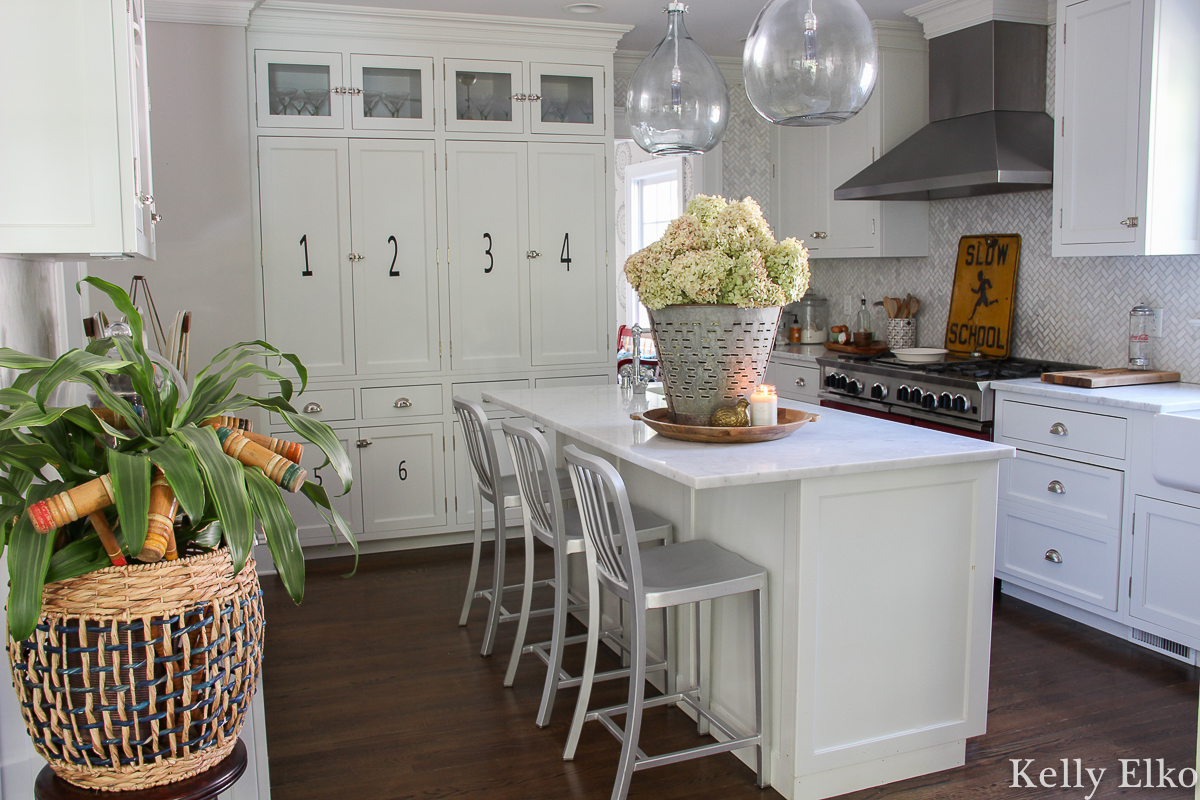 I hope you're enjoying all things fall.
Want more Fall Decorating Ideas? Don't miss …
and