All in All It's Just Another Basket on the Wall – Basket Gallery Wall Tips
I never met a gallery wall I didn't love but gallery walls don't have to be limited to paintings and photographs. I love unique art and thinking outside the box on what to hang on a wall. It's all about texture and pattern and baskets offer both so I created a really cool boho basket wall. I'm sharing my basket gallery wall tips to help you create your own unique, eclectic look.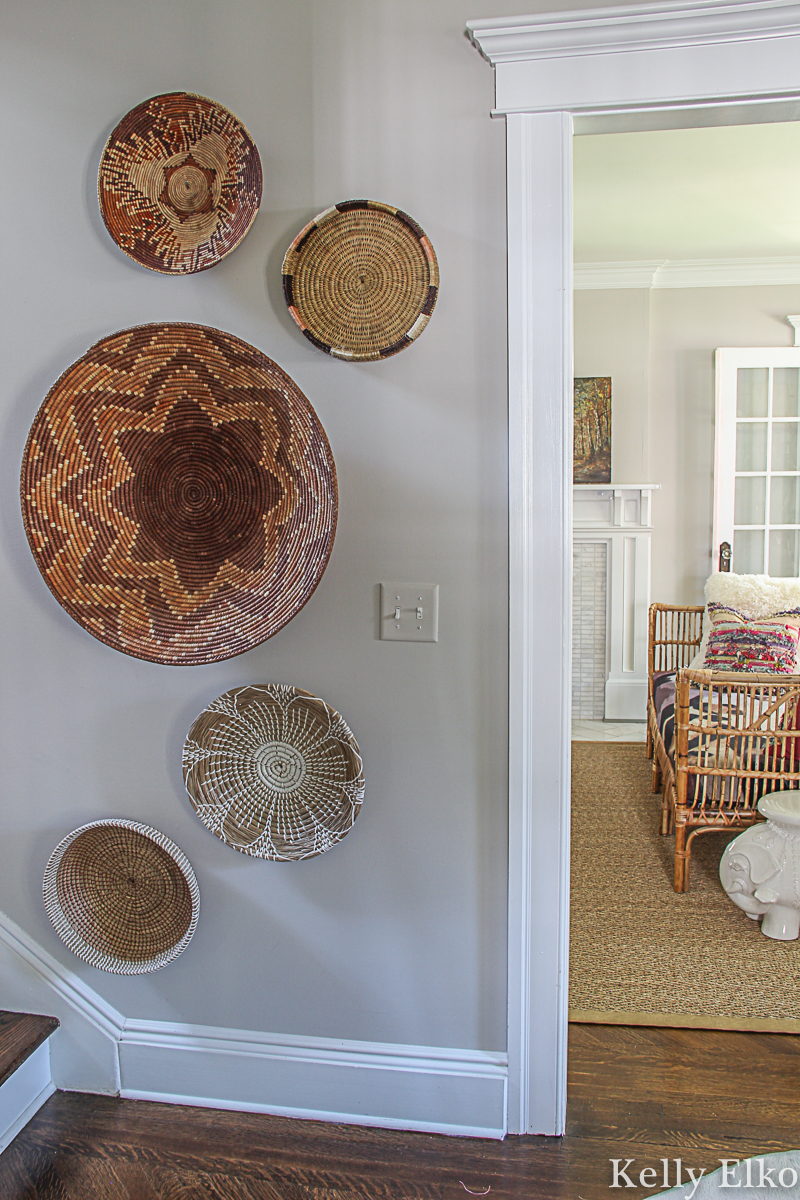 Basket walls are on trend, add instant texture and interest plus they are a budget friendly way to fill up empty wall space. This type of gallery wall can look amazing in any room of your home. Walk around your house in search of a wall that could use some extra love and texture whether it's a living room, a long hallway or a staircase. Baskets even look great on bedroom and bathroom walls.
Do you remember the colorful basket gallery wall I hung three years ago in my dining room (see it here). I've since taken that down but recently found two neutral brown patterned baskets (for free on Facebook!) and wanted to show them off. I chose three more baskets from my stash and love the way they work together.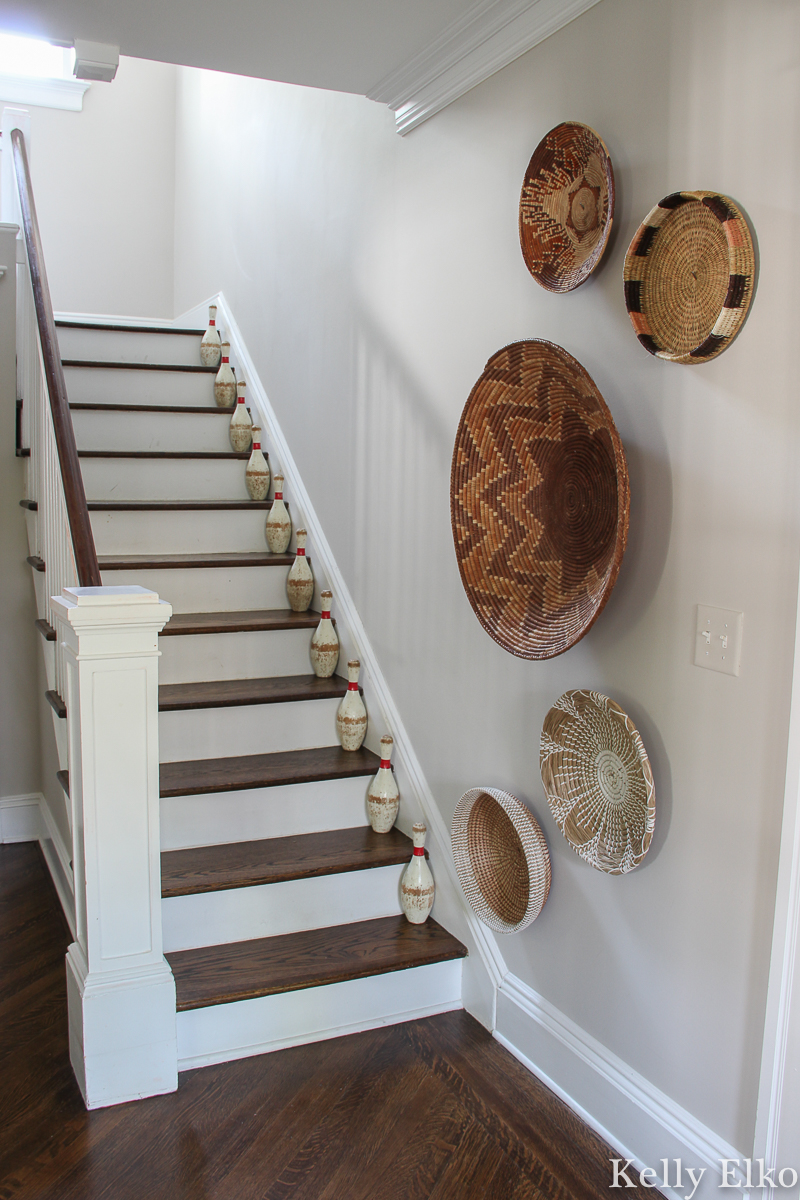 This post contains affiliate links which means if you make a purchase, I may earn a small commission at no extra cost to you.
Basket Gallery Wall Tips
Since every basket is different, here are some general tips to help you create a one of a kind wall.
Scour thrift stores for inexpensive baskets. Or check out Etsy for some really unique baskets. Don't be afraid if the baskets aren't perfect (call it patina). You can even paint baskets if they are in really bad shape.
Lay your baskets on the floor and play around with a design. When you think you found something pleasing, snap a pic of it. You can use the photo as a guide when hanging your baskets.
Center biggest baskets. A good starting point is to find your biggest basket and put it somewhere in the middle. Then start working the baskets from largest to smallest circling around the larger basket. You can try other ways to hang such as largest to smallest. Play around til you find something you love.
Hang baskets in odd numbers. Even numbers create symmetry but odd numbers create interest. An odd number of details is more visually pleasing and forces your eyes to move around the grouping.
Use Command wire hooks to hang your baskets. Not only will they not damage your walls, but they will make it a snap to move your baskets around. I used these medium clear hooks for the big basket and these small clear hooks for the small baskets. For lighter baskets, you can try using this no hole hanging method or you can always use small finishing nails if you don't mind holes in the wall.
Get Creative. Feel free to experiment for a look that's all your own. Try spacing baskets closer together or even overlapping them. Use colorful baskets instead of neutral ones (like I did with this colorful basket wall). Create a basket wall that trails around a window or doorway. Add in a few non baskets for interest. Have fun with it because there are tons of creative ways to display baskets on a wall.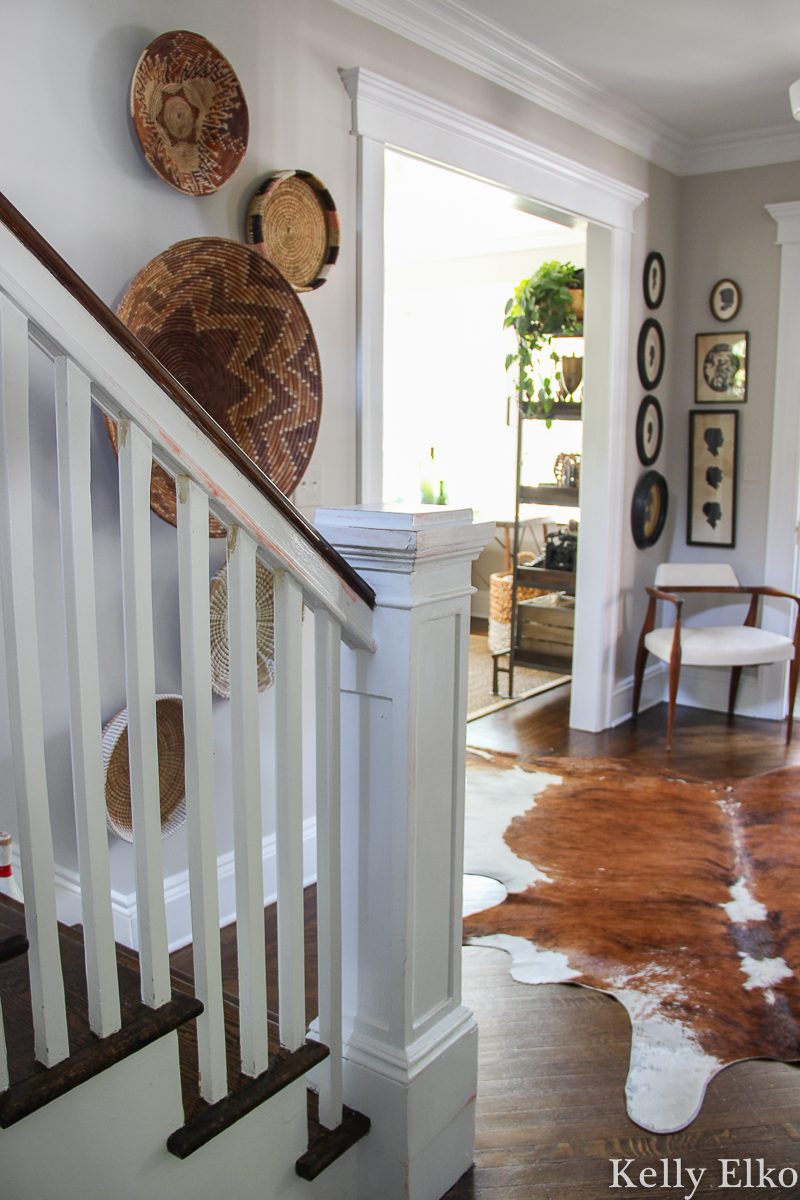 I've been really loving earth tones for fall and like the way the baskets look with the colors in my living room not to mention all the texture they add to this once empty wall..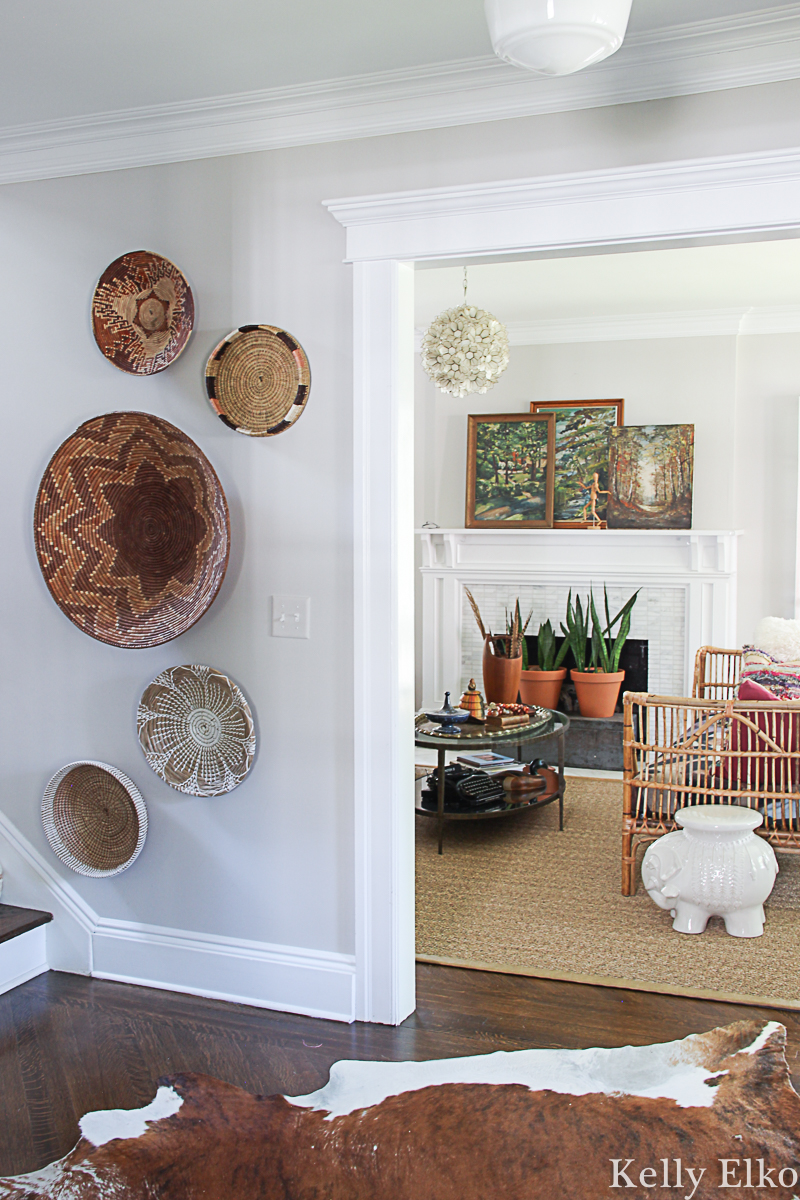 Here are some other basket walls that I'm loving …
Sarah of Sadie Seasongoods  layered colorful vintage trivets over thrift store baskets.
Baskets and Trivets Layered Basket Wall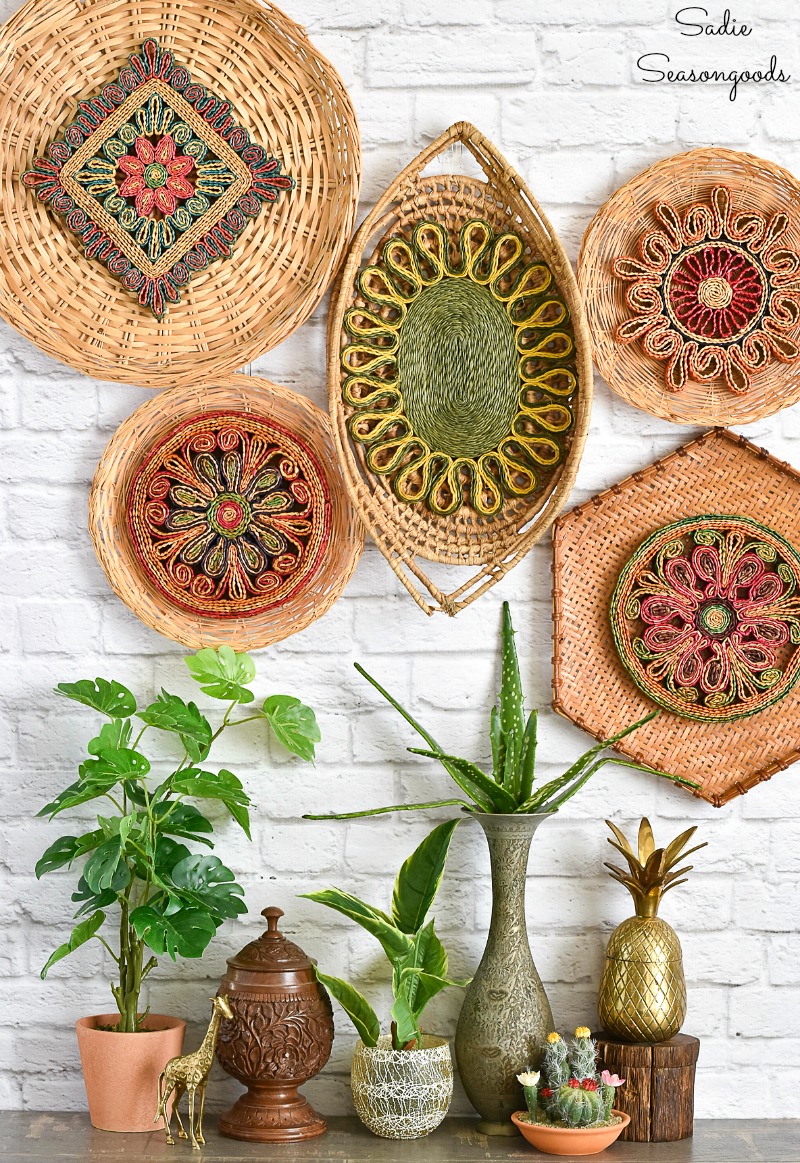 Sweet Southern Grace added faux plant clippings to her baskets and added a few woven placemats for extra interest.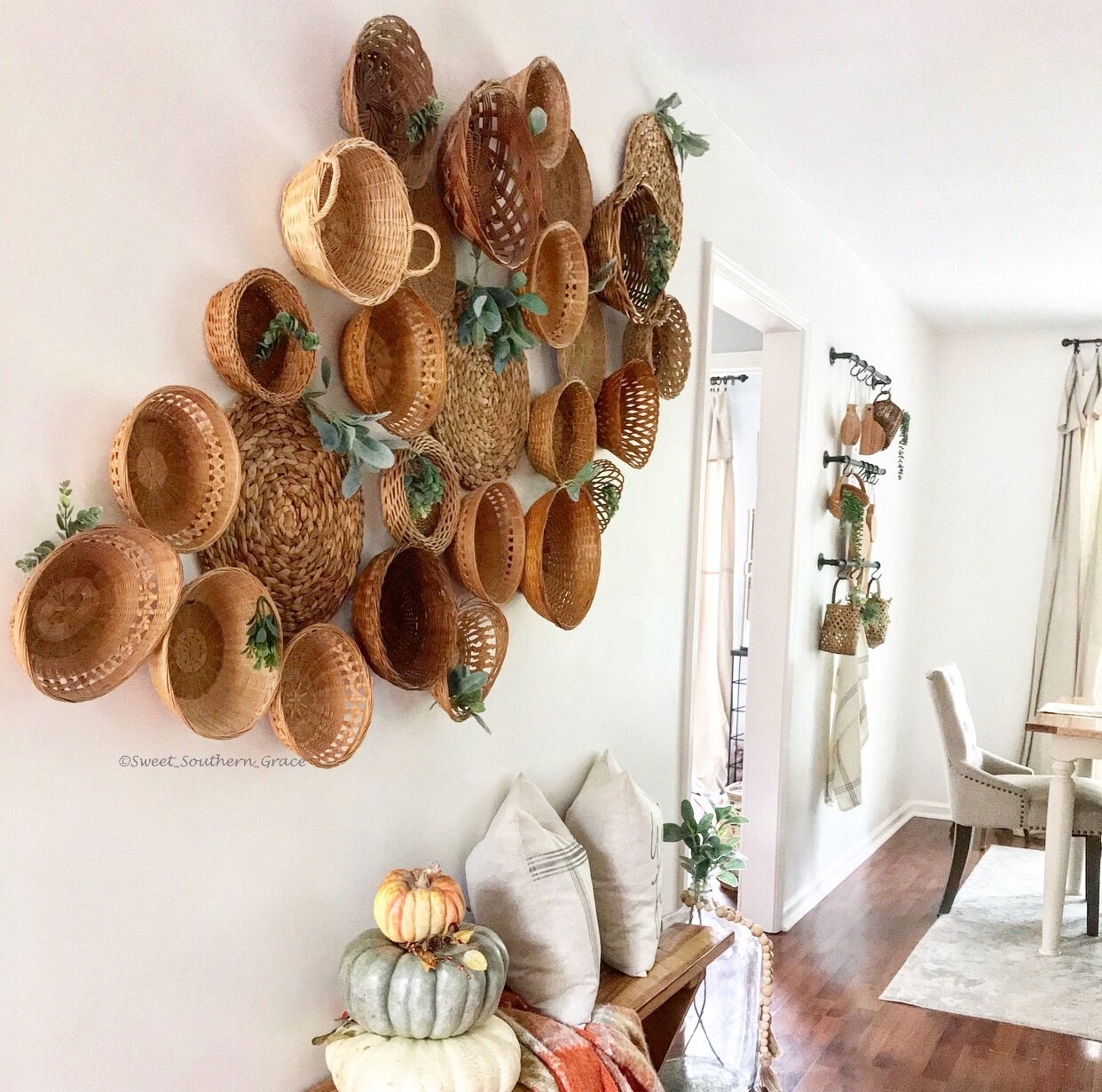 How cute is the little air plant peeking out of one of the baskets and the pop of color from the blue basket.
Neutral Basket Wall with Pop of Color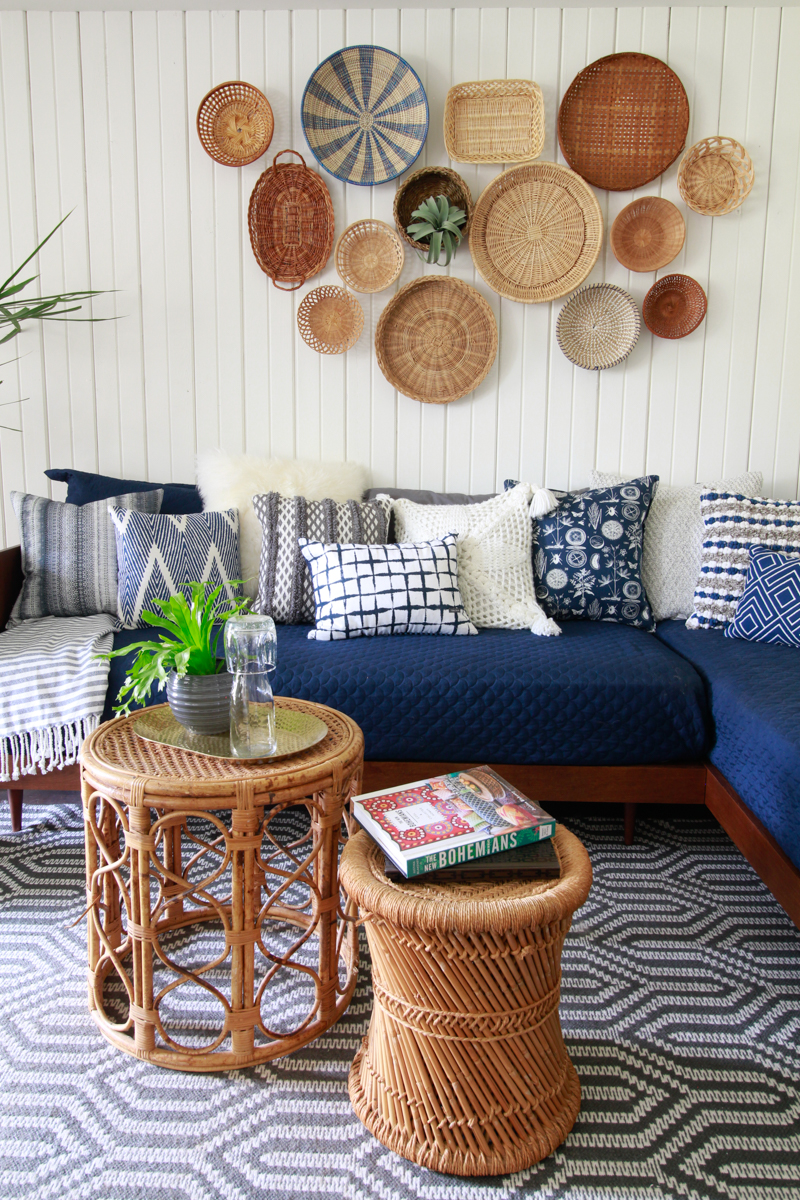 It took Cathryne of The Southern Holiday Home just two trips to the thrift store to gather up all of these baskets and I love the way she framed a piece of art with them.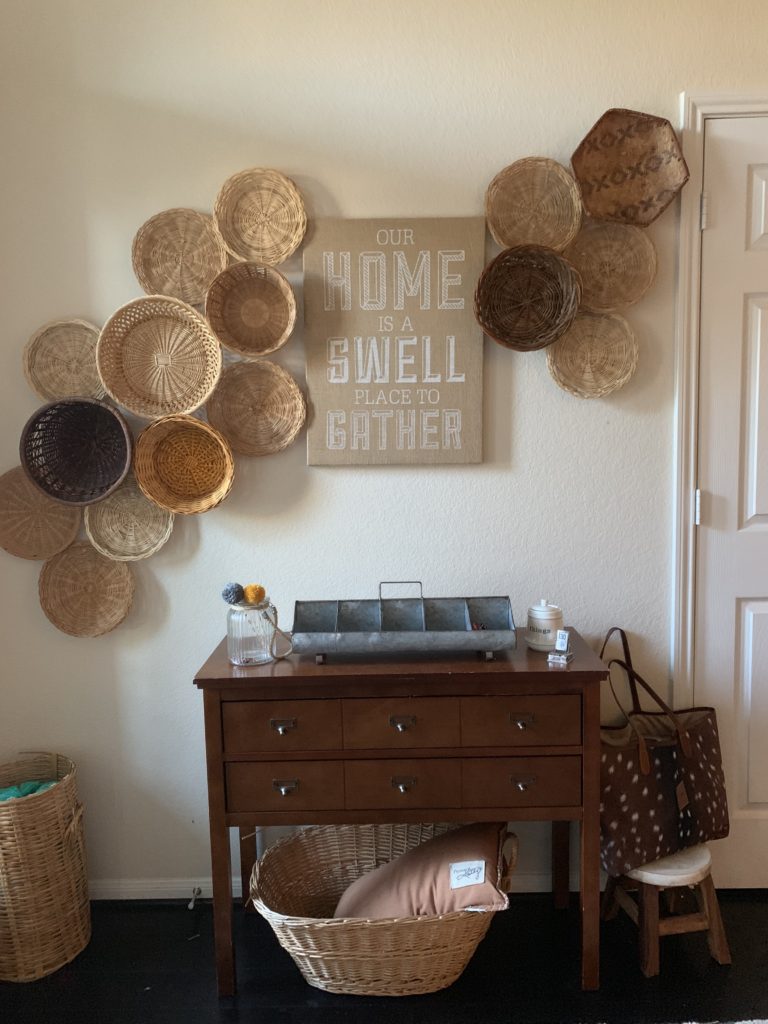 And last but not least is the colorful wall of baskets I created almost three years ago.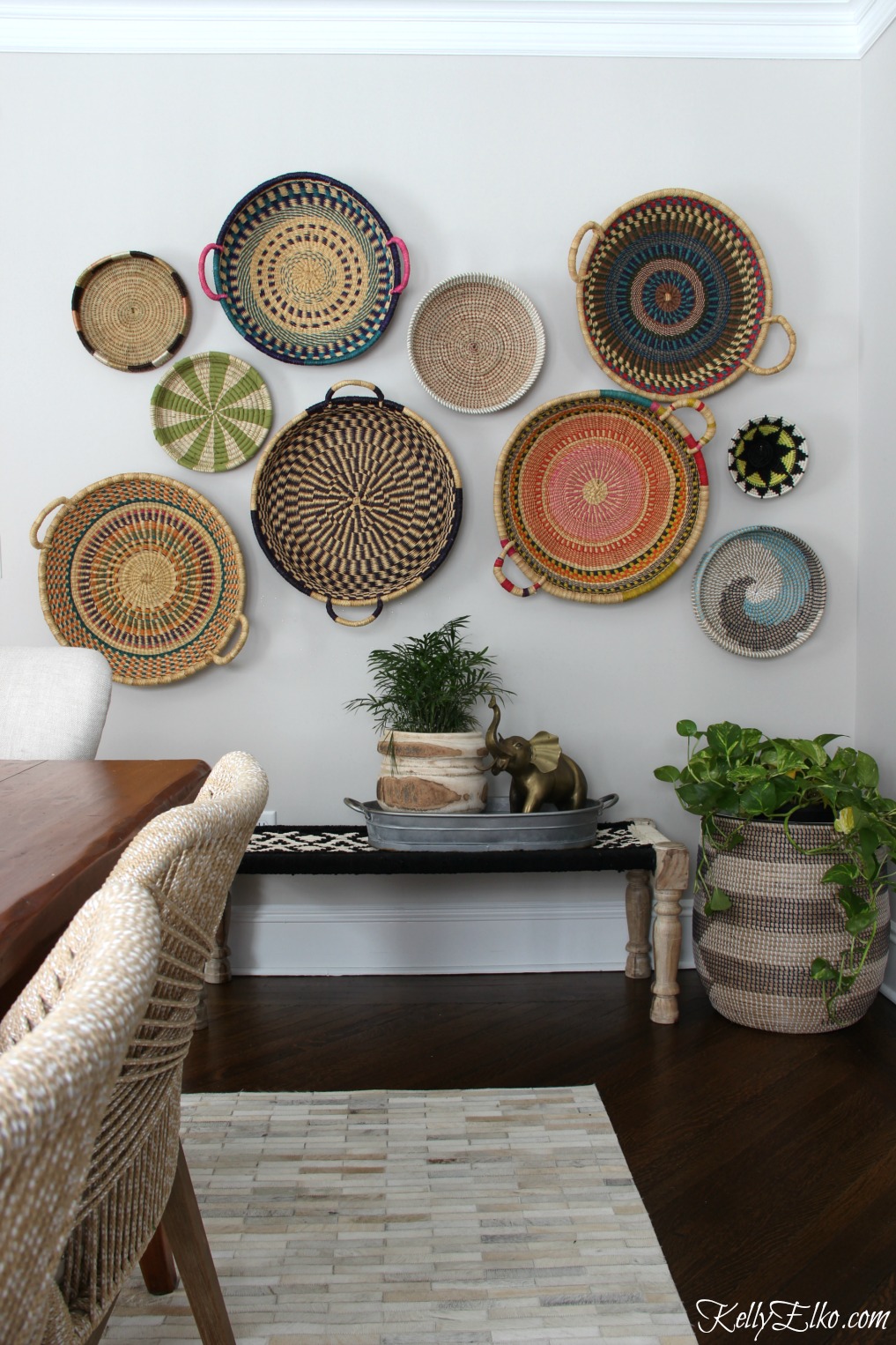 Have I turned you into a basket case yet?