I love crewel art and when I scored my latest vintage piece at the thrift store, I had to find out more about it. This is how I stumbled across Erica Wilson, also known as America's First Lady of stitchery, who popularized crewel in America. The word "crewel" is an old word that refers to the yarn itself, a two-ply wool yarn (much thicker than embroidery floss) and is traditionally stitched onto a linen background. The thick yarn gives the art an interesting textured effect. My kit was designed by Erica and most likely stitched by a woman in the 1960's with some serious embroidery skills. I am excited to share more about Erica Wilson crewel.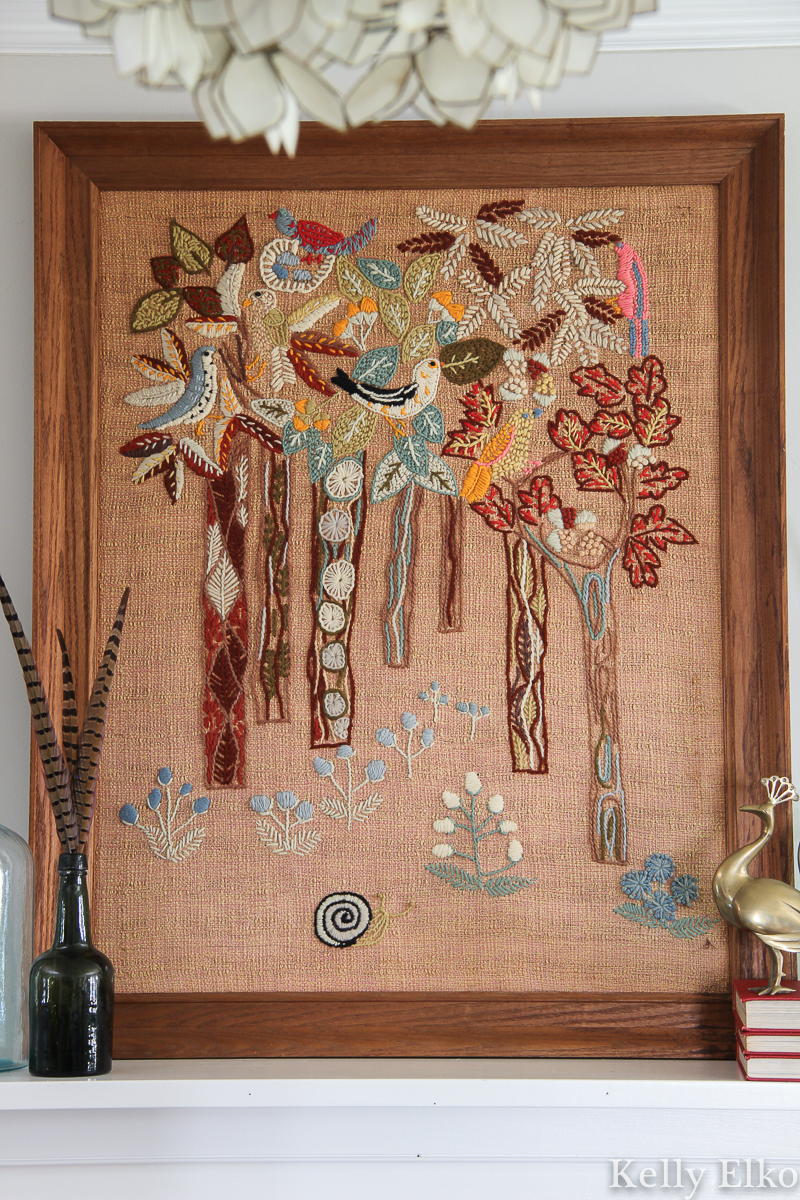 This post contains affiliate links which means if you make a purchase, I may earn a small commission at no additional cost to you.
Crewel work is an ancient art that has come in and out of fashion over the years. From adorning bed canopies and pillows during the Victorian era, to decorating purses and clothes during the craft revival of the 1960s.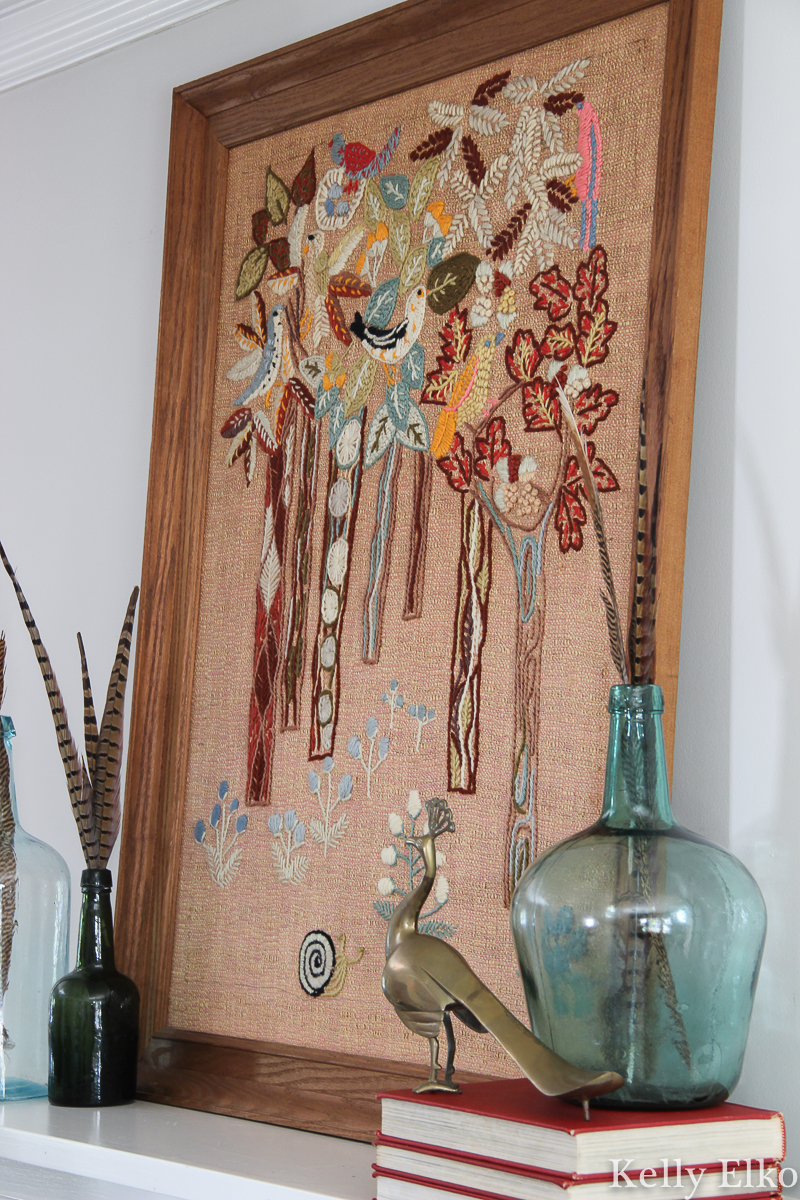 In 1954, Erica Wilson, a graduate of the Royal School of Needlework in London was invited to teach in the United States. When her students couldn't remember all of the stitches she taught them, Erica wrote her first book in 1962 called "Crewel Embroidery." It sold over one million copies and she went on to write 16 more books as well as produce and star in two tv shows that aired on PBS and the BBC. She became the exclusive designer for a national kit manufacturer, designed sheets, fabrics and wallpaper, wrote a bi-weekly syndicated column and became the spokesperson for a national organization teaching needlework. She produced four videos on needlepoint, quilting, knitting and cross stitch. She also designed and manufactured exclusive needlepoint kits for the Metropolitan Museum of Art.
In other words, Erica was an overachiever! She passed away in 2011 but you can still visit her shop (now run by her daughter) on Nantucket.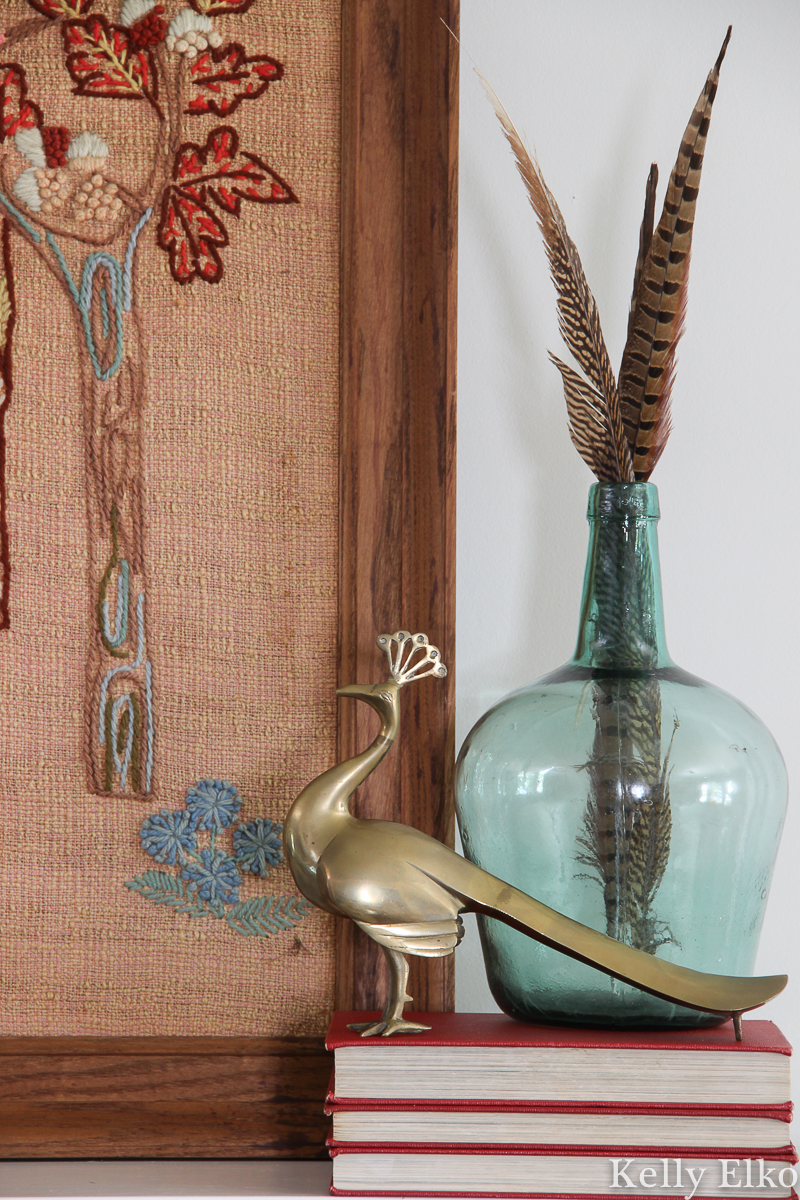 This piece is huge! I love the designs on the tree trunks and the little details that even include a little snail crawling across the bottom of the canvas. There are lots of stitches (running stitch, straight stitch, stem stitch, chain stitch and on and on) used to create different effects and textures and the woman who stitched my piece was obviously skilled as you can see from the complicated French knots used to make the flowers above.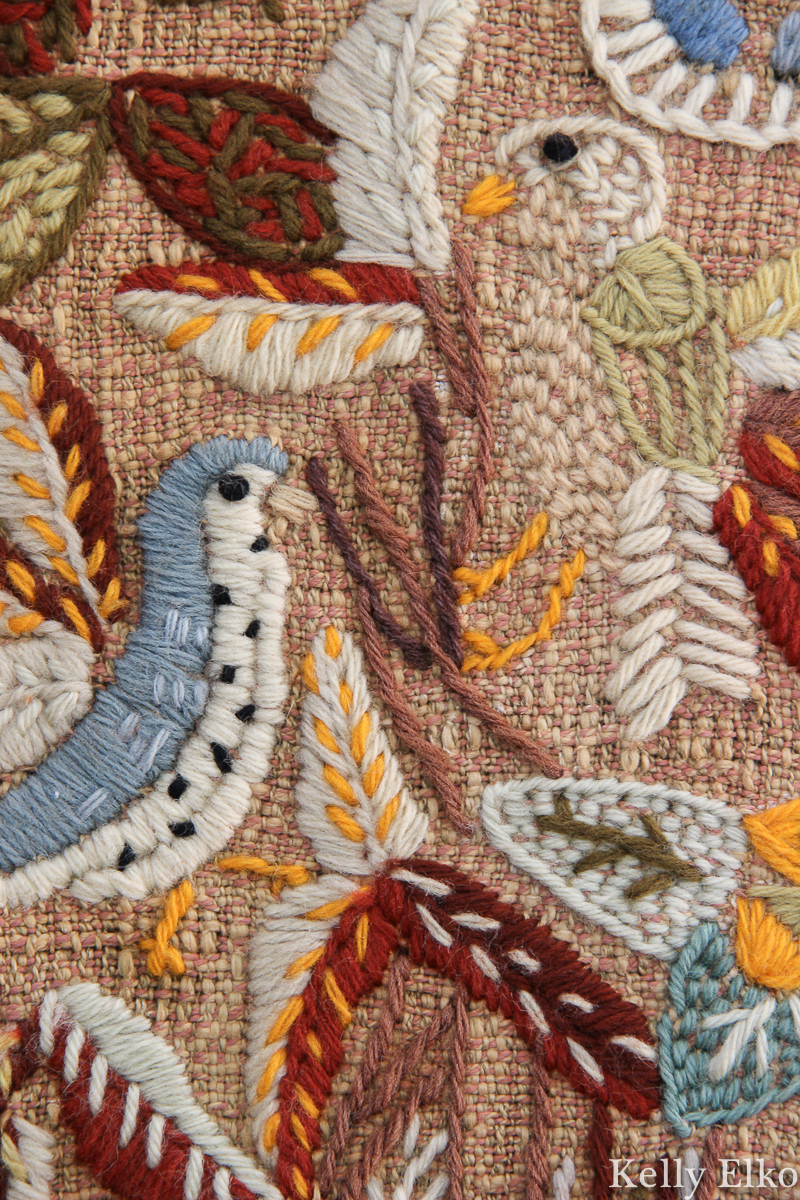 Crewel has been around for over 1,000 years and it has come in and out of popularity over the centuries. You can still find crewel kits that come complete with everything you need to create your own masterpiece.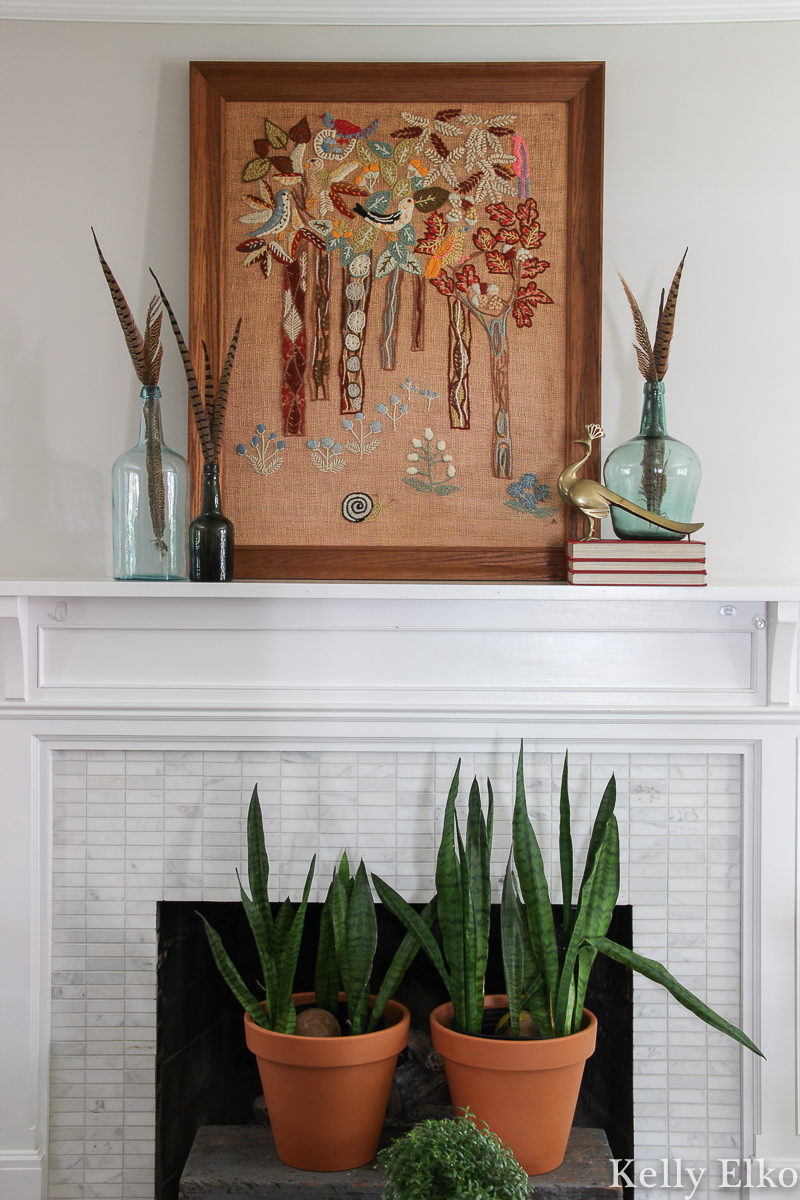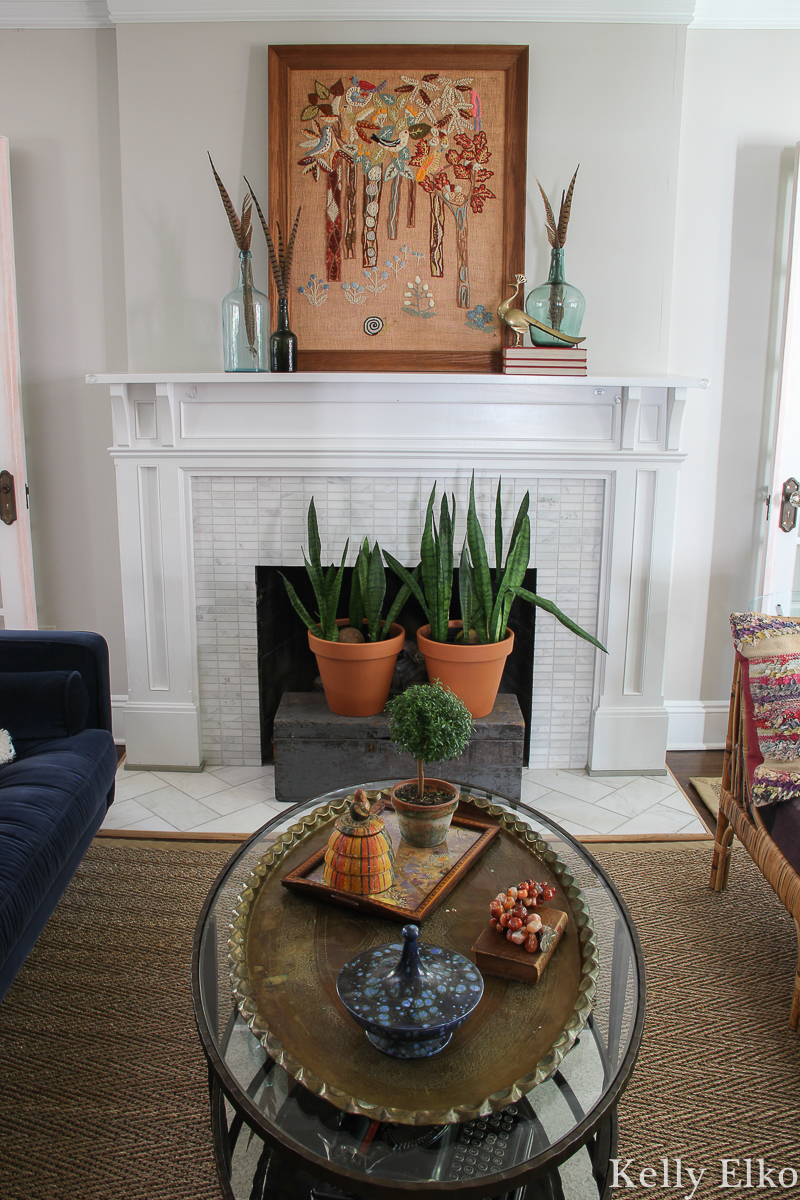 This piece really warms up my mantel for fall and what better accessory to go with birds in trees than my collection of feathers displayed in vintage green glass. A brass peacock is the finishing touch.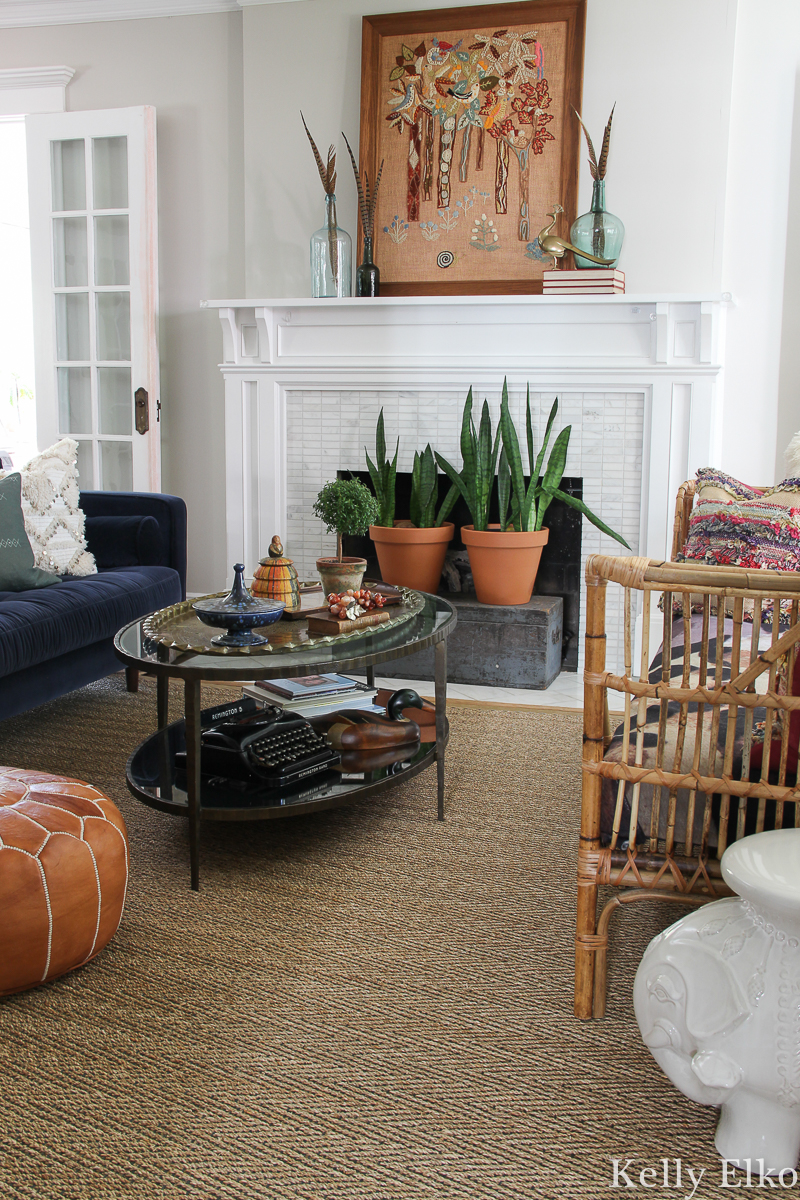 Have you ever done crewel embroidery? I am dying to get my hands on a vintage pattern and try my hand at it. There are lots of video tutorials on YouTube if you want to give it a try too.
Here's to putting down our phones and getting back to making things with our own hands. It's definitely kind to be crewel!