Fab Friday Finds – A Tale of Brimfield
There once was a girl with burnished flowing locks (with no gray roots!) and hazel eyes.
She loved nothing more than scouring her kingdom for antiques and vintage finds for her cottage.
A happy life she did possess but for one small desire.
To travel to the land of Brimfield.
A magical place where people would journey in the hopes of finding treasures.
So one day, this girl packed her carriage (not a white minivan),
gathered two hand maidens (her friend Lisa and her sis Colleen)
and off they went on their journey to a far away land (3 hours away).
Amazing sights they did behold at this enormous place called Brimfield.
The girl dreamed of finding the perfect sign and the hunt did proceed.
Demijohns all in a row.  Perfect for some royal wine.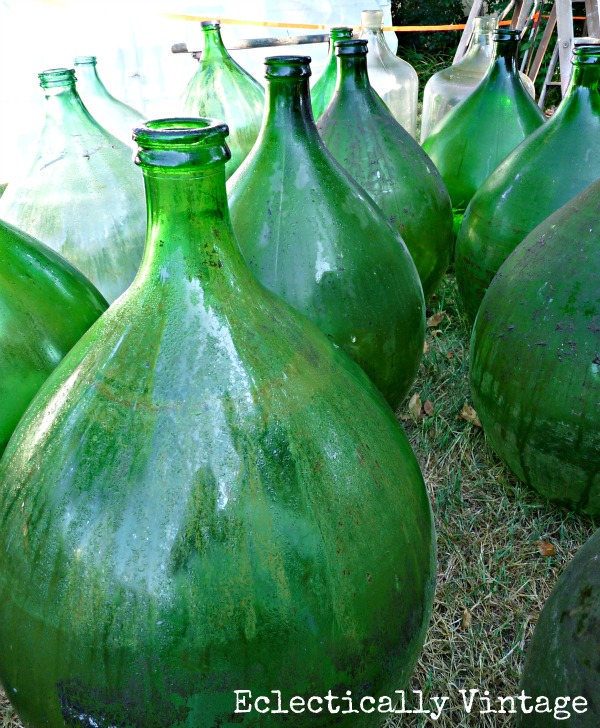 A pug named Erin, a frenchie called Olivia and a flying daredevil we did behold.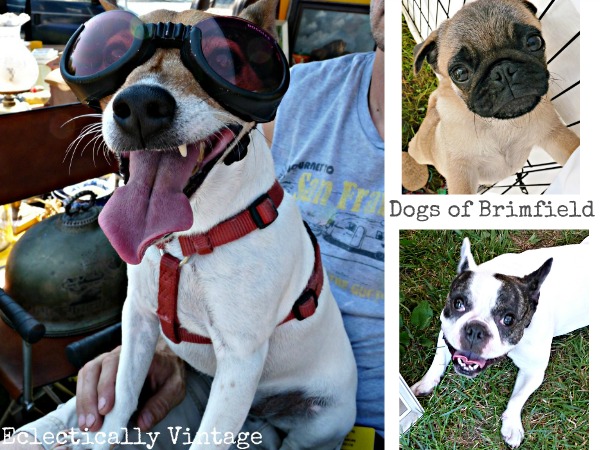 She coveted this huge metal sign.
But alas, at $2,600 is was not to be.
Oh how the girl laughed when she discovered these old metal railroad steps …
because she already had one of her very own!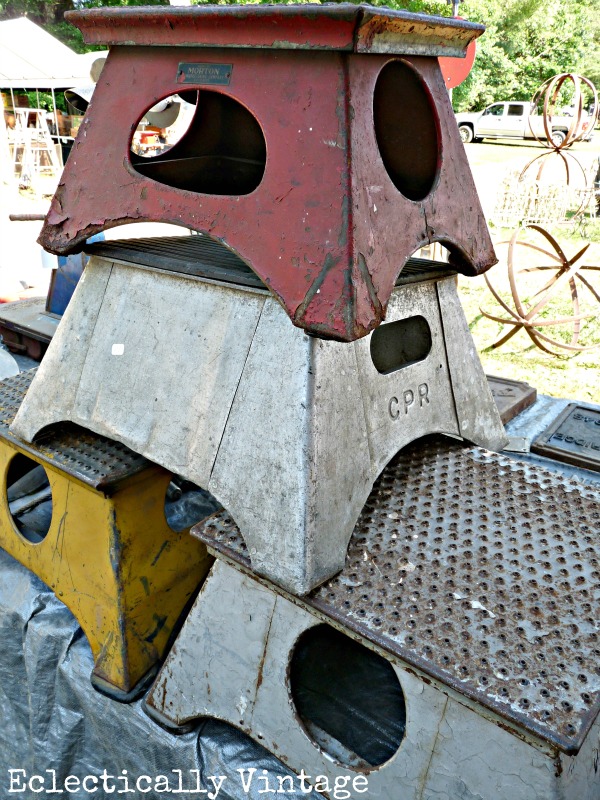 Colors of the rainbow were a sight to see.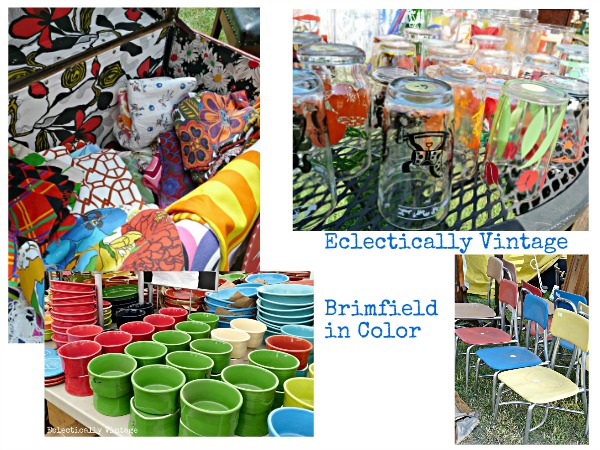 With sadness she did walk away from these barn doors with original sliding hardware.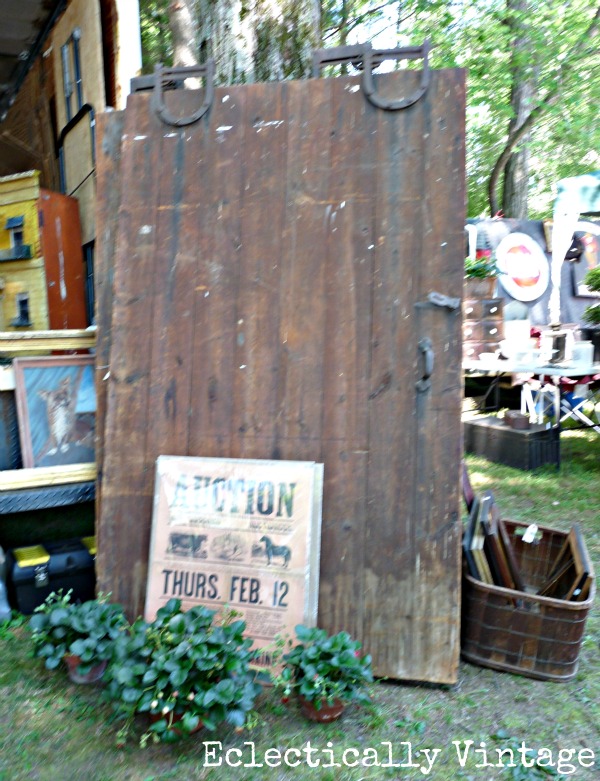 She really has an inflated ego – that girl!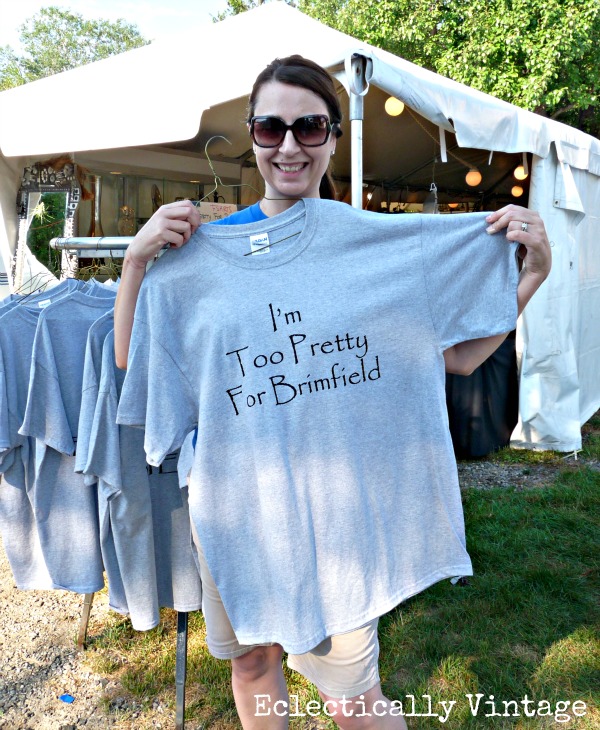 Imagine the parchment transcripts that were cataloged here.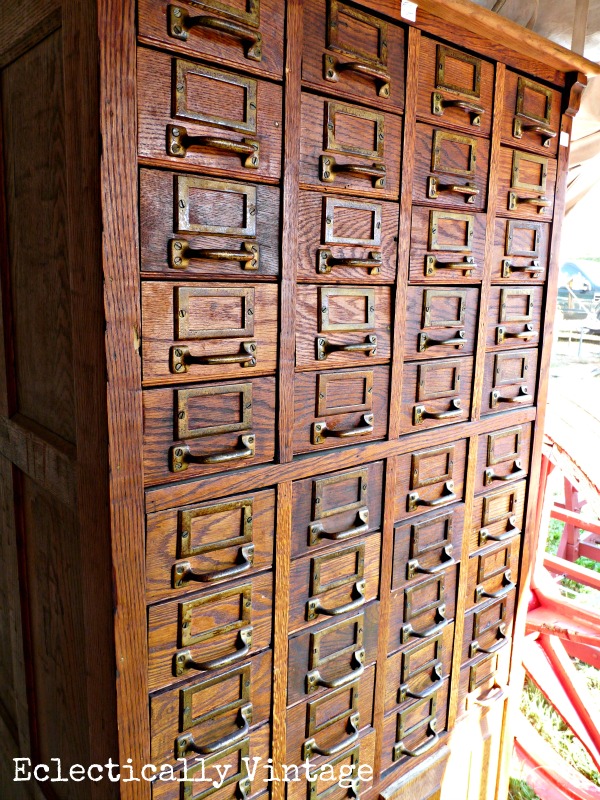 Thrones were aplenty.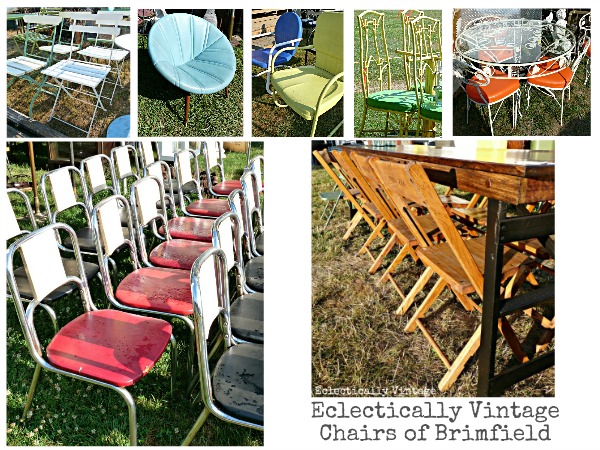 This would be perfect for young lads and lassies to hang their cloaks.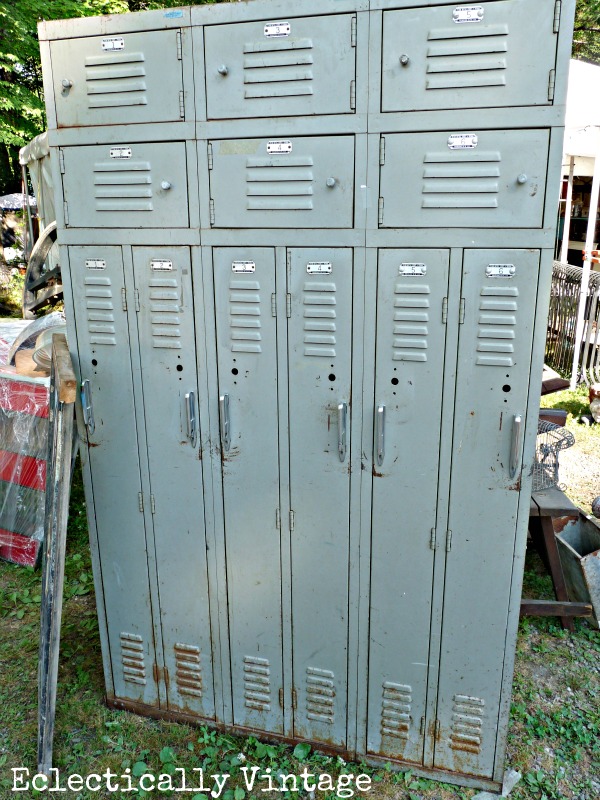 If the land of New Jersey was written on these stars, the girl would have brought one home for sure.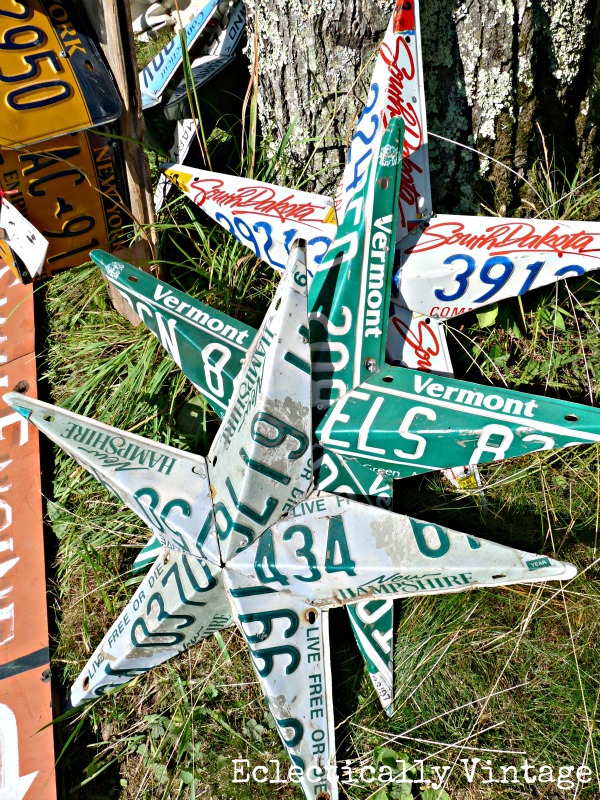 A big royal red E beckoned to her.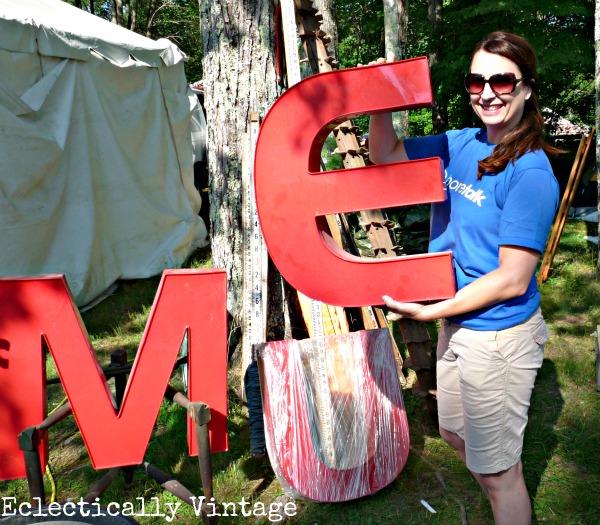 Collectors in her land would have been bowing down in awe.
This would look amazing in the cottage garden.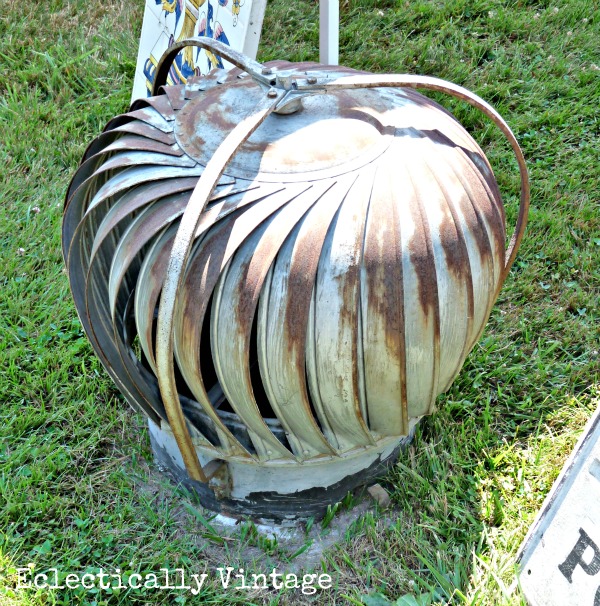 What We Brought Back to Our Cottages
My royal handmaiden Colleen (my fabulous sister!) is the proud owner of a wallpaper pasting table (similar to my find)!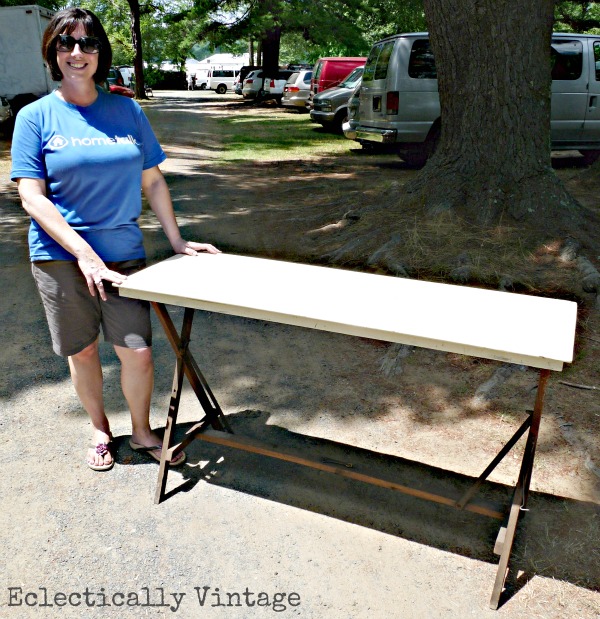 As well as the most magnificent antique shoe rack (that I covet and want to keep for myself if I had the space)!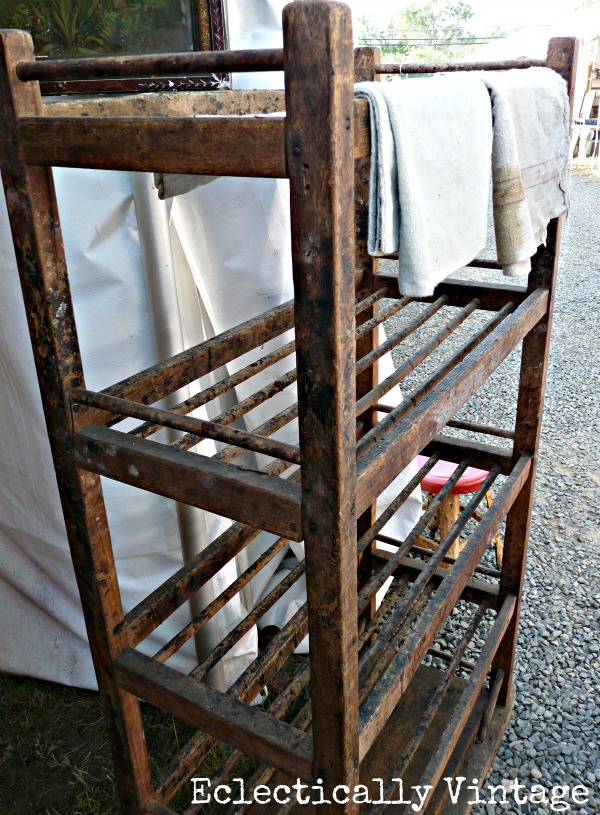 This was the first find of the day …
metal cups stuck to rustic wood (what's not to love)!
A royal dance of joy was broken out when the girl spotted this fabulous 3-piece bamboo table for handmaiden Lisa.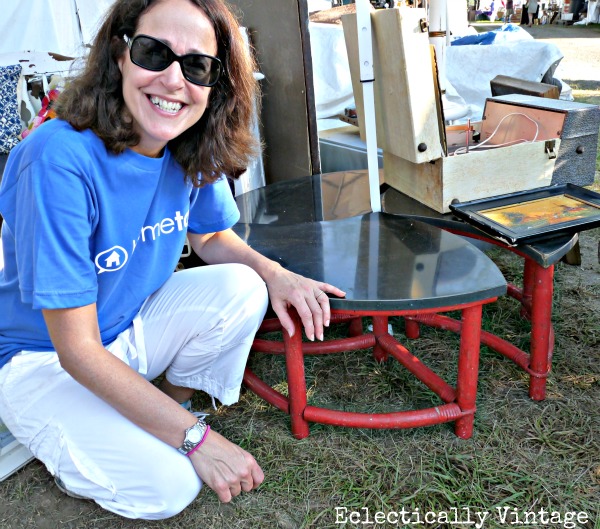 While the girl continued her exhaustive search high and low for the perfect sign, Lisa managed to snag this behemoth for her hubs man cave.
After helping her ladies with their fabulous finds, the girl was thrilled to bring home:
three enormous glass fishing buoys for her collection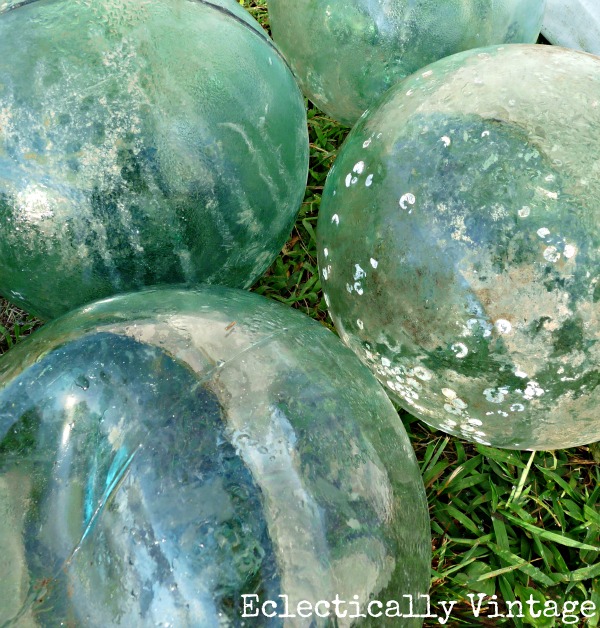 and a few vintage wooden sock stretchers (does she have plans of them).
Although the girl with the flowing locks did not find the sign of her dreams,
she left the land of Brimfield exhausted but joyous
and vowed to someday return again.
Make sure you're prepared for the flea and read my
Cool Girl's Flea Market Prep List before you go.