2014 is officially my year to make it onto the nice list.
That's right, while everyone is running around like chickens with their Santa hats falling off, I'll be sitting by a roaring fire, sipping a glass of wine and listening to Elvis croon I'll have a Blue Christmas Without You.
Why you ask?
Because not only can I share a special Shutterfly promotion for 10 free cards with code GREETINGS from 10/16 – 10/20, but also because I've decided to stop waiting until the eleventh hour and order my Christmas cards early this year.
It's one more thing I can check off my naughty or nice list.
So on a warm September day, I schlepped my girls, Sushi and my camera into our yard while we pretended it was a blustery wintry day in their heavy sweaters.
The results are in and I'm in love with our 2014 cards.
Note:  If you're on my Christmas card list, avert your eyes so you'll be surprised when you tear open the envelope.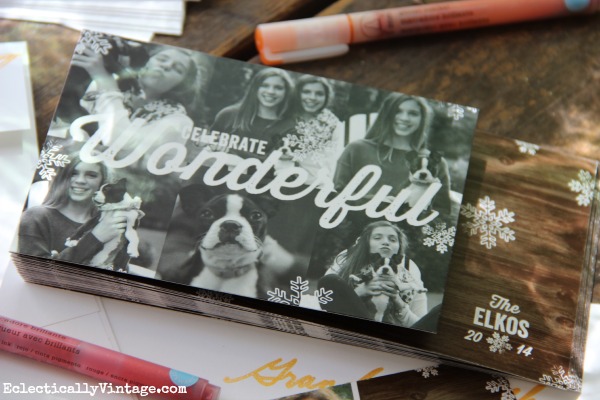 Family Photo Taking Tips from Someone Who Hates Staged Photographs
Lighting – Plan your photo session in the early morning or late afternoon for the best light (avoid direct, harsh sunlight).
Dress to Impress – or at least make sure nobody clashes.  I asked the girls to wear black leggings but let them choose their sweaters to avoid teenage attitude which would in turn ruin my picture taking session (luckily I didn't have to ask them to change).
Keep it Simple –  To make the girls and Sushi shine, I kept the props (white adirondack chair) and background simple.
Take Tons of Pics –  Eyes shut, mouths open, frowns, looking away … just some of shots that did not make the cut.
Have Fun –  To avoid the "I am fake smiling just to get you to stop" photos, do whatever it takes to get them relaxed and laughing.
Be Spontaneous – Yes, we all love a well posed shot of everyone smiling and looking directly into the camera but some of the best shots aren't planned like when Vanessa scooped Sushi high into the air and started kissing her – that shot was a definite keeper!
Photo session – check.  Time to choose the cards.  I usually choose just one photo for our Christmas card but this year I wanted to try something different so when I saw this 3/4 fold card on Shutterfly with the coolest weathered wood theme, I shouted Ho Ho Ho (minus the jiggling belly part).
It's got lots of room for adding pics and text so you can really keep your friends and family in the loop on how amazing your year has been.
Since there is room for six photos on the front of the card, I chose to make them black and white (you can do this right in Shutterfly) so they wouldn't compete with each other.  Inside, I went with color photos and on the back, we added a fun little message from Sushi!
Being so organized is definitely going to get me to the top of the nice list (hope Santa isn't watching me too closely).
Thanks Shutterfly and Martha Stewart Living Omnimedia for asking me to be part of Shutterfly by Design.  I only speak the truth.