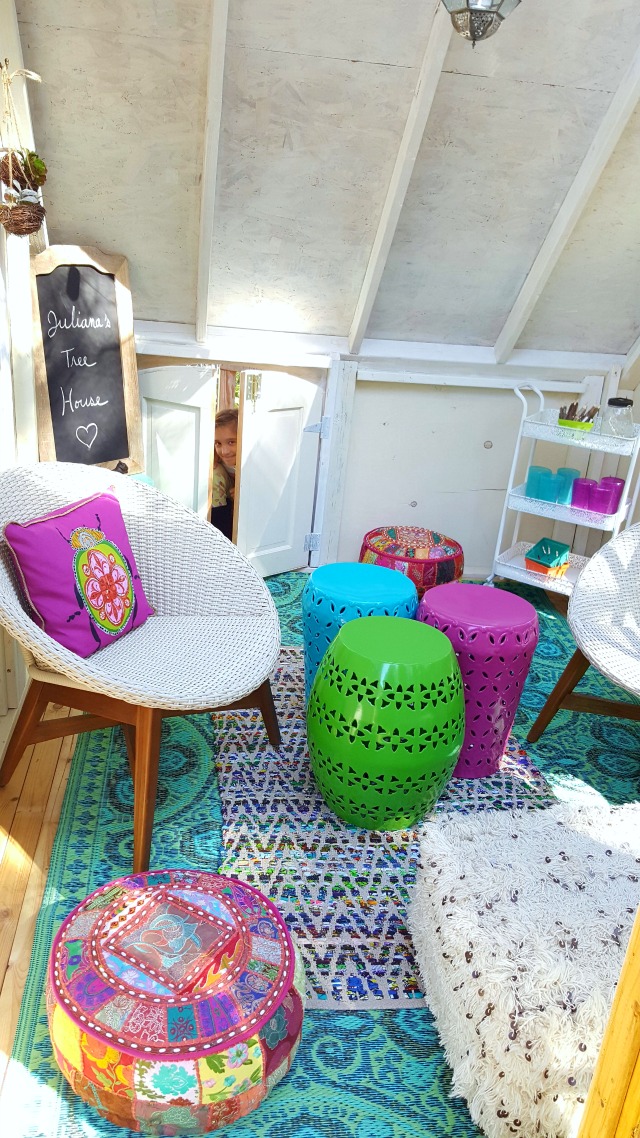 What girl wouldn't love her own treehouse where she can escape.
I would.
But since I don't have one, I had fun designing one for French-American actor Gilles Marini's daughter. You may know Gilles from the Sex and the City movie, Brothers and Sisters and Dancing with the Stars (he was runner up). Bonus: he loves to recycle, upcycle and trash pick.
I LOVE the treehouse – Gilles and friends cobbled it together using chippy old doors and windows, a tiny entry door, a huge sky light that lets in tons of light and feels like you're really up in the trees. It even has a slide, rope swing and zip line that goes to the main house!
Here it is in process (don't you love the skylight) …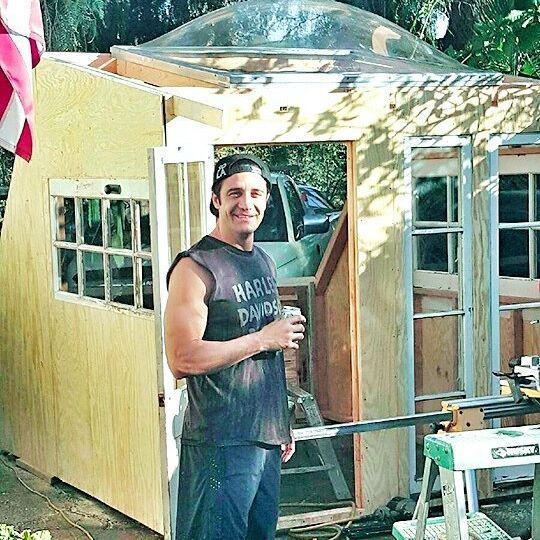 and up in the trees.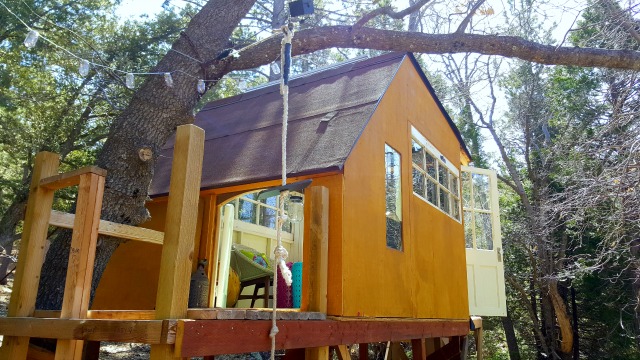 My mission: create a fun, colorful, boho space for a girly girl using products from World Market.
I sent Gilles my mood board and he and his daughter went to work decorating the treehouse …
My Moodboard
Full affiliate source list at end of post
Enter through a tiny door (great for keeping out nosy parents).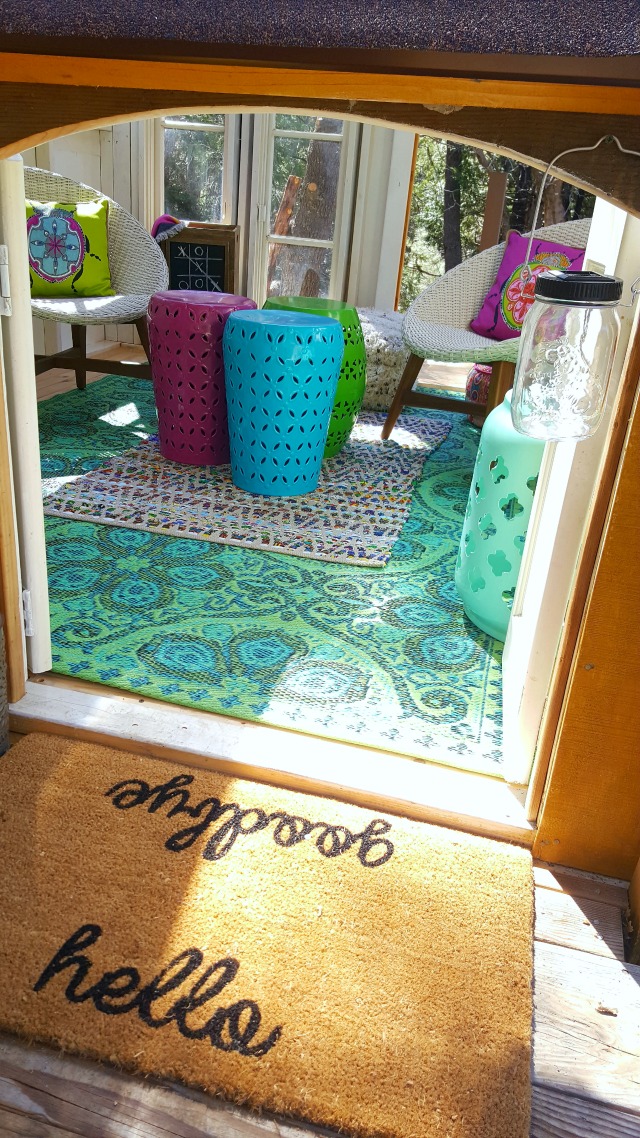 How fun is this old door, complete with glass doorknob, turned window.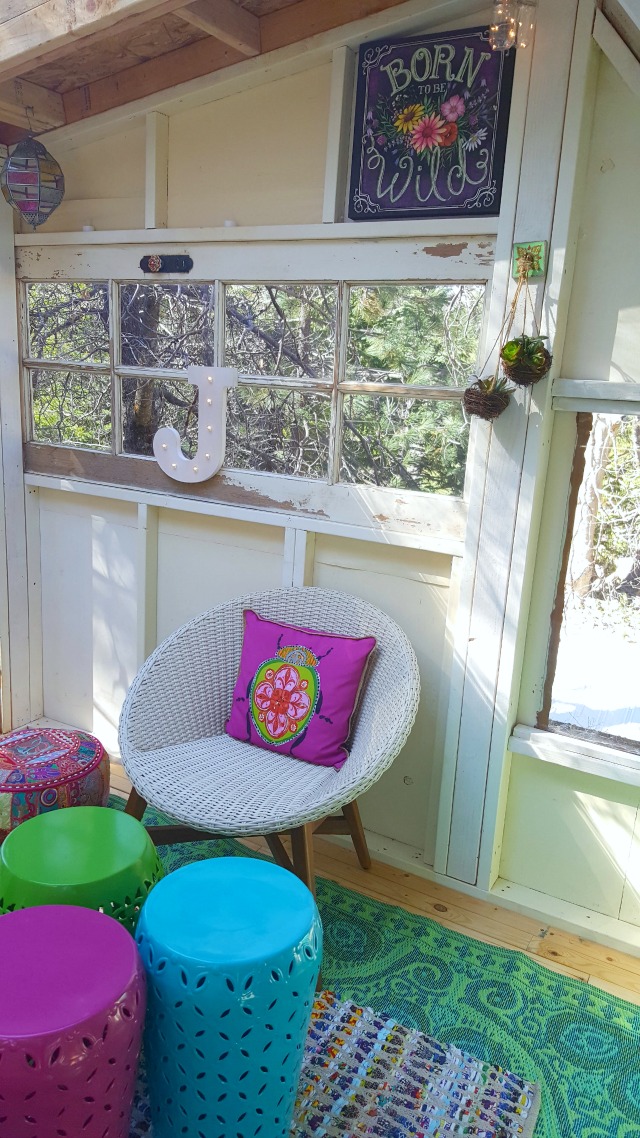 Battery operated mason jar string lights look like captured fireflies.
I love the selection of outdoor rugs – can you believe this huge outdoor rug was less than $40!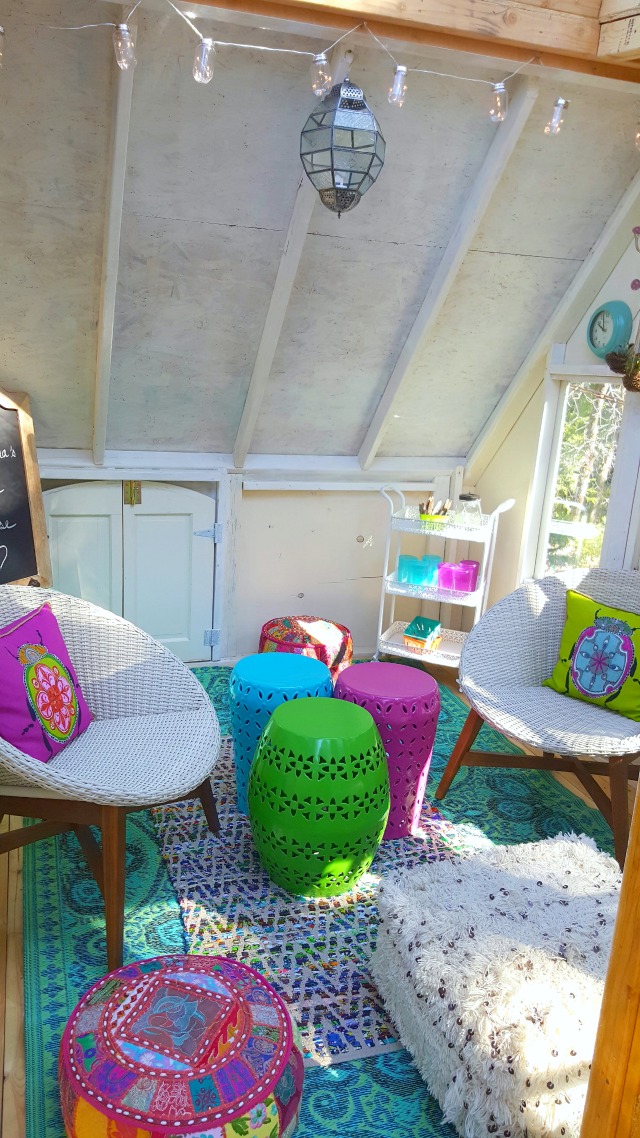 I really love the fun selection of wicker patio furniture.
A little to the left dad.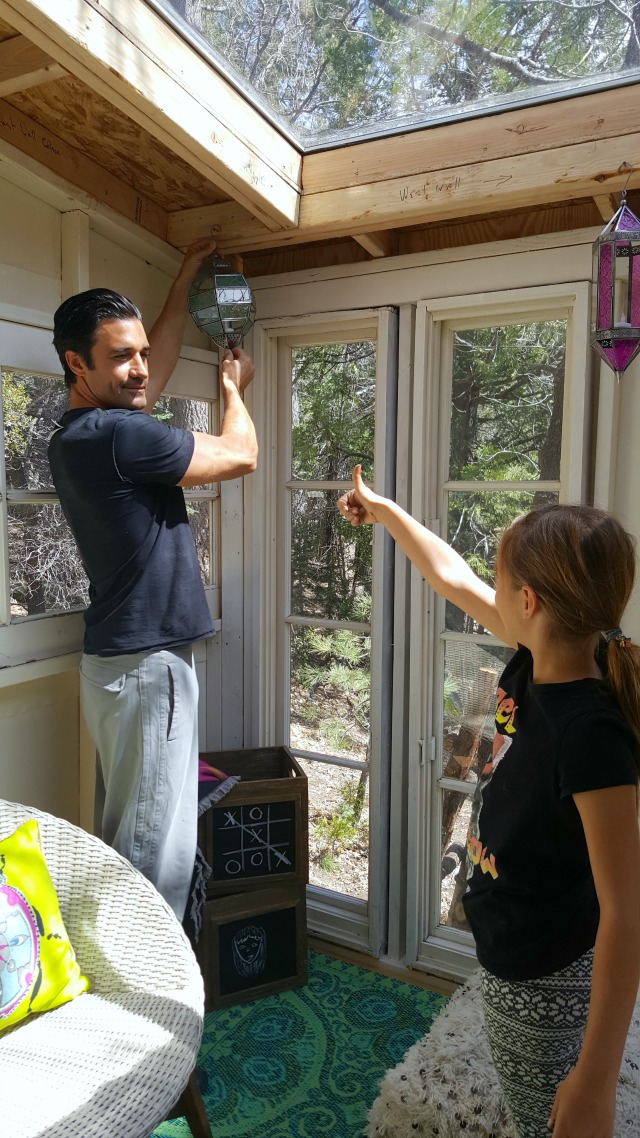 The perfect place to lay beneath the trees and the stars.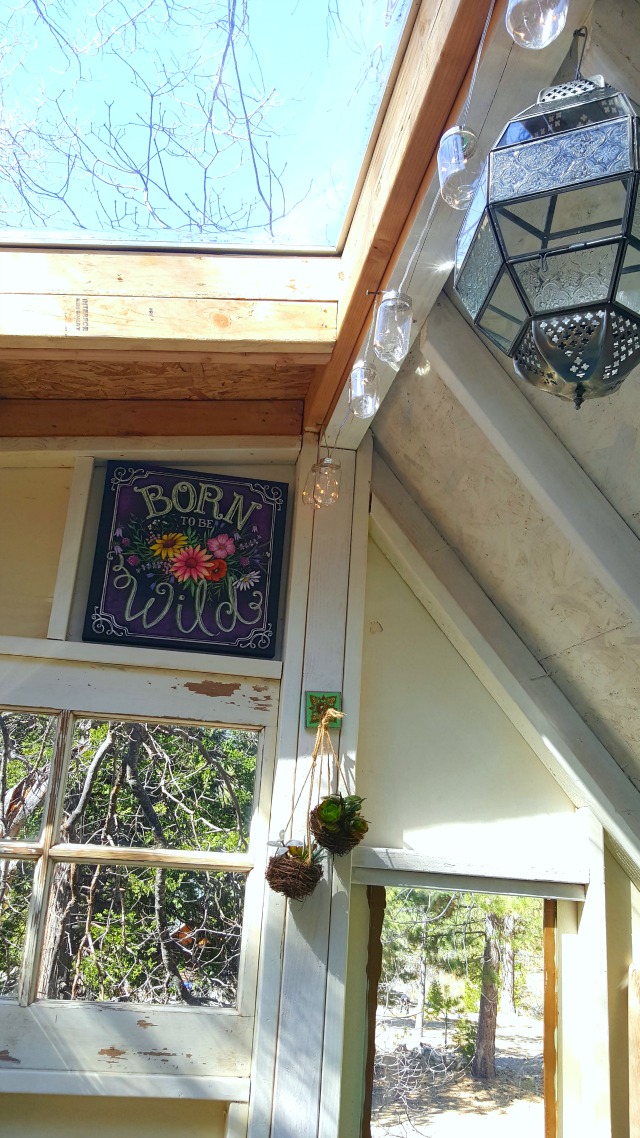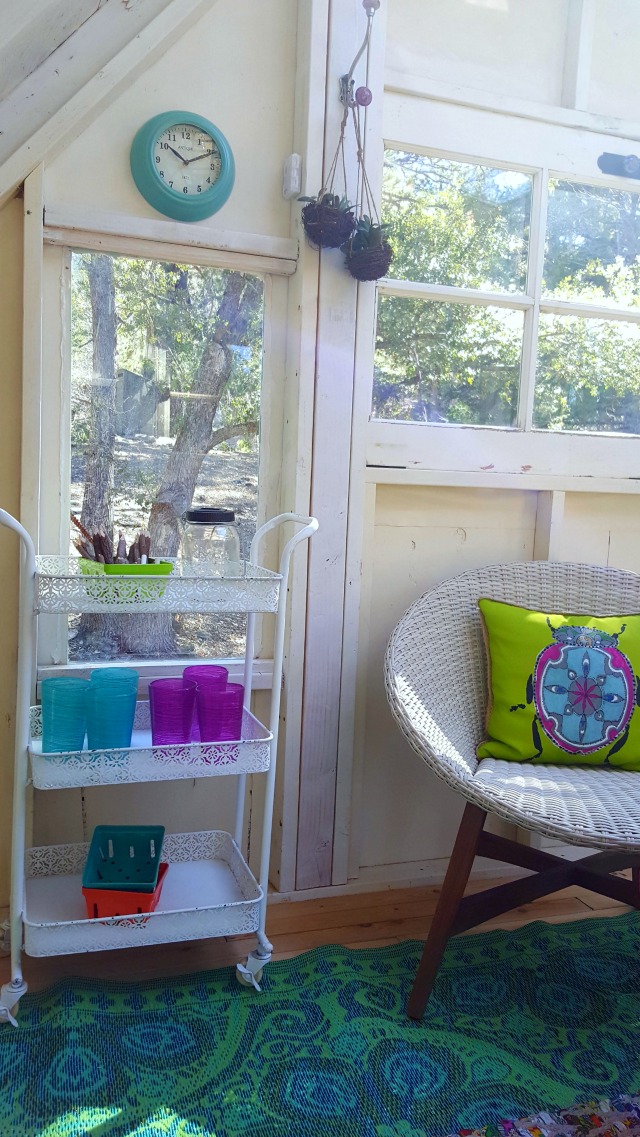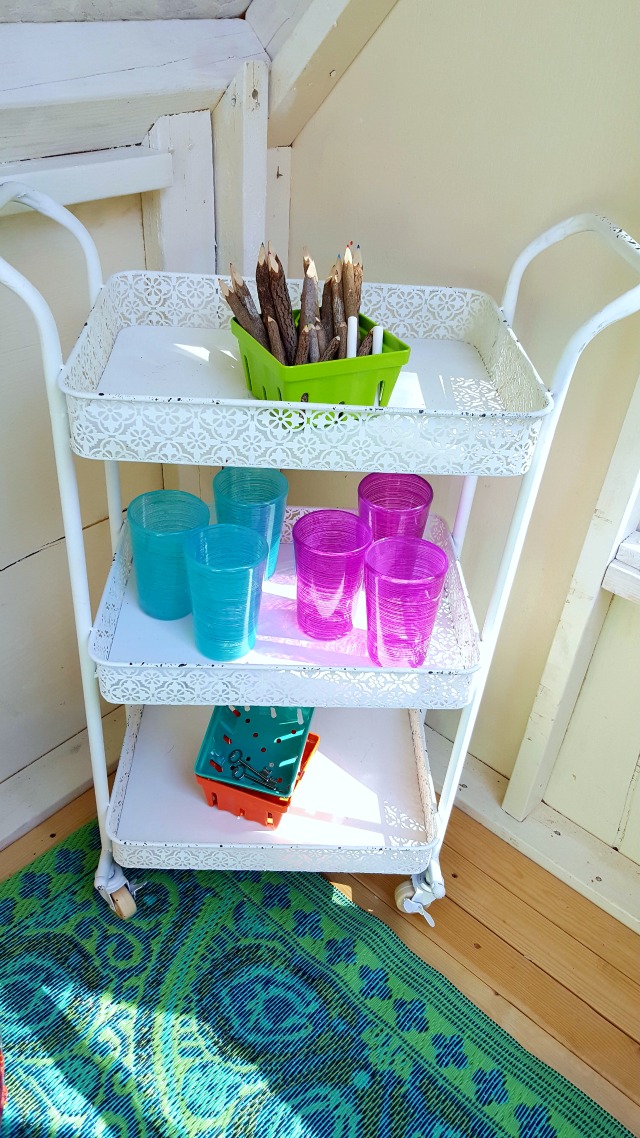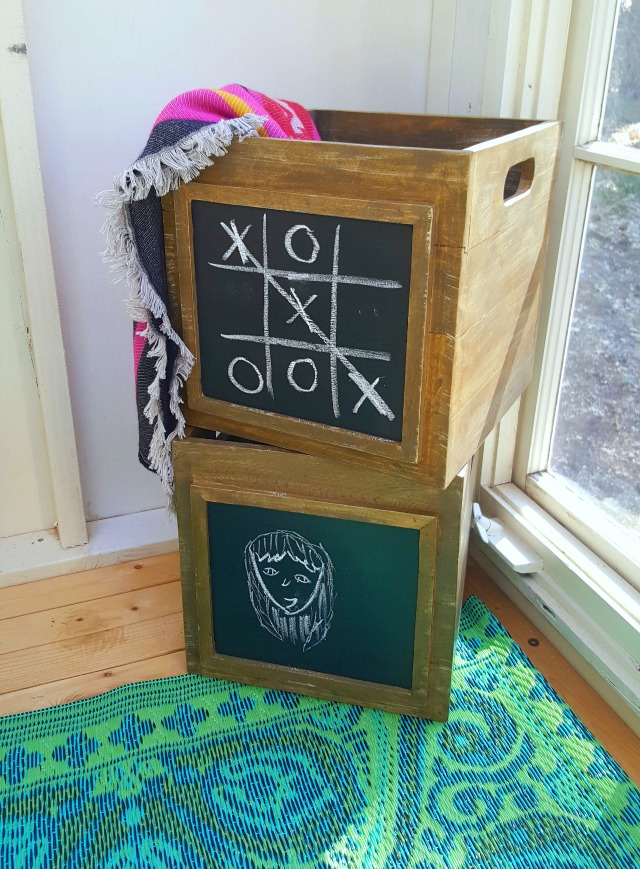 What is a treehouse without a slide?
All lit up at night.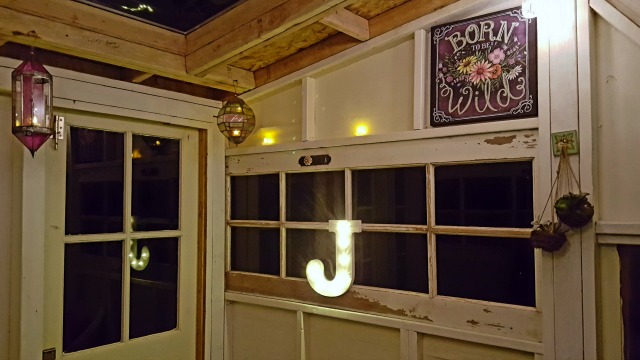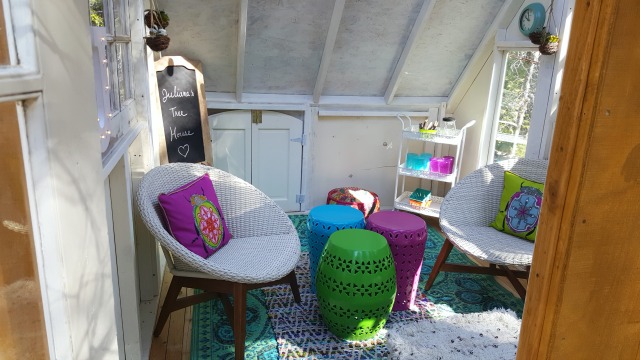 A couple of my picks didn't arrive in time but those will be added soon.
Now I desperately want my own treehouse …
one thing I require is a pully system so someone can send up cocktails when I ring!
Like what you see? Shop the look.


I love that Gilles is into sustainable building and gardening practices. He used lots of recycled building materials in the treehouse and he's not done. Read on to learn more about him and see his future plans for the treehouse.
Want to know more about French-American actor Gilles Marini?  Here's our Q&A …
He built this teepee from branches.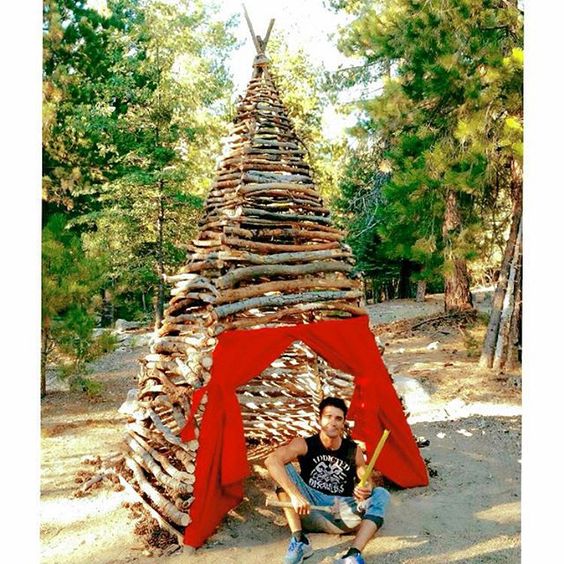 Kelly: If you didn't act, what would you do?
Gilles: I would have to act .. I never gave myself a plan B
Kelly: You've been in several hit TV shows, can you share with us on any new projects you are working on?
Gilles: As we speak I prepping for a show called "Bones" starting to shoot tomorrow. But I just finished shooting Switched at Birth, a dear show in my heart. Lately, I've been writing scripted and non-scripted show ideas. I believe I must keep my feet moving to feel complete in this business.
Kelly: You have two gorgeous kids. Do you think any one of them would be interested in going into acting?
Gilles: Yes, for sure. It's an exciting job. My son Georges has a quiet approche to it. Great emotions toward scenes and delivery. I think he could do great. On the other hand my daughter Juliana was born to perform and be all that. She just does not know it yet. Lol!
Kelly: You built this tree house for your daughter Juliana, was she excited to see the final makeover?
Gilles: She jumped and lit up like a Christmas tree! Was super nice to see. We decorated with her so that she could be involved. She decided to have her 10th birthday this summer at the cabin with all her friends and do a sleep over inside the tree house. It's gonna be epic.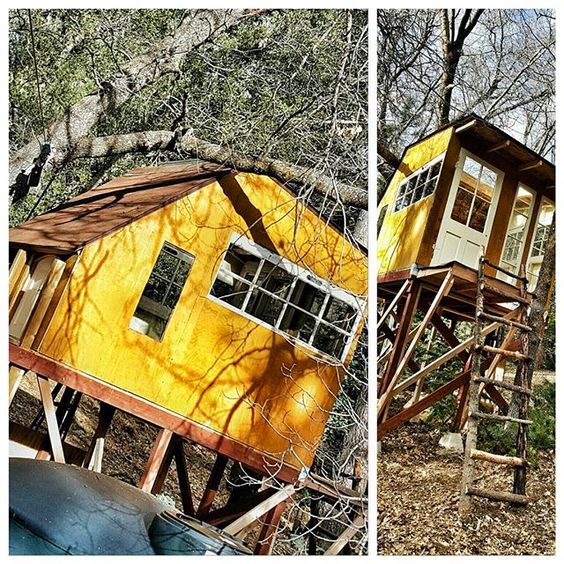 Kelly: Have you ever built anything as big as a tree house before?
Gilles: Not really. Building is a new found passion for me. I do it with mainly trash pieces of things all green and refurbished and with a friend of mine that is crazy enough to come on board my silly projects. His name is Kevin DeSantis and it REALLY helped that Kevin is a general contractor. He let me plan the stuff but stops me when he knows that it needs more safety and durability components. OK the man is genius, patient with my crazy ideas but mainly he has a heart of gold.
Kelly: What is your favorite part about the tree house?
Gilles: The fact that it's strong, that it looks like a tree house that Picasso would have made, that it is very very green and economically friendly, that it has a zip line going out of it and goes to the other main house. No walk needed! The decor inside is so precious it looks like it's a tree house of a young precious little princess but yet very colorful and hippy cool type of vibe.
The slide I made on the other side of the tree house and the wood lather.  OK I love everything about this tree house and yet it's not finished yet. I am making a huge sand beach on the slide landing and a climbing wall all around the tree house. I am loving it .
Kelly: How would you define your style?
Gilles: When it comes to building stuff I would say "spontaneous."  When it comes down to interior style, I would say I leave it to my wife and she goes to World Market.
Kelly: I've got lots of projects planned around my own house – can you help me with my honey do list?
Gilles: Done 🙂
Kelly: Tell us one fun fact that your fans might not be aware of?
Gilles: I love gardening. I know it may sound boring to some but whenever people come to my house they always leave with the same thought. "Wouaou, your garden is amazing." I'm really proud of making it water smart and very different at so many levels. 70% is edible trees. Trust me, they also leave with lots of fruits and veggies 🙂
Follow Gilles online or on his Instagram