While most of the world embraces the metric system,
we Americans still cling to our inches, feet and yards.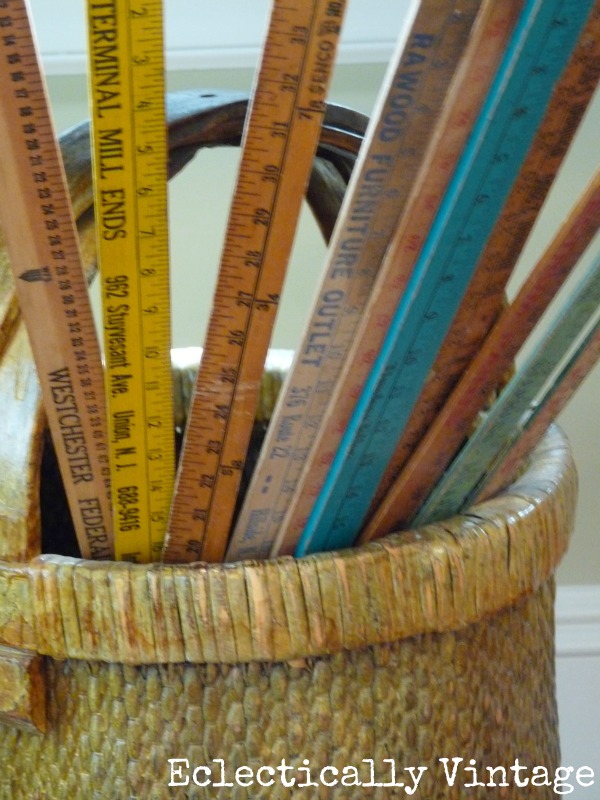 Remember the Metric Marvels?
Those cartoons sang their little hearts out,
encouraging us to learn the metric system and remember that:
"a meter, meter, a little more than a yard,
it works out fine that way, it's really not so hard …"
Well, I'm here to shout out that I love my yardsticks and
until I find cute vintage meter sticks, I won't be switching any time soon.
Ok, so here's my conundrum.
I've been picking up these cute little numbered pieces of wood here and there.
Now they've turned into a collection and they need a purpose.
I mean, I can't just have them sticking out of this basket.
So, what should I do with them?
* Yardsticks sticking out of basket (see above)?
Much like metric vs. standard measurement,
the Eclectically Vintage Yardstick Debate of 2012 may never be fully resolved.
So cast your vote – or give me your yardstick ideas so we can put this argument to rest.
Check out my other Cool Collections.

Sharing Here:
Savvy Southern Style, Faded Charm Cottage, Very Merry Vintage Style
Addicted 2 Decorating, Funky Junk Interiors, Southern Hospitality
The 36th Avenue, 52 Mantels, Common Ground
At the Picket Fence, Redoux, The Thrifty Groove