How to Dress a Bed & Updating My Bedroom (Finally)!

I have a deep, dark, shameful secret that I need to confess because I know (or hope!) you won't judge me.
I've had the same comforter for 18 years – that's 6,570 days with a few extra thrown in for leap years.
After I walked down the aisle, we bought bedroom furniture from a four poster bed to a couple of two tone night stands to glass lamps to the comforter and shams.
And it's remained, unchanged for 18 long years.
Mind you, we don't actually use the comforter for sleeping – we roll it down to the foot of the bed and use a duvet (which had also seen better days).

So what better time to refresh my stale bedroom than spring when the snow is finally melting, buds are sprouting, and my comforter is being packed away in a giant green garbage bag and making it's way to the thrift shop.
I've always loved the look of cloud like white bedding.
It's the perfect choice for a fickle girl who likes change (me)!
When I spotted this fluffy white duvet set at Wayfair, I knew my 18 year old comforter was soon getting kicked to the curb.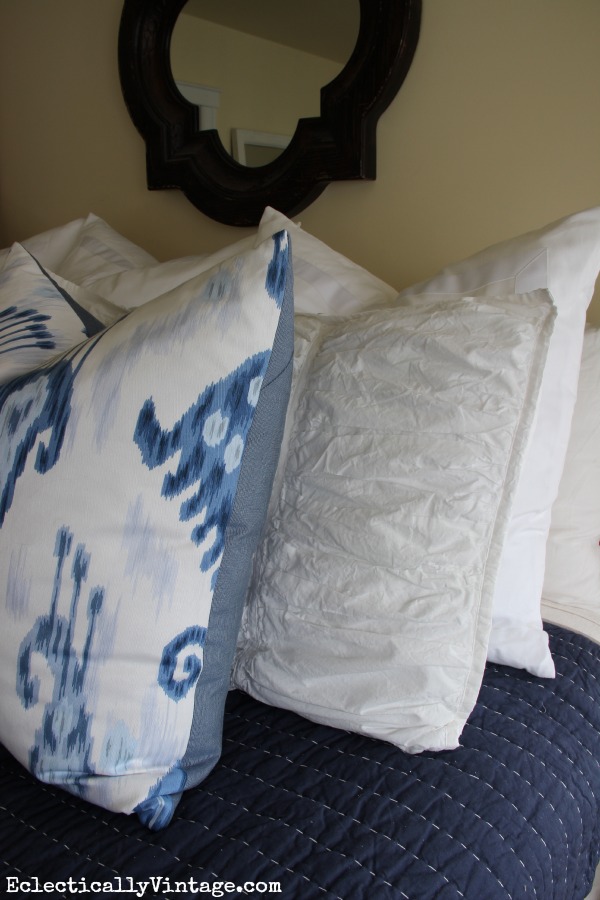 How to Dress a Bed
1) Box springs – cover them in fitted sheets (great alternative to a bedskirt)
2) Sheets – go with the highest thread count cotton sheets you can afford
3) Blanket – add a comfy cotton blanket for warmth
4) Quilt – choose a fun pattern or color and layer over the blanket
5) Duvet – I like a down insert (or you can choose hypoallergenic) that I love resting at the foot of the bed and can pull up when it's extra chilly
6) Duvet Cover and Shams – White goes with anything so you can change out your quilt, sheets and pillows on a whim (I got this 4 piece duvet set)
7) Euro Shams – I like three square Euro shams for a king bed – 2 for a queen (I got these shams in white)
8) Throw Pillows – go wild and change them seasonally if you like
I think my new bedding is just dreamy …
but I do hope it doesn't stick around for another 18 years.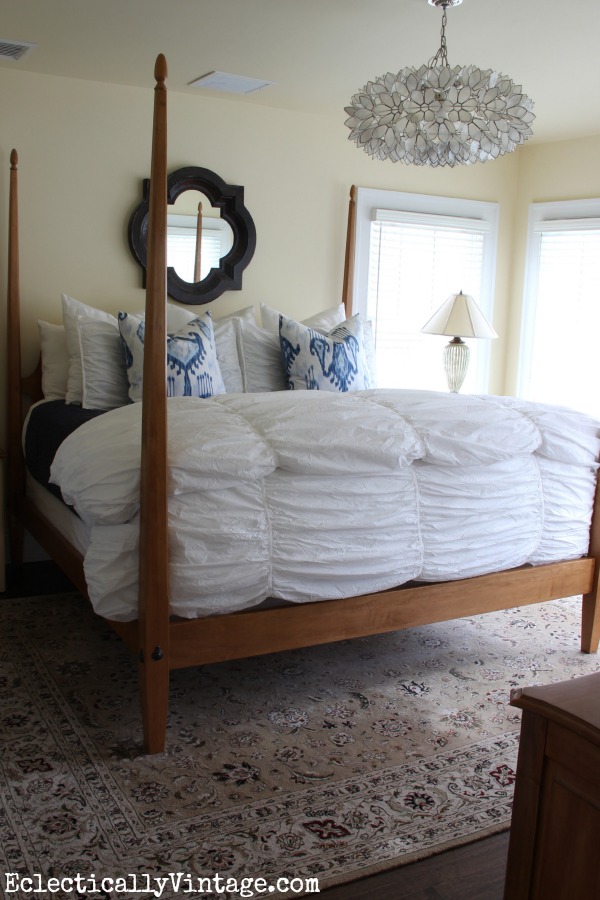 We're thinking spring …
Bunny hop over to my fabulous friends to see what puts a spring in their step.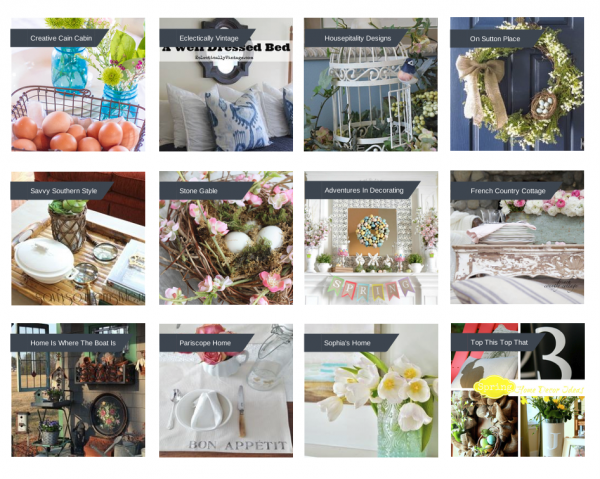 1) Creative Cain Cabin  2) Eclectically Vintage 3) Housepitality Designs 4) On Sutton Place
5)  Savvy Southern Style 6) Stone Gable  7) Adventures In Decorating 8) French Country Cottage
9) Home Is Where The Boat Is 10) Pariscope Home 11) Sophia's Decor 12) Top This Top That
Sources:  Capiz shell chandelier, blue quilt, blue throw pillows – HomeGoods
Disclosure:  Thanks Wayfair for letting me choose this fabulous bedding.  I only speak the truth.