Love Birds – Making Simple Birdseed Ornaments
I'm making simple birdseed ornaments and I'm sharing the how to. Birds will flock to your yard if you hang these. Get the easy recipe below.
Spotting a bright red cardinal on a dreary winter day makes my day.
So of course we encourage birds to drop by our yard with a few tasty treats to tempt them our way.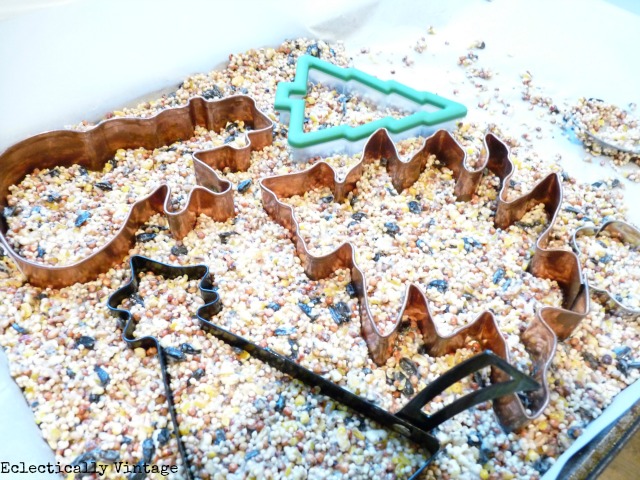 Whip up this simple birdseed ornaments recipe and be ready to watch the birds flock to your yard too.
Simple Birdseed Ornament Recipe
3/4 cup flour
1/2 cup water
3  T corn syrup
4  cups birdseed
wax paper
cookie cutters
twine or ribbon for hanging
* Line a cookie sheet with wax paper
* Pour flour, water and corn syrup into a bowl and mix together until combined
* Add birdseed until combined
* Pour mixture onto wax paper lined cookie sheet
* Press the mixture with your hands until it's compact (about 1/2″ – 3/4″ thick)
* Press cookie cutters into birdseed mixture and leave to dry for about 8 hours
* Remove birdseed ornaments from cookie cutters, turn them upside down and let them continue to dry until hard
* Twist jute twine around ornaments and hang from a branch
* Watch the birds flock to your yard and your kids eyes light up
Don't waste a bit.  Toss the broken, leftover chunks of seed into a bowl and set under a tree.
The other benefit of whipping up these treats is sharing some time with my girls as we dip our hands into the gooey mixture!
P.S. February is National Bird Feeding Month – so let's get in on the action and show some love to our feathered friends.
Check out all of my simple projects here and find out how I scored that fabulous antique chalkboard – from a nun!