Best Baked Ziti Low Cal Beg for the Recipe Dish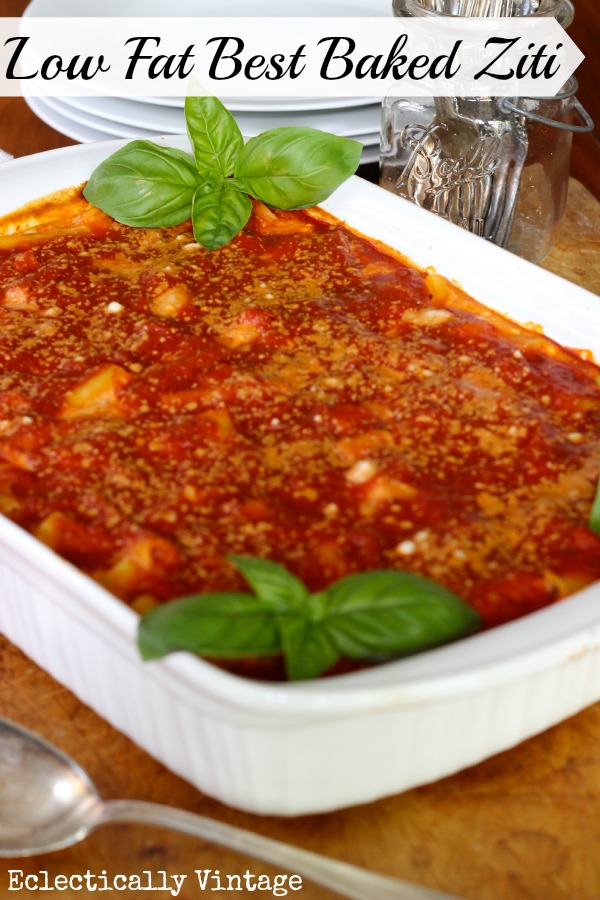 I'd rather swim with alligators than clean baseboards.
I'd rather run through a bee hive than clean the shower.
I'd rather give up going to thrift shops for a year than iron (ok, well maybe not that).
I'd rather cook a meal for an army of 200 than clean the oven.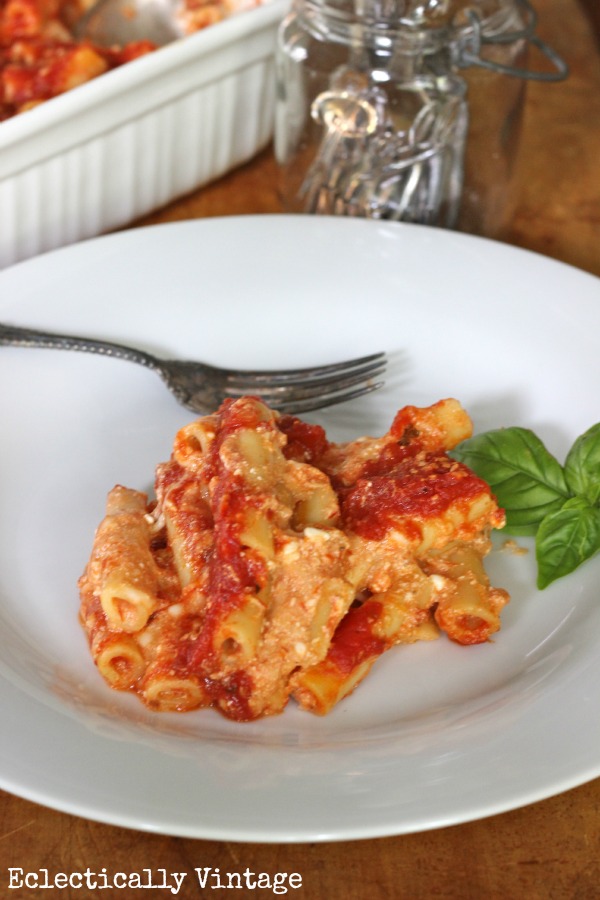 I have a confession to make and I know you won't judge me.  I have never cleaned my oven (shame).
But I do love to cook.  So my oven looks like a nuclear disaster and I always kick myself and ask why oh why didn't I get a self cleaning oven?
One of our favorite messy recipes is baked ziti.  It's amazingly delish but I just take it out of the oven quickly and ignore the smoldering mess left behind in my oven.
It's the perfect one pan dish to whip up with my girls on a Friday movie night – but boy is it messy.
Ingredients
Sauce (you can use jar sauce or make your own like I do - you will have leftover sauce that you can freeze to use another night)

Three (28 oz) cans crushed tomatoes
1/4 cup extra virgin olive oil
1 medium yellow onion - chopped
1 teaspoon crushed red pepper flakes
2 bay leaves
salt
freshly ground black pepper

Baked Ziti

1 tablespoon olive oil
1 yellow onion, diced
1 clove garlic, minced
4 cups tomato sauce
2 cups part skim ricotta cheese
1 cup 2% low fat cottage cheese
2 large eggs, beaten
salt and pepper to taste
2 tablespoons grated locatelli cheese
1 lb ziti, cooked and drained
16 oz part skim shredded mozzarella cheese
Instructions
Sauce

Heat olive oil in a large pot or dutch oven
Stir in onion and cook until translucent
Pour in crushed tomatoes
Add crushed red pepper flakes and bay leaves
Season pinch of salt and a few twists of pepper
Bring to a boil then lower the heat and simmer
Cook for 30 minutes (stirring occasionally)

Baked Ziti

Preheat oven to 350
Cook ziti according to package directions
Heat olive oil in sauté pan
Saute onion and garlic until tender
Stir in tomato sauce and simmer for 10 minutes
Combine ricotta, cottage cheese and eggs in a large bowl and mix well
Add pinch of salt and pepper
Add half of tomato sauce and cooked ziti and mix well
Spread a little sauce on the bottom of a large baking dish
Pour pasta mixture into baking dish
Pour remaining sauce on top
Sprinkle 2 tablespoons locatelli cheese on top of the sauce
Cover with foil and bake for 20 minutes
Remove foil and bake for 10 more minutes
https://www.kellyelko.com/low-fat-best-baked-ziti-and-a-chance-to-win-a-lg-easyclean-double-oven-range/
I'd rather spend time after dinner watching a great movie and munching on buttery popcorn – not worrying about cleaning up my oven.
My new motto:  Less cleaning time = more family time!
The solution:  A LG EasyClean™ Double Oven Range with  EasyClean™: A Clean Oven in Minutes, Not Hours.
Not enough time to clean your oven? No worries. LG brings you the new generation of oven cleaning with EasyClean. All LG double oven ranges provide a quick and convenient way to clean your oven while still being able to use the conventional self-clean method. EasyClean works in three simple steps. Spray the oven interior with water, press the EasyClean button, then in just 20 minutes, wipe away any residual bits of grime*. No chemicals or high heat needed to keep your oven sparkling clean. To learn more about LG EasyClean click here.
*Heavy build-up may require additional manual effort or use of the full self-clean feature
This is a sponsored post but I only speak the truth.  See my full disclosure policy here.