The average person spends 229,961 hours sleeping! That's one third of our lives! Since we spend so much time in our bedrooms, I think we should put extra thought into decorating them. Since I shared my master bedroom makeover a few weeks ago, I have gotten tons of people asking where I got my rug, blanket, pillows, lamps and more so I decided to share my master bedroom sources and tips plus other favorite finds to inspire you to spruce up the place where you spend so much time.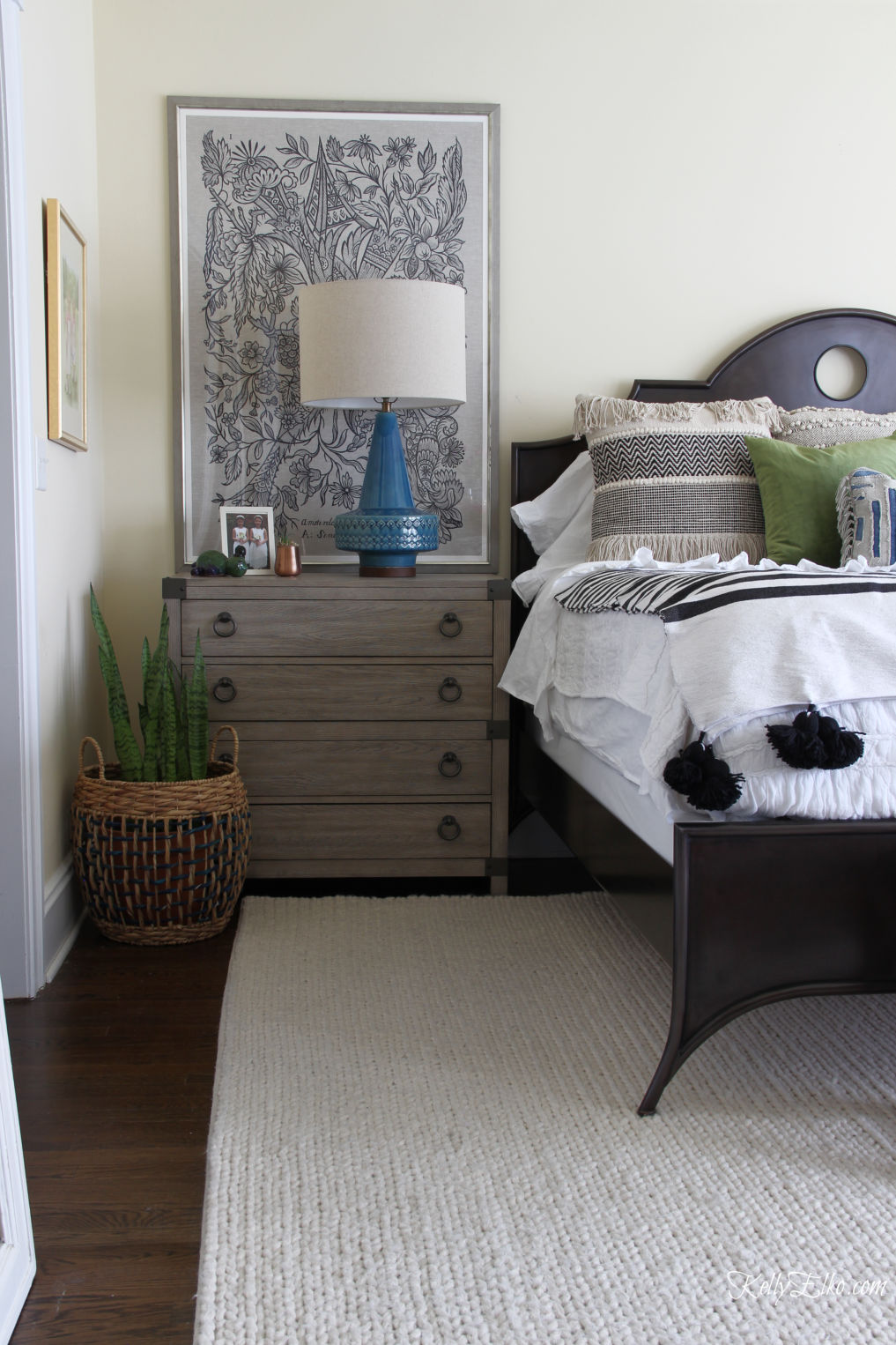 Bed – my black metal bed is from Restoration Hardware but it's no longer for sale. I love this metal canopy bed as a much more affordable alternative. I also love this affordable metal bed in my guest room (no wonder it has over 8,000 five star reviews)!
Tassel Blanket – If I could marry this blanket, I would! It's so thick and well-made and the huge tassels are such a fun touch. It comes in a bunch of sizes (I got the largest one for my king size bed) and lots of other colors and patterns too. Before I got this blanket, the bed was a giant sea of white but the blanket really adds so much personality.
Rug – this wool rug reminds me of a chunky knit sweater and it adds so much texture to the room.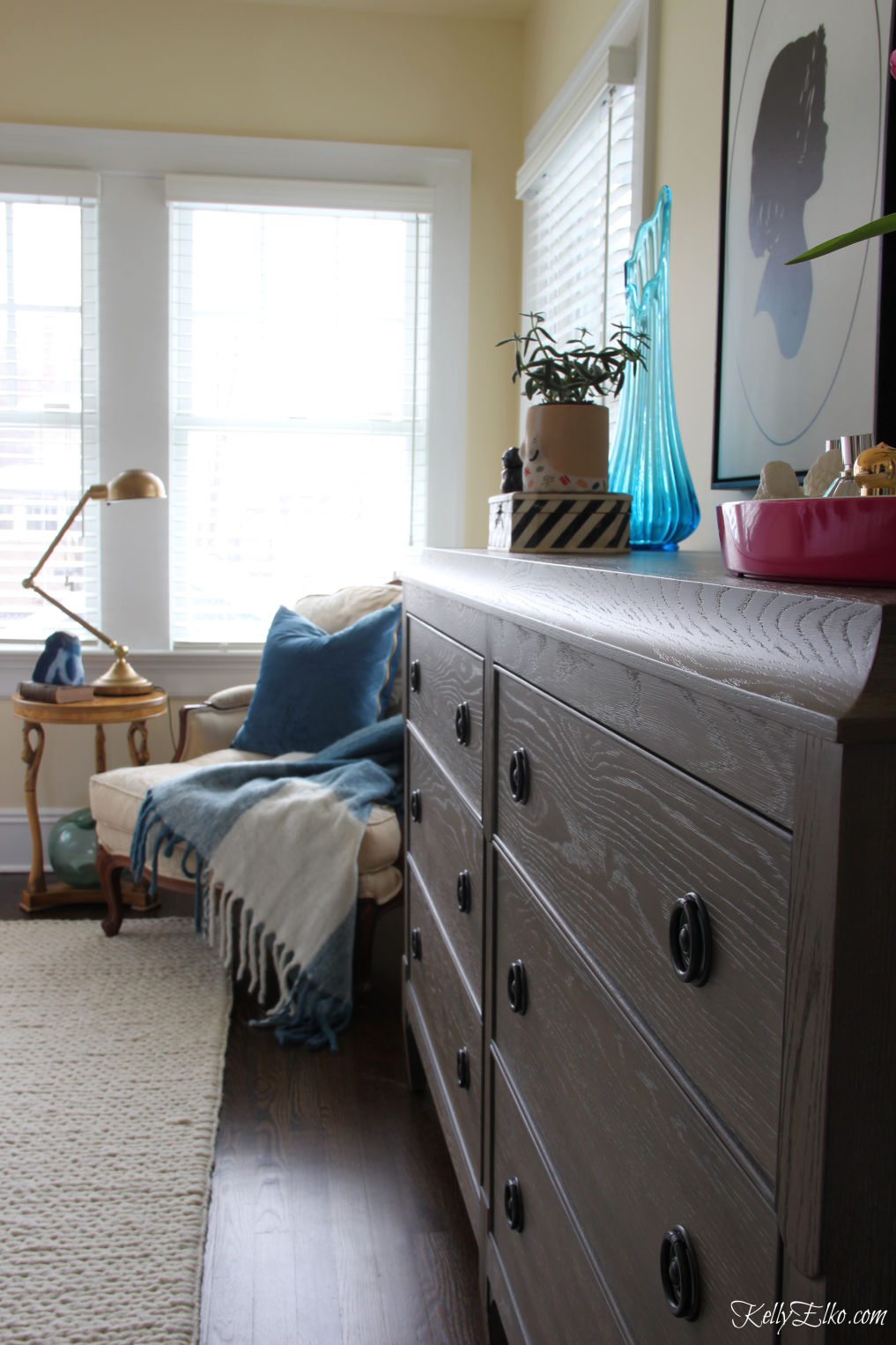 Pillows – I layer two sleeping pillows in pillowcases that match my sheets, then two sleeping pillows in linen shams then add the large square pillows on top (3 on my king bed / 2 on a queen)! I like 24″ square Euro pillows (I LOVE the texture of these Moroccan pillow covers) and then a couple of colorful toss pillows in front of them. The pillows on my bed are from HomeGoods.
Lamps – I got these lamps a couple of years ago at West Elm and they are no longer for sale but I found some that I love if you want a similar look:
Mid Century Lamp – the texture and glaze on this lamp is beautiful and I love the height.
Ceramic and Wood Lamp – I love the mix of white ceramic with natural wood and the curvy shape of this beautiful lamp.
Accessories – I love live plants in every room of the house and snake plants are one of the easiest to care for. Pop one in a basket for more color or texture (I love the basket selection at World Market). Add in some fun pops of color with trays, vases and unique vintage finds.
Art – Choose pieces that make you happy. I blew up my girls silhouettes on canvas prints on Shutterfly and love seeing them first thing every morning. The oversized piece of art over the nightstand is from HomeGoods.
Furniture – I really love the wood grain on the pair of chests used as nightstands and dresser. The side table and bergere chair that I've had since I got married many moons ago makes for a cozy reading nook. A colorful throw and pillow gives a fresh look to this classic shape.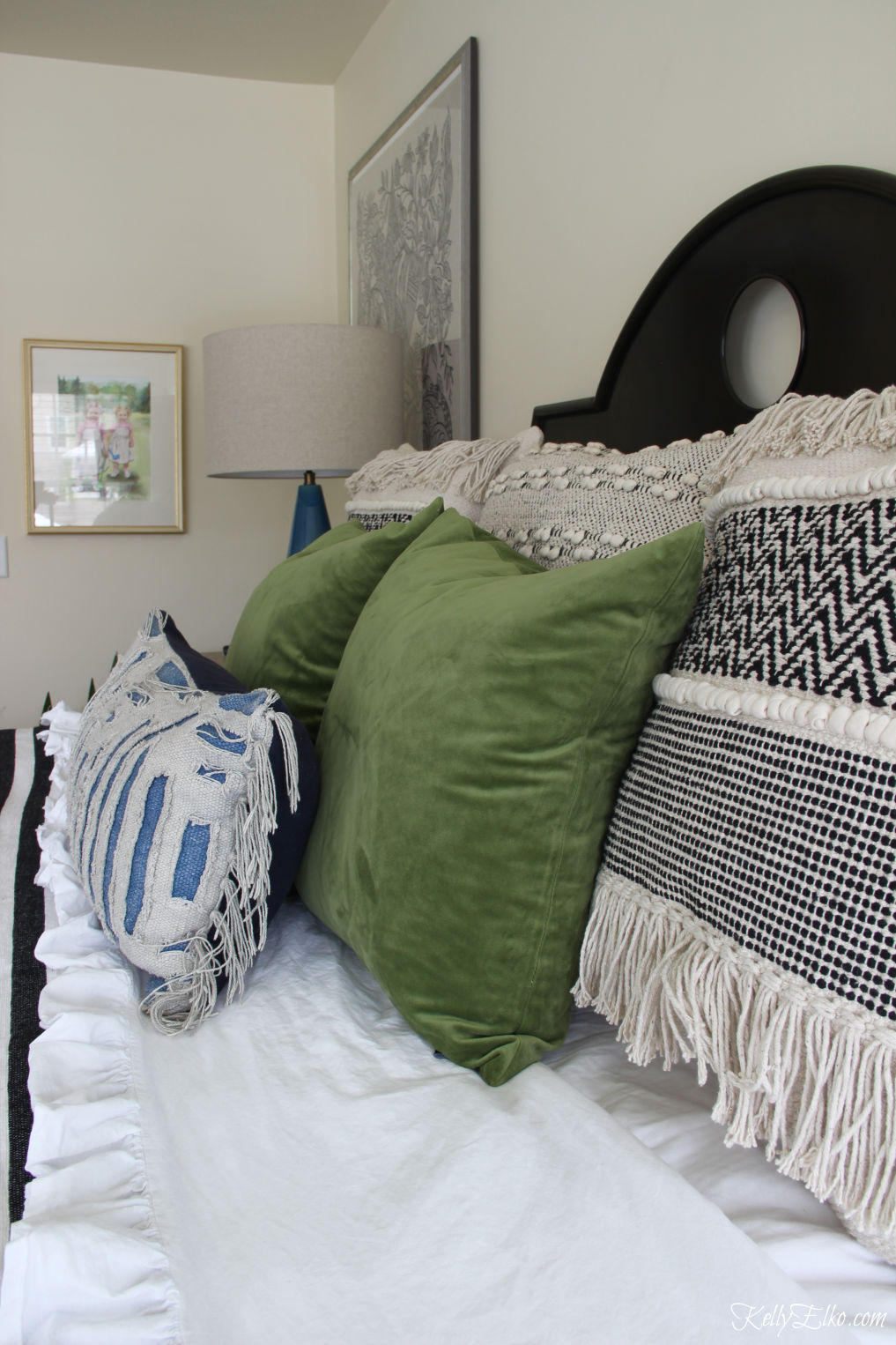 Here's to spending one third of our lives surrounded by things we love.