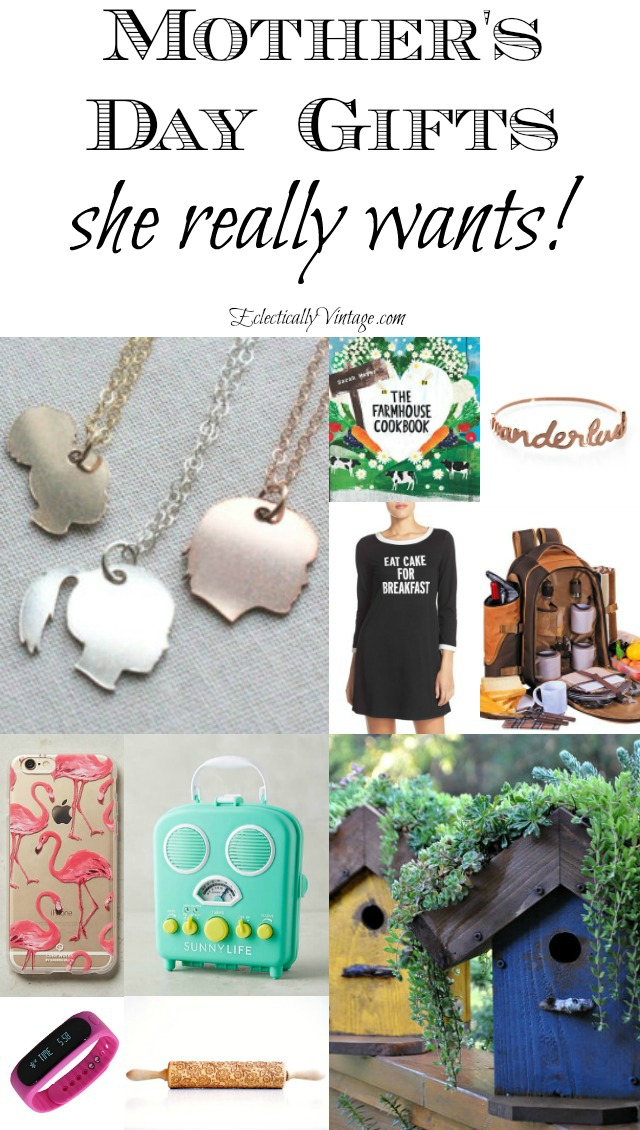 Why is that whenever my family asks me what I want, I usually say I don't need anything?
I know nothing makes me happier than giving thoughtful gifts and I know my girls (and hubby) enjoy doing the same. They just don't know what a hard to shop for girl like myself wants.
Don't get me wrong. I love nothing better than getting a handmade card, homemade pancake breakfast, bunch of flowers from the garden or spending the day lounging with my family.
But since they asked …
I'm making it easy for them – and sharing my Mother's Day wish list affiliates …
1) Custom Silhouette Charms – email a profile photo (kids, pets, you), then pick a color (rose gold filled, yellow gold filled, or sterling silver) to keep your loved ones always close.
2) The Farmhouse Cookbook – I can picture myself milking cows and gathering eggs from my hen house while I whip up some of these beautifully photographed recipes.
3) Wanderlust Bracelet – reminds me it's important to get out and experience new things (it comes in other words like Believe, Breathe and more.
4) Nightshirt – because what's better than dessert?
5) Picnic Backpack – comes with everything you need including cutlery, cutting board and more for four except the food (and wine).
6) Pink Flamingo Cell Phone Case – because every girl needs a fun phone case – comes in lots of other fun designs.
7) Beach Radio – portable and cute and perfect for the beach or bbq.
8) Smart Fitness Tracker – this will motivate me to be less of a couch potato.
9) Embossed Rolling Pin – baking with my girls will be even better when we can easily roll this design onto our cookies.
10) Living Roof Birdhouse – the perfect addition to my garden.
Shop the Look – click to scroll through and see everything in more detail


Don't forget to print my free printable Mother's Day gift tags for your favorite chocolate lover.