Today, I'm sharing my favorite must have Christmas decor items so you can deck your halls in style.
For those of you who believe Christmas should wait until after Thanksgiving, I hear you.
Magazines plan seasonal issues 6 months ahead of time and as a blogger, I have to be a bit ahead of the seasons too. You know I love decking my halls every year and you can see more of my ideas from Christmas past here.
I'm changing things up once again and I've been scouring my favorite stores to find the best vintage (mostly) Christmas inspired decor plus some other fun finds and I want to share them with you.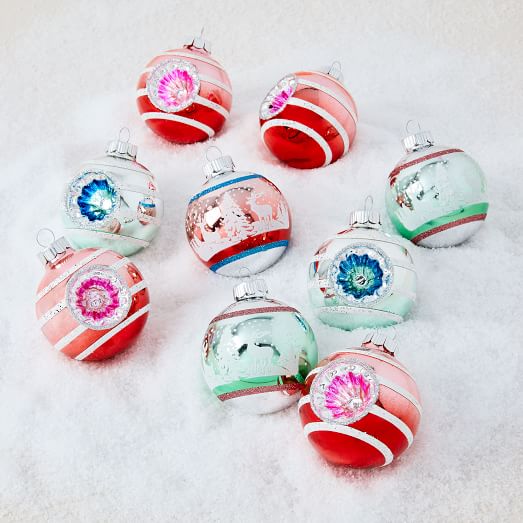 post contains affiliate links
This year, everything old is new again and I couldn't be happier! The classic Shiny Brite ornaments have been reimagined and you'll see both old and new in my house this year. I love this set of new Shiny Brites above that look amazingly like the vintage ones. Feather trees are perfect for showing off ornaments and every kitchen needs a set of vintage looking Santa mugs for their hot chocolate.
I've also thrown in some non-vintage inspired must haves including my favorite remote control fairy lights with eight different light settings. They are truly magical. I am loving little houses this year and you'll see that theme all around my house so stay tuned. If you've got a Harry Potter fan in your house (everyone in my house!), they will love their very own Harry, Ron or Hermione ornament!
So while you can scour thrift shops, estate sales, Etsy and eBay for the real thing, if you can't find what you're looking for at affordable prices, these are a nice stand in.
Hover over each photo to see prices or click each pic to learn more and you can decide if there is anything on my must have list that is also on yours.