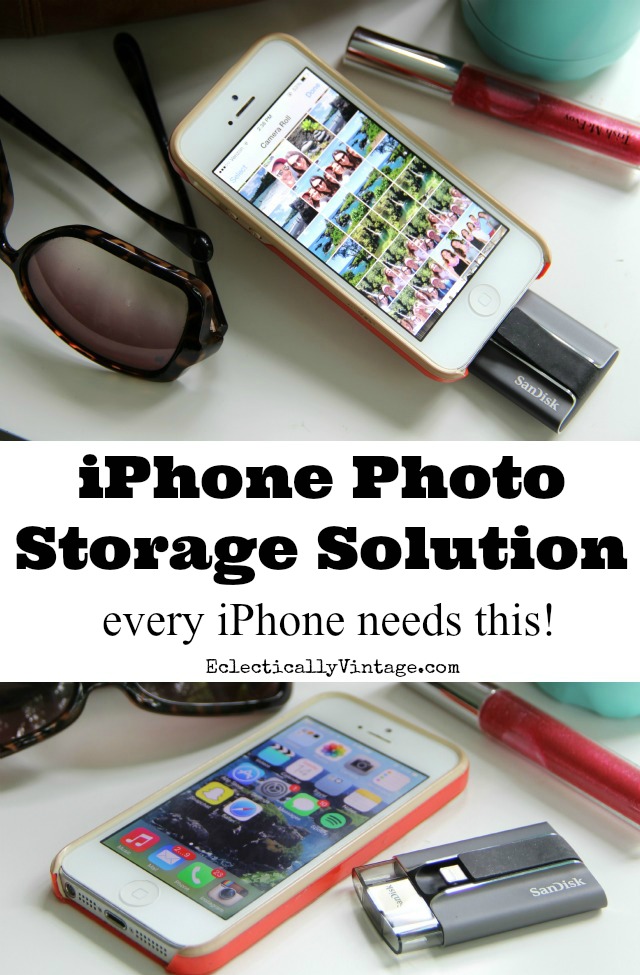 If you're anything like me, you're a picture taking machine.
I love my Canon camera but I'm not a fan of lugging it and all the lenses around with me everywhere I go so I usually rely on my cell phone camera to capture all those special memories.
The problem …
Being a picture taking machine means running out of storage space on my iPhone which means I have to search through my camera roll and find pics to delete so I can free up space to take more pictures (it's a vicious cycle)!
Drum roll please …
I've discovered the SanDisk iXpand – it's a handy dandy portable flash drive that lets you easily backup files or move photos and videos between iPhone, iPad, PC and Mac computers.  I have the 128GB drive which has a ton of space (also comes in 16GB, 32GB, and 64GB versions – stay tuned below for a great deal).
This thing has saved my life.  It's always in my purse so I know I'll never run out of storage space on my iPhone again.  I brought it with me to Hawaii and knew I could take tons and tons of pictures without having to worry about using up all of my storage space.
You just need two things when out and about: your iPhone and this iXpand drive.  That's it – no cords to lug around, no WiFi necessary, no computer needed.
Even if storage isn't an issue, you can use this to back up those priceless photos just in case something horrible happens (like your phone breaks or is stolen or the hard drive crashes).
Favorite Ways to Use My SanDisk iXpand 
Of course, backing up my iPhone and computer photos is my number one reason but here are more reasons I love the iXpand …
iPhone:
Travelers – transfer important files from your computer onto the drive and have access to them right from you iPhone without having to lug your computer along with you (perfect for getting a little work done while on vacation)
Music Buffs – play your huge music collection right from the drive (no internet connection needed)
Movie Lovers – transfer videos and watch right from the drive (perfect for long drives or flights)
iPad, PC or Mac:
Easily move documents, videos or photos from computer to computer or iPad (perfect for sharing with friends and family)
Extra bonus – no need for cords or WiFi.
Along with my other necessities like lip gloss, sunglasses and water bottle, my iXpand is now a staple in my purse.
Off to take more photos – say cheese.
Want to get your hands on a IXpand for yourself?!  Use this e-coupon for $50 off (over 45% off) your purchase!
*This is a limited offer
Not ready to purchase yet? Drop in your name here to get our latest offers.
This is a sponsored conversation written by me on behalf of SanDisk. The opinions and text are all mine.