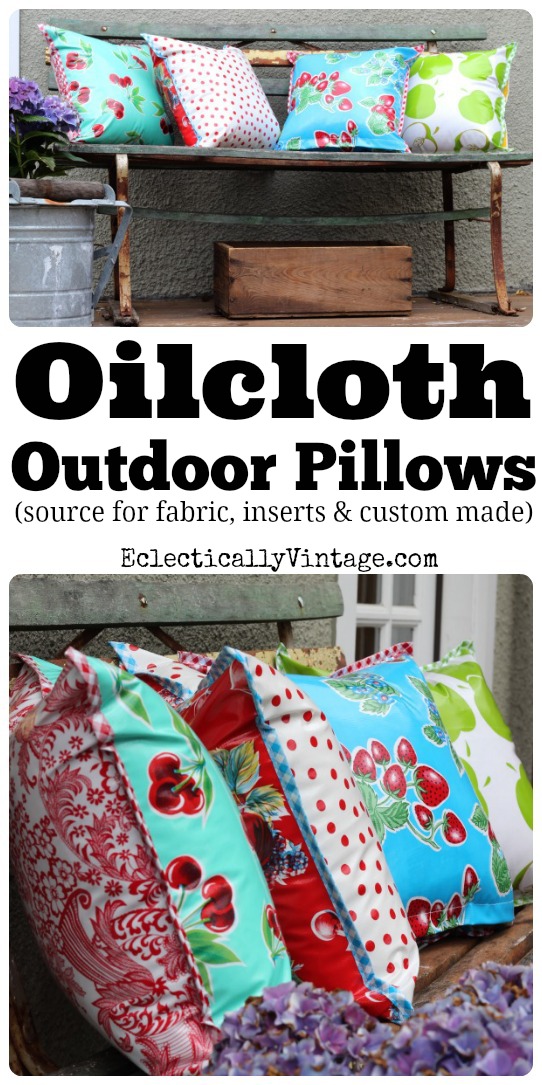 I'm feeling very June Cleaver …
minus the perfectly coiffed hair, starched apron and wearing heels while vacuuming thing.
I'll definitely be the hostest with the mostest this summer as I liven up my yard with these bold, retro prints of my new oilcloth pillows from Modern June.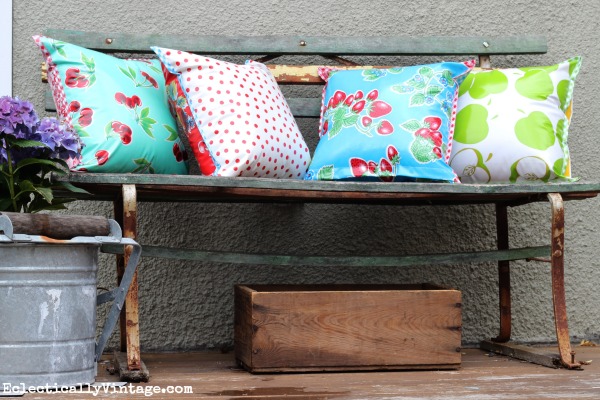 I am seriously in love.
The quality is amazing – each zipper is hidden and they are perfect for outside (although I won't leave them out in a downpour)!
I stumbled across this GENIUS idea from Online Fabric Store while searching for pillow inserts!
Use a pillow insert two inches bigger than your pillow cover –  it makes them extra plump!
So my 16″x16″ pillow covers were stuffed with an 18″x18″ pillow inserts that are weather resistant from Online Fabric Store – perfect for outside!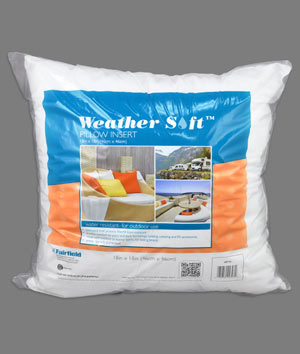 Modern June makes more than just pillows and oilcloth!  I love her chalk cloth, banners and fun sewing kits (the tote bags are adorable).
Not to mention she's written two books.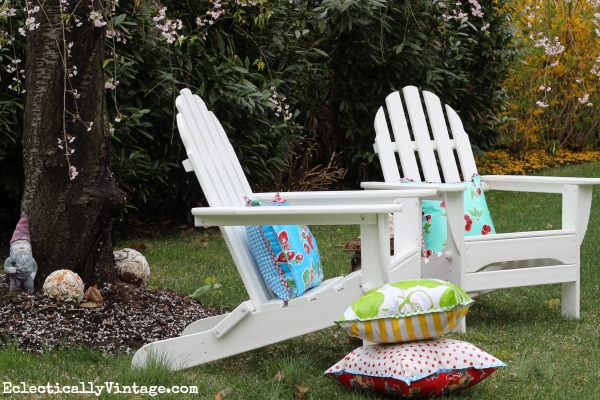 Update:  Giveaway has ended – the winner is Robin
Win Two Custom Oilcloth Pillows from Modern June and At Home with Modern June Book
1) Hop over to Modern June and let me know which 3 to 6 oilcloth fabrics (front, back and trim) you would choose for your pillows
2) Come back and leave me a comment letting me know
Nitty Gritty:   Giveaway ends May 10 at midnight EST.  Contest open to US and Canadian residents over 18.  Winner will be chosen by Random.org and notified by email.  If no response within three days, a new winner will be chosen.  Winner receives two 16″ x 16″ custom oilcloth pillow covers and At Home with Modern June book and will be shipped by Modern June.
Disclaimer:  Thanks Modern June for turning my yard into something out of a scene from Leave it to Beaver.  Thanks Online Fabric Store for the amazing outdoor pillow inserts.  All opinions are my own and I only speak the truth.
P.S.  Eclectic is my middle name – don't forget to check out my tips on how to get an eclectic patio.