Countdown to Christmas – How to Add Fun Christmas Effects to Photos
I'm sharing how to add fun effects to photos for a one of a kind look for any season. These pet photo Christmas ideas turned a plain photo of my dog into the cutest little Rudolph puppies that I turned into a garland.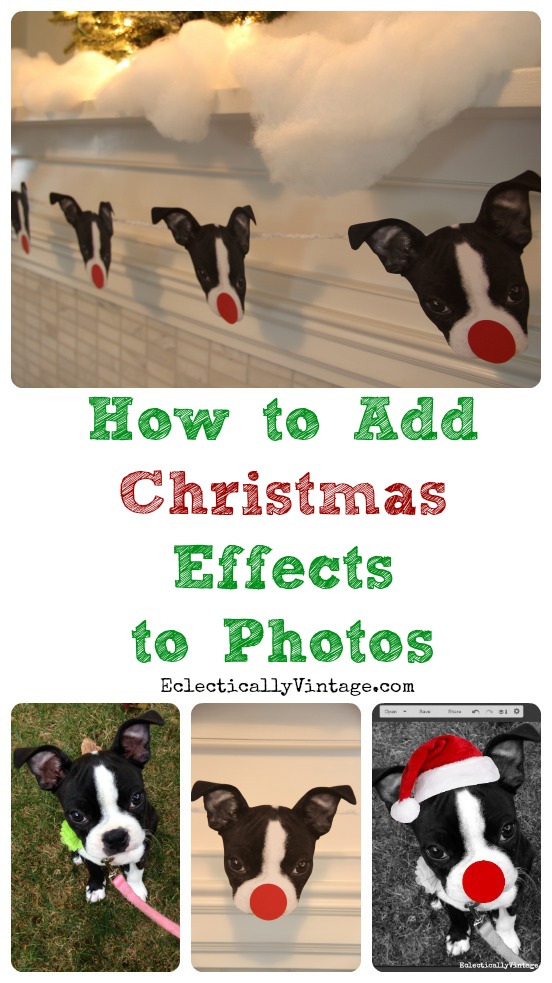 Only 9 Fridays til Christmas and five of my friends and I will be bringing you Christmas ideas every Friday through Black Friday to get you in the holiday spirit.
Sushi has been a busy little elf.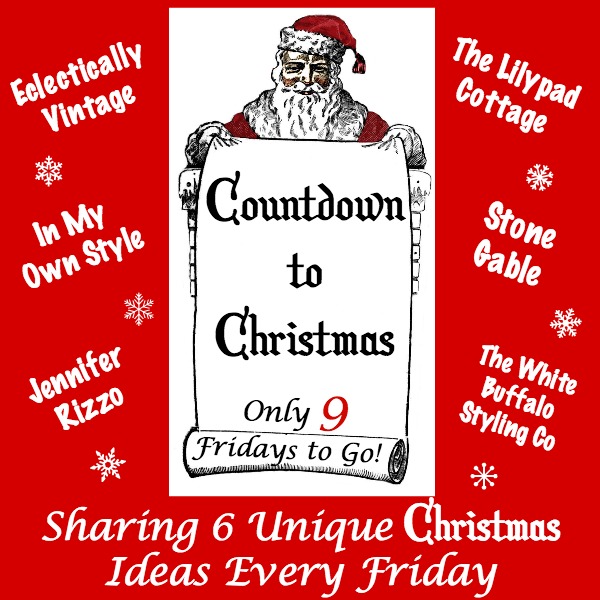 She feels Christmas should revolve around her cuteness and I agree so she put on her diva attitude and strutted her stuff for some pictures which she then demanded be duplicated because one Sushi just isn't enough.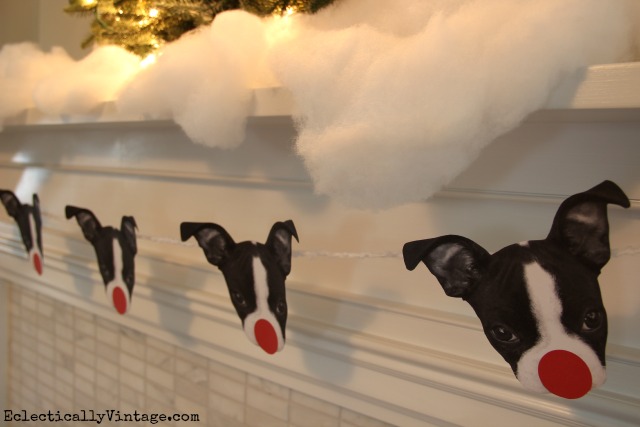 Why should Sushi have all the fun? Want to turn your pet into Rudolph?
How to Add Christmas Effects to Photos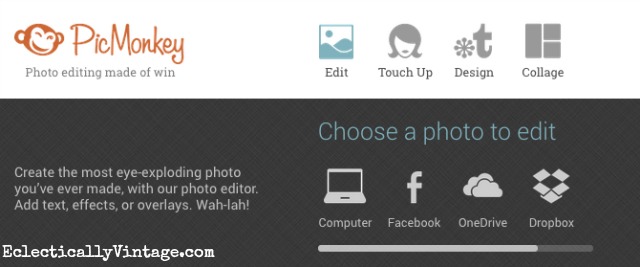 1) Take a cute photo of your pet – focus on the head and face (the background can be cut away later)
2) Download this blank white background
3) Go to Picmonkey.com (free photo editing site) and click Edit then choose the black white background that you just downloaded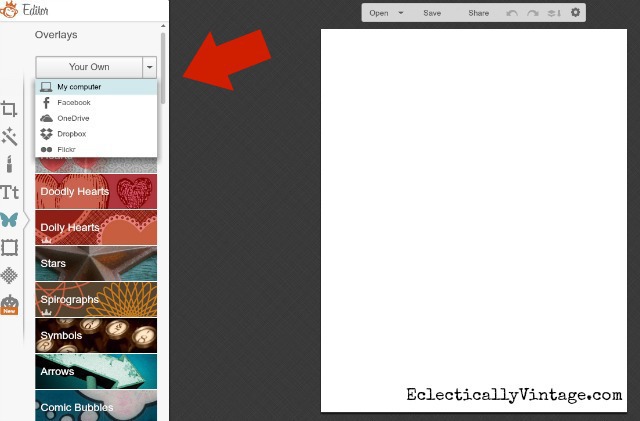 3) Click on Overlays (Butterfly icon) on the left side
4) Click on Your Own at the top of the overlay column
5) Click on My Computer
6) Upload your pet photo
7) Your photo may be small – enlarge it by grabbing a corner of the photo and dragging it until it fills the white space (smaller if it starts to cut your pets face off)
8) Click on Effects (Magic Wand icon) on left side – scroll down and click Black and White then click Apply
(This will turn your photo black and white which makes the background less noticeable when you cut out your pets head)
9) Click on Overlays (Butterfly icon) then click Geometric and choose the circle
10) Change color of circle to red (a box will pop up) and choosing red (do for both colors)
11) Drag red circle over pet's nose and enlarge or decrease in size as necessary
12) Save your photo then print on a piece of heavy white card stock
13) Cut your pet's head out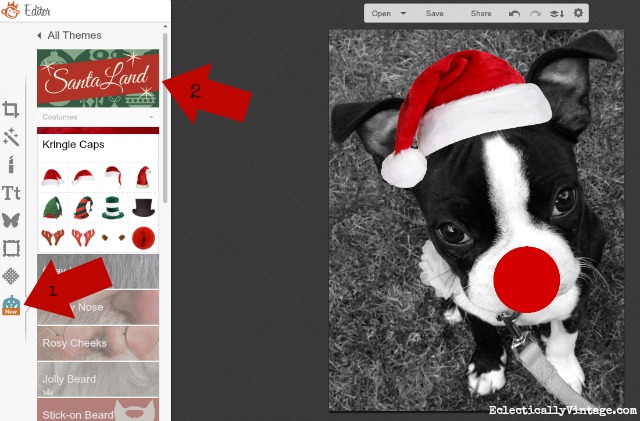 Don't stop there …
Add a Santa hat, beard or antlers to your pet by
14) Click Themes (pumpkin icon) then click Santa Land and click on your favorite overlay then drag it where you want and resize as needed.
(yes, I know they have a Rudolph nose in this section – but who knows if it will be around forever – so I showed you a different way in case it disappears).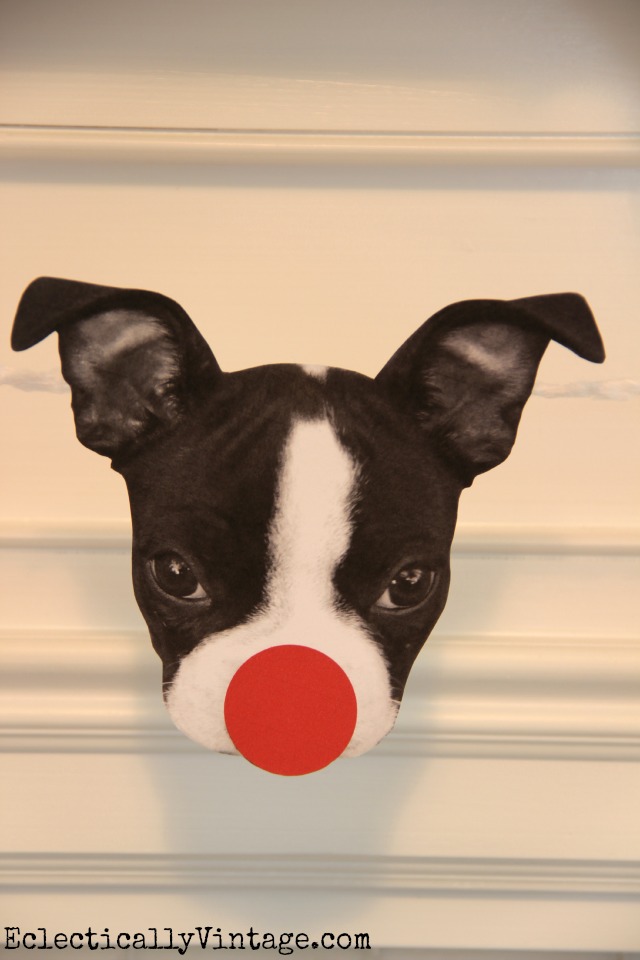 Make a garland, ornaments, gift tags or simply frame it!
Whatever you do, your very own little Rudolph is sure to set your heart aglow.
Don't forget to check out my fully decked out Christmas house from last year for more decorating ideas!