The planets aligned when I spotted the most amazing vintage console table at an estate sale.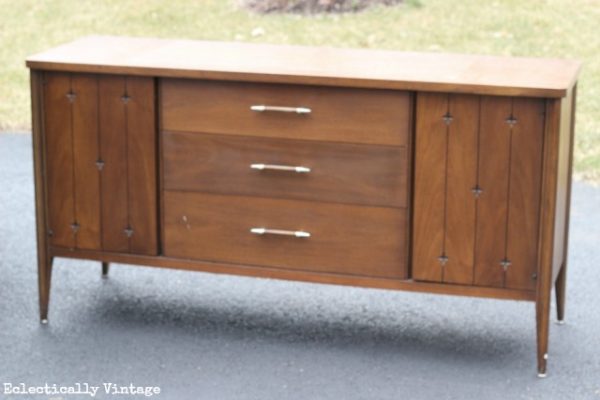 I may have dislocated a shoulder as I threw myself upon it before anyone else could snag it. The empty space beneath my sunroom TV will, at last, have a place to hold our stash of DVDs, books and … a place to throw all the clutter when guests arrive.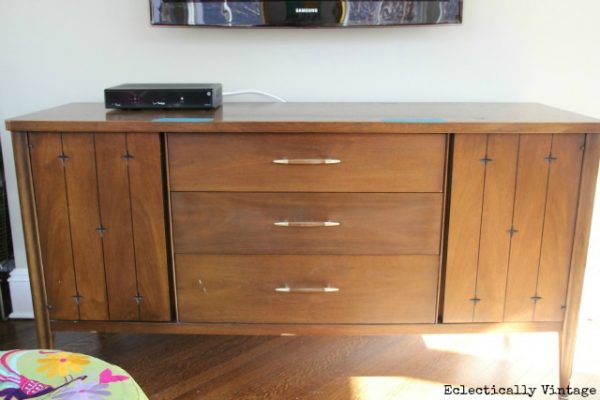 My search has finally ended … but now to give it a little colorful TLC with the perfect paint color. First, I checked out the Sherwin-Williams website to peruse my color choices. It was there that I discovered my new love – the Sherwin-Williams Color Visualizer. How cool that you can upload your own photos and "virtually paint" walls, furniture and even small pets, if that's your thing, all without ever leaving the comfort of your sofa. I mean, who doesn't love picking paint colors while sipping a glass of vino?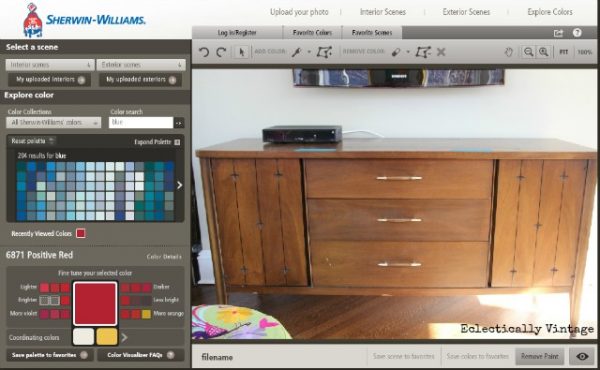 Like the Nanny, I'm the lady in red while everyone else is wearing tan, and I wanted this media cabinet to be the same. I narrowed down my choices to a vibrant blue, knowing it would be a great contrast to my green sofa, so off I went in search of the perfect shade. Would it be peacock, navy, baby, sky or perhaps indigo?  So many choices, but where to begin?
So now, when I buy my paint, there will be no more staring in a confused stupor at the row upon row of color chips.
I will now march confidently into the paint store and say with authority, "I'll have a gallon of Intense Teal, please."
The paint store employees will be amazed at my color-picking panache as I sashay out of the store with my arsenal of paint, primer, brushes, and drop cloths in hand.
You know how getting something new makes you look around the room and realize more changes are needed?
Well, that's exactly what happened to me, and I can't wait to show you how one estate sale find turned my sunroom into a fabulously fun and colorful room that I never want to leave (you'll never guess what I put on the TV wall)!
So the next time you see this vintage beauty, she'll be showing off her new makeover and will be the hit of my sunroom. I'm afraid the other pieces of furniture may start gossiping about her – you know how catty furniture can be sometimes.
Drumroll please …
come check out the finish painted thrift shop makeover beauty in all it's glory here.
Post sponsored by Sherwin-Williams but all opinions are my own!