Pros and Cons of Machine Washable Ruggable Rugs
When my sister visited a few weeks ago with her dog Jovie in tow, I was excited to see them. That is until … Jovie decided to leave a steaming brown gift on my new rug! The silver lining of this story is that she chose my new Ruggable machine washable rug to go on! With all the buzz about Ruggable rugs, I of course had to find out if they live up to the hype and I'm sharing all the Ruggable rugs pros and cons, my favorite rug designs (at the end of this post), plus a look into my updated sunroom. If you have pets, kids, allergies, are spill prone, or just want a rug that you can toss into the washing machine, these rugs might be for you.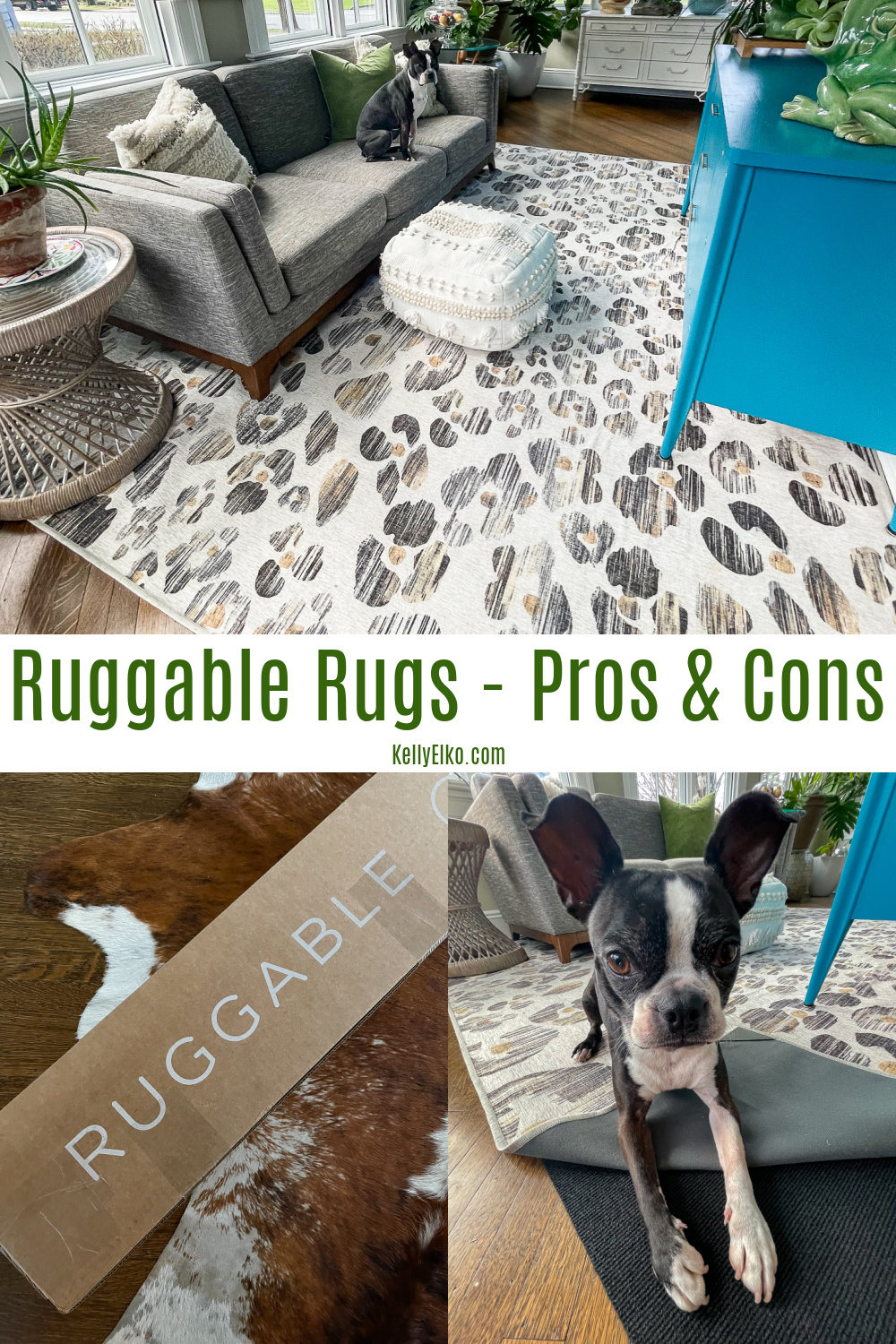 I've been eyeing these rugs for awhile so when Ruggable reached out to see if I wanted to collaborate, of course I said yes. I'm providing my honest opinion so you can make an educated decision for yourself. This post also contains affiliate links which means if you make a purchase, I may earn a small commission at no extra cost to you.
Let's get down to the nitty gritty of the pros and cons of owning a Ruggable rug and what you need to know before you buy one for yourself …
Pros
MACHINE WASHABLE! After my sisters dog pooped on my rug, into the wash it went (delicate, cold cycle) and dryer (on low).
Two Piece Non-Slip System – the rug cover (the pretty part) is water and stain resistant and removes from the velcro-like rug pad when you're ready to wash it.
Change the Look – Just purchase a new rug cover (no need to buy another rug pad) and you can change out the look of your rug in an instant.
Free Exchanges – If you decide you don't love the look of the rug, you can exchange it for free.
Lots of Designs – There seems to be something for everyone from traditional to modern and they recently introduced these plush rugs that I would love to try! I chose the Ayana Leopard Rug 
Many Sizes – from runners all the way up to 9′ x 12′.
Pet Approved – My dog loves playing on the rug (my old rug has the snags to prove it) but this rug is tightly bound so there have been no shedding or snags.
Cons
Returns – Returns cost $25 (but exchanges are free) so make sure the rug is in perfect condition with no pet hair, dander, etc.
Thickness – it's not thick and plush (doesn't bother me but thought it worth mentioning) but it is comfortable underfoot and soft enough to lay on.
Washing Machine Capacity – you need a minimum 2.2 cubic feet capacity for rugs up to the 6′ round, 3.8 cubic feet for 8′ x 10″, and 4.2 cubic feet for 9′ x 12′ rugs.
Hard Floors Only – recommended for use on hard flooring only (not on top of carpet).
Edges Lifting – I have not had this problem with my rug after only one wash but I have read other reviews that report edges and corners curling up after washing.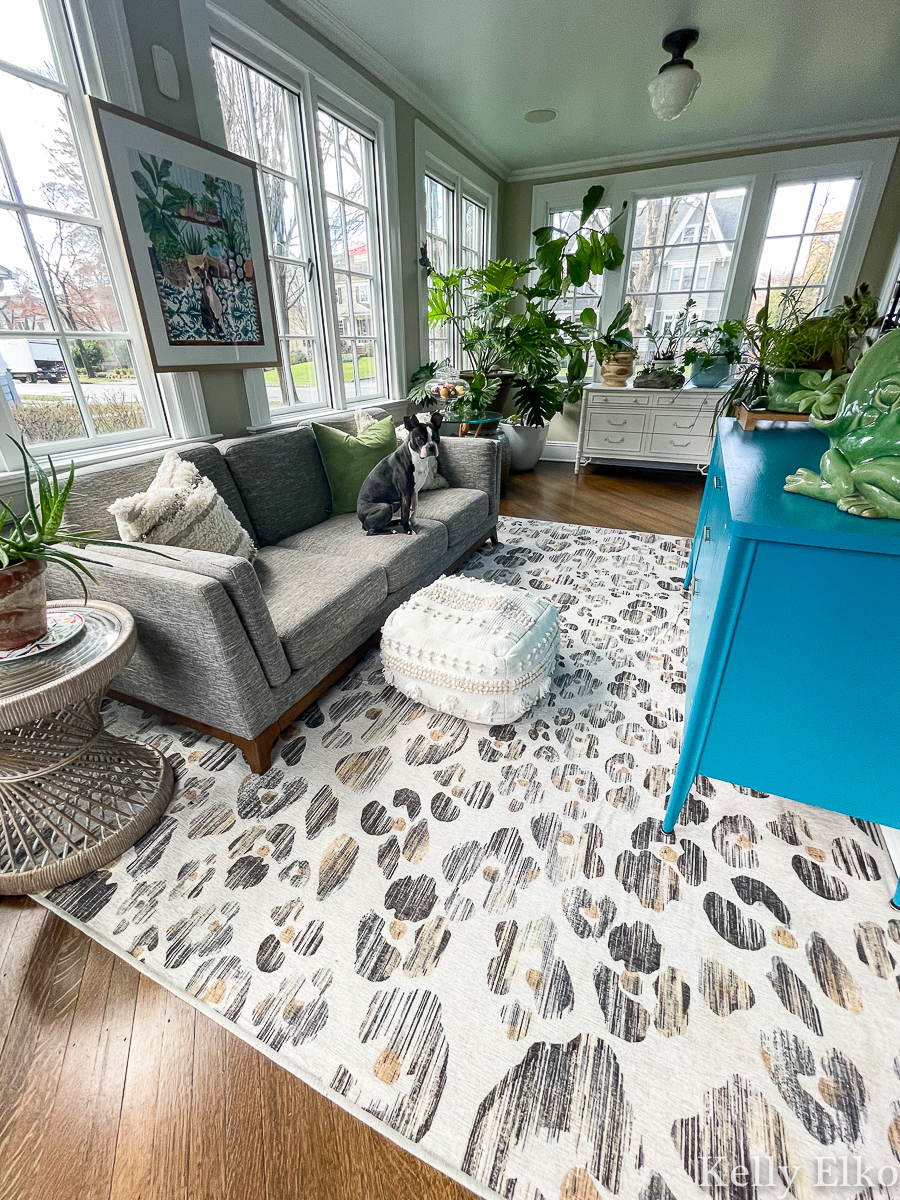 Follow the Instructions!
You'll be frustrated if you try doing it your way (believe me)! Follow the directions that come with your rug and it will be so much easier (although I still have a couple of "bubbles" where I couldn't get the rug to lay flat). You could probably lay down a smaller rug by yourself but I was happy to have my husband help me put down our large 8′ x 10′ rug (I don't think I could have done it alone but it was much easier the second time).
I chose the Ayana Leopard Rug (8′ x 10′) and love the oversized, almost abstract print! If you look closely at the photo below (under the blue cabinet), you can see where I had a little bit of difficulty getting the lumps out of the rug.
Tip: go with the largest rug that you can to make your space look bigger (I had a smaller 6′ x 9′ rug here previously and when my sister visited she exclaimed how much larger the room looks with the bigger rug)!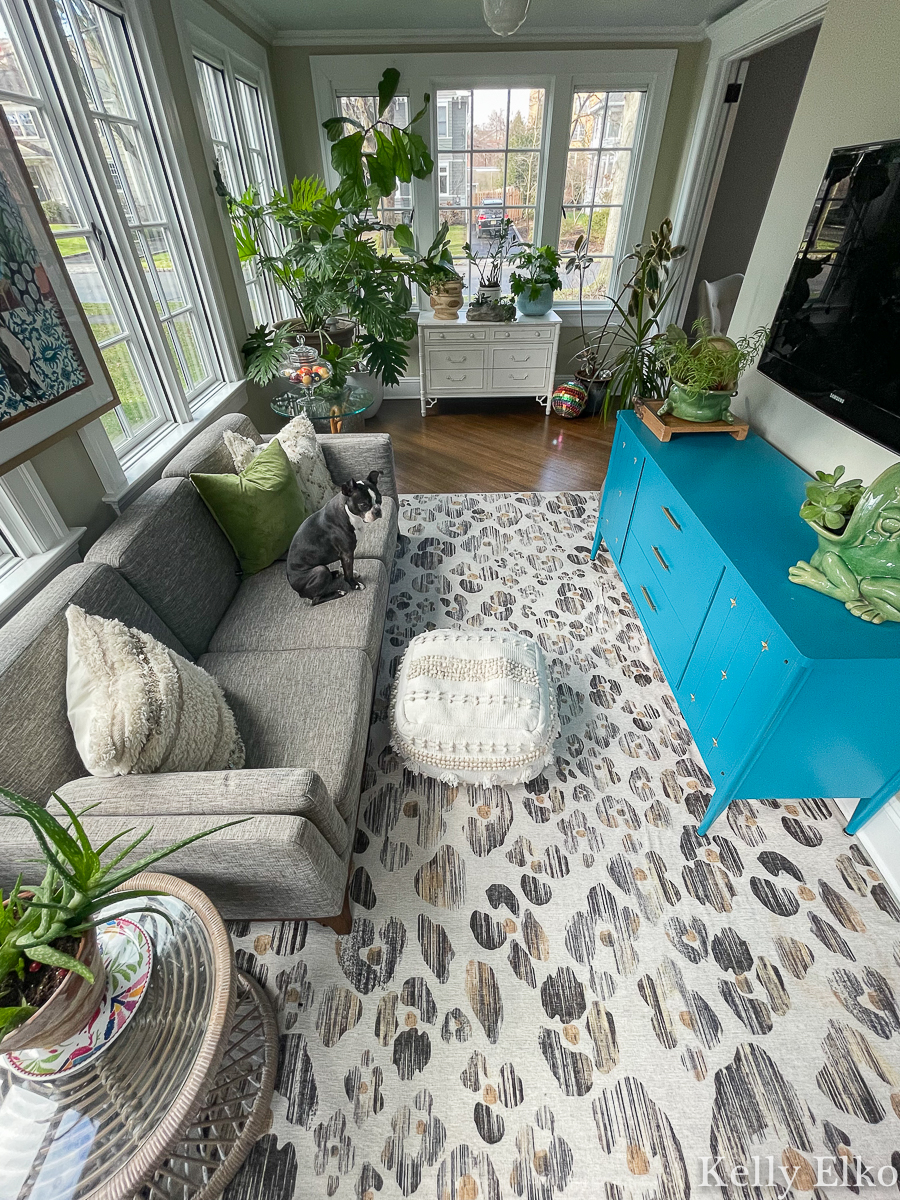 It's Sushi approved!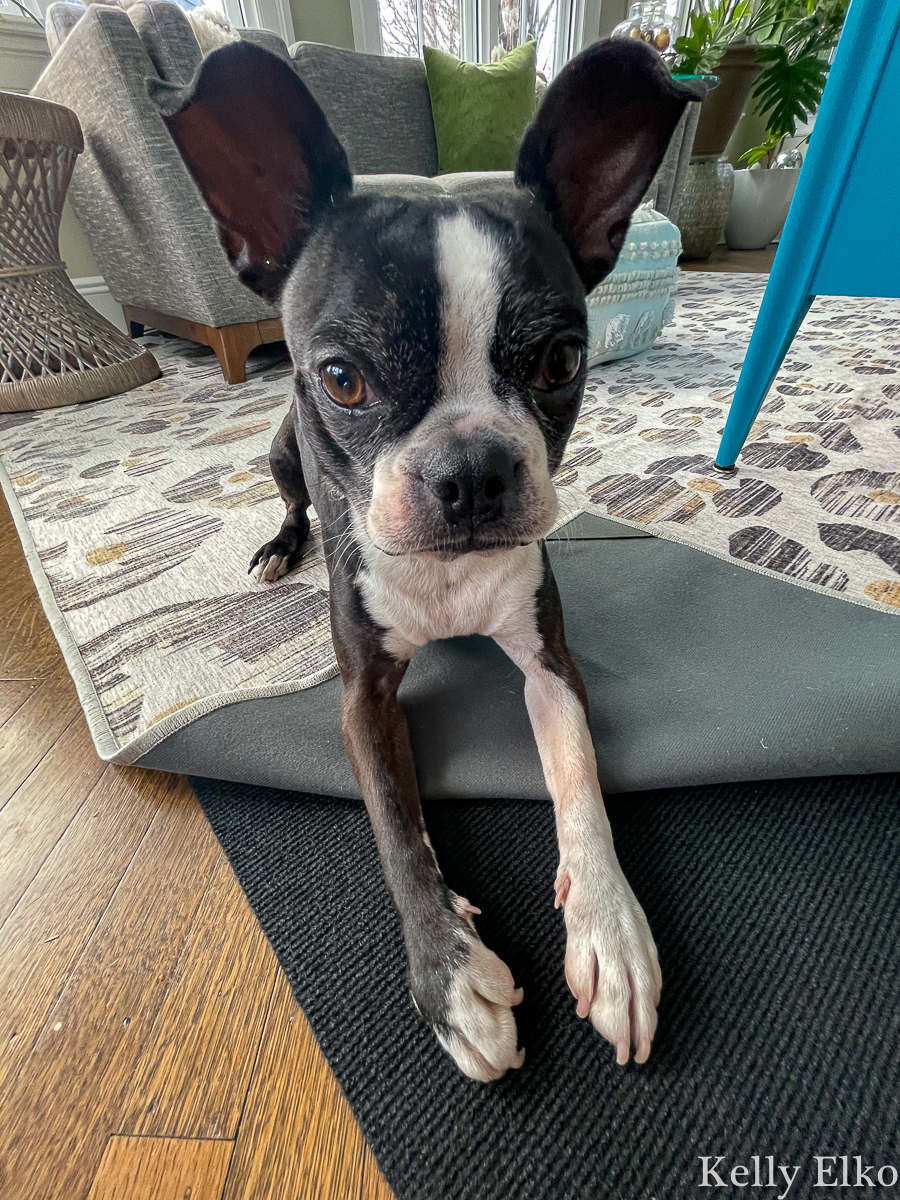 You can see the black pad below that has a velcro like texture to keep the rug in place. Just peel the rug cover from the pad when you want to wash it.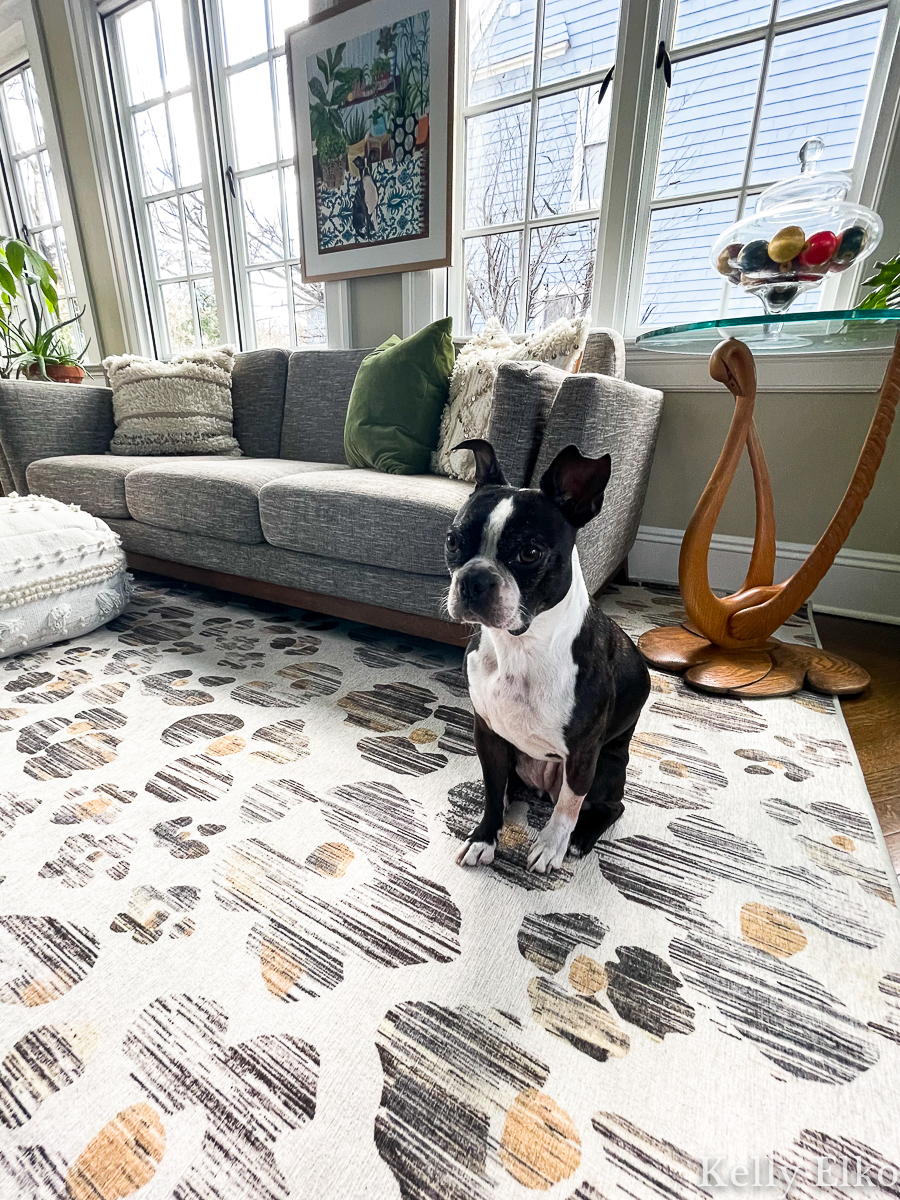 Sushi is thrilled in the knowledge that she can roll around on the rug to her hearts content.
I'm thrilled with the look of the rug and love the pattern!
I think these rugs would be great in kitchens, dining rooms, kids rooms and mudrooms. They are not thick and plush (although they just introduced this new line of plush rugs) so if that's the look you're going for, keep that in mind. I'm happy that I don't have to worry about this rug and if a spill or a stain does happen again, I can just throw it right back into my washing machine!
Bottom line – if you have high traffic areas, a rowdy family who is spill prone, messy animals (or ones that visit!), then Ruggable will be a lifesaver!
Here are some more of my favorite Ruggable rugs …