Spatchcock Chicken – My Favorite Way to Roast a Chicken!
Ever heard of a spatchcock chicken? This is my favorite way to roast a chicken and it ensures that every part of the bird cooks evenly. No more dried out chicken! I'm sharing my favorite sheet pan spatchcock chicken recipe that includes crispy potatoes and tender carrots.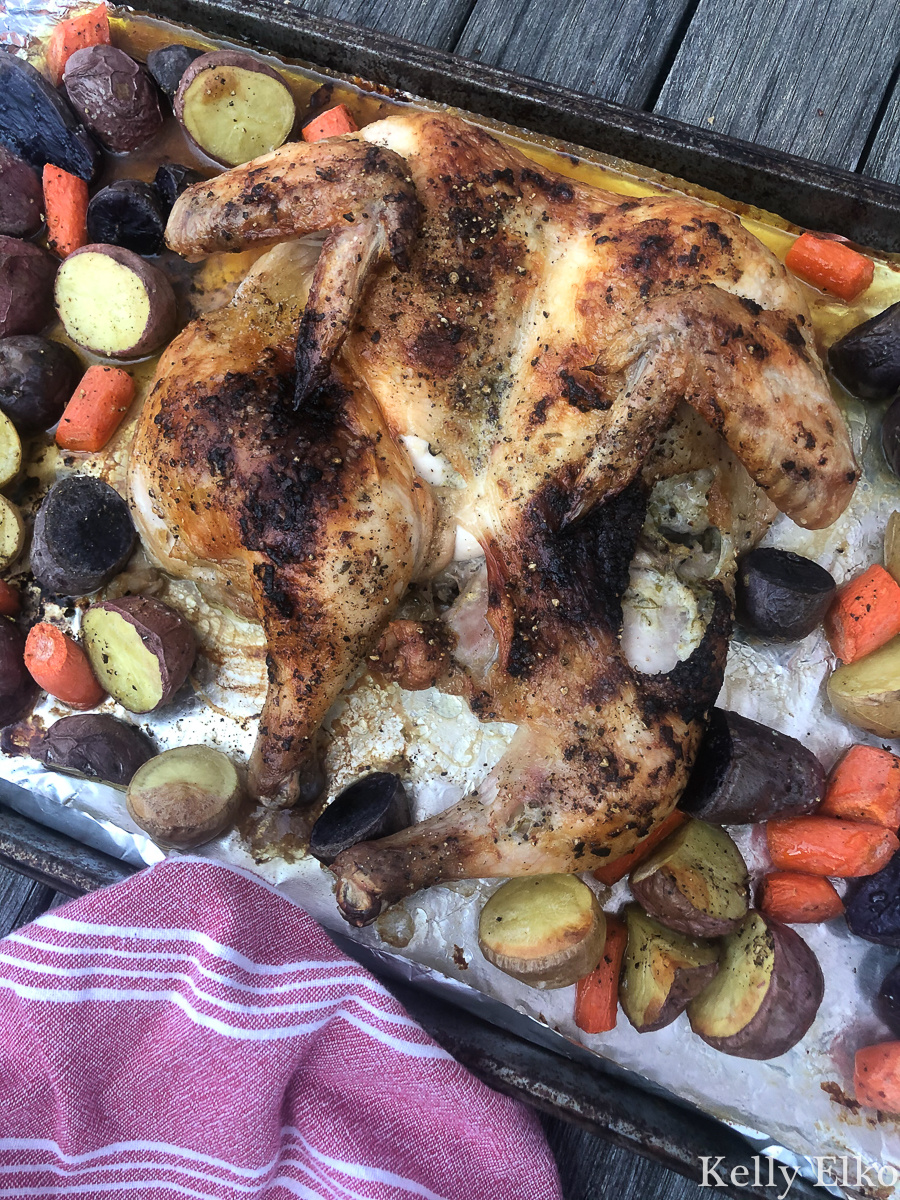 To spatchcock a chicken basically means to butterfly the chicken by removing the backbone. Alan Davidson explains in The Oxford Companion to Food: "Spatchcock is an abbreviation of dispatch the cock, a phrase used to indicate a summary way of grilling a bird after splitting it open down the back and spreading the two halves out flat.
There is an even easier way to spatchcock a chicken … have your butcher do it for you! They don't charge for the service so take advantage of their skills! If you want to try it yourself, you can find step by step instructions on how to spatchcock a chicken here. You'll need a very sharp pair of kitchen shears to do the job.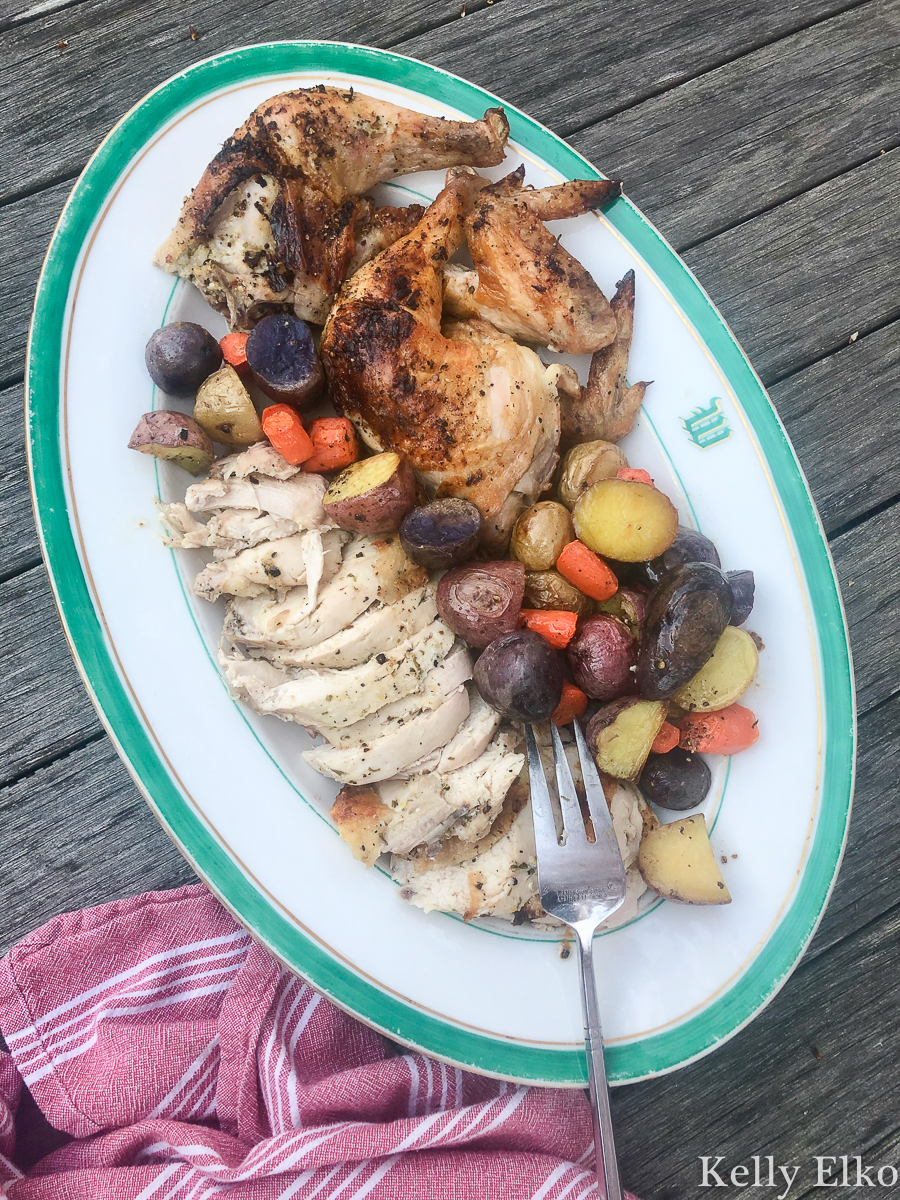 Once cooked, carve it up and serve on a big platter with the potatoes and carrots. It's impressive enough to serve to company but it's so quick and easy that it is also the perfect weeknight meal. Tri color potatoes add more color to the dish but any potatoes you have on hand will do. I like that it's all cooked on one pan but I also love roasting chicken in this favorite cast iron skillet.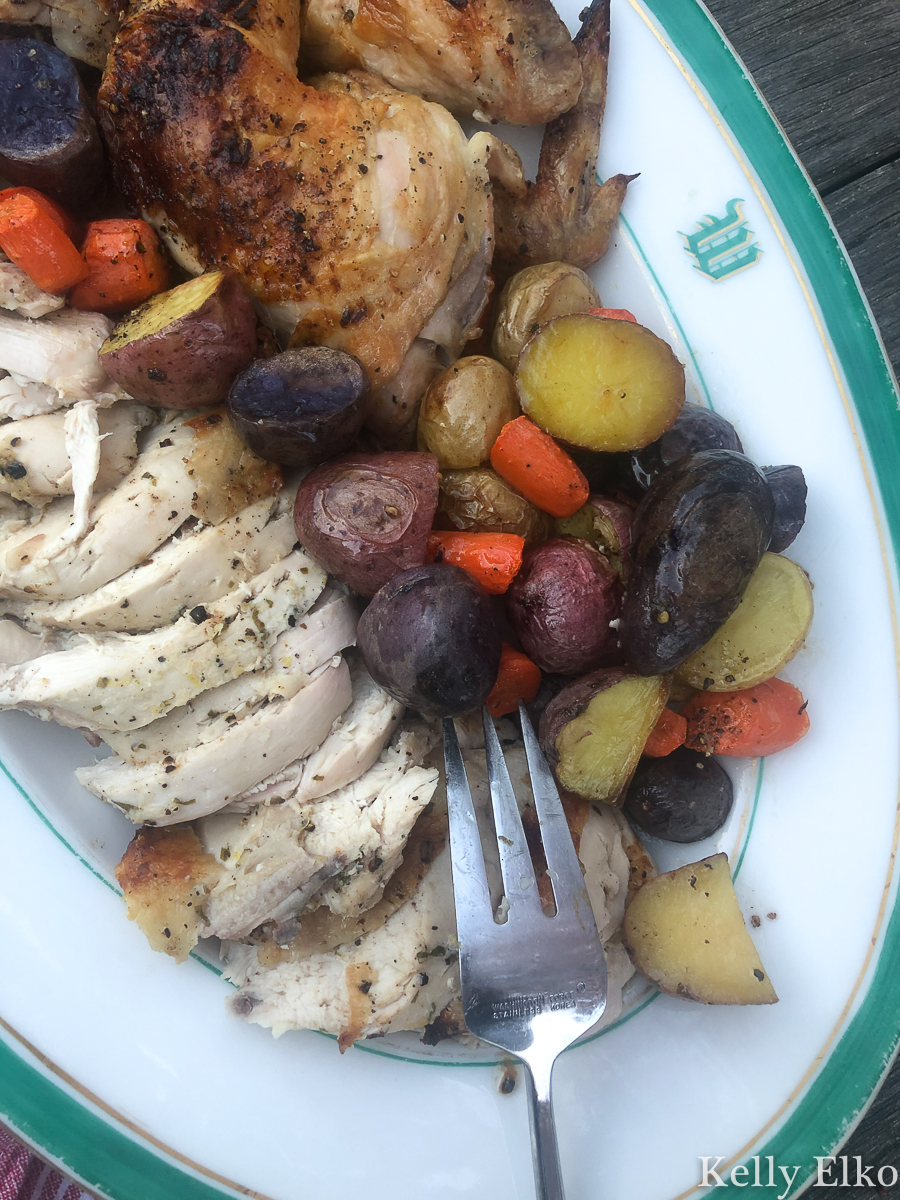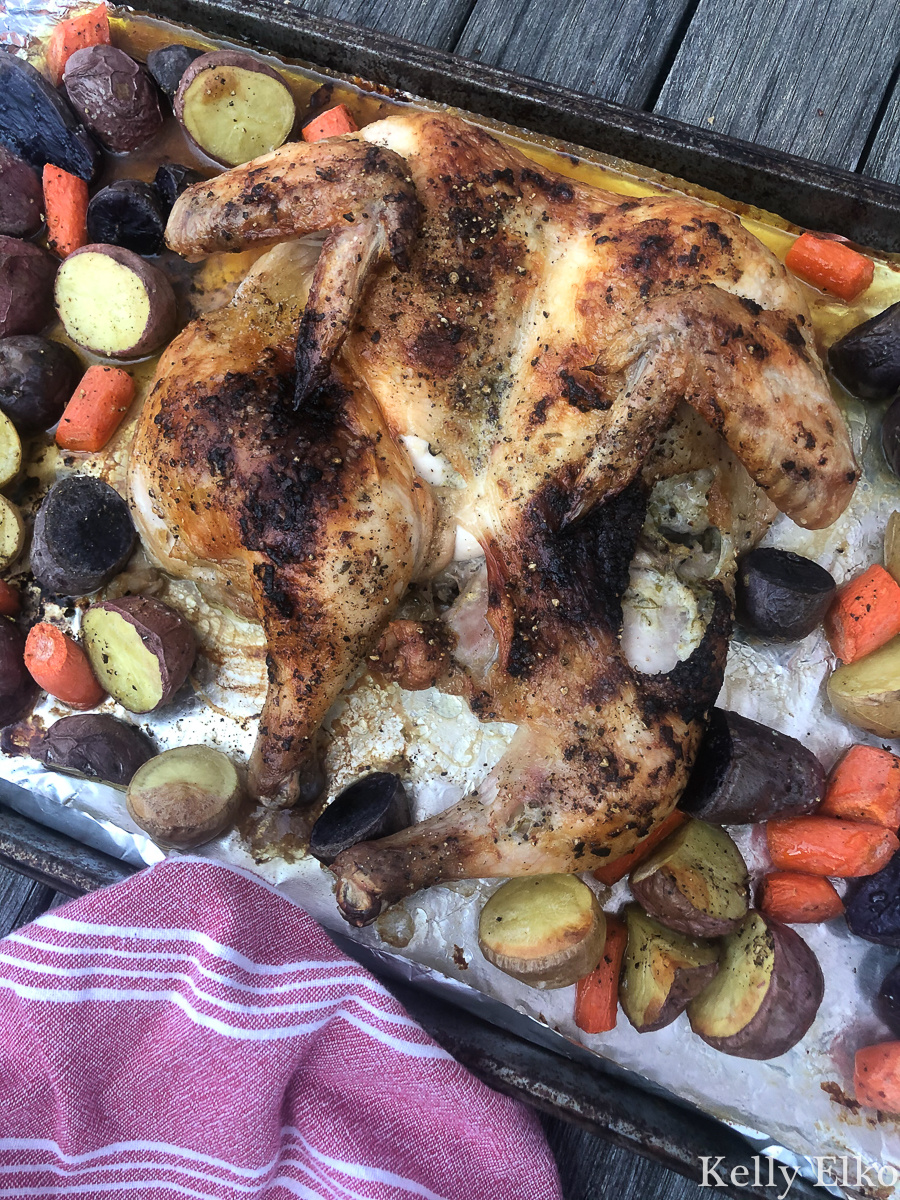 Ingredients
4 - 5 lb whole chicken (ask your butcher to spatchcock chicken or do it yourself)
Flavored Butter:
4 Tbsp (half a stick) unsalted butter, softened
1 Tbsp olive oil (plus more to drizzle over vegetables)
2 garlic cloves, minced
1 tsp salt (plus more to season vegetables)
1 tsp lemon zest
1/8 tsp black pepper (plus more to season vegetables)
Vegetables:
2 lbs potatoes, scrubbed and cut into two inch chunks (I used small tri color potatoes but any will do)
3 carrots, peeled and cut into one inch chunks
1 Tbsp lemon juice (for drizzling over chicken when done cooking)
Instructions
Preheat oven to 425°F. Rinse chicken, and pat dry with paper towel. You can ask your butcher to spatchcock the chicken or do it yourself by placing chicken, breast side down, on a cutting board. Using sharp kitchen shears, cut along both sides of backbone and remove backbone. Turn chicken breast side up, and open underside of the chicken so it lays flat like a book. Press firmly against breastbone until it cracks. Place chicken on a large rimmed baking pan lined with aluminum foil.
On a cutting board, mash garlic and salt into a paste using the flat edge of a knife. In a small bowl, combine garlic paste, butter, lemon zest, and pepper. Spread 2/3 of the butter mixture under skin and 1/3 over skin.
Arrange potatoes and carrots around chicken. Roast for 45 minutes or until cooked through. Drizzle with lemon juice, and let stand 10 minutes. Carve chicken and serve with pan juices.
https://www.kellyelko.com/spatchcock-chicken-recipe/
When I serve this spatchcock chicken, it's always a big hit! Have you ever roasted a spatchcock chicken?