The Popular Table & Conference Networking Tips
Remember the popular table?
Girls with perfectly feathered hair, skin tight Sasson jeans and electric blue eye shadow.
Giggling and having a grand time, they'd hold court in the lunch room every day.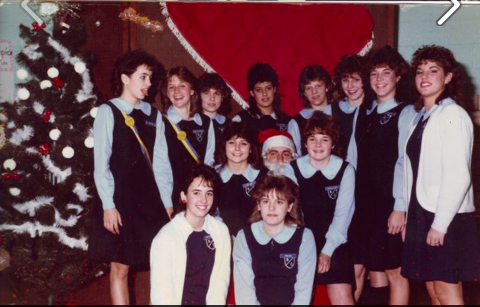 The rest of us nibbled our french fries and Diet Cokes and laughed with our own group of friends.
But deep down, we all wished we could belong to the cool crowd.
Well tomorrow, I'm heading down south to the Southern Bloggers Conference – in fact, I'm speaking there!
I'll be in a room full of women I've never met.
Will I be sitting alone, checking my phone and trying to look busy.
I took an informal poll among some blog friends asking for their best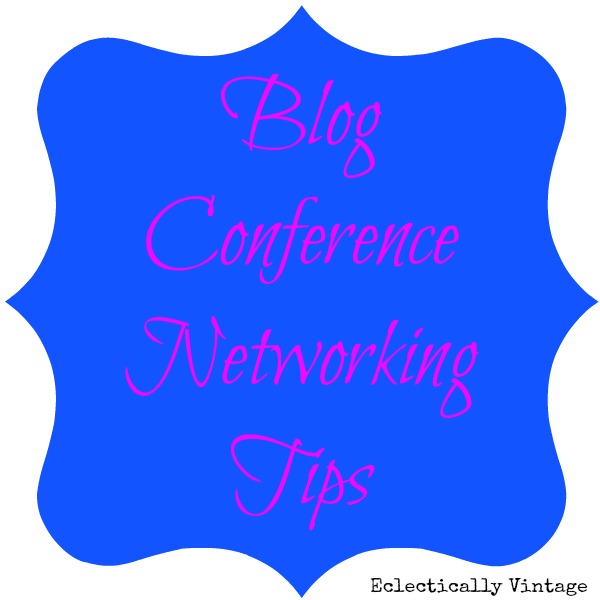 Here's what they had to say:
Donna – Funky Junk Interiors – Don't put so much weight on 'what you look like'. Go as yourself, and just BE yourself! THAT is who they want to meet anyway.  
Read Donna's post titled "You Should Go" all about getting out of your comfort zone and how rewarding an experience it can really be.
She writes, "But you have nothing to fear. Your outfit is perfect because honestly, no one will remember it. They'll remember your eyes, kindness,  voice and warm heart. And you already have that.
Brittany – Pretty Handy Girl – My #1 piece of advice is to go up to someone else who looks like they are all alone and too shy to introduce themselves and say "Hi, I'm Kelly with Eclectically Vintage".
Heather – At the Picket Fence – Even though it's so much fun to see your close bloggy friends, take the time to reach out to new people and get to know them. Expand your horizons. Keep a smile on your face and be approchable. Because we did this at Haven we met other bloggers that are now truly dear friends!  Get out of your comfort zone and introduce yourselves to vendors and brands that are there, you never know when you'll make a great contact for future collaborations. 
Kari – Thistlewood Farm – So important to remember that everyone is feeling just like you!  Sometimes all it takes is a friendly word and a smile to make a new friend!
Lisa – The Pennington Point – I take great music to listen to on the ride there (in this case, the flight) and praise music and it always gets me in the mood and helps me remember who I am and what's really important. By the time I arrive, I'm ready to be myself!
Rhoda – Southern Hospitality – My #1 advice is just what's already been mentioned. Get out of your comfort zone, meet new folks and be yourself. You'll realize that we are all alike and have lots of commonalities among us. We're all just folks!
Shannon – Fox Hollow Cottage – Just be you, relax and have fun!
Janel – Nellie Bellie – Have Janel go with you to be your wing woman. It's that easy. No really…be yourself. That's it.
Sharon – Mrs. Hines Class – A warm smile such as yours will invite people to approach you. I also suggest approaching others and introducing yourself. Make no assumptions and just be yourself.
Ann Marie –White House, Black Shutters – Be yourself, don't be shy and clam up. Reach out to people, spark up conversations, say hi! If there is an opportunity to ask a question in a session, ask away!
And my favorite bit of advice:
Beth – Unskinny Boppy – Hang out at the bar late at night with wineglass in hand. (does this gal eerily know me or what)?
Then things took a tangent and I started getting comments like this from a gal who wished she could join us:
Debbie – Debbiedoo's – My guest room is always open for y'all! We could cook up some pizza's and crack open a bottle of home made vino:).
Hmmm, seems they are encouraging me to be myself – obviously they don't know me very well!
I know we'll have an amazing time …
but maybe I should pack Sasson jeans and blue eye shadow just in case.
Follow me on Twitter (@kellyiseclectic) and Instagram (Eclectically Vintage) to get my behind the scenes look at a blog conference.
Wish me luck on my 8 hour drive to Raleigh NC!