Thrift Shop Buying Guide to Avoid Shoppers Remorse
It looked promising enough.
Plus it was only $3 …
for a huge basket made out of …
I know the suspense is killing you …
corn stalks!
So I bought it, brought it home and now stare at it and wonder
what was I thinking?!
I feel it is my patriotic duty to provide this public service announcement to help you learn from my thrifting mistakes.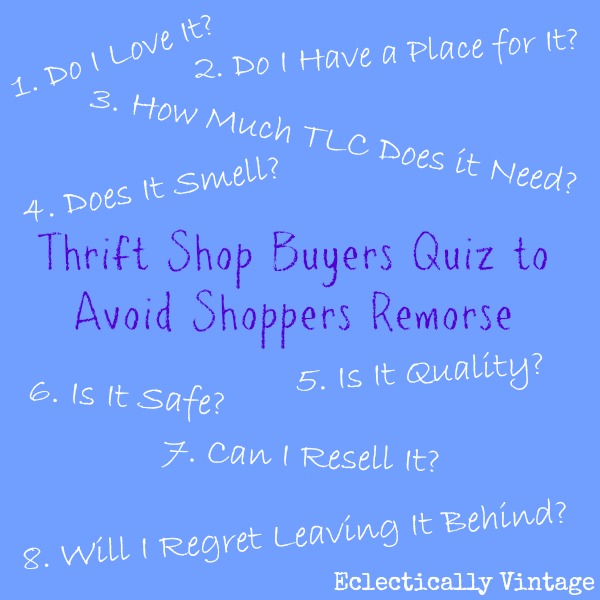 Thrift Shop Buyers Quiz to Avoid Shoppers Remorse
1. Do I Love It?
If it brings a smile to your face and you can't picture yourself without it, thrift shop fate has intervened on your behalf.
2. Do I Have a Place for It?
Can you picture the perfect spot for that tchotchke?  Then haul it home.
If your find is so fabulous that you know you'll replace something else that you already own with it, then it's a deal.
3. How Much TLC Does It Need?
Perfect, unscratched, unchipped finds are a no-brainer but if it needs tons of money to bring it back to it's former glory, keep on sashaying down the aisle.
4. Does It Smell?
If it reeks like it was once owned by the crazy cat lady, there's no saving it.
5. Is it Quality?
Real wood – yay. Particleboard – nay.
6. Is it Safe?
Buy that vintage cradle for your plants – not your baby!
7. Can I Resell It?
If you happen upon a diamond in the rough but it's not your style, you may want to scoop it up and sell it on Ebay.  If you know you probably won't, don't buy it!
8. Will I Regret Leaving It Behind?
Don't let "the one that got away" haunt your dreams.
If it's something you're likely to never find again, grab it
(your mental health is of more concern than living with regret)!
Check out all of my Fabulous Thrifting Finds.
What's your biggest thrift shop regret?