I did the moonwalk when I found the $6 thrift shop dresser!
I almost crashed into a lamp post when I spotted all the goodies at my $20 yard sale score!
But I do believe this might take the cake
as my all time favorite find!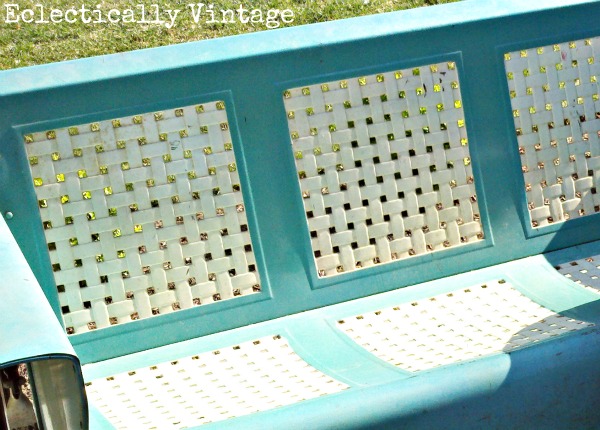 Isn't she a beauty?!
A 1950's metal glider with her original blue and white paint …
hold on, I need a moment …
ok, now that I've collected myself, let's get back to business.
A concussion almost occurred as I nearly tripped over my own feet while running
(felt like I was moving in Bay Watch slow-mo) towards it!
I had my girlfriend plop herself down and told her not to budge til I ran upstairs and paid for it.
Looks like I arrived in the nick of time – since a woman came by a minute later wanting it!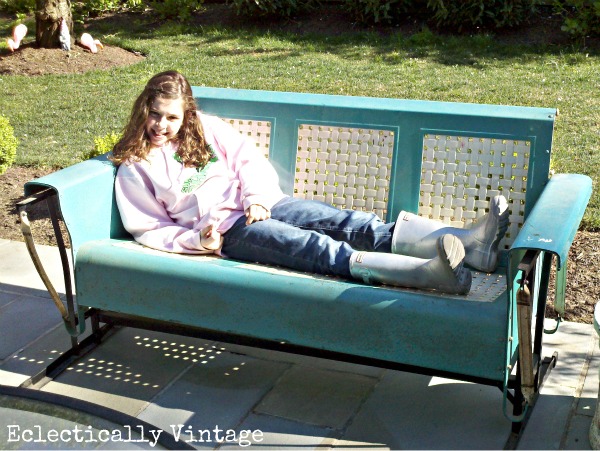 For this prize – there may have been a cat fight, hair pulling, all out scream fest!
(Honestly, I'm normally a pretty mellow gal – but hello – we're talking vintage glider here)!
A girls gotta do what a girls gotta do after all.
Oh, and I forgot to mention, she was a mere 60 smackers (double rainbow happiness)!
Check out all my Fab Friday Finds here.
Sharing Here:
Southern Hospitality – Thrifty Treasures
Funky Junk Interiors, From My Front Porch to Yours, Common Ground