A Life Well Lived – A Tribute to My Dad
On Tuesday, after a five year battle with cancer, my dad passed away.
He was one of the best people I know so I wanted his obituary to reflect how he lived – with a touch of Kelly humor thrown in because there's nothing my dad liked more than a good laugh (and a stiff martini).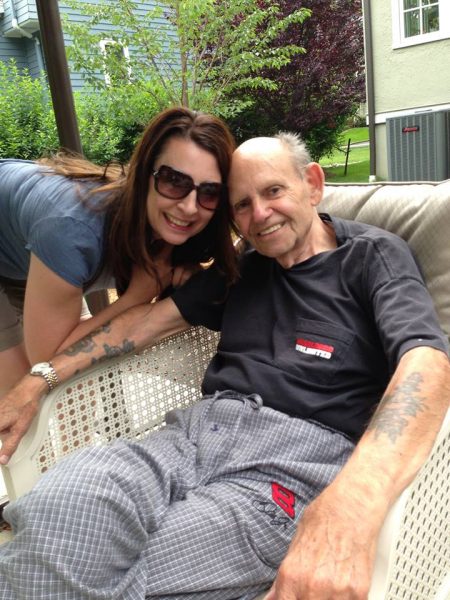 Jose "Joe" Perez Lerena 
April 22, 1929 – February 10, 2015
In 1961, with only a single suitcase and a $50 bill in his pocket, Joe Lerena arrived in the US from Havana, Cuba.  His legacy is a life well lived and family that will never forget him.
He loved politics, his 1965 Mustang, single malt scotch, a good martini (under $5 – or he would complain for months that they had clipped him), CNBC and Fox News, the stock market (as long as the Dow was up), his dog and hunting companion Rex, collecting stuff including duck prints and $2 bills, music and dancing, and telling stories and inappropriate jokes.  He tried never to miss a class reunion at his alma mater, the Belen High School and was a proud graduate of Colegio de Belen in Havana, Cuba.  He was actively involved in his community where he was a member of the Knights of Columbus and St. Frances Cabrini parish for over 40 years.
He immensely disliked pretentious people, golf (after using his left handed clubs only twice, they collected dust in the garage for the next 40 years), Laverne and Shirley (his girls would quickly turn the channel when he entered the room) and cold weather.
The women in his life were loved and he leaves behind his wife of 47 years, Mary Lerena, a red-headed Irish girl (the Lucy to his Desi), his two daughters, Colleen Blair (whom he once threatened to disown if she voted Democrat) and Kelly Lerena-Elko (who inherited his charm and stubbornness) and his twin granddaughters, Olivia and Vanessa Elko (both 15) who loved their Papa with all of their hearts.  He also leaves behind his sister, Carmelina Viadero and will soon be reuniting at the pearly gates with his beloved mother Carmen Astiasaran (deceased).
A man's man, Joe loved nothing better than a round of poker with his buddies in the bar car on the train ride home from Manhattan where he worked as a Vice President at Merrill Lynch for 32 years. He hated mowing the lawn on Saturday mornings but finished quickly so he could rush to have a cold beer with a side of shuffleboard at Puss n Boots. He loved donning his camouflage hunting gear and heading deep into the woods so he could bring home pheasant, deer and other animals that his family refused to eat. He loved his father, Francisco Perez Lerena, (deceased) his big brother, Rev. Francisco Perez Lerena, S.J., his sons-in-law Steve Elko and Jim Blair and his two grandsons, Ryan (17) and Kevin (15) Blair who also loved their Papa with all of their hearts.
Here's to celebrating life – with a stiff martini.