12 Extremely Unique Christmas Charcuterie Boards!
I love the simplicity of a charcuterie board any time of the year and they are especially festive during the holidays. If you love a unique Christmas charcuterie board, you are in for a treat because I've gathered together a dozen of the most unique ones! Some aren't even boards … you'll find creative uses for boxes, plastic cups and even the most adorable snow globe charcuteries (but the last idea is the cutest). Let's graze!
Santa put Petal and Platter on the nice list for creating his likeness in cheese and meat! Brie cheese is the perfect soft cheese for carving out a little Santa face complete with snowy white mustache and hat topped with strawberries.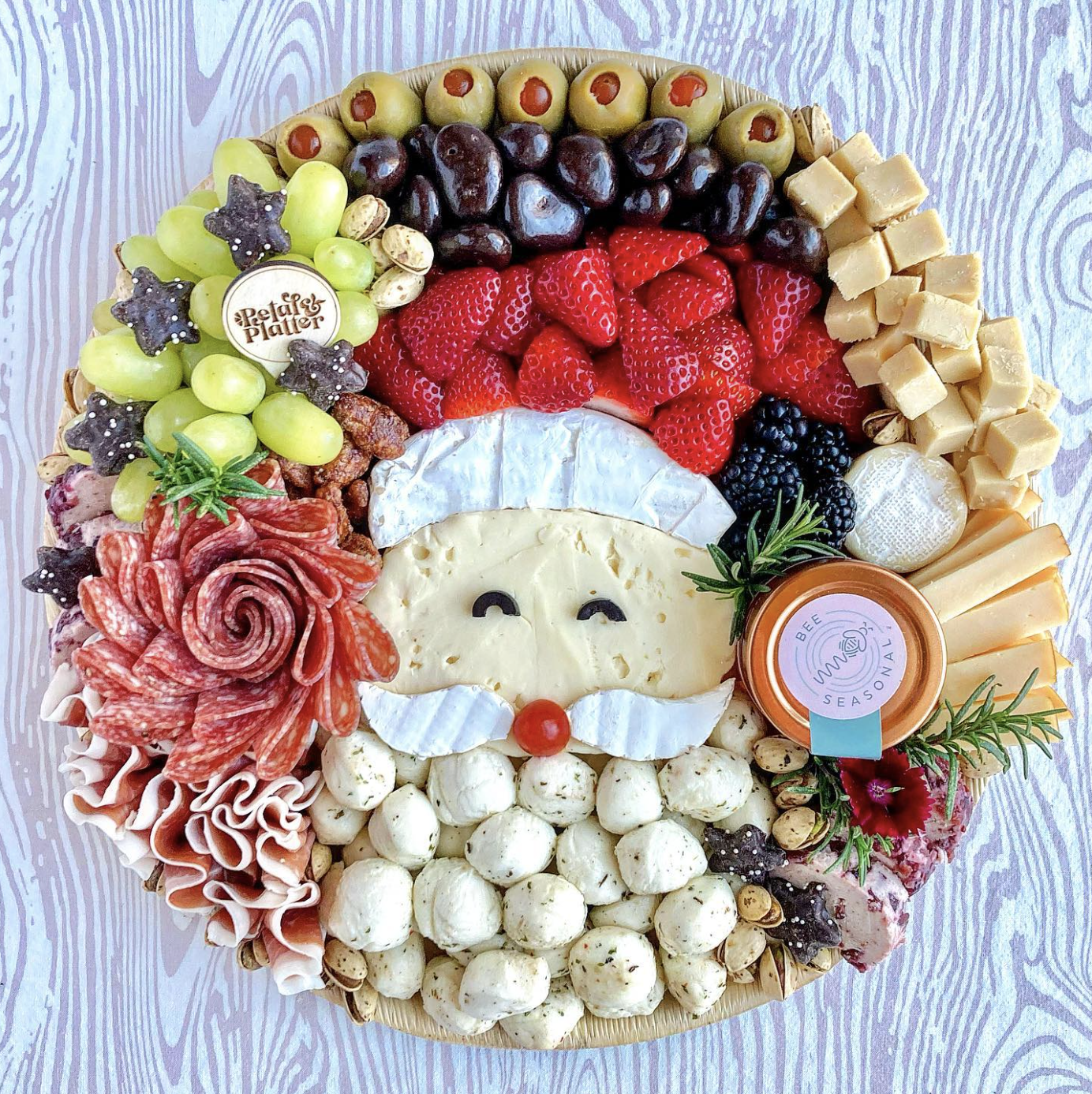 The Party Girl Charcuterie spells it out for us with her Merry Christmas board! Alphabet cookie cutters can spell out any festive saying so have fun with it!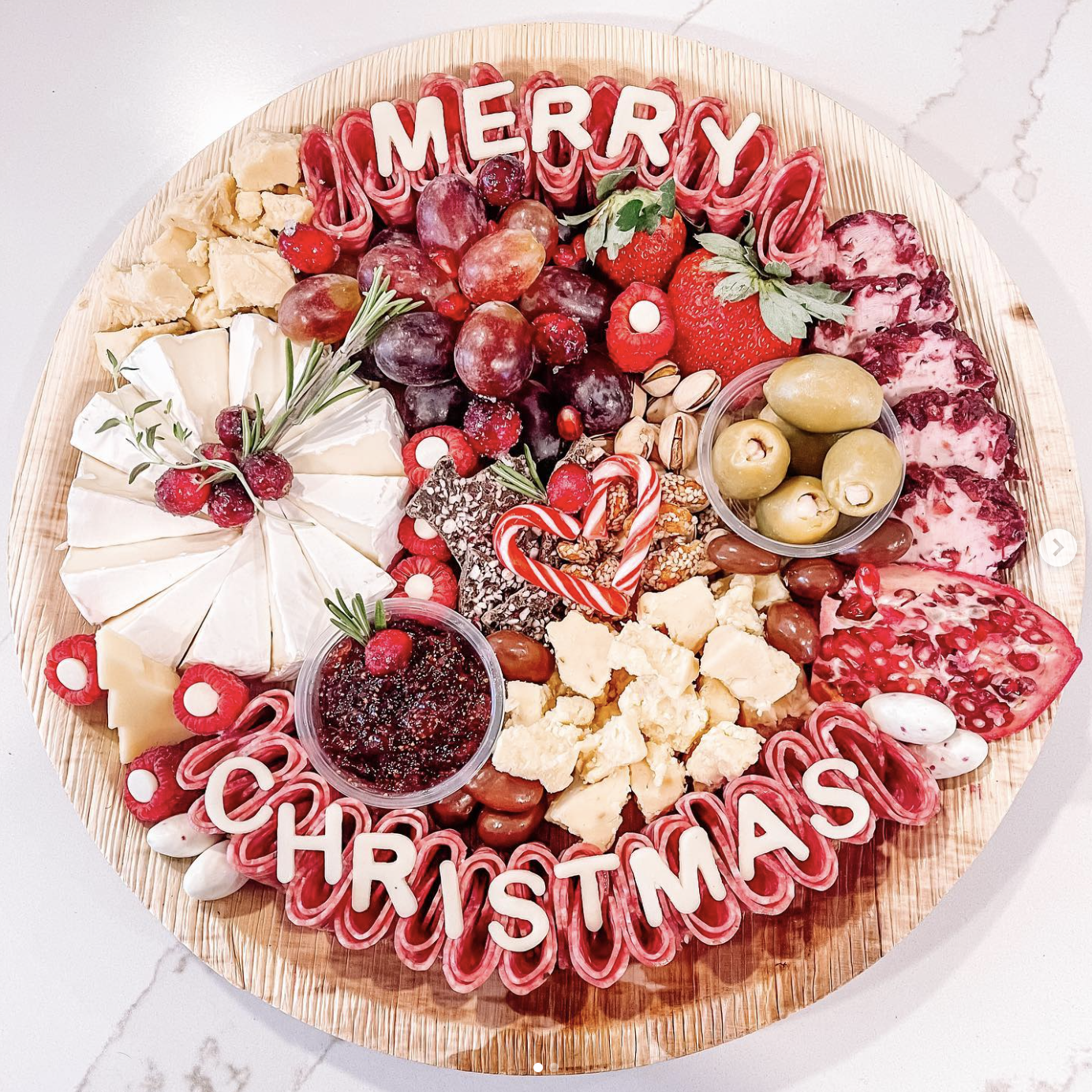 These festive, striped charcuterie boxes from With Love and Cheese would make the perfect hostess gift and they are easy to transport once the lid is added.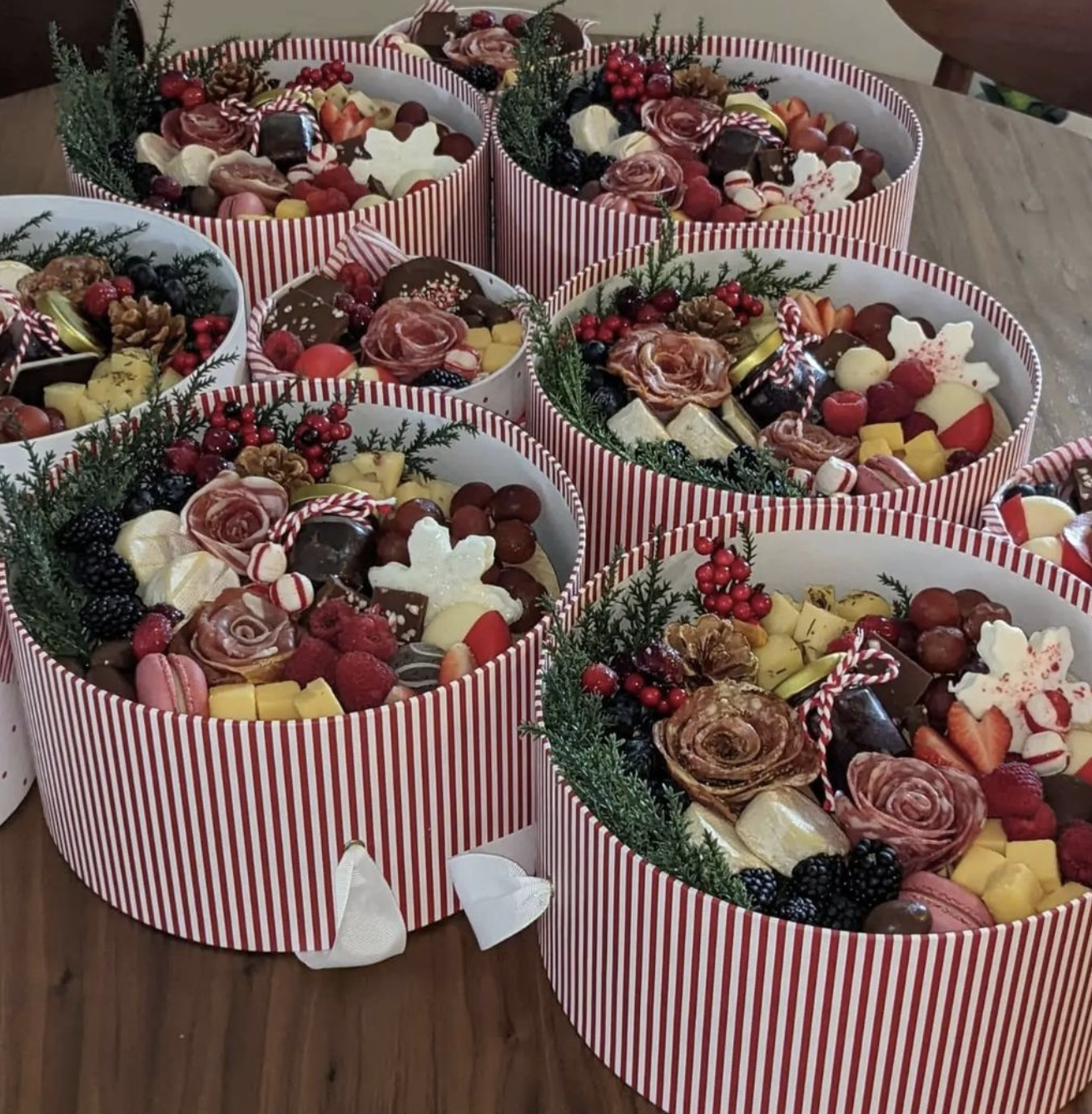 Modern Charcuterie created these fun little individual snow globe charcuteries and I love the tiny little honey wands! These would be perfect little place settings if you add your guests names to them.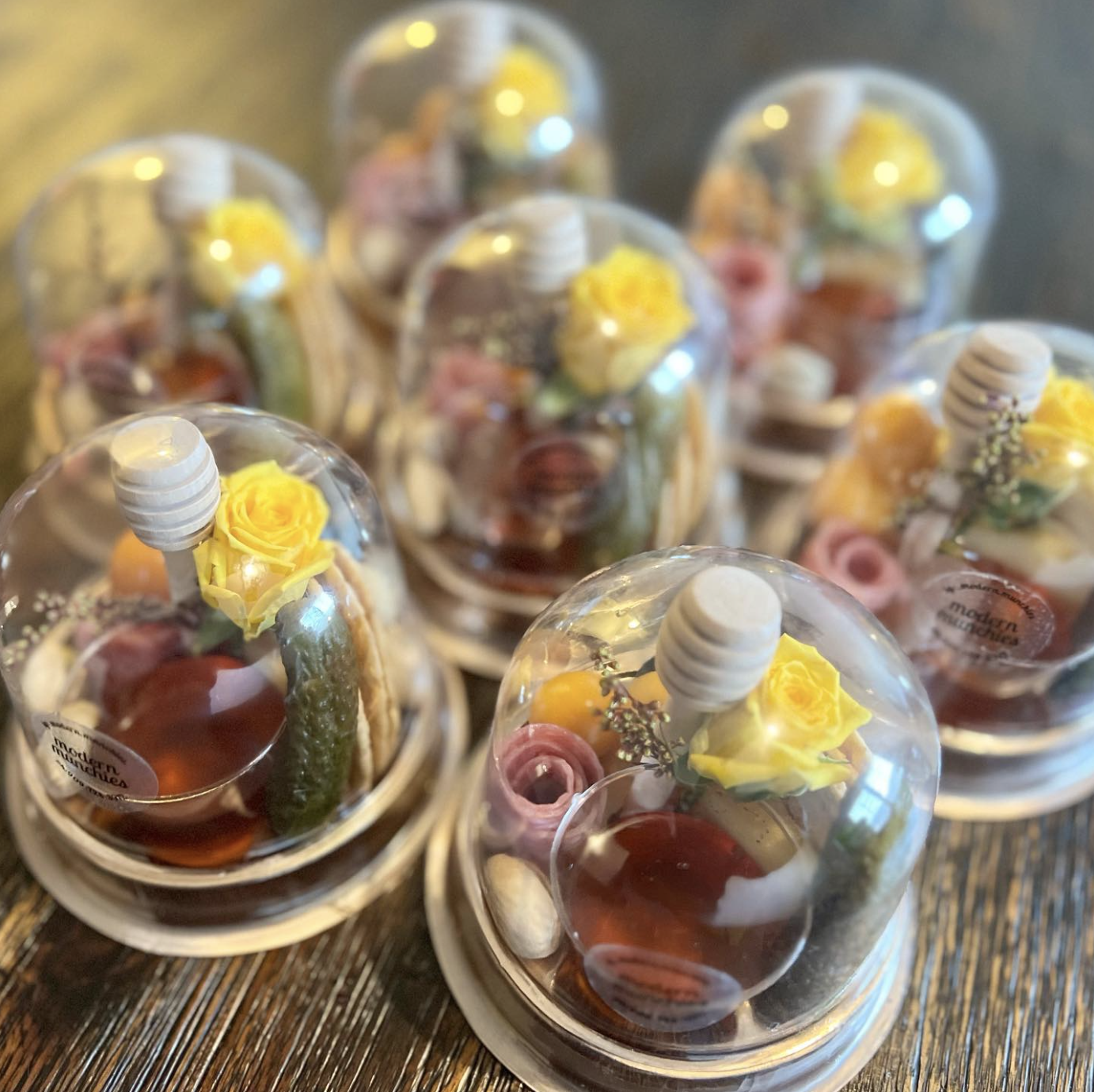 Caprese is a salad of fresh mozzarella, tomato and basil and this take on a caprese salad is perfect for serving during the holidays! It doesn't get easier than this two ingredient caprese board. Sprigs of fresh basil and tomatoes combine for a festive color combo from The Baker Mama.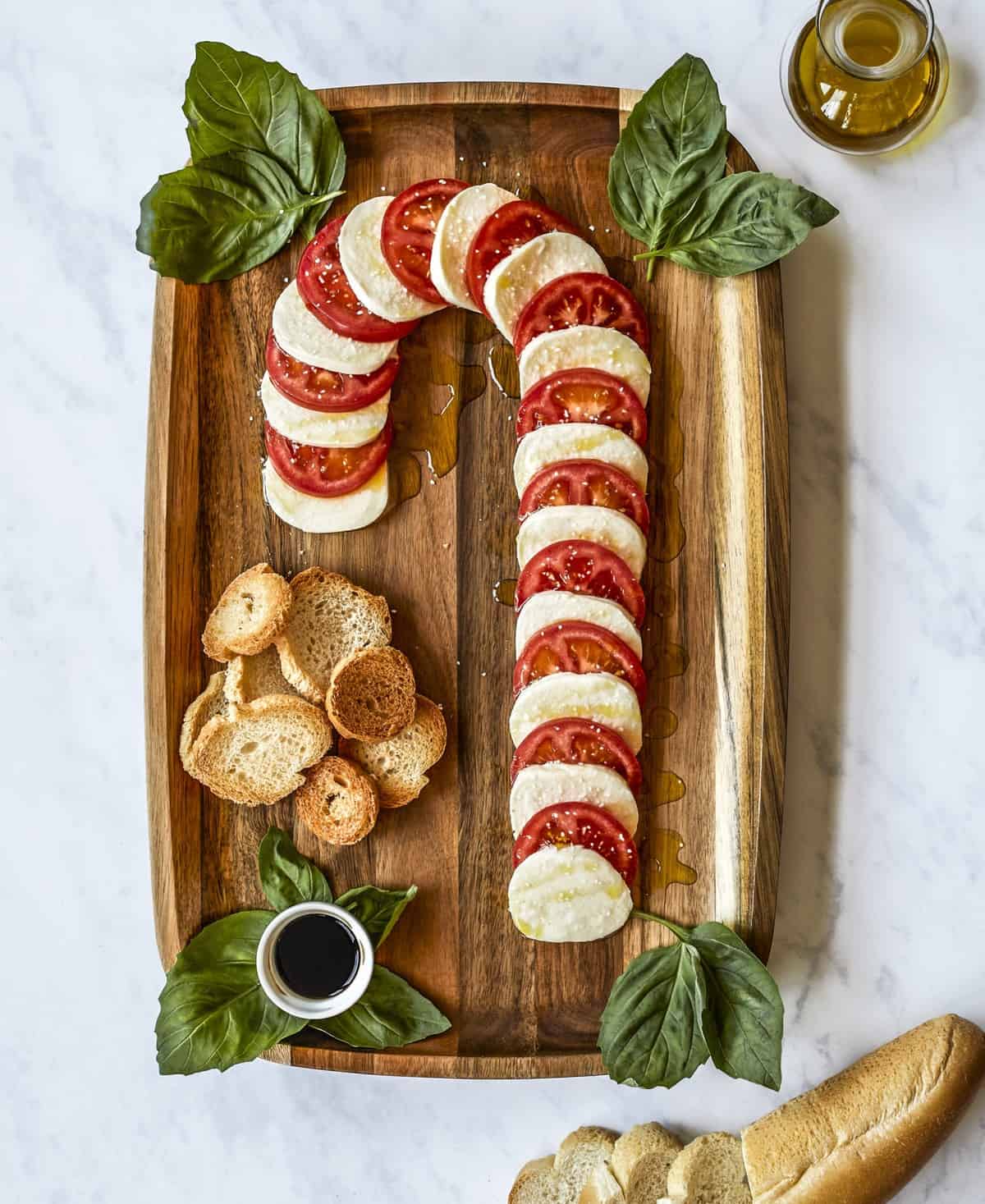 The Cure Charcuterie filled a brie used a cookie cutter to carve out a little Christmas tree then filled it with pomegranate seeds and sprigs of rosemary for a festive look.

Don't have a board? No problem … Lauren of Taste of Home shows us how to make this Christmas tree that's a complete meal from appetizer to dessert.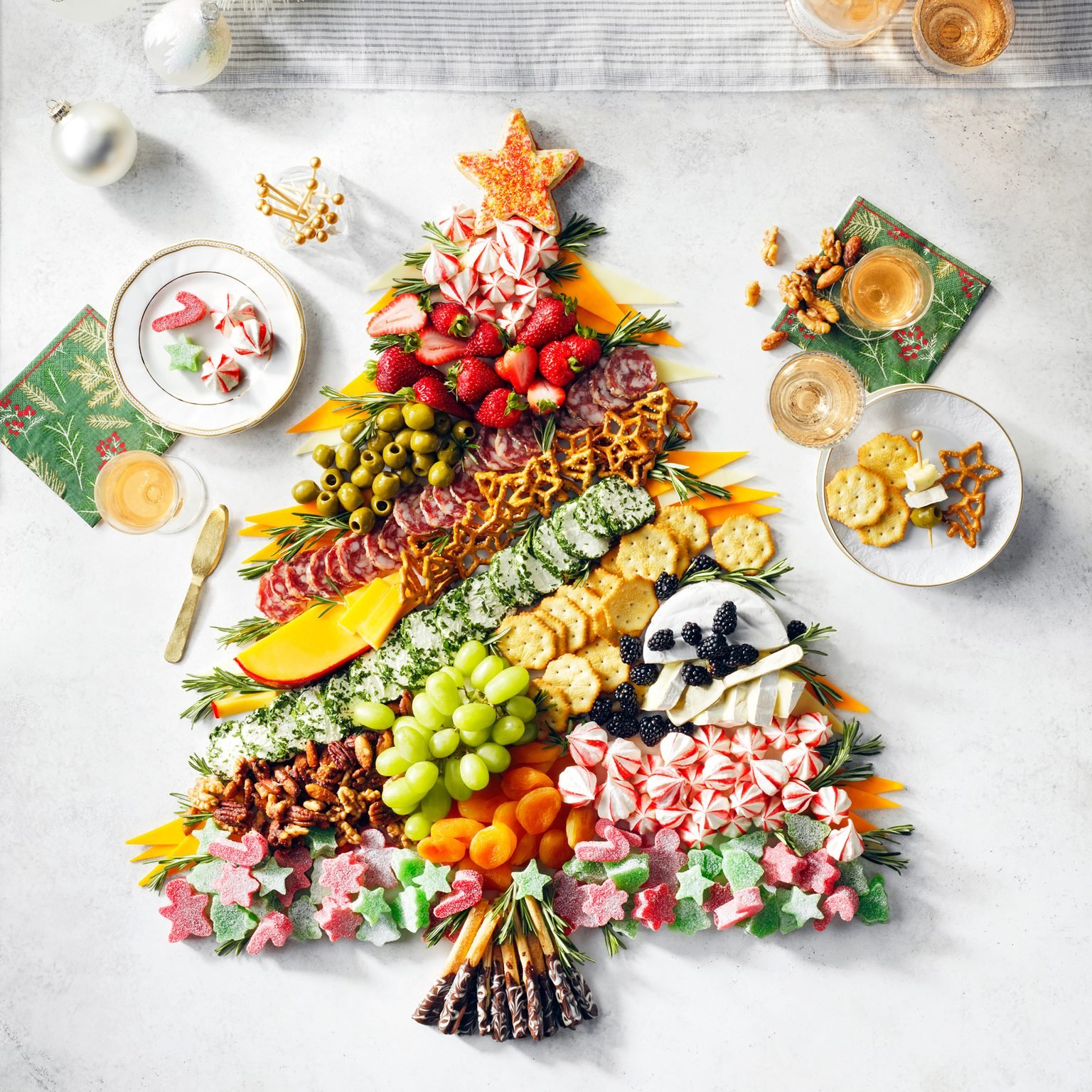 Love burrata? Boards by Courtney whipped up this burrata wreath board with dollops of cheese and pomegranate seeds that resemble red ornaments.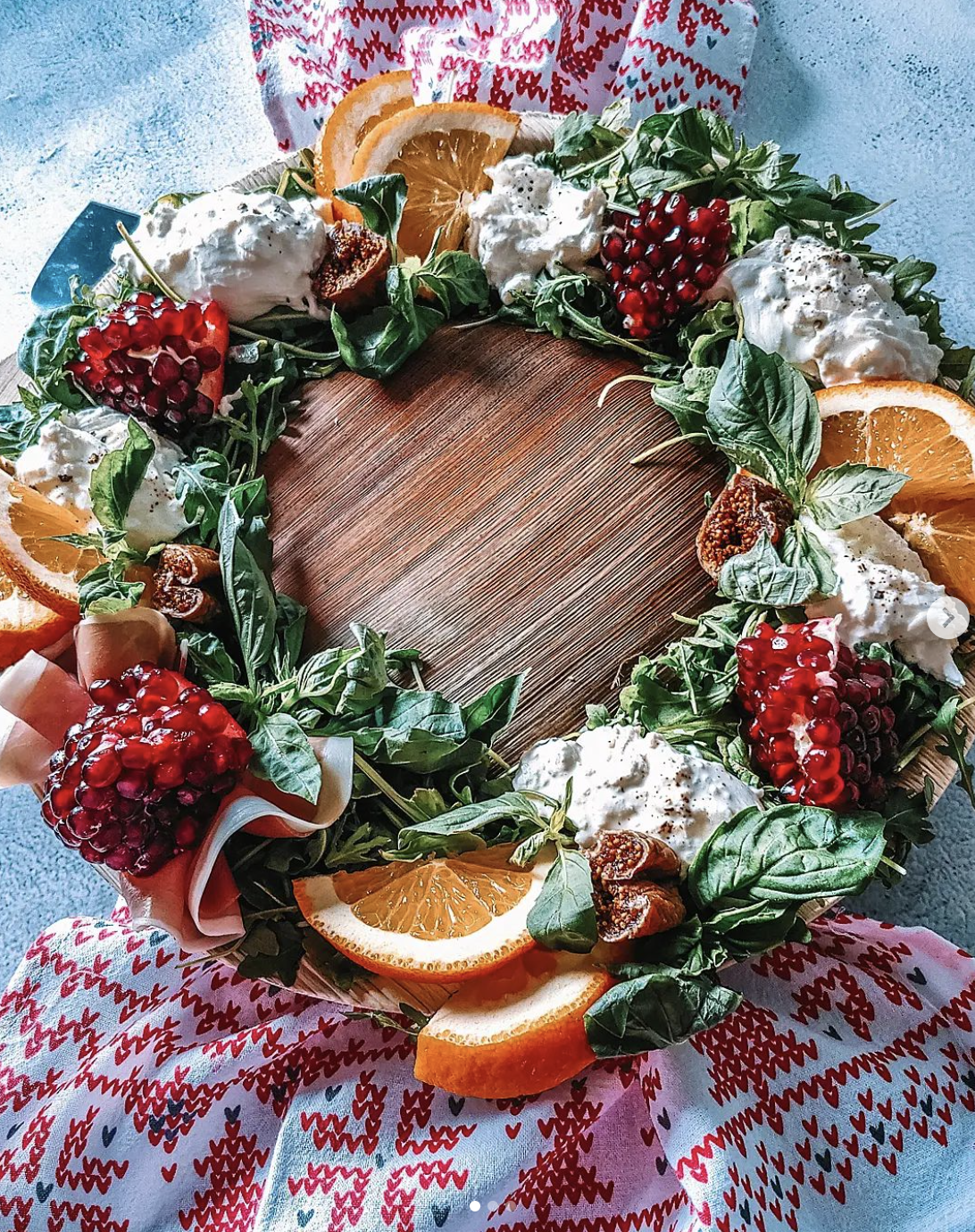 Make it simple for your guests to graze with this wreath made of individual skewers of cheese and meats by Crown Charcuterie. Notice how each skewer is topped with a variety of food including grapes, olives and strawberries.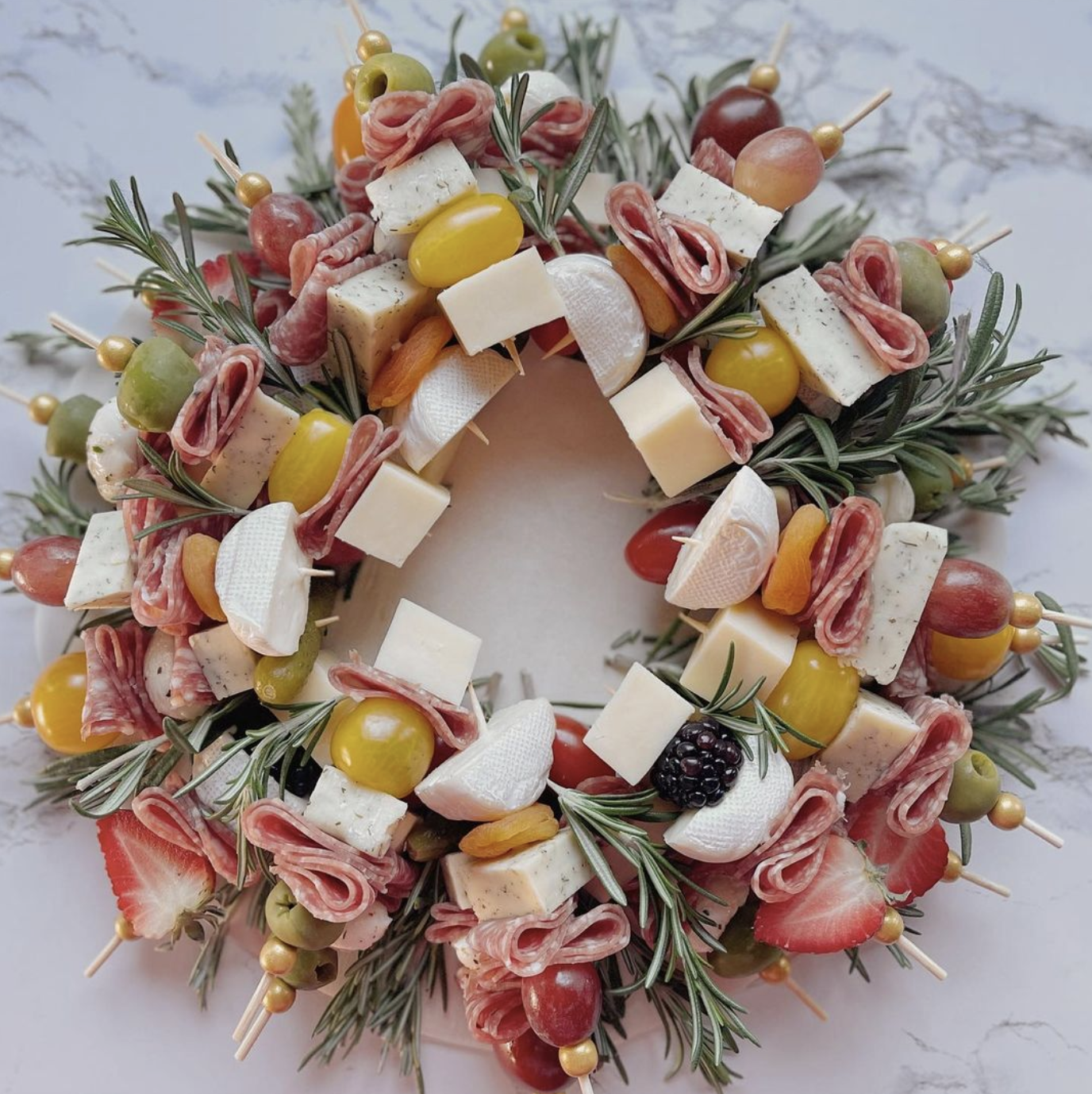 I love these clear, plastic cups filled with tasty treats from Two Hot Mamas. Add a sprig of rosemary and a little candy cane and it's Santa approved!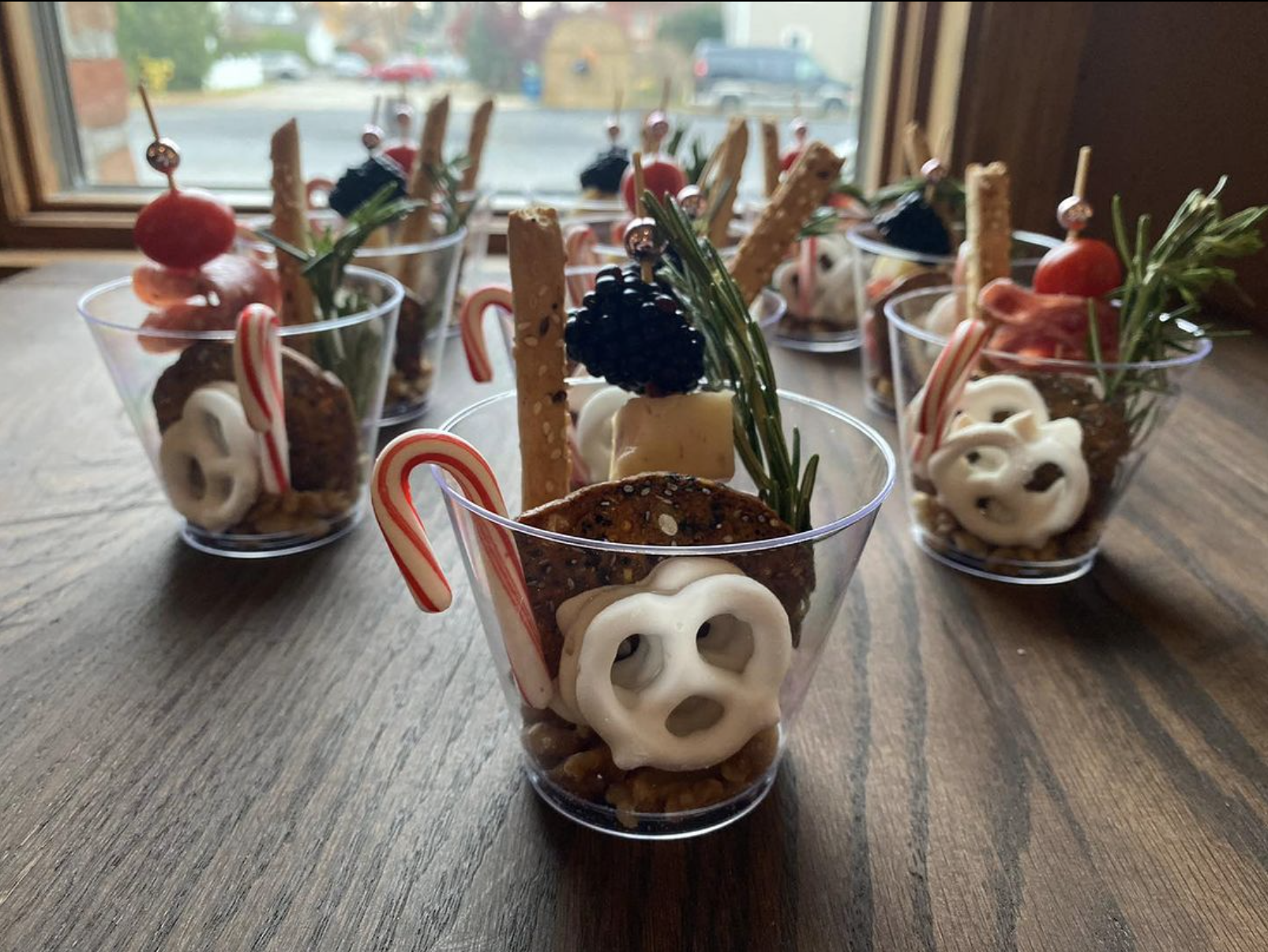 Craving something sweet? Make a hot chocolate board like this one from Dawn of A New Dawnn. I love that she included to go cups and lids and the cutest little chocolate spoons to mix everything together!

Snowflake the elf (with a little help from Gather and Graze) whipped up the cutest mini charcuterie on a cracker!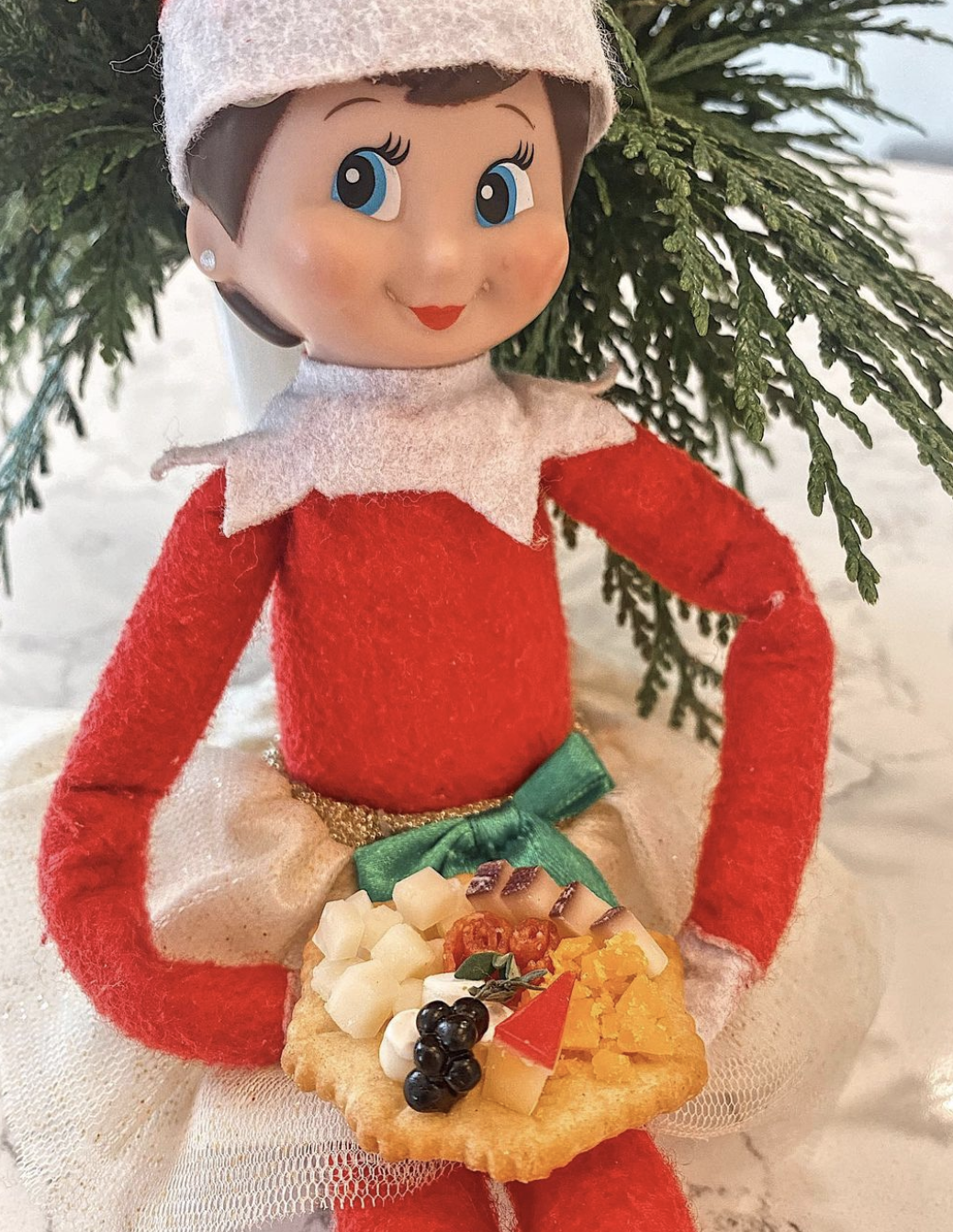 The beauty of charcuterie boards is that there is no wrong way to make one!
These ideas have my creative juices flowing and I can't wait to make my own version of a Christmas charcuterie board.