How to Choose Paint Colors Before You Buy
My sunroom has been transformed with color!
Remember my estate sale find that needed a little makeover?  Well I found out how to choose paint colors and now that find is a beauty.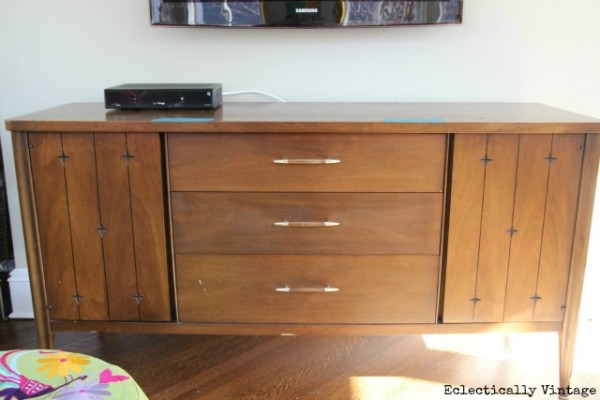 Wow – what a difference paint makes and thanks to the Sherwin-Williams Color Visualizer, it was so simple to find the perfect shade of blue.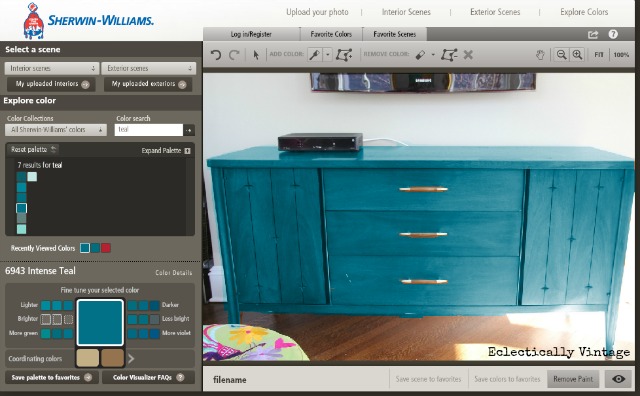 Intense Teal to be exact.
I couldn't believe how easy it was to choose color online.  With a million and one blue possibilities, it saved me tons of hair pulling.
In fact, if I could marry this perfect shade of blue, we'd be flying to Vegas tonight and hiring an Elvis impersonator to oversee the ceremony.
The details pop with a little gold paint pen.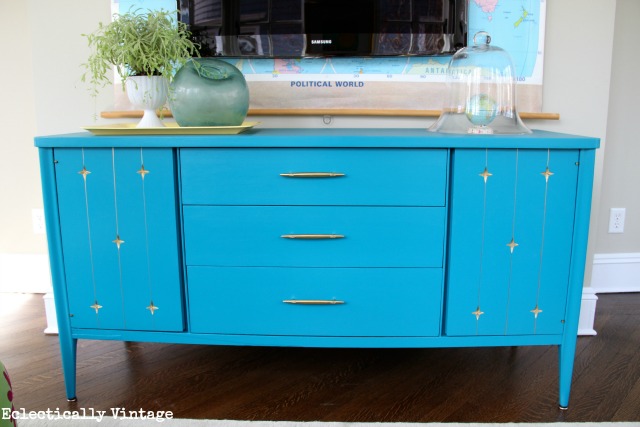 This room probably has every color in the rainbow but the white trim and dark floors help keep things from looking like 50 clowns emerging from a Volkswagen.
Don't you find that bringing one new thing into the house makes everything else seem to pale in comparison?
Of course I needed to spice up the rest of the room with some colorful new touches.
My favorite is this vintage school map framing the tv and pillows that tie together all the colors in the room.
I can't say enough about picking the brains of the paint store employees.  My new BFF Gregory, who works at Sherwin-Williams, gave me lots of tips and tricks to make this makeover a breeze.
Furniture Painting Tips
1) Remove all hardware.
2) Lightly sand the piece (don't apply heavy pressure) with very fine sandpaper (I used 120 grit and a Ryobi electric sander).
3) Remove dust with a towel and then a tack cloth.
4) Apply one coat of primer (Sherwin-Willliams recommended gray) and let dry for at least one hour.
5) Use the right paint.  I used Sherwin-Williams All Surface Enamel Latex Paint which is durable enough for kitchen cabinets.
6) Apply paint and let dry fully between coats.  My friend Karen said it best with her advice to apply it like nail polish in very thin coats.
7) Sand between coats using a very fine sandpaper if you notice any imperfections (remove dust with tack cloth before painting).
* I applied one coat of primer and three coats of paint.
The media console has a little sister in this colorful artwork with similar golds and blues.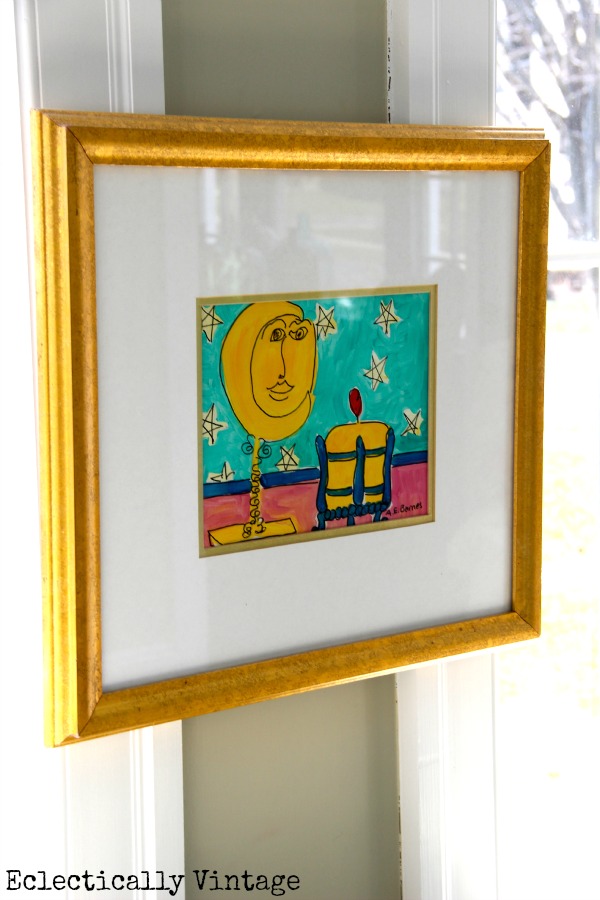 School maps never looked this good when I was wearing my polyester uniform and saddle shoes.
Hung behind the tv, it makes the perfect frame.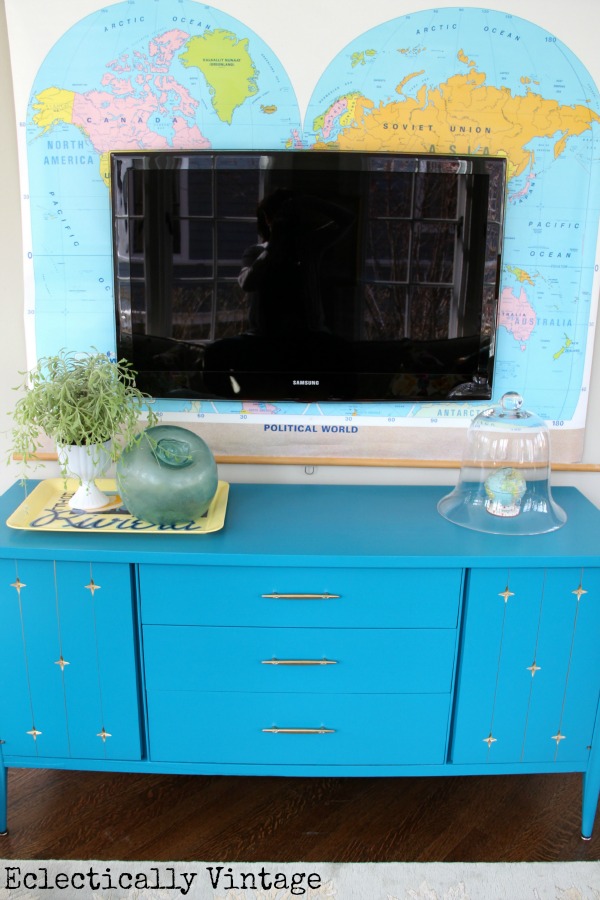 Florals, solids and stripes all work together when each piece has at least one other color from somewhere else in the room.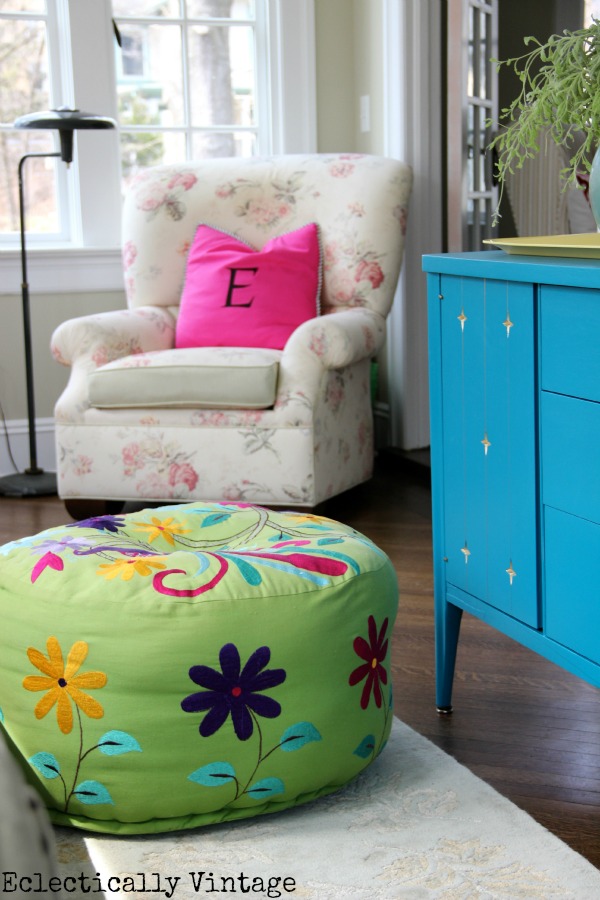 Here's to embracing color and having fun in decorating.
After all, paint is one of the easiest ways to go wild.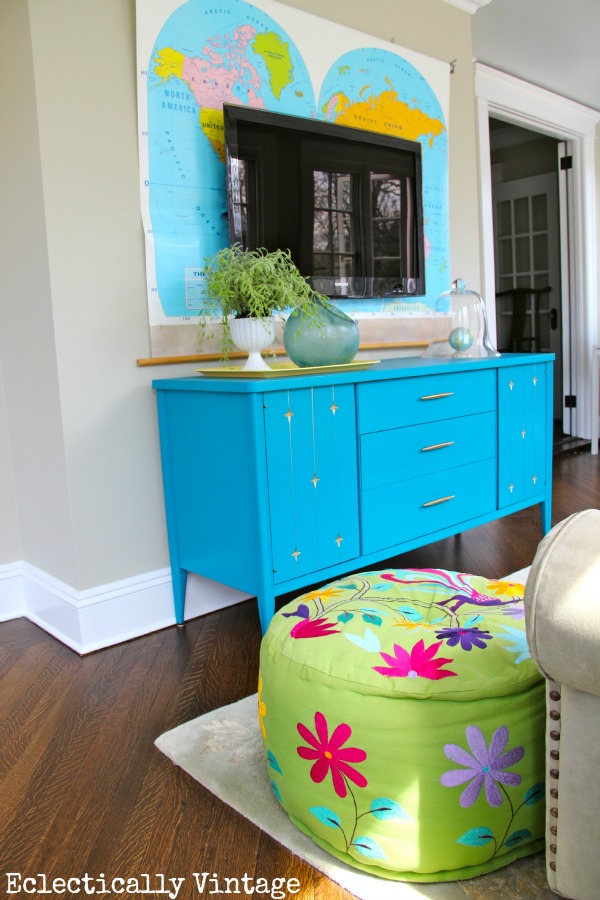 Now my estate sale find is a real showstopper who can't keep the boys from asking her to dance.
I heard she may even fly to Vegas and become a showgirl.  Maybe she can be a bridesmaid at my wedding to Intense Teal.