All Around the World – Vintage Globes!
Let's go for a spin … around the world! I love world globes especially when the countries on them no longer exist. It's literally history that you can hold in your hand. I'm sharing not only my vintage globes but also a little bit of globe history, information on how to tell the age of your globe plus crafty ideas to transform a globe. I've also gathered up some of the most stunning vintage globe displays to inspire you to possibly start your own collection.
The earliest globe that survives today was made in 1492 by Martin Behaim, a German geographer and navigator. Antique world globes were both beautiful and useful and they were often exchanged as gifts among important rulers, since they signified command of the world.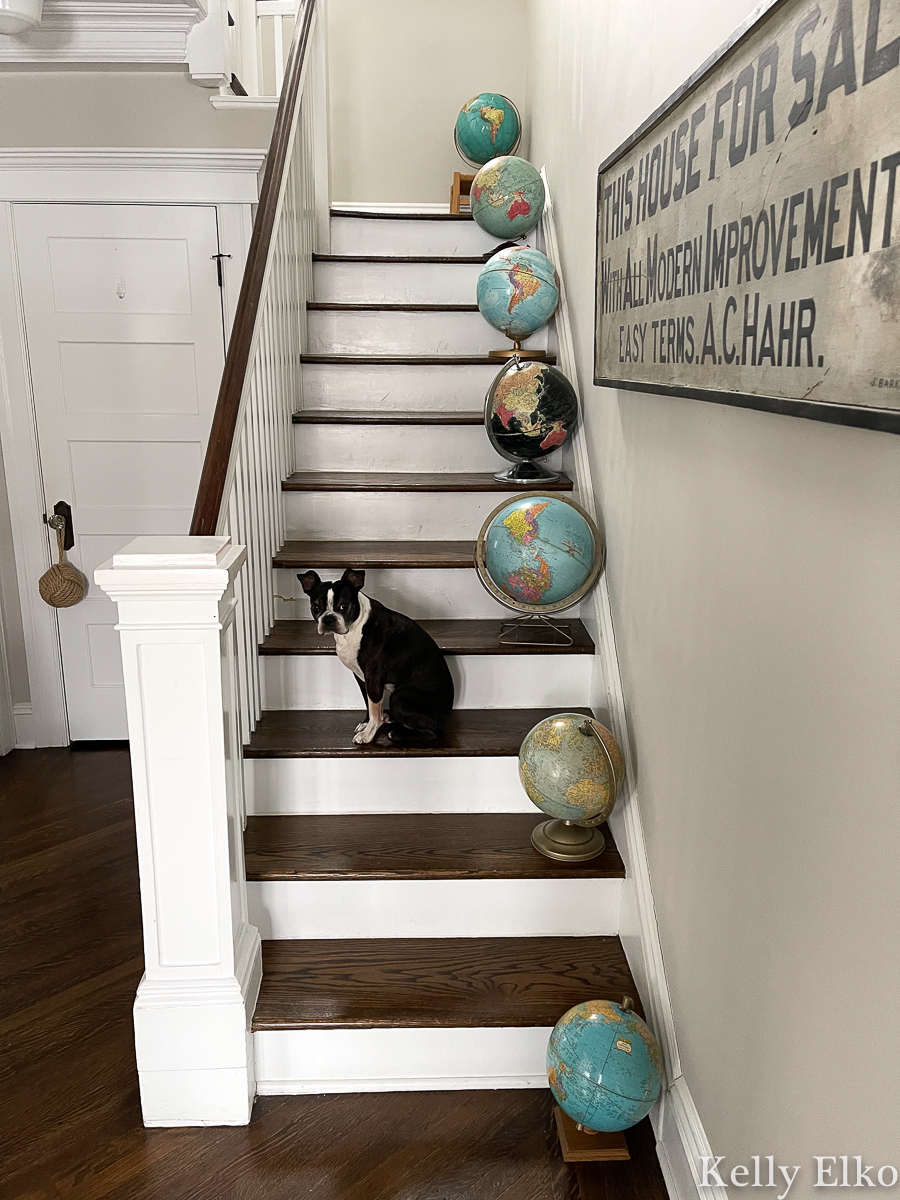 This post contains affiliate links which means if you make a purchase, I may earn a small commission at no extra cost to you.
A terrestrial globe is a three-dimensional model of Earth and is usually just called a globe.
Over the years, I have gathered up a small collection of vintage globes (nine and counting). Normally, they are displayed on top of an armoire on my second floor landing but I thought it would be fun to give them a change of scenery and move them to my staircase.
This tripping hazard is only temporary so don't worry! I'll probably still trip over Sushi though!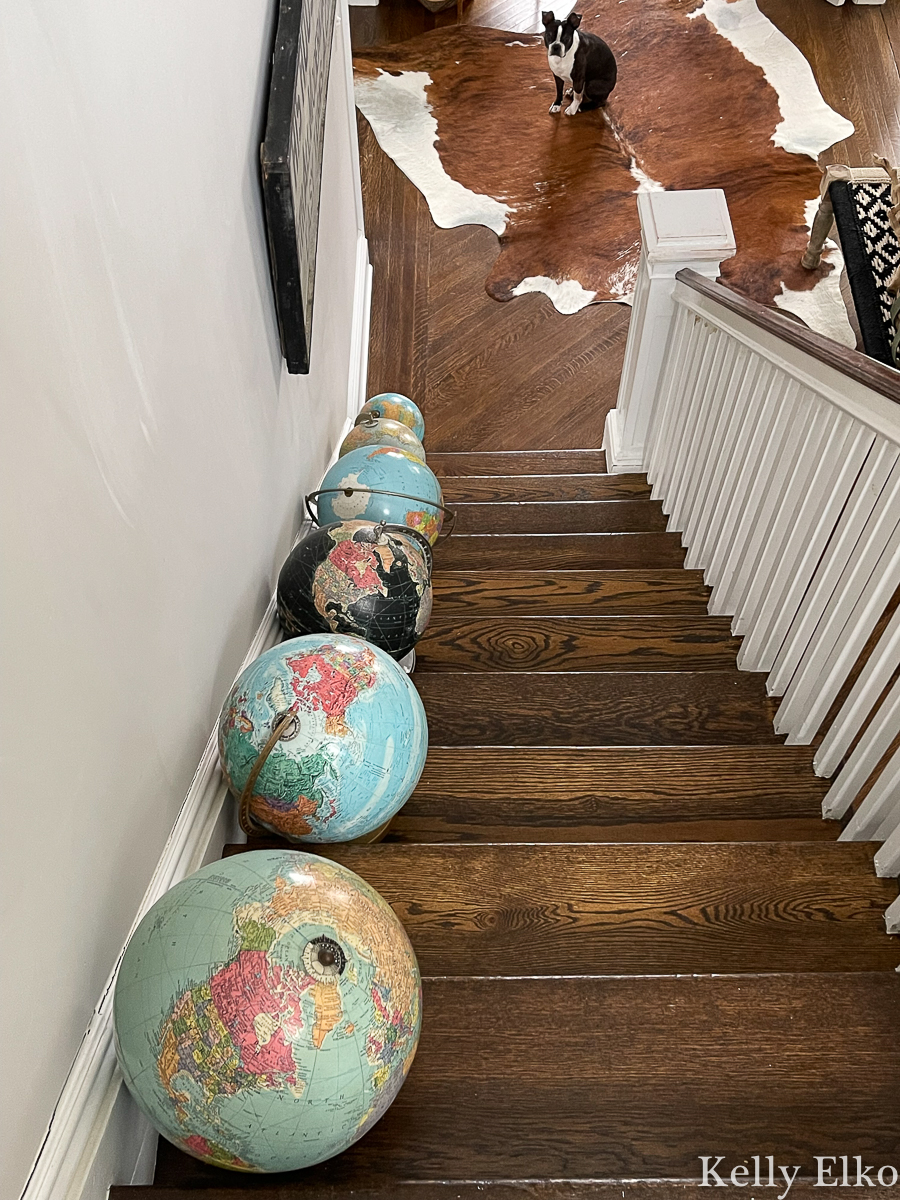 Vintage and antique globes come in an array of sizes, colors (different shades of blue oceans, beige and even black globes which are harder to find and of course my favorite). A vintage globe stand can vary widely too with some having wire bases, some art deco wood, metal and shiny chrome bases, some with bullet shaped bases, acrylic bases, and on and on.
Many of my globes have raised relief (raised areas on high elevations such as mountain ranges) and some are vintage globe table lamps that light up … I'm thrilled to have one of those. Vintage Rand McNally World Portrait Globes are prevalent and easy to find.
And who can forget these globe bar carts!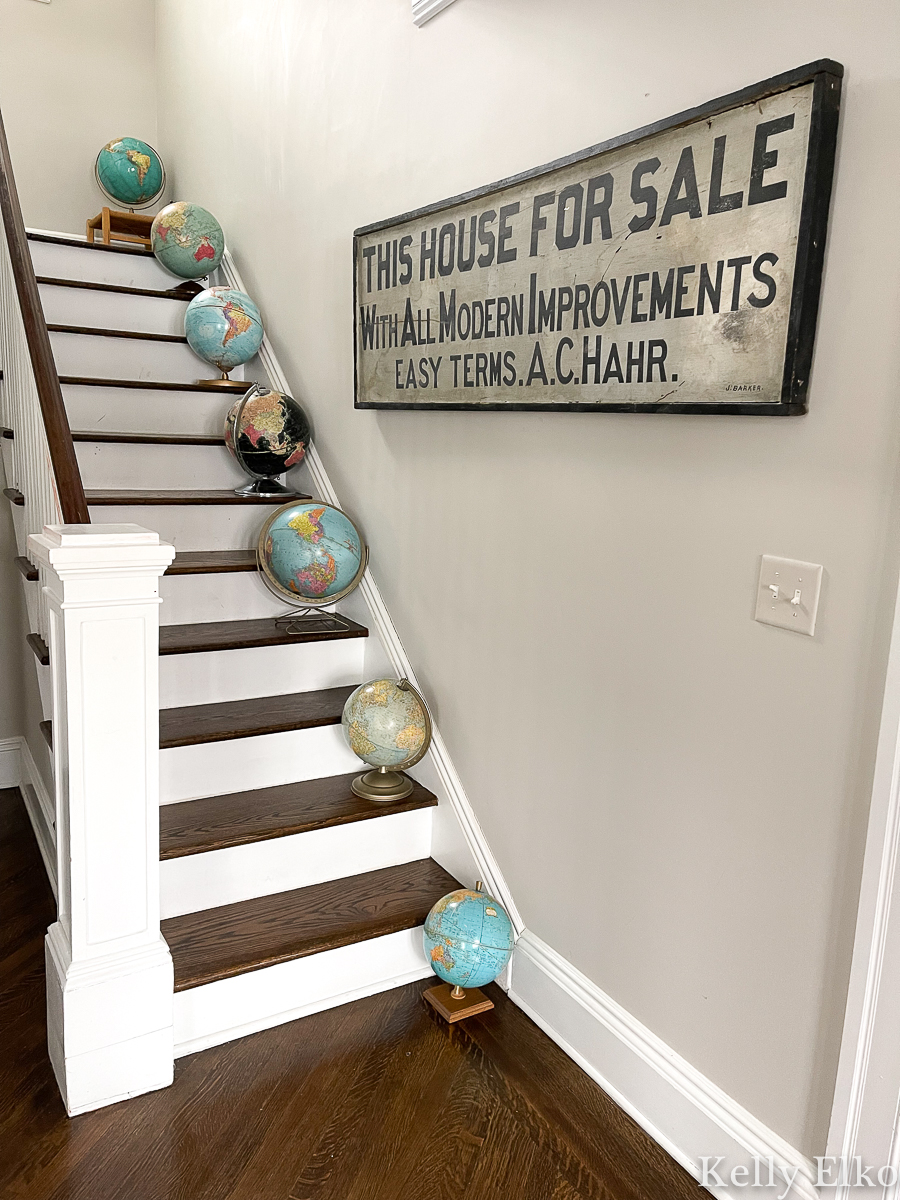 I love the way my globe collection adds a fun pop of color to my staircase and they look great near my living room all decked out for spring.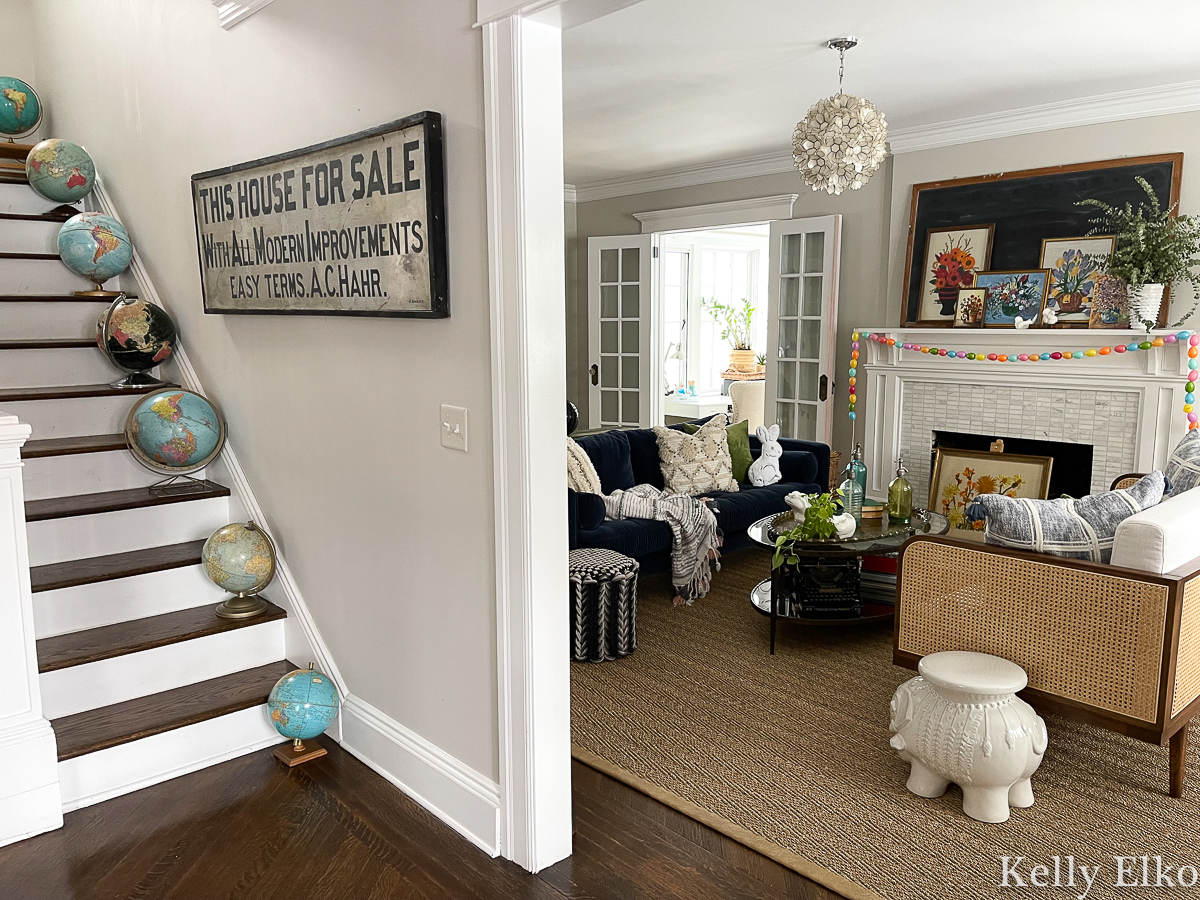 The display possibilities for these decorative objects are endless! Last year, I had fun using cake stands to vary the height of the globes on my mantel (notice my little globe bank).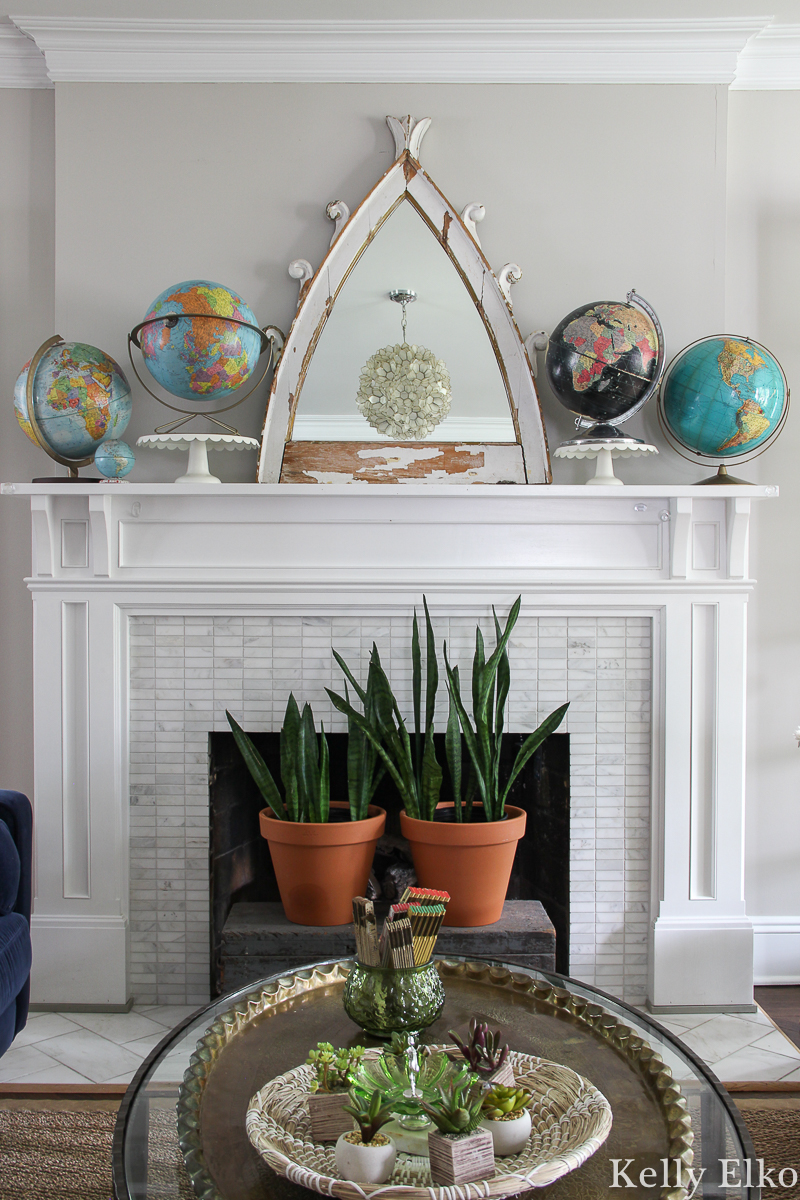 Globe Dating
The older a globe is, the better! The easiest way to tell the age of a globe is by which countries are on it.
For example, if the globe includes Union of Soviet Socialist Republics (USSR), you now it dates to pre-1990.
Japan was once Korea, Ghana was once Ashanti, Zambia was once Northern Rhodesia and so on.
Getting Crafty with Globes
You can get crafty with vintage world globes too although I personally don't recommend mutilating vintage globes.
I've seen globes turned into pendant lights (cut bottom off of globe and add light cord and bulb), hand-lettered globes (write an inspirational quote on one), and decoupaged globes (gather favorite images and glue onto the globe).
I've even seen a DIY globe snowmen … stack three globes then add a scarf and hat to complete your little Frosty!
Displaying Globes
Here are some other fun ways to display old globes …
This amazing display includes lots of tin globes, banks, even globe pencil sharpeners!
https://www.instagram.com/p/CakGBlplD9W/?utm_source=ig_web_button_share_sheet
I love the rustic wood cubbies for displaying this globe collection!
https://www.instagram.com/p/B22-6K_BMqc/?utm_source=ig_web_copy_link
A variety of globe colors and sizes adds interest to this industrial shelf.
https://www.instagram.com/p/BC32NAnFVkS/?utm_source=ig_web_copy_link
This dining room has a schoolhouse vibe with globes displayed on vintage lockers and old schoolhouse chairs. The addition of a globe hanging from the vintage scale is a fun and unexpected touch.
https://www.instagram.com/p/B9P_9y5no_7/?utm_source=ig_web_copy_link
A few collections live harmoniously in this bookcase stacked with old books, pottery and of course, globes.
https://www.instagram.com/p/CDqq6jAgL0G/?utm_source=ig_web_copy_link
An old wood ironing board is a fun table for this assortment of globes.
https://www.instagram.com/p/CAEeu0LJKMm/?utm_source=ig_web_copy_link
The color of this vintage jadeite perfectly matches the large green globe on an old wood mail sorter.
https://www.instagram.com/p/B97bhEfAa8D/?utm_source=ig_web_copy_link
Globe Making Today
Today, the art of globe making is still alive and well!
Replogle has been synonymous with globes since it was founded in 1930 and is still in business today thanks go a group of employees who fought to keep it going.
"In 2014, with the lingering effects of economic downturns and a new globe product line that did not fit in with their established market, Herff Jones announced that they would sell part of the division and close Replogle Globes. Employee Joe Wright, then purchasing manager for the Education Division, approached Herff Jones management and expressed interest in an employee buyout of the company.  Ultimately a group consisting of four former employees dug into their savings, put up their homes as security, recruited investors, and purchased Replogle Globes from Herff Jones on September 12, 2014."
In London, Bellerby and Co. Globemakers creates the most stunning, custom, handmade globes that can take up to six months to create, are 50 inches in diameter, and cost up to $90,000!
The company was founded in 2008, after Peter Bellerby's father asked for a globe for his 80th birthday. Peter couldn't find a sphere that he liked so he decided to make one and the company was born!
Read the fascinating story and manufacturing process of Bellerby & Co. Globemakers here.
https://www.instagram.com/p/CL1vgcMhwm7/?utm_source=ig_web_copy_link
I would love to get my hands on some vintage celestial globes! They show the positions of the stars in the sky and would be such a great addition to my collection.
Here's to keeping these beautiful pieces of history alive.
Shop some of my favorite vintage globes below …