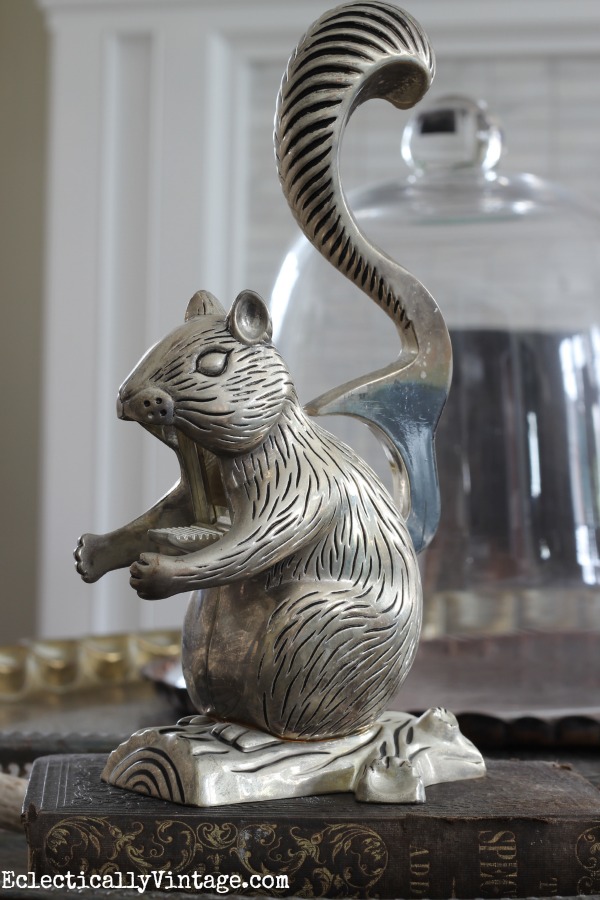 This is a public service announcement.
When I was making my rounds through my local thrift shop, I spotted this furry little woodland creature made by the Godinger Silver Art Company and I went nuts!
$3.50 later, his head was peeking from my purse and I was headed home with little Julio (naming nutcrackers is the first sign of trouble).
He reminds me of when I was a kid around Christmas time.  We would crack walnuts with our very plain and boring nutcracker as we sat by the fire.
I justified my purchase by telling myself that I would start that tradition with my girls.
One small problem …
my girls are allergic to tree nuts!
So you know I have an issue when I bought that little furry critter anyway.
And guess what?  Now I have this deep, burning desire to start yet another collection.
I can picture it now.
Thousands of nutcrackers as far as the eye can see nestled in every nook and cranny of my house …
next to the piles of old newspapers …
until one day, a concerned friend calls Hoarders and I'm forced to part with my collection then I'm hauled away to "rest" from an extreme case of "exhaustion" for a very long time.
That once cute squirrel will soon haunt your nightmares with this evil grin …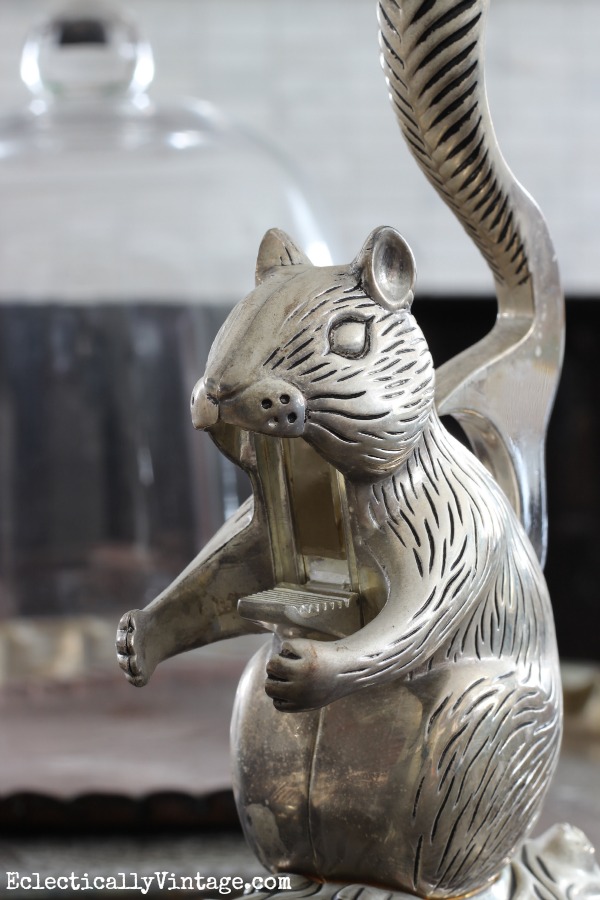 So I feel it's my civic duty to set up a toll free number …
1-800-SOS-KELLY
I'll also do my best to get celebrities to join my telethon to raise awareness of this serious issue.
Collecting is a slippery slope.
Please be very careful because you never know which innocent purchase could lead to a hunt for more and more and even more …
until you're buried underneath a pile of squirrels.
Check out all of my hoard … I mean thrift shop finds.
P.S. Do you name inanimate objects?
P.P.S. We won't judge you – tell us what weird thing you can't stop collecting?