Did you know that Fall used to be called Harvest (remember that in case you're on Jeopardy one day). It's my favorite season so today, I'm sharing a dozen super creative fall mantels. You'll find everything from neutral style to a riot of color to extreme minimalism to over the top excess to vintage finds to DIY creations and everything in between. So grab a cup of pumpkin spice latte and get ready for some fall decorating inspiration.
Before we start, I excited to let you know that I'm heading off on a European river cruise in a few days and I'll be sharing lots of pics so be sure to follow me on Instagram here.
This rustic wood mantel is incredible enough on its own but when topped with a mix of wood, wheat, pampas grass and pumpkins, it becomes a warm fall mantel.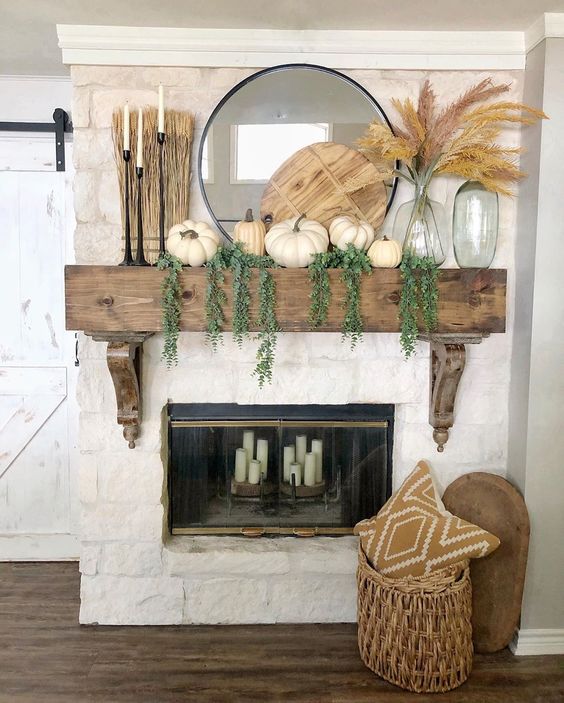 If you can't buy it, make it! How fun is this dried flower installation. It's hard to tell from the photo but it's HUGE! Don't miss her tutorial on how to make one. I also love the pile of pumpkins in the fireplace and the stacked logs underneath.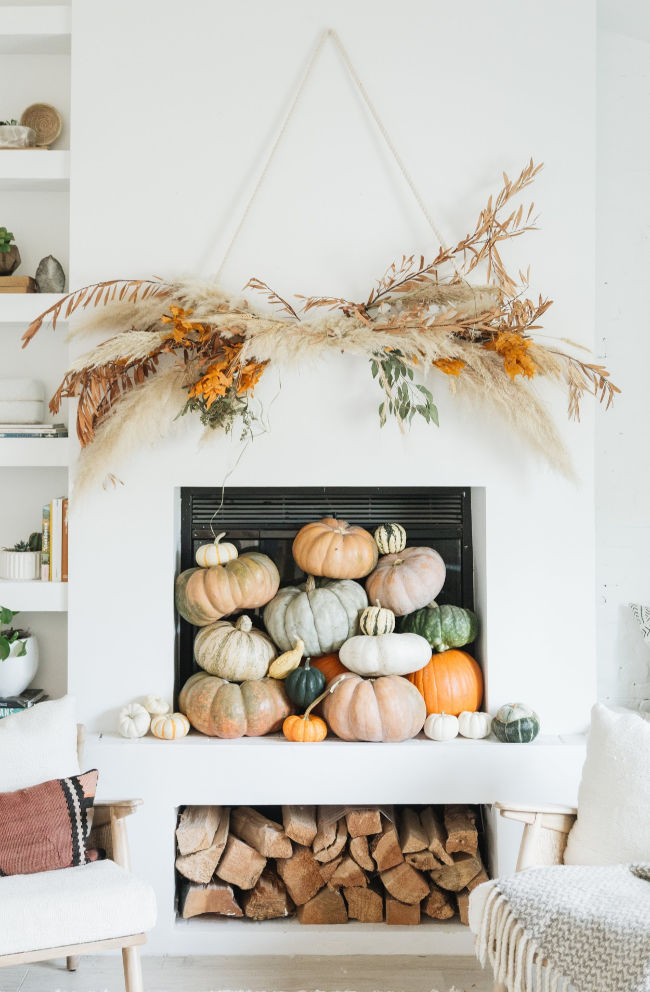 This mantel brimming with apples is the essence of simplicity while demonstrating how gathering a lot of little things together can make a huge statement.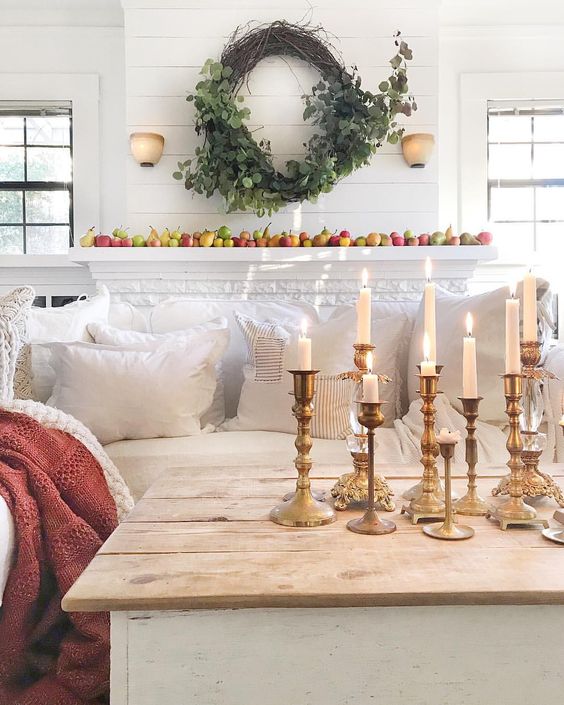 I love chalk art and these colorful fall leaves are beautiful set against a backdrop of a few leaves snipped from the yard.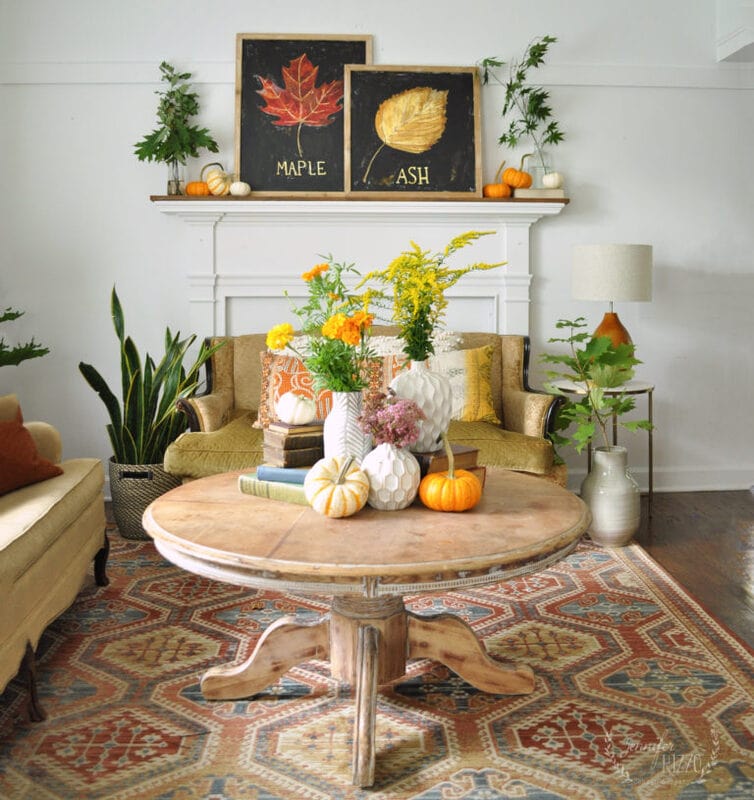 I love the drama of the black fireplace and green shiplap as the backdrop to this creative way to display a pumpkin. You also don't want to miss how Doreen upcycled the most beautiful old headboard in her fall home tour.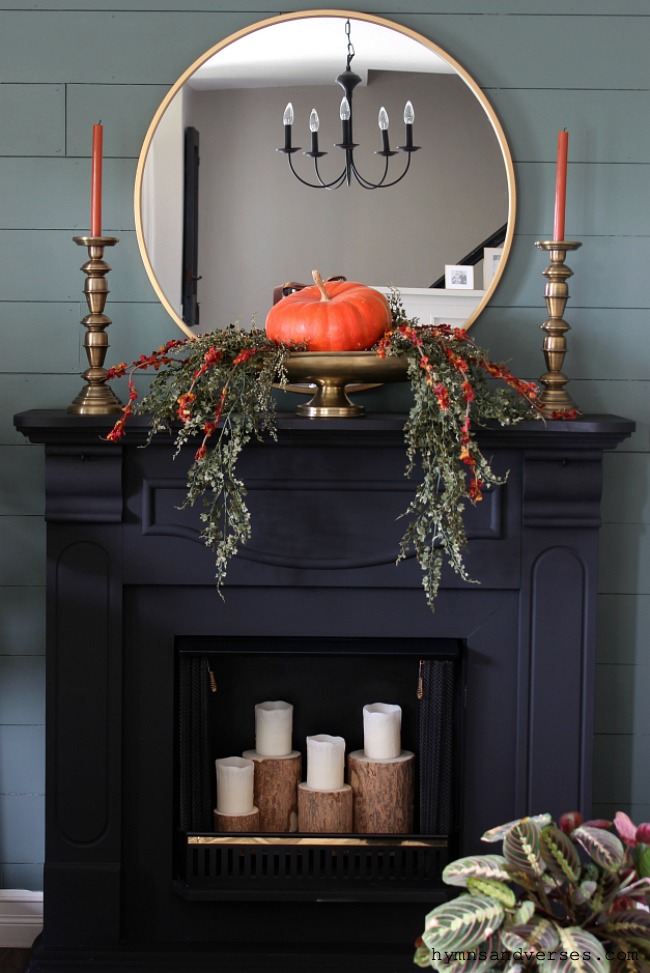 It's all about the layers on this mantel where a simple butcher paper scroll is the focal point.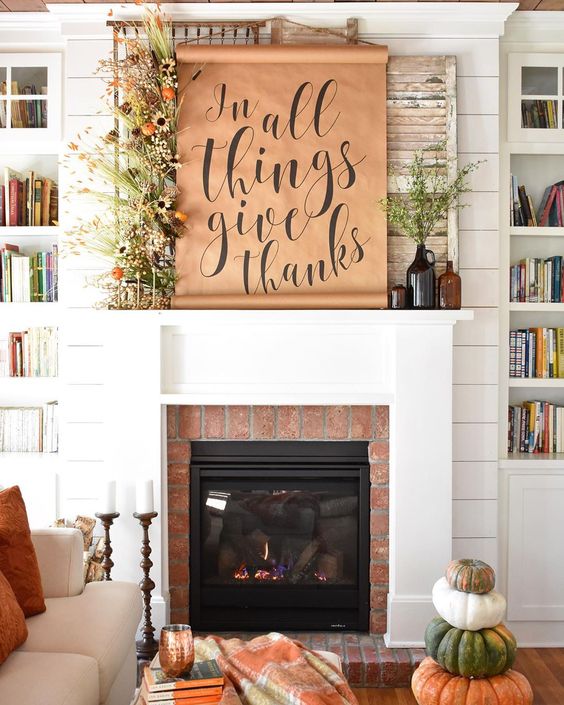 Wow! I bet this one stopped you in your tracks! I love how Jennifer shows off her colorful personality and isn't afraid to paint all the things!
Colorful Painted Pumpkin Mantel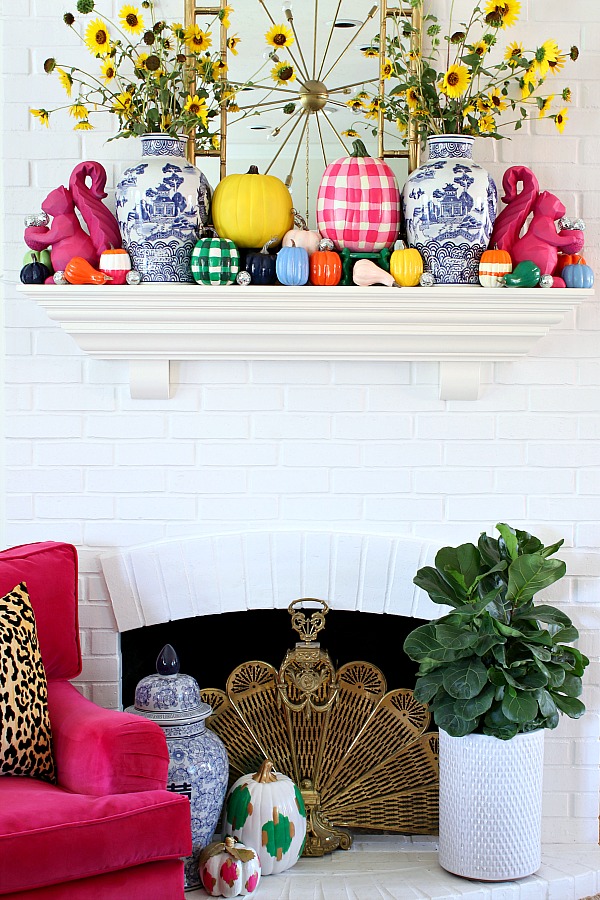 This minimal mantel shows that you can create drama with one large scale thing like these branches in a simple black vase.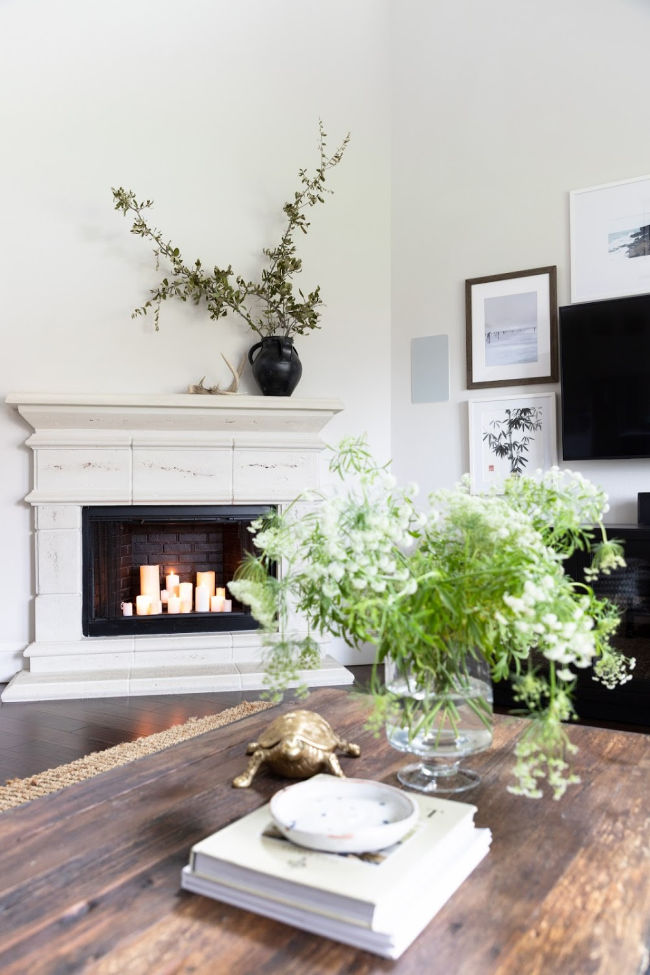 Create your own wreath to reflect your personal style like this floral beauty.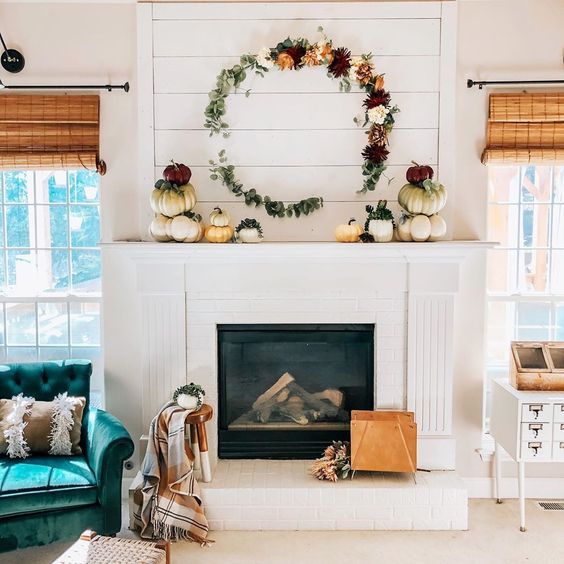 The patina from the old flower pots set against a vintage mirror is stunning and the color scheme flows down to the collection of old amber bottles on the coffee table.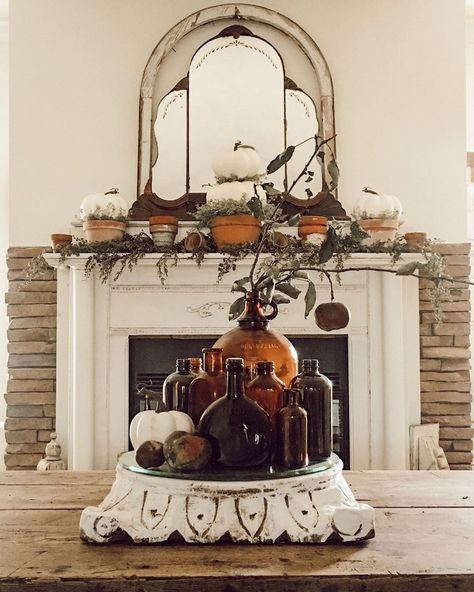 Who needs pumpkins when you can decorate your fall mantel with a beautiful trailing plant.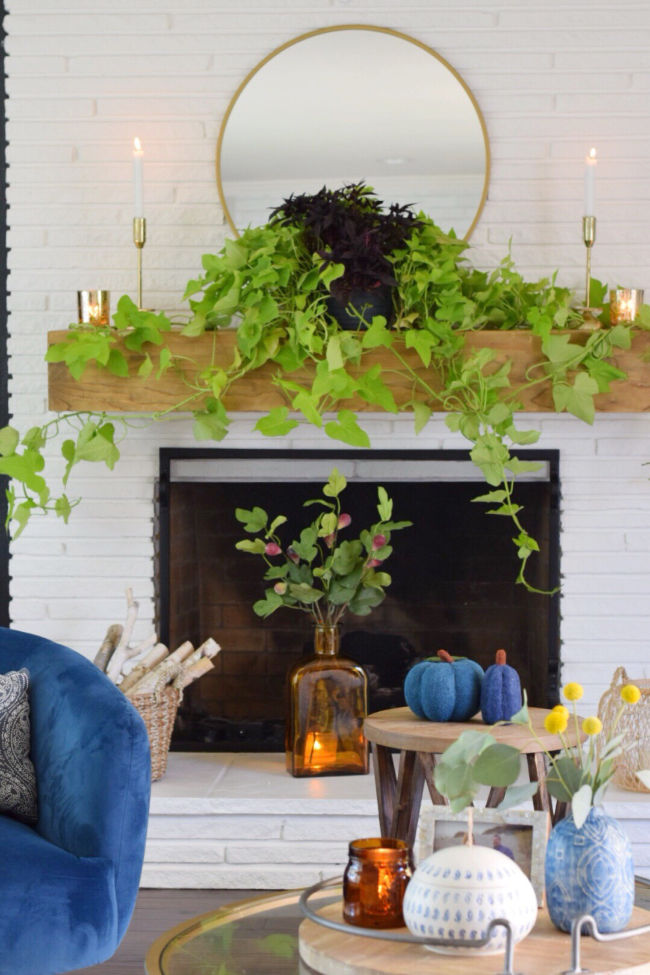 Jamie pressed leaves from her yard to create this creative display.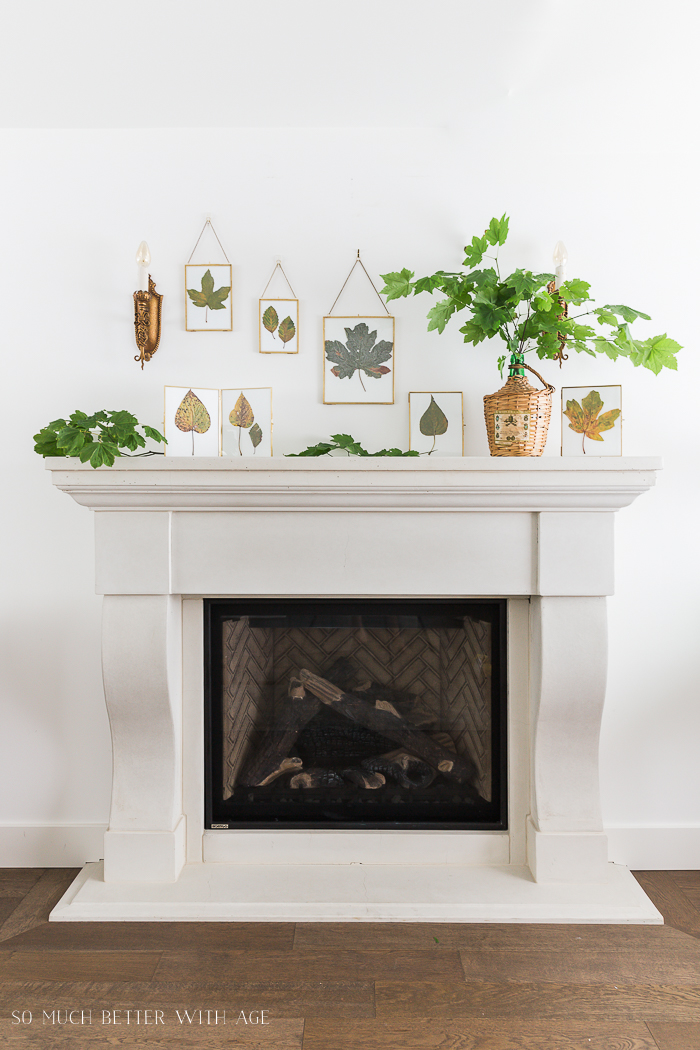 Let's not forget my fall mantel complete with a handmade dried hydrangea wreath.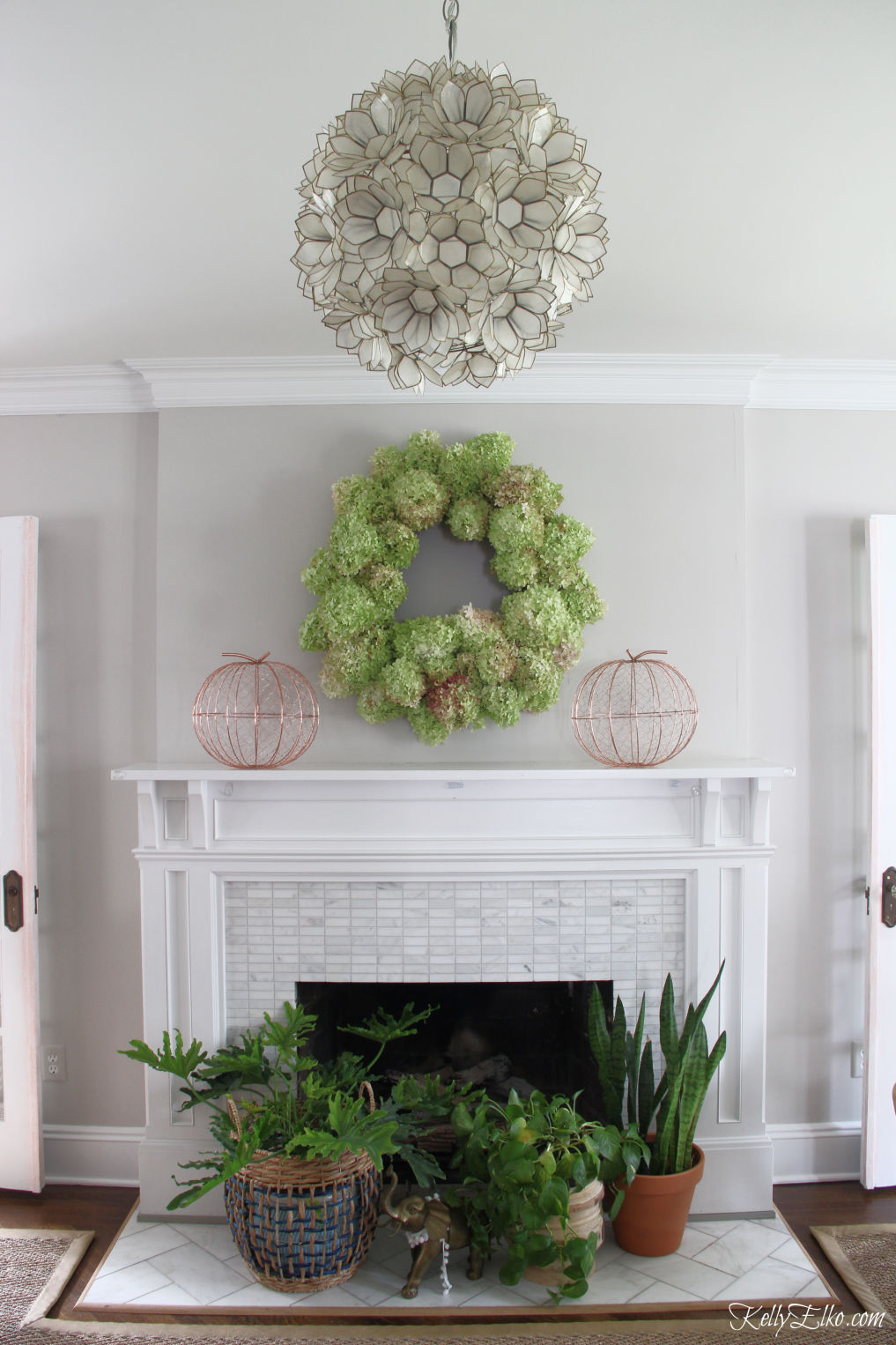 Do you have a favorite mantel?