6 Creative Ways to Decorate a Spring Mantel
If I had a nickel for every mantel I've styled, I would be lounging on my yacht while a buff deckhand fans me with a palm frond! What I lack in giant boats, I make up for in lots of decorating experience for every season and I'm sharing my latest spring mantel plus 5 other completely different looks. Spring is a fun time to shake off the winter blues and come up with a fresh look for your home. So if you need some spring decorating inspiration (these ideas can be used in lots of places all around the house), see my 6 creative ways to decorate a spring mantel.
This year's mantel is a sneak peek into my spring home tour coming on Saturday!
Mantel One – Art & Architecture
My latest mantel involves some of my favorite things including vintage art, architectural salvage, and plants (this is low maintenance ZZ plant) because every room needs a plant (or 20)!
This post contains affiliate links which means if you make a purchase, I may earn a small commission at no extra cost to you.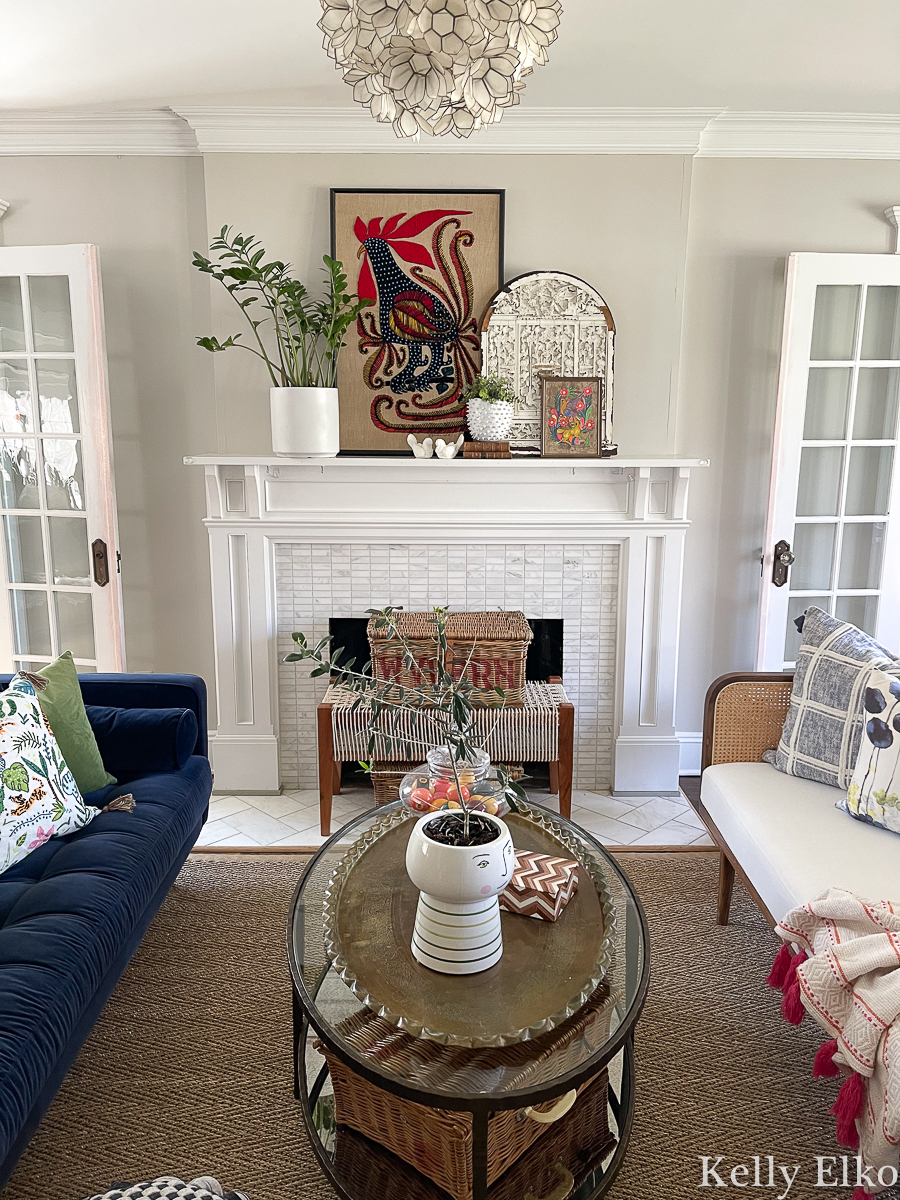 I am a big believer in decorating the hearth and covering the giant black hole of a fireplace during the warmer months so I stacked baskets under and on top of a woven bench to add lots of texture.
One of the easiest ways to style an interesting mantel or shelf is to LAYER, LAYER, LAYER (sorry for shouting)! I like to lean things against other things to create interest and visual balance. Don't forget books for adding height.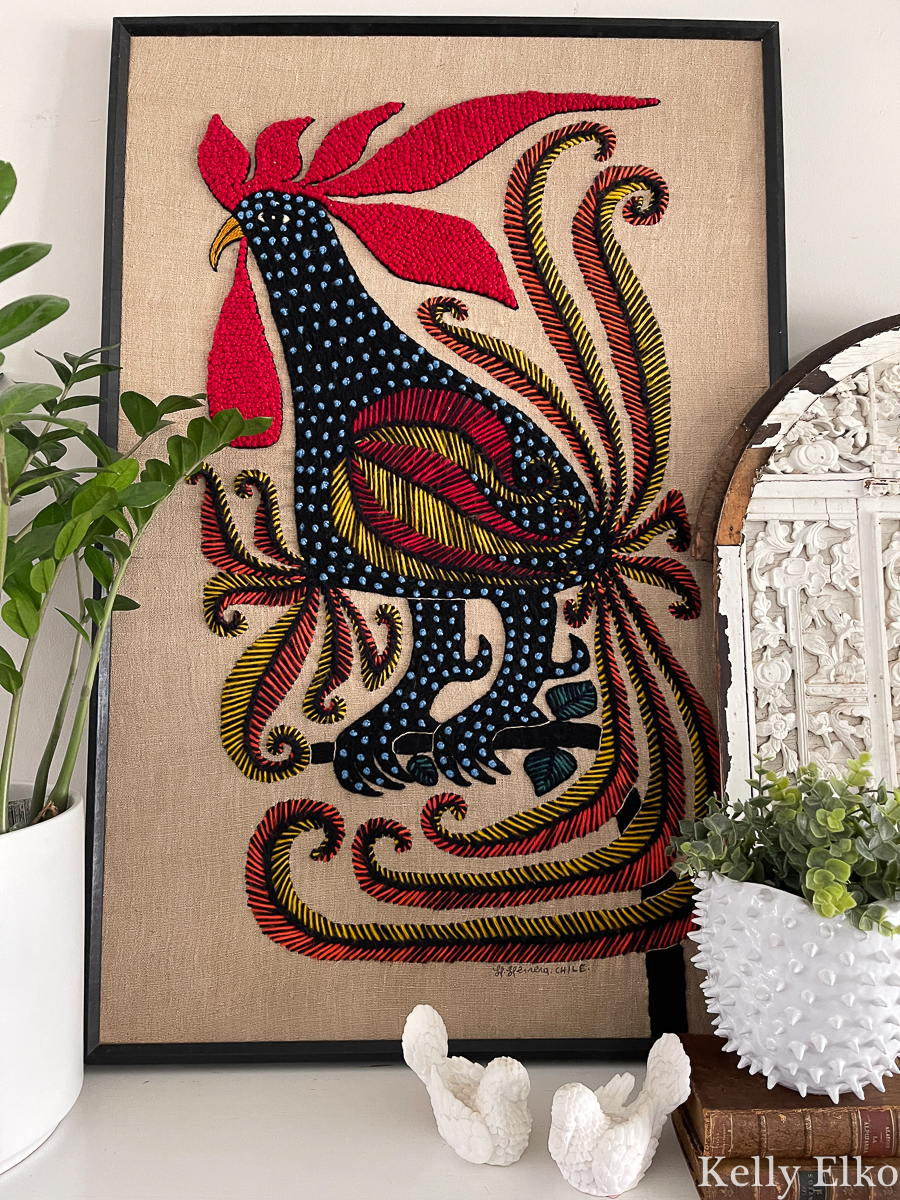 Mantel Two – Vintage Florals
I had so much fun using a colorful assortment of thrifted, vintage floral art in a mix of paintings, crewel, and embroidery then added a real plant and a wild looking bunch of eucalyptus for height.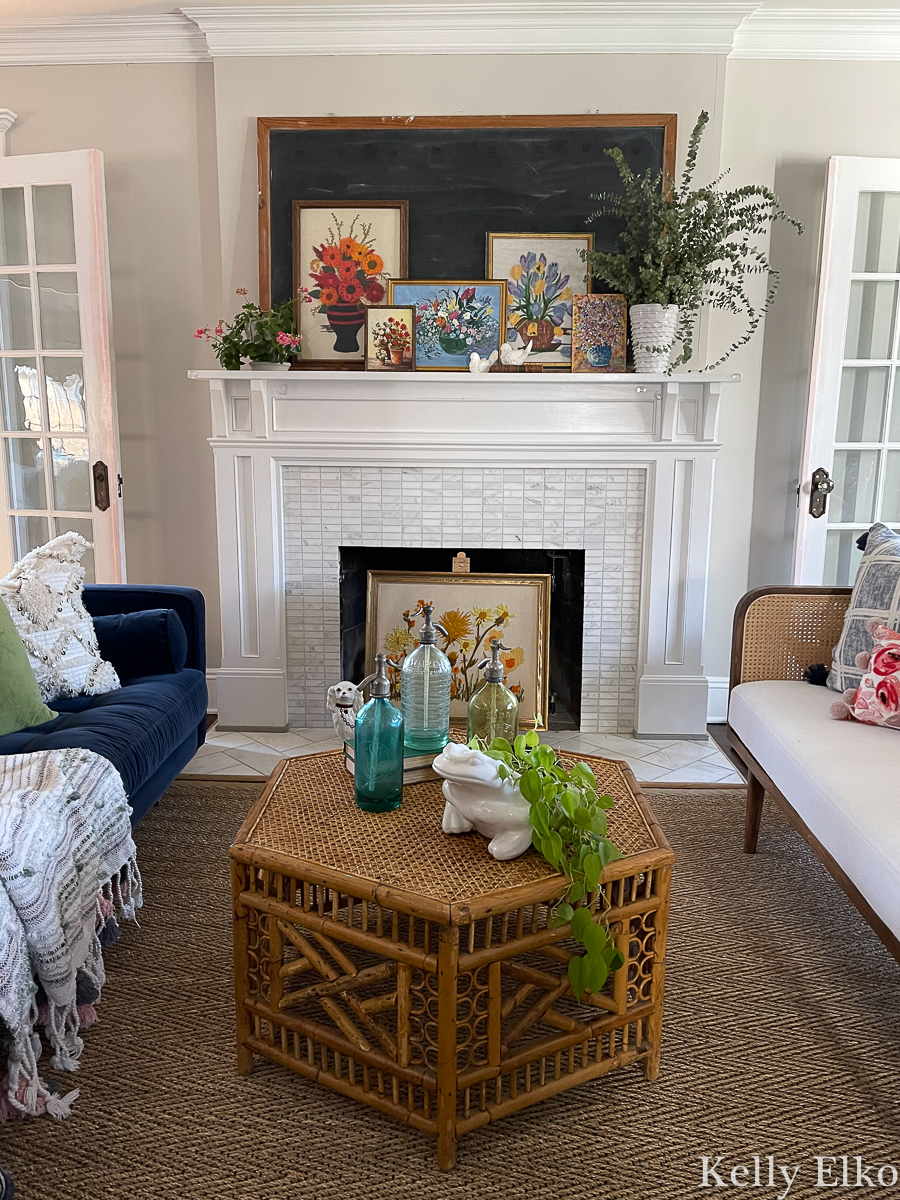 My giant old chalkboard creates the perfect backdrop to the colorful art and the art continues displayed on an artist's easel in front of the fireplace.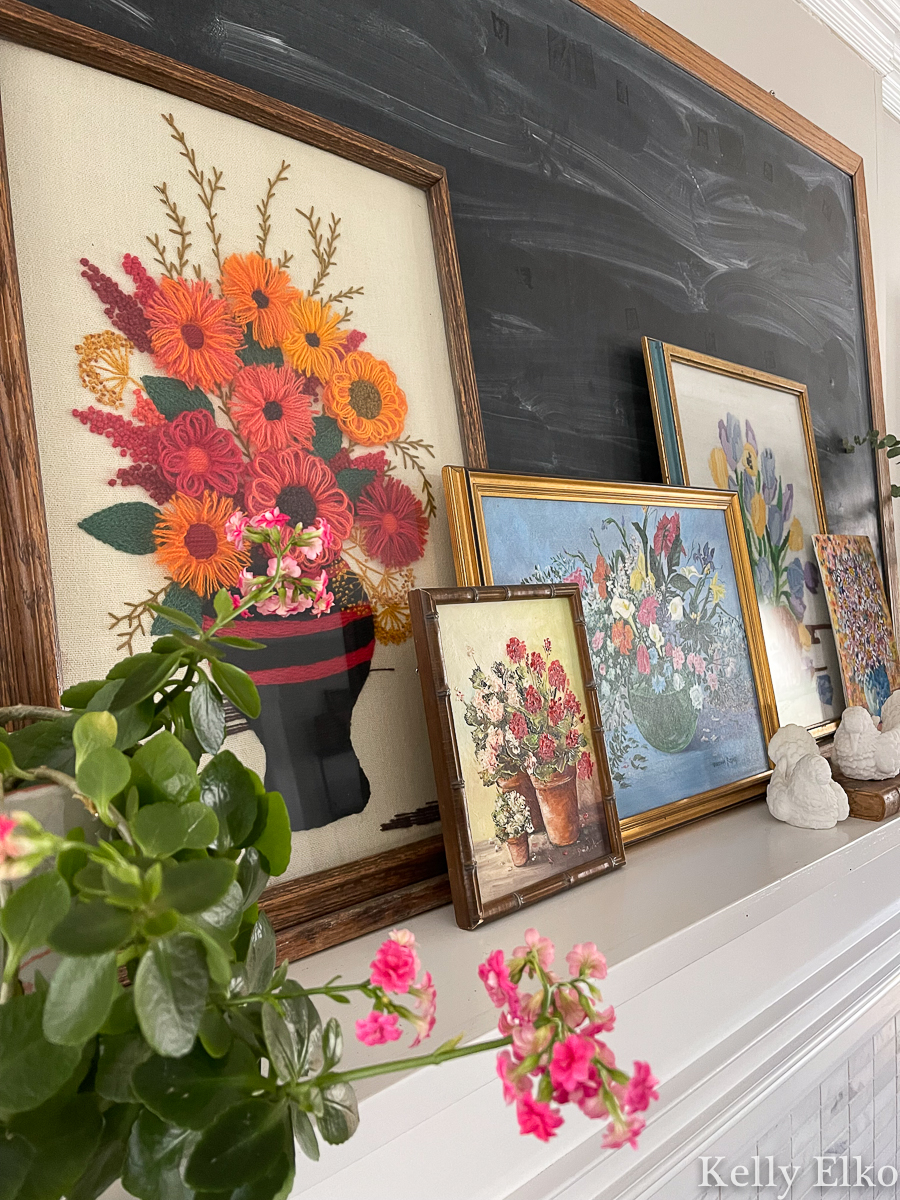 Mantel Three – Art Collage
What do you do when you want huge piece of art but don't have one? You make it yourself of course!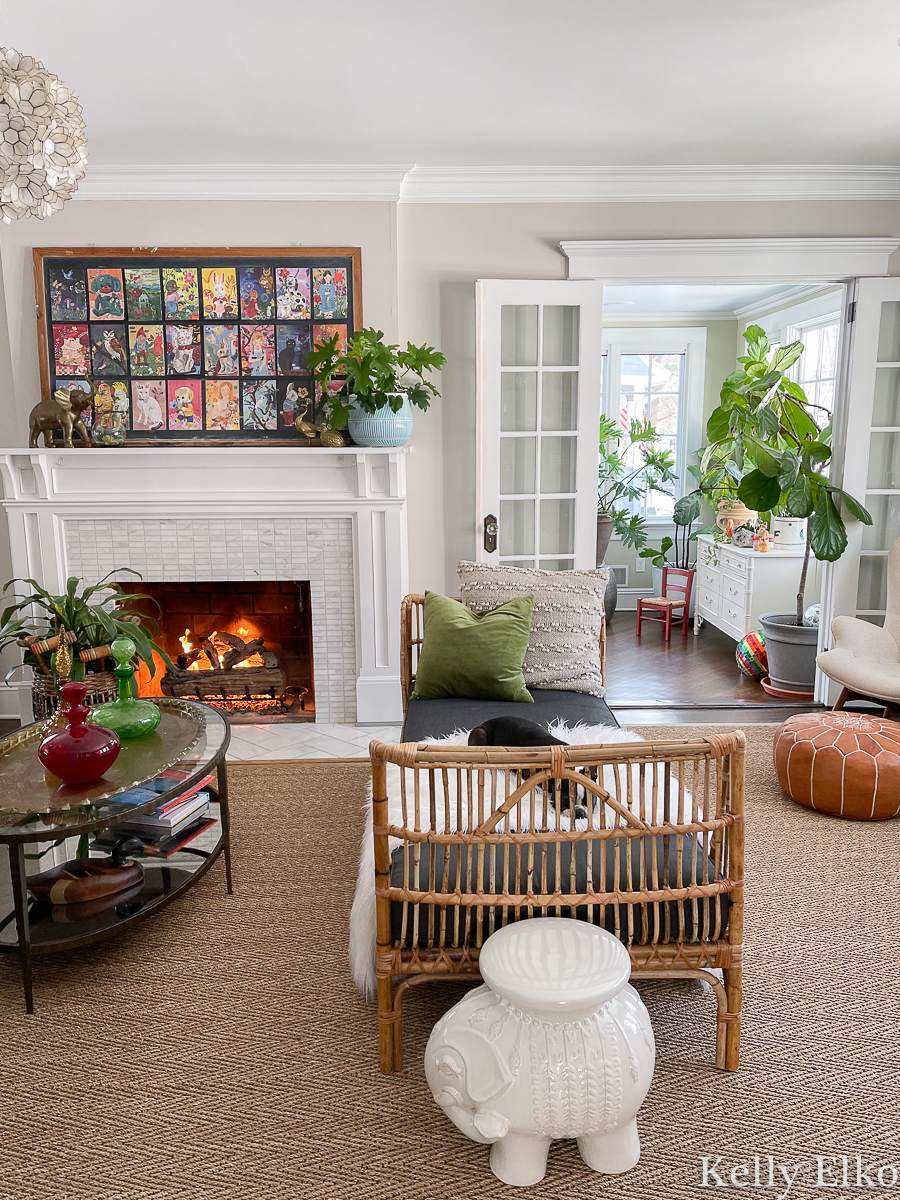 I simply tore out pages from a favorite Nathalie Lete calendar and taped them to my chalkboard for a one of a kind, whimsical look.
A few brass critters and a plant complete the look and another plant on the hearth is easy to slide out of the way to light a fire on chilly spring nights.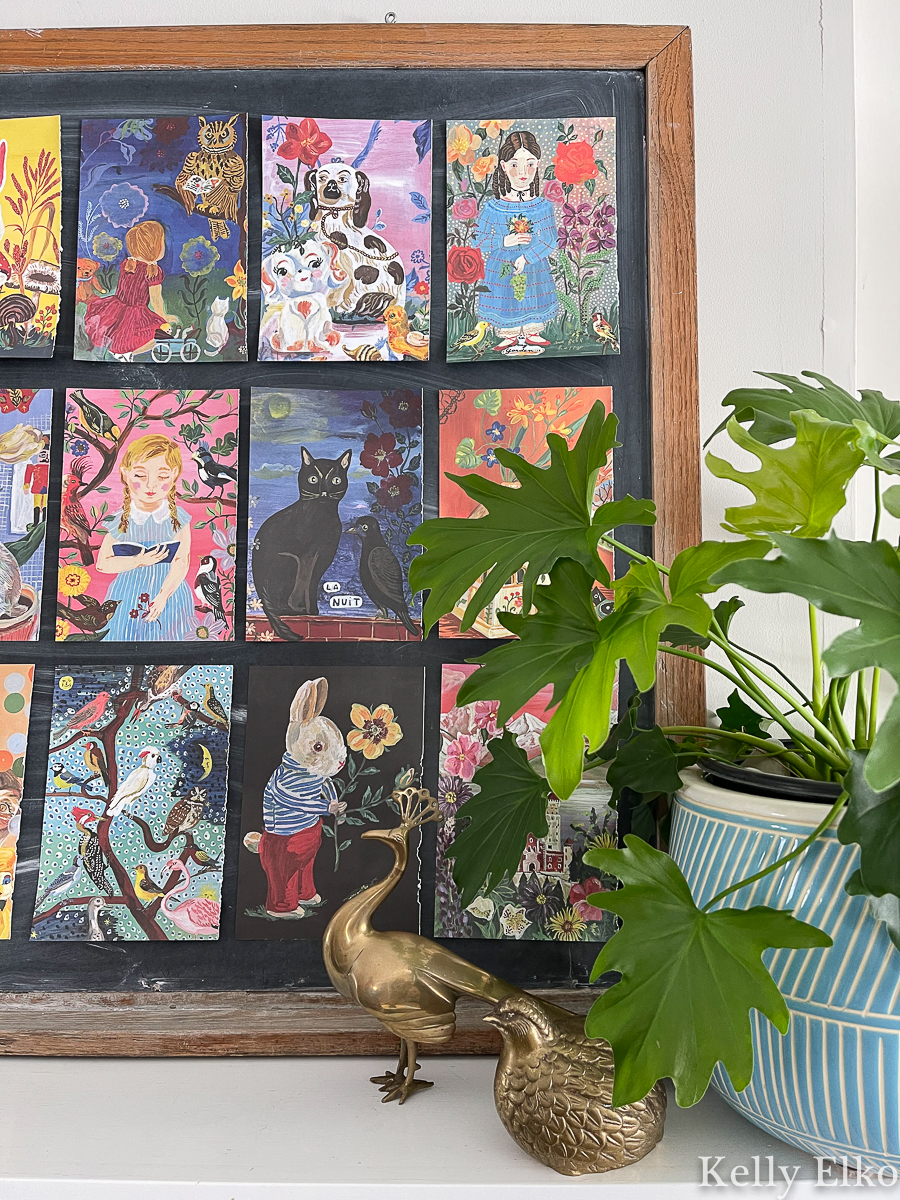 Mantel Four – Cherry Blossom Chalk Art
Spring means cherry blossom season and this chalkboard is in full bloom.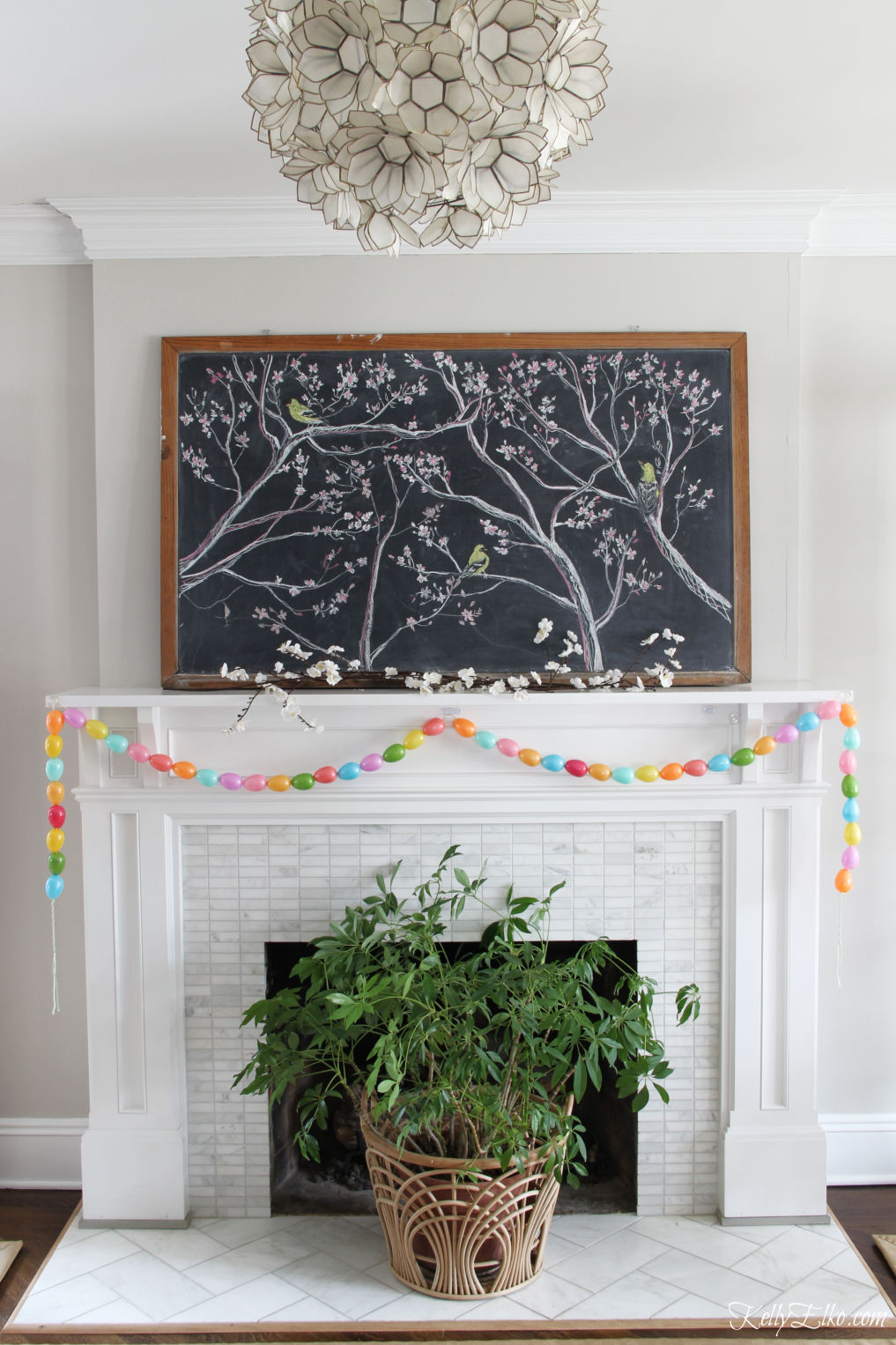 I added an egg garland that I made years ago for a fun pop of color as well as, you guessed it, a plant in a woven rattan basket.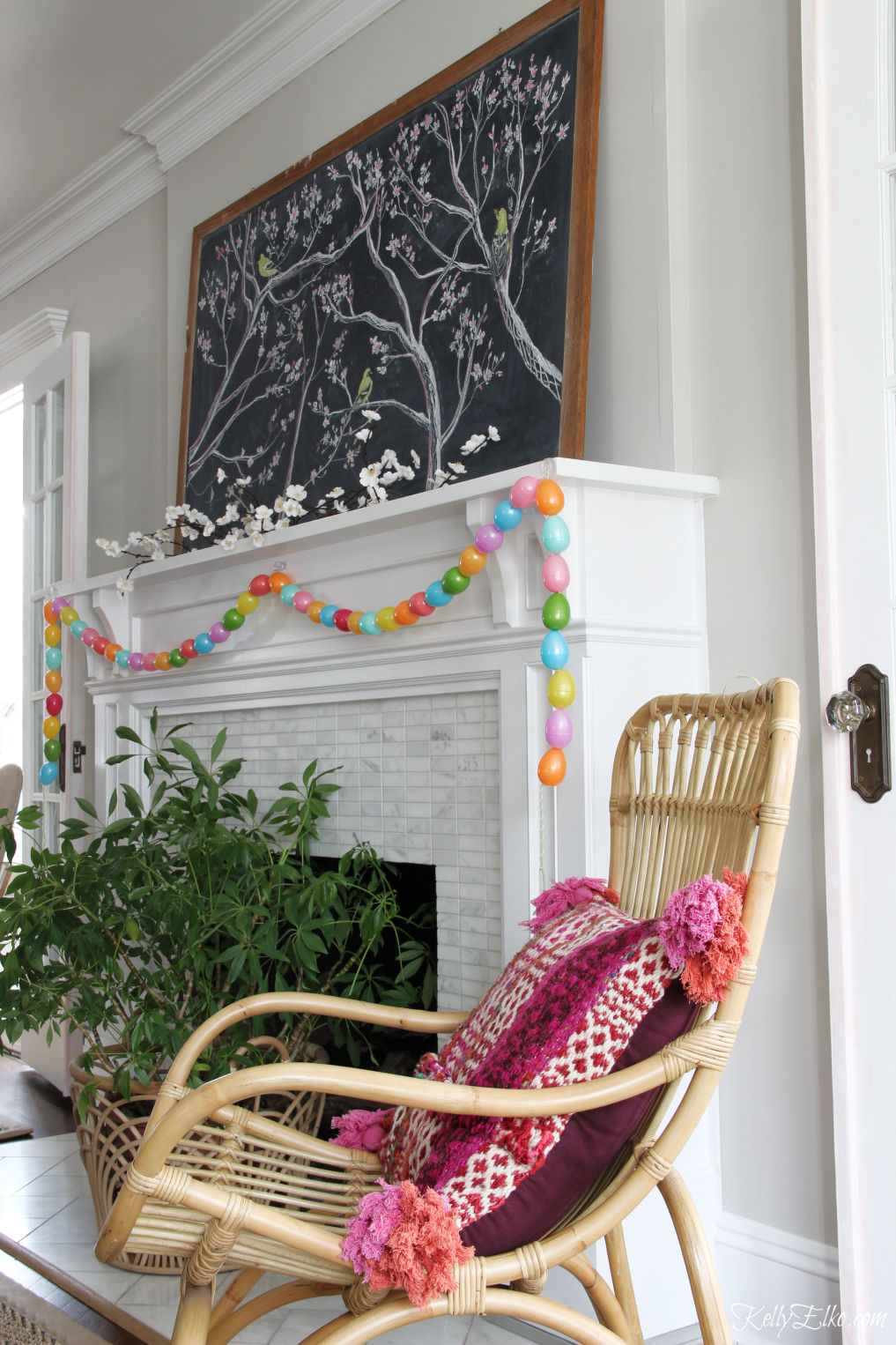 Mantel Five – Cherry Blossom Branches
Have you ever heard the "decorating rule" that says to decorate with odd numbers because it's more pleasing to the eye?
Only three things complete this simple mantel, a huge vintage jar filled with real cherry blossom branches cut right from my backyard tree, a colorful basket propped against the wall, and a little green bunny.
How to Make an Egg Garland Here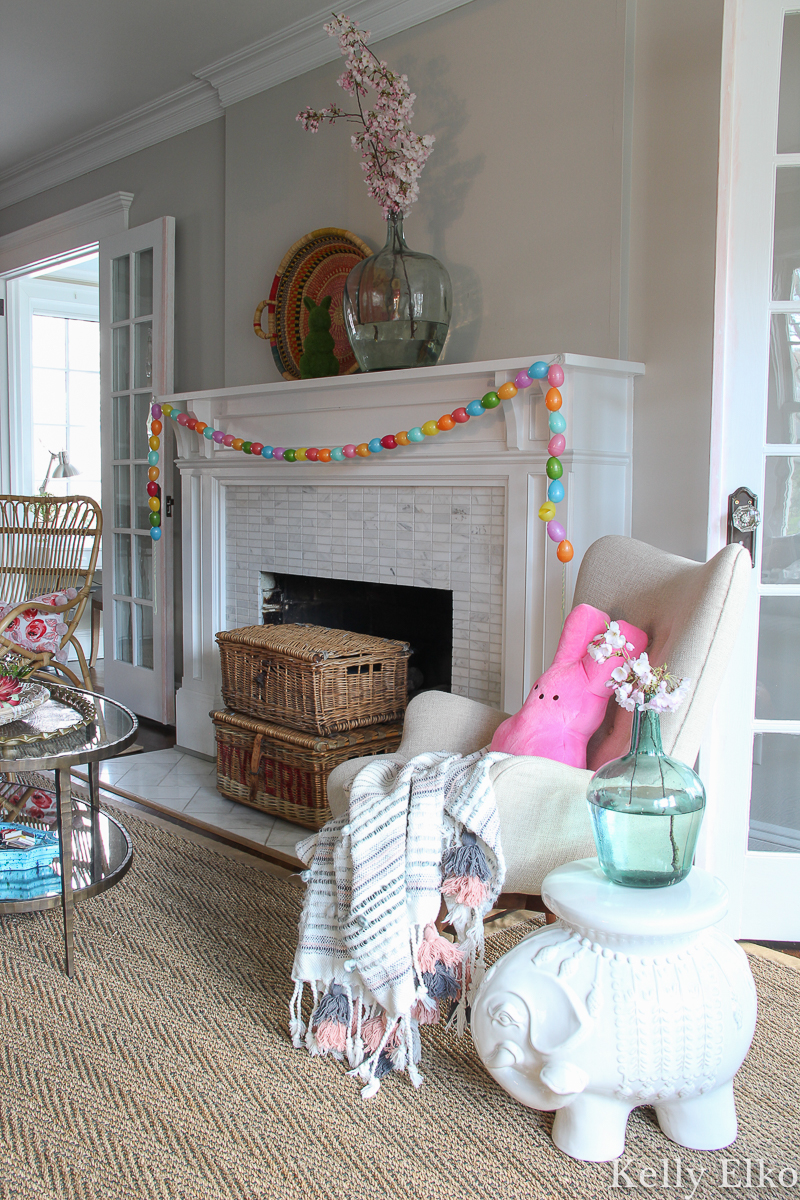 There are those baskets in front of the fireplace again … this time minus the bench.
And every room needs this Peep pillow for spring (it comes in lots of fun colors including tie-dye)!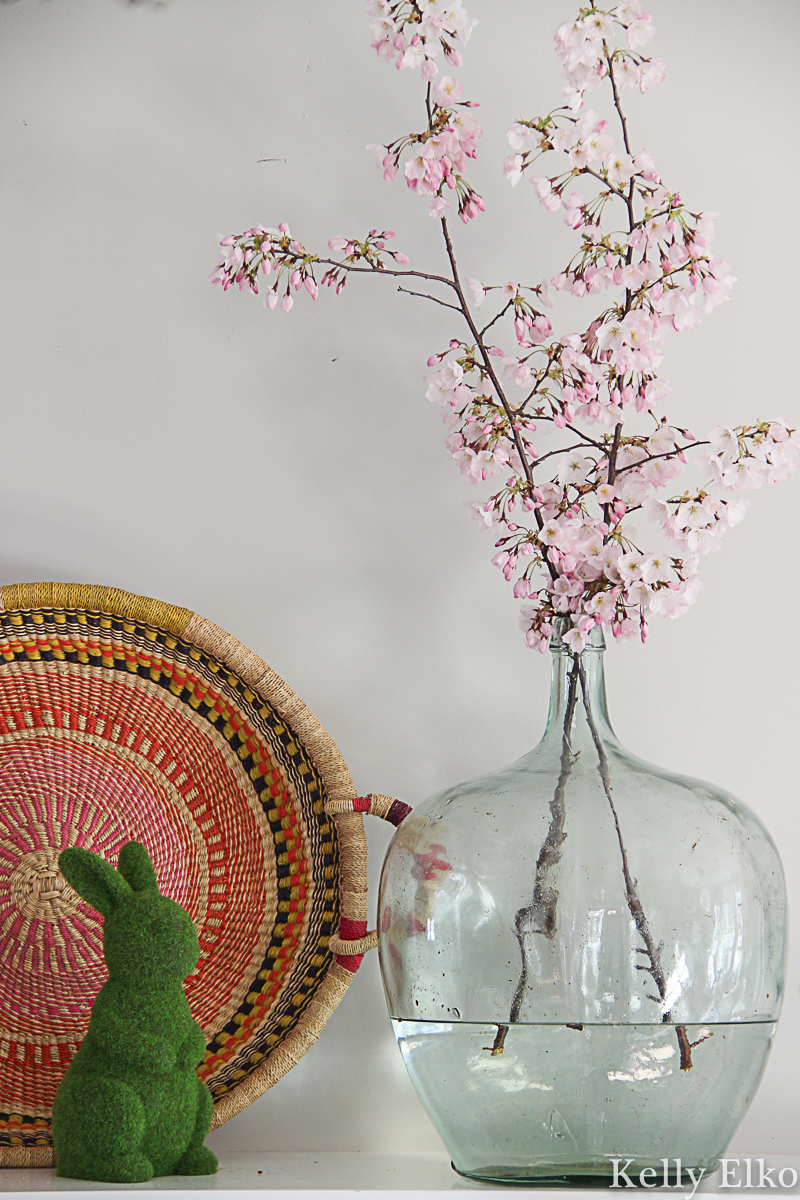 Mantel Six – Bunnies and Bottles
The bunnies really multiplied this year and they are hopping across my mantel with a trio of glass jars and faux flowering branches.
The blues and greens on the mantel is carried down to the hearth with a rustic wooden box and a pair of snake plants (for all the black thumbs out there – snake plants are nearly impossible to kill).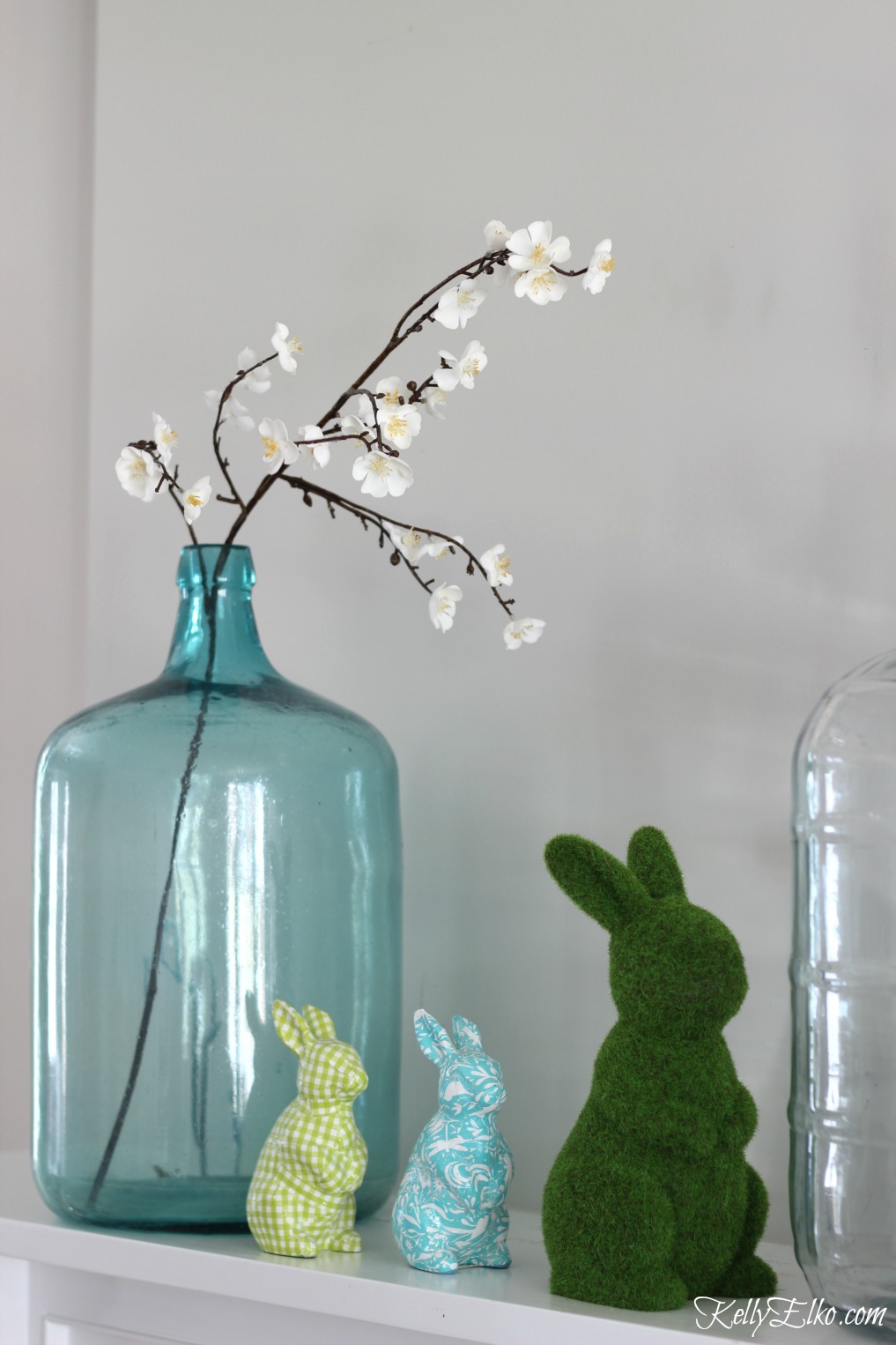 I hoped you enjoyed these 6 creative ways to decorate a spring mantel! Do you have a favorite?
If you would like sourcing info or any other questions on anything you see in my posts, feel free to leave a comment and I'll make sure to reply!