Cherry Blossom Spring Mantel & The Story of the Brown Egg!
Spring is the perfect time to get outside and cut some flowering branches to bring inside for a burst of color. My whimsical cherry blossom spring mantel is a mix of old and new. I'm sharing how to get a fresh look by using things you probably already have plus my DIY egg garland I made over seven years ago but is still one of my favorite pieces of spring decor. I'm also sharing a funny story from when I was a kid!
My mother in law celebrated her 90th birthday a couple of weeks ago and because of the virus threat, we were unable to celebrate with her. As we all try to create some normalcy during these shelter in place times, I think it's even more important than ever to create a home where we feel safe and sound. So while these times are so uncertain and stressful, I'm hoping I can continue to share ways to make your home a little bit brighter.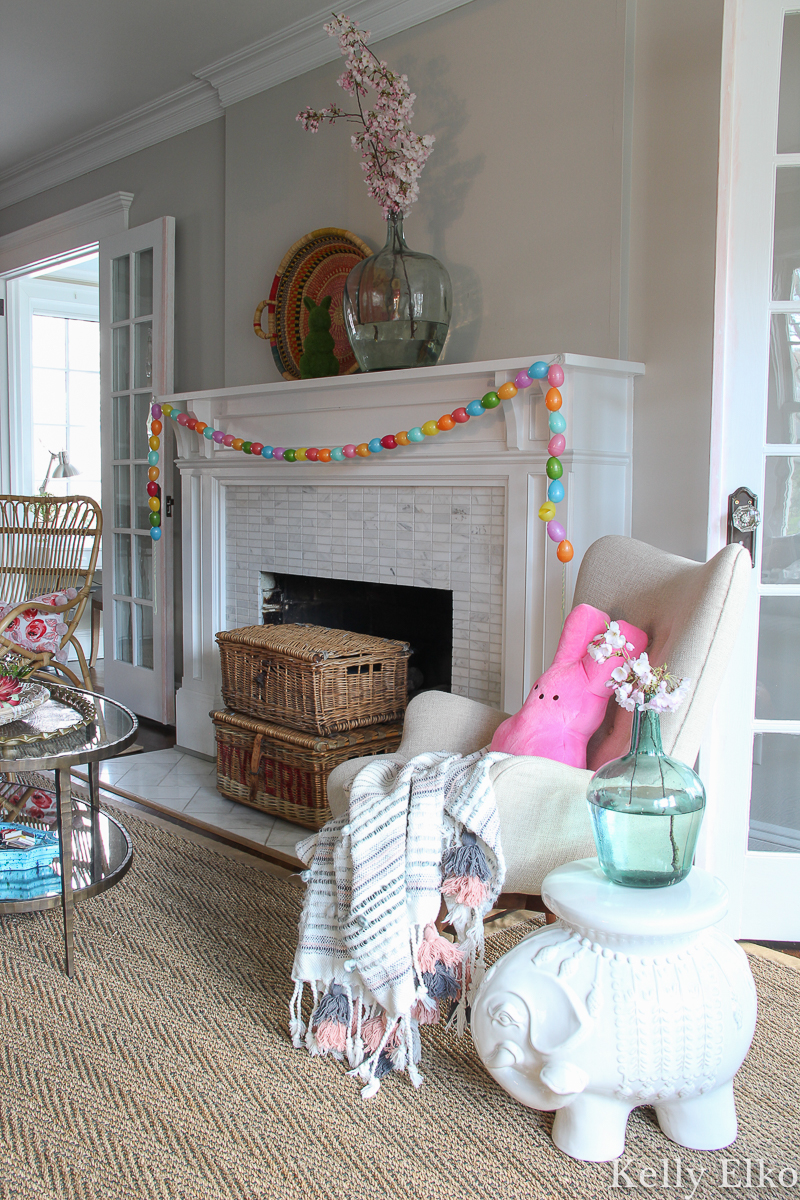 This post contains affiliate links which means if you purchase something, I earn a small commission.
I am lucky to have two stunning cherry blossom trees in my backyard. We planted these trees when we moved into our home over 10 years ago and when they bloom, it signals that spring has officially sprung! If you don't have flowering branches nearby, there are many realistic faux branches like these plum blossom stems.
Isn't she a stunner! The pink flowers will turn to white and when they drop, the ground looks like it's covered in freshly fallen snow.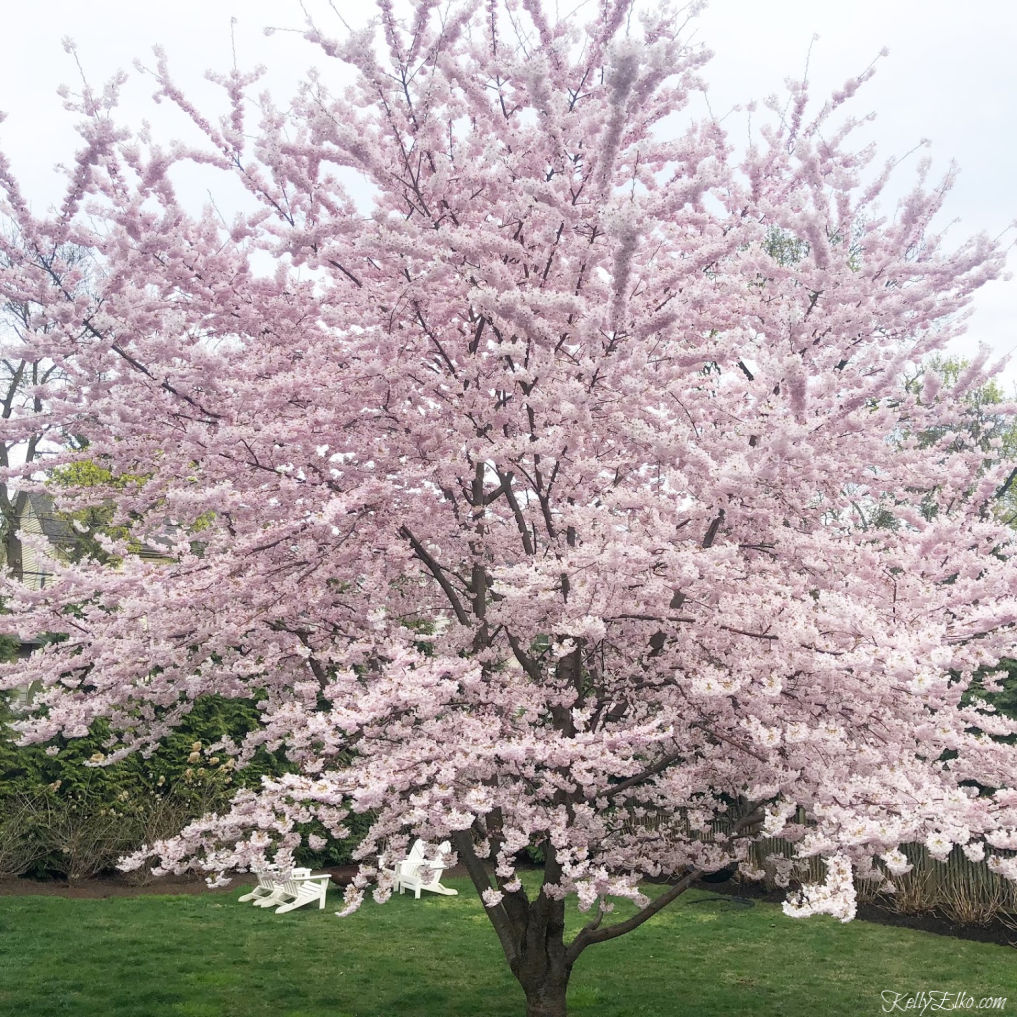 Over the years, I've gotten away from too much seasonal themed decorating and instead rely on using my everyday pieces in new ways. Mixing in some eggs, a moss bunny that reminds me of one I had when I was a kid, and a Peep pillow that I found at Target a few years ago add Easter whimsy.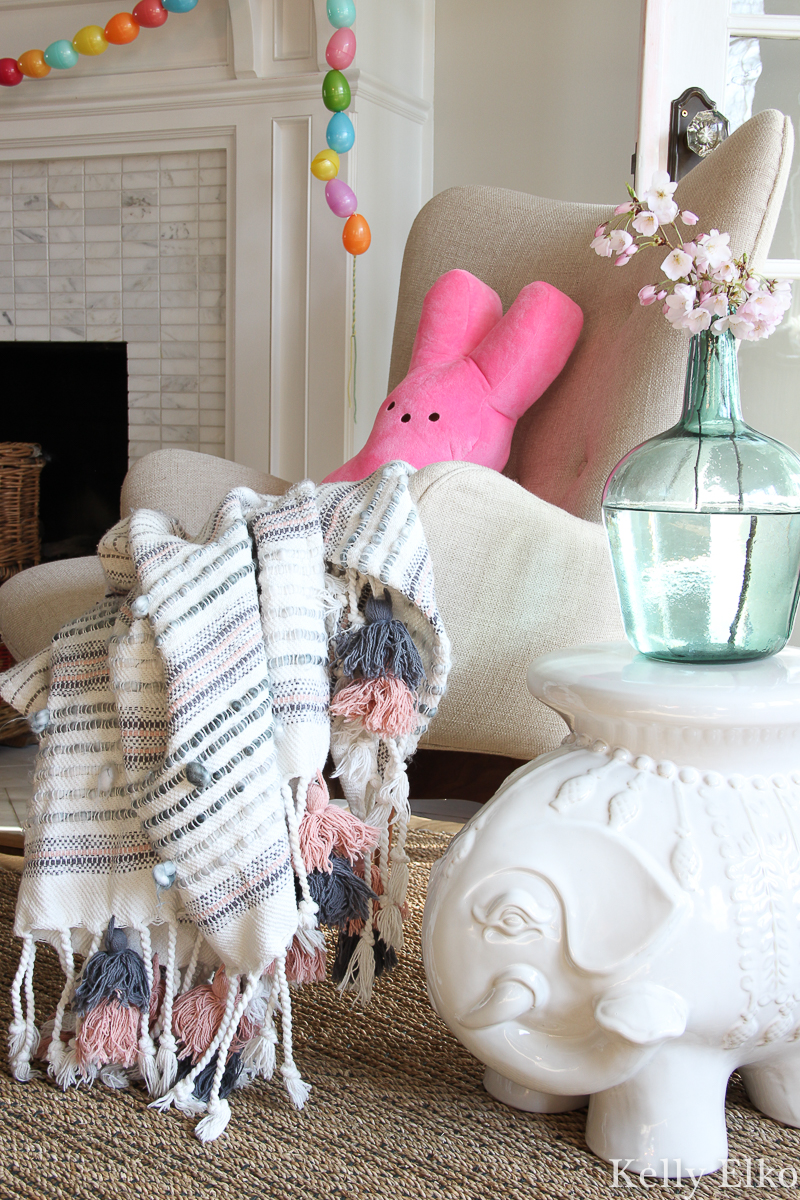 Since the days of Easter egg hunts are over in my house, I gathered a bunch of cheap plastic eggs and made this egg garland. It's the one piece of spring decor I reach for year after year.
Easter egg hunts bring up a traumatic experience from my childhood. When I was a kid, my parents took us to The Knights of Columbus for an Easter egg hunt. The grand prize was a huge chocolate egg and I was determined to make that egg mine! My quest for the winning egg was not going well so my sister and I decided to take a break and find our parents. As we walked over to them, I glanced down and saw a steaming pile of brown poop and pointed and screamed, "watch out." My sister scooped up the "poop" that was actually the grand prize winning egg painted a deep shade of brown! As I watched the Grand Poobah hand over the giant chocolate egg to my sister, I was filled with an overwhelming feeling of jealousy and rage. That is until I realized it was a coconut covered egg and we both hate coconut! We satisfied ourselves by picking the dark chocolate covering from the egg until all that was left days later was a giant, sticky glob of coconut which we promptly threw in the trash. If that egg had been peanut butter, I would still be holding a grudge!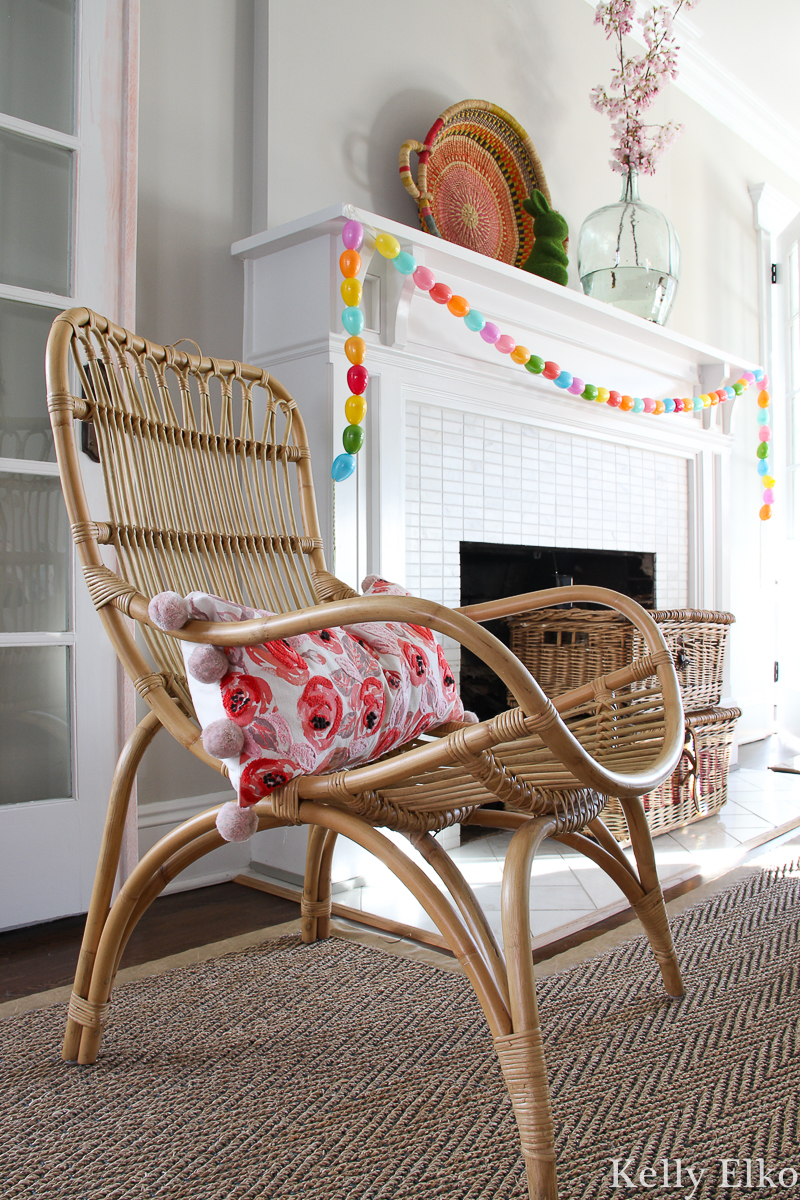 You've seen these faux succulents in my decor over and over again because they are an easy way to add color and interest to any display. I sprinkled in some speckled eggs for spring.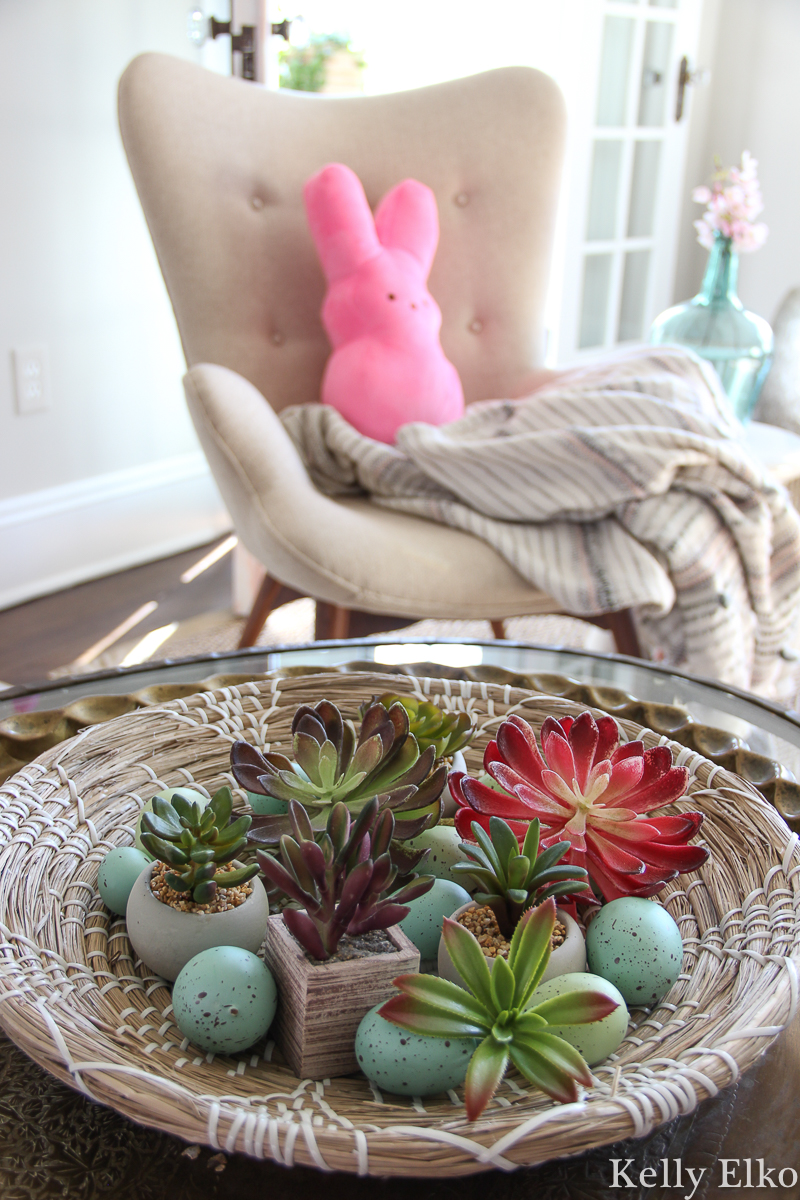 The older I get, the less clutter I crave and this mantel shows that sometimes, less is way more.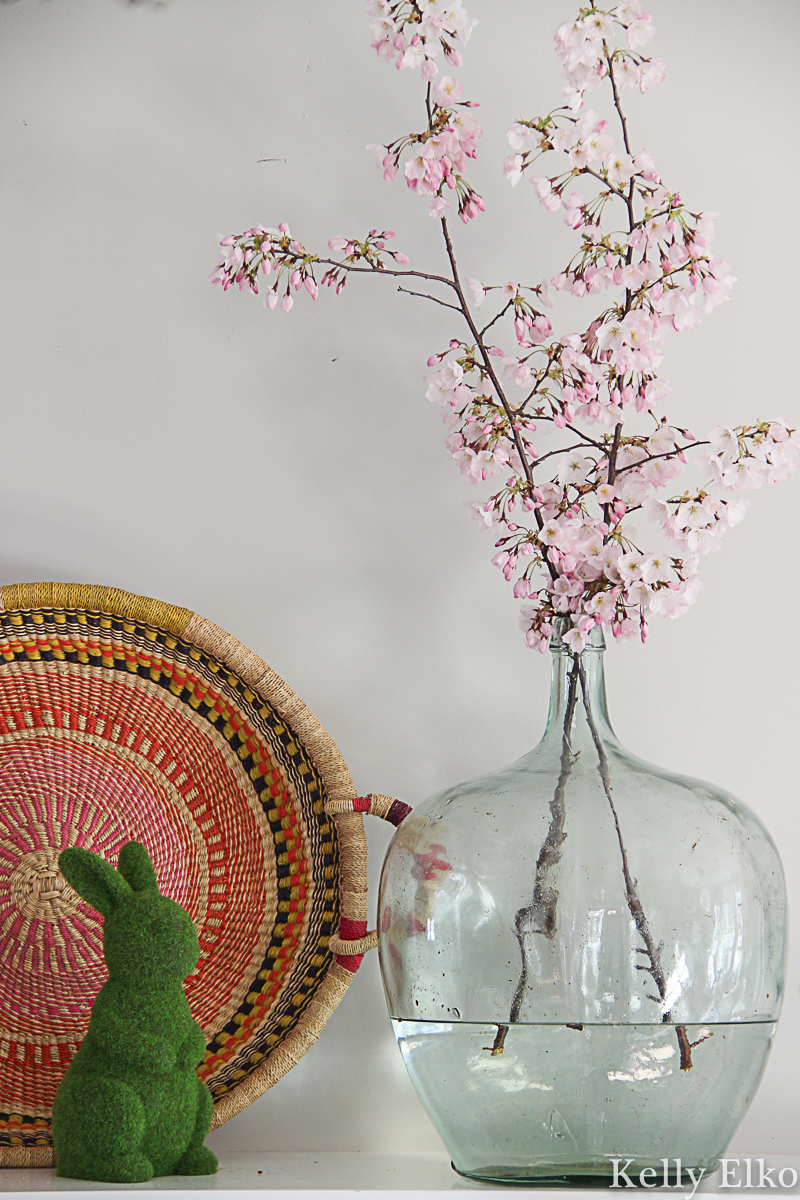 Here's to everyone finding the brown egg!
Here's to hoping things get back to normal sooner rather than later and I hope you and your families are all safe.