My Epic 50th Birthday Celebration in Costa Rica!
Exactly one year ago today, I was celebrating my 50th birthday in paradise and it was my favorite vacation ever! The combination of an amazing villa with killer views, visits from sloths and monkeys that we hand fed (we even saw a mama sloth and her baby), the food, fun adventures and being with my favorite people made for the most memorable birthday of a lifetime! Let me show you some of my favorite scenes from Costa Rica.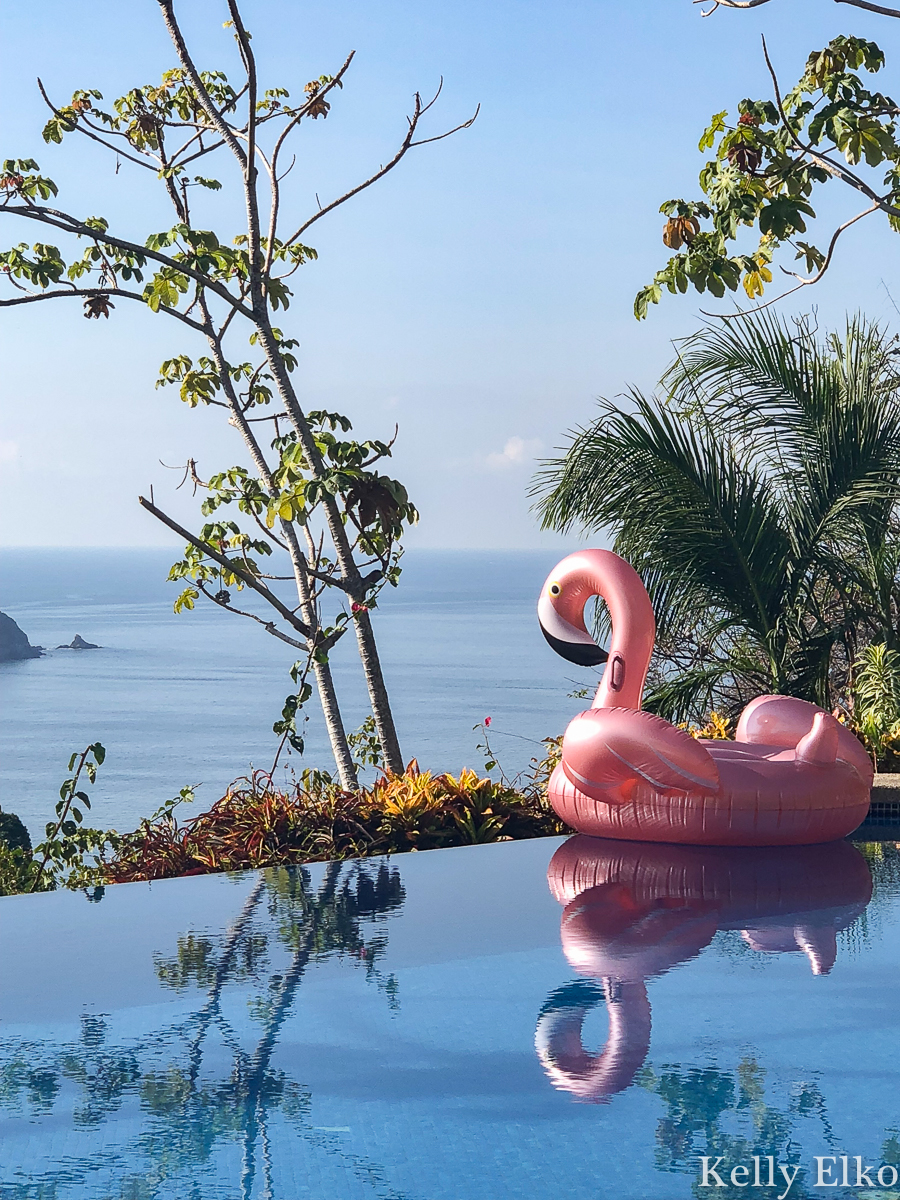 If you're traveling with a group, I highly recommend renting a villa. Casa Bella Vista did not disappoint with it's infinity edge, zero entry pool that even had a swim up bar! The two best things about this villa were the live in groundskeeper who made sure we were safe and secure every day and the fact that the villa sits high up in the canopy where the monkeys and sloths live!

It was difficult to drag us out of the pool and I loved the zero entry in the shade and the infinity edge in full sun. The pool even has a swim up bar!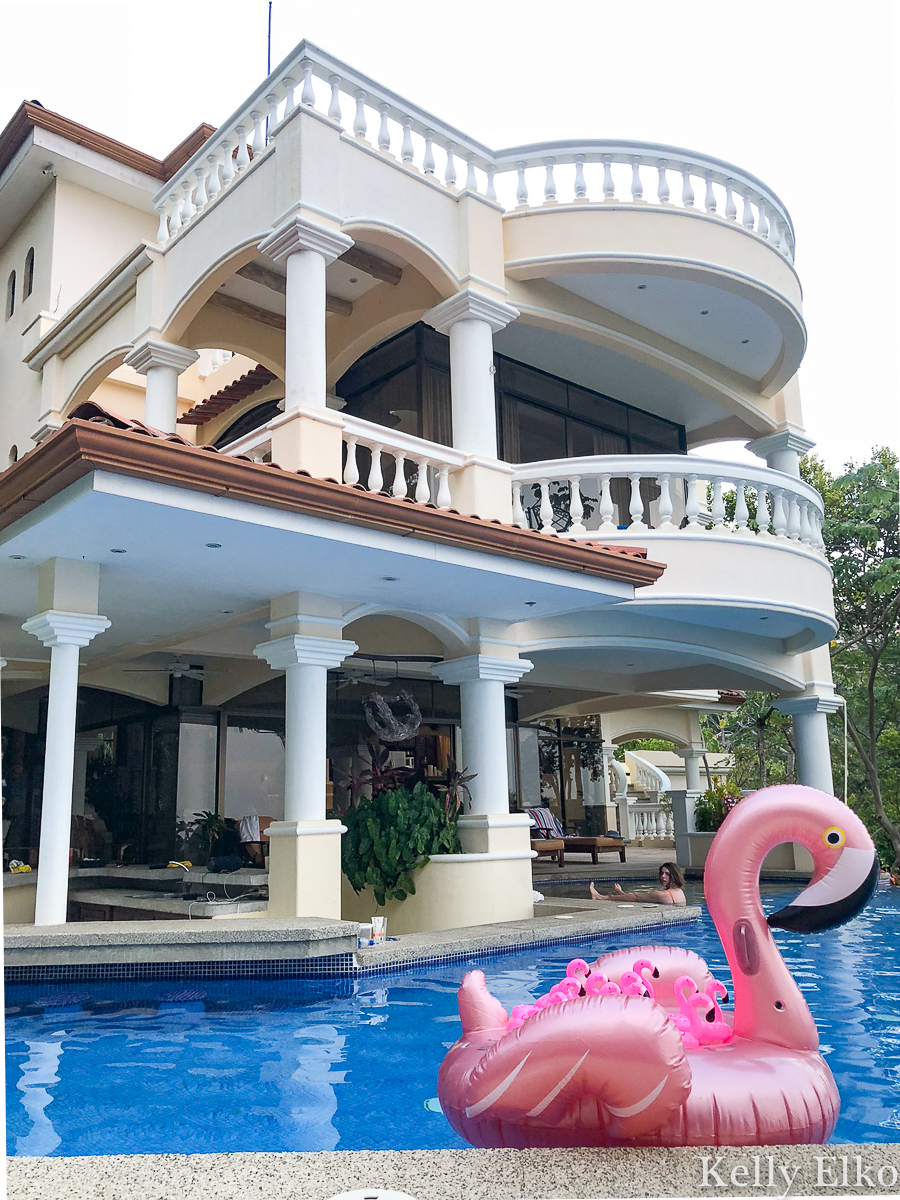 This post contains affiliate links which means if you purchase something, I earn a small commission.
It was fate that my girls' spring breaks fell during the same week as my birthday and I was thrilled to celebrate with them, my sister and two great friends, Lisa and Sarah (not pictured) and of course our security guard … my hubby!
My sister brought the Birthday Crew shirts, Lisa brought the pink flamingo float (we named her Tina) and matching drink floats, and I gave everyone a fun hat (mine says "I'll bring the wine").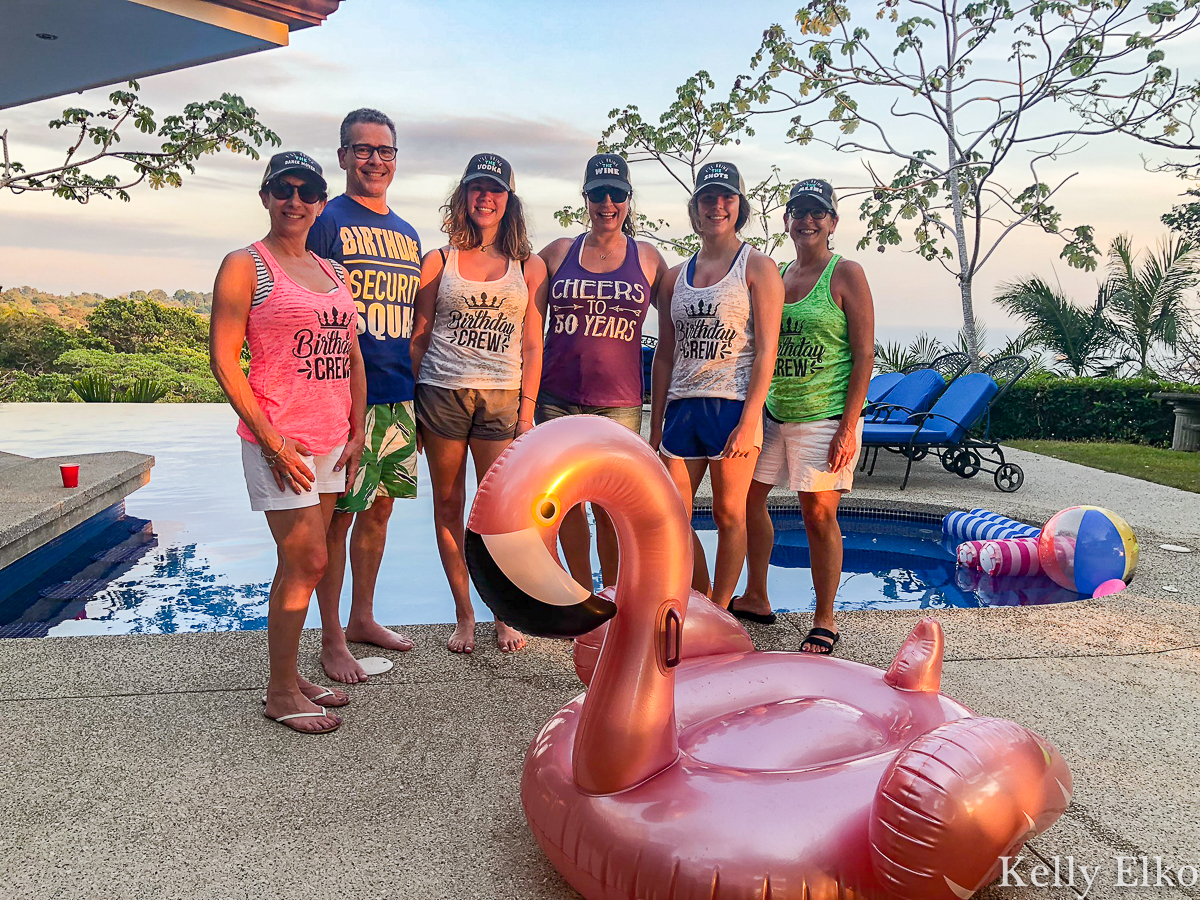 The absolute highlight of our trip was feeding the monkeys at the villa! This little guy is a White-Faced (Capuchin).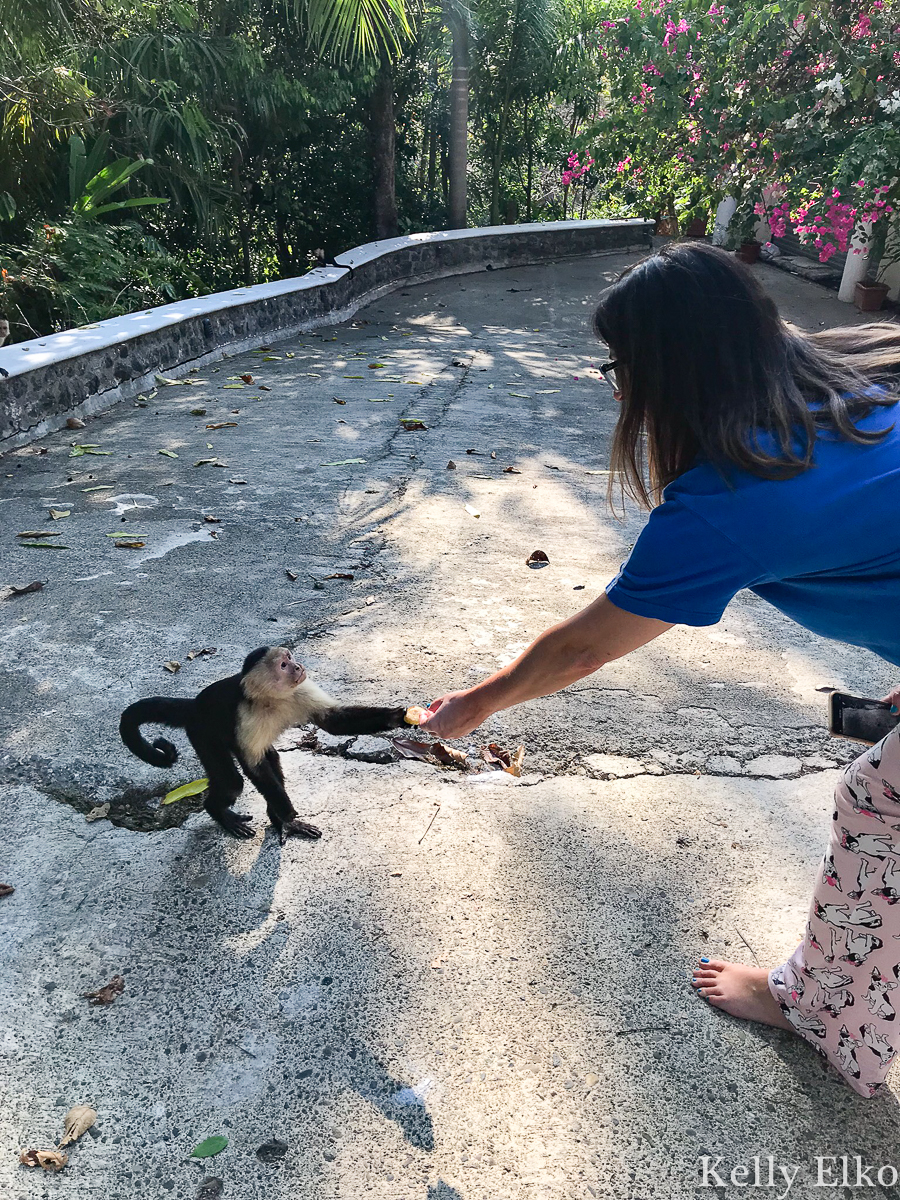 This mom with baby on her back is a spider monkey. One day, we started feeding them by the pool and a swarm of them descended and one jumped onto my sisters leg! We were all screaming and laughing and it was one of the best parts of our trip.
Not pictured are the howler monkeys who were kind of intimidating with their high pitched screeches that would wake us up in the early morning hours. Luckily, they kept to themselves and stayed hidden in the treetops.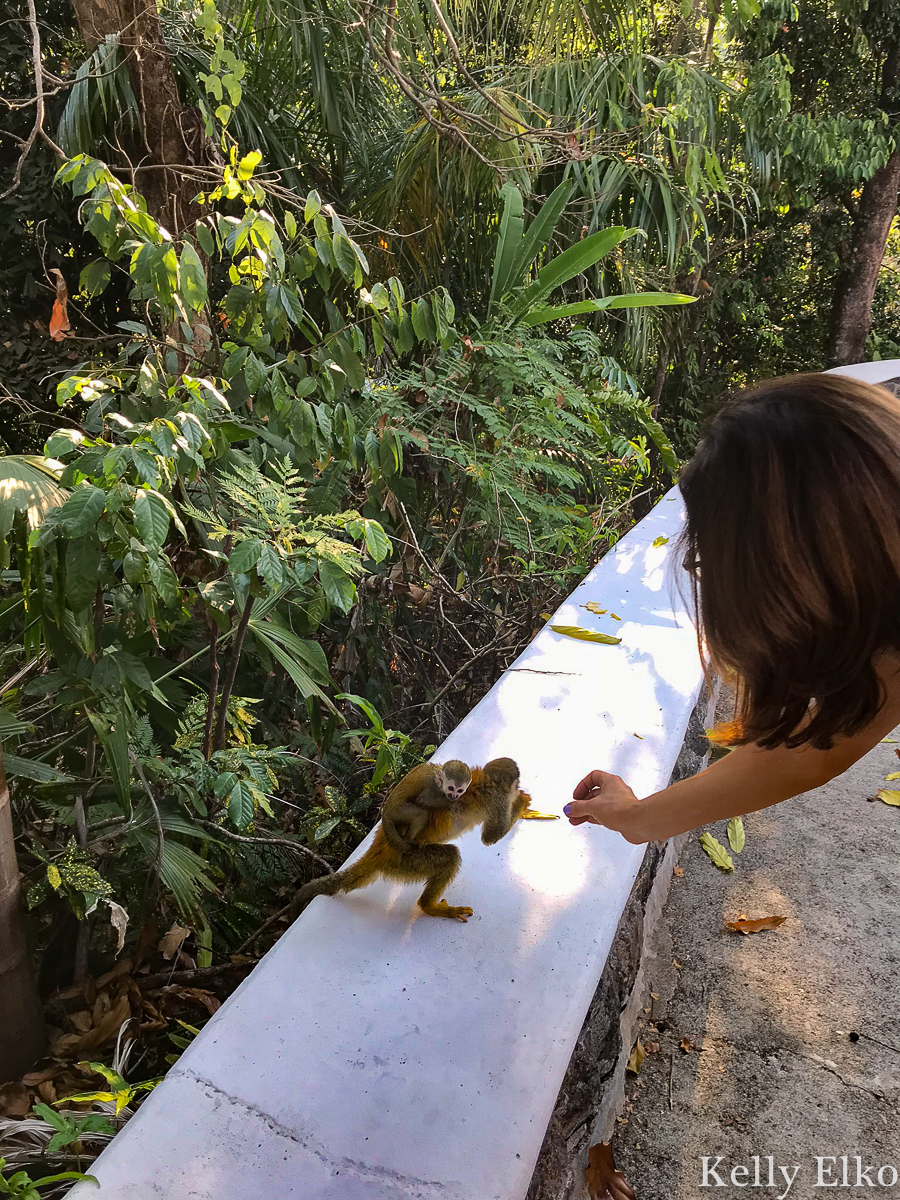 This little guy walked up to my coconut drink, flung the straw out and dipped is arm into the coconut milk and proceeded to leisurely lick it from his fur.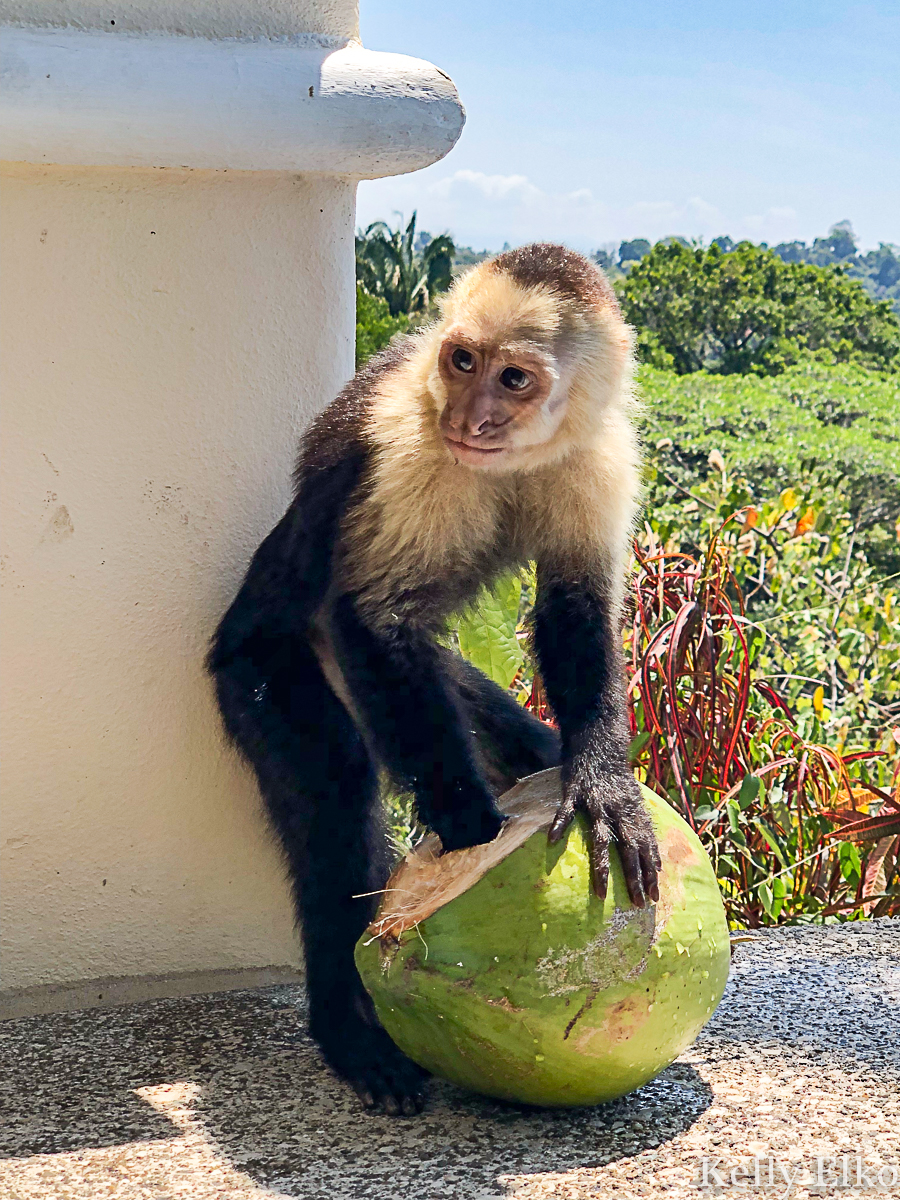 When everyone is on the same page, it makes for the perfect trip. We were all happy to spend the majority of our time in the pool.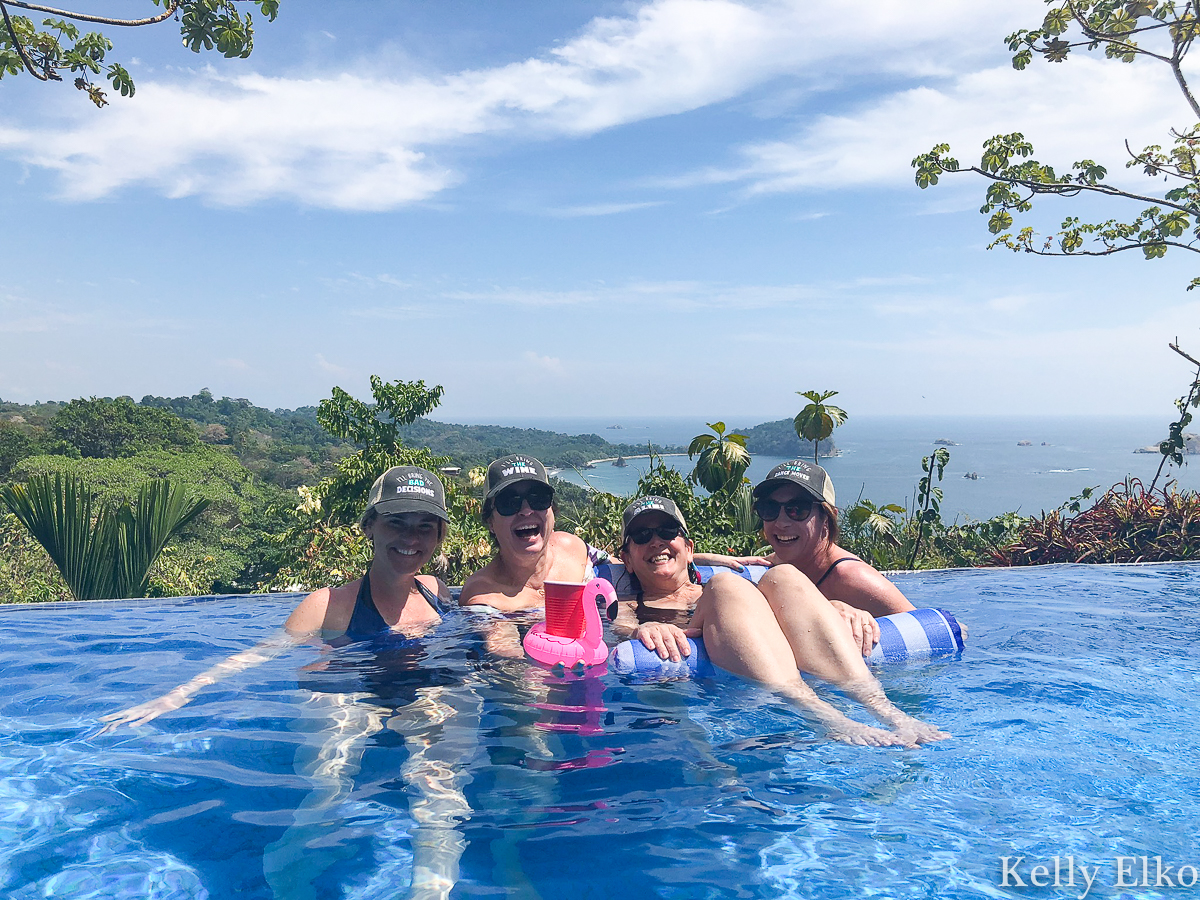 She stole my look! My sister and I arrived poolside one morning wearing the exact same bathing suite (we had no idea the other had bought it)!
Everyone surprised me with a sloth themed birthday dinner that our private chef Lilly prepared for us. She is available to hire through the villa and it was so worth it! I think she cooked for us four nights and would even do the grocery shopping. She whipped up appetizers, cocktails and sit down dinners then cleaned everything up! For the party, she even made all of the decorations and filled a pinata with sloth themed goodies!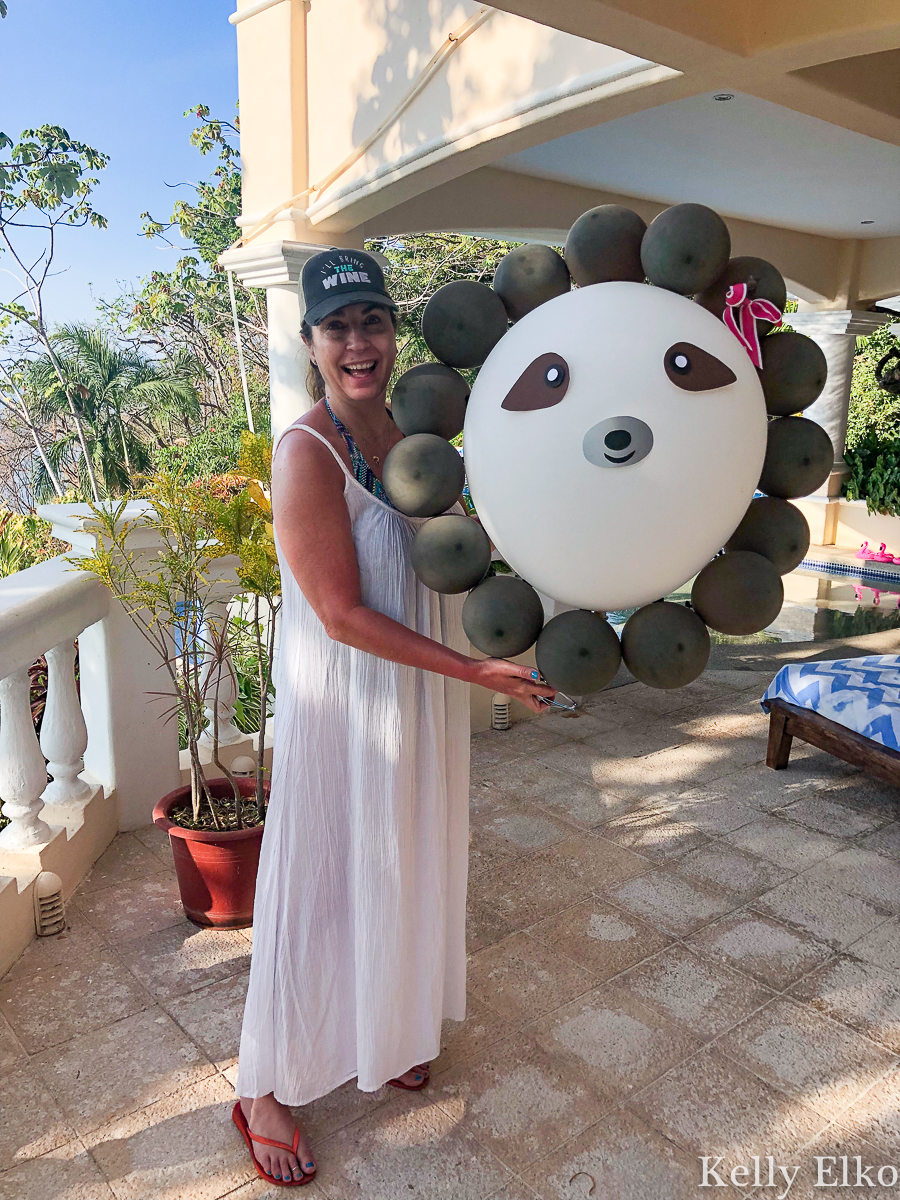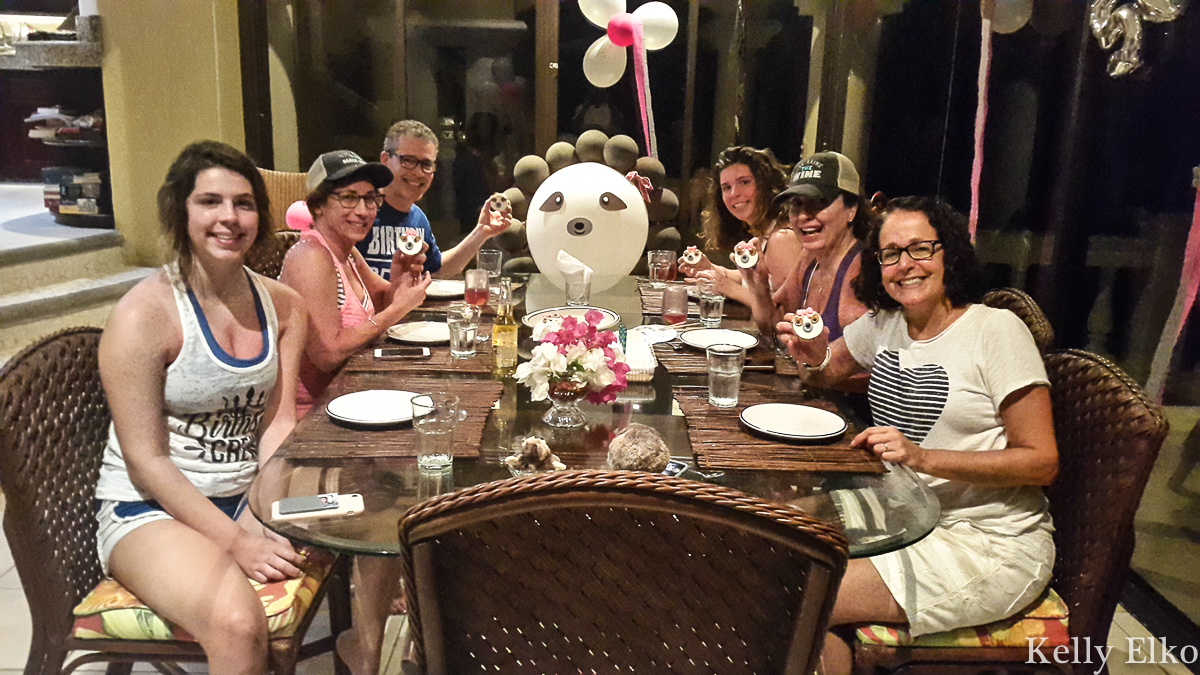 All the ladies got a sloth cupcake with a pink bow and my hubby got a bow free one!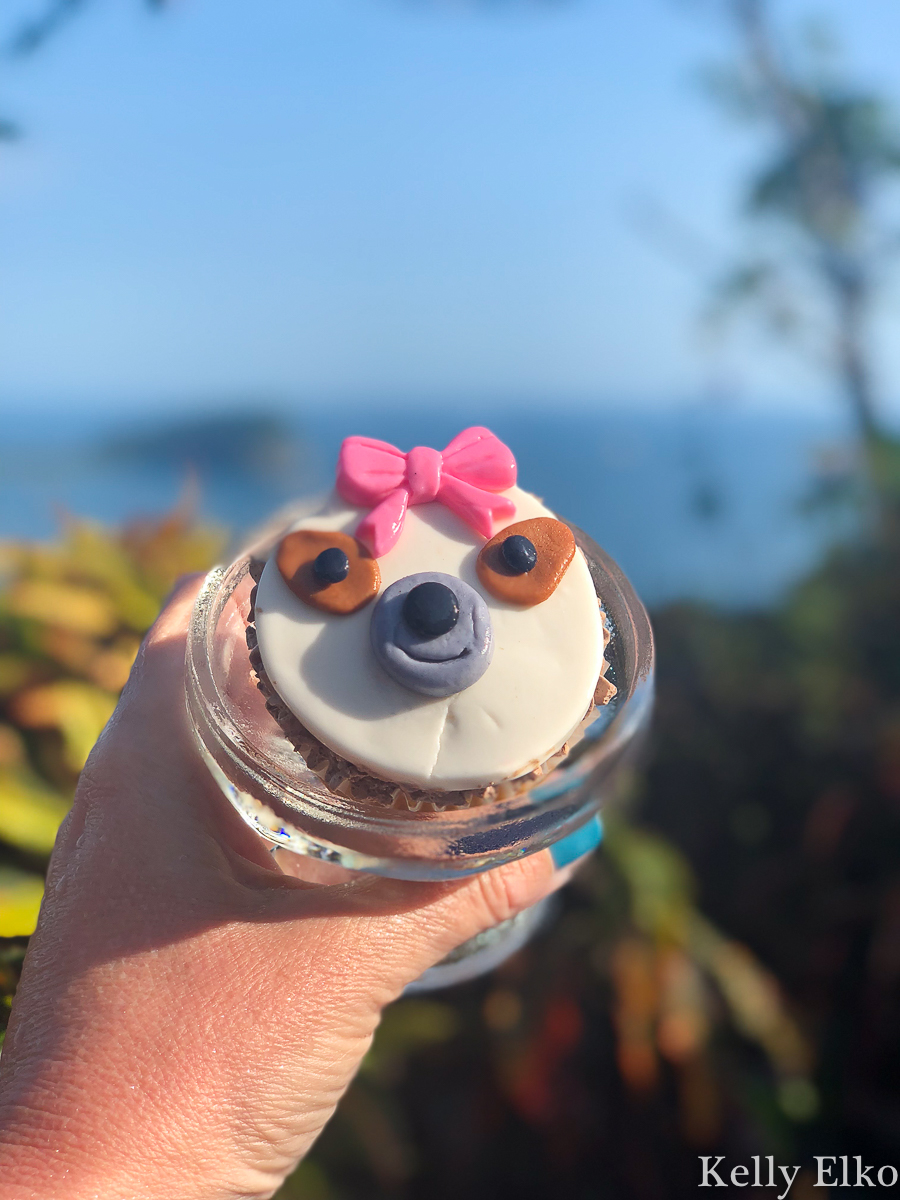 My goal was to see a sloth but knew my chances were pretty slim since they hide way up in the treetops. I am happy to say I exceeded my goal when I saw a sloth and her baby and they sloooooowly made their way across a branch one night. This sloth was on our villa property! I can't recommend this place enough for the excitement of being able to see wildlife up close.
It's hard to make out but that blob dangling upside down in the middle of the picture are the sloths!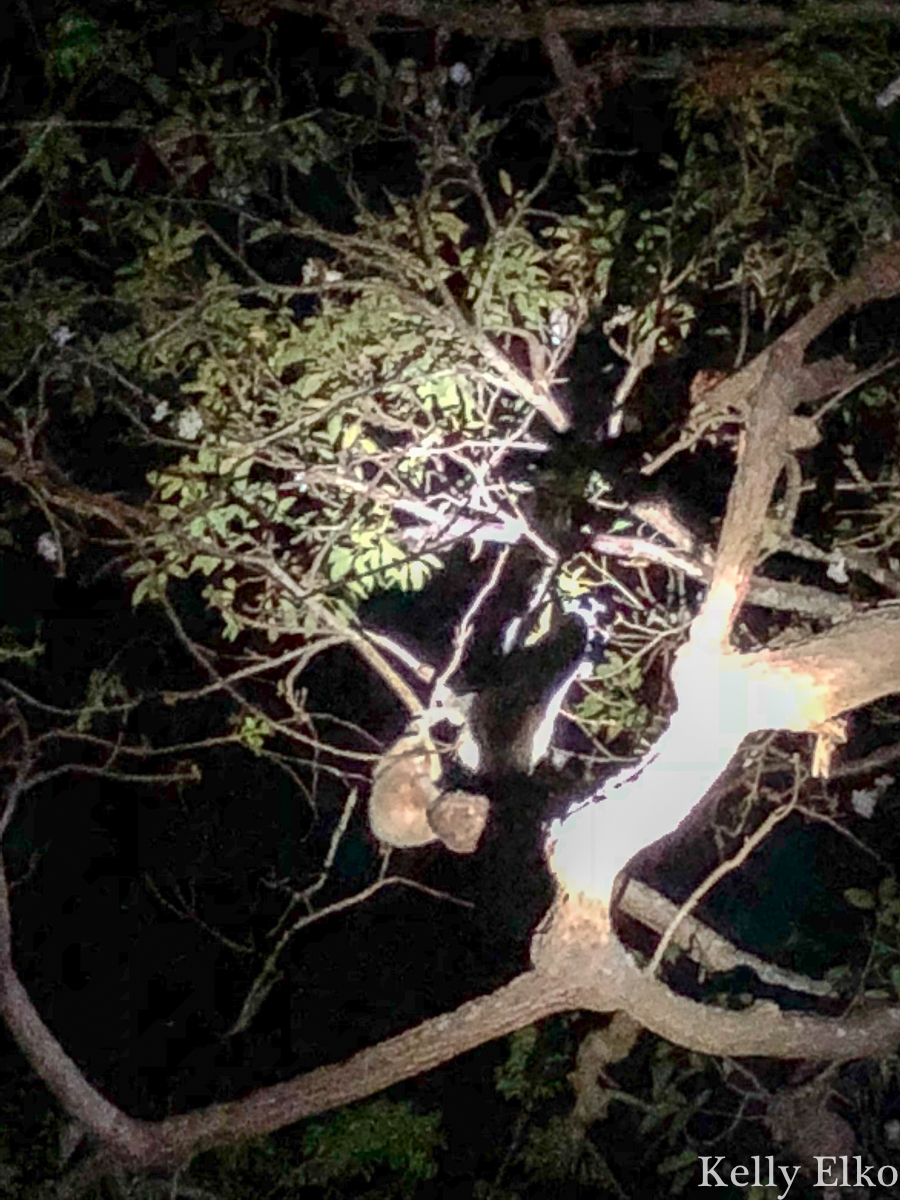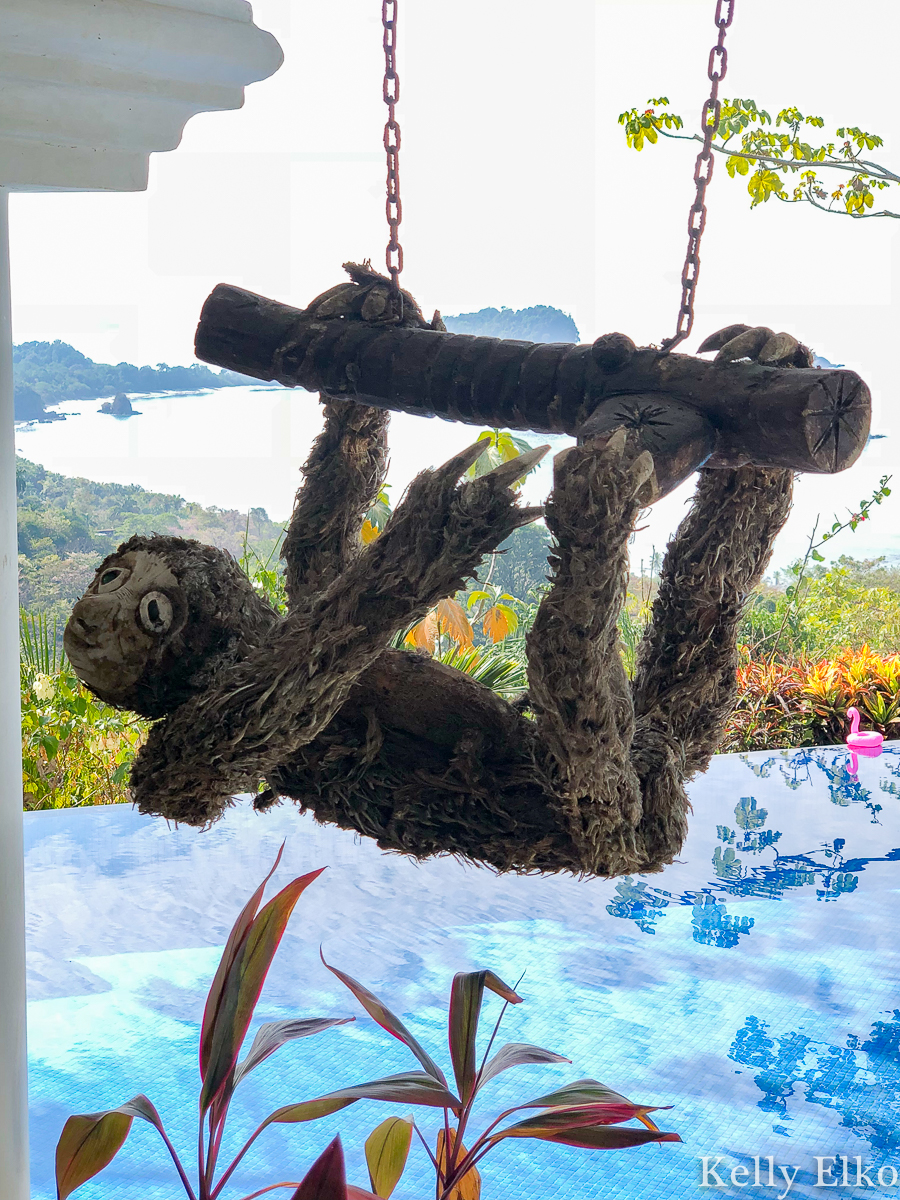 We did manage to tear ourselves away from the villa a few times.
At 1590 meters long, we went on the longest zipline in Latin America!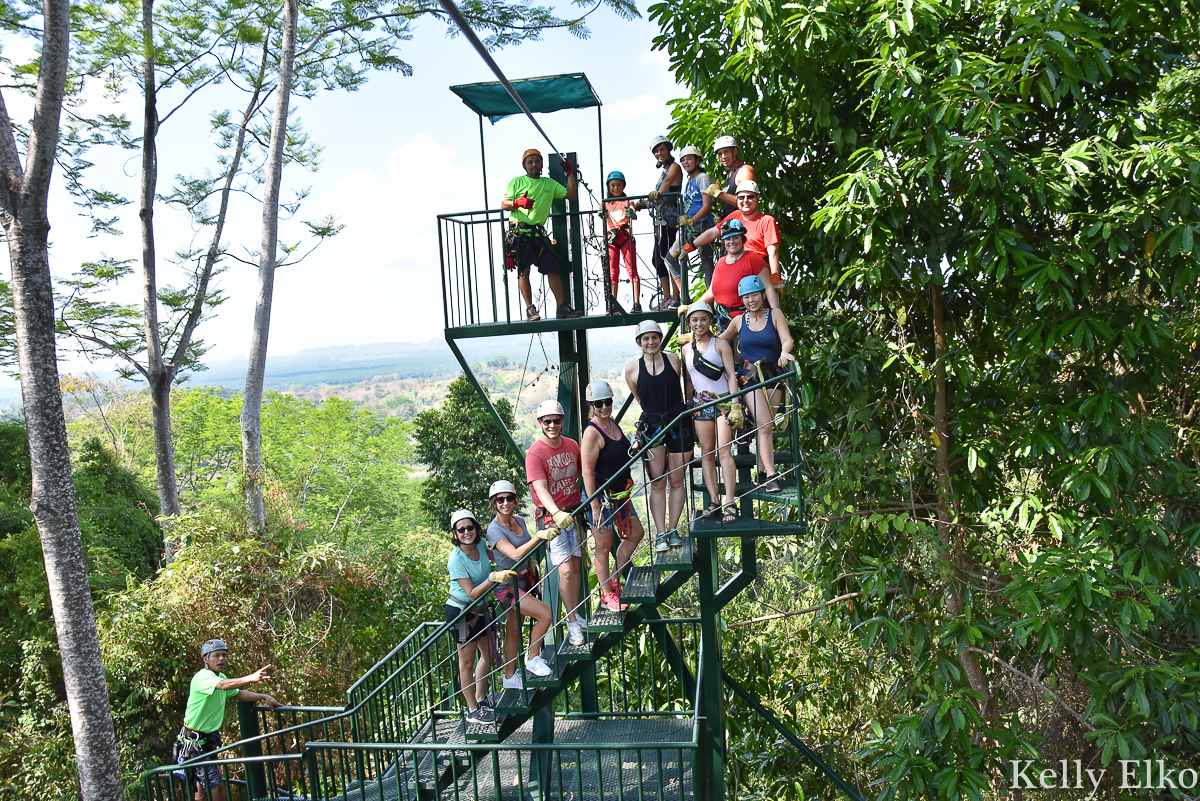 Embarrassing note … my friend Sarah and I had to be taken off the line once we started throwing up! We waited for the others to finish in the comfy hut and were given fresh fruit and iced tea to calm our tummies!
Here I am pre-puke!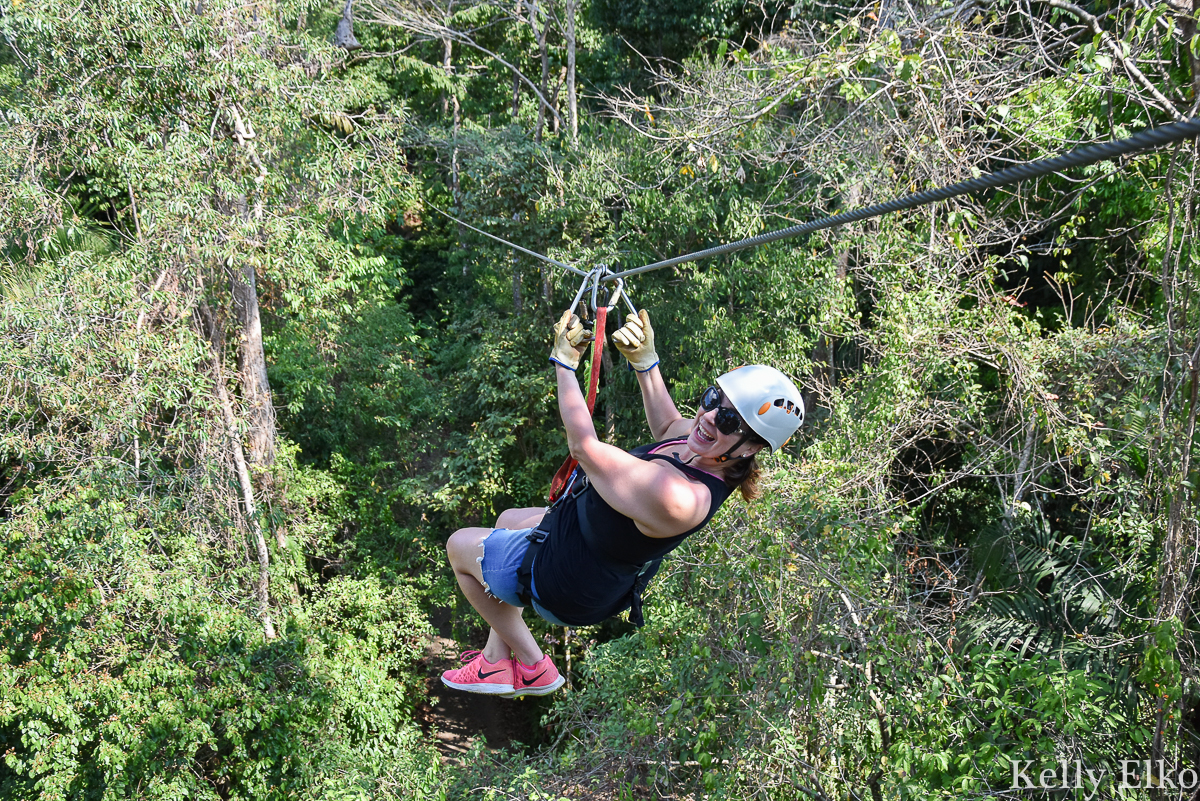 Sunny, the villa manager, took us to some of his favorite secret places where we explored underwater caves!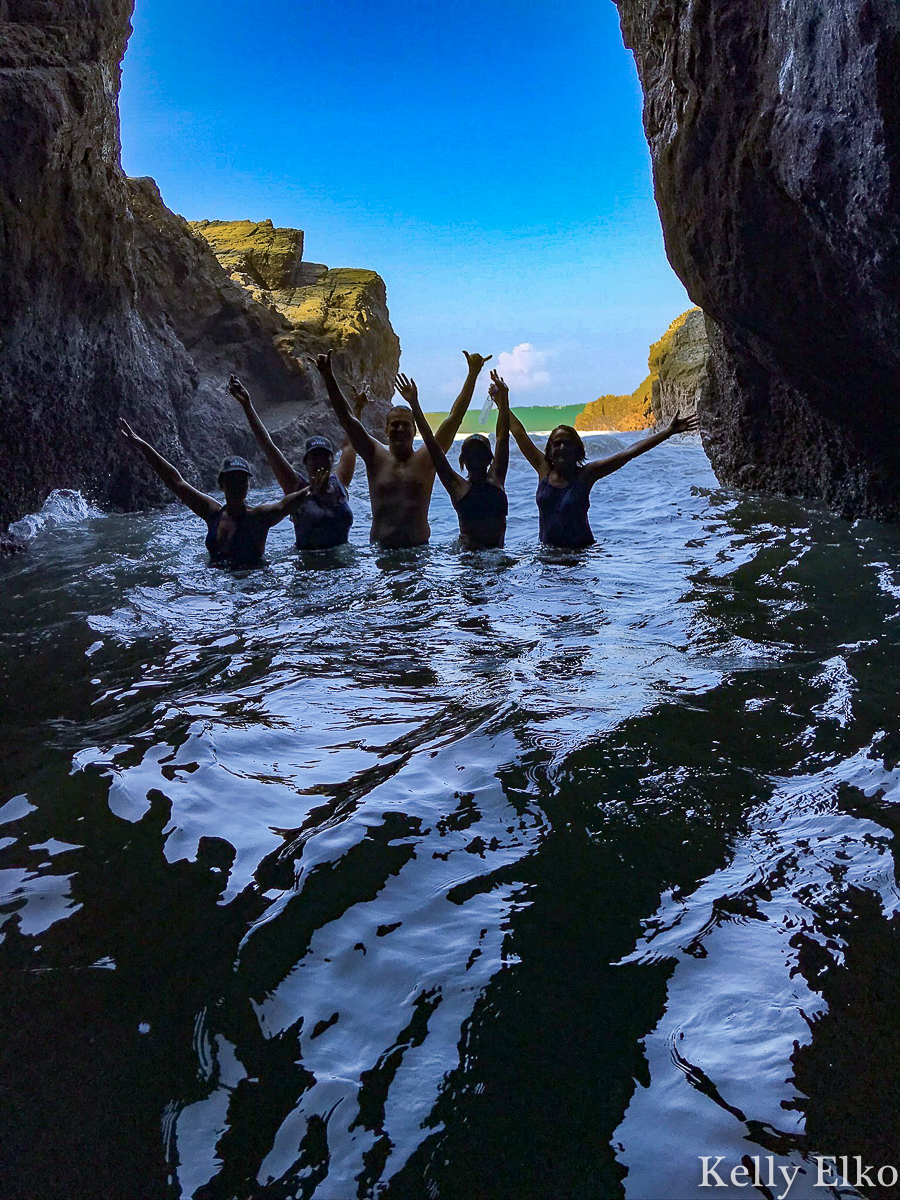 and swam underneath waterfalls.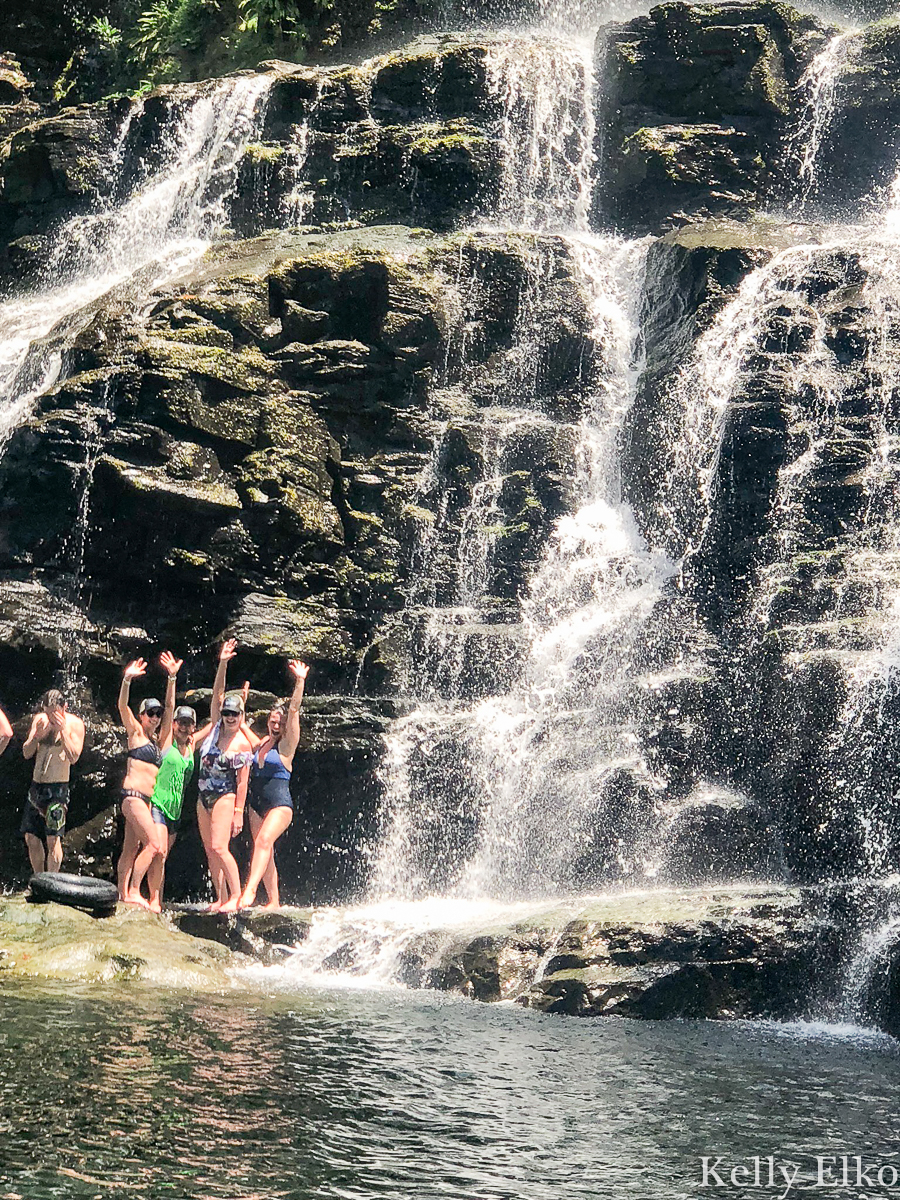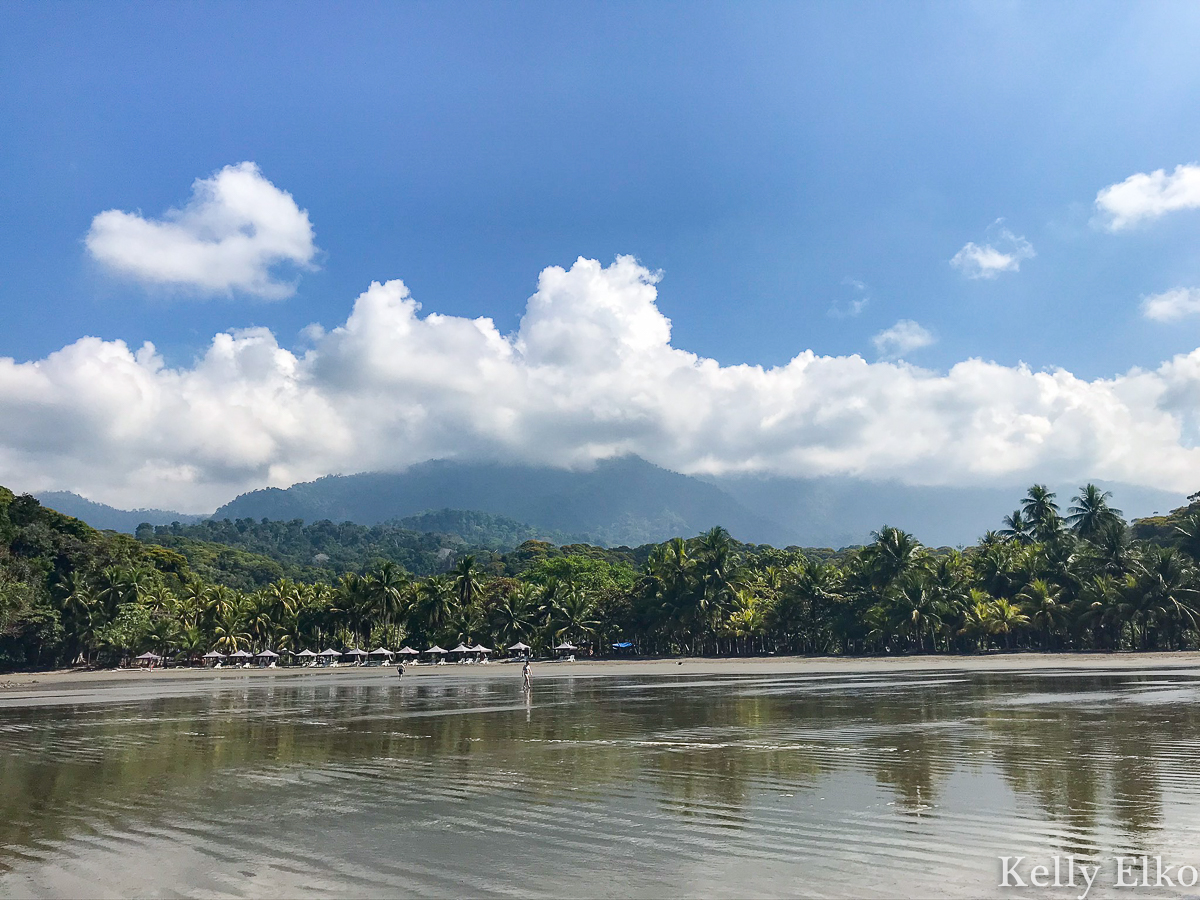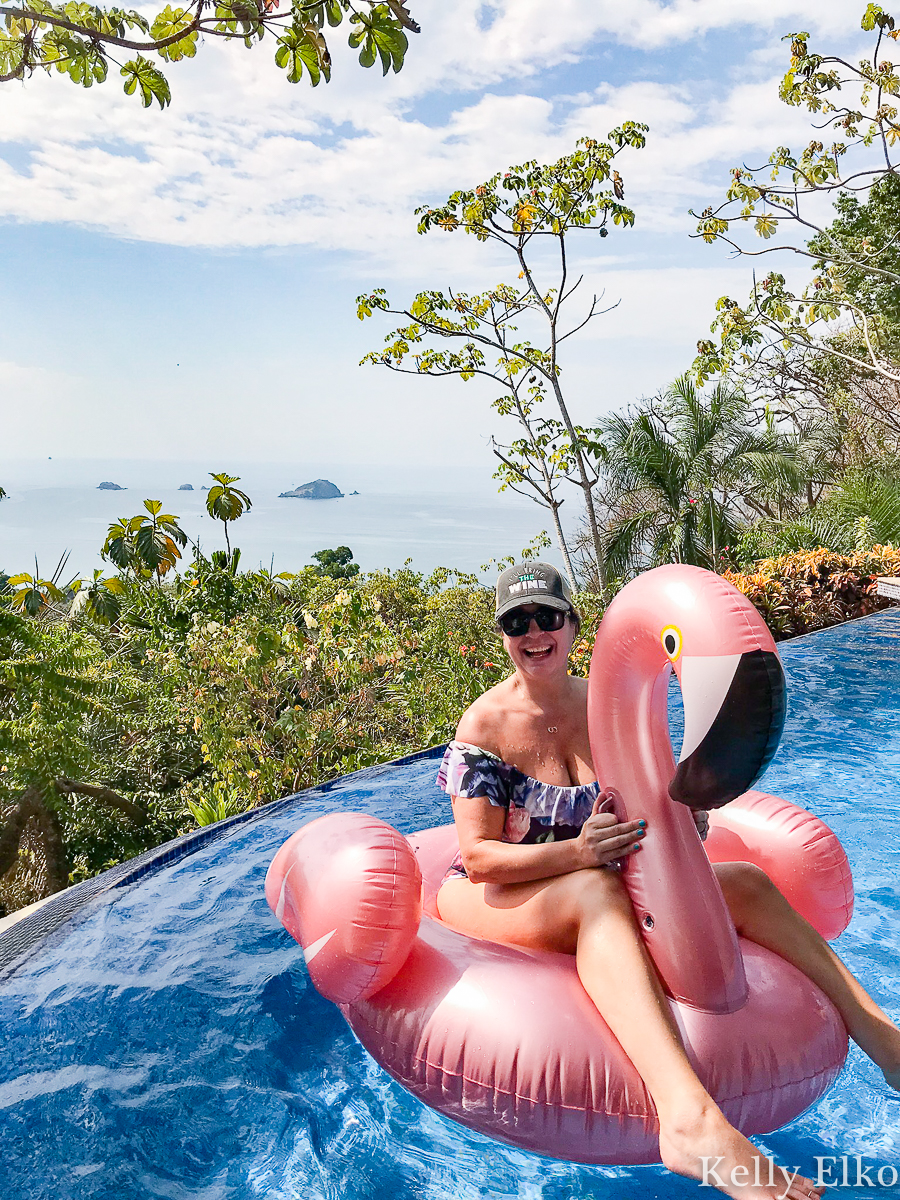 I'll never forget this trip and loved being able to celebrate a milestone birthday in such a memorable way!
I highly recommend Casa Bella Vista if you are looking for an amazing escape. It's in the Quepos area of Costa Rica near Manual Antonio National Park and about a three hour drive from the airport. The villa manager, Sunny, visited us every day to make sure we had everything we needed, Chef Lilly's food was some of the best I've had, our groundskeeper kept us feeling very safe and made sure he alerted us to animal sightings, and our cleaning lady came every day and even did our laundry!
I'm spending this year's birthday in New Orleans visiting my daughter with my hubby and sister!