Pretty Packages – DIY Giant Pom Poms & 12 Creative Gift Wrap Ideas!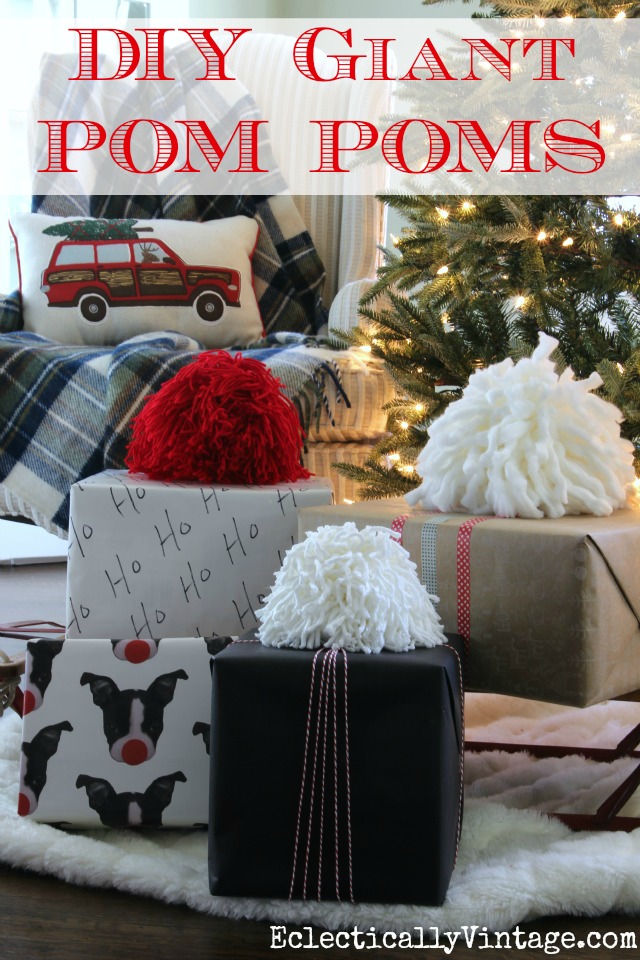 Now that I've finished decking my halls for my Christmas house tour – check it out here, it's time to wrap the presents!
It's all about the presentation!
My friend Stephanie loves a creatively wrapped gift as much as I do so she's gathered up a sleigh full of friends and asked us to create festive gift wrapping ideas.
You can see all dozen creative ideas at Brooklyn Limestone and I'm sharing a few of my favorites at the end of this post.

Sit down for a story about two sisters.  One was gift wrapping challenged and the other was the Edward Scissorhands of wrapping.
When we were kids, my sister (the gift wrapping challenged one) made me (Edward Scissorhands) wrap the gift she was giving to me!
She would stand guard over my shoulder to ensure I didn't peek inside the box as I covered it in flourishes, bows and curled ribbons to within an inch of it's life.
My love for making the package as thoughtful as the gift itself has not diminished.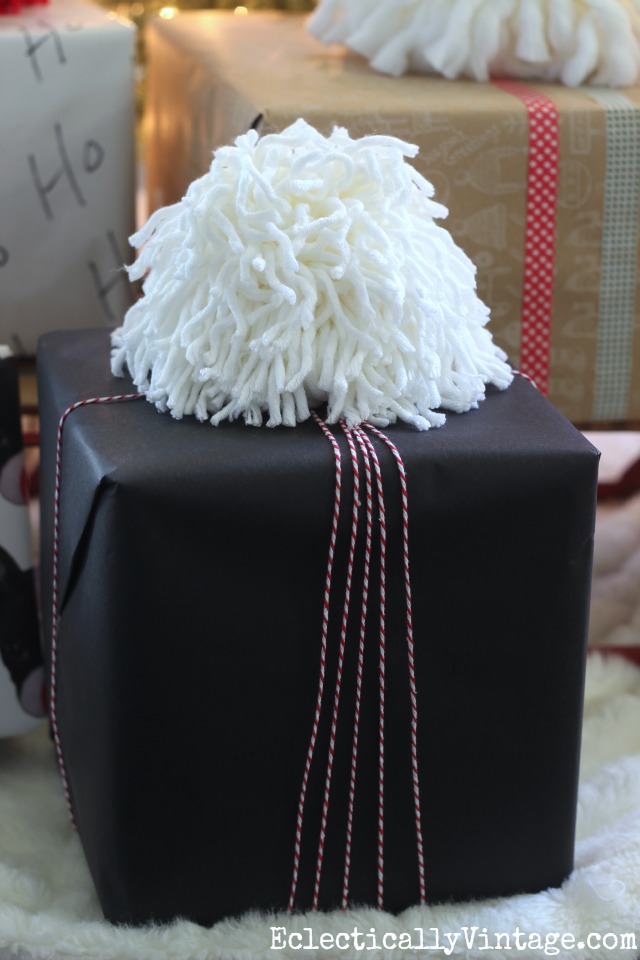 Although I was never a cheerleader, I do love me some pom poms (remember how I made pom pom flowers with a fork)?
But not just any pom pom will do.
These are the mother of all pom poms and they remind me of giant snowballs – the perfect gift topper for all of those special packages.
DIY GIANT Pom Poms
Supplies:
• Skein of yarn
• Thin cord
• Scissors
1) Tightly tie a piece of thin cord around the center of the skien of yarn
2) Tightly tie again with another piece of thin cord – snip off excess cord
3) Starting at one end, cut into the yarn
Note: Be careful not to cut too close to the cord in the center
4) Keep cutting the loops in the yarn until they are all separated
5) Hold yarn in the air letting the loose ends hang down then start trimming until all strands are around the same length
6) Flip skein of yarn over and repeat steps 3 through 5
7) Pick up big loose ball and keep on trimming while holding it in the air
8) Attach giant pom pom to gift by making a loop with a couple pieces of pom pom yarn then tie baker's twine or other ribbon onto the loop
9) Give to your favorite person in the whole world!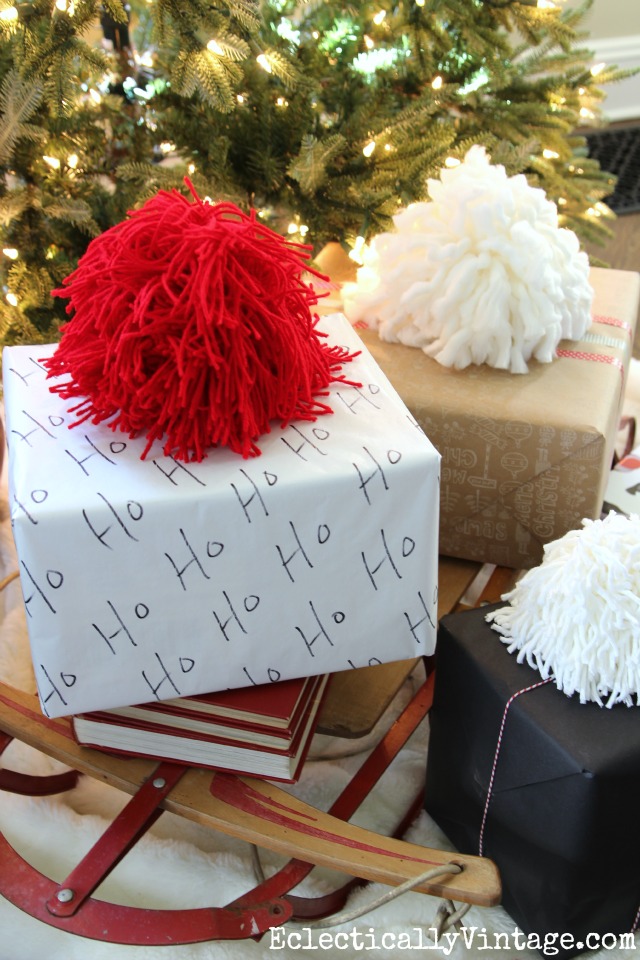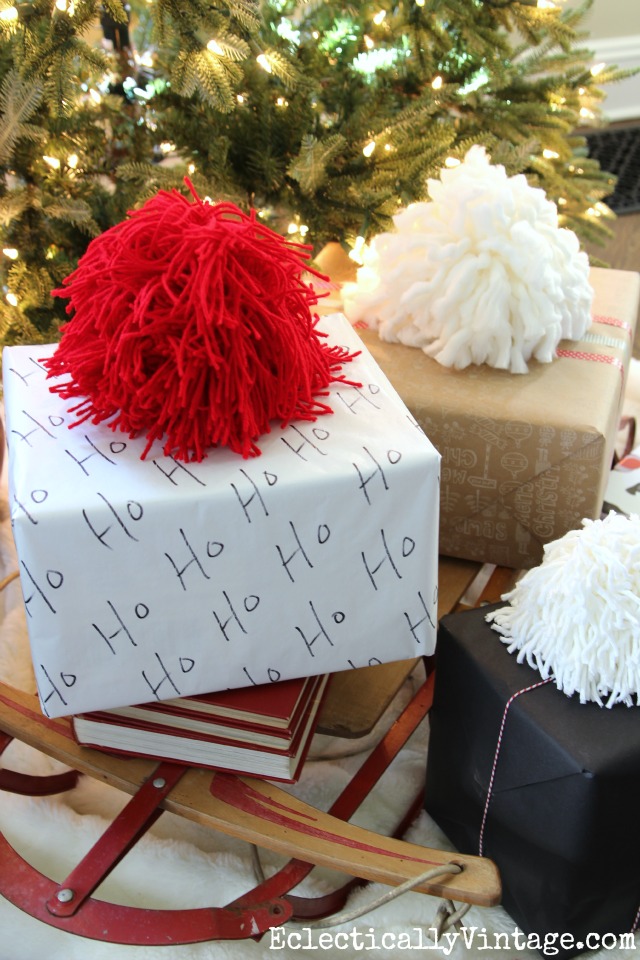 Aren't these fun!
P.S. I love coordinating my gift wrap.
I used black chalkboard paper, brown craft paper, brown paper with white Christmas doodles that I found at HomeGoods, my Boston Terrier Rudolph gift wrap (I made it using a pic of my own dog – and you can buy it here) and last but not least …
doodle wrapping paper …
Cut wrapping paper to size and write on it with a Sharpie – Ho Ho Ho!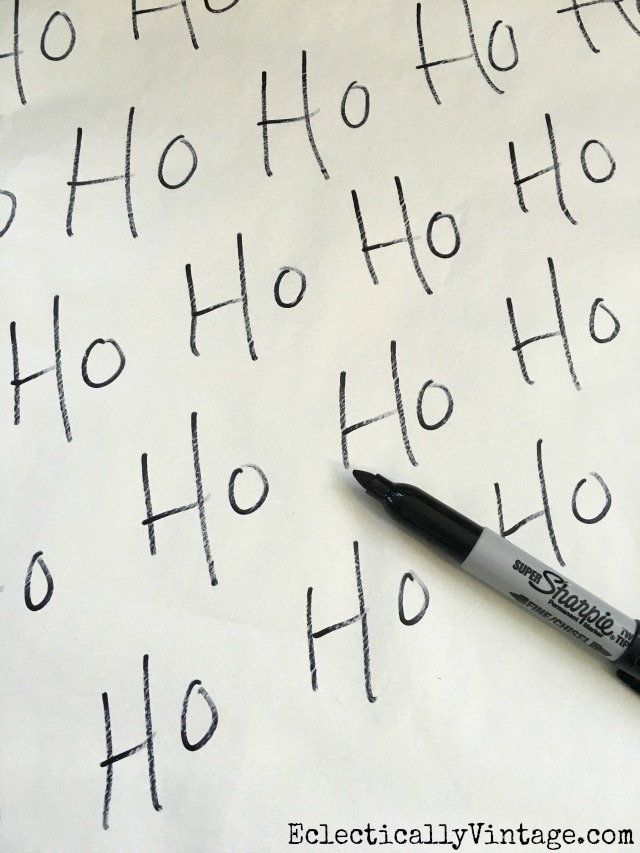 Get creative with bakers twine and washi tape.
Add a cute car pillow and cozy throw so you can sit by the fire and admire your work.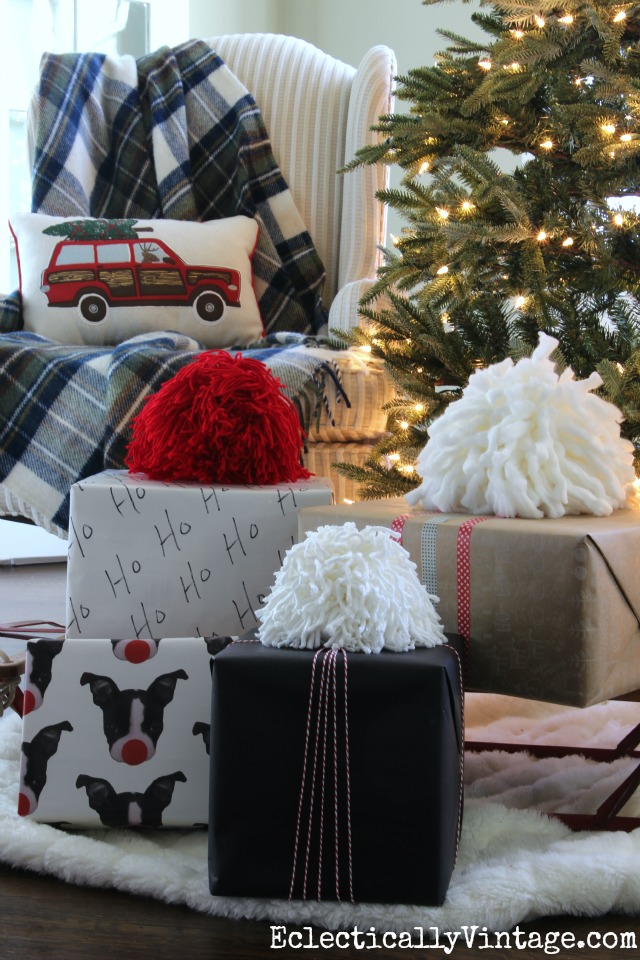 P.S. need gifts to go inside those boxes?
These are some of my favorite gifts to give to the girl/young lady (or even mom) in your life – HERE.
Another fun gift wrap idea are my DIY personalized grain sacks.
Here are some more creative ideas to make your package as pretty as the present …
Brooklyn Limestone gift lights up!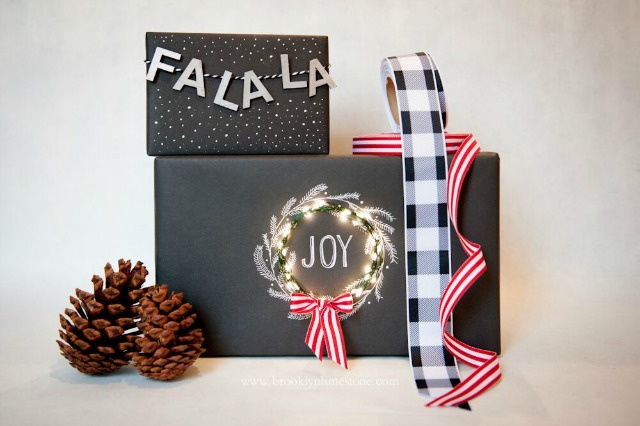 Copycat Chic made the cutest little clay reindeer gift tags complete with twig antlers!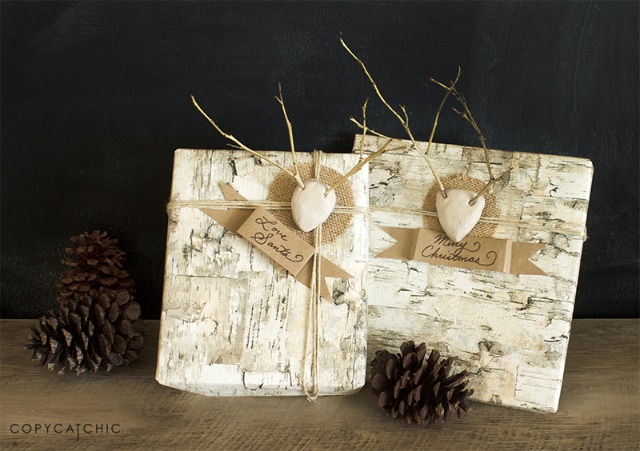 That's My Letter gives her gifts in a jar complete with cute little wooden Christmas tree on top.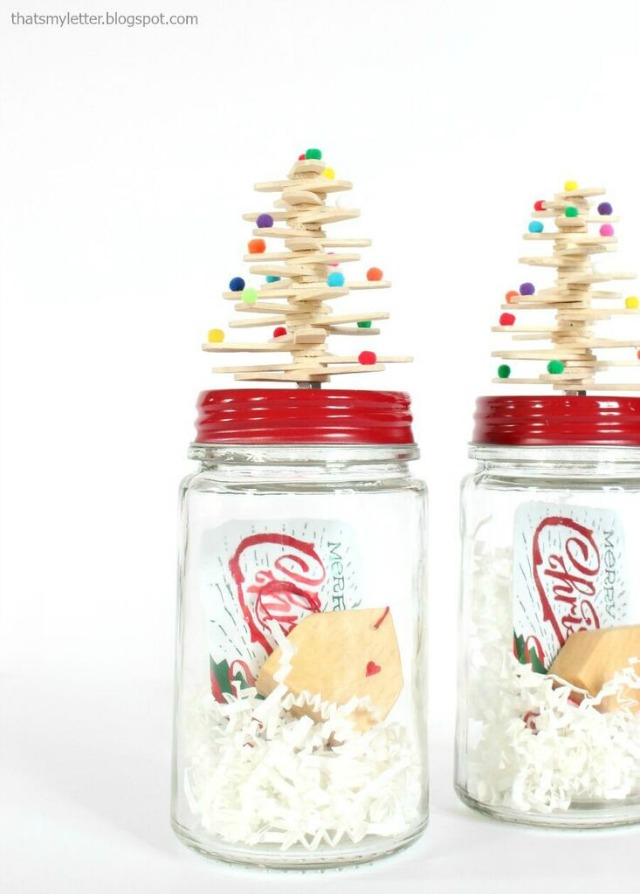 Wallpaper as gift wrap! A fun idea from East Coast Creative.