Eclectic Home Tour – Finding Lovely Christmas
As a special Christmas Eve treat, we are heading to New England to peek inside a stunning 1879 home all decked out for Christmas. This Eclectic Home Tour Finding Lovely Christmas is filled with natural touches, soft neutrals and a farmhouse feel that is sure to inspire.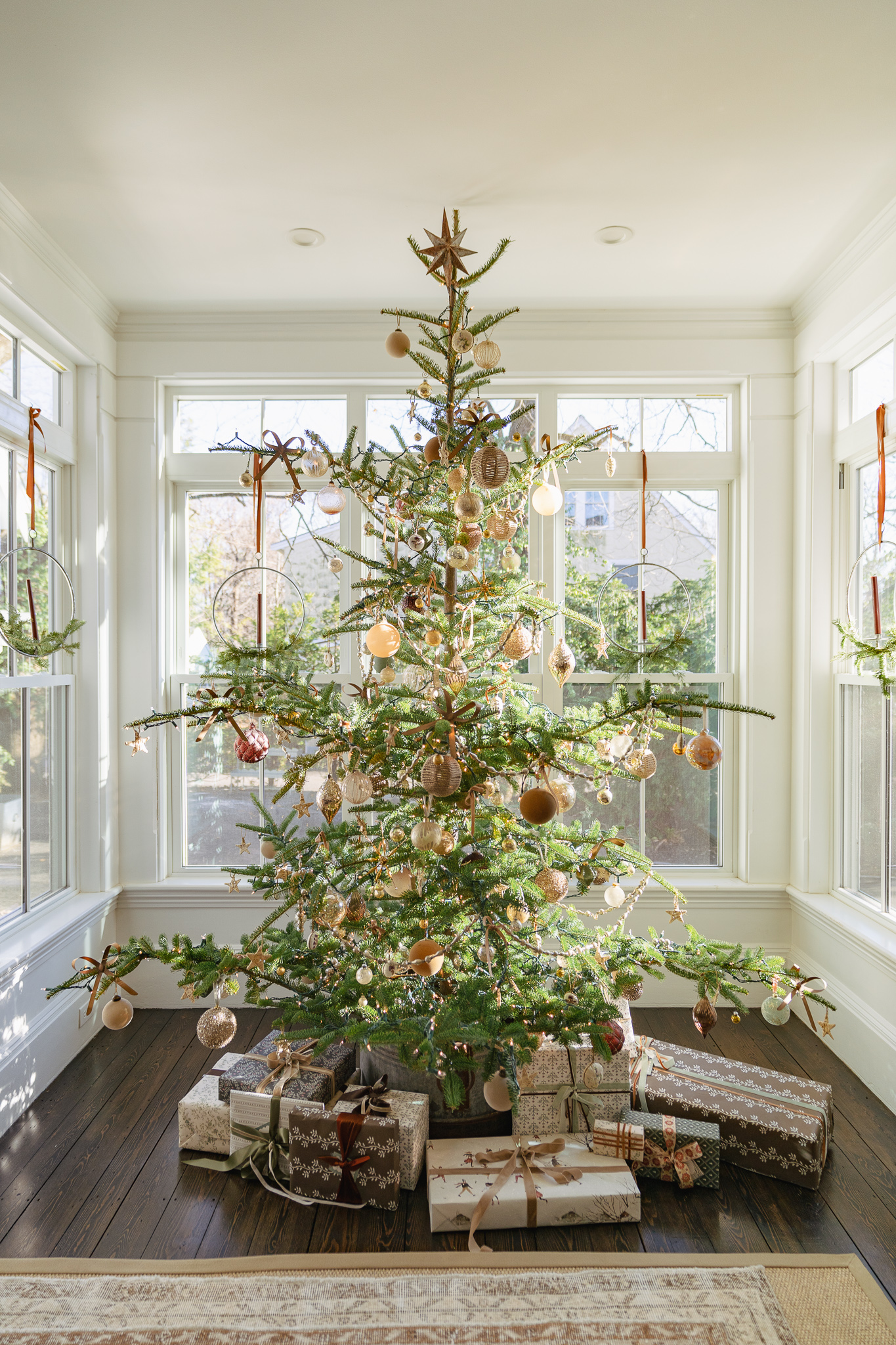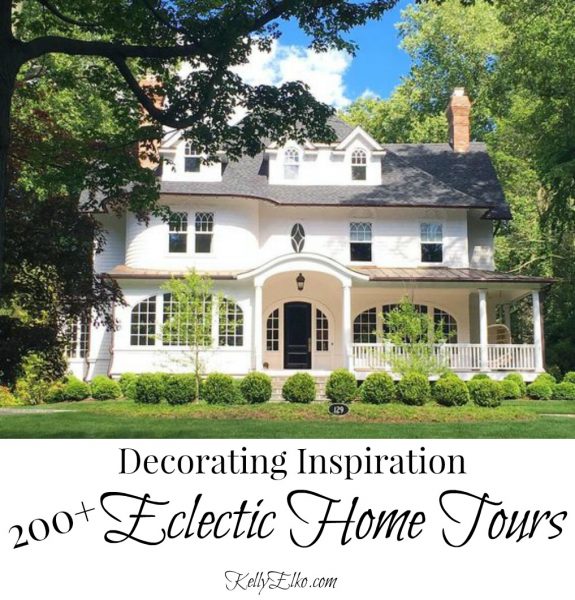 Jackie of Finding Lovely bought this run down house built in 1879 in the suburbs of Boston and transformed it.
It is known as the Hezekiah-Fuller house and it looks like it's been ripped from the pages of a storybook under a blanket of freshly fallen snow.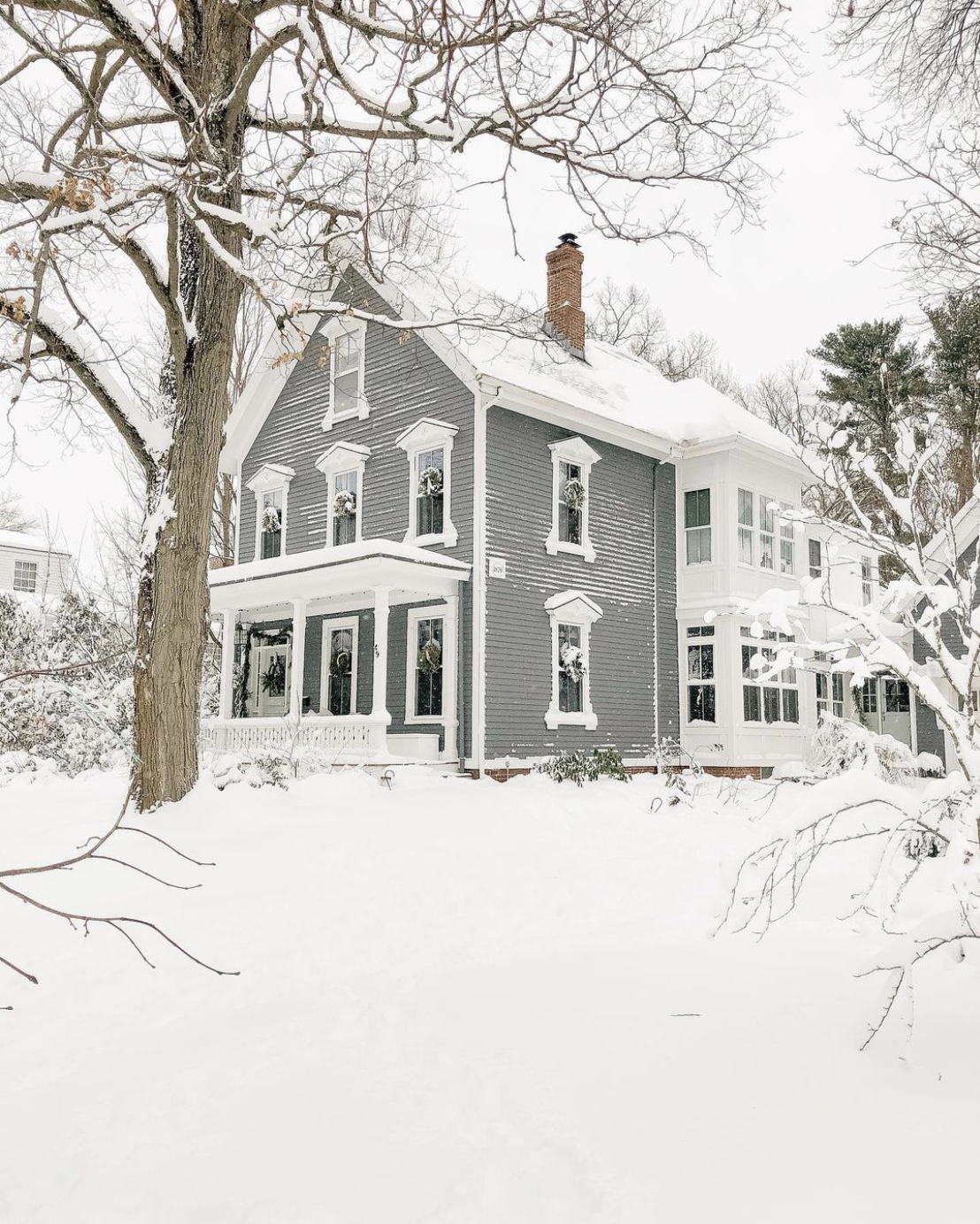 The color palette of browns and creams can be seen throughout the house and Jackie kept most of her Christmas decor in the same calming shades.
Jackie says, "This year's color scheme played off the deep rich browns, rusty reds and pops of a sea glass green.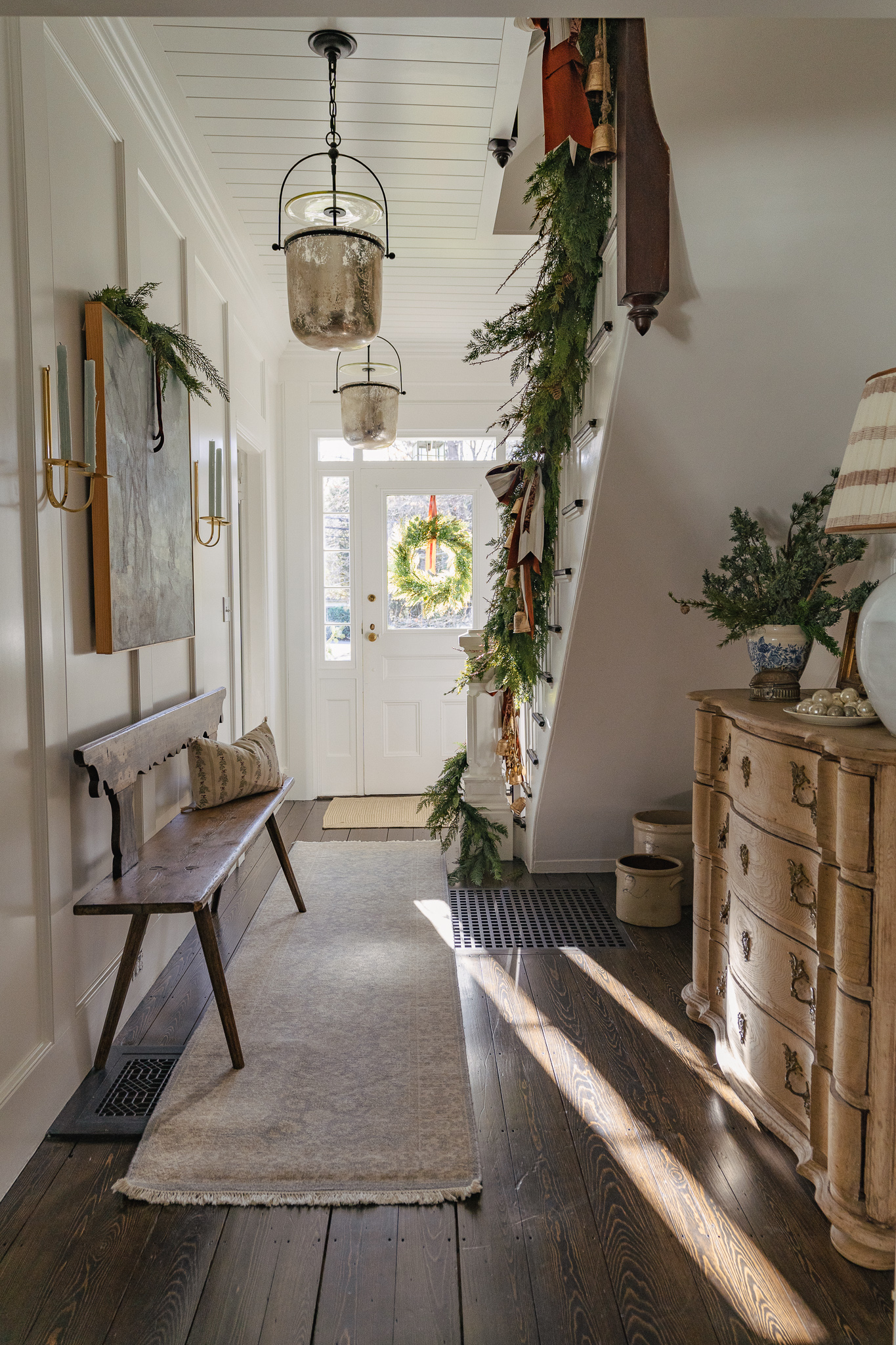 Brass bells are a beautiful addition to the bannister that is draped in a lush garland.
"Pops of brass and vintage ornaments and the loveliest wild fresh tree create a lovely sense of Christmas throughout our home," says Jackie.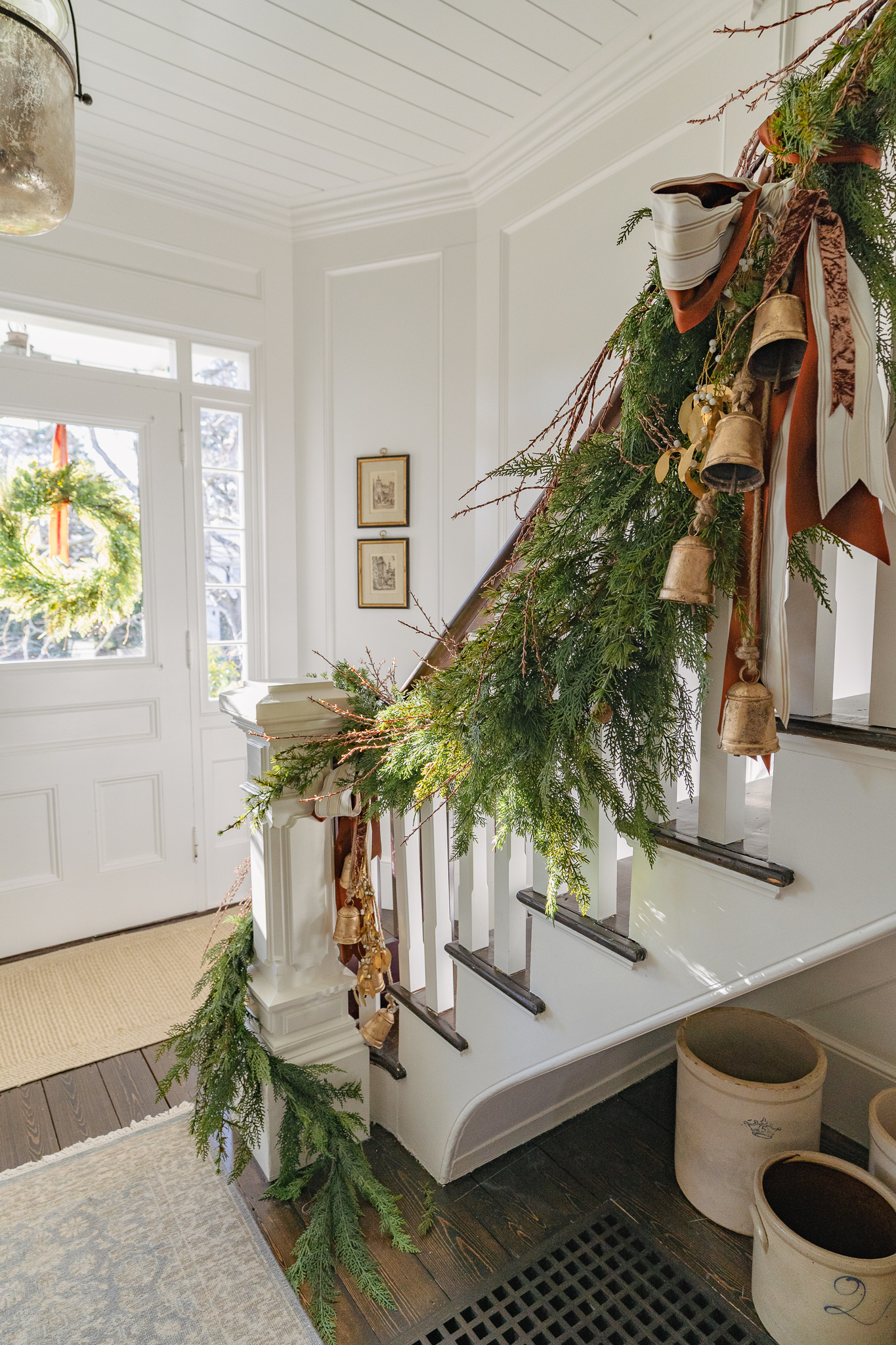 Jackie has a fun family tradition and says, "Each year we drive up to the White Mountains in New Hampshire and cut down our tree. It's become a beautiful tradition where we hike around enjoying crisp mountain air, find our tree and then eat an early dinner at Reklis Brewing Company in Bethlehem NH. The Christmas tree permits are $5. You can't beat that price but more importantly, the experience will be one my babies remember."
She displays her "wild tree" in an old galvanized bucket found at Brimfield.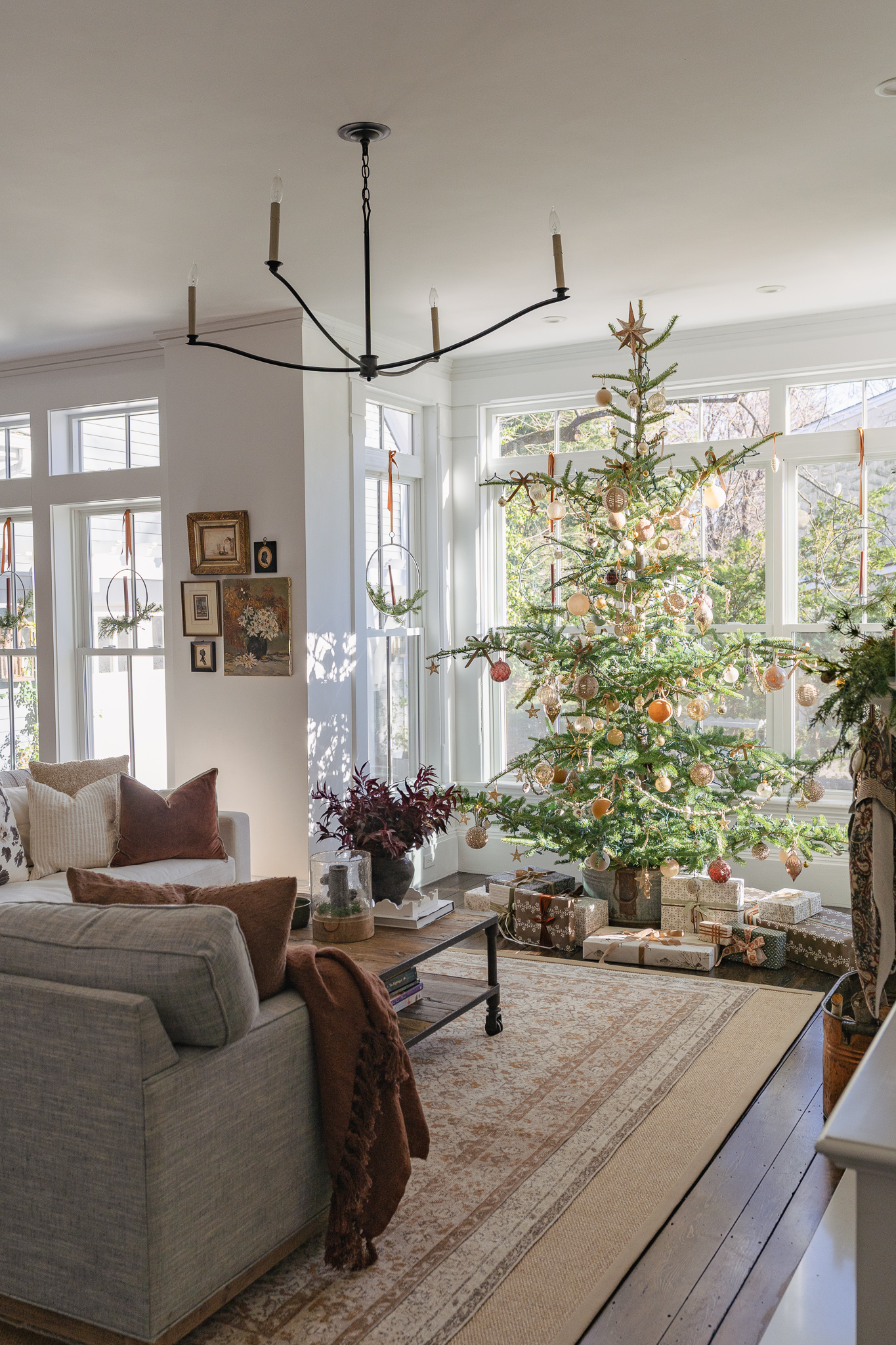 Says Jackie, "Almost entirely faux greenery, some pine cones and brass mistletoe picks, I used a few sticks from the yard and eucalyptus pods for added detail. I wanted a fuller garland on one side that thins with a big, drapey ribbon and vintage stockings."
The kitchen is warmed up with antique wood chairs that are the perfect compliment to an oval Saarinen style table.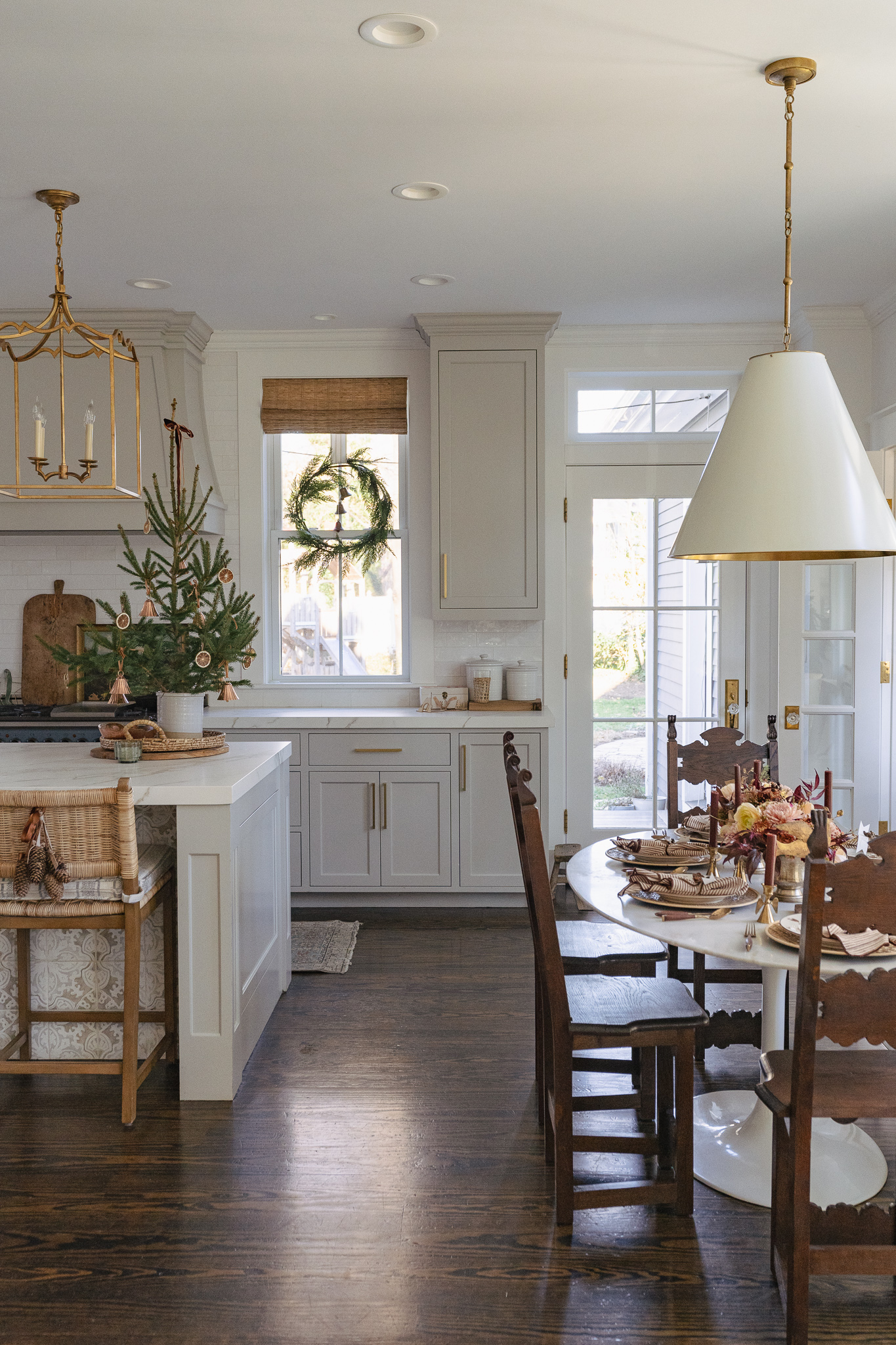 Dried orange slices and tiny brass bells dress up a table top Christmas tree and clusters of pine cones add interest to the backs of rattan counter stools. (see how to make the pinecone chair hangings here).
"The nook got that much more magical this year with the addition of new "old" chairs. These french antiques were a steal to be completely honest. My plan had been to paint them and cut the twirly part off the top but then they arrived and I fell in love with the wood tone and the twirly part bothered me less in real life. It's the perfect pinecone brown and was just meant to be," says Jackie.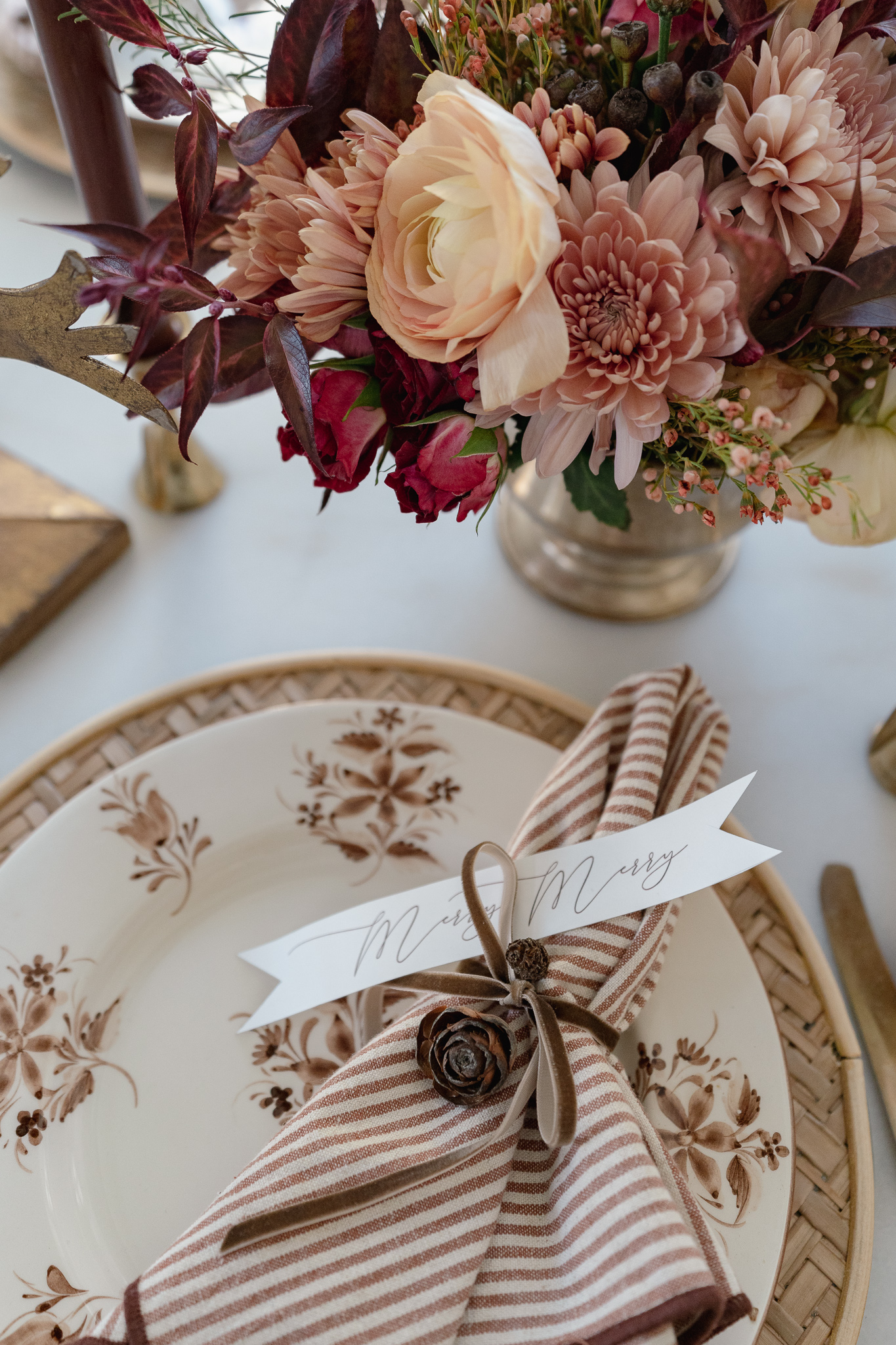 I love the unexpected color scheme on this beautifully set table that includes a festive touch with Merry Merry paper tags.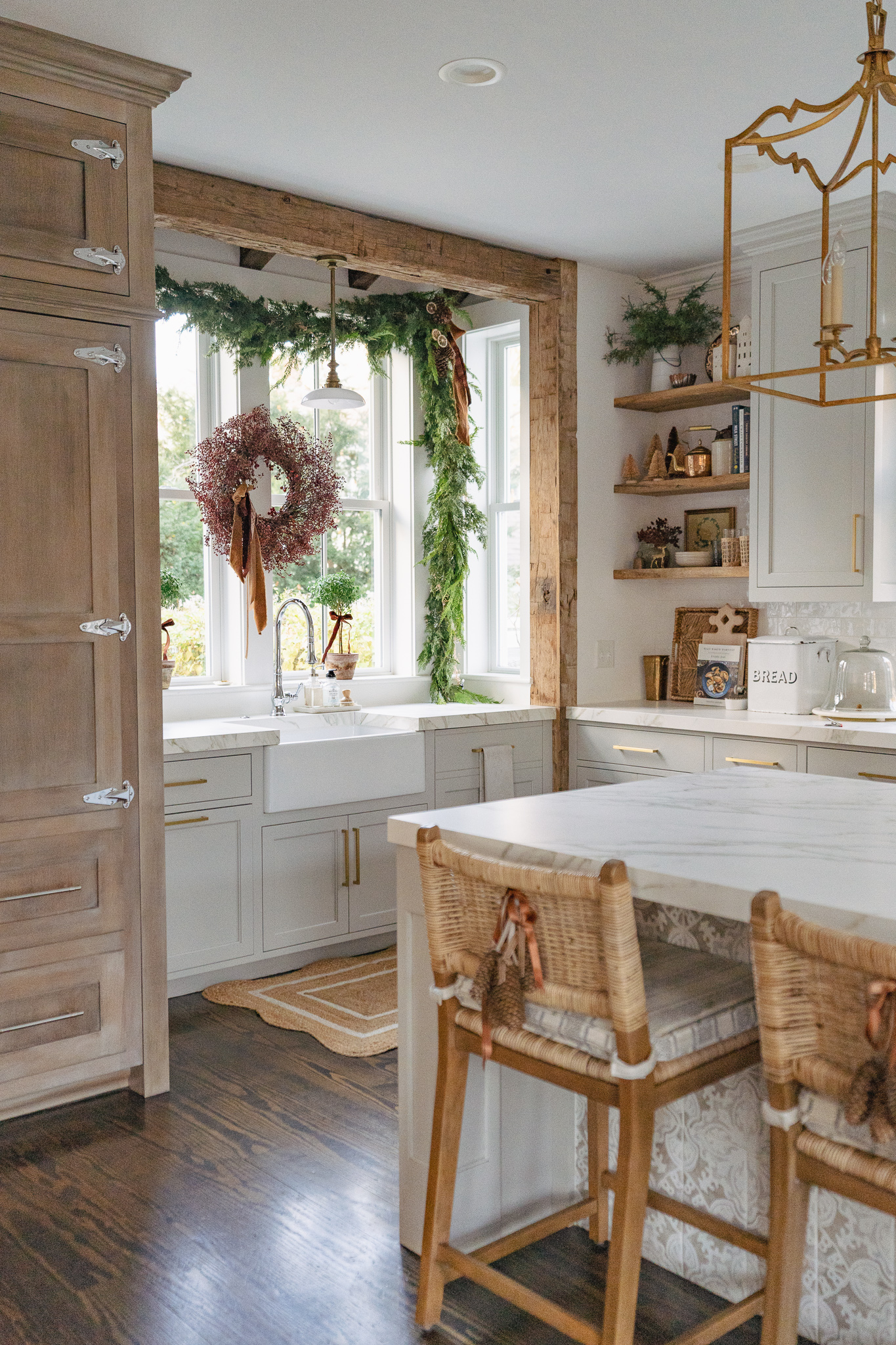 Rustic wood beams create the perfect frame for the kitchen window that's draped in garland with a pop of color from a rose hip wreath.
More ribbons, pinecones and dried orange slices create consistency throughout the house.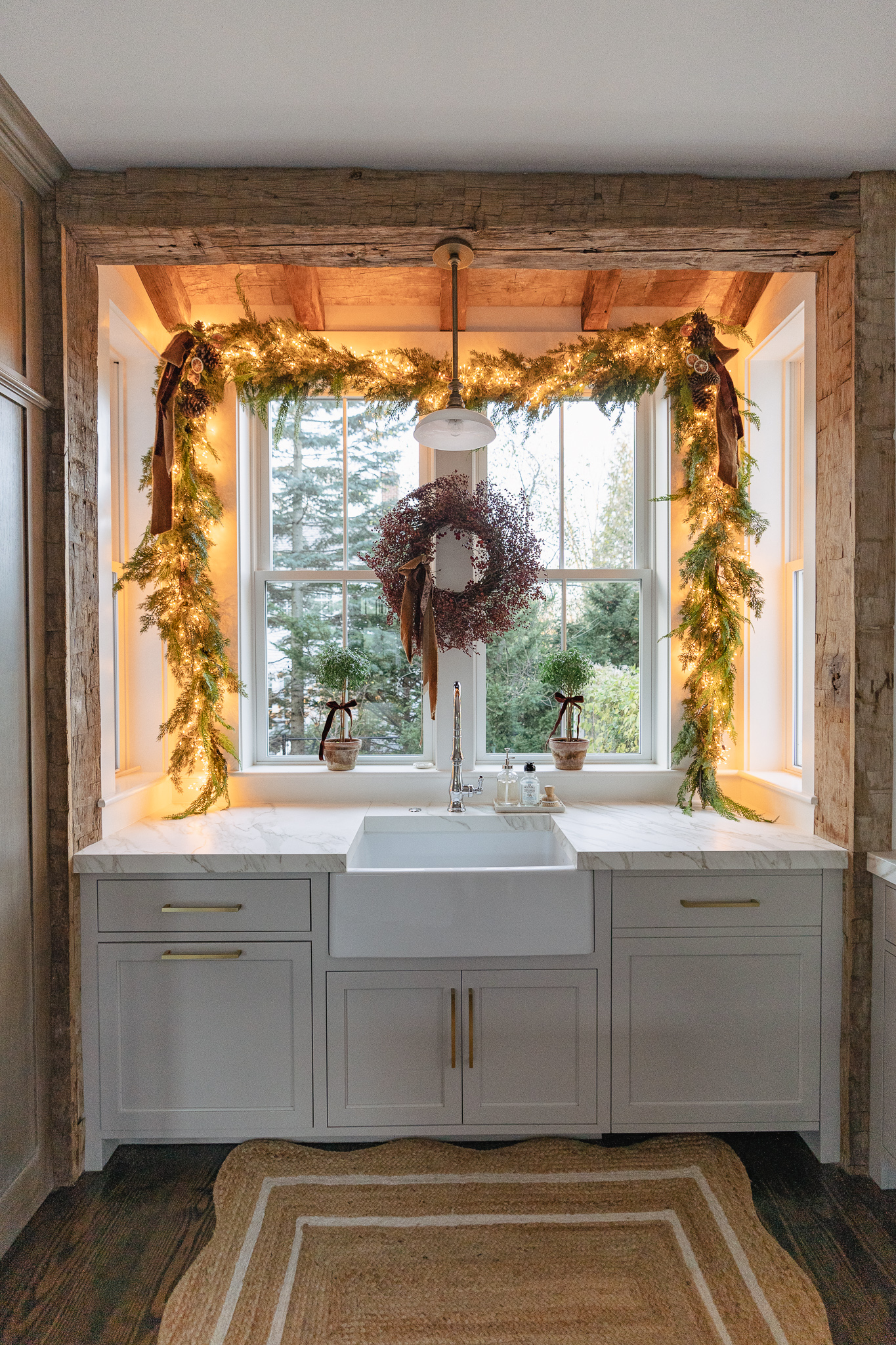 A train set that will hopefully become a family heirloom chugs around a festively decorated tree in the playroom and notice the stocking Advent Calendar (made by Jackie) in the background.
Jackie tells us about the play room, "The front room in our home, probably originally a parlor back when it was built in 1879, is always a joy to decorate for the holidays. We always have a live tree decorated with a collection of handmade toilet paper roll animals. The kids love them."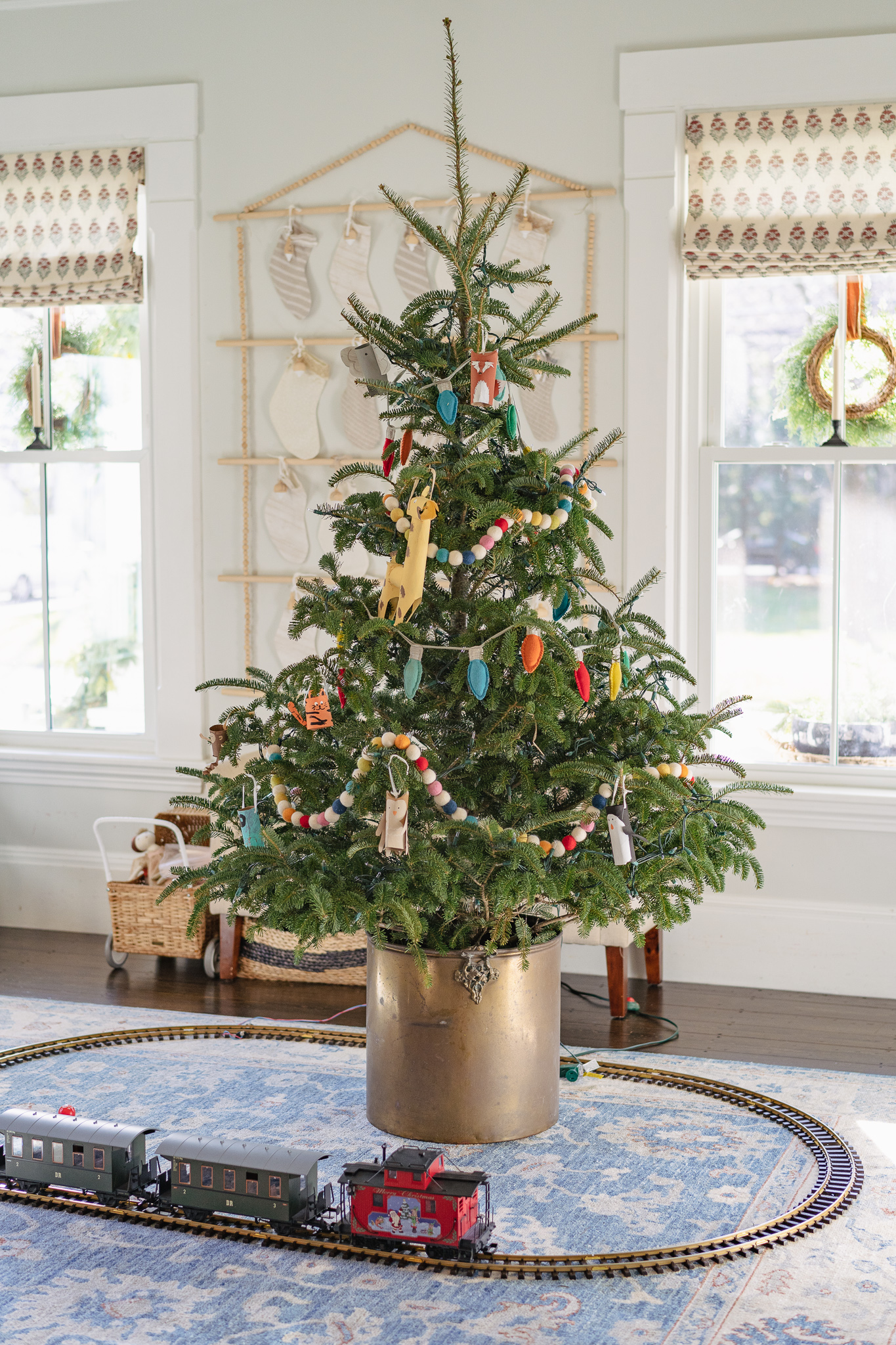 Even Jackie's garden is festive in the snow.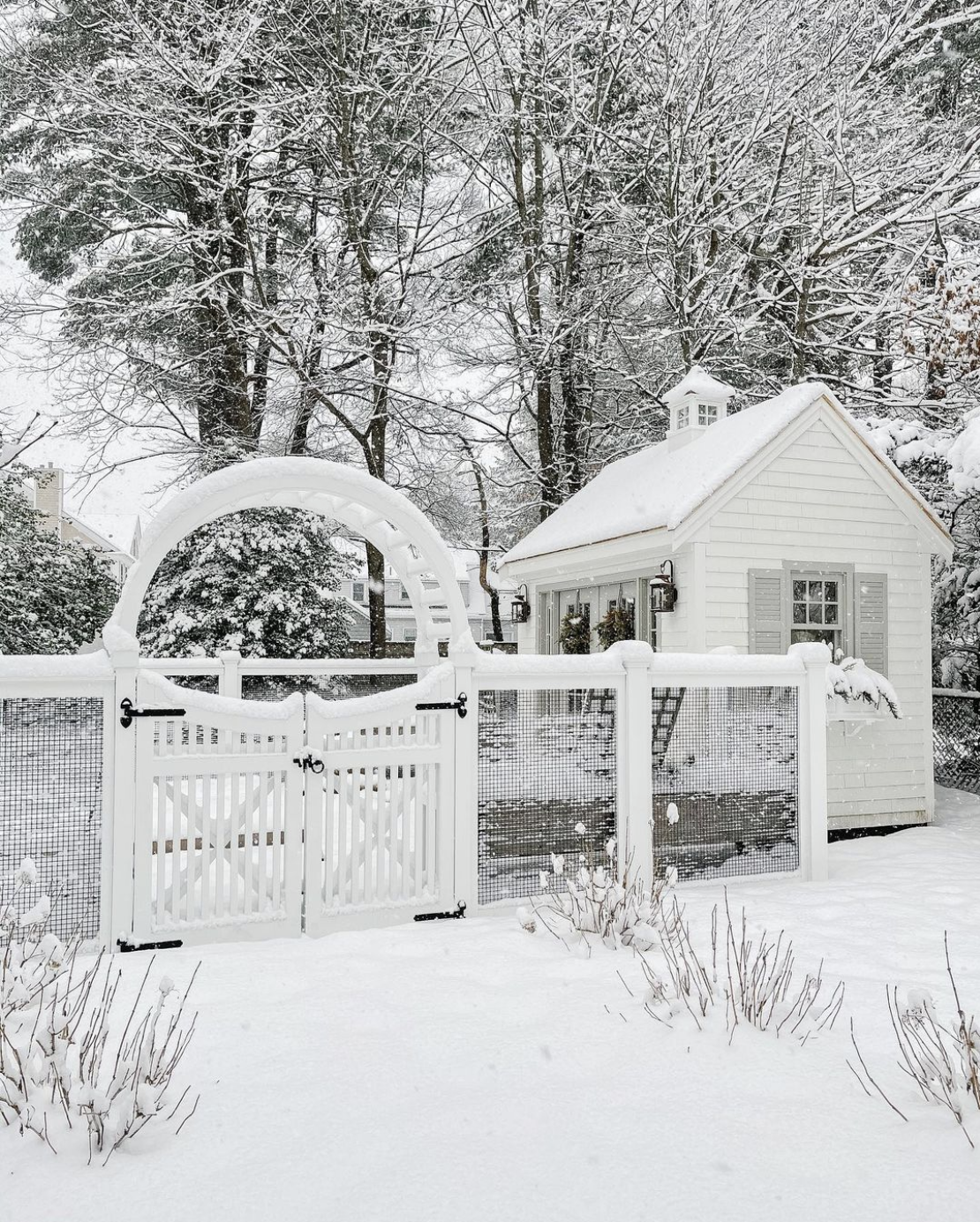 I hope you enjoyed touring this New England home for the holidays.
Make sure to visit Jackie at Finding Lovely to see more of her home and gardens.