The Swarm in My Antique Church Pew and How to Get Rid of Carpenter Bees
The gates of heaven opened and a choir of angels sang from on high when I finally found the antique pew of my dreams! Little did I know that it had a secret hiding inside … a swarm of carpenter bees! This is the story of how to know if you have them, how to make sure you don't bring anything home with them hiding inside, and how to get rid of carpenter bees for good before they wreak havoc on your home (and give you nightmares for years)!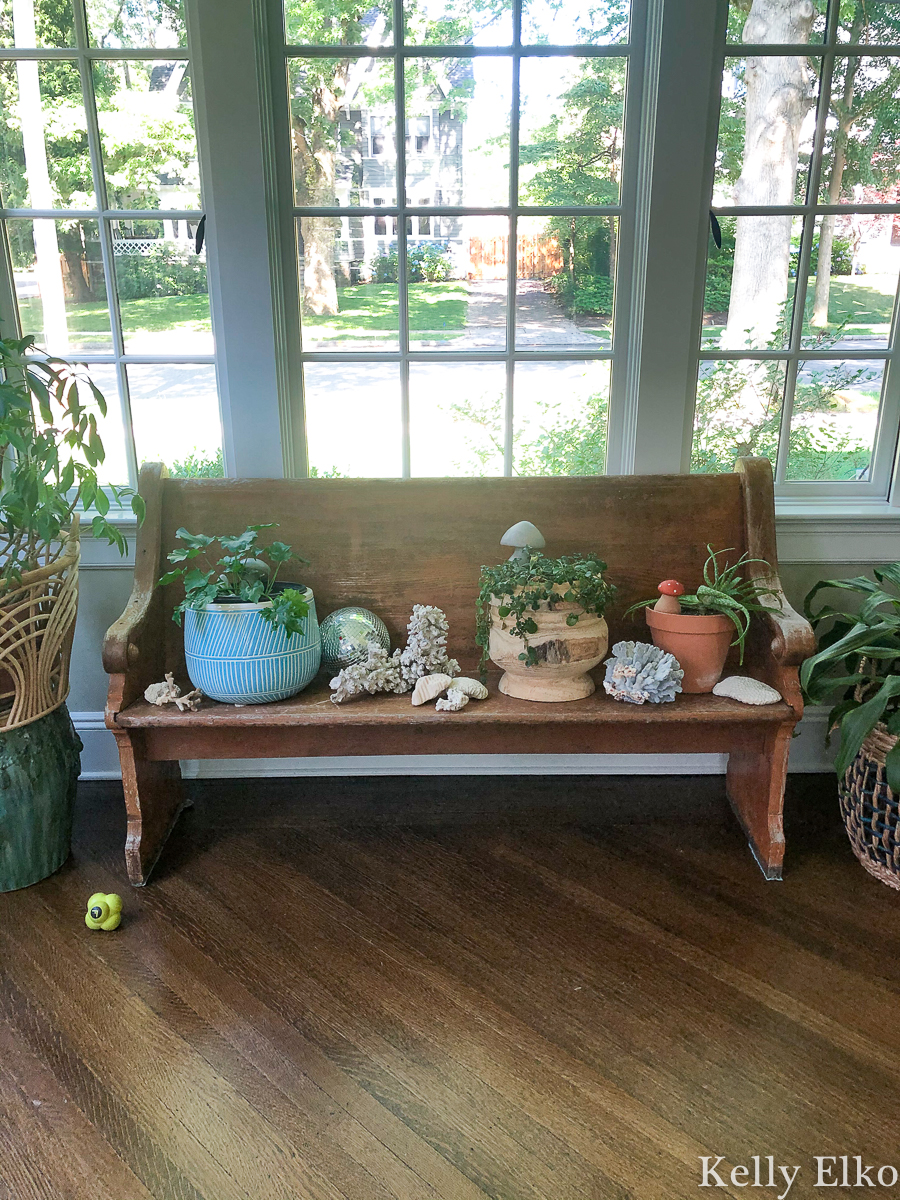 Things started out innocently enough. I love scouring Facebook for great vintage finds so when I spotted this antique pew at a bargain price, I knew it had to be mine. My hubby and I hopped in the car and enjoyed a scenic hour long drive to pick up the pew. Things went down hill when my hubby "scratched" his stomach while picking up the pew but I was so excited about my new find that I ignored his whining!
We lovingly placed it in the sunroom but as we set it down, a bee flew by and it was then that my hubby realized it was actually a bee that had stung him (not a scratch as he first suspected. It took until the next day for the four ugly red welts to appear on his stomach! (I snapped a quick pic of the pew on my phone not realizing it would be my last – notice the yellow ball on the floor)!
Three days later, I spotted a bee that seemed to be sleeping on the sunroom window so we opened the window and out it flew. Then I spotted another dead bee on the floor! My super sleuth skills told me it was time to investigate the bench. I flipped the pew over and peered into a little hole underneath and saw something black and glistening inside.
We stuck a pencil into the hole and something began to move … we had awoken the beast!
This post contains affiliate links which means that if you make a purchase, I may earn a small commission at no extra cost to you.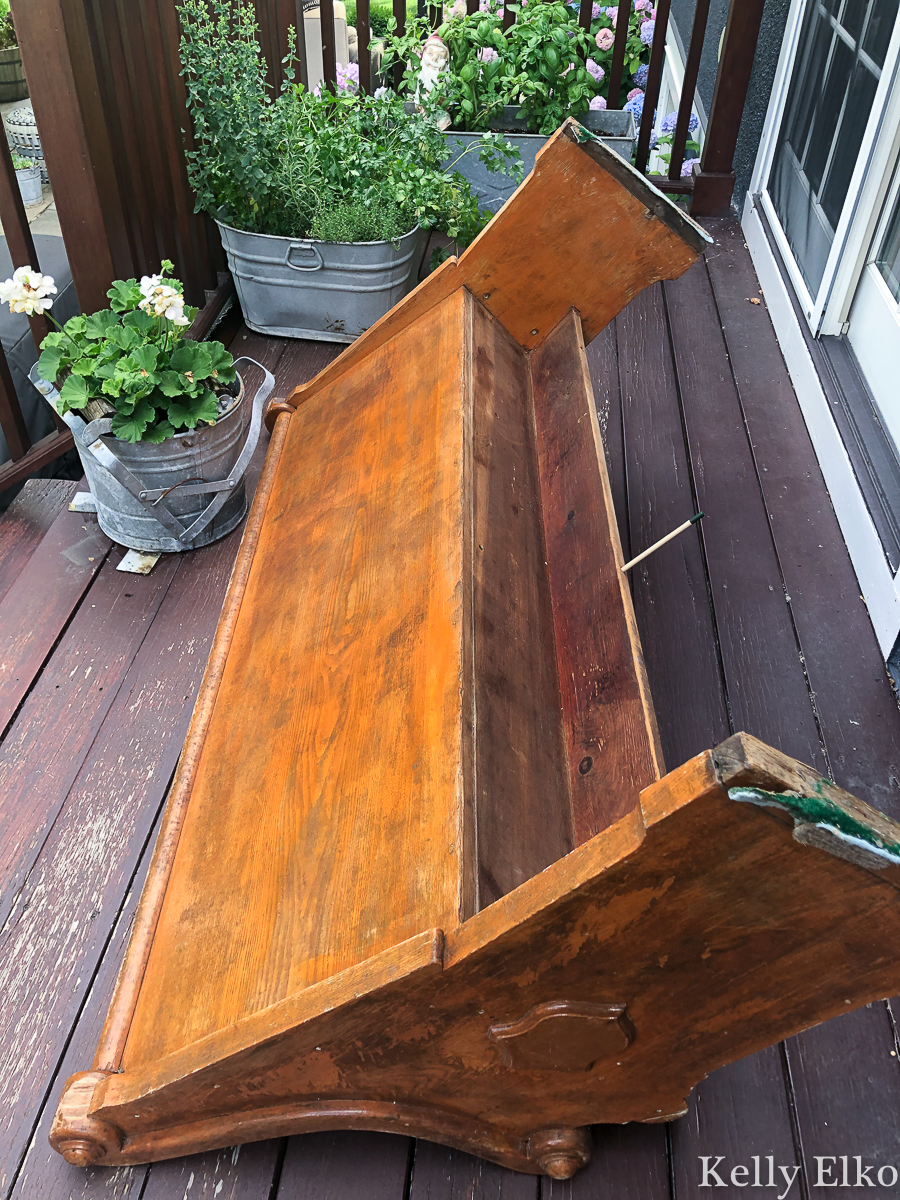 I could not get the pew out of my house quickly enough! We doused the holes with insect killer and nine bees came crawling out as my girls and I screamed in terror which you can actually hear if you watch this video in my Instagram stories here.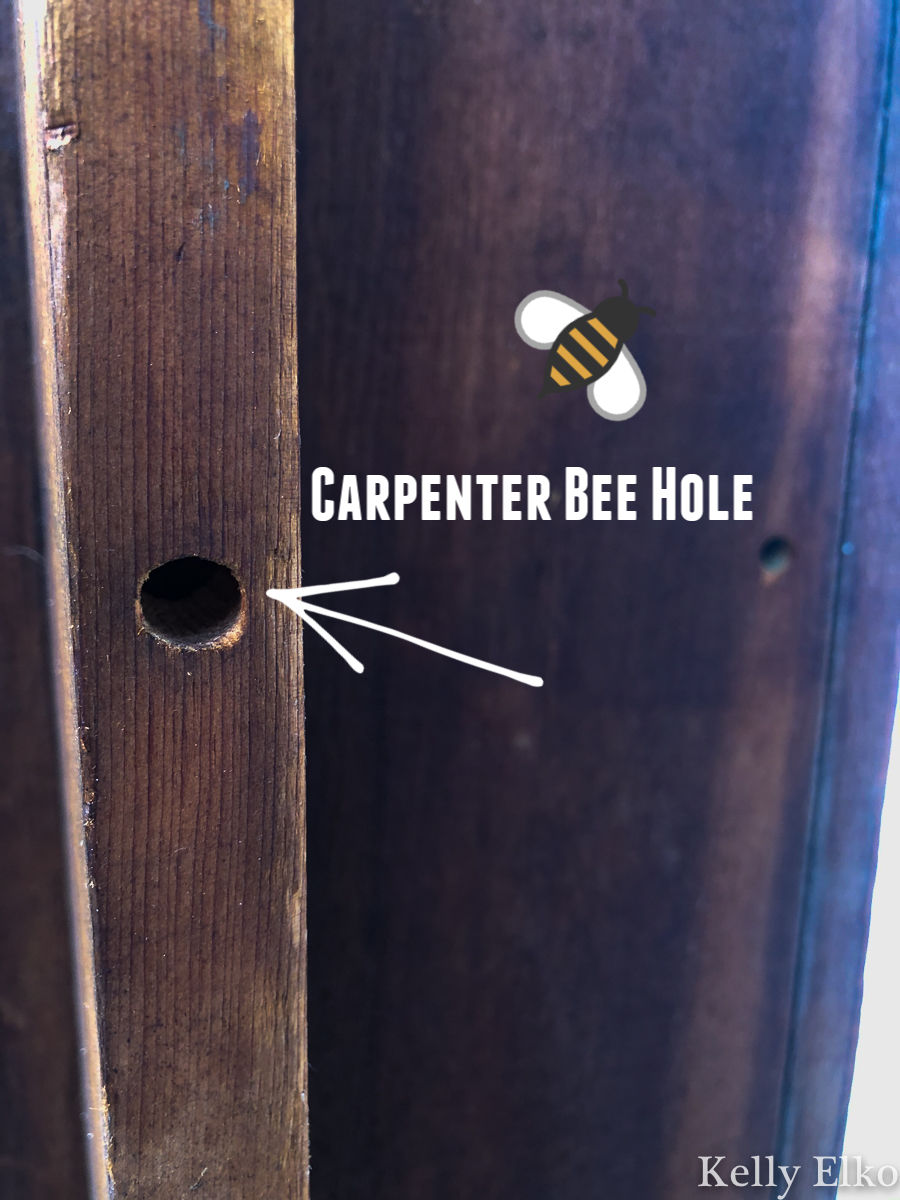 Here is what I learned about Carpenter Bees so you will not make my mistake of bringing home a bee infested find.
Carpenter Bee Facts
Carpenter Bees differ from Honey Bees in that the former damages wood structures. You can spot Carpenter Bees by their bare, shiny, black bodies while Honey Bees have fuzzy yellow and black stripes.
Carpenter Bees live for about one year. In spring, female Carpenter Bees use their strong jaws to vibrate themselves through wood and bore round 1/2 inch holes into unfinished or dead wood. The bees don't eat the wood but reuse the sawdust to build cells where they lay eggs.
When the eggs hatch, they'll feed on pollen until they become adults in late summer when they'll leave their nests and hunt for pollen until winter hibernation.
The following spring, they'll leave their nests seeking food and a mate. Males will begin to die soon after mating and females will use both pre-existing nests for their eggs as well as make new nests. Females will die in the spring or summer after laying eggs.
You'll often see male bees defending the nest but only females have a stinger and they can sting over and over again!
How to Treat Carpenter Bee Nests
Carpenter Bees often come back to the same nest where they were born which is why nests need to be dusted and sealed as soon as possible.
If the nest is active, spray a flying insect spray into the entrance holes. It's best to do this at night when the bees are resting but be careful for angry female bees that may emerge!
Once the bees are dead, the best long term treatment for existing Carpenter Bee nests is to treat the entrance hole with an insecticide dust. The dust will remain in the tunnels for many months which should be long enough to kill any young adult bees that emerge from the nest. The easiest way to get the dust into the opening without making a mess is to apply the insecticide with a hand duster.
The next day, fill holes in the wood with steel wool, a wad of aluminum foil or caulk then paint over the holes.
Consider using this Carpenter Bee Trap to make sure they don't come back and do more damage.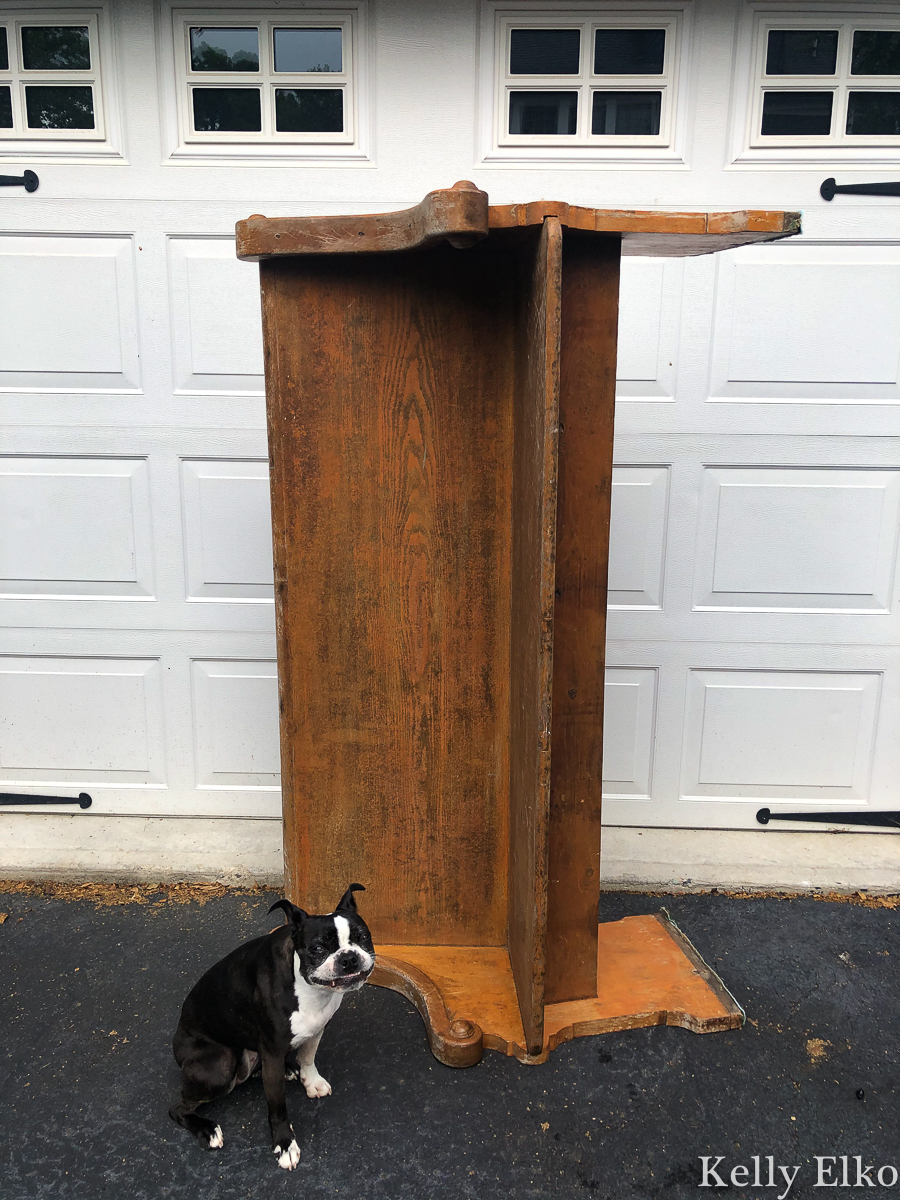 Since my pew was inside, I decided it was not worth the risk of anything hatching in a few months and going on a murderous rampage to avenge their parents death so we took the pew to the dump where it was crushed. As you can see, Sushi is grinning from ear to ear knowing she's safe from bee stings.
Does anyone have the name of a good therapist? I'll be having nightmares about this for years!
If you're plagued by pesky mosquitos, don't miss my tips below …