Vintage Lawn Bowling Set & Summer Foyer
If I had known that March 9 would be my last visit to the thrift store, I would have bought more stuff! It's been over three months since I had my thrift store fix and although thrift stores in New Jersey just recently reopened, I had my ways of still enjoying the thrill of the hunt while they were closed. Facebook Marketplace is my go to place to find cool stuff. When I spotted this vintage lawn bowling set, I put the pedal to the metal and drove over two hours round trip to scoop them up. This is the first time I am happy about getting a strike!
UPDATE: Since I wrote this post, I added the most amazing and HUGE antique sign! Click here to see my updated foyer.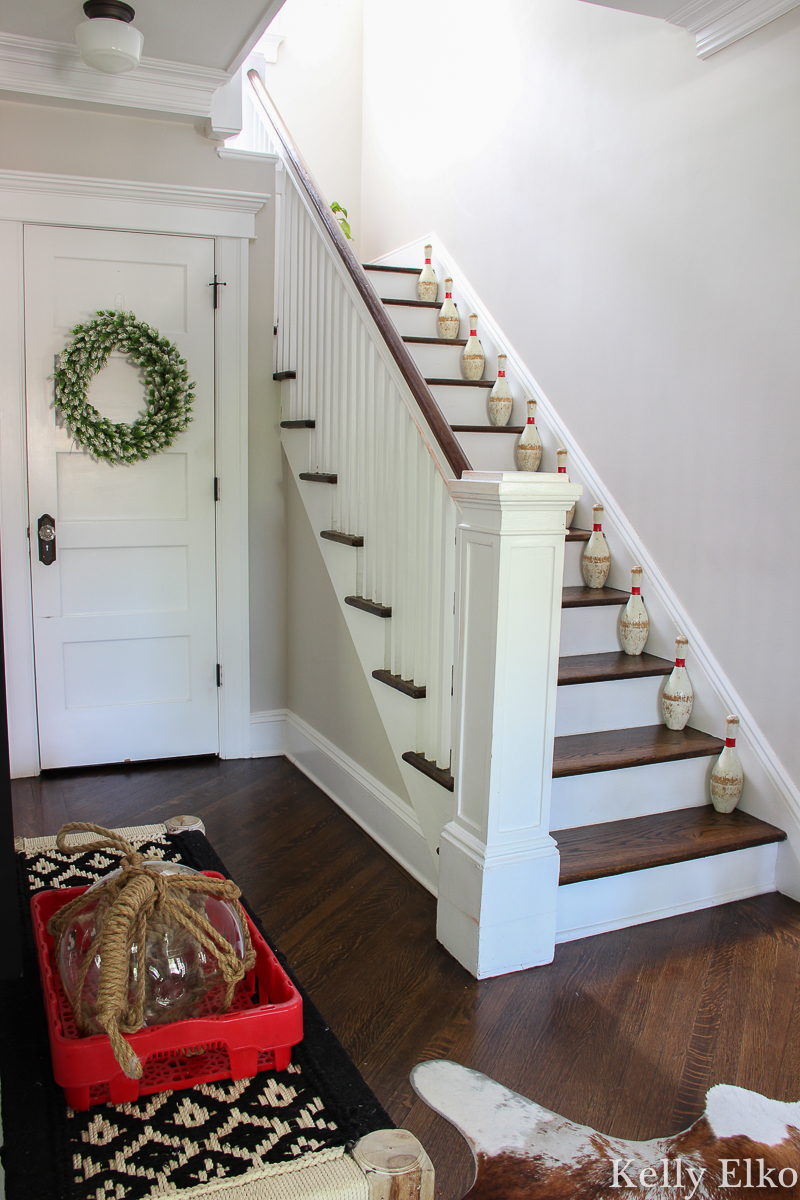 My husband never bowled before so about five years ago, my girls and I dragged him to the bowling alley where he proceeded to whoop our butts! Not only did I have to endure wearing those smelly old bowling shoes, but I had to listen to his gloating all the way home! Why is life so unfair?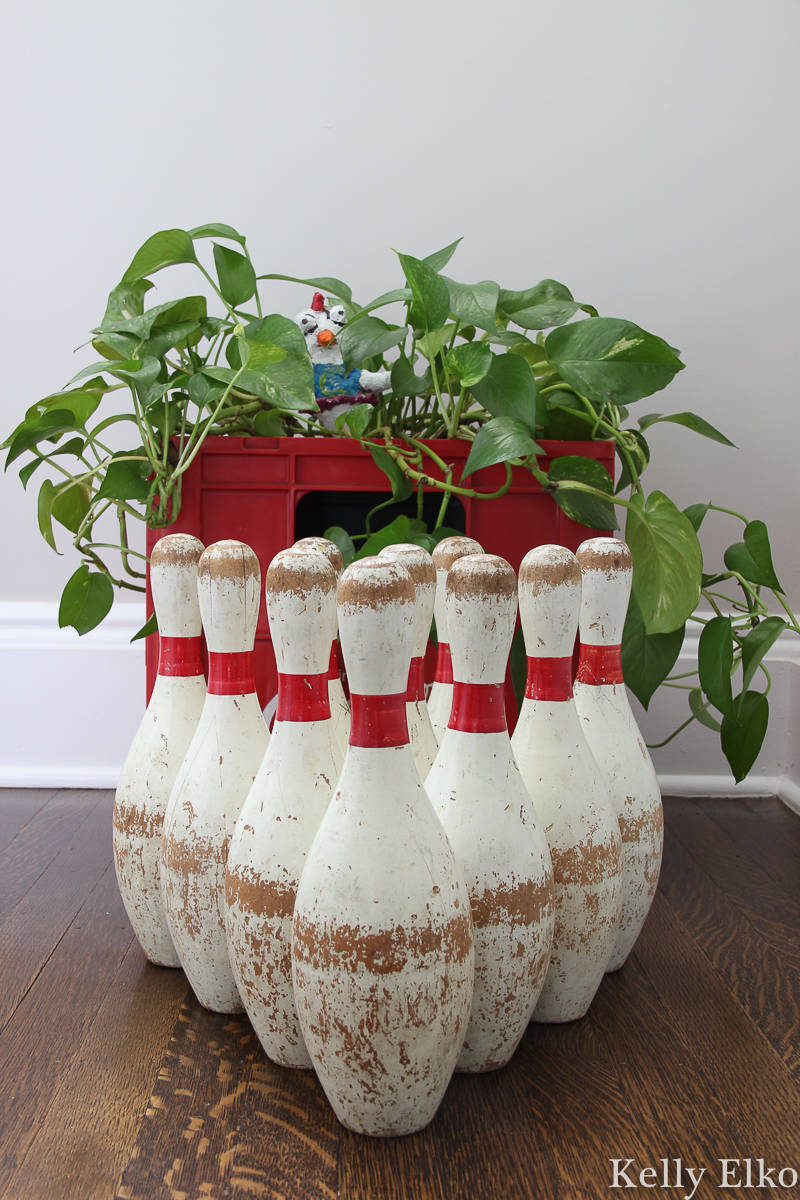 This post contains affiliate links which means if you make a purchase, I may earn a small commission at no extra cost to you.
The bowling set included 10 pins two wood balls with original, chippy yellow paint still clinging to one. Can you believe I saw the same exact same set on 1st Dibs for $525!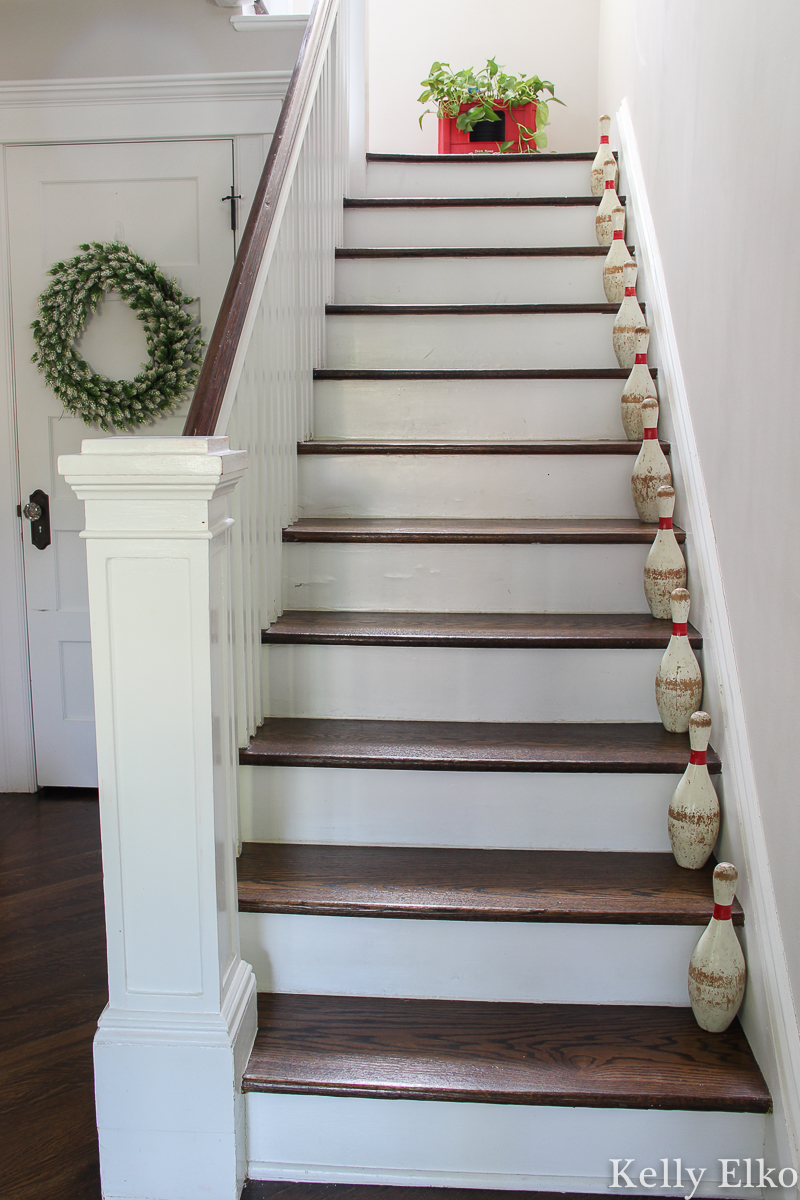 Lined up like tiny little soldiers, I love the way they look marching down (or is it up?) my foyer stairs. I was going to display them on my mantel but after roaming aimlessly around my house one day, I realized the stairs were calling out for some decorating attention.
I have been debating what to hang on the staircase wall for ages! I go from wanting to hang all of my vintage landscape paintings one minute to my colorful basket collection that used to hang in my dining room (you can see my basket gallery wall here).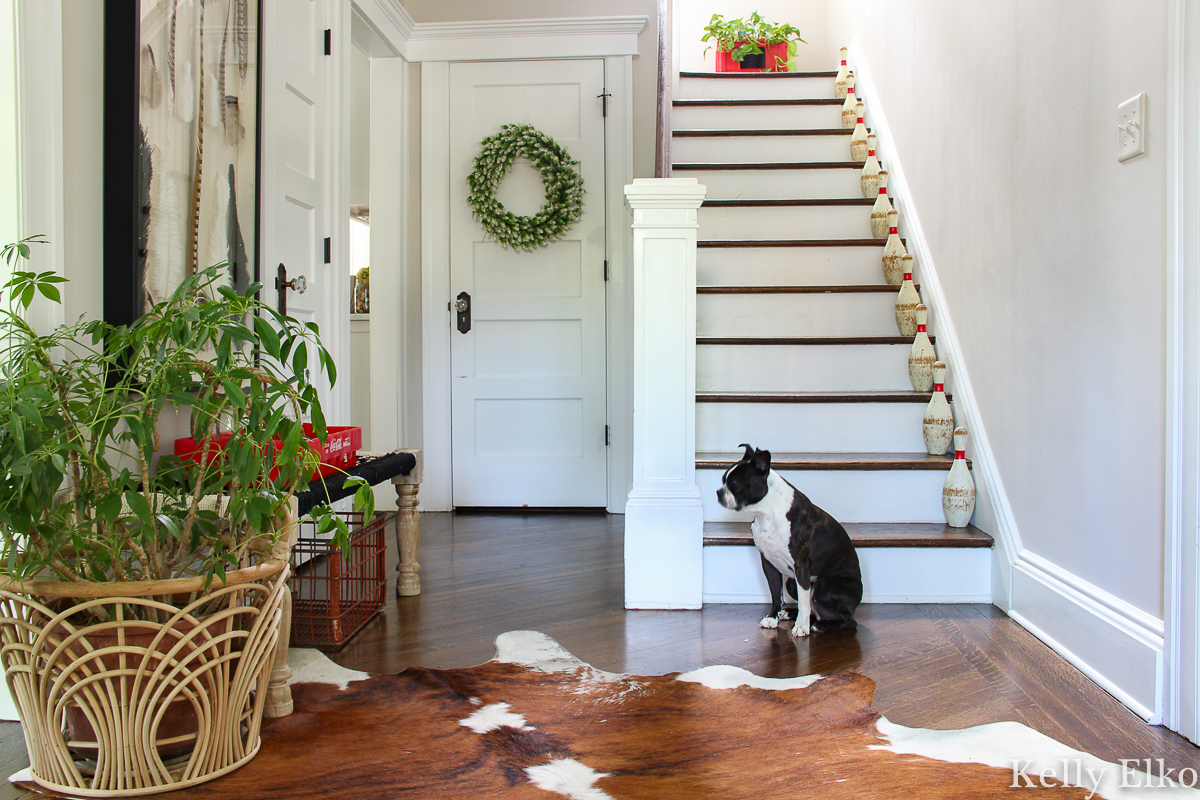 A few pops of red from vintage soda crates add to the summer vibe.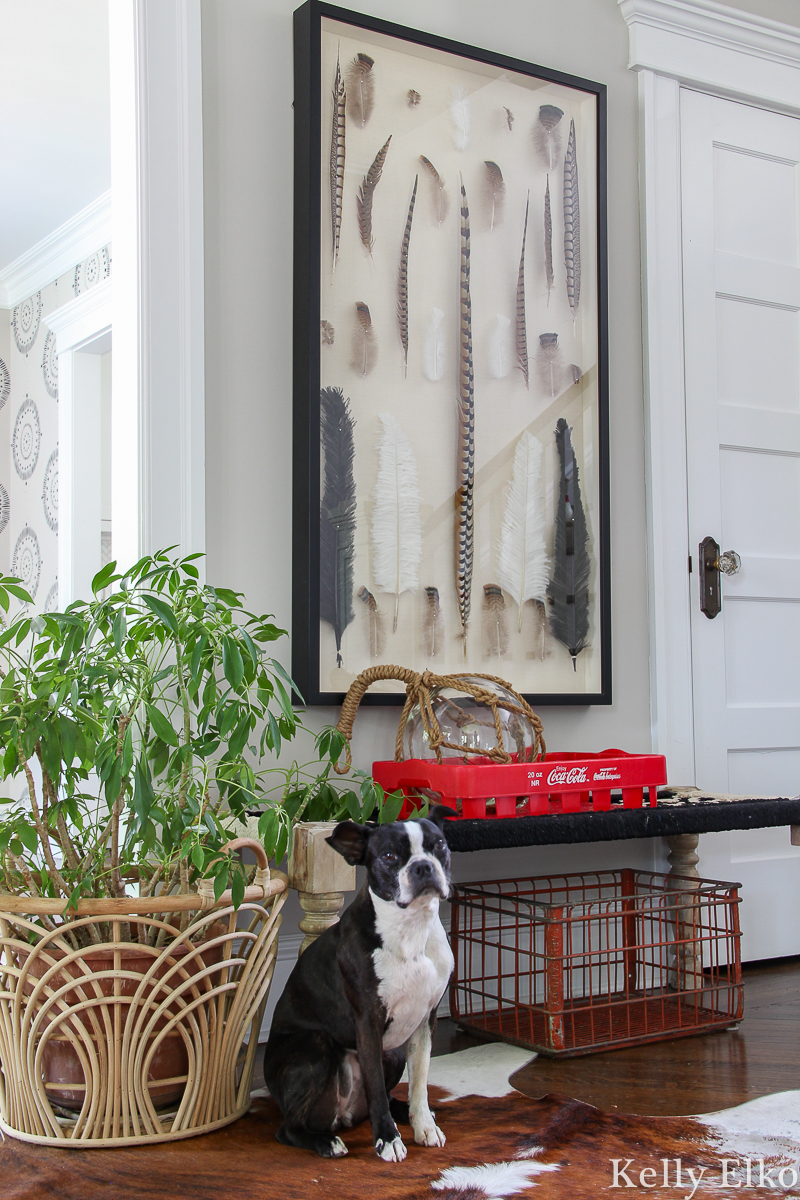 The look in Sushi's eyes says it all … she is definitely not bowled over by the summer update which includes my favorite black and white woven bench, Coke crate, feather shadowbox that I got ages ago at a consignment shop for only $90 and of course no space would be complete without a plant.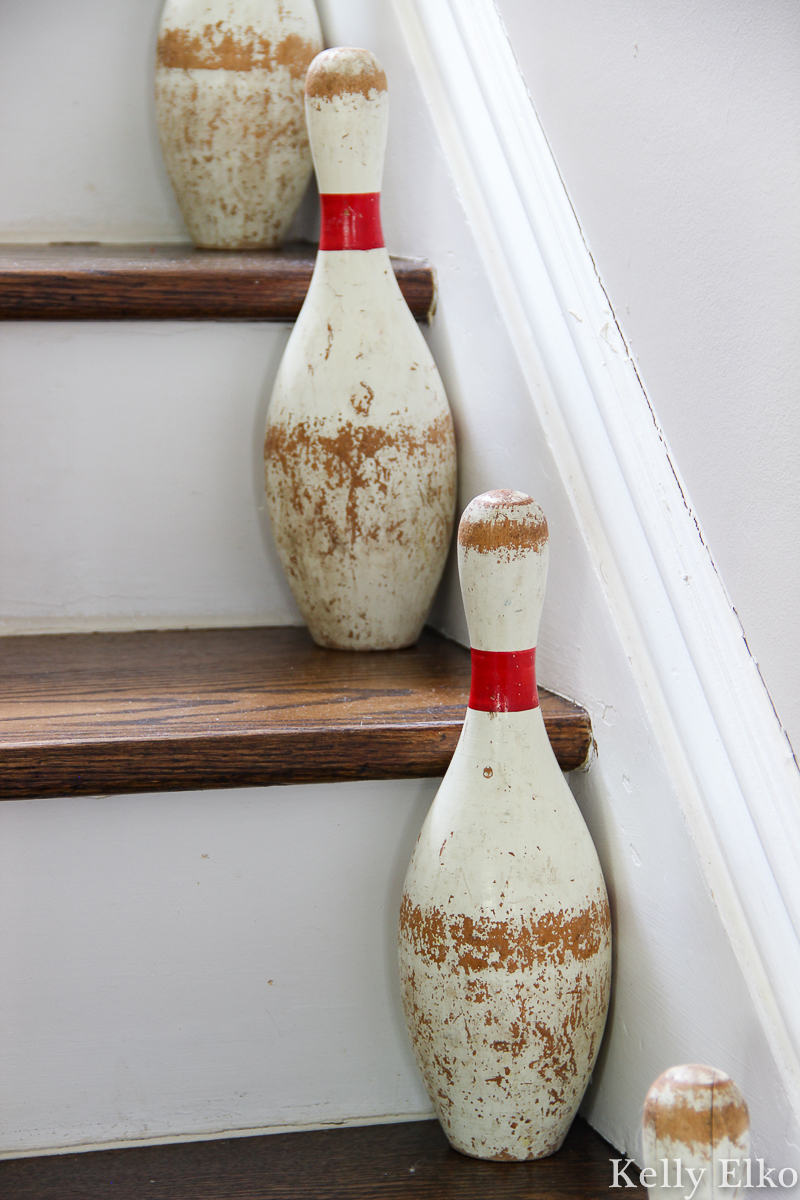 There is just something about the weathered patina of a vintage piece that can't be duplicated.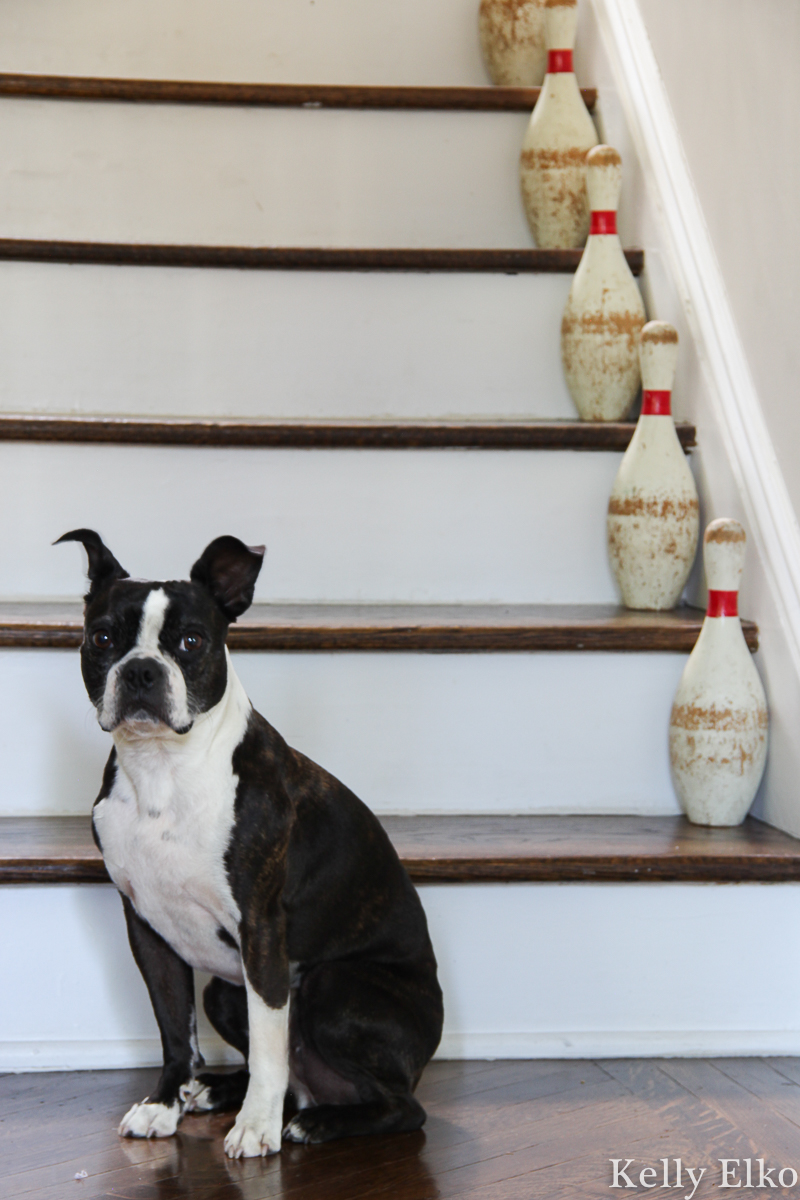 I love tucking fun little finds into my plants like this paper mache chicken my daughter made when she was little! The plant adds some much needed color to the top of the staircase.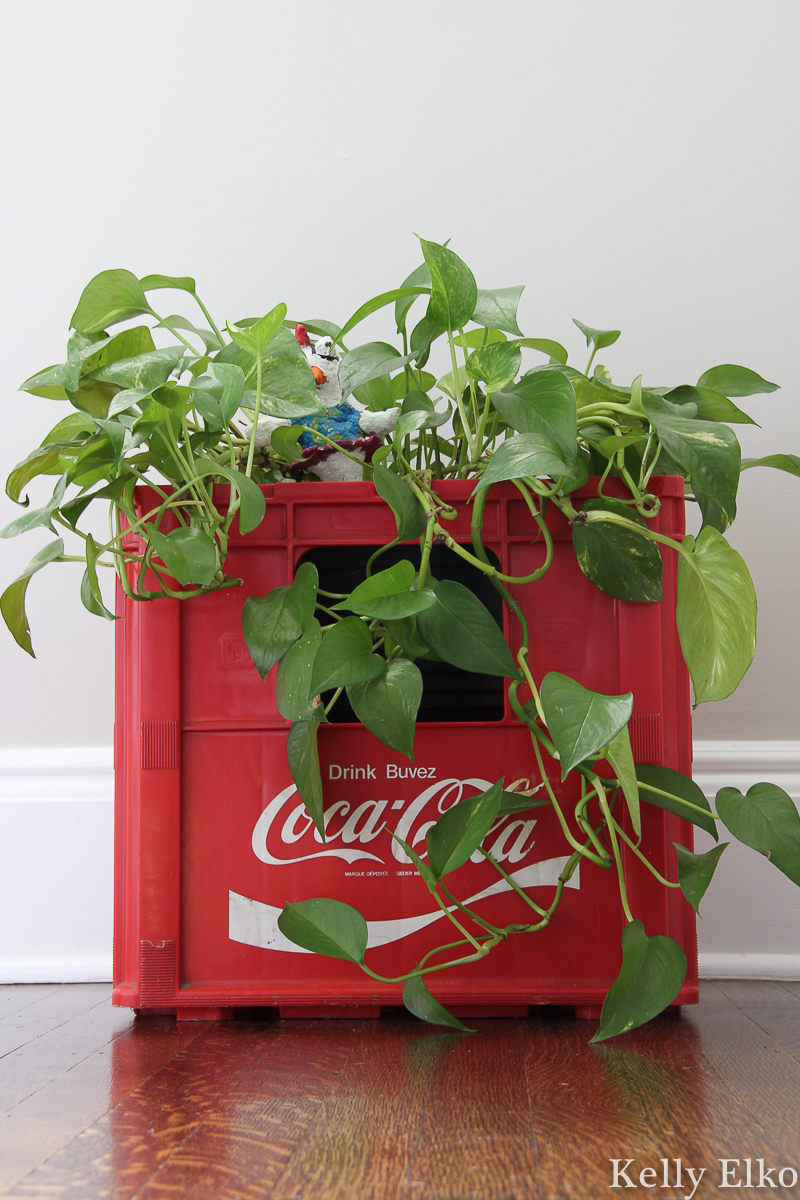 Here's a look at my other side of my foyer which includes the entrance vestibule. It's a favorite feature in my 1903 house and I love how a separate French door separates it from the foyer.
The gallery wall is a mix of old and new silhouettes including my hubby as a boy and my girls.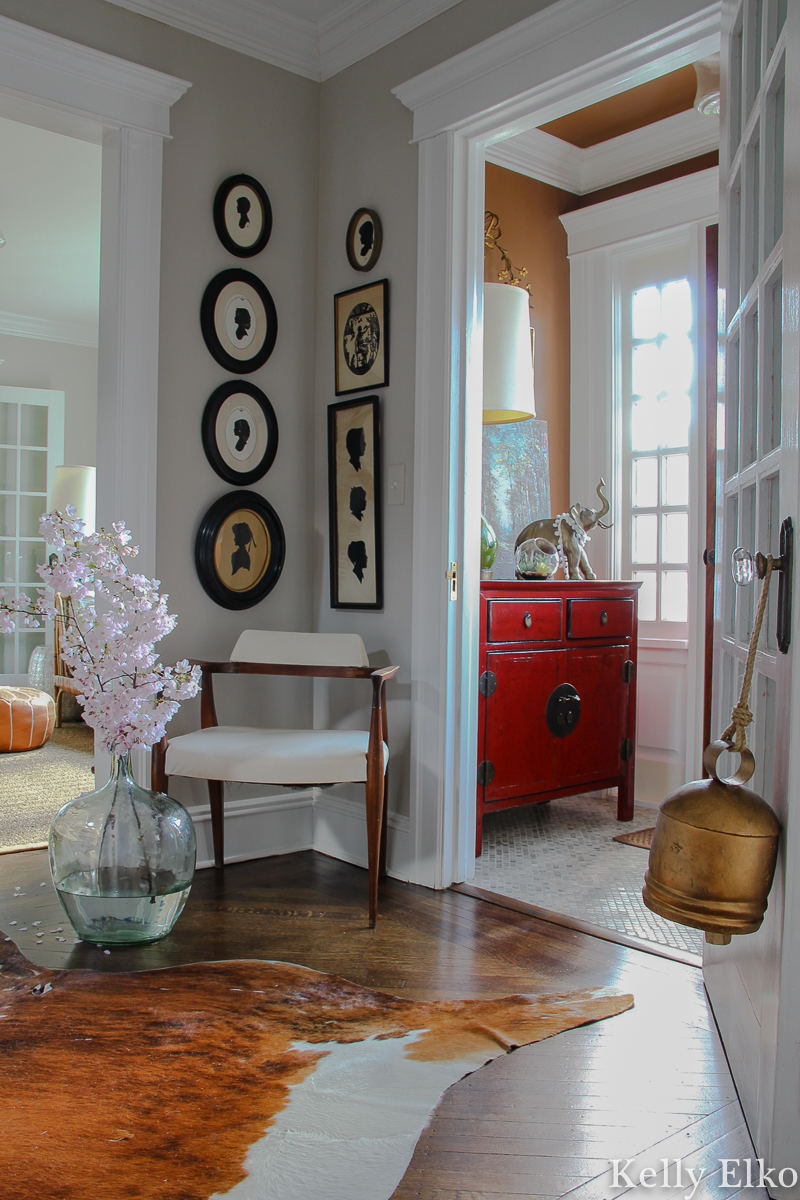 So if you're itching for the thrill of the hunt but you don't want to venture out to the thrift shops, make sure to scour Facebook Marketplace because you may just score something amazing … even if you have to drive two hours to get it!