Kelly's Stamp of Approval
Kelly's Stamp of Approval 13 takes us into the miniature world made entirely out of plants and other natural elements, gives an update on the original owner of my vintage silhouette (spoiler alert … I found her), shares a really unique idea for displaying Christmas ornaments after the holidays are over, the debate of when to take down Christmas decorations rages on, my encounter with Kermit the Frog and more!
I was walking Sushi the other day and walked past this house in my neighborhood that is still clinging onto Christmas. I took a poll on my Instagram (@kelly.elko) asking people when they take down Christmas. Some people rip down their tree right after they open their gifts while others are content to keep the Christmas spirit going and going and going.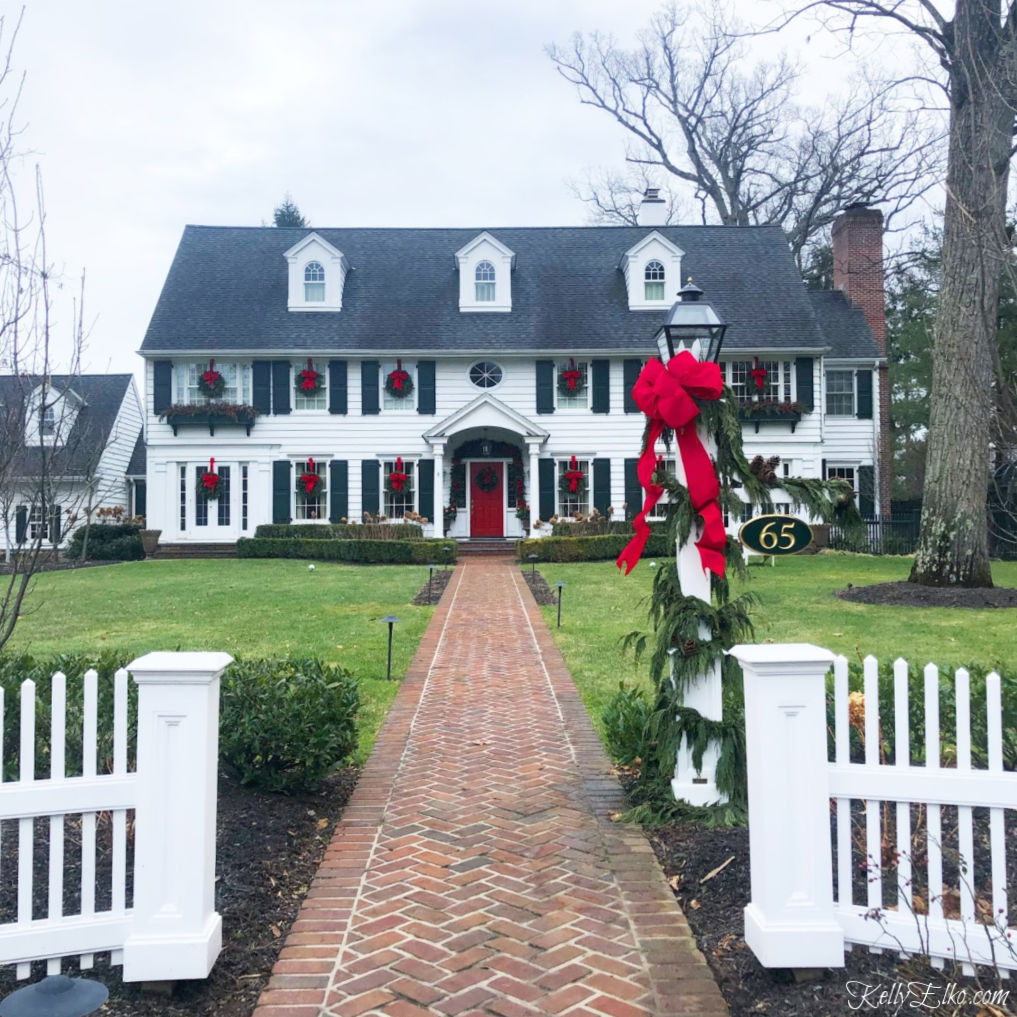 Did you know there is a magical place in the Bronx where you can see a miniature version of New York made out of natural elements like leaves, twigs, bark, pinecones and more? We went to the New York Botanical Garden Train Show last week and it was phenomenal!
Click Here to see my Videos of the New York Botanical Garden Train Show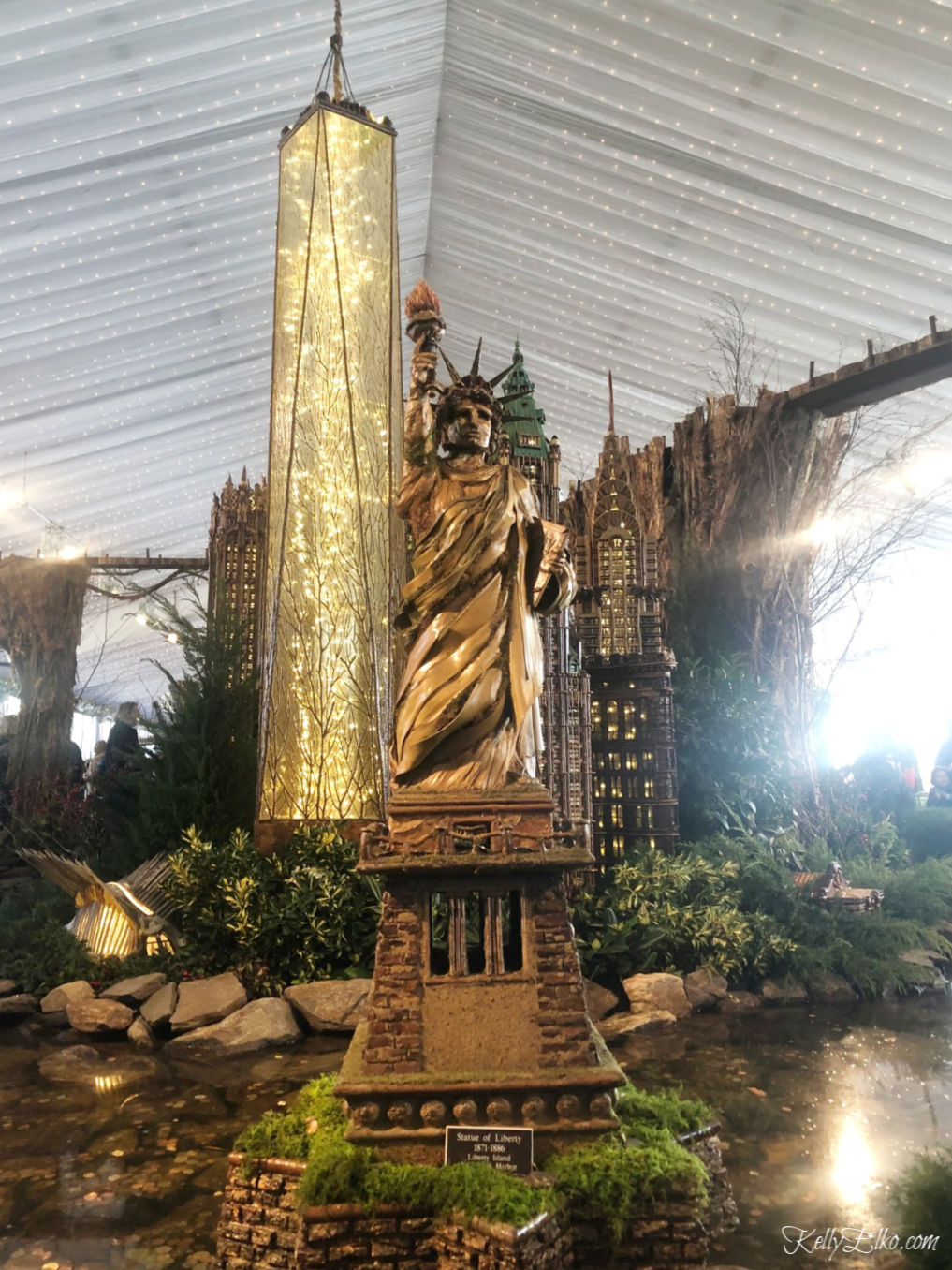 The snow if falling here in New Jersey but my surgeon said I shouldn't shovel ever again since my back surgeries. Who am I to argue?
Years ago, before I was banned from shoveling, I decided to shovel the driveway all by myself and I attacked it like the Energizer Bunny! I was so proud of myself for getting it down so quickly … until I had to be rushed to urgent care with excruciating back pains! So on any given snow day, you'll find me warm and cozy inside sipping hot chocolate by a roaring fire.
The Mystery of the Vintage Silhouette has Finally Been Solved!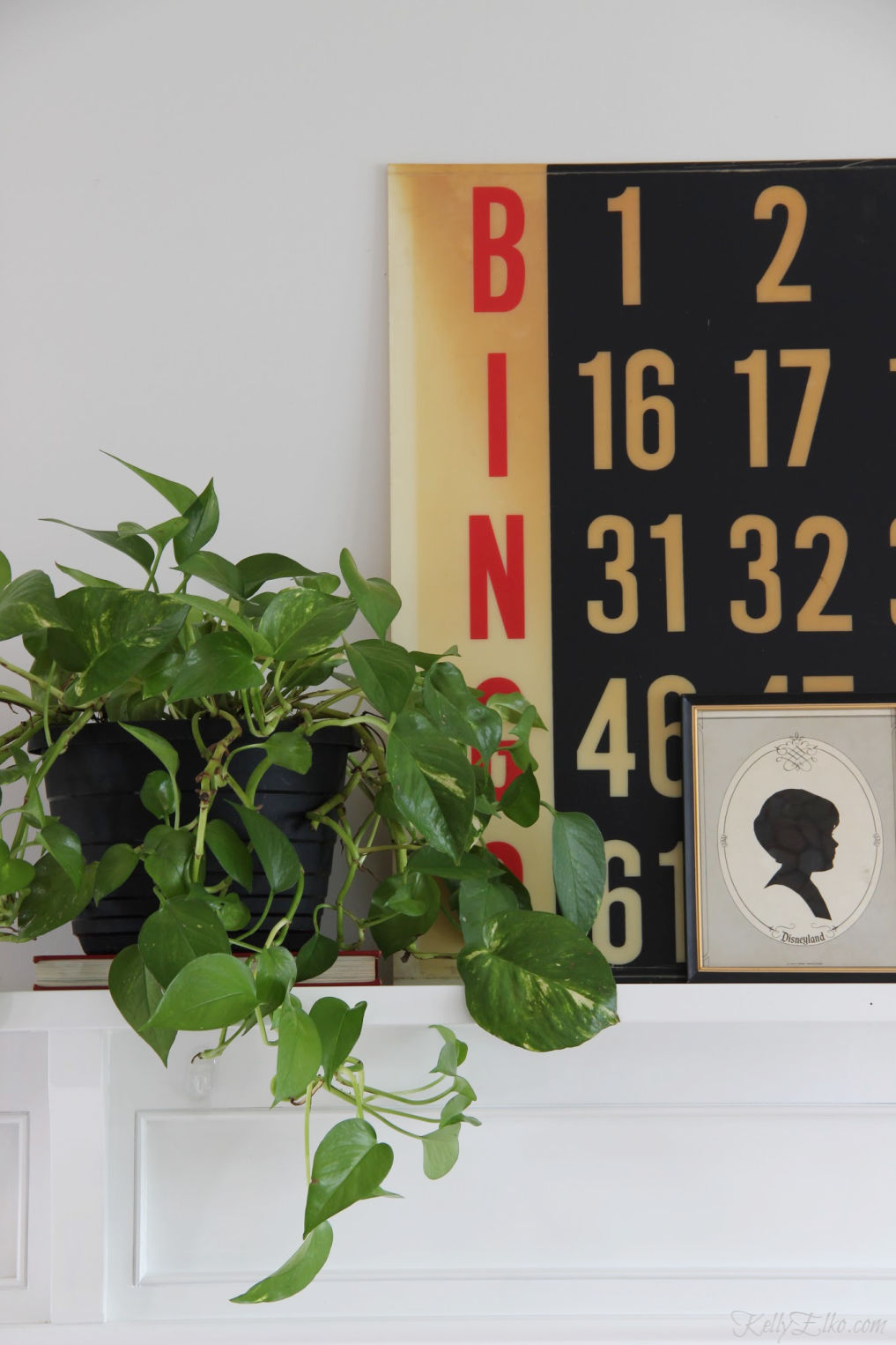 In my vintage modern mantel post the other day, I asked you to weigh in on whether I should reunite the vintage silhouette with its owner. The back of the silhouette has the girls name and year it was made written in pencil (Nanette in 1968 when she was 10 years old). My daughter found her on Facebook and I sent her a message five days ago and she replied at 9 pm last night!
Nanette said "OMG YES!!! That is amazing!!! Where in the world did you find it?? We moved from NJ three years ago and now live in paradise – AMELIA Island FL just south of GA on the Atlantic side!!!!!! My sis also has a portrait but she has never moved so she doesn't know what it is like try to downsize when you have a large Jersey house. After awhile you just start boxing anything and everything up to get done!!"
Meet Nanette! She said I could share her pic with you.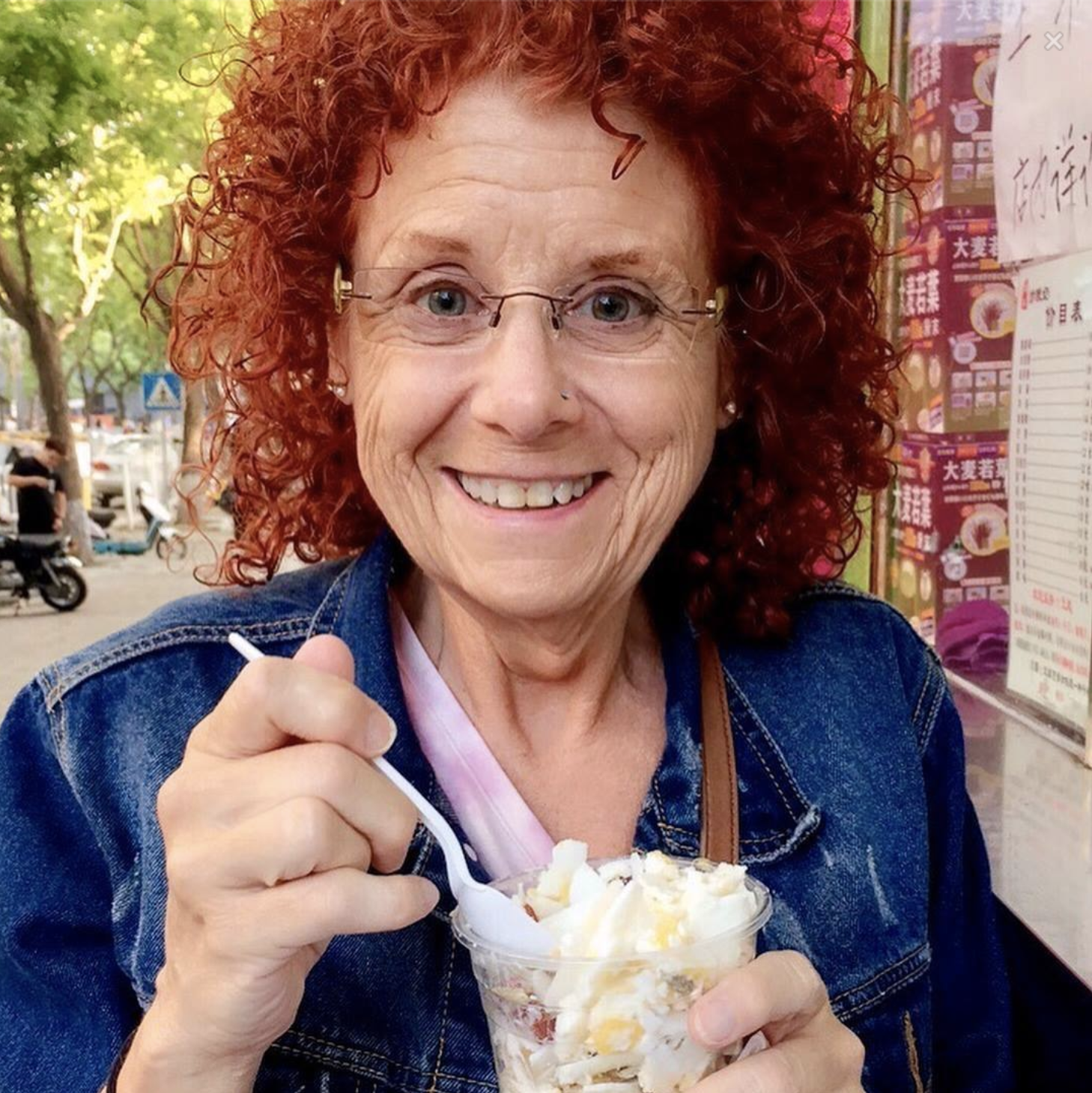 Who says Christmas ornaments are just for Christmas? If you can't bear the thought of your ornaments not seeing the light of day until next Christmas, get creative and turn them into a colorful Valentine heart on an old screen.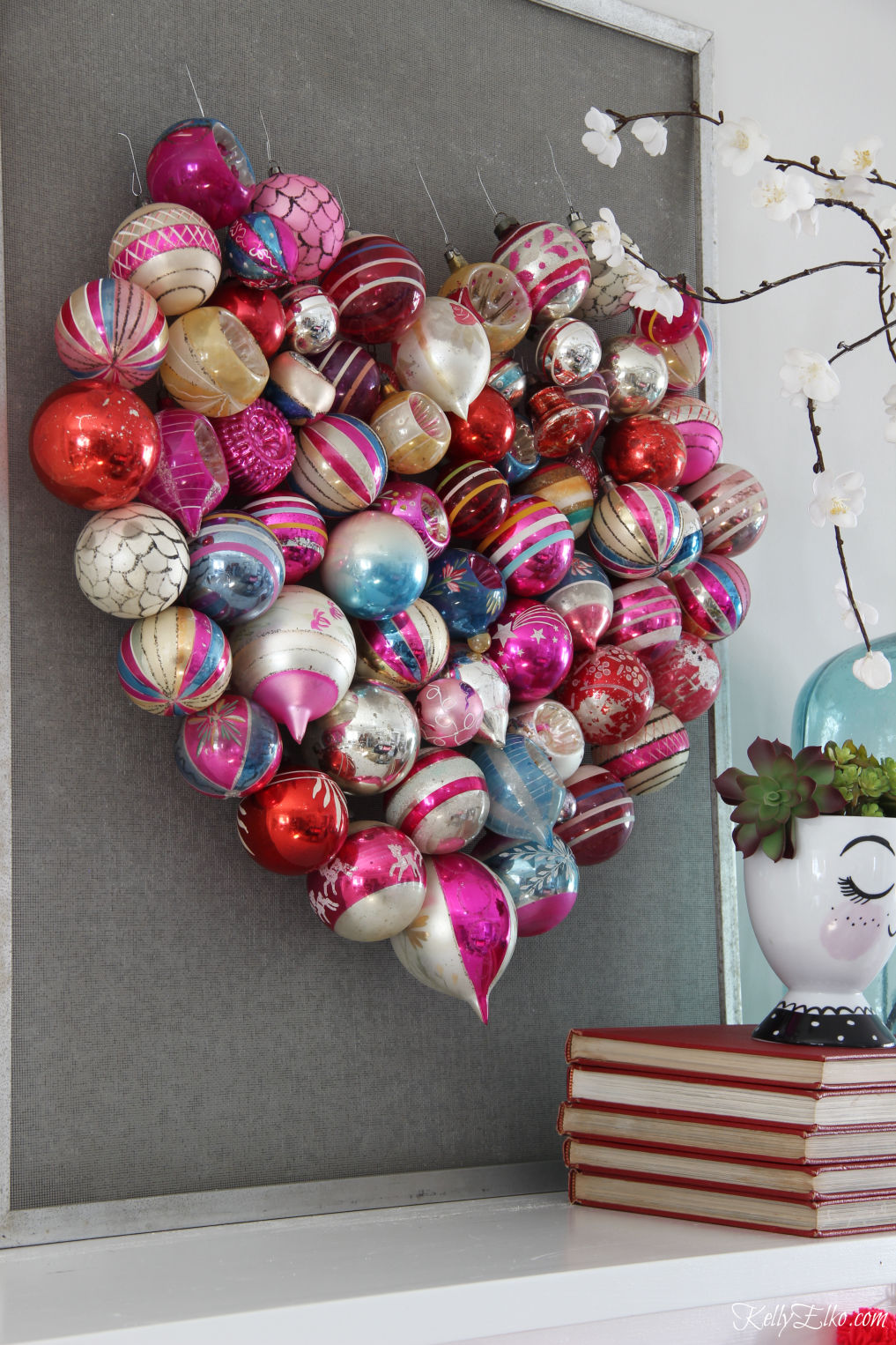 This post contains affiliate links which means if you purchase something, I will earn a small commission at no extra cost to you.
It's not easy being green and I was the only green on this bench with Jim Henson and Kermit the Frog on the University of Maryland campus!
As I get older, I like buying fewer, better quality things. I practically live in these comfy quilted leather boots that are on major sale right now and this purse is a favorite because it's so lightweight and water resistant and I love that I can wear it as a cross body bag too.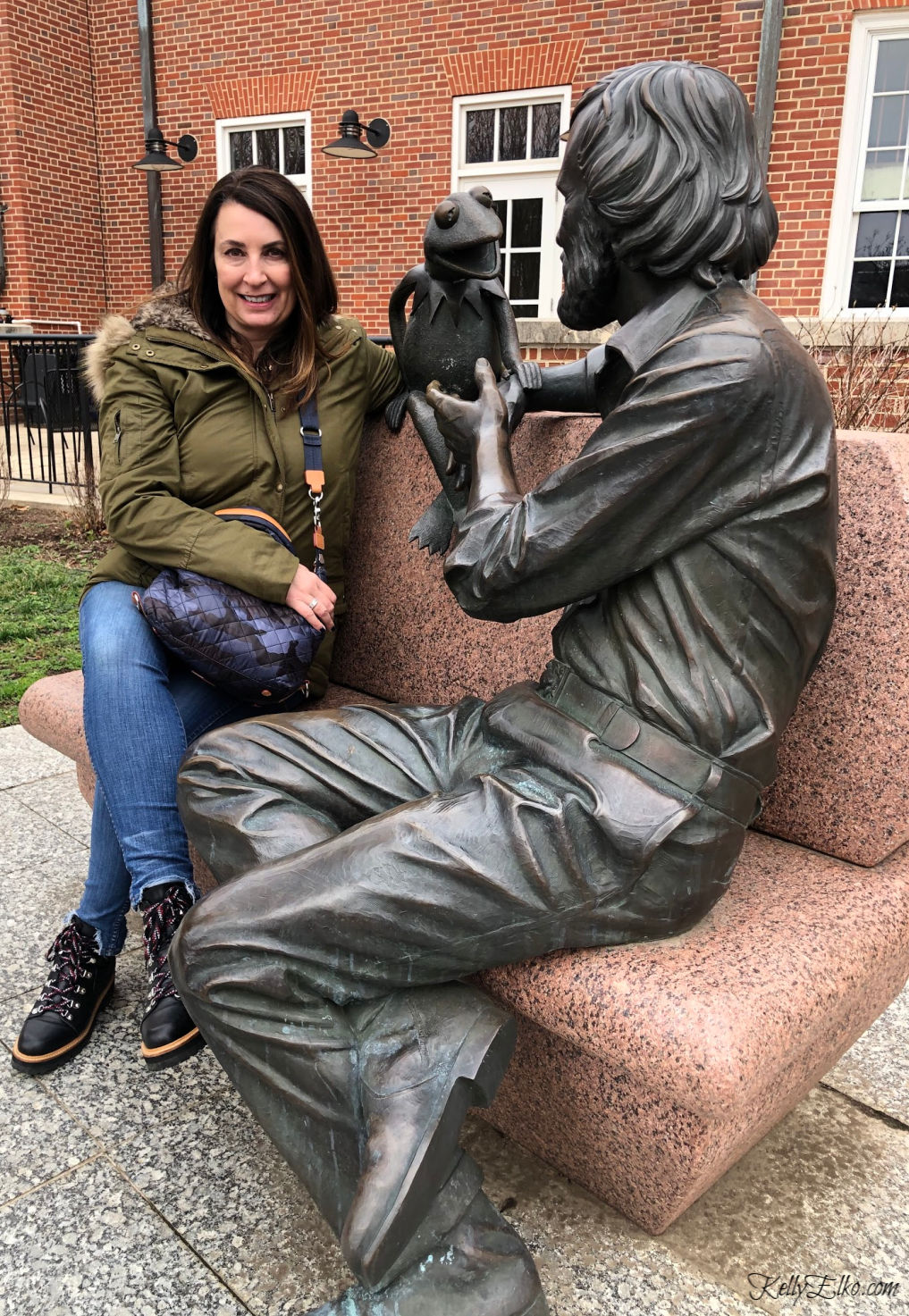 I tried to resist buying this wood tray but I eventually broke down and had to have it! At 20 inches, it's the perfect size to make beautiful charcuterie boards and I love the raised edges so nothing falls off when I take it to parties.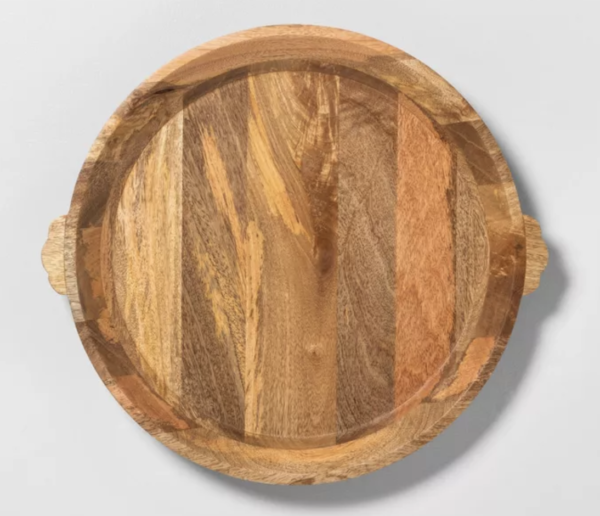 WW -Cheese boards are all fun and games until you have to step on the scale! I gained back the 2.2 lbs I lost last week! I'm still down a total of 1.6 lbs from my starting weight but haven't been tracking my food as much. Maybe those cheese boards need to turn into veggie trays!
P.S. If you love Anthro as much as I do, they are having a big 20% off sale on clothes, shoes and accessories plus all sale is an extra 40% off!