Vintage Modern Mantel & The Mystery of the Vintage Silhouette
Today, I'm sharing my vintage modern mantel decor that uses a soothing limited color palette plus I'll explain my reasoning for using the things I did, why they work well together, plus my tips for creating your own one of a kind look using your favorite things. I also need your opinion on a thrift store find I have and whether I should try and reunite it with its original owner!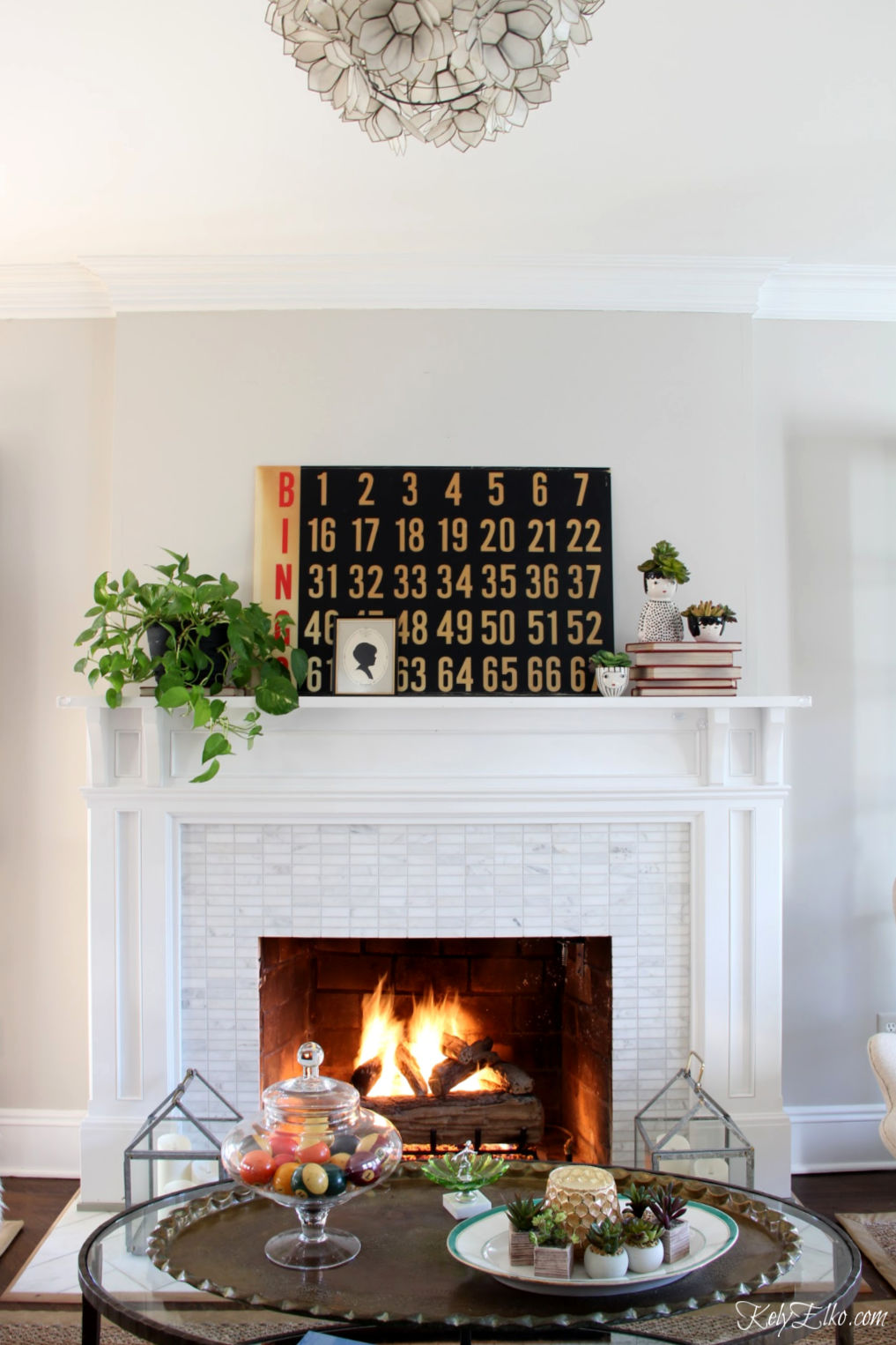 Having a nice clean slate means it's time to get creative with winter decorating and I like to start with one major focal point. For me, that's my mantel. When my Christmas decor came down, I was left with a blank space which is the perfect way to start.
It's all about visual balance when it comes to decorating. That doesn't mean both sides of the mantel have to mirror each other, they just need to be pleasing to the eye. Play around with different displays and try using things like books to add height and weight.
Remember the bingo signs from my October Thrifting Diaries I scored a couple of months ago? Well, I'm happy to finally be able to display one. I obviously have a thing for things with words, numbers or faces on them so I couldn't resist these cute little face pots. A stack of books elevates them to give them more visual weight to match the plant on the other side.
This post contains affiliate links which means if you purchase something, I will earn a small commission at no extra cost to you.
Plants make everything better and brighter especially in the dead of winter and I love the way the leaves of this super easy care pothos plant trail down. I was going to put it in a colorful pot but I like the way the plastic black pot fades into the background. I love layering things and the little silhouette adds more interest.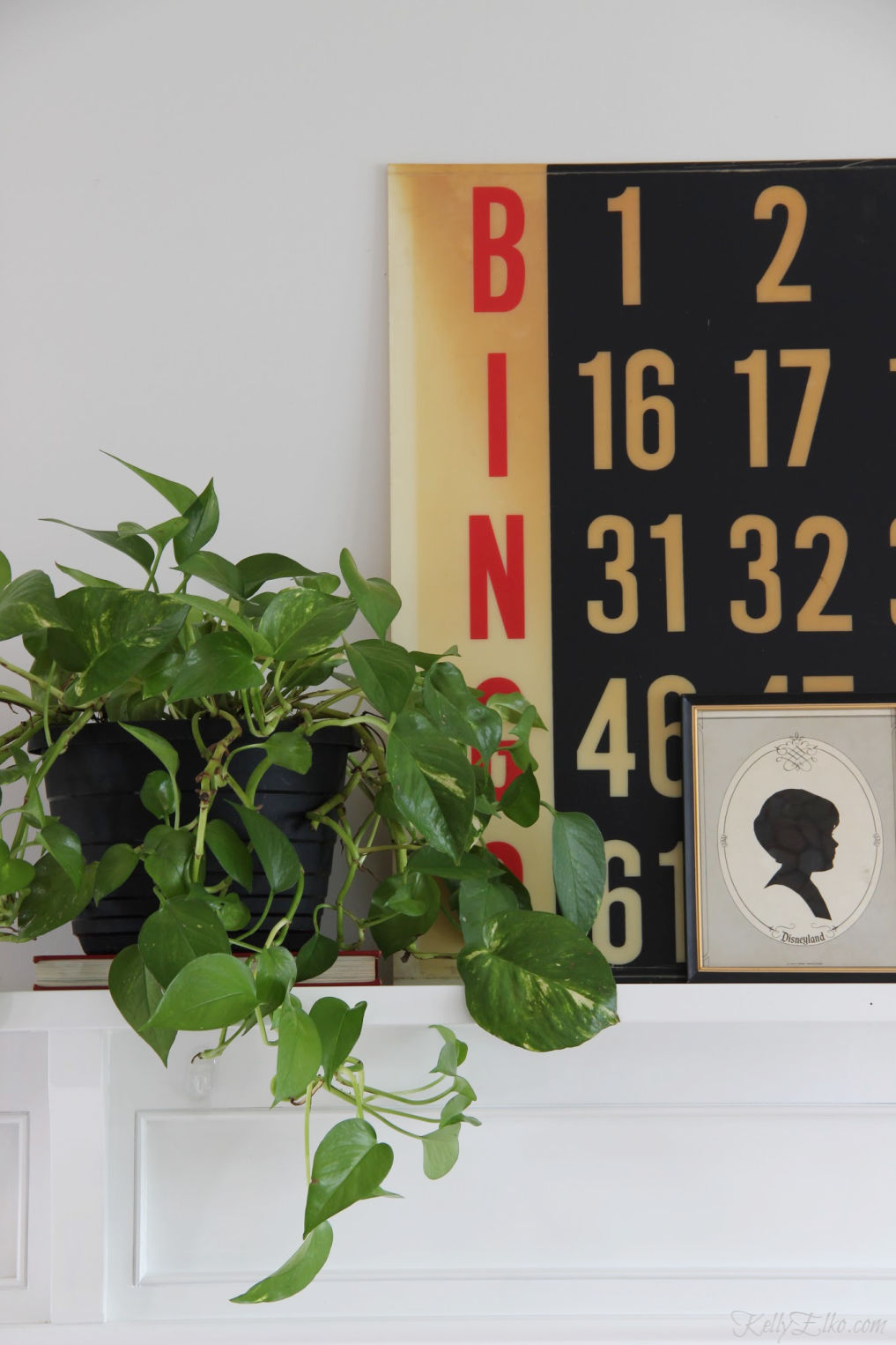 Adding a few green succulents to the face pots carries the green across the mantel plus I added more succulents to the coffee table below.
Now let's talk about the embarrassing true story of how for years, I have thought a little girl was my husband! I truly believed that the silhouette art was my hubby when he was a kid. We were all sitting in front of the fire the other night and I mentioned it being my hubby and he said it isn't him! I swore up and down, left and right, that it was him and even remember his mom giving it to me. To end our bickering, my daughter got up, turned the frame around and saw that what I thought was my husband is actually a little girl who had her silhouette done at Disney in 1968!
Now I can understand why a number of witnesses to the same crime can have so many different recollections of what really happened!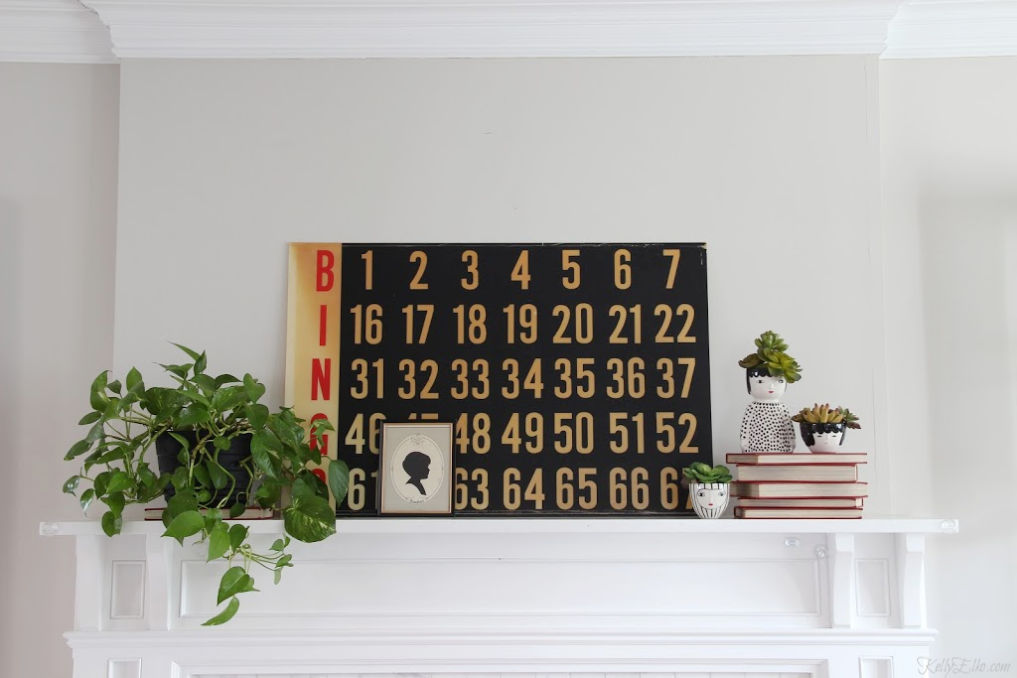 I always like to add a few things to the hearth and just took the candle filled lanterns that were on my Christmas mantel and moved them down to the floor.
Shop the Look




I played around for awhile to get a result that I was happy with so don't think this comes easy for me. It's all about trying different things until you come up with something that makes you happy!
P.S. My daughter searched for the silhouette girl on Facebook and thinks I should message her so we can return the silhouette to her! What do you think?