Love to cook? Here is my list of must have kitchen tools that every home cook needs. These are things that you will reach for again and again on a daily basis. No kitchen is complete without everything on this list.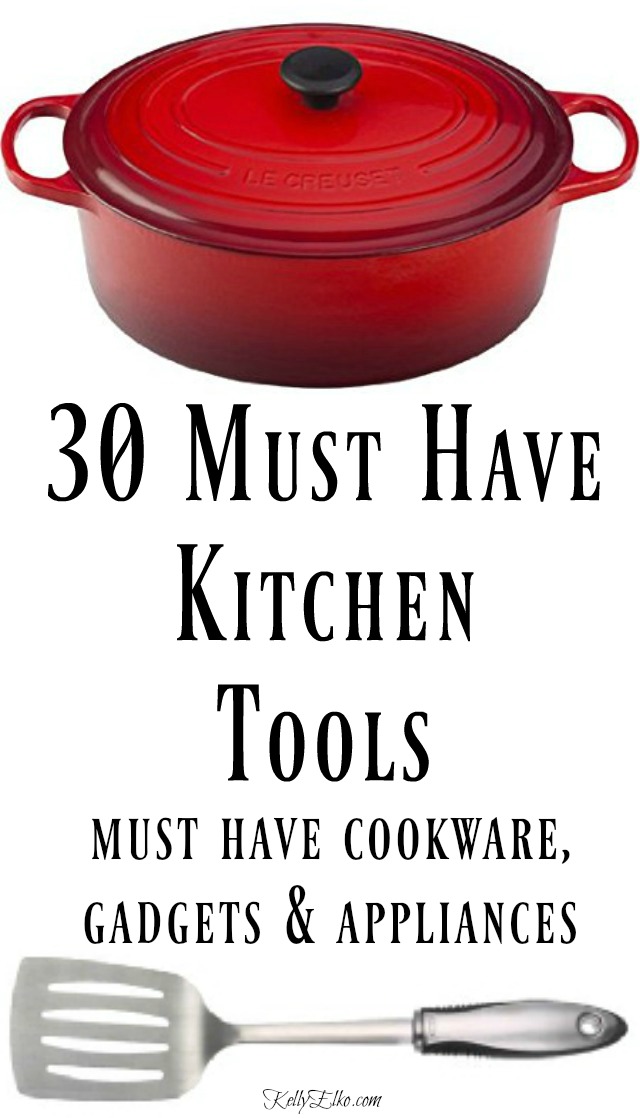 When I was a newlywed, I did not cook, I didn't want to learn and I was content eating microwave popcorn for dinner. My husband claims he learned to cook to survive!
20 years and 2 kids later, I enjoy puttering around the kitchen and find having the right tools makes it a much more pleasurable experience.
Simple things like a good knife and a quality set of pans that conduct heat evenly are life changing. I wondered why my rice always burned in those cheap pots!
Here are my must have kitchen essentials (scroll to the bottom of post to see this list in photos) …
post contains affiliate links
1) Chef's Knife – a good quality chef's knife makes chopping a breeze. Do not put your good knives in the dishwasher and make sure they remain sharp (either do it yourself or take it to be sharpened when it starts to dull).
over time, you can add a paring knife, carving knife and serrated knife
2) Cookware – I love my All-Clad cookware that was a gift from my mother in law. We have added pieces over the years. They are pricey but last a lifetime.
affordable alternative cookware
I also love my Dutch oven and it comes in lots of fun colors – perfect for making roasts, stews, chili and soups and more.
It's so pretty that it always sits right on my stovetop.
3) Grill Pan – great for getting flavorful sear marks when you can't grill on the barbecue – I love it for chicken and beef.
4) Roasting Pan with Rack – indispensable around the holidays for roasting turkeys and chickens – it's also perfect for making beautiful roasts and the rack helps everything roast evenly and I love adding potatoes and veggies under the rack.
5) Blender – I upgraded to the Vitamix last year and haven't looked back. We use this every day to make smoothies, dips, sauces, crushing ice and it's great for making soups that come out piping hot and ready to eat.
affordable alternative blender
6) Coffee/Espresso Machine – we surprised my husband with this a couple of years ago and he and my girls love it and use it every single day. I love the fun color!
this French press makes the perfect old school cup of coffee
7) Rimmed Baking Sheets – no more burned cookies! These thick and sturdy pans are perfect for baking as well as prepping and seasoning meats.
8) Collapsible Colander – it's easy to store and I love the little handles that slide out so you can hang it over the sink.
9) Toaster – no more burned toast when you can peer though the little glass window and watch your break toast to perfection. I love the little slide out crumb tray for easy cleanup and the defrost setting for frozen bagels and breads.
splurge toaster – I love the retro look and the fun colors
10) Immersion Blender – blend, mix, whip, puree right in the bowl or pot!
11) 8 Cup Food Processor – chop, slice, shred, mix quick and easily with this affordable, well sized (won't take up tons of room) kitchen essential.
12) Potato Masher – this handy gadget makes mashing potatoes a breeze and it's so much better than mashing with an electric mixer (the potatoes are less starchy this way).
13) Meat Thermometer – never overcook meat again! Stick it in and get a read out within seconds.
14) Tongs – silicon tips mean no scratches on your pans and I love the fun color. From cooking to serving, I use these every day.
15)  Nesting Mixing Bowls – prep, mix, serve all in these colorful, space saving bowls.
16) Angled Measuring Cup – this is genius! No more bending over to check liquid levels – just look right into the top.
17) Dry Measuring Cups – I love the color coded handles on this stainless steel set.
18) Pizza Stone – I love this extra think stone which equals crispier crust. Comes with free recipe e-book.
19) Flexible Cutting Boards – easy to chop ingredients and pour them right into the pan with these flexible boards. I like the symbols for meats veggies which means less chance of cross contamination.
20) Silicone Oven Mitts – never burn your hands again!
21) Waffle Maker/Panini Maker – it's a waffle iron but it does double duty as a great panini maker. Just butter outsides of bread, fill with you favorite sandwich fixings and press.
22) Lemon Squeezer – perfect for getting every last drop of juice out of lemons and limes and it traps the seeds too. This gets a good workout during summer margarita season.
23) Spatula – unlike plastic ones that are thick, this thin spatula can easily flip over delicate foods like omelets and hamburgers without mangling food.
24) Vegetable Peeler – I swear by this one.
25) Baking Dish – whip up anything from casseroles to lasagnas to cakes and it can go from the oven right to the table.
26) Lemon Zester/Cheese Grater – I have had really bad graters that did not work well – this one is a workhorse!
27) Whisks – perfect for making fluffy eggs or getting lumps out of gravy – colorful silicone means no scratching pans or bowls.
28) Wood Spoons – wood doesn't conduct heat which means you won't burn your hand on handles plus they look beautiful displayed in a container near the stove.
29) Spiralizer – perfect for making "zoodles" or zucchini noodles, plus it's small and cheap and fits in a drawer unlike some of the huge countertop ones.
30) Cookbook Holder – holds books or tablets making following recipes a snap. I love this one that reminds me of a rustic cutting board.
and this one is on my wish list …
31) Pressure Cooker – this one is on my wish list and I think it's going to go under the tree this year! Whips up food in a snap – perfect for busy weeknights and I love that it will turn itself off automatically and keep food warm for 10 hours.