Viking Cruise Rhine River Review Part 2
Have you always dreamed of taking a European river cruise? I'm sharing my Viking Cruise Rhine River Travel Tips including favorite tours, excursions and things to do so that you have a once in a lifetime experience! This Viking cruise travelogue will help you to plan your own trip and has lots of know before you go information to make sure a river cruise is right for you.
Welcome to Part Two of my Viking Rhine River Cruise from Amsterdam to Basel, Switzerland. I'm thrilled that Viking invited me on this cruise and am happy to share my experience with you.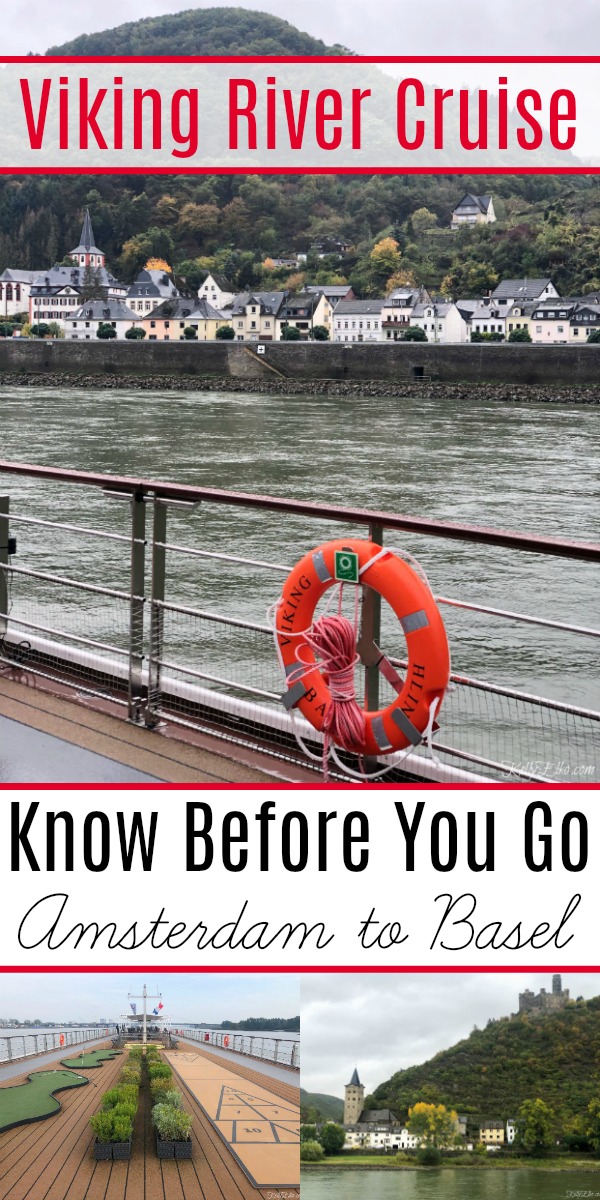 When we left off, we had just left the charming riverside town of Rudesheim, Germany. Join me as we travel to more towns in Germany and France.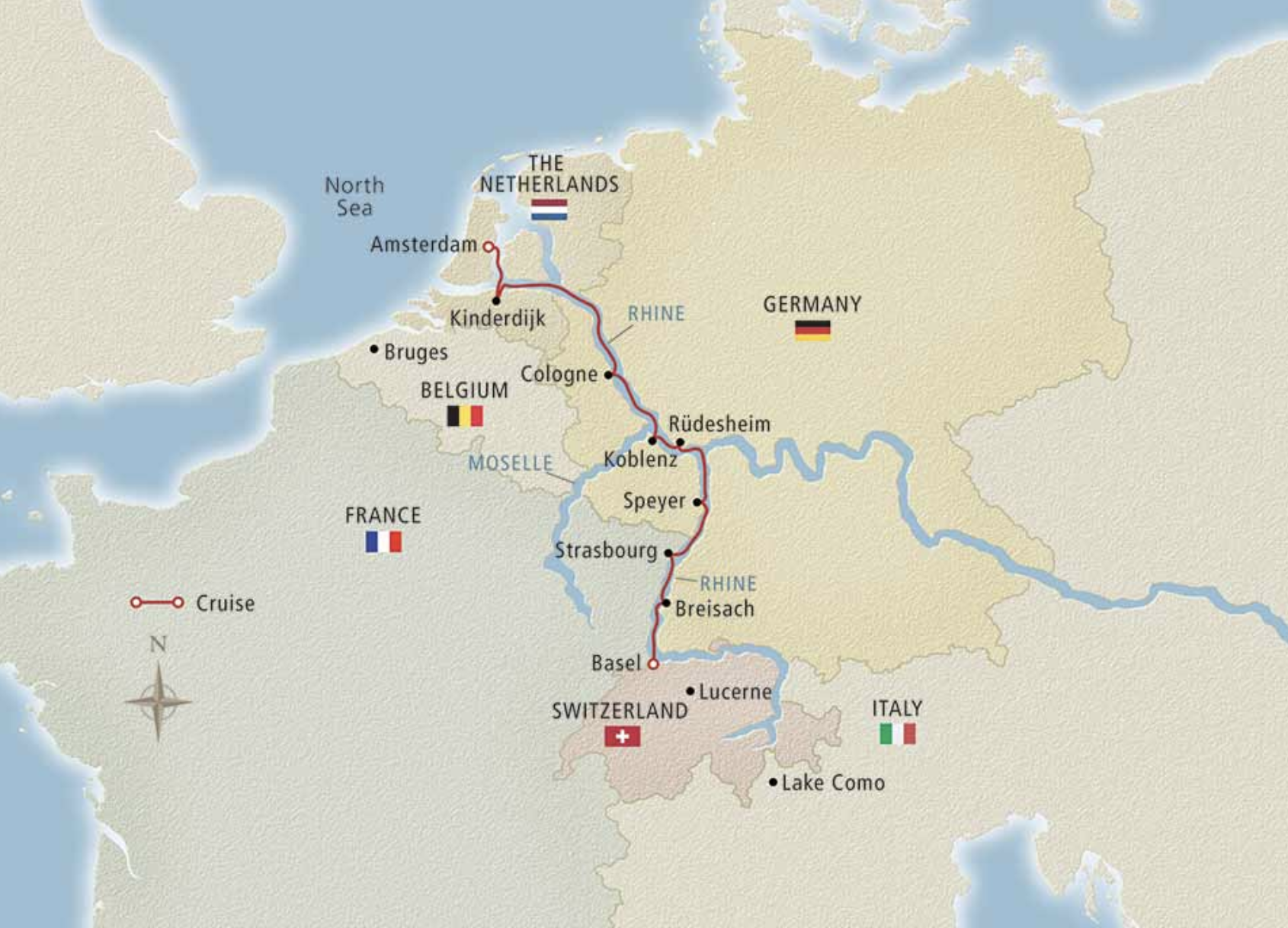 Day 5 – Heidelberg, Germany
We woke up in Mannheim, Germany and boarded a luxury Viking bus for the drive to Heidelberg. I almost did not take this included 5 1/2 hour long tour called Panoramic Heidelberg because I am not a fan of long bus rides but I'm so glad I did (and the bus ride was only about 1/2 hour)!
The best thing about taking a Viking cruise is the freedom to do whatever you want. Don't feel like leaving the boat? No problem! Stay on board and enjoy the scenery pass by while you read a book or enjoy lunch, a cocktail or a nap.
Now let's go to Heidelberg where our first stop is the imposing Heidelberg Castle perched high on a hill overlooking the old town and the Neckar River.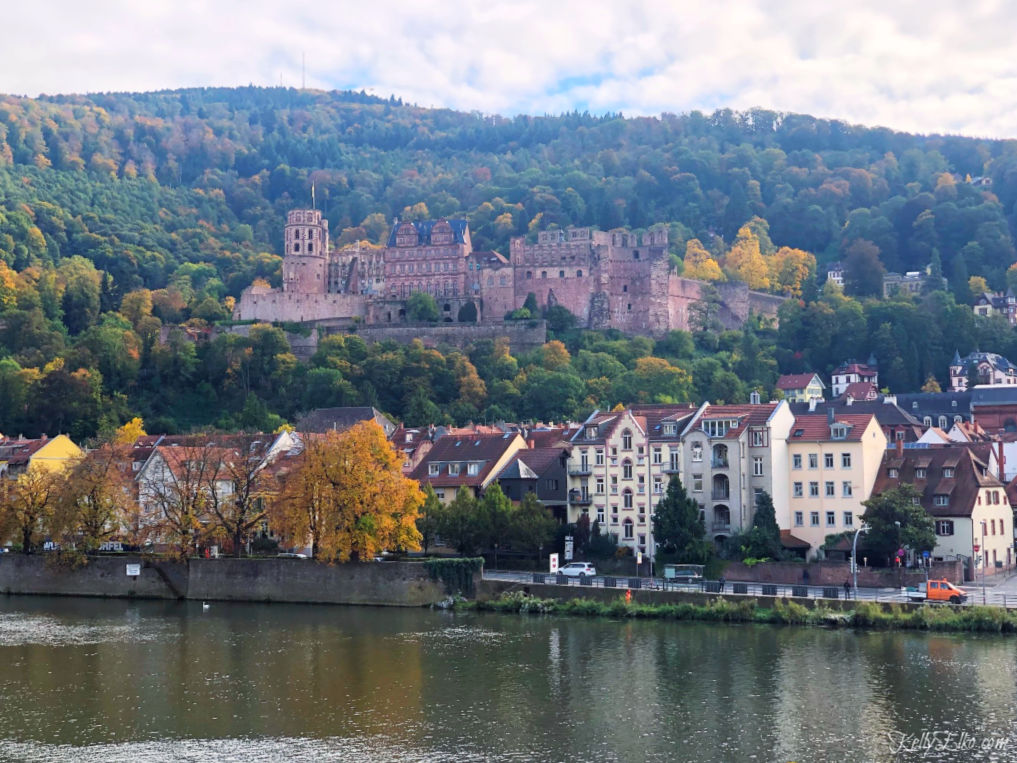 Views from the castle were breathtaking and it's said that the city is so beautiful that American forces chose not to bomb it during World War II.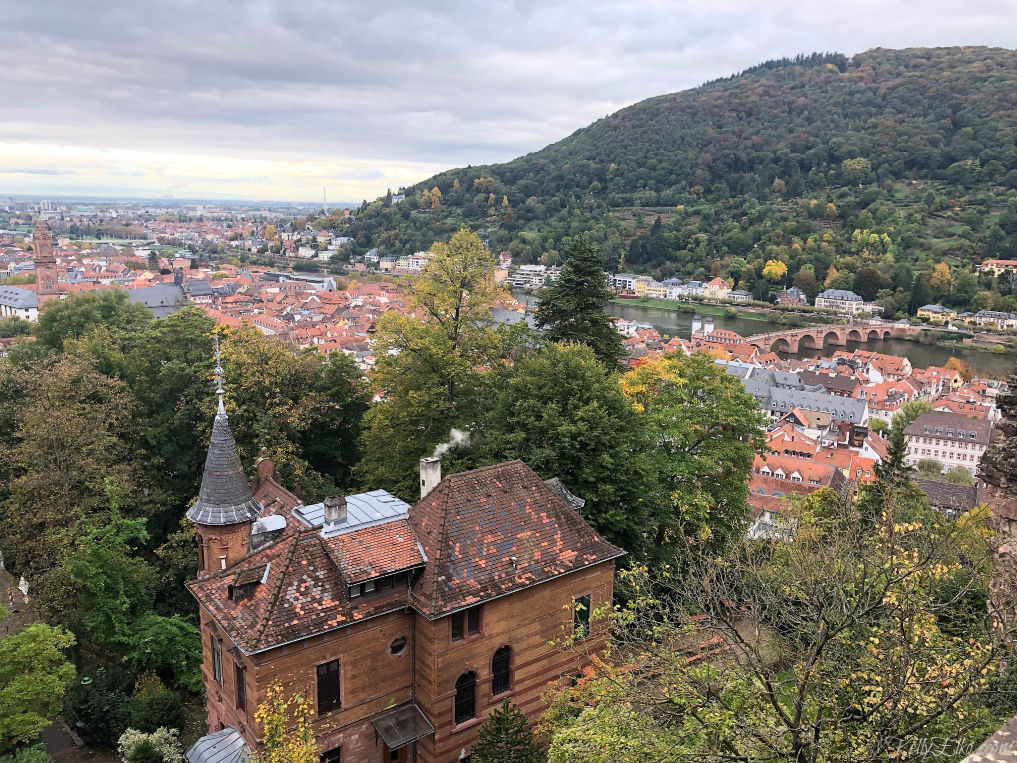 If you're lucky enough to attend Heidelberg University, you may get to stay in this frat house right next to the castle. I wonder if the frat boys do keg stands in there?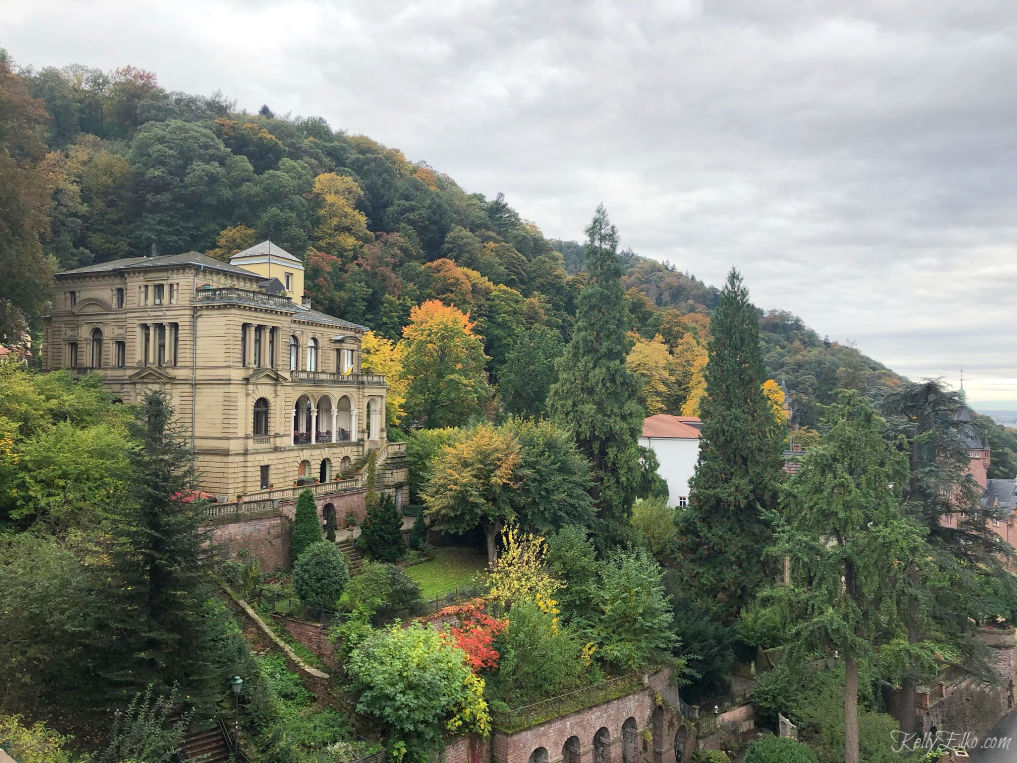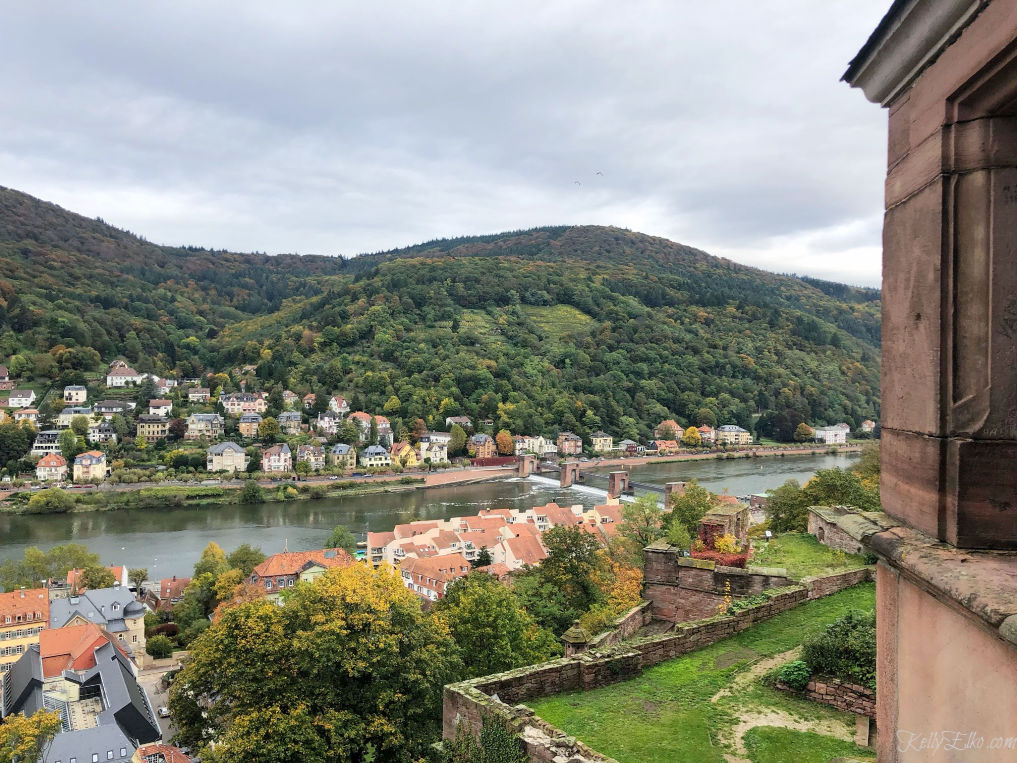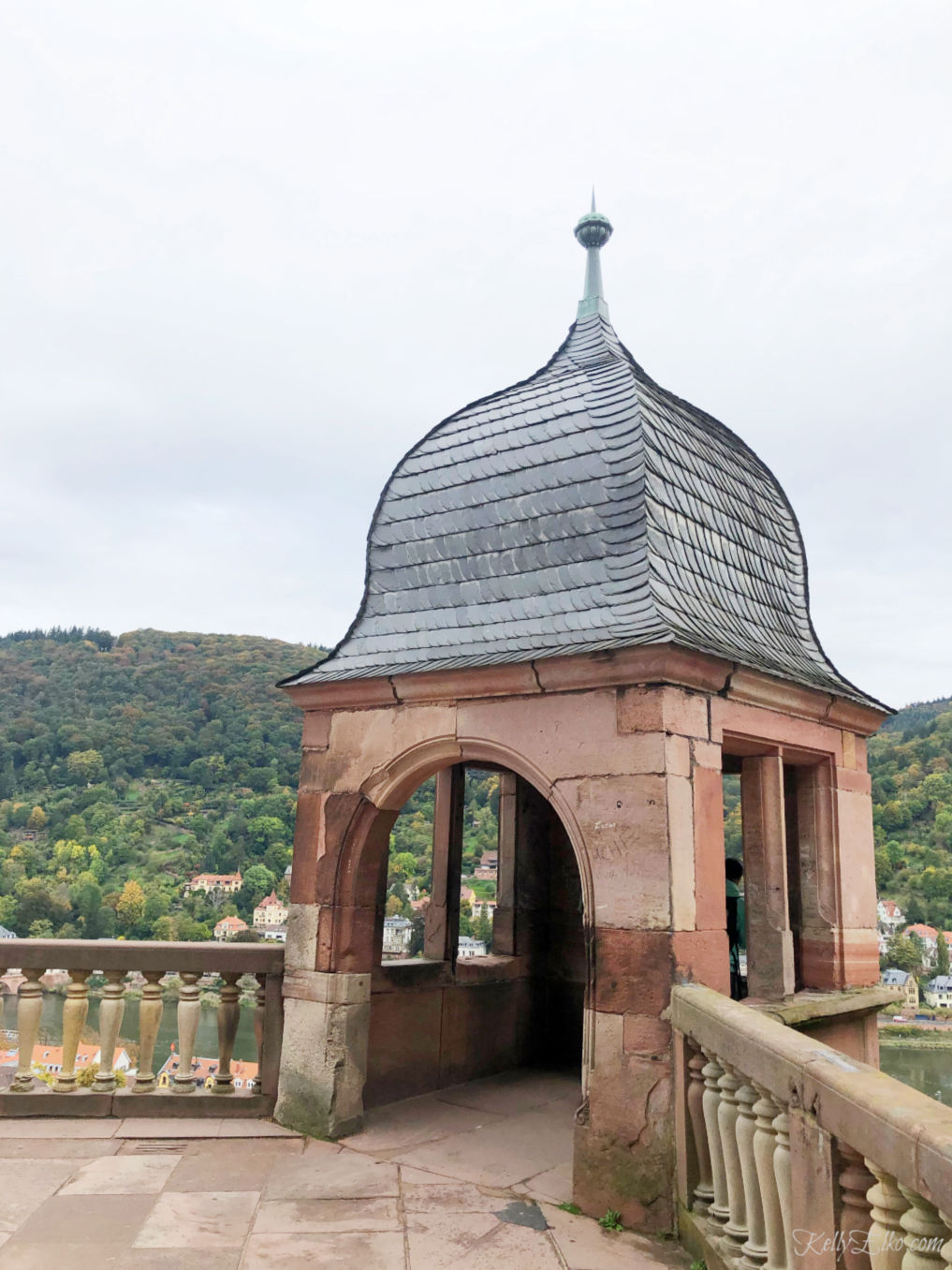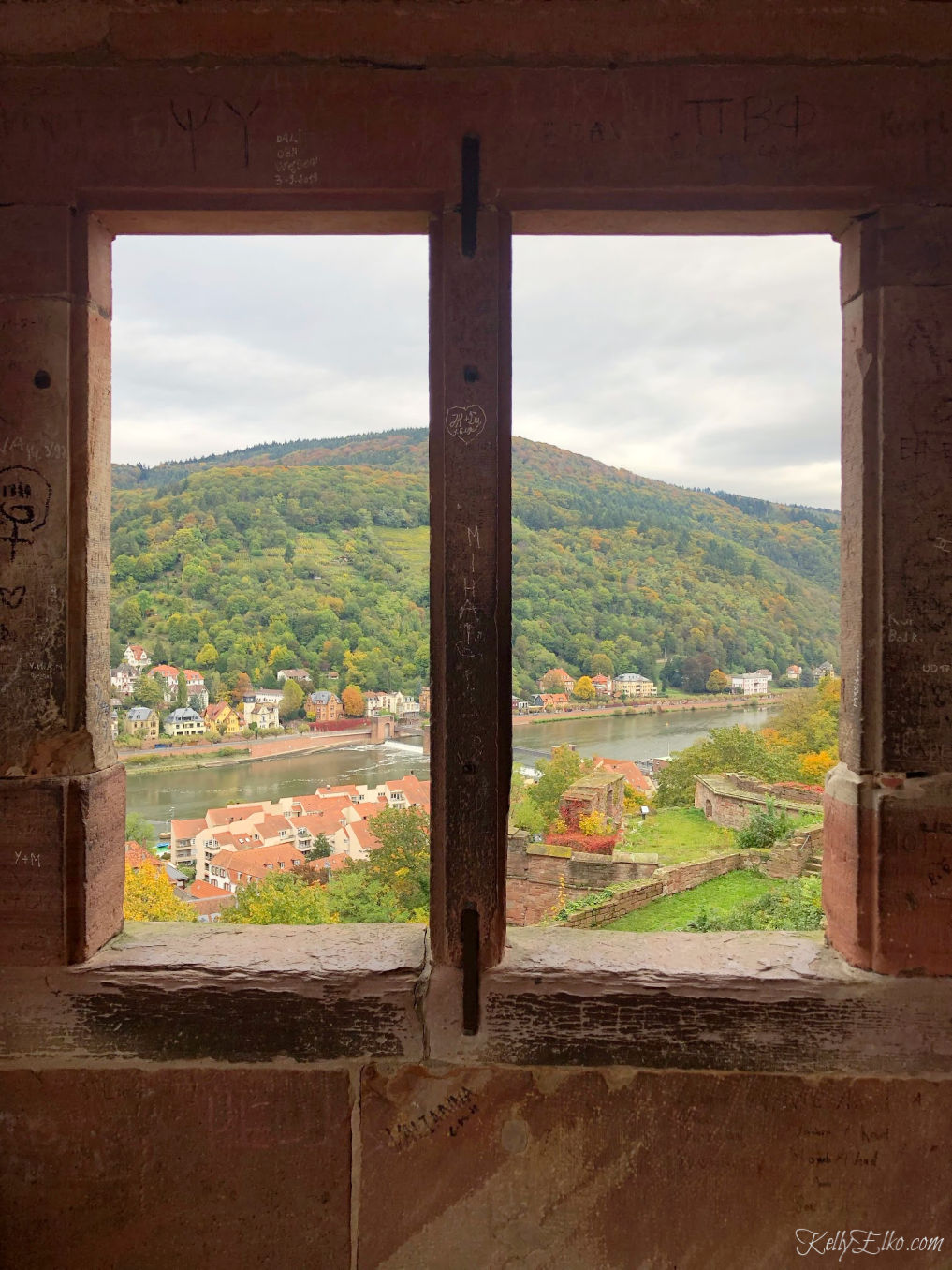 No trip to Heidelberg is complete without a stop at the world's largest wine barrel – Prost!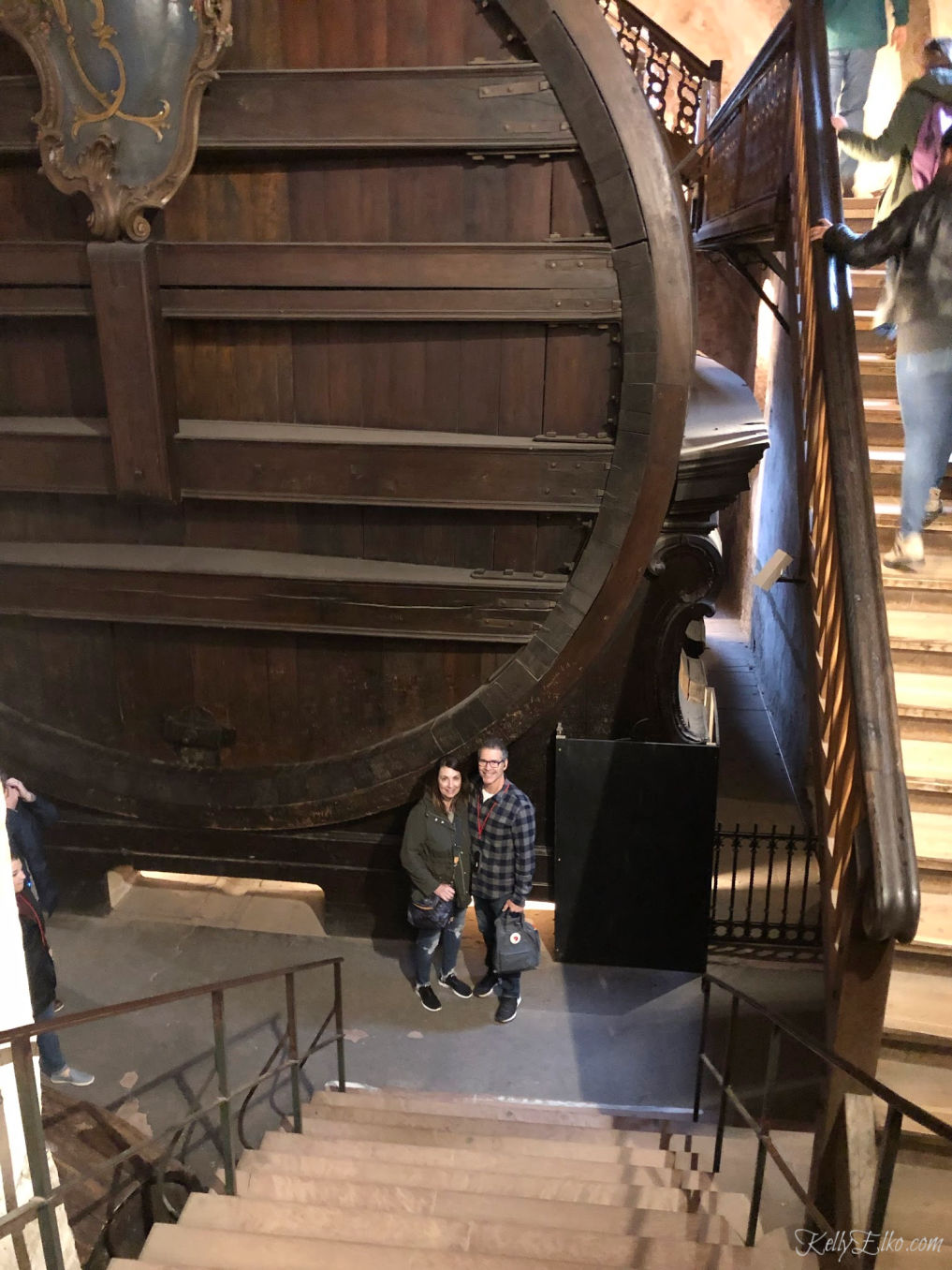 After we explored the castle, down to the old town we went where we were free to explore on our own.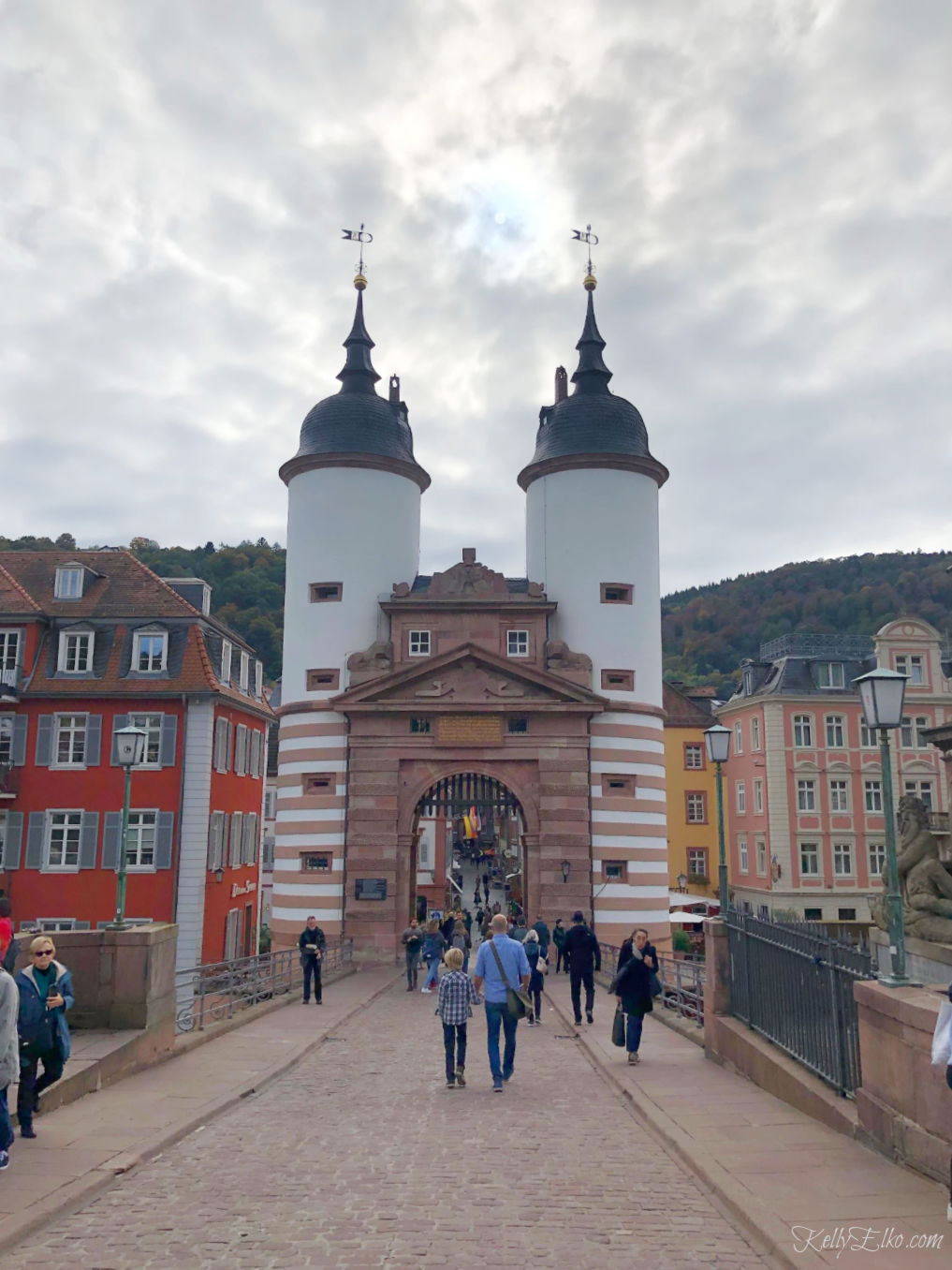 This charming town square was the perfect place to relax while enjoying the view of the castle high above.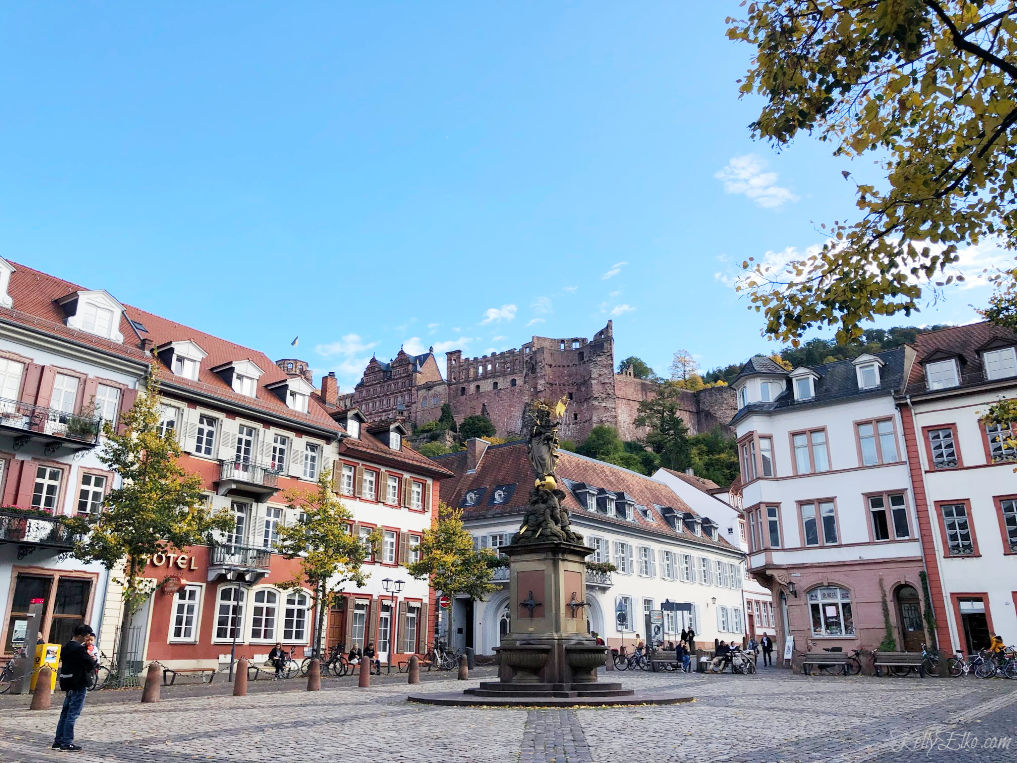 This is what discovering new places is all about. I love to get away from the crowds for awhile to wander the streets and pop into shops and of course stop for some tasty local treats. I loved that the Viking guided tours gave us time on our own to wander and do our own thing.
I couldn't resist stopping for a Schneeballen, or Snowball, which is a crunchy pastry that goes back to the middle ages. The original is dusted with confectioner's sugar but I couldn't resist this chocolate covered version!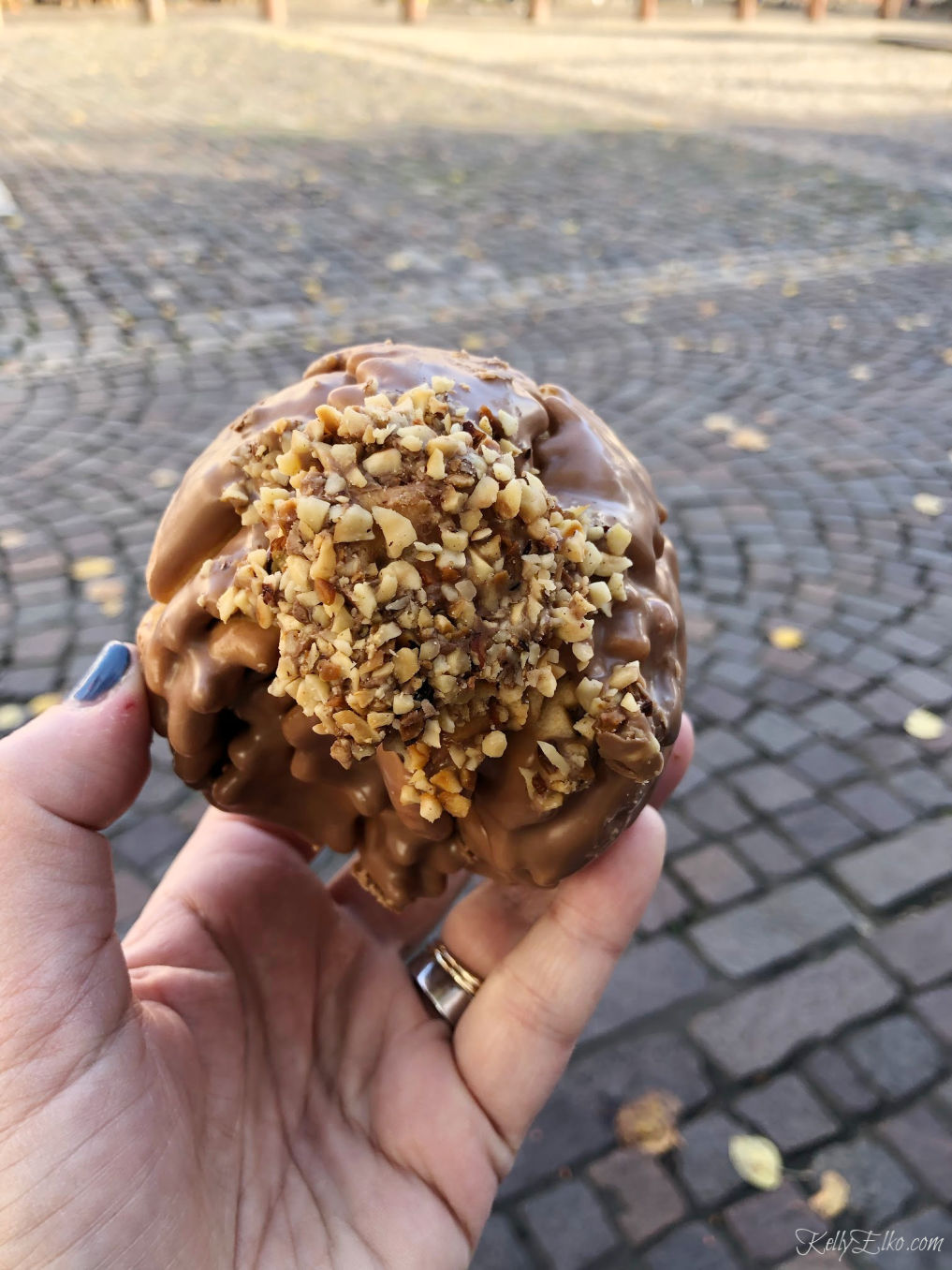 Calories don't count on vacation so an ice cream was also in order to enjoy on the bridge.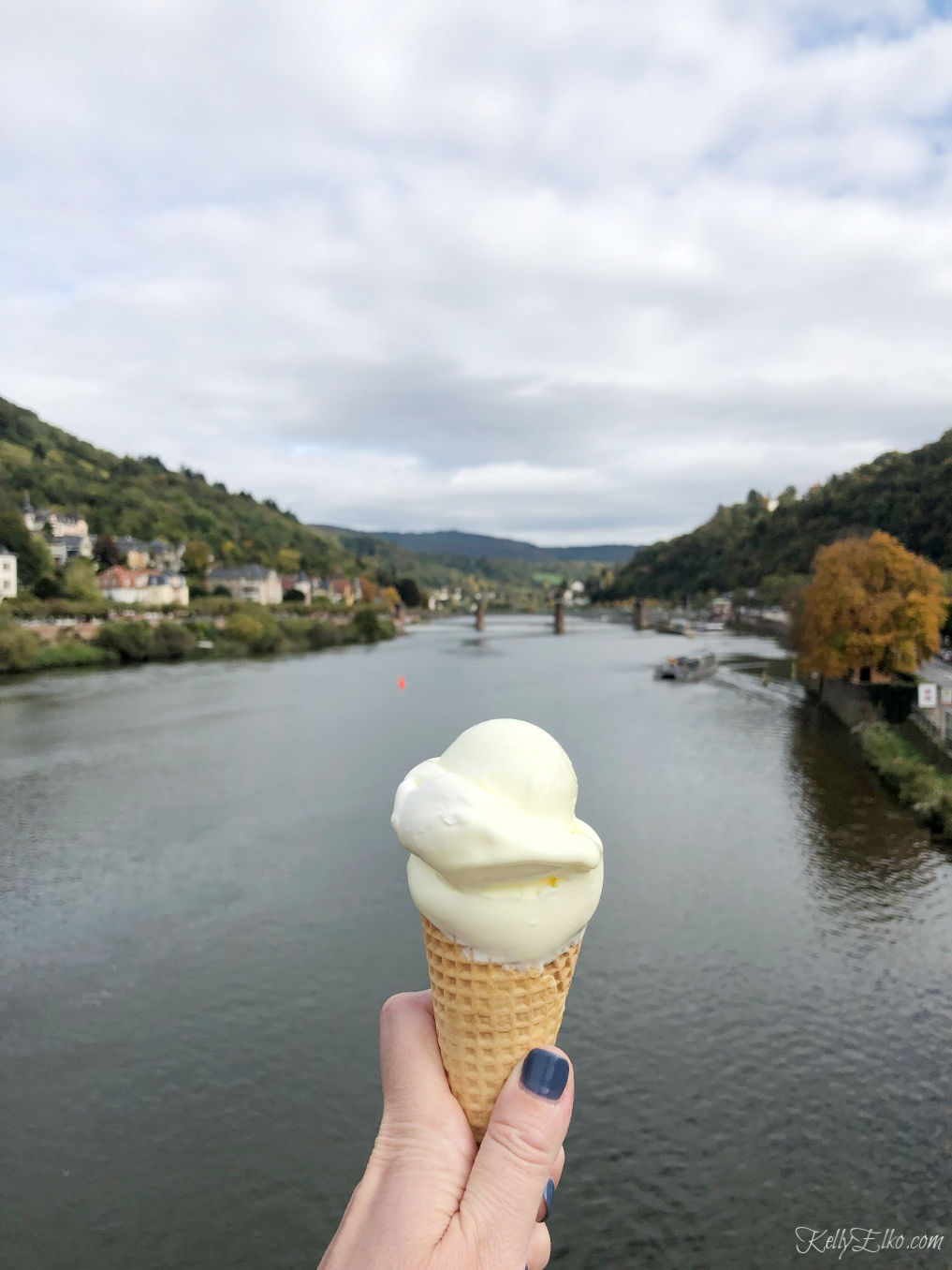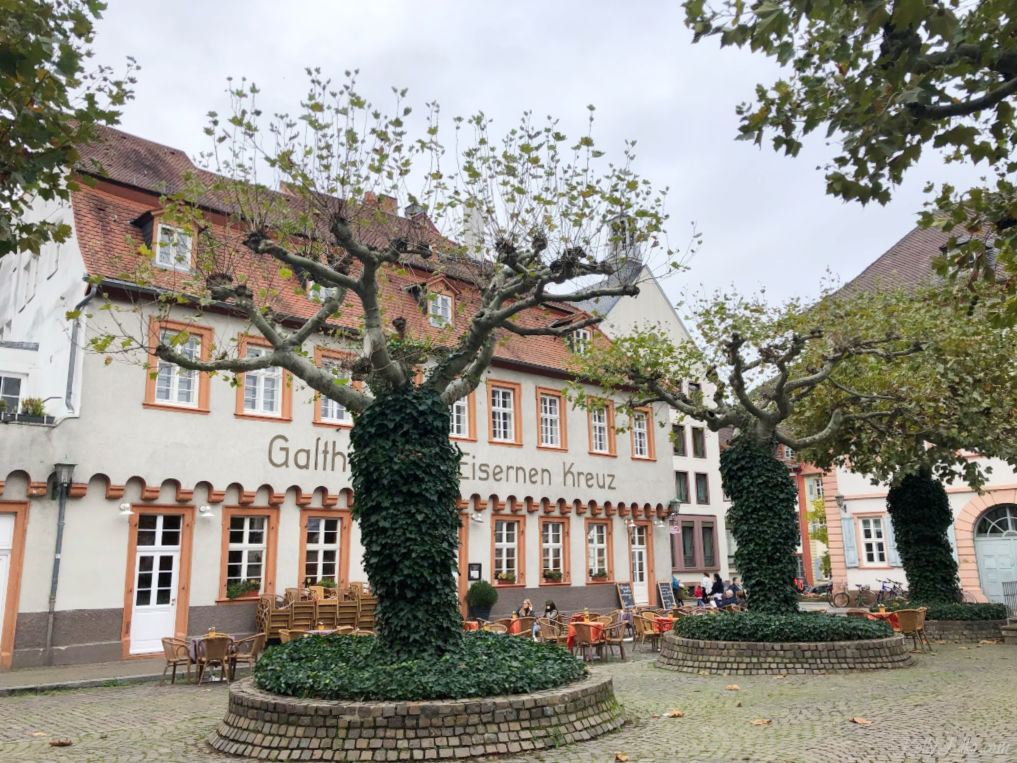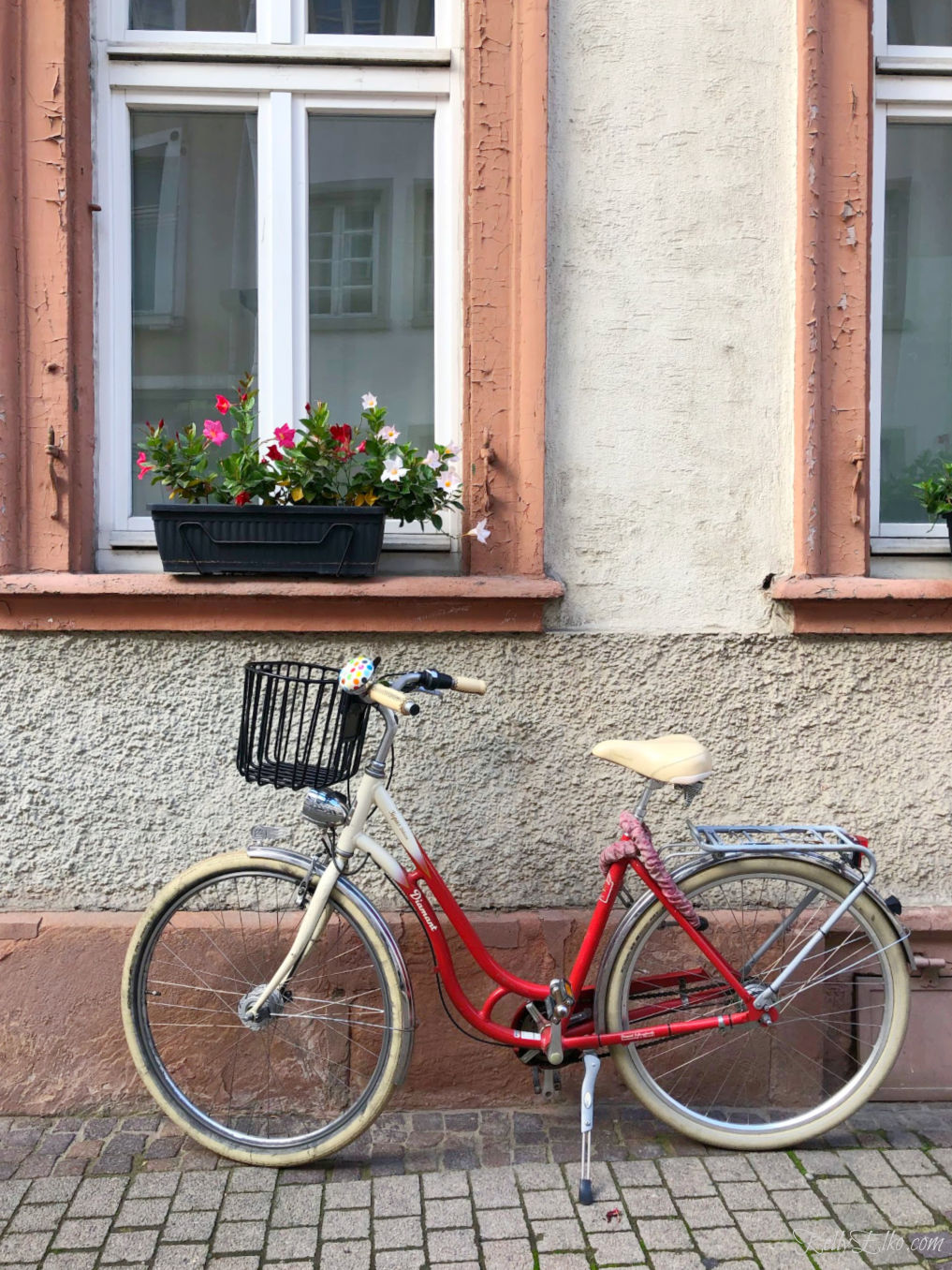 Now let's talk about the social aspect of cruising. Talk about a small world! On our first night, we sat down at an empty table for eight and three other random couples soon joined us. After intros and some small talk, we found out that my husband and the man sitting next to him not only went to the same high school together, but they also graduated the same year! I guess it's hard to recognize your old high school friend if you haven't seen him in 40 years! It was fun chatting with them during the rest of the cruise.
After a couple of nights, we found our posse! We usually met for pre-dinner cocktails then walked to dinner together. Our friends were from Los Angeles, Arizona and Connecticut and here we are gathered for after dinner drinks in the lounge and on this night, we teamed up for a fun music quiz and won!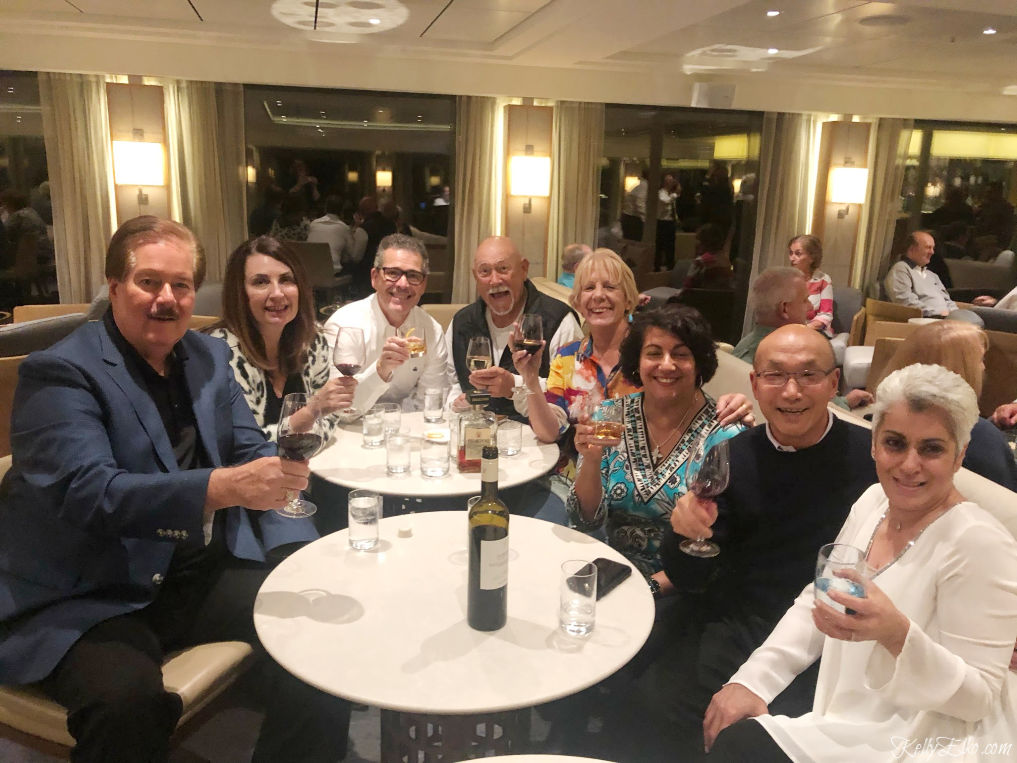 On most nights, we were asleep as we cruised through the 11 locks but one night after dinner, they announced that we were going through a lock so lots of people gathered on the top deck to take in this really cool experience! These locks are used to regulate water flow and prevent flooding and once the ship entered, it was cool to see it slowly filling with water. We were literally inches from the walls that are over 30 feet tall.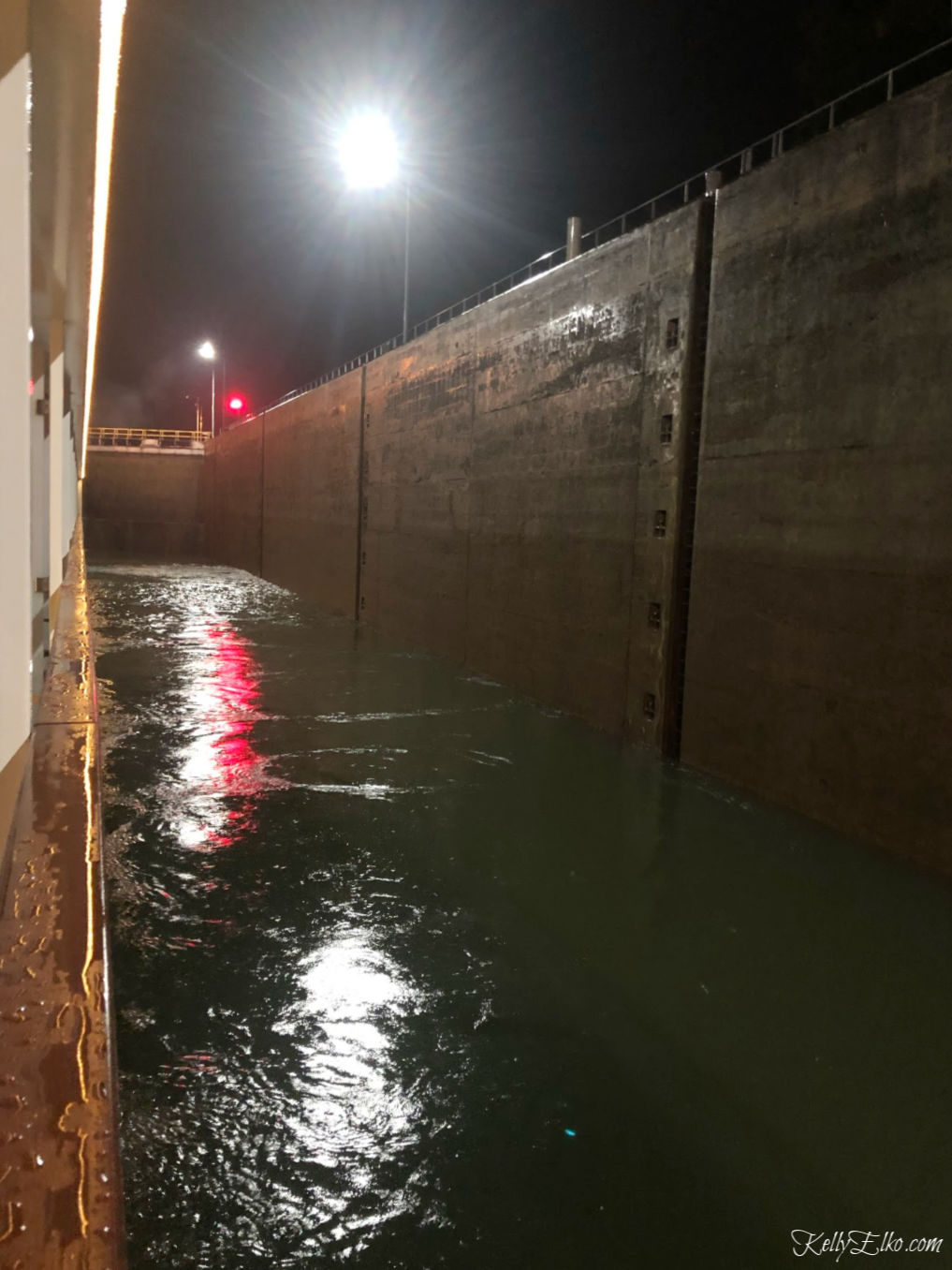 We'll close our eyes in Germany and wake up in France tomorrow. This thin sliver of the Rhine River that separates these two countries means their cultures collide! You'll find a melding of the two distinct countries in the architecture, the language and of course the food!
Day 6 – Strasbourg, France
Get ready for my day favorite of the cruise! We docked in Kehl, Germany just steps to The Europe Bridge. This bridge connects Germany to France and if you stand in the middle of the bridge, you'll be able to stand in both countries at the same time!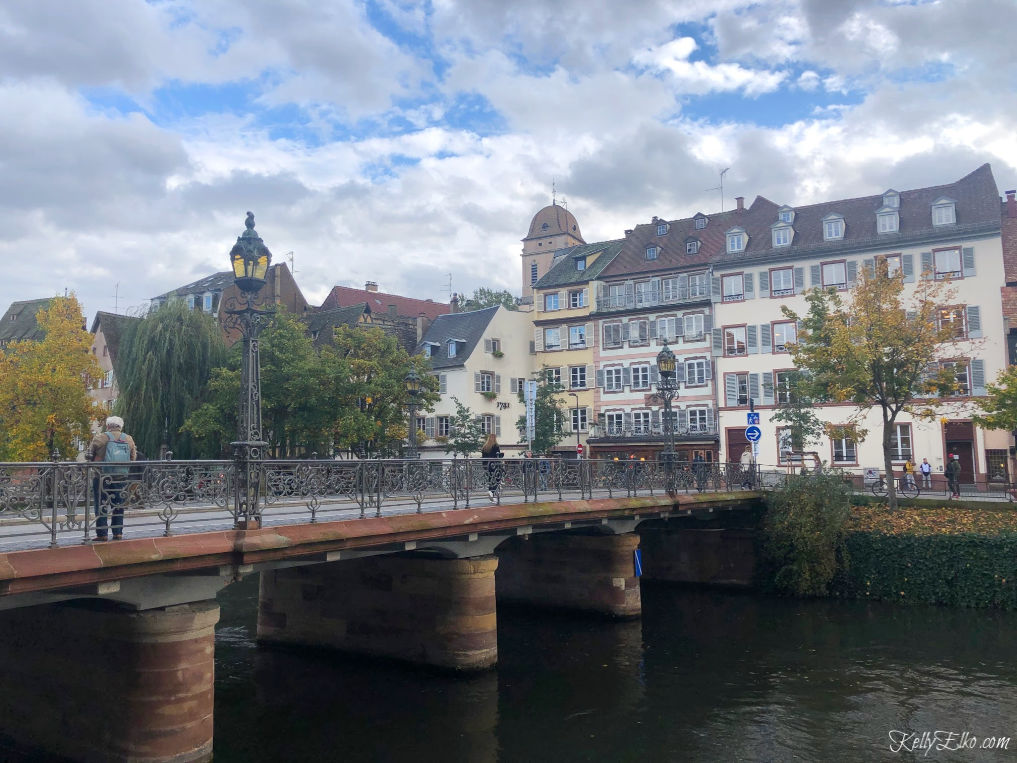 Today, instead of the included tour, we chose an optional tour called Taste the Best of Alsace. My mouth was watering as we boarded the bus for a quick 20 minute drive over the bridge and into Strasbourg where we met our French guide.
The best way to get to know a new place is through the food! From the farmer's market strawberries and sausage to the kouglof cake and the colorful marzipan, the food of the Alsace region was a feast for the senses!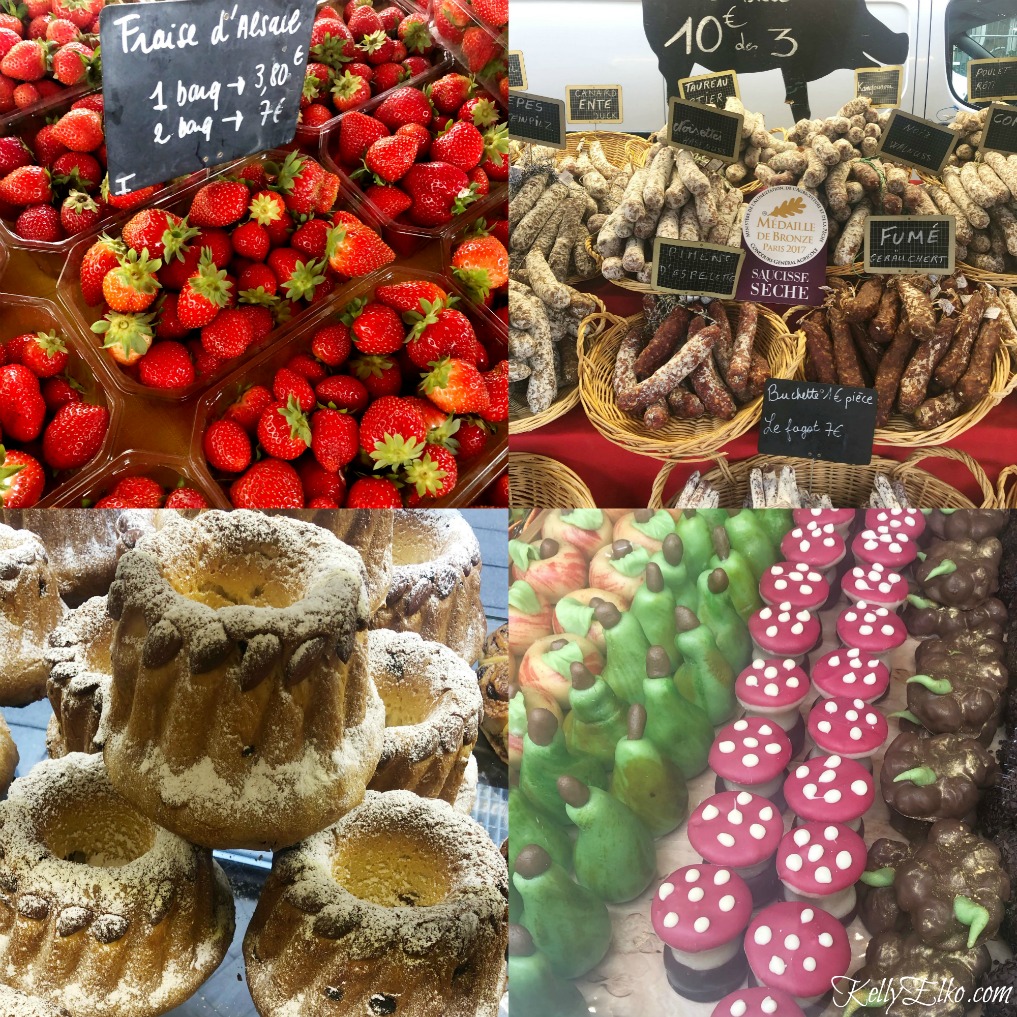 No food tour would be complete without a stop at the local cheesemonger who epitomized the part with his handlebar mustache!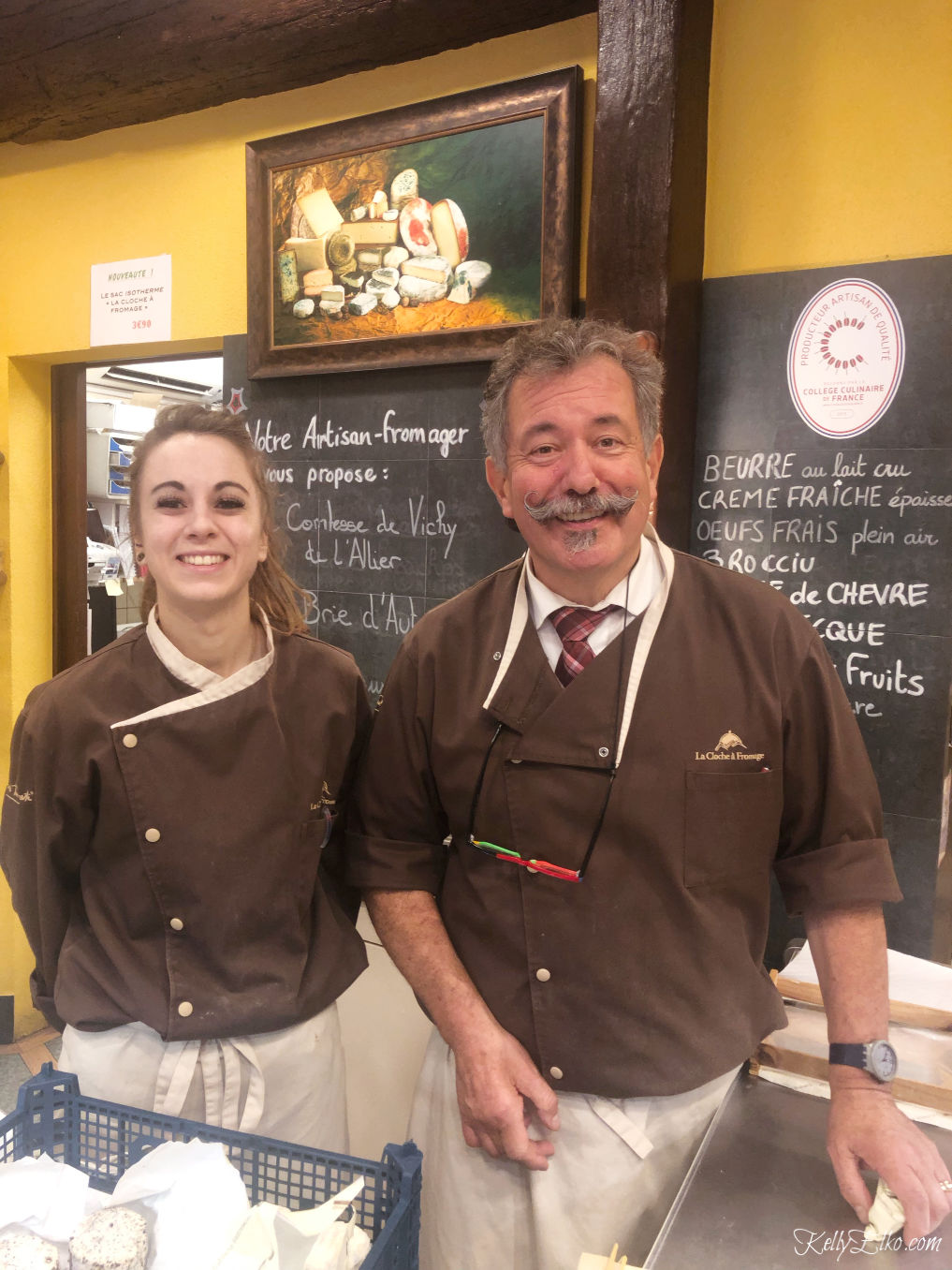 Once we gathered all of our food from the different shops, we stopped at a local wine store to enjoy our picnic combined with a tasting of local wines from the Alsace region (this area is known for their Rieslings).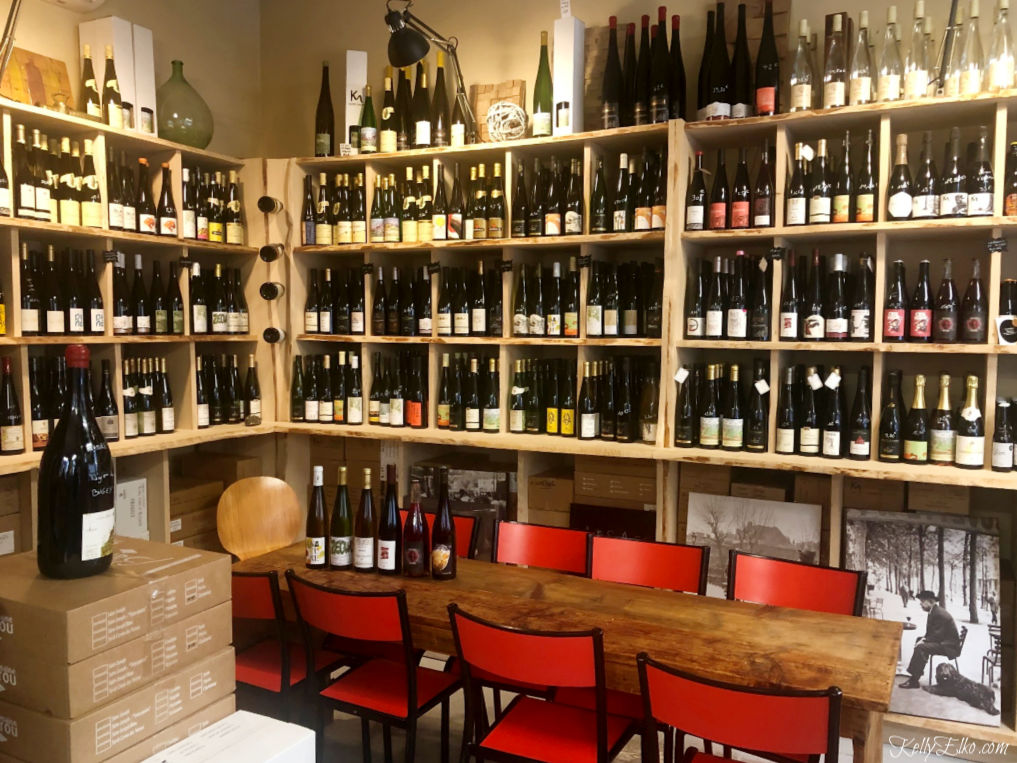 Our tour was so much more than just food.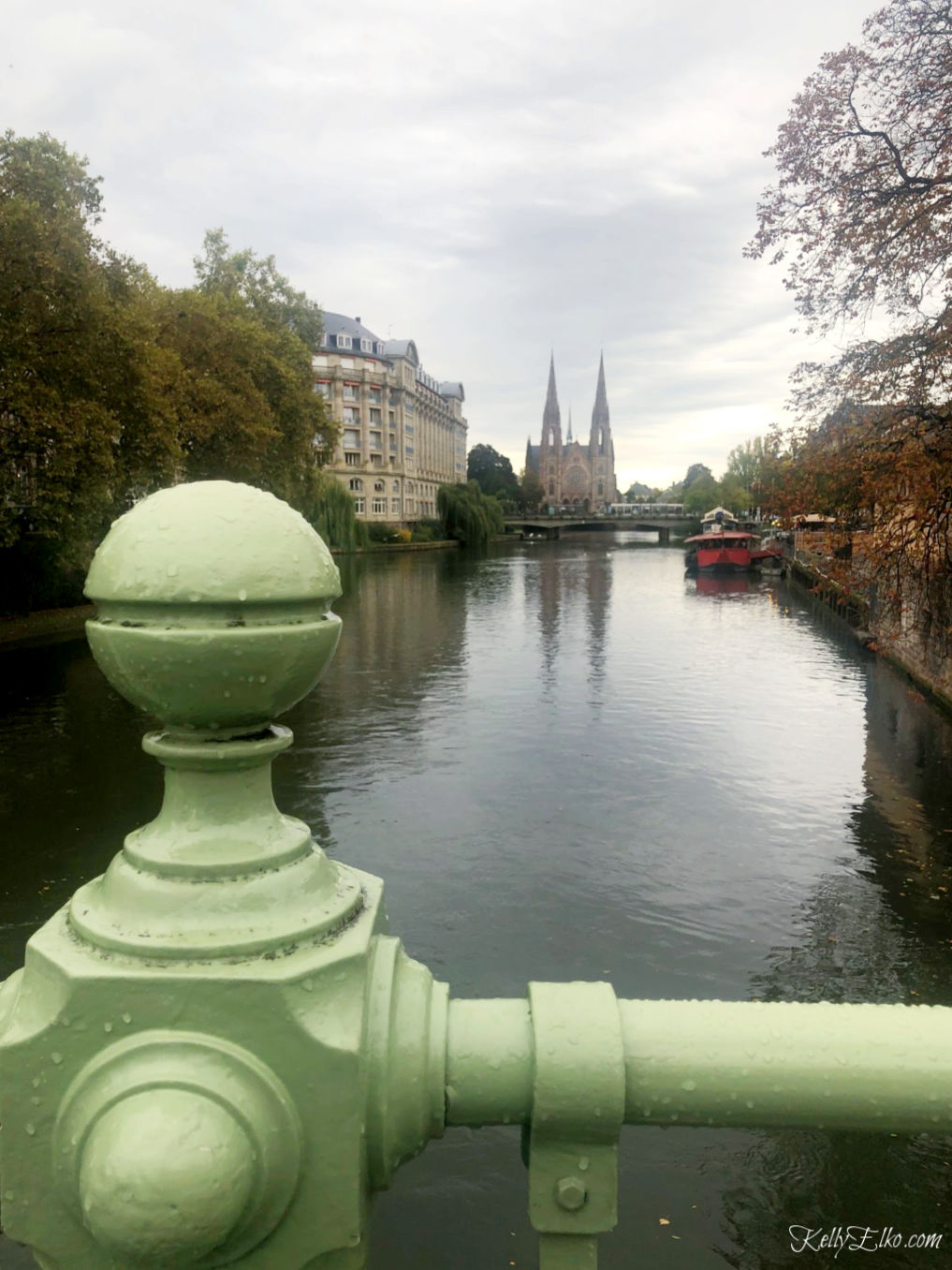 Our guide was such a wealth of information and he timed our visit to the Strasbourg Cathedral to make sure we didn't miss the astronomical clock in action! Once a day, the clock comes to life with animated figures that represent the different ages of life. Having the guide there to explain what we were seeing made witnessing this Renaissance masterpiece even more meaningful.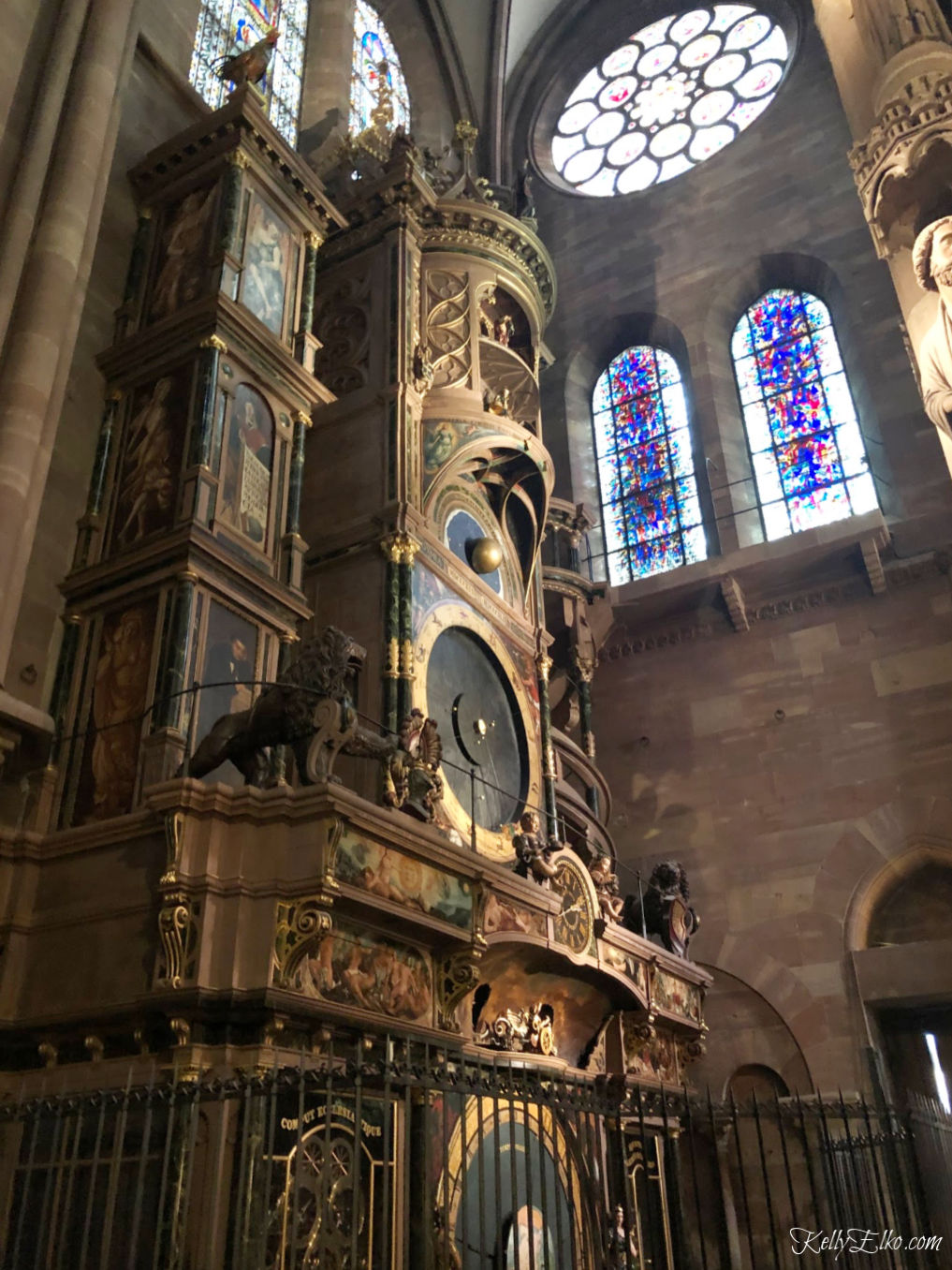 It was fun to wander over bridges and admire not only the stunning architecture but also all the little hidden gems.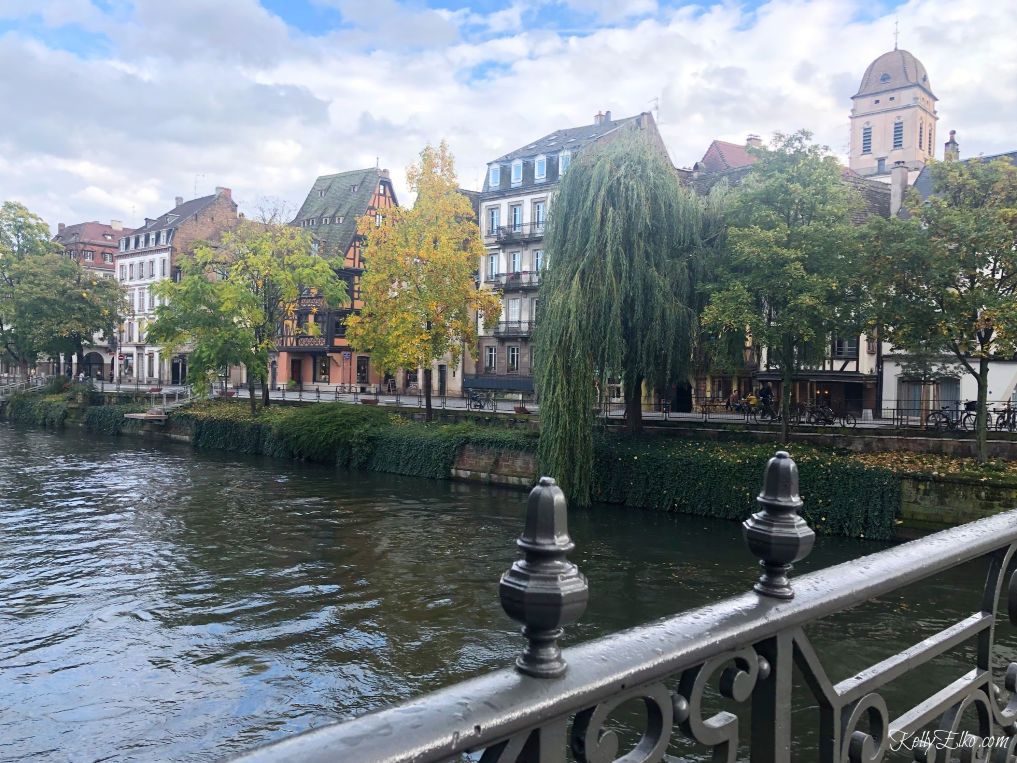 Don't forget to look up as you're wandering the streets.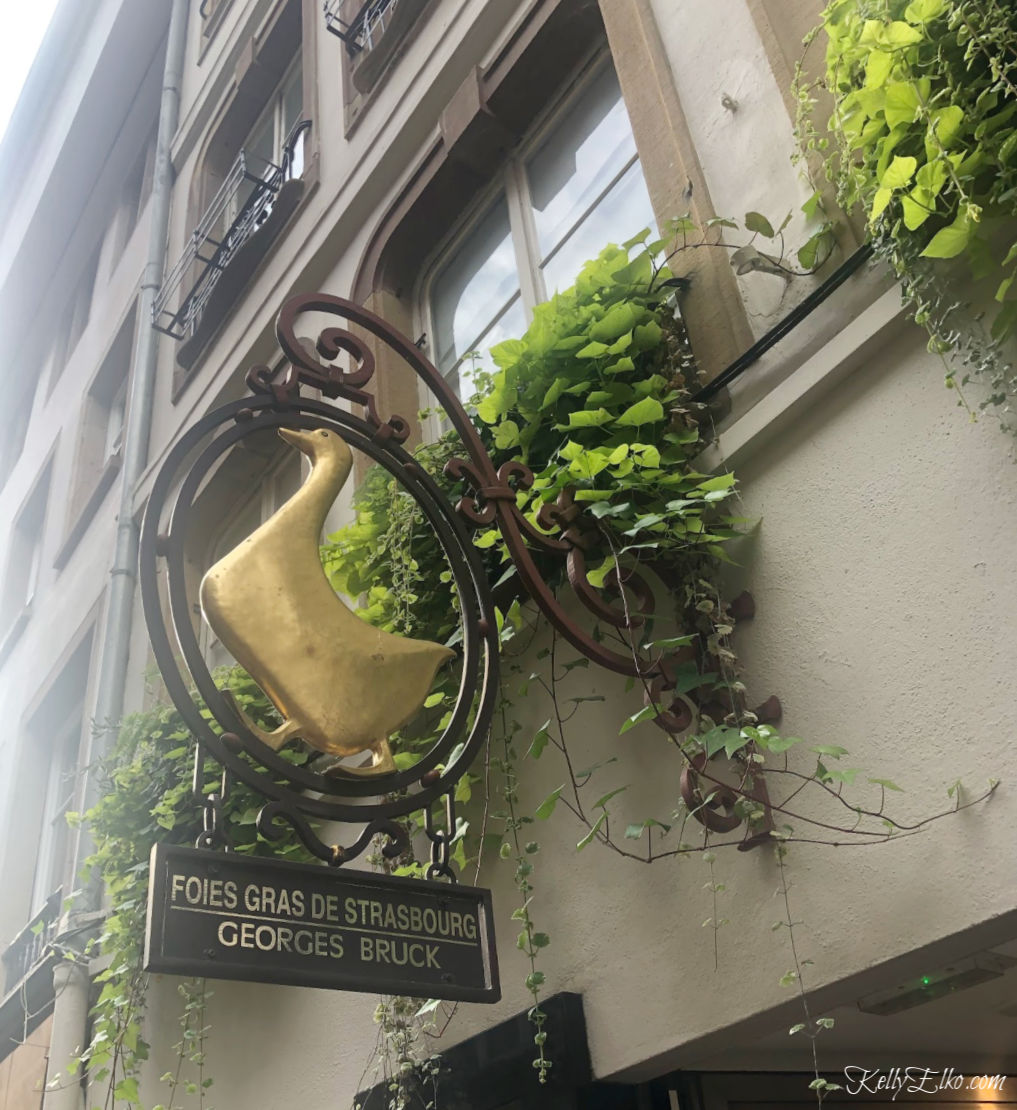 There's a surprise around every turn.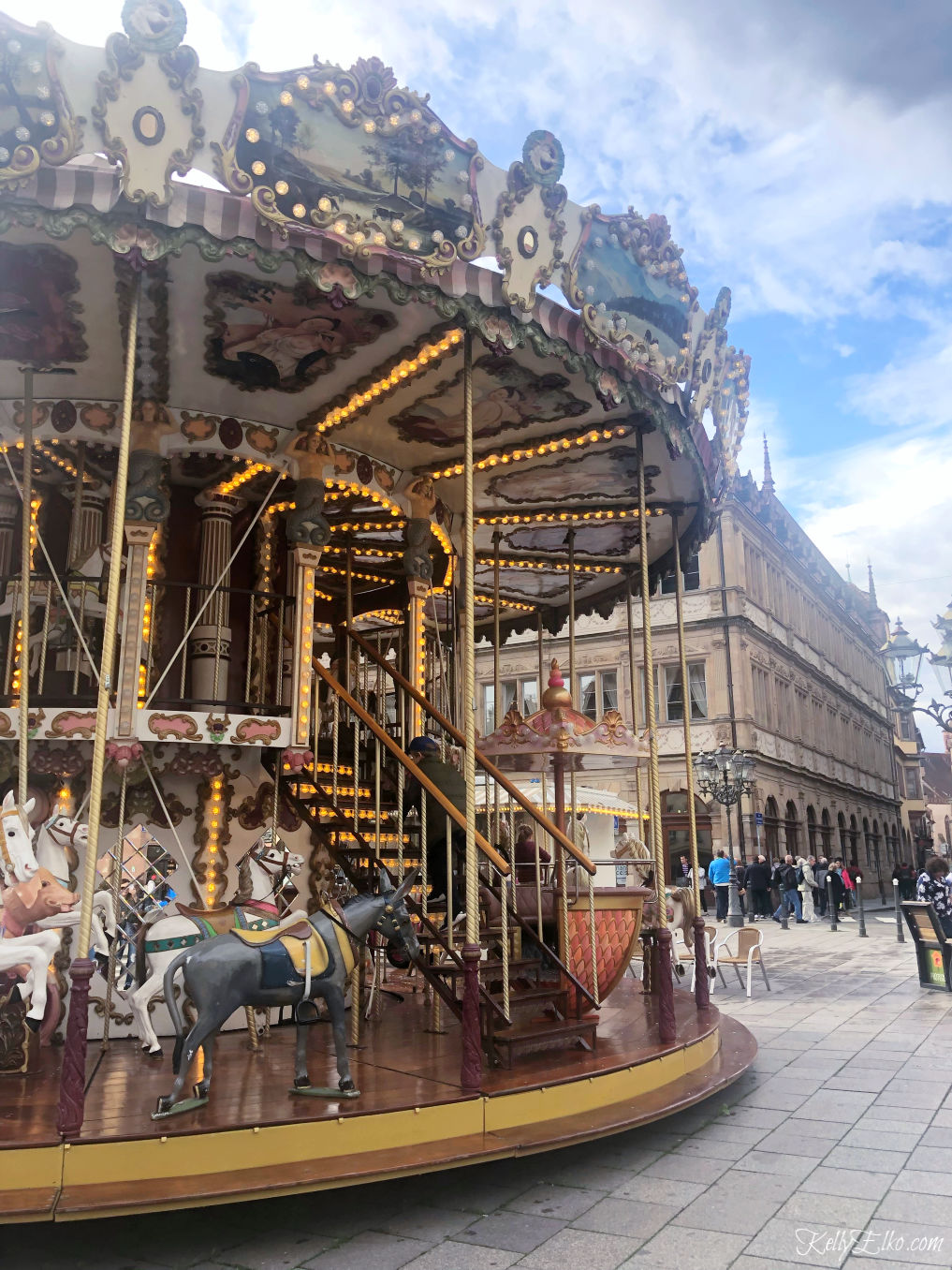 And a photo op!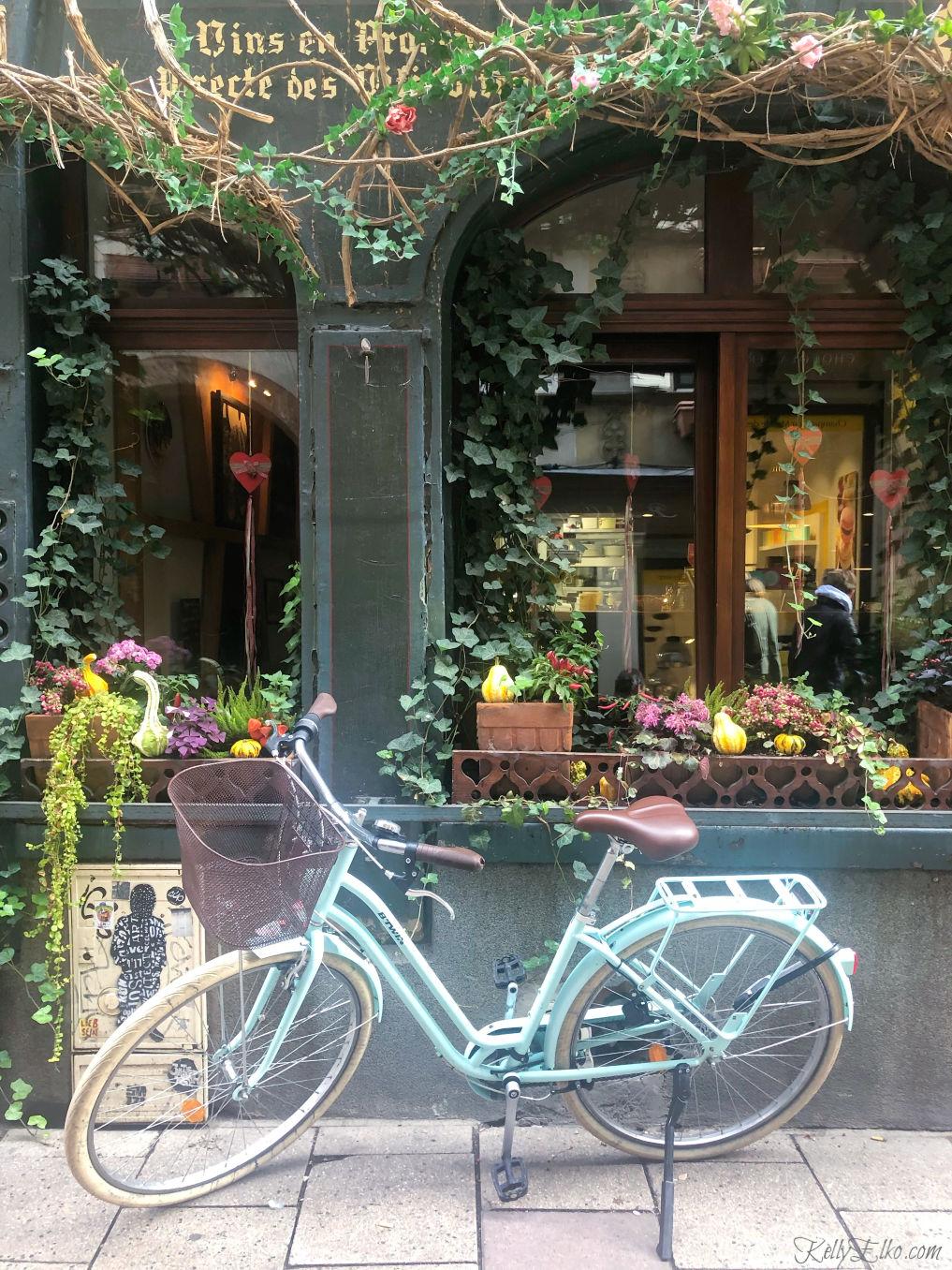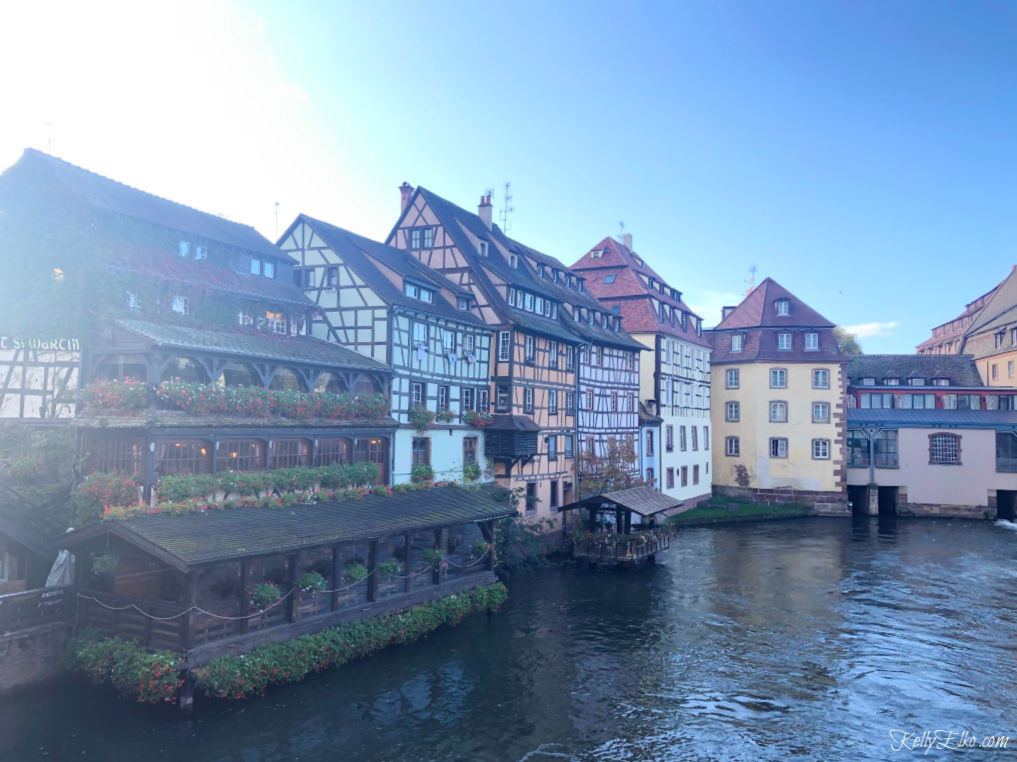 This food tour wasn't over yet! We were soon surprised to find ourselves entering a cute little restaurant specializing in a local favorite … tarte flambes which is  the Alsace version of pizza!
If that wasn't enough, the meal ended with a dessert version of this local delicacy with apples, cinnamon and Calvados (a type of apple brandy from Normandy).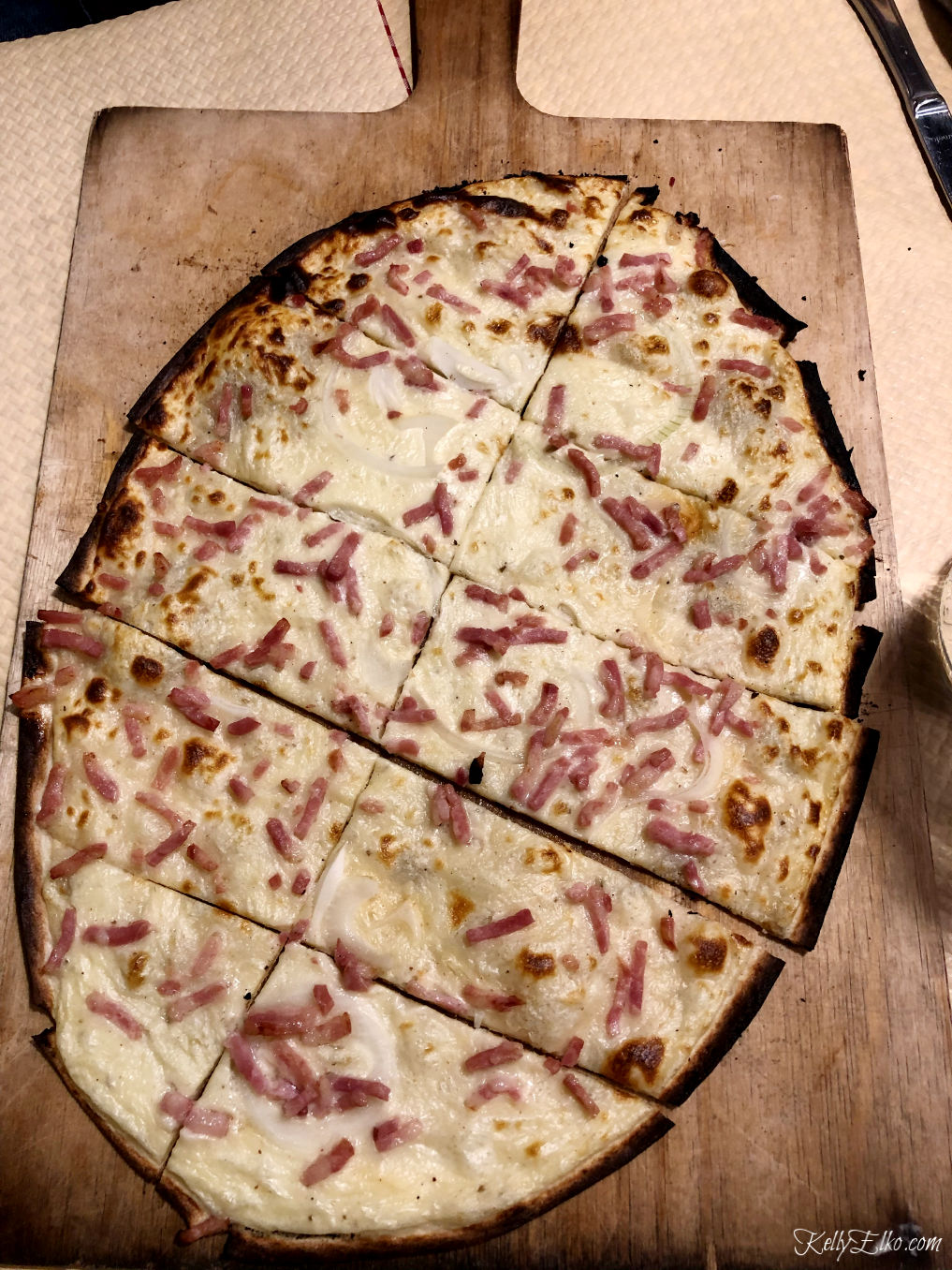 A little more walking and then a chocolate and gingerbread tasting! It was so much fun and a great way to try the local cuisine while also getting great insights into the way people live.
Dinner back on the ship was an extravaganza called Taste of Germany with platters of sausage, cheeses, breads, mustards, pretzels and more piled high on family style platters. Special dishes included Spatezle (German dumplings) and lots and lots of beer! While my husband loved this meal, I'm not a big fan of this style of food but I was able to order off of the regular menu which was perfect.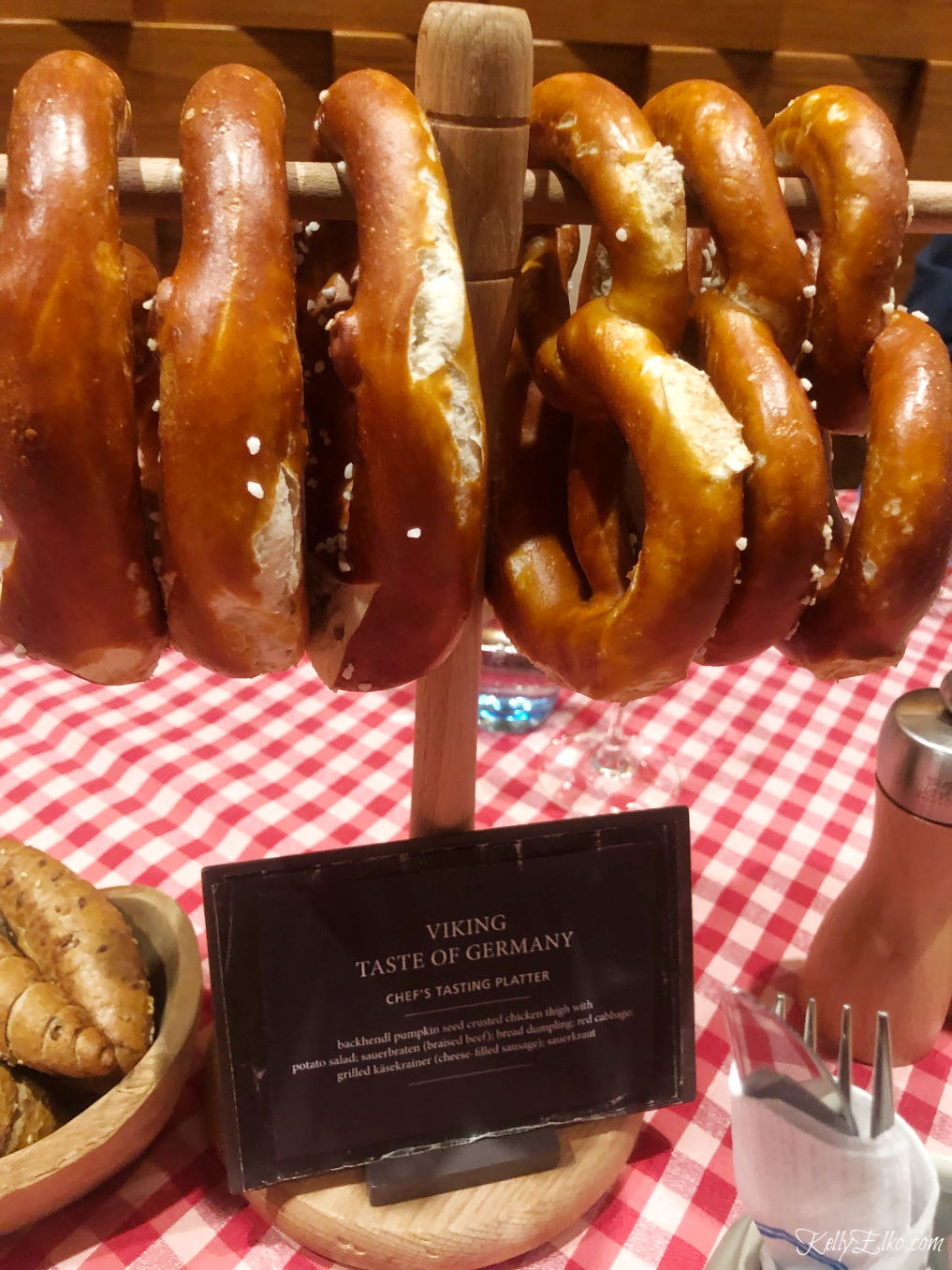 Is this top notch service or what!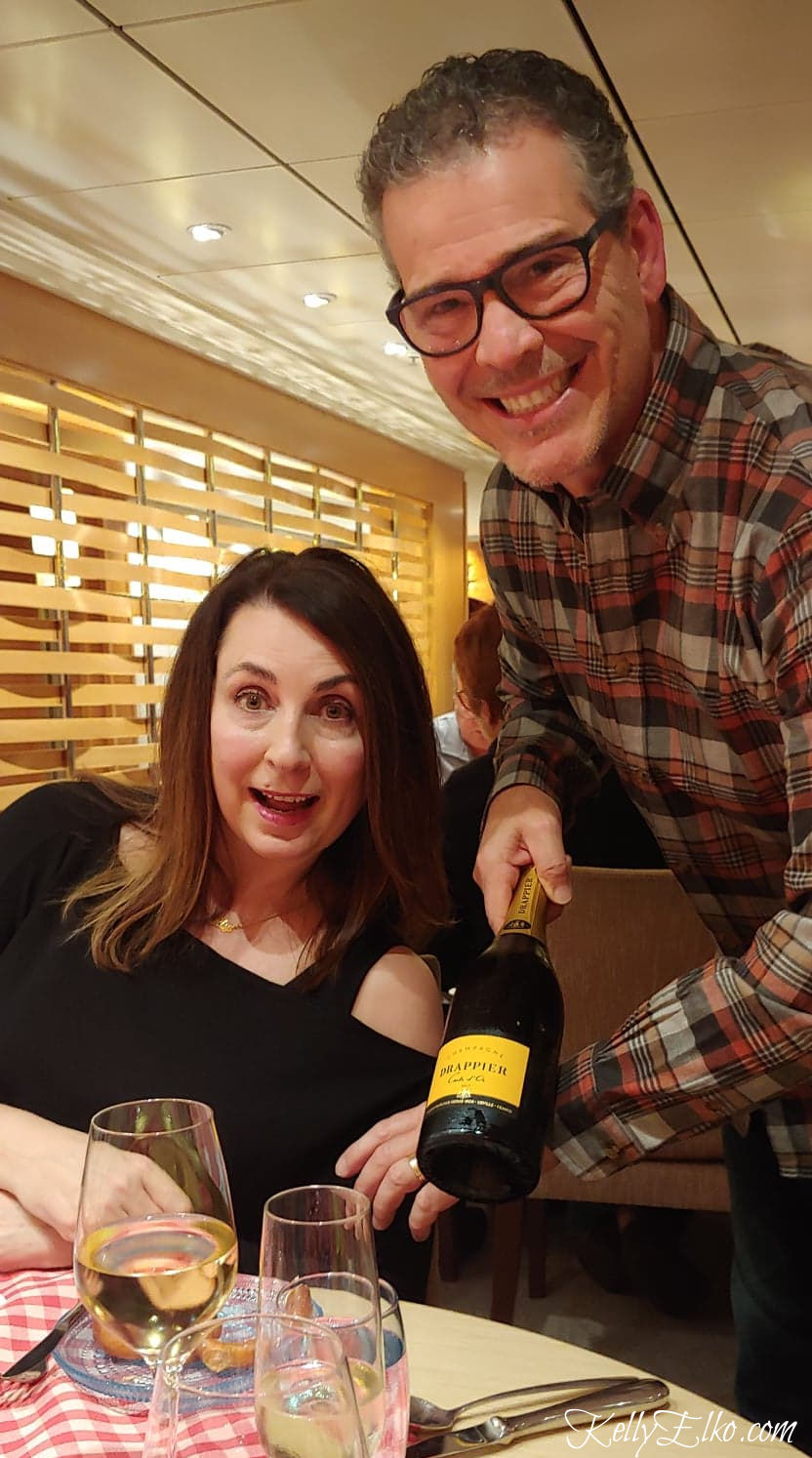 After dinner, the Chef came out to escort each table into the galley for a tour, a shot and dessert. I thought dessert meant I could take a full wheel of cheese but was sadly mistaken!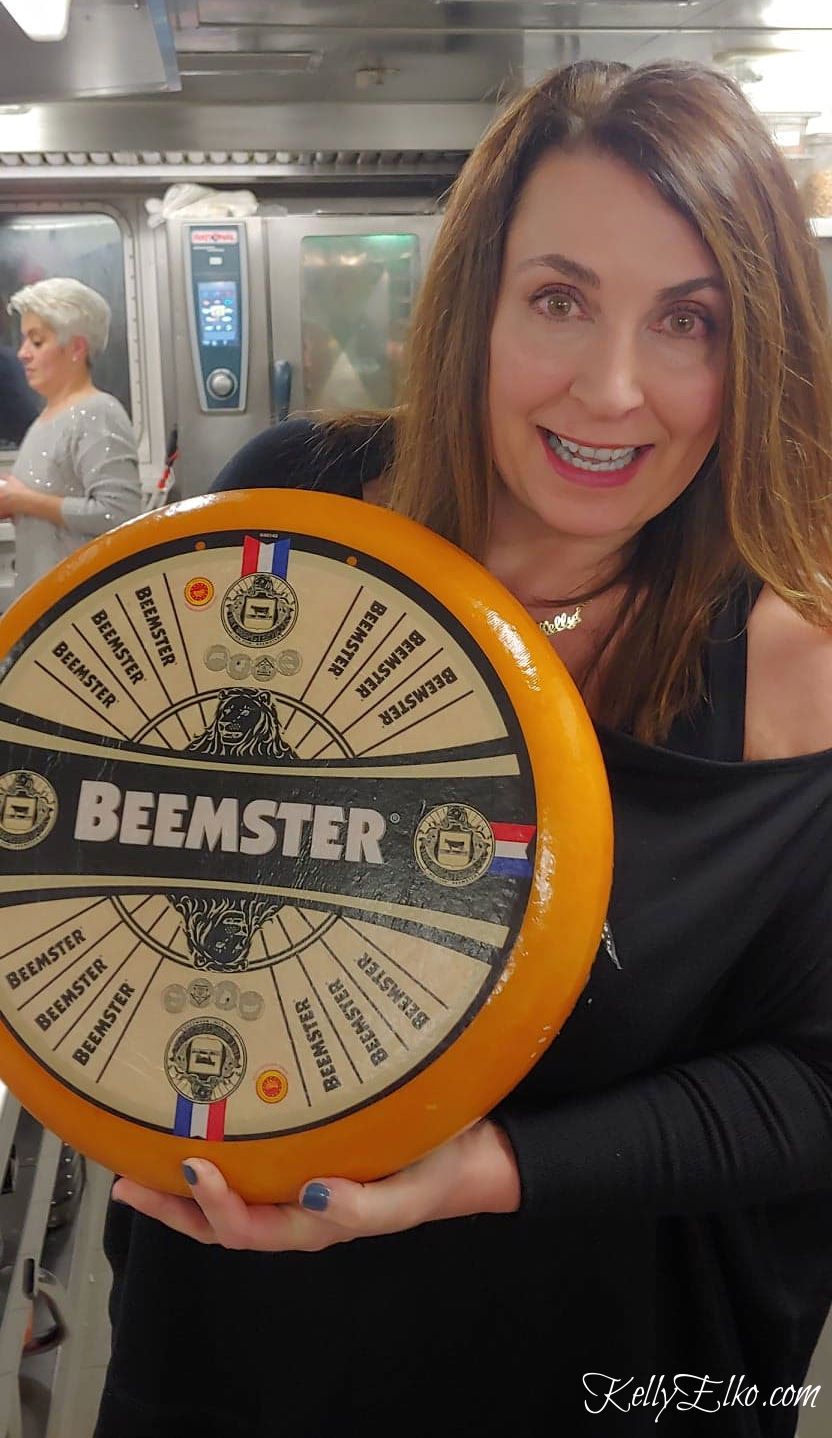 So much food, so little time.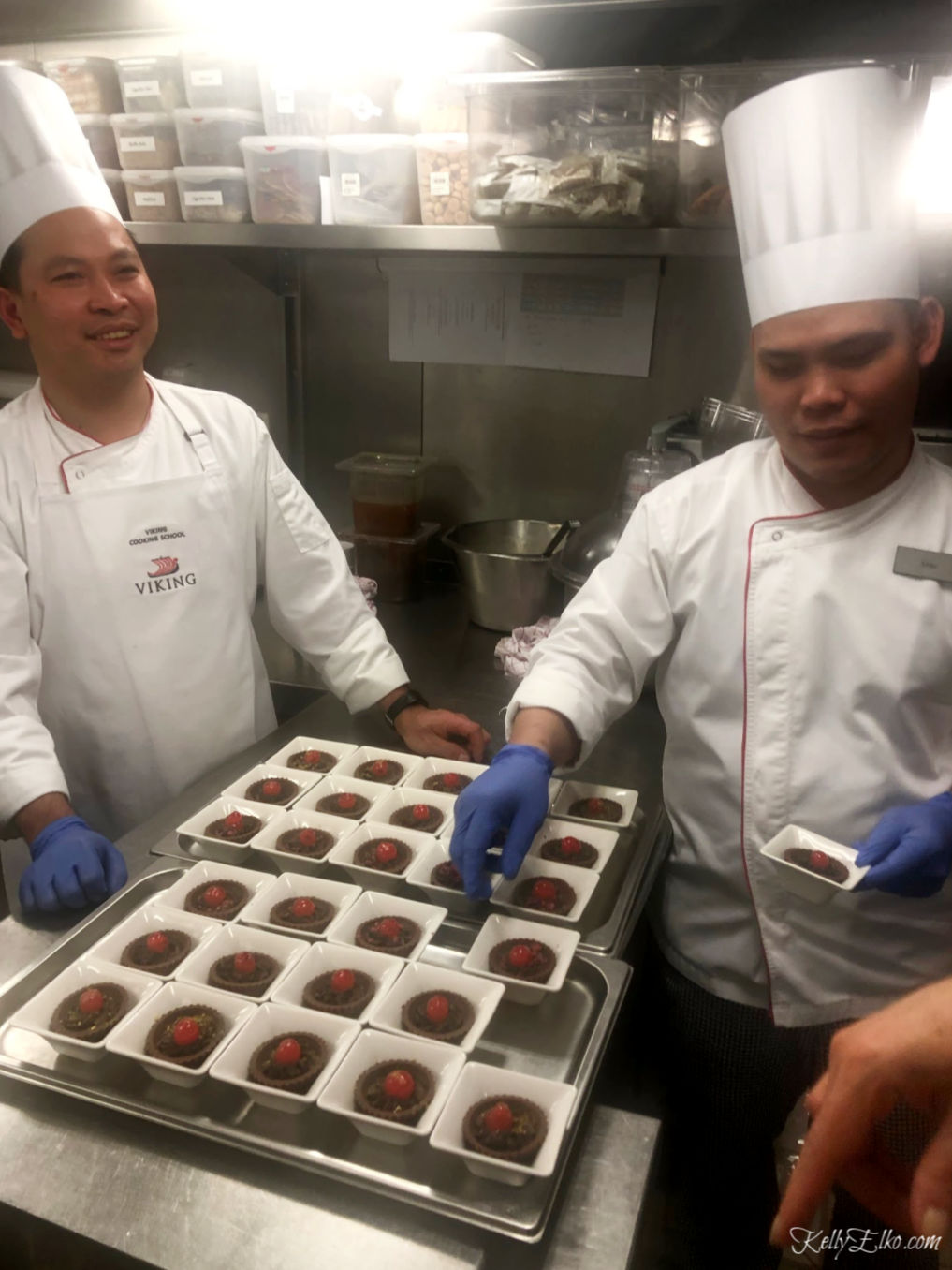 Day 7 – Breisach, Germany / Colmar, France
We chose to join the optional Medieval Village of Colmar tour and it's now officially my favorite fairytale village of all time! I loved the mix of French and German architecture and colorful half timbered houses lining the canals.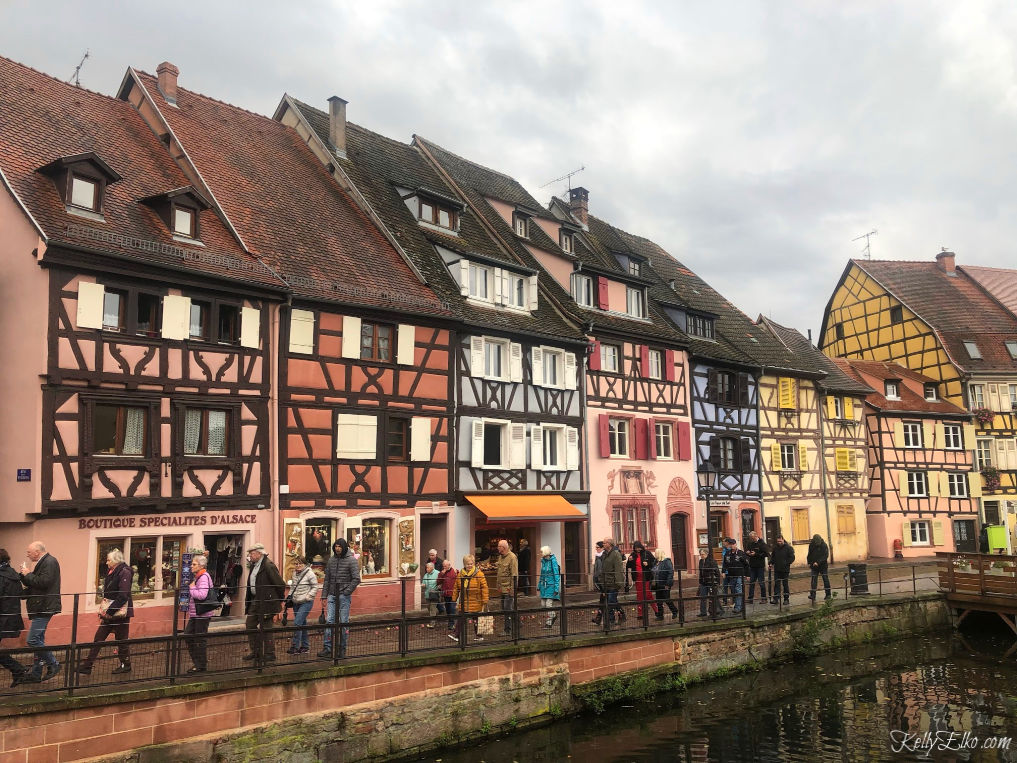 Did you know Colmar is the birthplace of Frederic Bartholdi, the designer of the Statue of Liberty. On the drive into town, we passed a replica of the statue and you can find even visit his former home which is now the Bartholdi Museum.
Our tour guide gave us a great overview of the town and then we were free to explore on our own.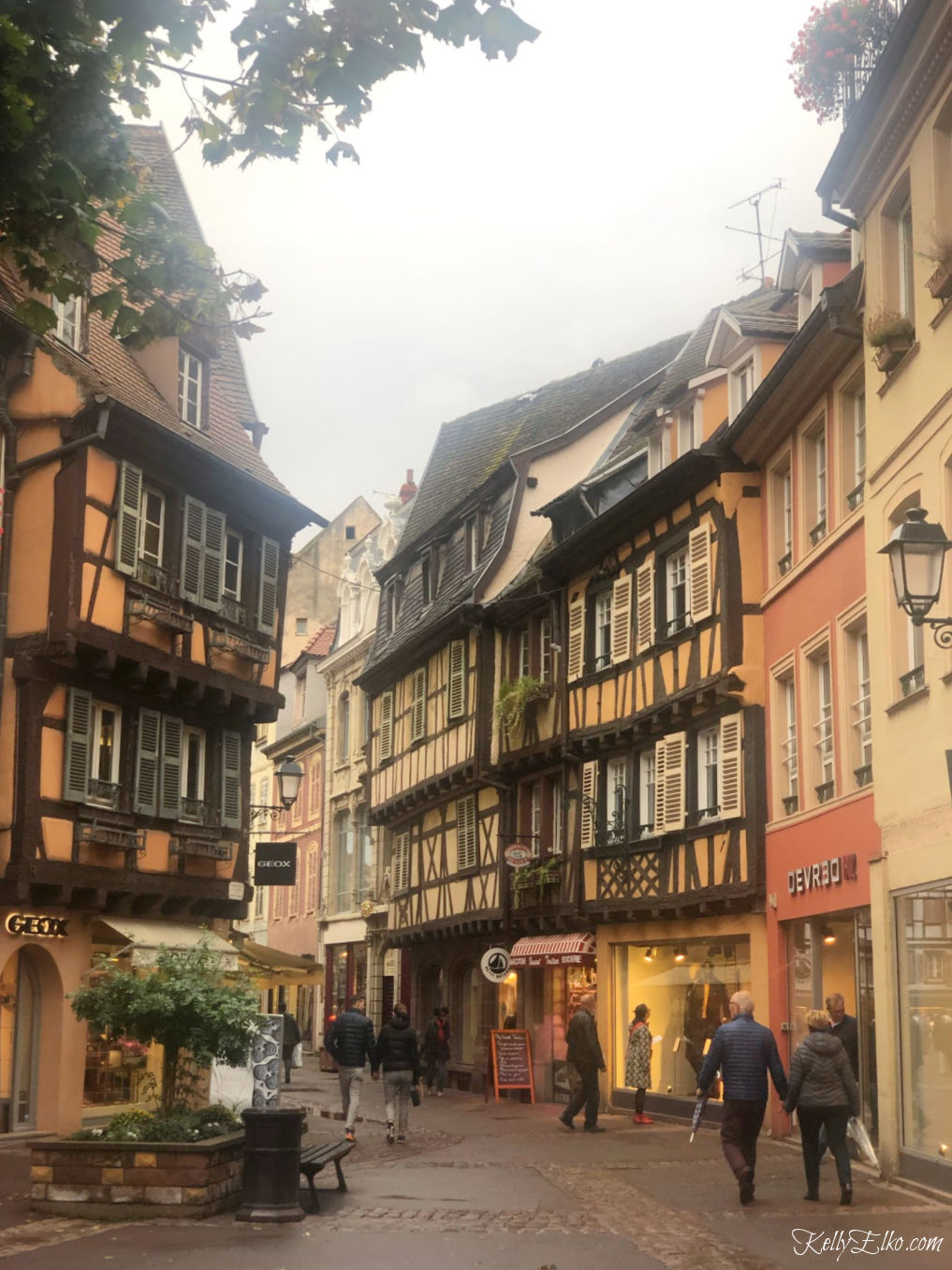 Don't miss the Colmar Marche Couvert (covered market) if you love regional food, coffee, flowers, gifts and a cool atmosphere. When in France, a girl needs to eat a baguette so I grabbed a ham and cheese sandwich as a quick snack.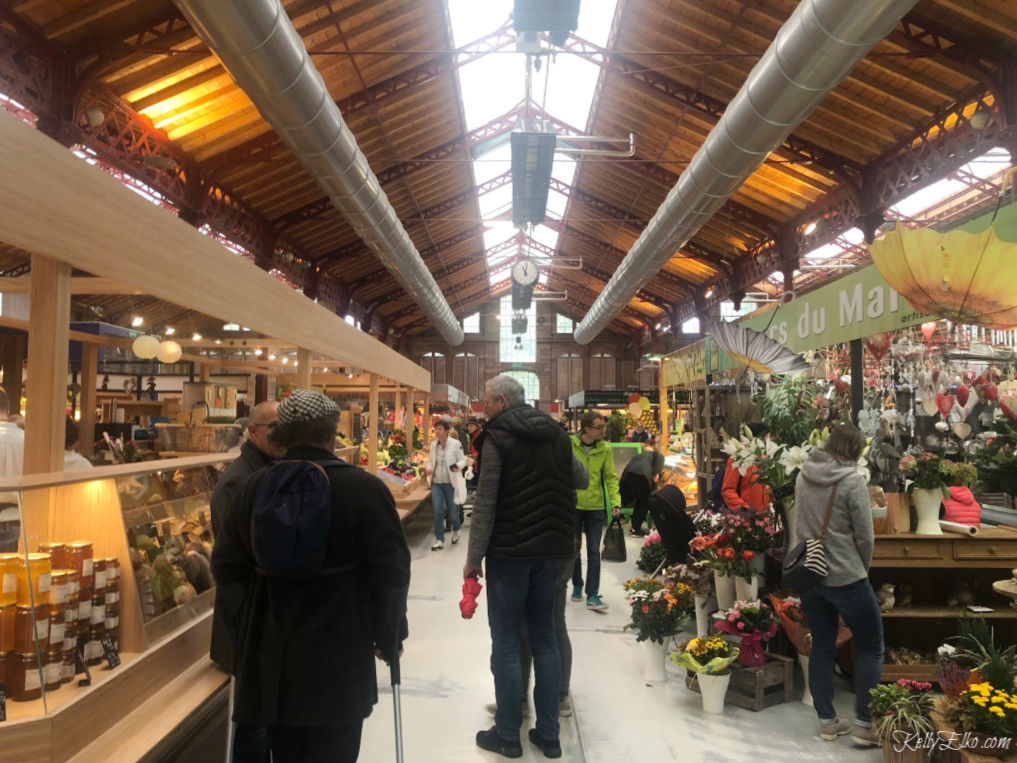 Keep walking and you'll soon enter the la Petite Venise, the most picturesque area of Colmar!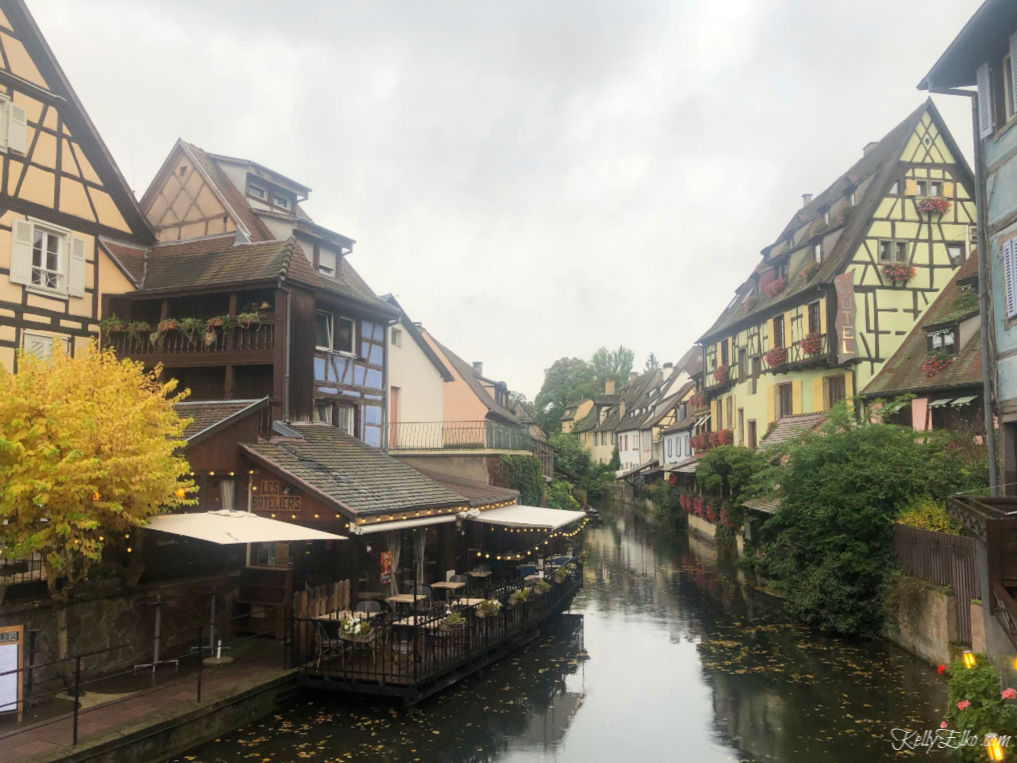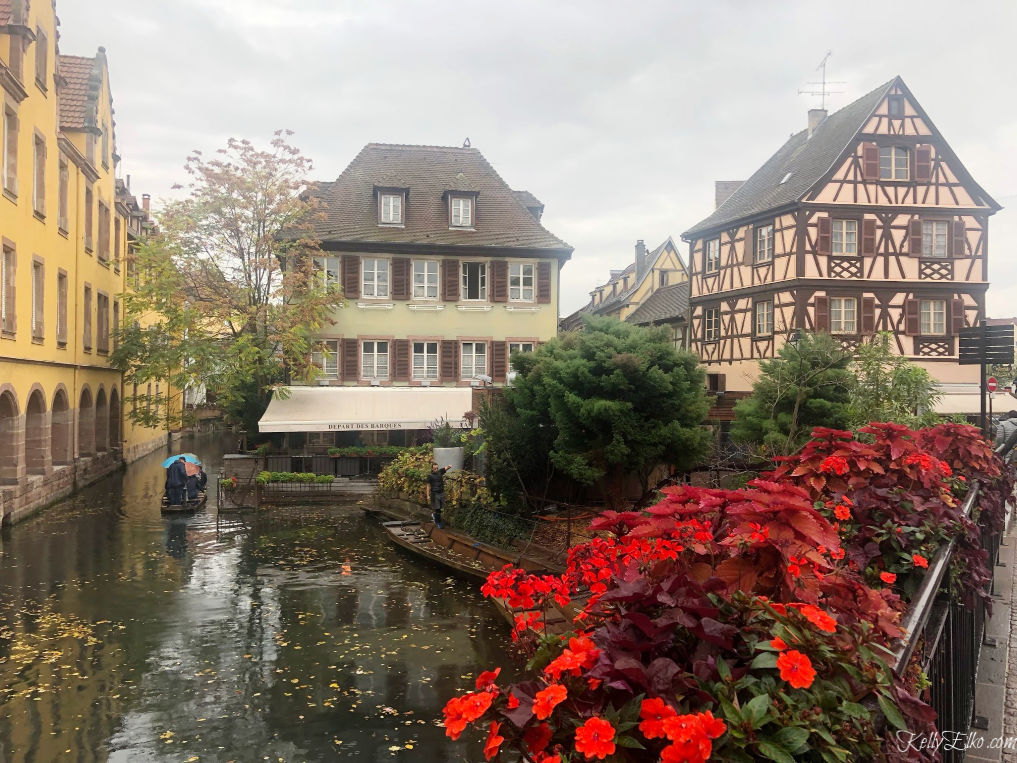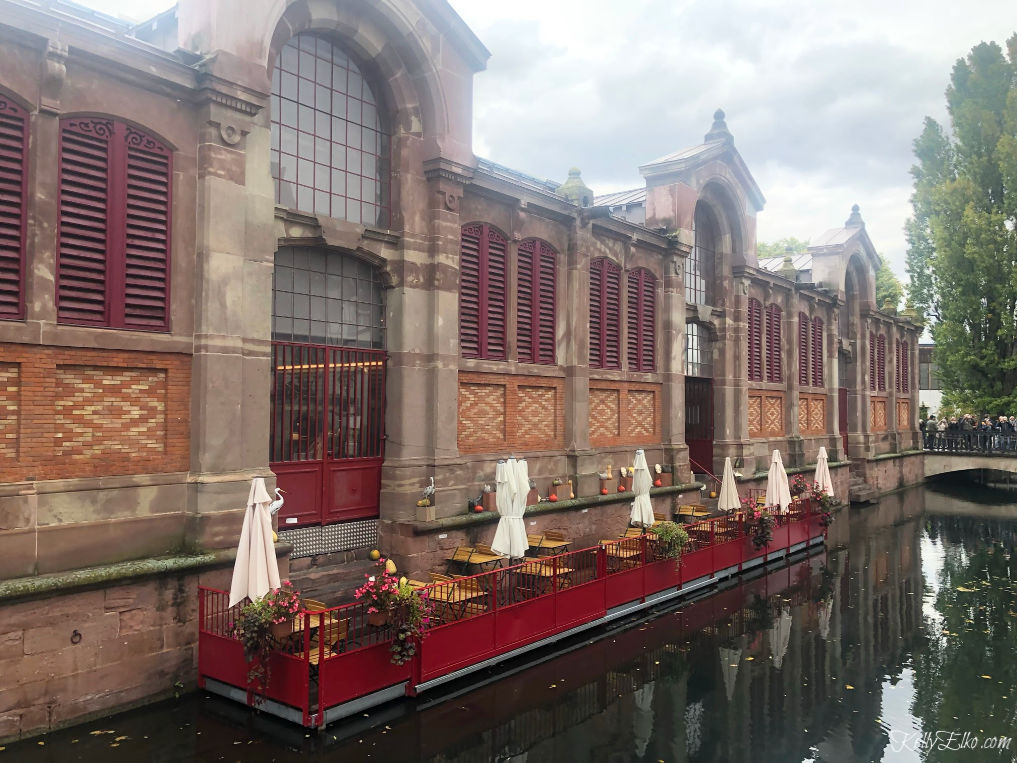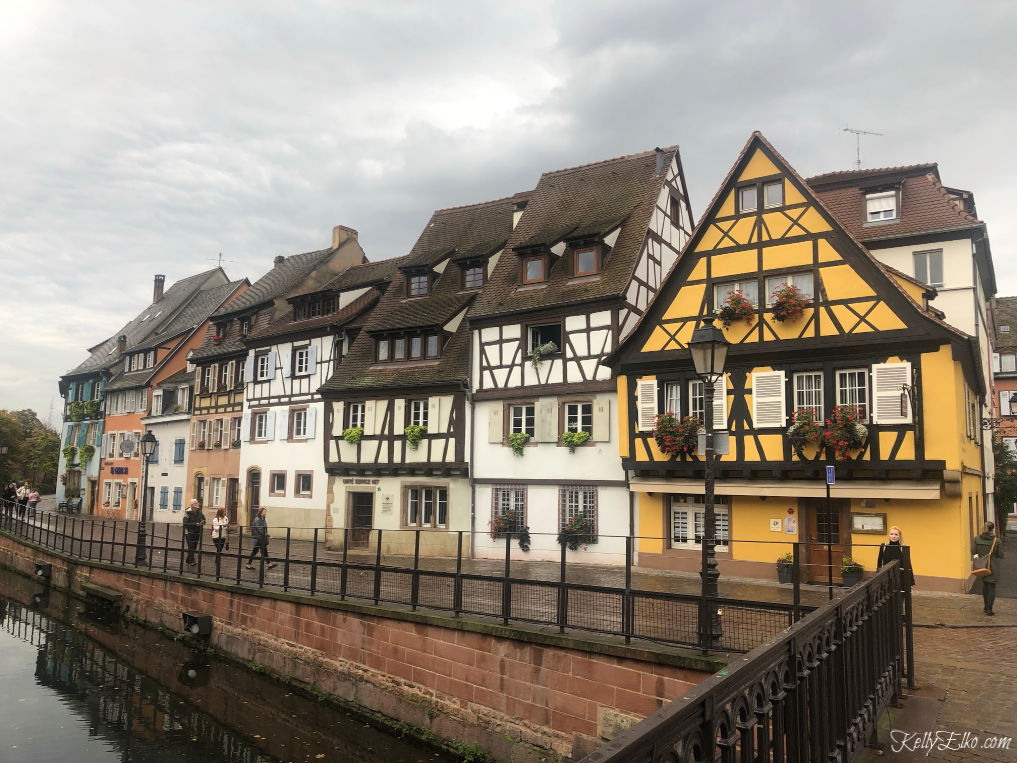 We skipped the included Black Forest tour in the afternoon because it seemed very touristy and I did not want to be on a bus that long. Instead we decided to relax in the Aquavit Lounge.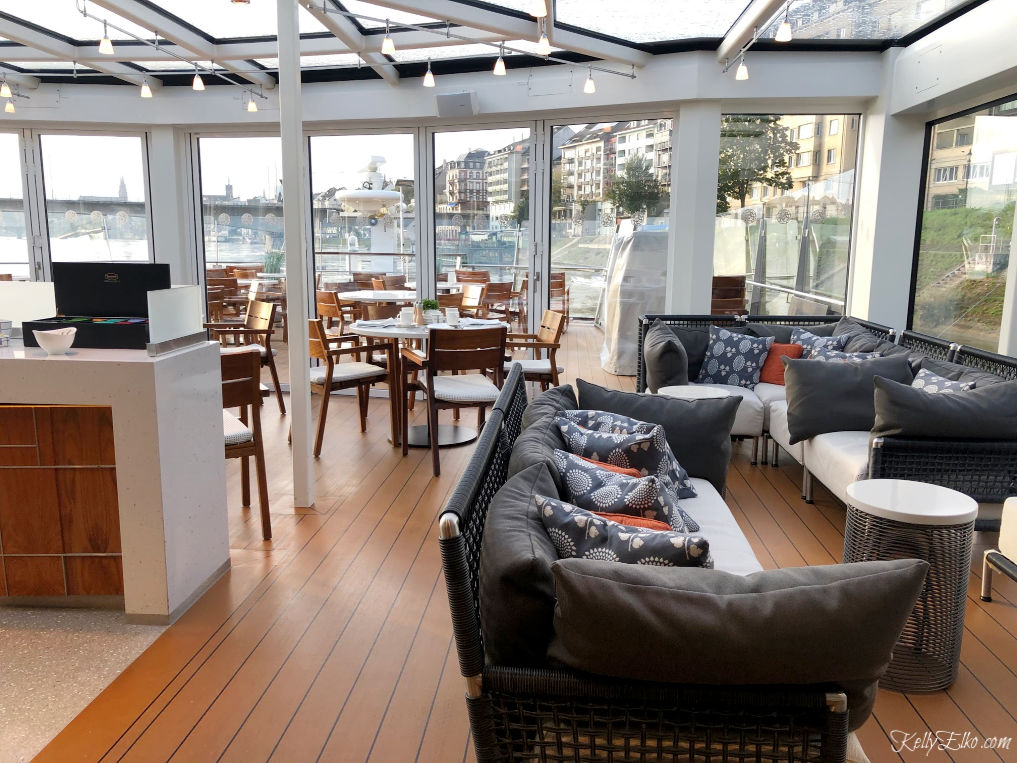 Day 8 – Basel, Switzerland
Sadly, our arrival in Basel marks the end of the cruise. Feel free to stay on the ship for breakfast and a buffet lunch if you have a late flight. We decided to spend one night in Basel before we headed home. I was exhausted so we spent most of our afternoon enjoying our hotel until it was time to venture out for dinner which was a quick stroll away. If you plan to stay in Switzerland, know that it is very expensive and I'm used to New York City prices! We went to a casual, gourmet, cafeteria style, burger place and our bill for two burgers, fries and a couple of beers was around $65! The burgers were amazing though!
It's time to head back to reality but I'll never forget you Rhine River and your beautiful, fairytale like towns. I've eaten enough for a lifetime, met some amazing people, and been wowed by the beauty of the Rhine and the towns that line it.
The cocktails weren't bad either!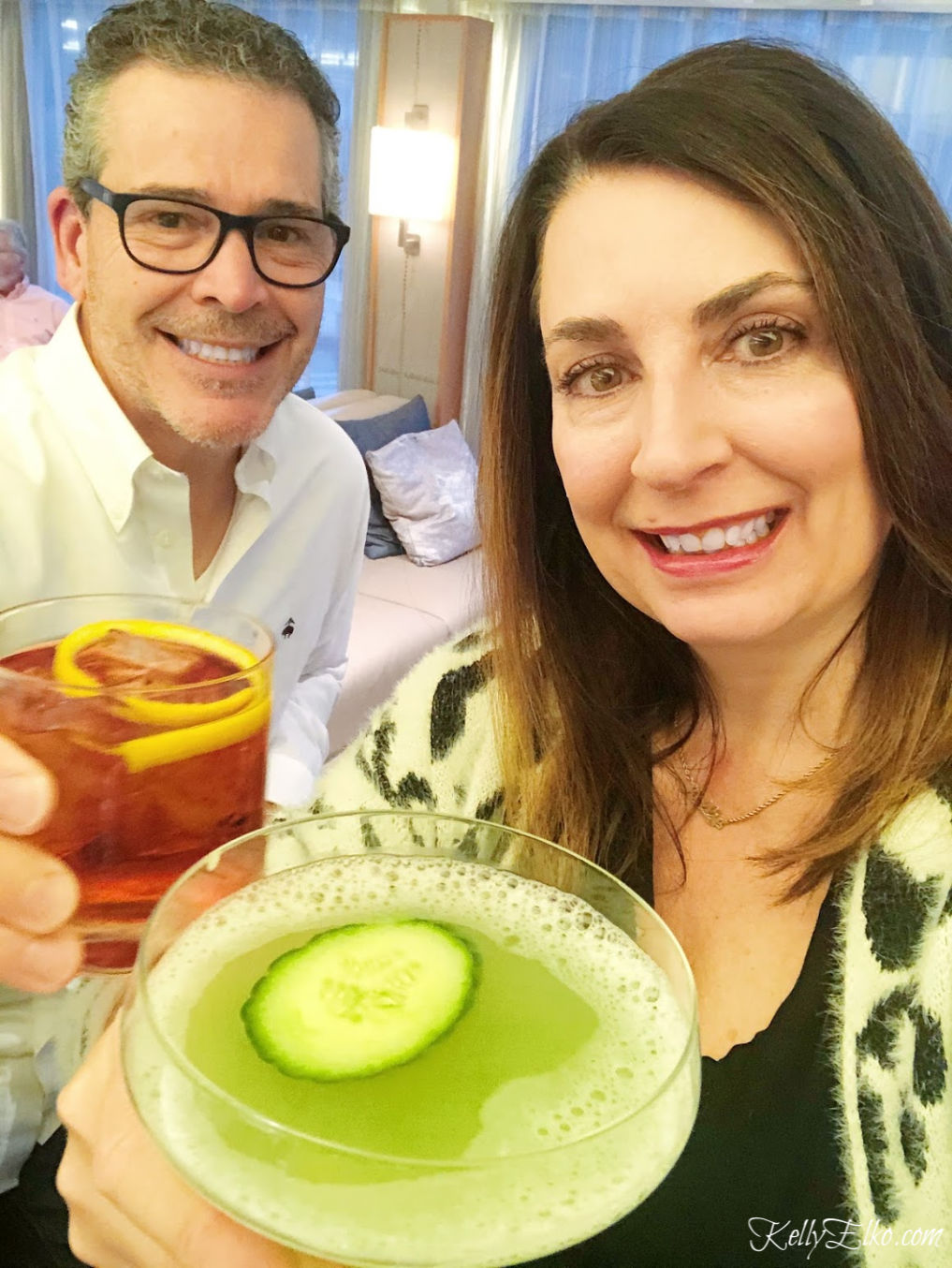 If you're asking yourself, "am I too old / too young for a Viking cruise," don't fret because I wondered the same thing. I'm no spring chicken but at 50, I was a little worried I would be the baby on board. To my surprise, there was a nice mix of ages (from a couple celebrating their 70th wedding anniversary to a group of 30 somethings and even a newlywed couple in their 20's) so you'll definitely fit in no matter your age.
My husband and I are independent travelers and love exploring on our own but in my opinion, a river cruise is the best way to see all of the small towns that dot the Rhine. Most only require a day or so to explore so it doesn't make sense to check in and out of hotels when you can unpack once and enjoy the luxury of the ship. I loved that we traveled mostly at night and woke up smack dab in the middle of the action. If we did need to hop on a bus to get to our destination, I was never on board for more than 1/2 an hour. Make sure you ask your Program Director before you commit to a tour if long bus rides are not your thing.
I think the best way to get the most out of a Viking river cruise is to choose a few optional excursions. They cost a little extra but the two we took (Strasbourg Food Tour and Colmar Walking Tour) were highlights of our trip. Also, don't feel obligated to take every single included tour (we skipped two of the of the six offered). Also, I encourage everyone to explore a bit on your own. If you get the chance to linger at a small local cafe and people watch, take it instead of rushing back to the ship for lunch.
The bar on the Viking ship closed at 11 pm every night so if you're looking for wild nightlife, this cruise is probably not for you. But if you love on board lectures about local culture and demonstrations including cooking, cocktail making and glass blowing, there is no shortage of things to keep you occupied when you're not exploring or stuffing your face … I mean enjoying the wonderful onboard cuisine.
The dress code is casual and I loved that after a long day exploring, I didn't have to worry about getting all dolled up for dinner. I did usually change into something a bit nicer but jeans and leggings were the norm for women and most men wore a nice button down shirt and a few wore jackets.
We took this Viking Rhine River Cruise from Amsterdam to Basel Switzerland in October and enjoyed ourselves immensely. If you have any questions please feel free to ask in the comment section. Also, if you've got any of your own tips on river cruising, I'd love to hear your thoughts!
My friend Diane took the Viking River Cruise on the Seine from Paris to Normandy so don't miss her part two recap here
Don't miss my other travel posts including …