What It's Really Like on a Viking River Cruise
Want to know if a Viking River Cruise is right for you? I'm spilling all the details, including what they don't tell you in the brochure, so you can make an informed decision. I'll take you from Amsterdam to Basel, Switzerland along the Rhine River with lots of stops at charming old towns and villages in between. This Viking River cruise Rhine review is chock full of information that is helpful in planning your own Rhine getaway cruise.
I took 8 million photos so it's impossible to share them all in one post. I'll break up this trip into two posts so stay tuned for part two next weekend.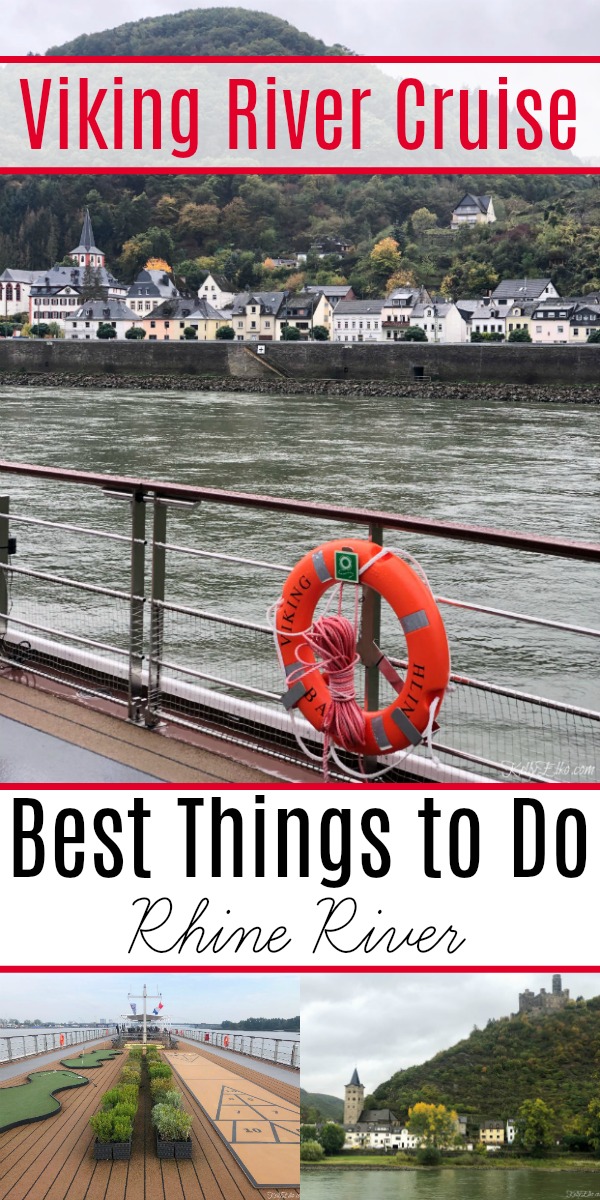 When Viking invited me to set sail with them, I immediately packed my bags! Who wouldn't want to sail to all the charming little European towns that dot the riverside? We traveled in October and I highly recommend Europe during this time of the year because not only do you get to experience the beautiful foliage and cooler temps, but it's much less crowded and it's cheaper too!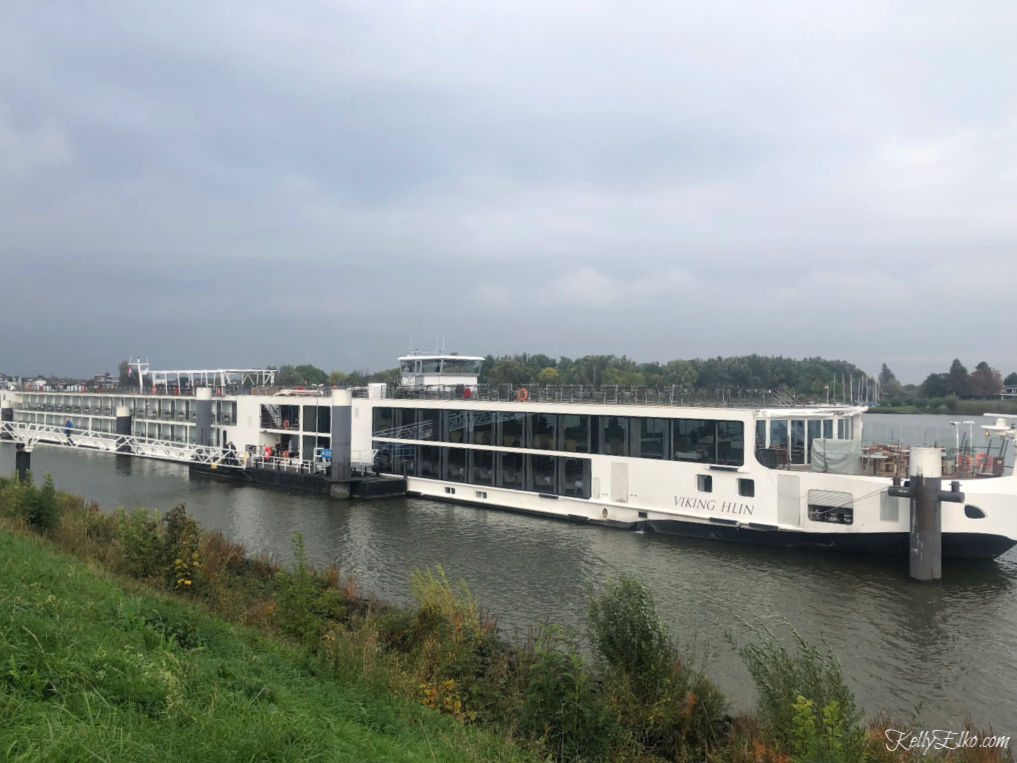 What I love about the Viking Longships is that they are just the right size to float down the river and get up close and personal to all of the little towns. Plus there are only 90 staterooms which means it's easy to get to know the crew and passengers. I love that you only have to unpack once instead of changing hotels every couple of days.
We sailed on the Hlin (pronounced "Lynn) on the 8 day Rhine River Cruise from Amsterdam to Basel, Switzerland (they do the same tour in the opposite direction too).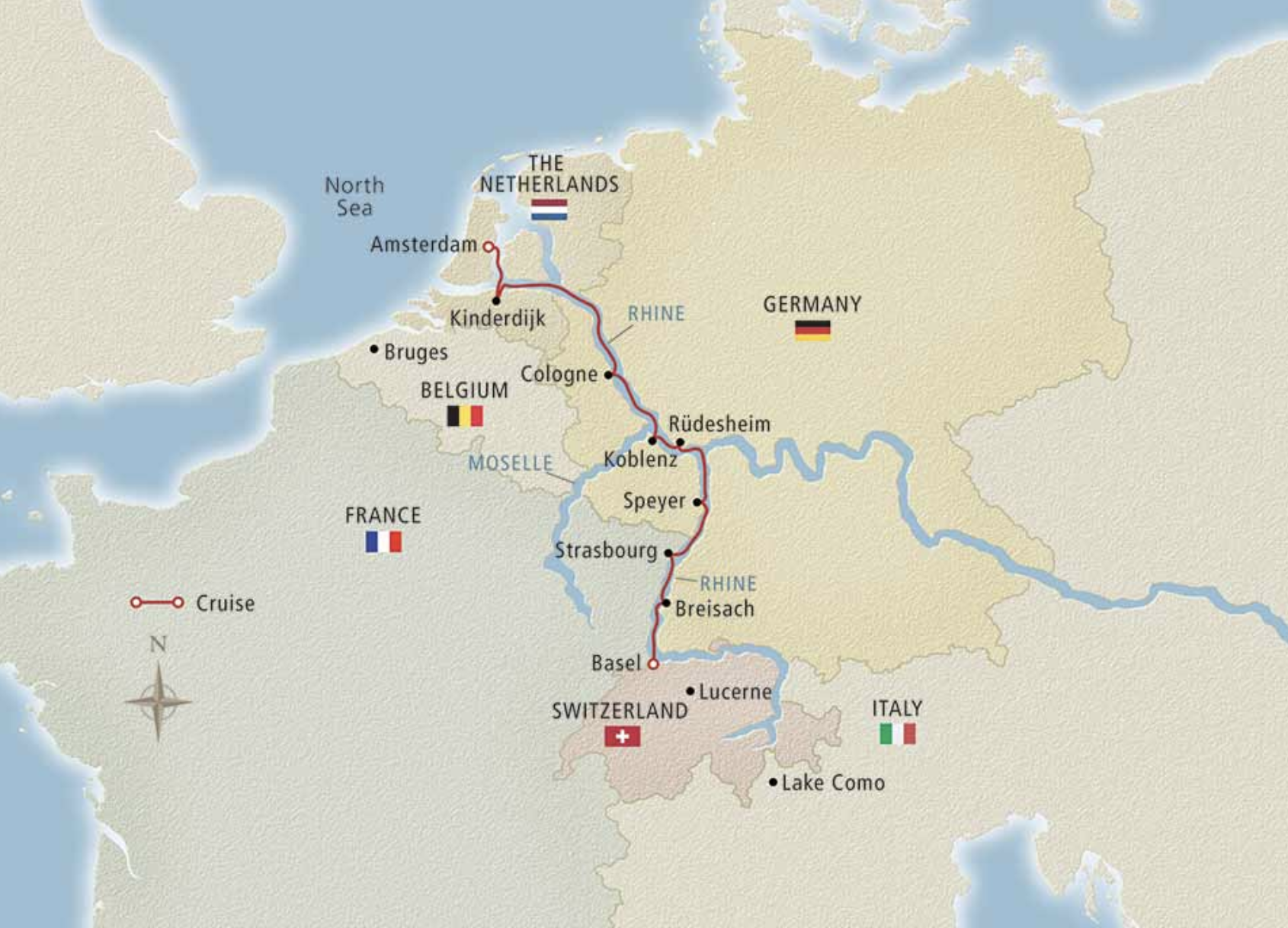 Booking was a breeze and a few weeks before we set sail, a package arrived in the mail with our personalized itineraries, red leather Viking luggage tags and more.
Airfare Tip: Viking can book your airfare and while I thought I could get a better deal by handling my own flights, I was wrong! I saved so much money by booking through Viking and I was able to have complete control over which flights I chose. So be sure to do your research. We flew into the Amsterdam airport.
Amsterdam
We decided to add three nights in Amsterdam before the cruise and we're so glad we did! With 165 canals, I can see why this is called "The Venice of the North." Don't let the stories of sex shops and pot scare you away because Amsterdam is so much more than that! I'll share more about our time here in a separate post. Fun Fact: Amsterdam has more bikes than people!
Hotel Tip: If you are adding on time before and/or after your cruise, Viking offers lots of hotel packages you can choose as add ons to your trip. We saved money by booking our own hotels in Amsterdam and Basel because we didn't feel we needed the extras that Viking offered including city tours and shuttle service to and from the ship.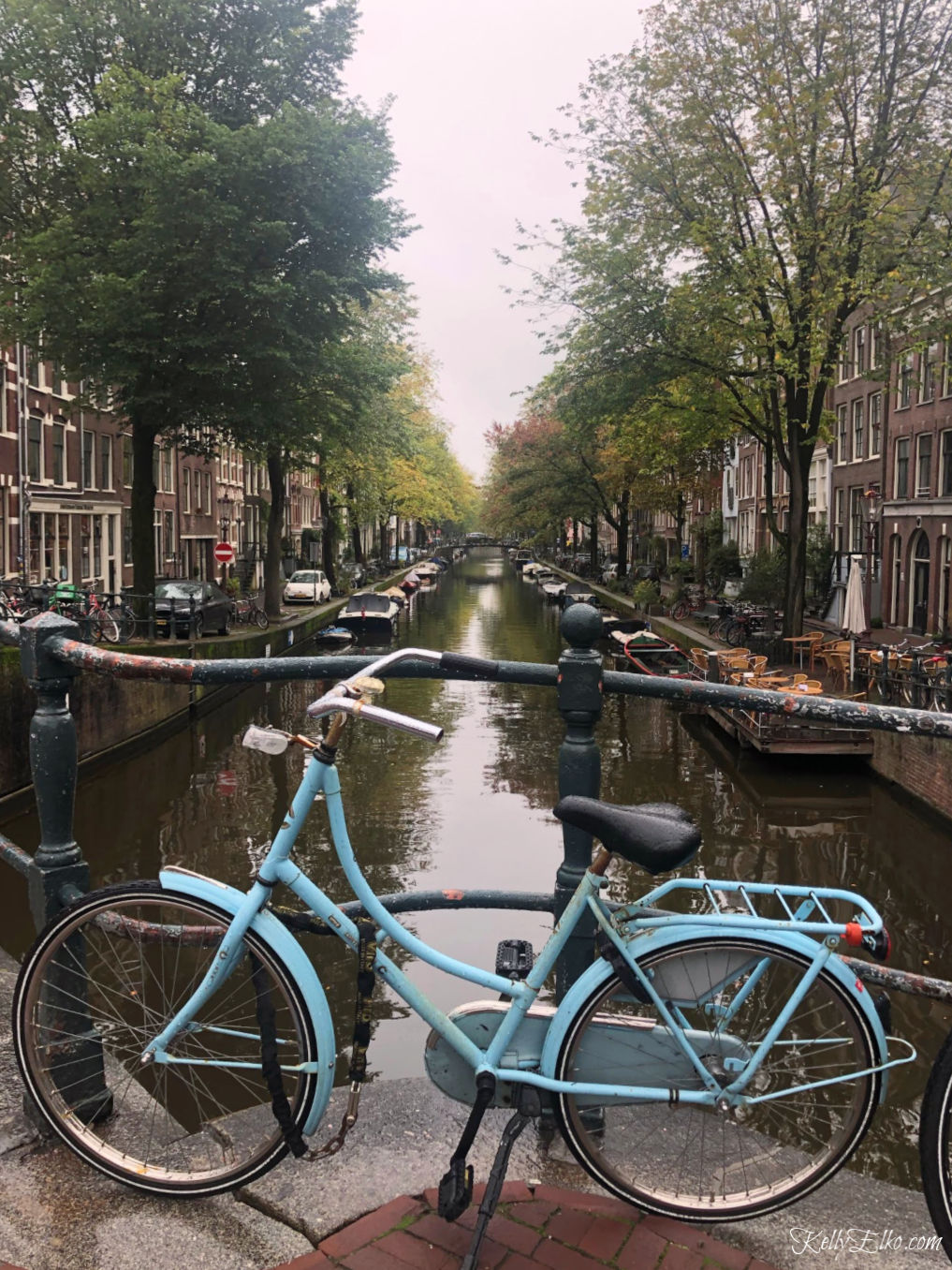 Day 1 – Board Ship in Amsterdam
We celebrated our 24th wedding anniversary this day (October 13) and what a way to celebrate! We were greeted with a bottle of champagne and that night, after dinner, we were surprised to find a special "Happy Anniversary" dessert waiting for us in our room!
A buffet lunch was perfect for people who were arriving at different times of the day not to mention a late afternoon cheese and wine tasting, then dinner before we set sail that night. Can you say food coma?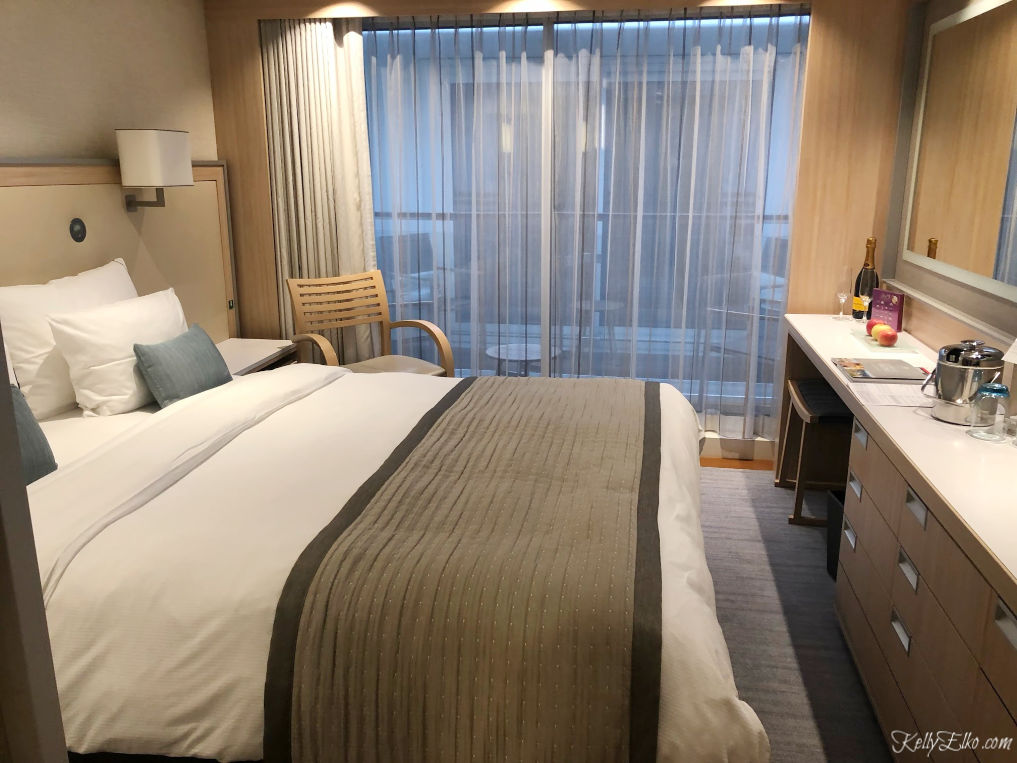 Our veranda stateroom was small but well laid out and I used the desk as my vanity (I loved the huge, well lit mirror) which made getting ready a breeze. The veranda made the room seem larger and I loved being able to pop outside to check the weather or just relax with a glass of wine. The bathroom was tiny but adequate (I loved the heated floors) but don't expect to be able to bend over to shave your legs in the shower!
I'll let you in on a little insider secret … when the boats dock, they often tie up to each other which means sometimes, you'll have another boat parked smack dab against your window as you can see form the photo above. This is common on river cruises no matter which company you choose but it's definitely something I want you to know before you go.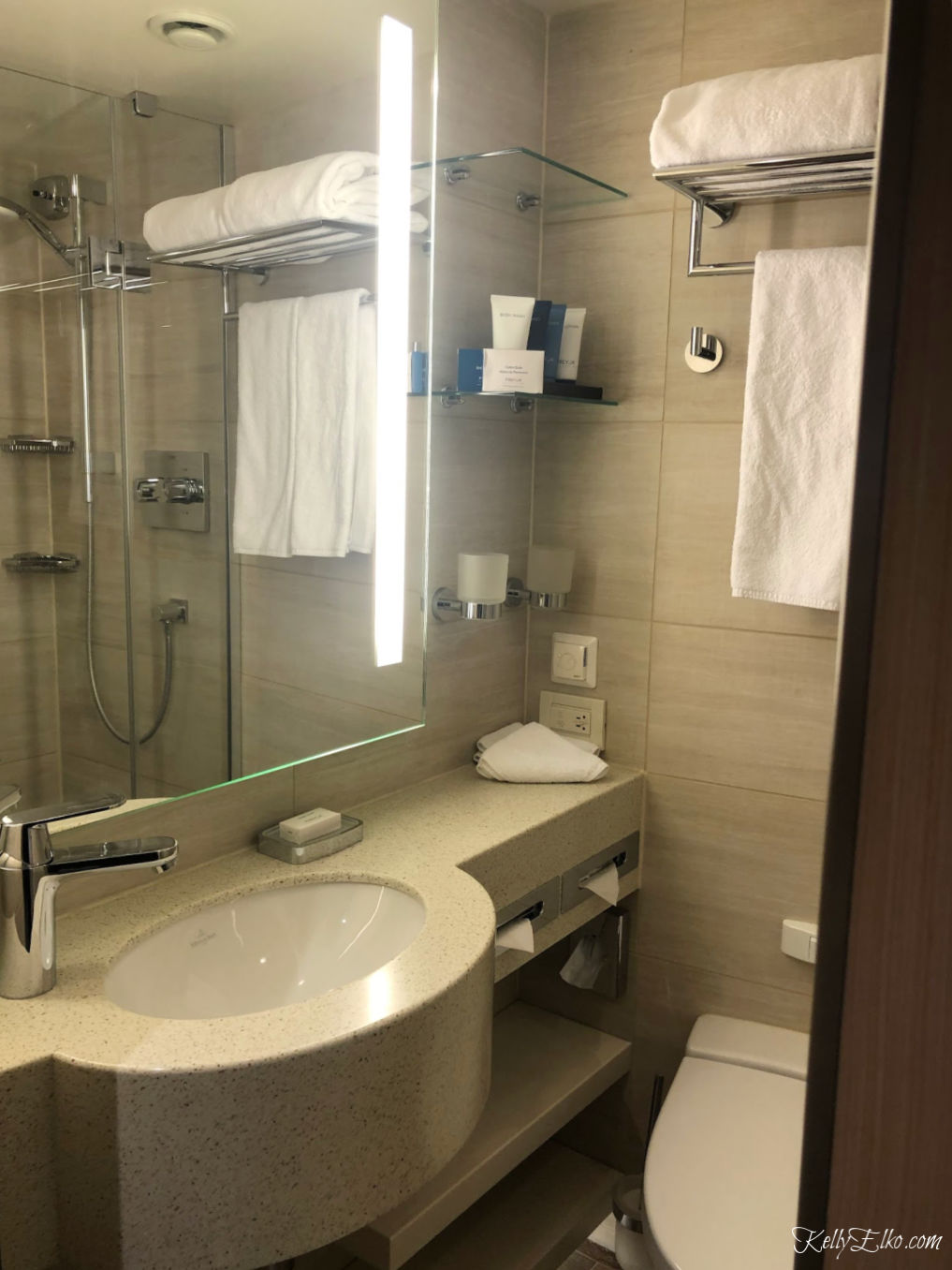 It's all about the common spaces and the lobby, with its glass roof, was such a welcoming place to come back to after a day spent exploring.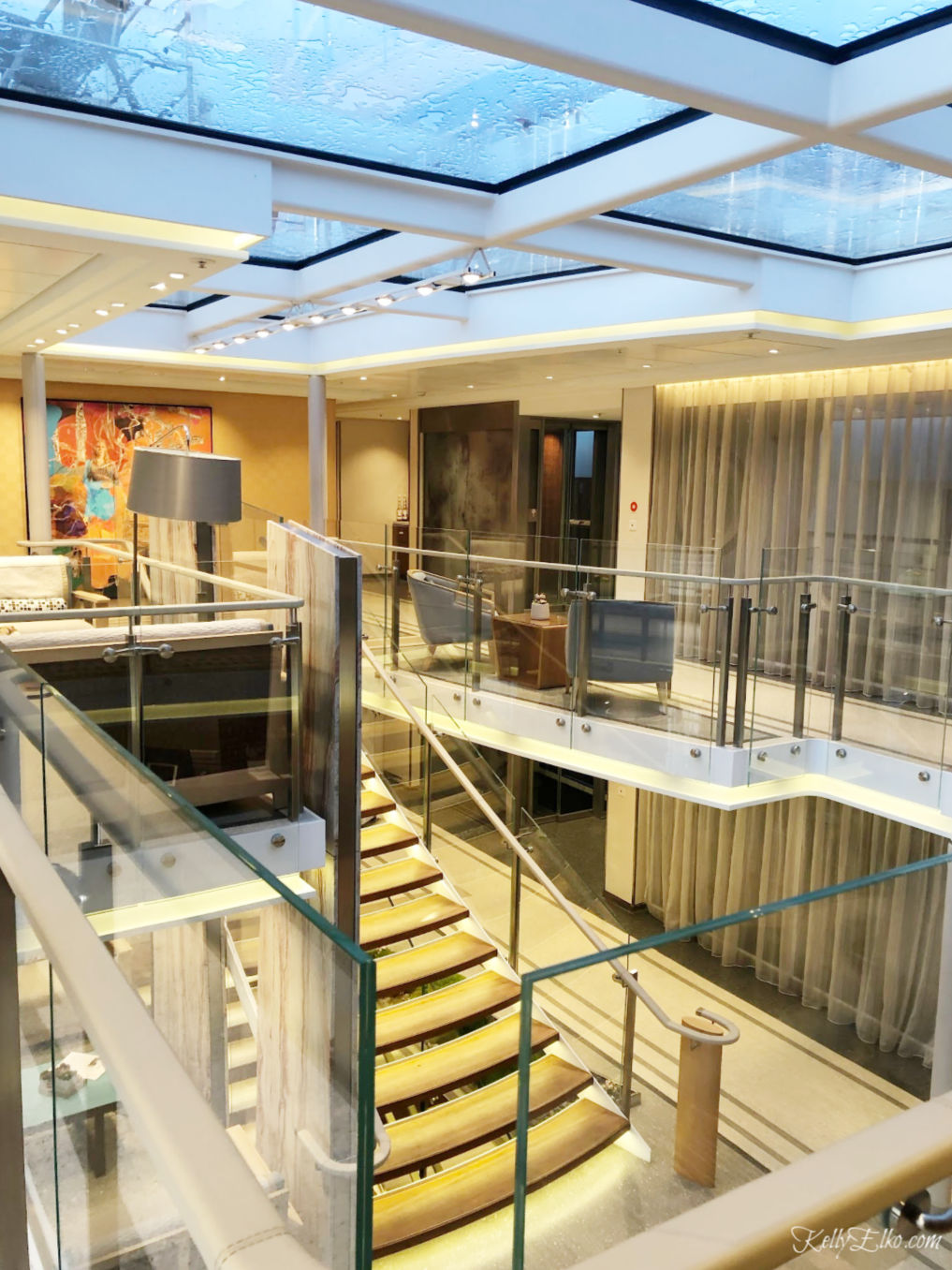 The top sun deck was the perfect place to walk off all of the food we seemed to be eating at every waking moment but hey, isn't that what vacations are all about! I loved the fresh herb garden too.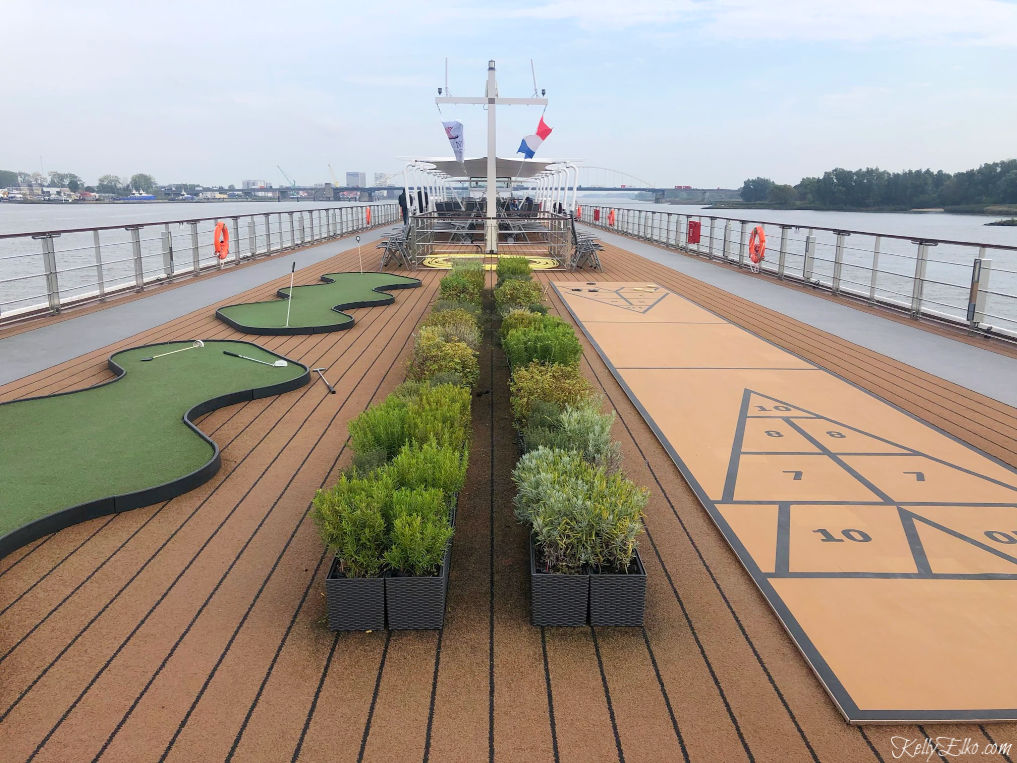 Day 2 – Kinderjidk
We woke up to this peaceful view from our veranda. After breakfast, we only had to take a short walk to our destination (led by our guide of course).
Tip: There is an intercom in every stateroom so you can hear early morning wake up calls and announcements of when and where to meet for excursions. If you plan on sleeping in, be sure to turn off the intercom!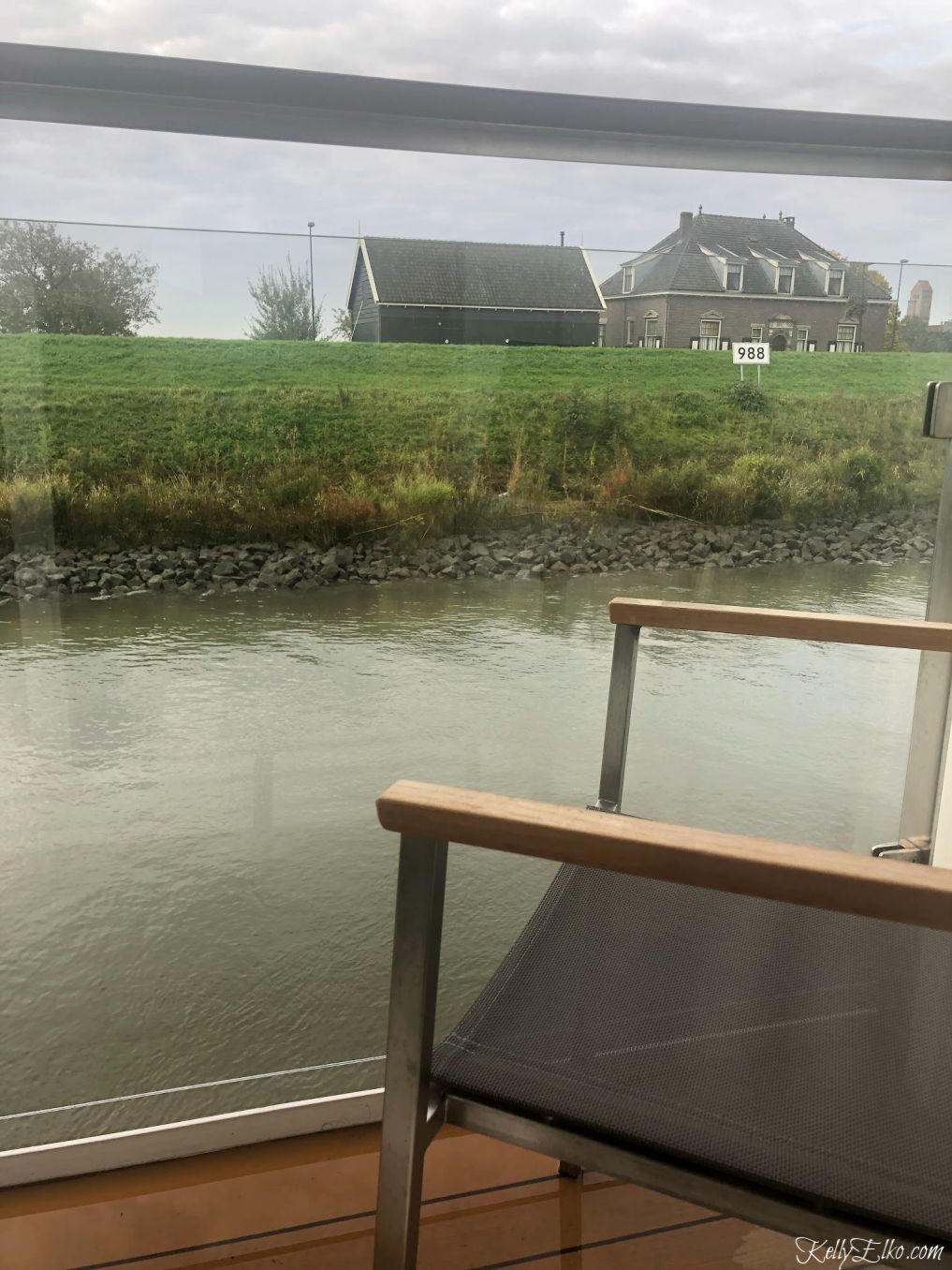 You may be wondering is it worth getting a balcony on a river cruise and I can definitely say it was amazing! However, if it's not in your budget, the French balcony cabins with their floor to ceiling doors that can be opened to catch the breeze are wonderful too.
Today's shore excursion takes us to Kinderdijk which is a UNESCO World Heritage site with 19 enormous windmills. This is an included tour so it costs no extra money! It is such a spectacular sight to behold and straight out of a fairytale. Our local guide took us into a working windmill where families still live today.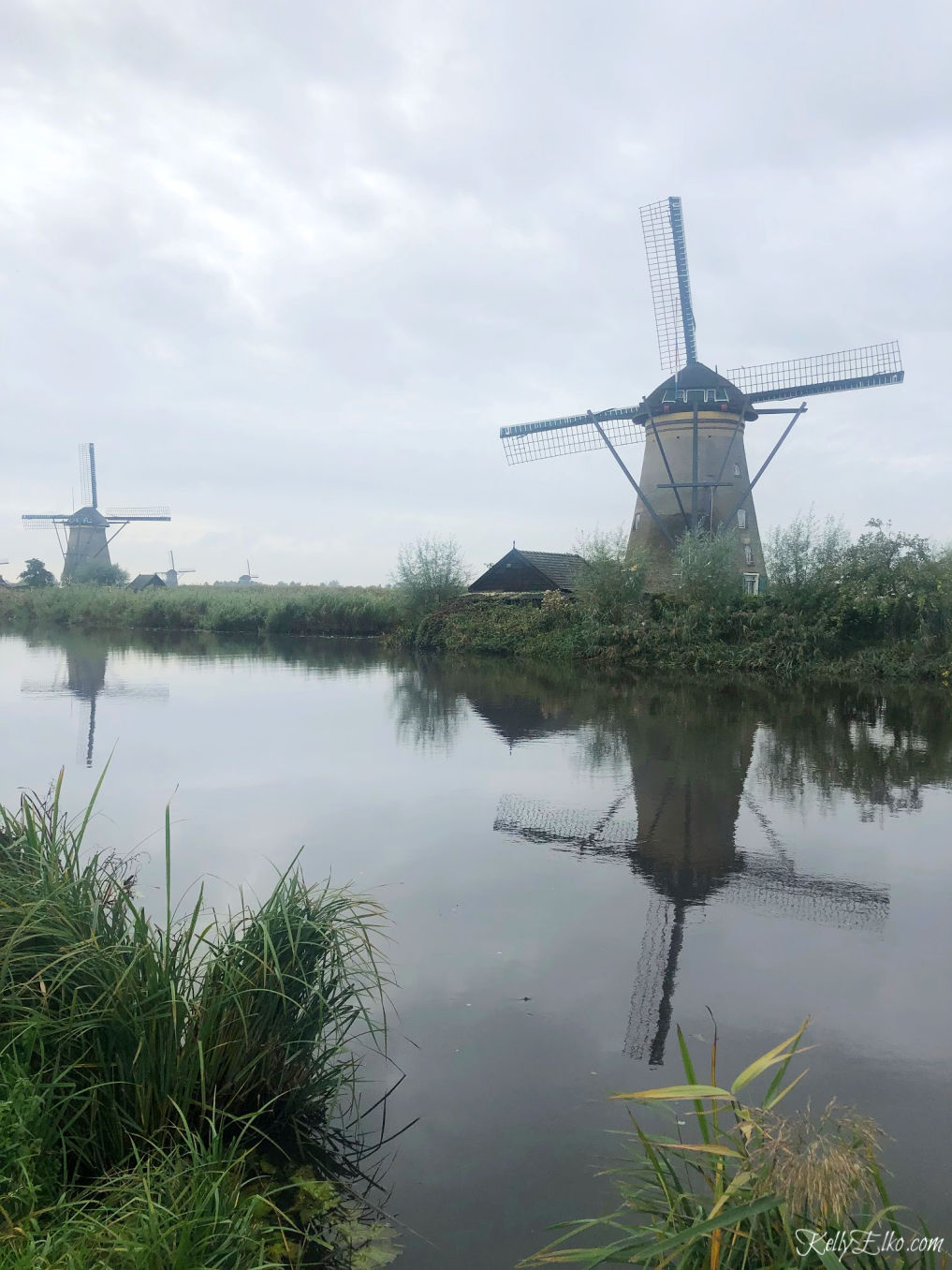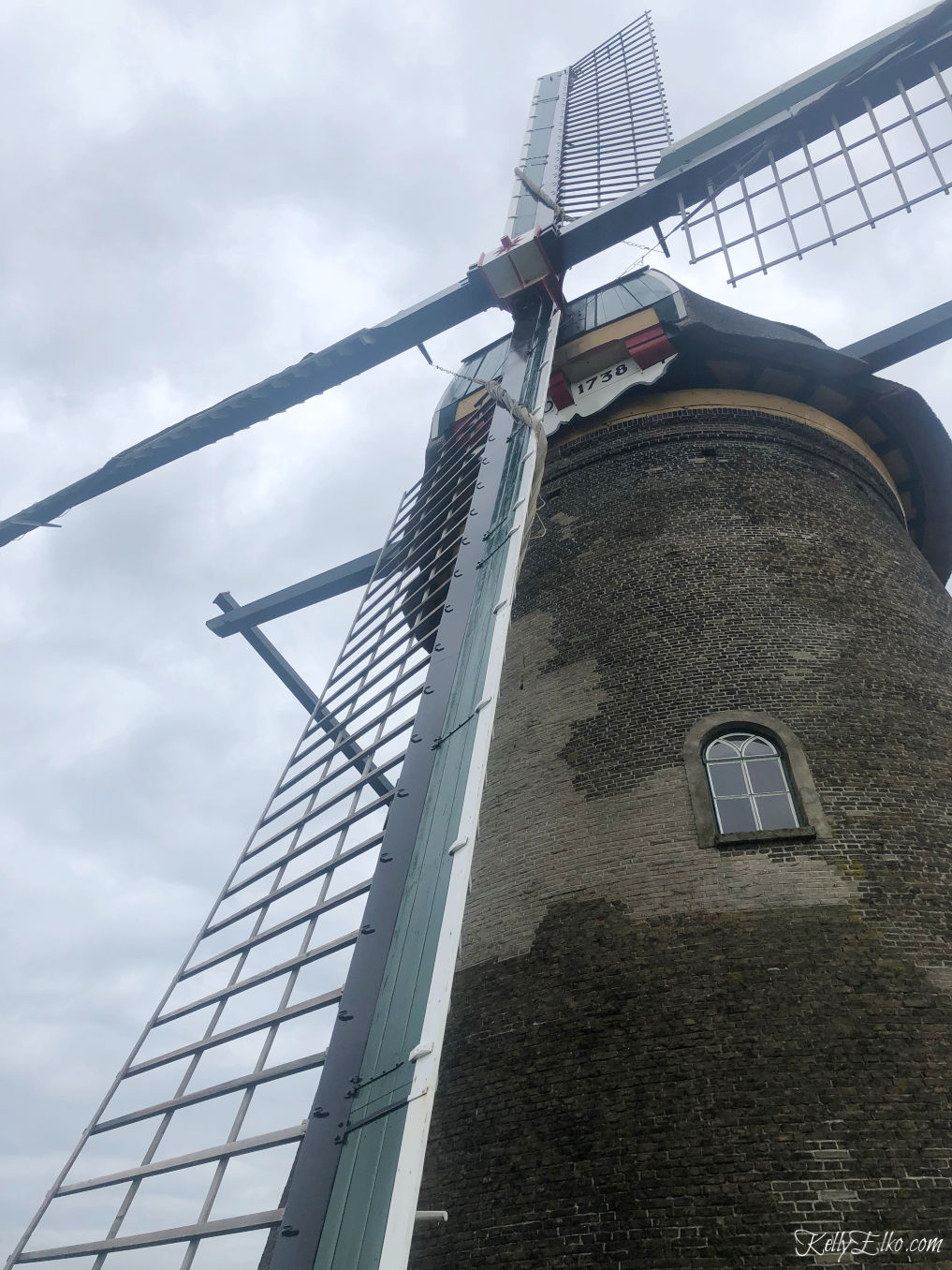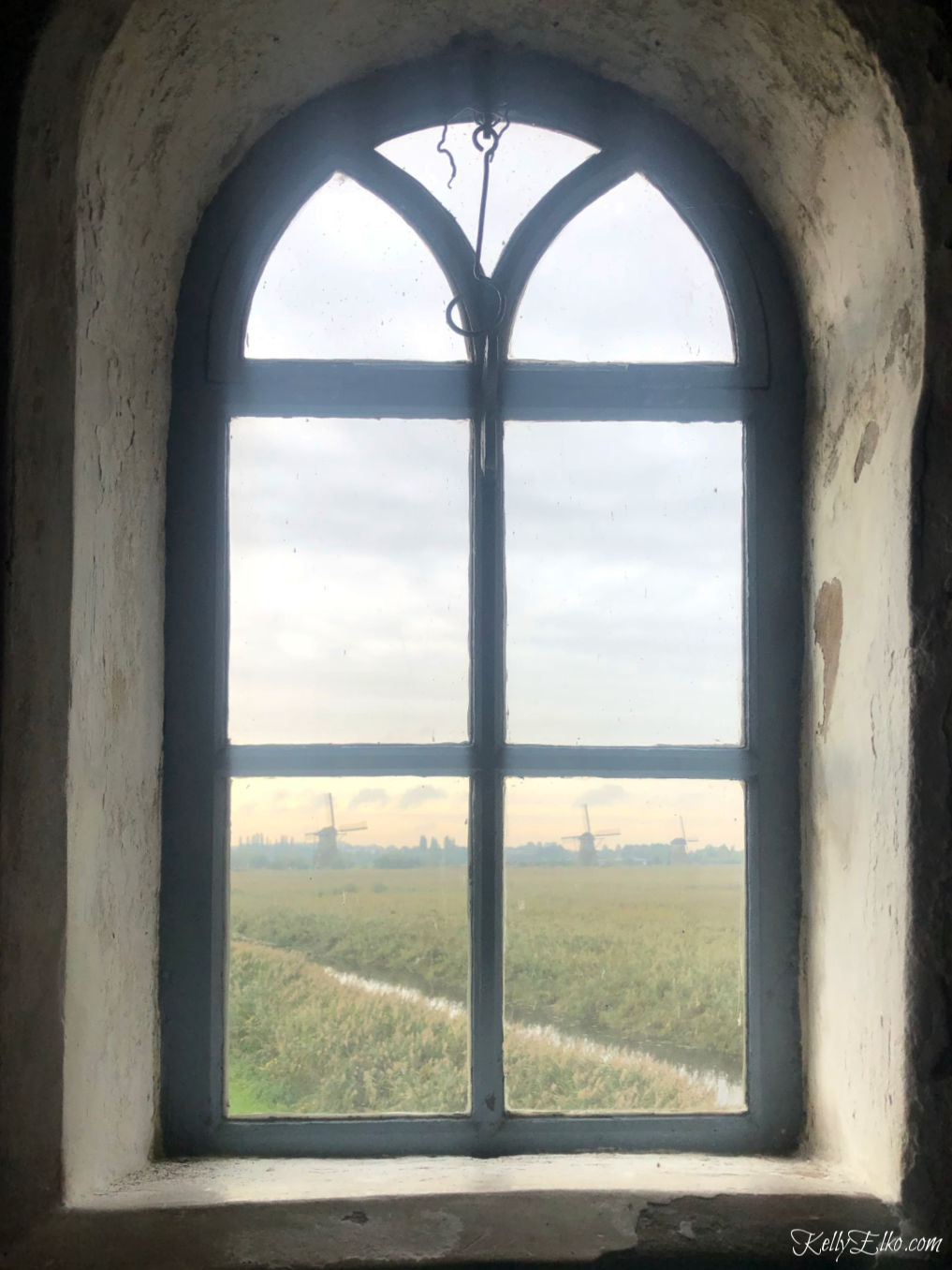 This post contains affiliate links which means if you purchase something, I will make a small commission.
My rain coat was the perfect layering piece for the unpredictable weather and I recommend a cross body bag (I love this water resistant bag).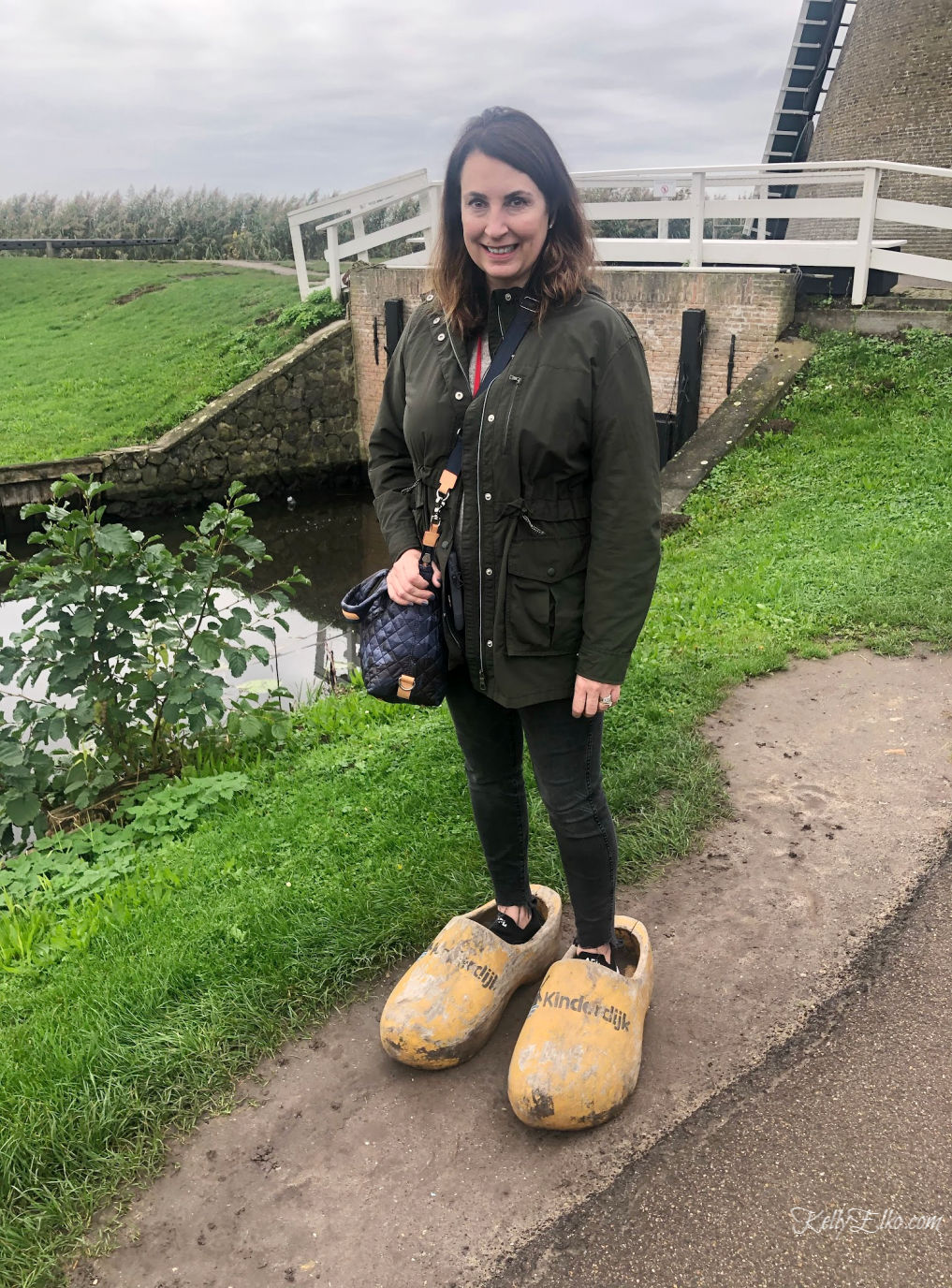 The best part about returning to the ship was being surprised with a different daily treat in our stateroom.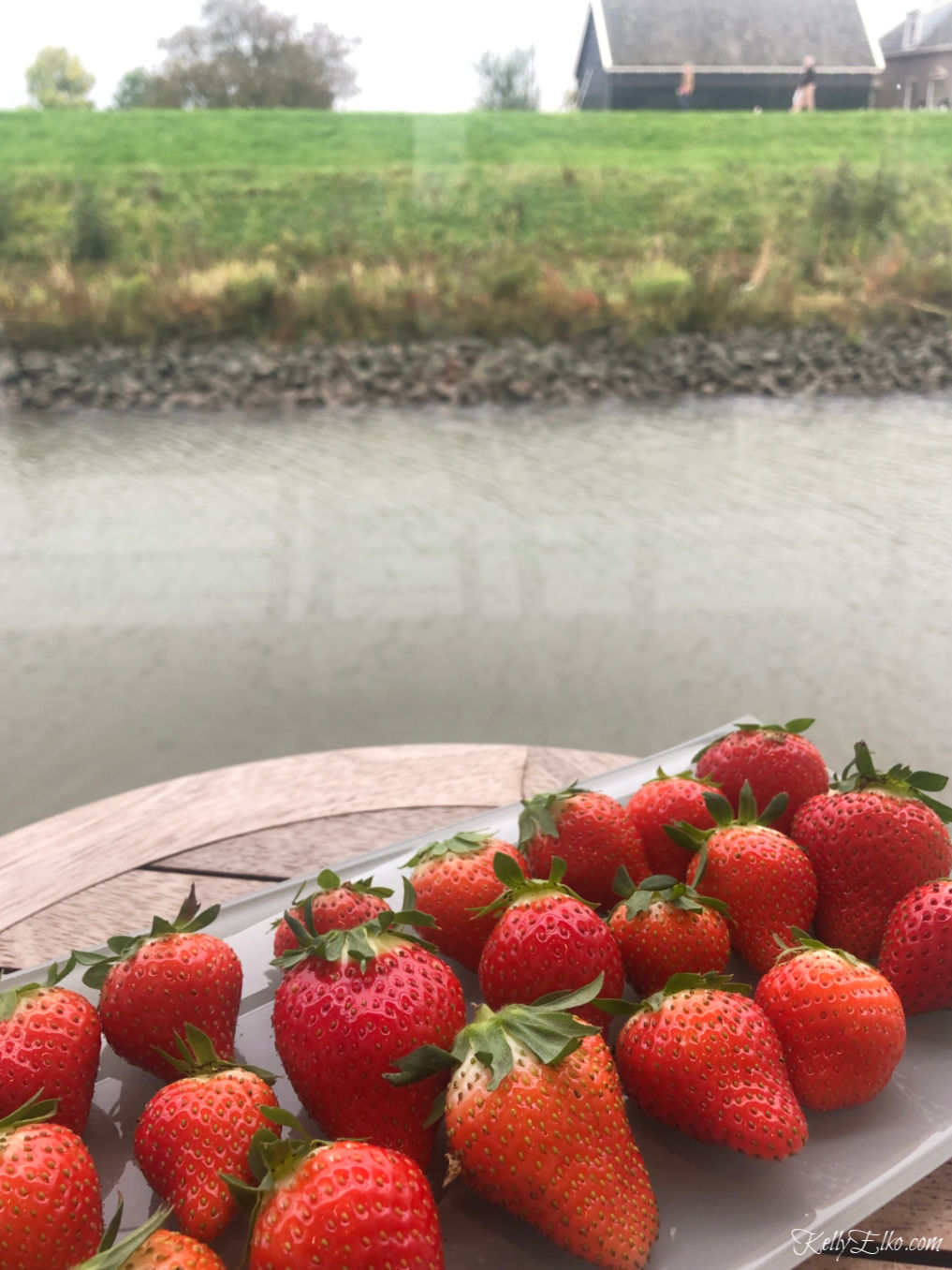 The afternoon was spent on board taking in the scenery as we cruised along the Rhine.
Day 3 – Cologne Germany
It's all about the food and the breakfasts on the ship were fabulous! We loved the made to order omelettes. Breakfasts were casual buffets while lunches and dinners were more formal sit down meals. I loved the casual dress code because after a long day of exploring, it was nice not to have to worry about getting all dolled up for meals.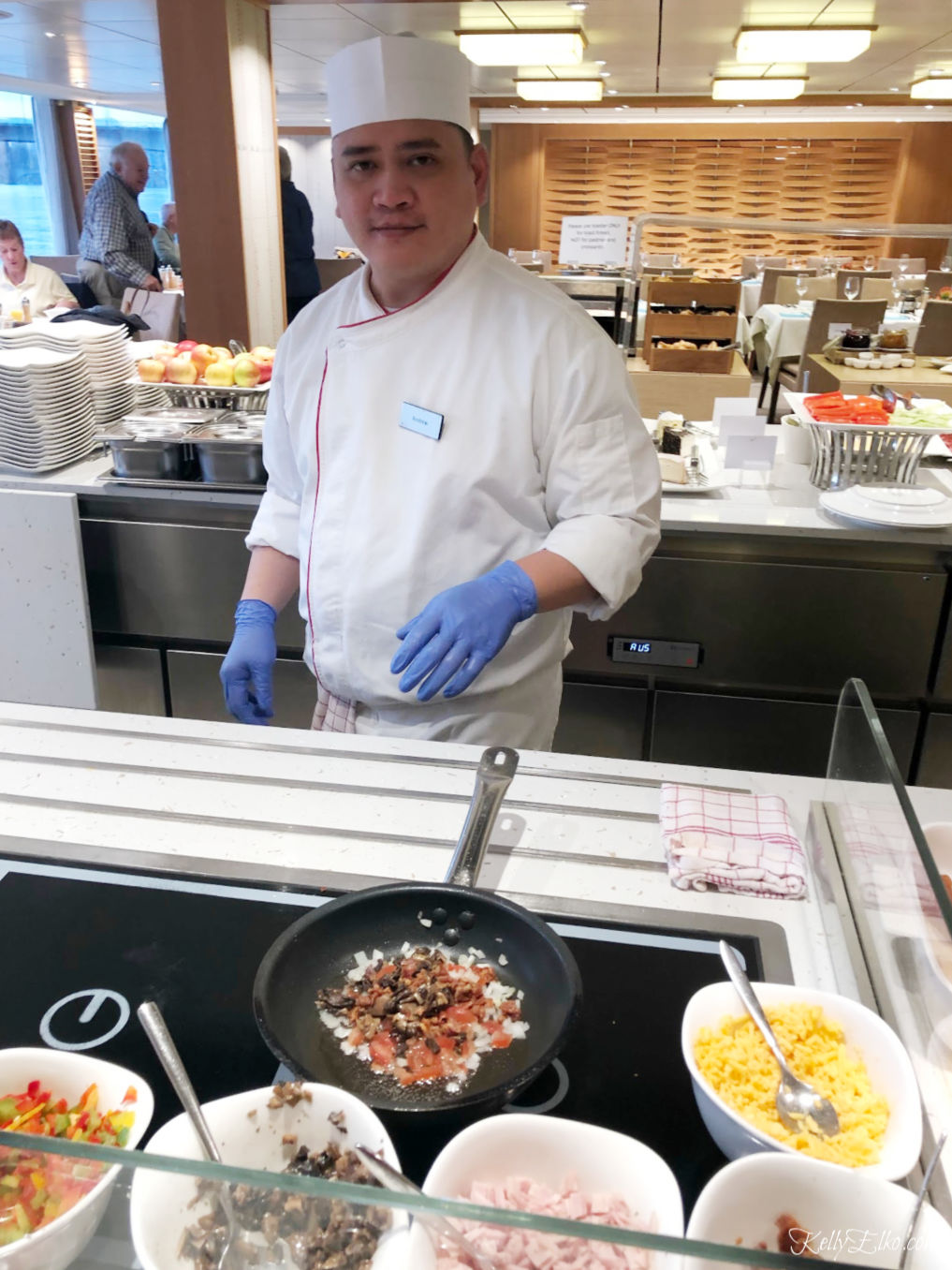 We boarded a bus for a short ride to Cologne where our tour guide gave us a quick lay of the land then left us on our own to explore. The Cologne Cathedral (another UNESCO World Heritage sight) is HUGE and it was pretty impossible to get a decent photo!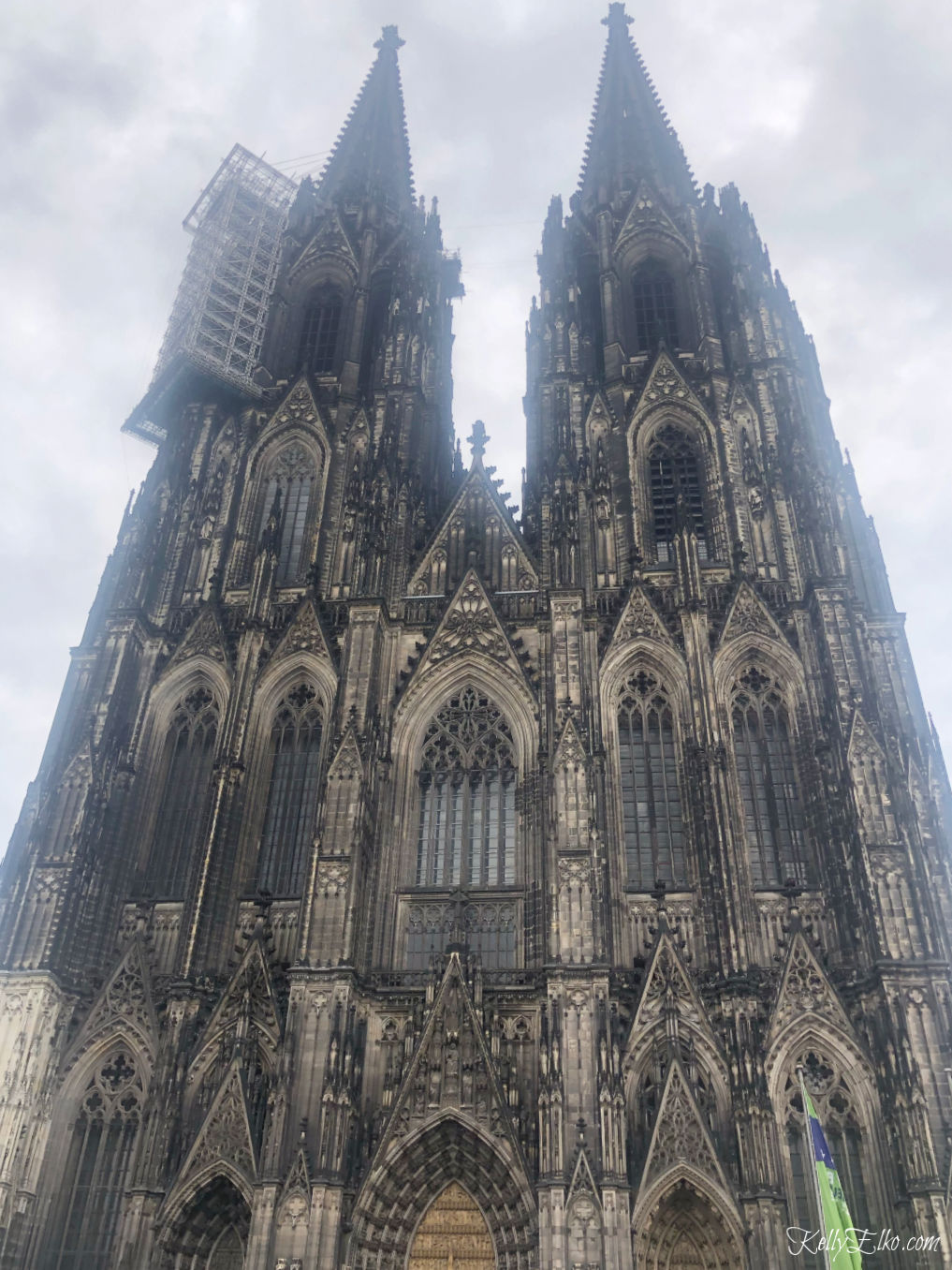 Did you know Cologne is where the original Eau de Cologne was invented! I had to find the Farina Fragrance Museum and pick up some of the iconic red packages for friends and family (and of course one for me).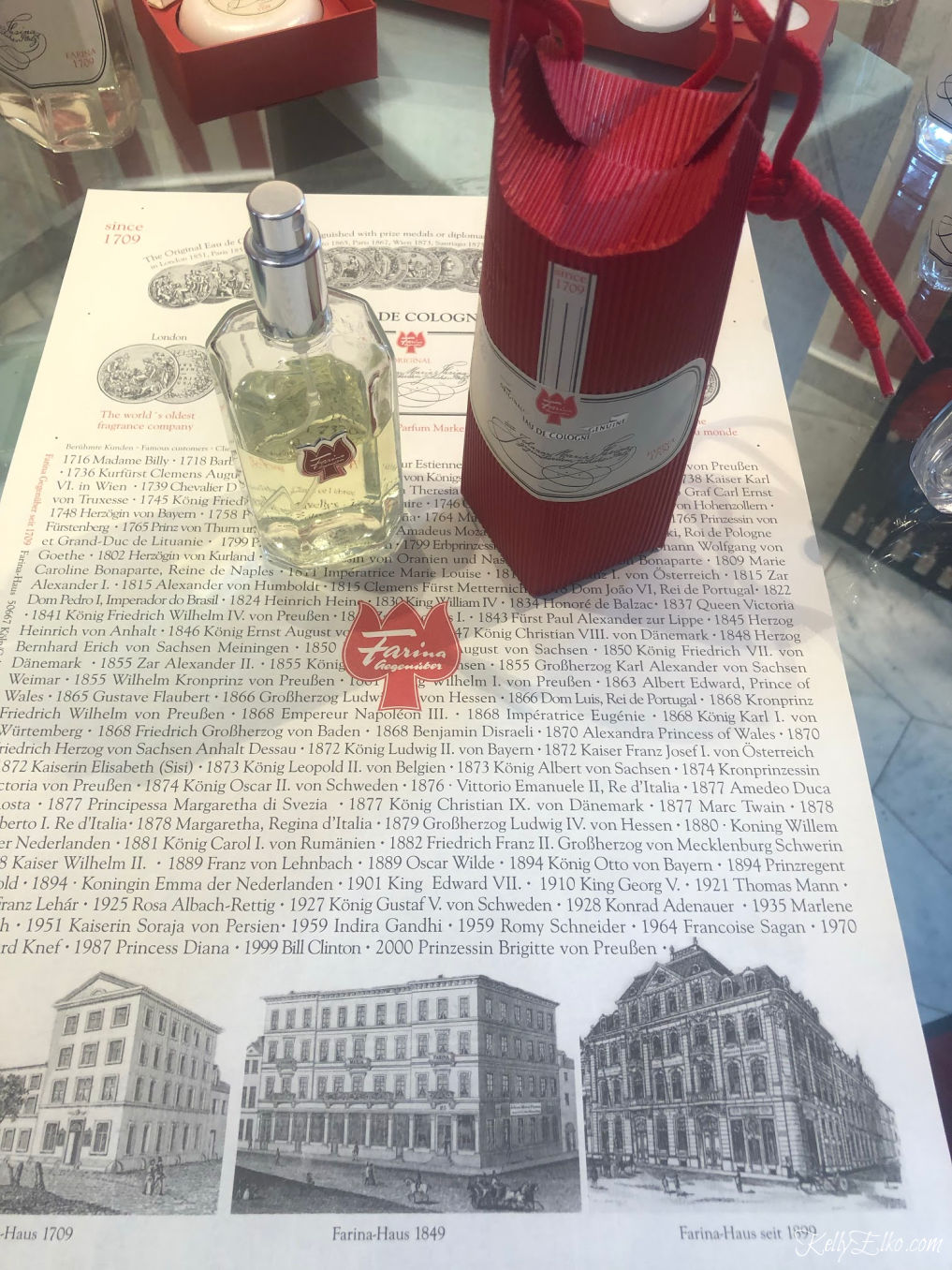 When in Cologne, you must drink Kölsch beer in an original "Brauhaus" (a traditional German pub where the beer is brewed). The waiters will continue to refill your glass unless you put your coaster on top to signal that you're done!  By law, this refreshingly light brew can only be produced in Cologne so don't miss it!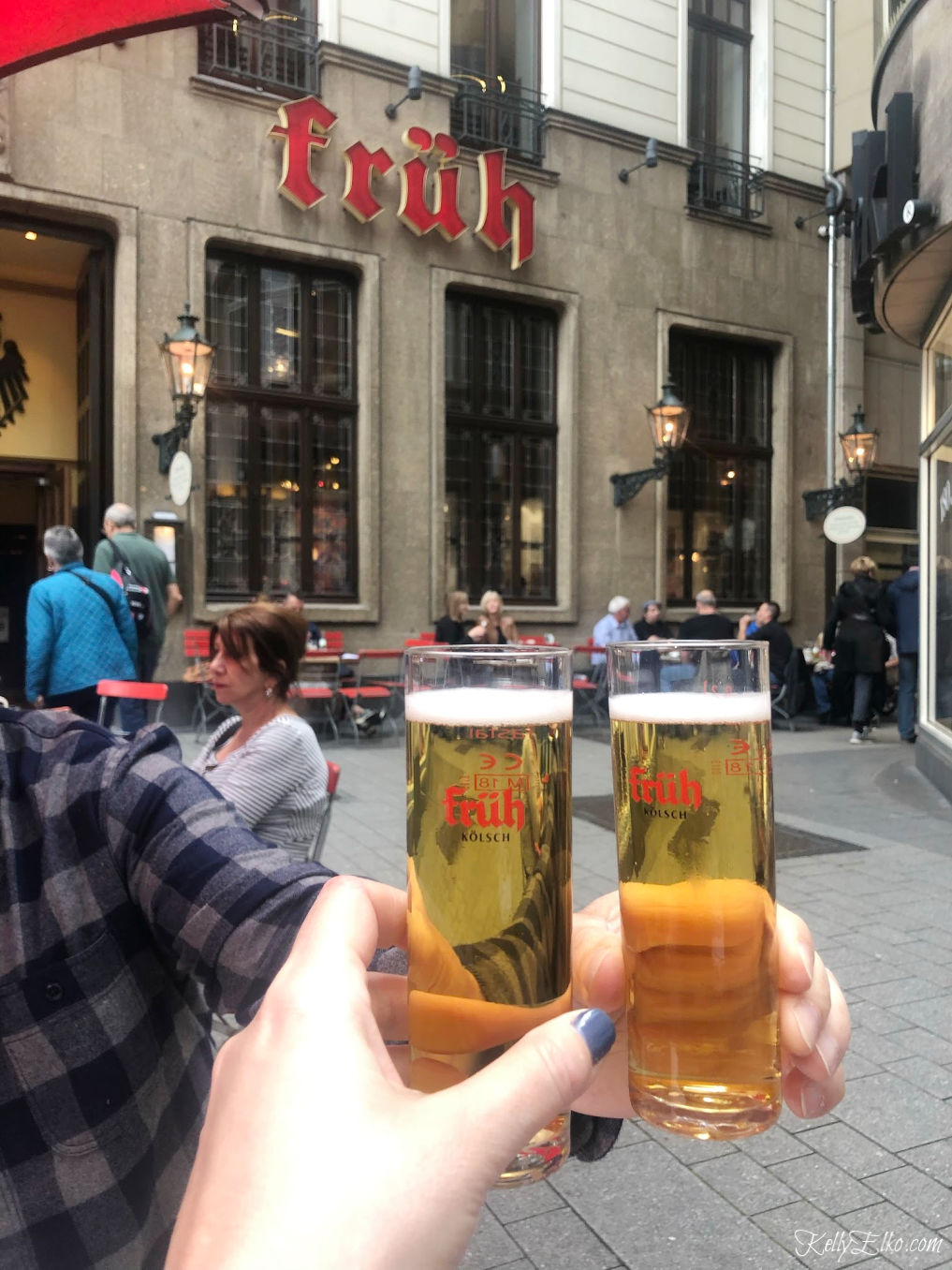 When we had our fill of Cologne, we enjoyed strolling across the Love Locks Bridge to get back to the ship.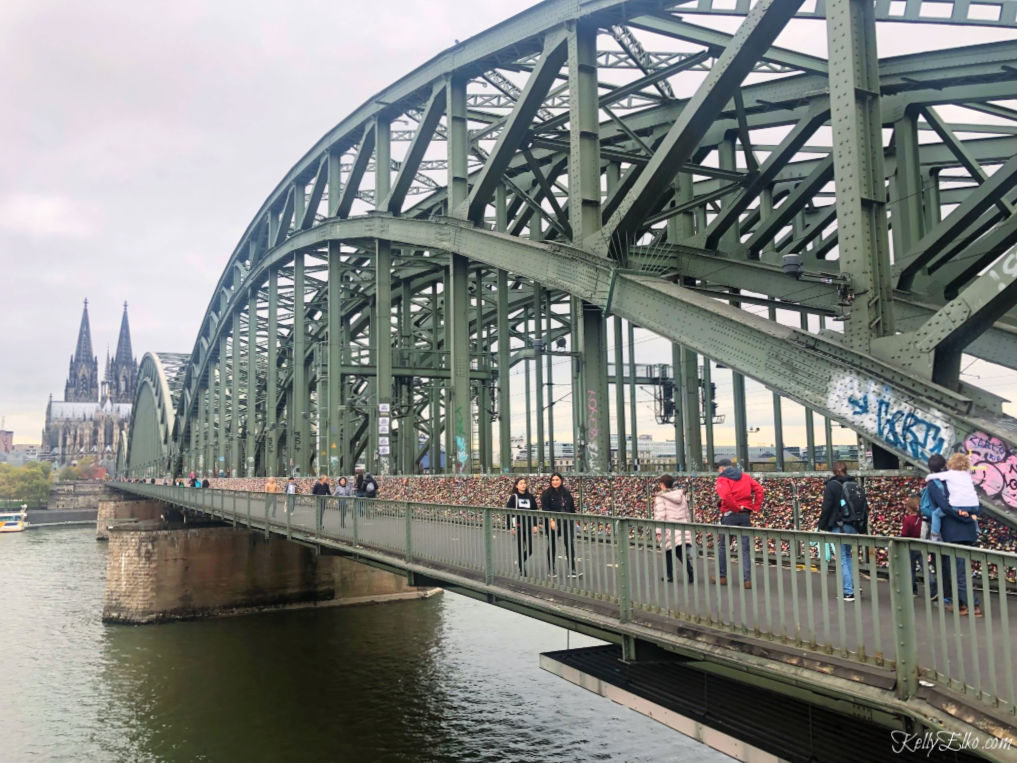 Our ship had a prime location with a spectacular view of the bridge and the cathedral! The ship has two dining areas and this is the more casual Aquavit lounge with seating inside and out on the front (or the bow) of the ship.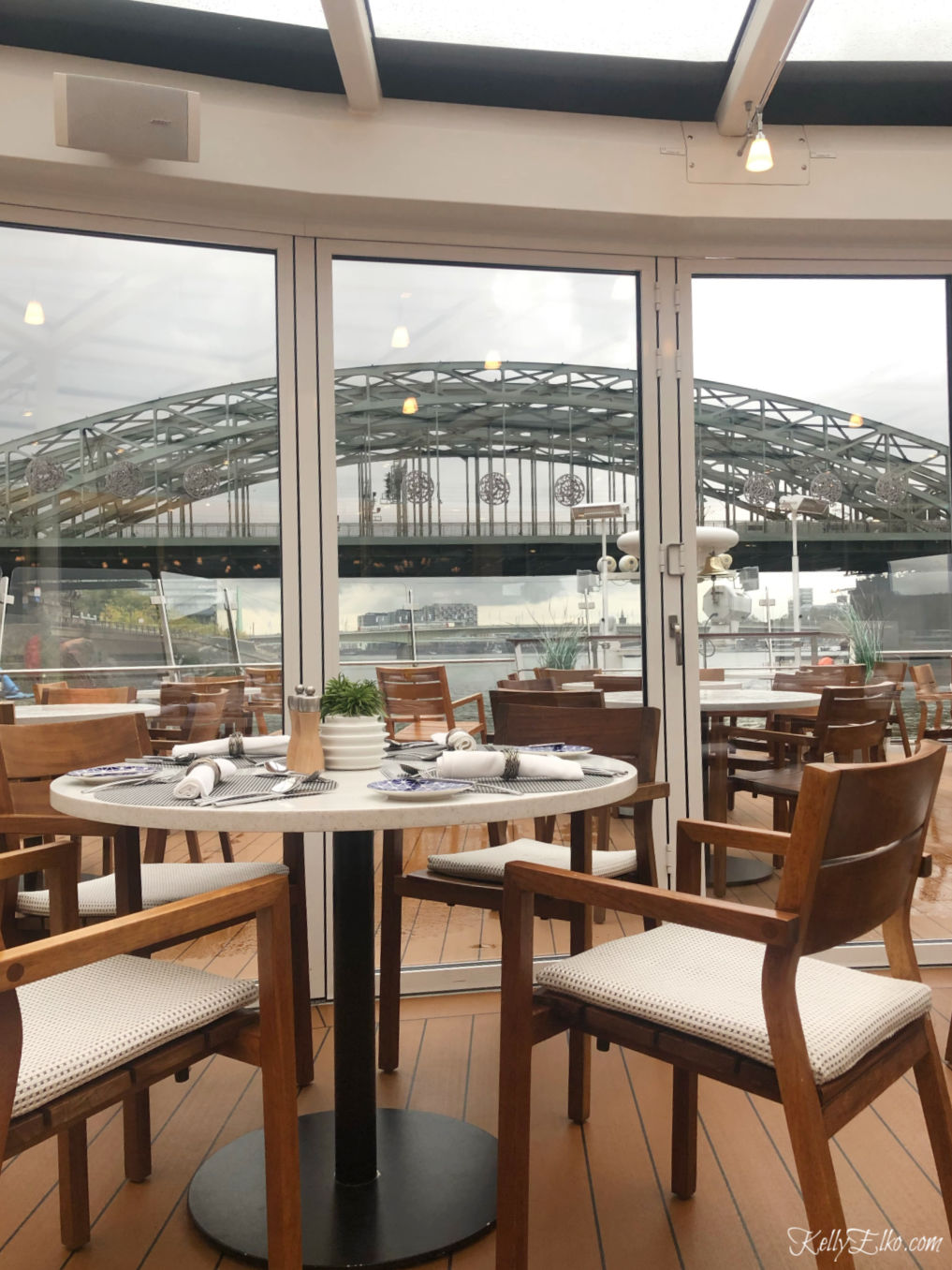 We loved getting to know the friendly crew including Captain Wim, Sara our Program Director, and Mohamed (or Mo as everyone called him) the Hotel Manager. They mixed and mingled with the guests and one morning when we found the Captain sitting alone at breakfast in the main dining room, we joined him and had a great time chatting.
There are lots of optional night tours too like the popular Cologne's Beer Culture Dinner but we enjoyed touring the beer halls on our own so we were happy to eat dinner on the ship.
Tip: House wine is served at lunch and dinner but if you prefer a nicer bottle of wine and cocktails, I recommend buying the Silver Spirits package so you can get unlimited drinks any time of the day or night!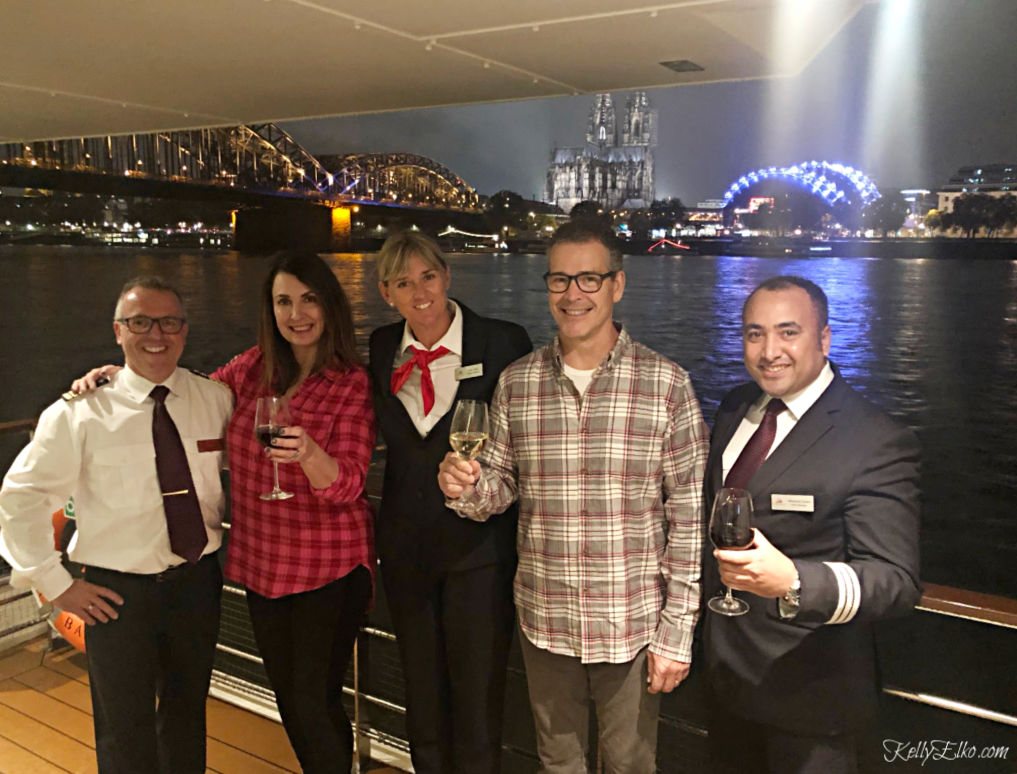 Day 4 – Koblenz Germany
We chose to tour Marksburg Castle (there are many tour options to choose from every day) which is one of the few remaining castles on the Rhine that has remained intact. We took a short bus drive up a winding road to the top of a hill and were met with this spectacular view! There are optional tours this day including a walking tour of Koblenz so you'll have to decide which one works best for you.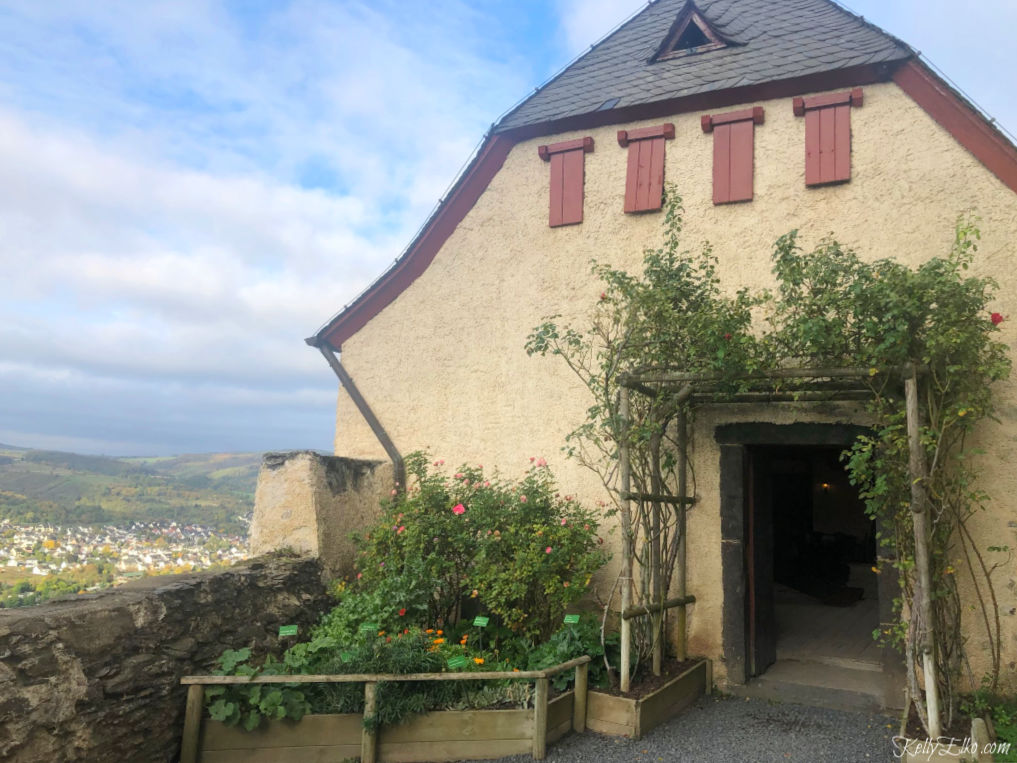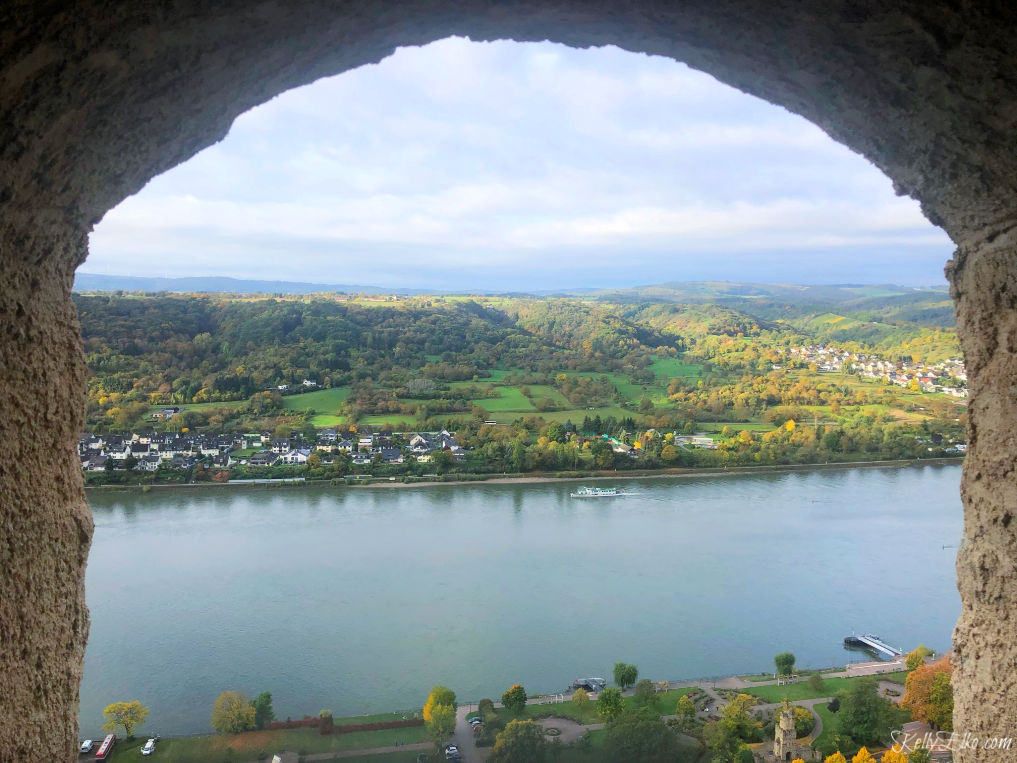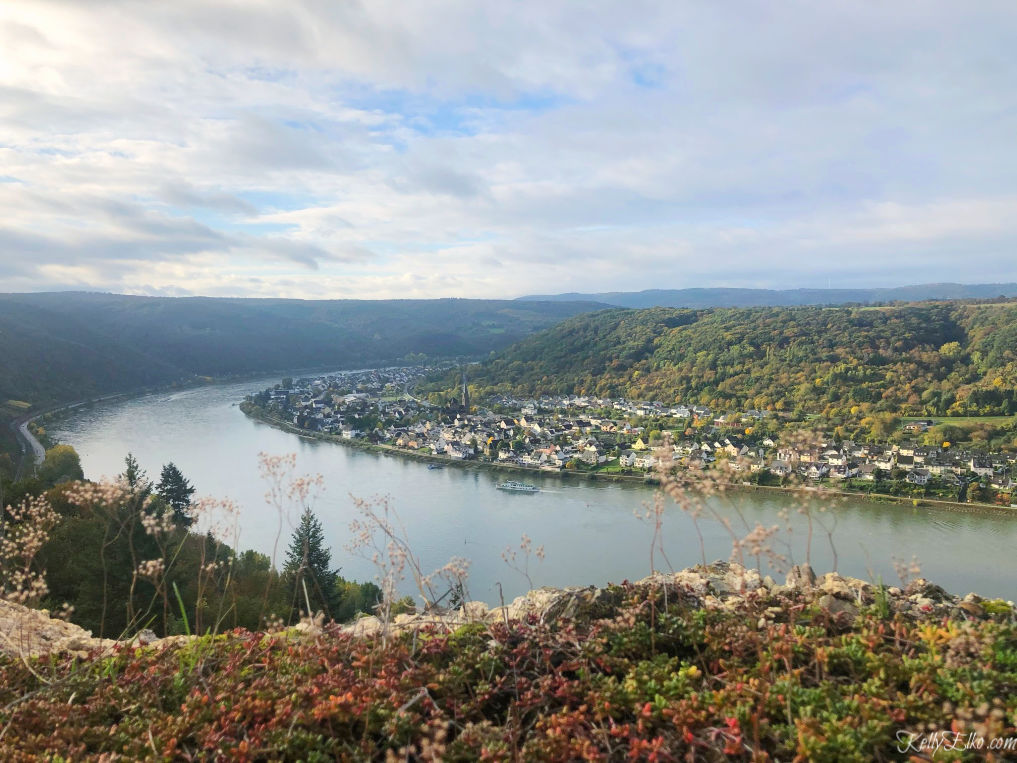 Middle Rhine Castle Corridor
When we were done exploring the castle, we went back to the ship to enjoy the most scenic sailing day of the trip!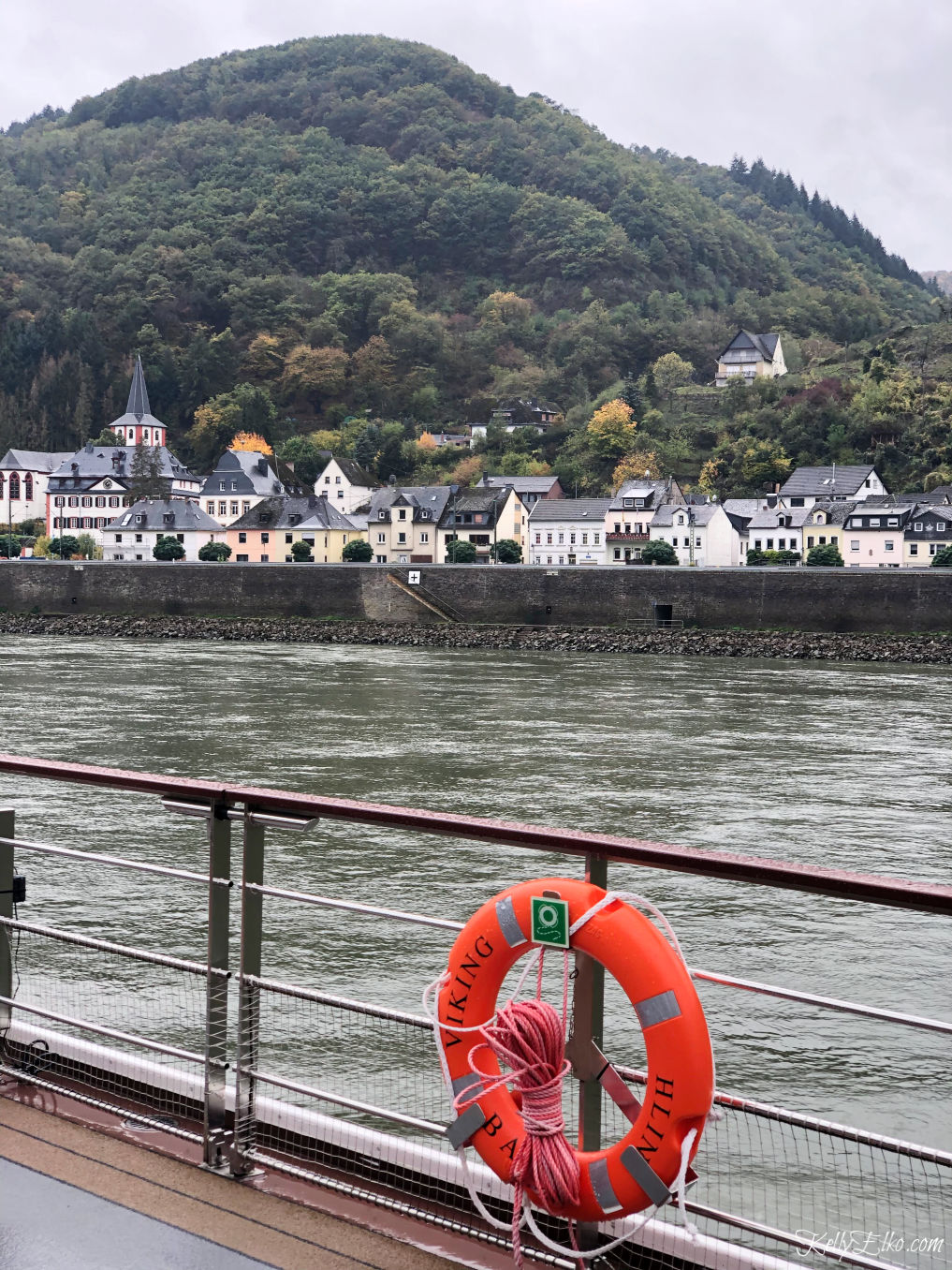 This stretch of the Rhine is filled with castles perched high in the hills. Most have been turned into luxury hotels! There are tons of castles on both sides of the river.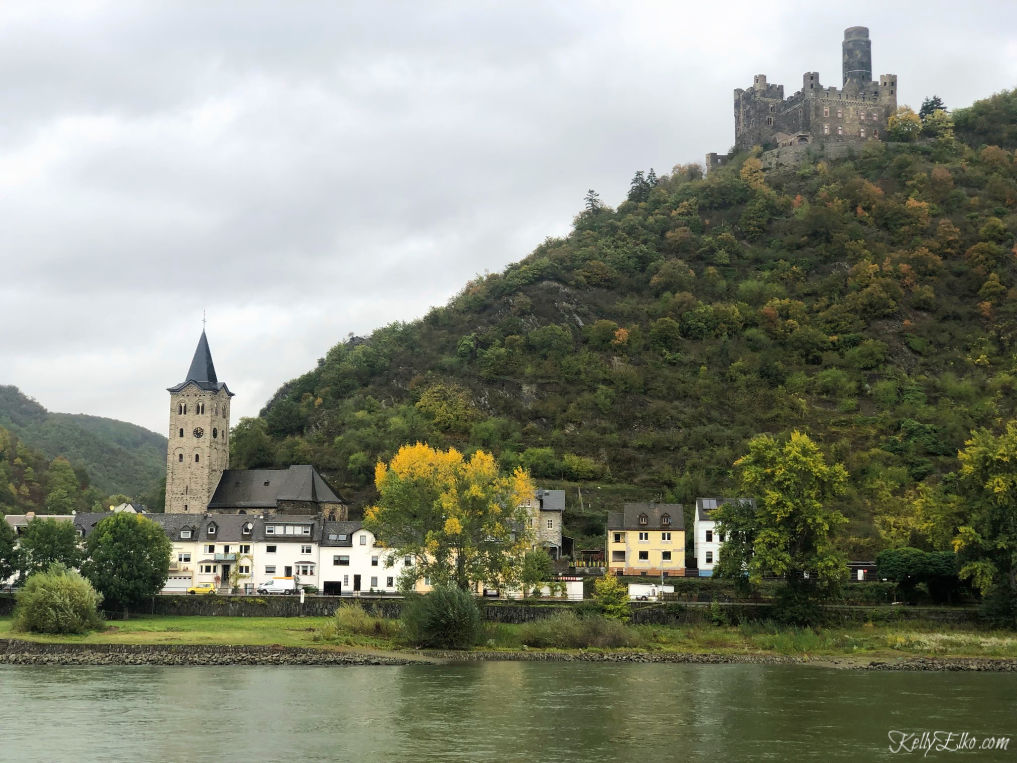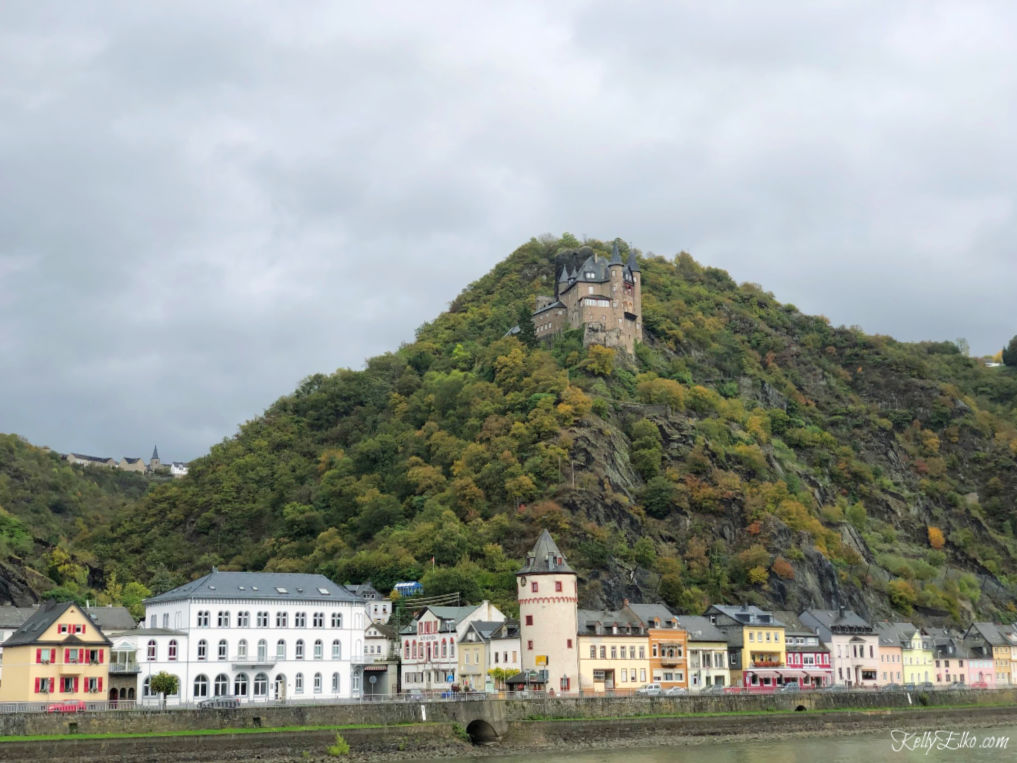 We sailed past this spectacular 430 foot Lorelei Rock where legend has it that the beautiful maiden Lorelei sunk the ships of distracted sailors.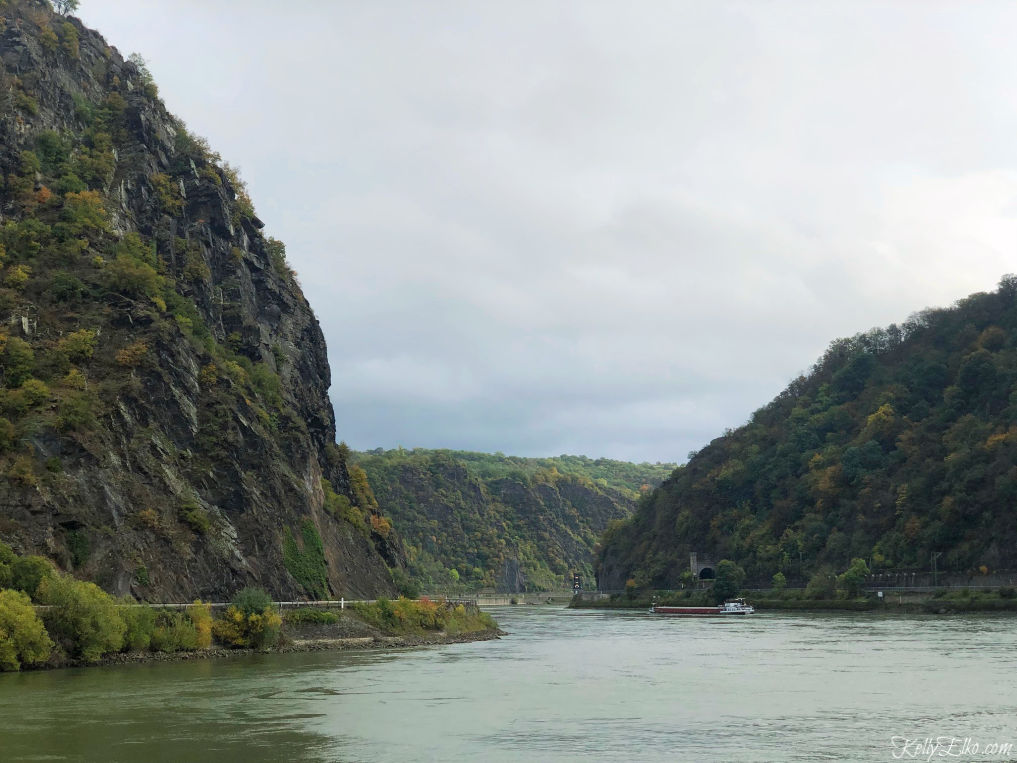 A little wind and rain didn't dampen our spirits! The upper deck of the ship has a clear overhang making it perfect for being able to take in the sights while staying dry. Viking handed out a map of the castles and Sara, our Program Director, gave commentary over the loud speaker. If you want to see the castles up close and personal, pack a pair of binoculars.
Tip: Pack layers! We traveled in October and some days called for heavy coats while other days, a long sleeve shirt was all that was needed. Also, pack a small travel umbrella (Viking provides bright red umbrellas but you'll stand out like a tourist if you use one)!
Click the pics to shop some of my travel must haves …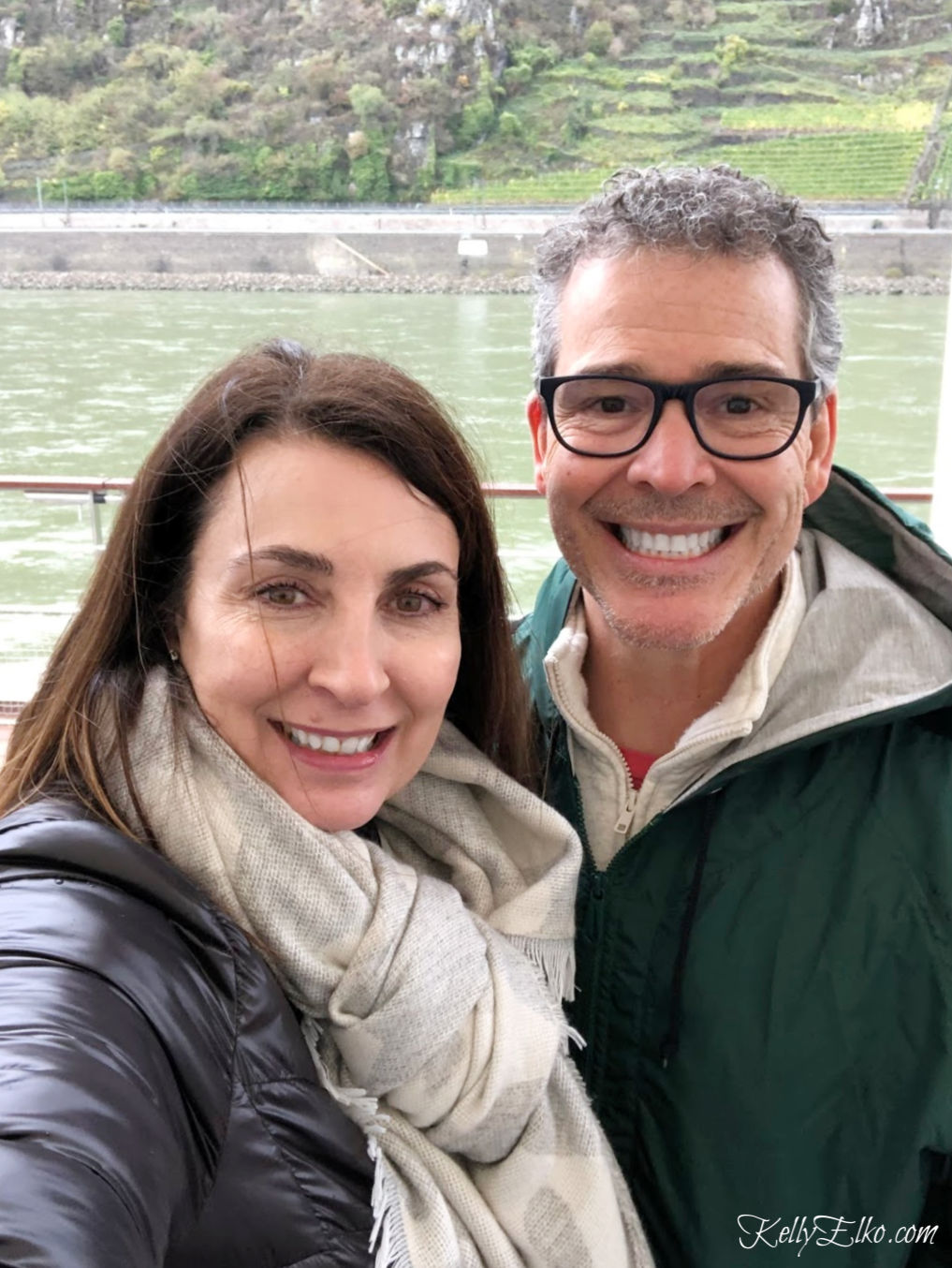 Rudesheim Germany
What a day! After being wowed by the castles, we docked in Rudesheim around 5 pm just in time for dinner. The only problem was, not many restaurants were open so we spent our time wandering around this charming little town of vine covered, story book buildings.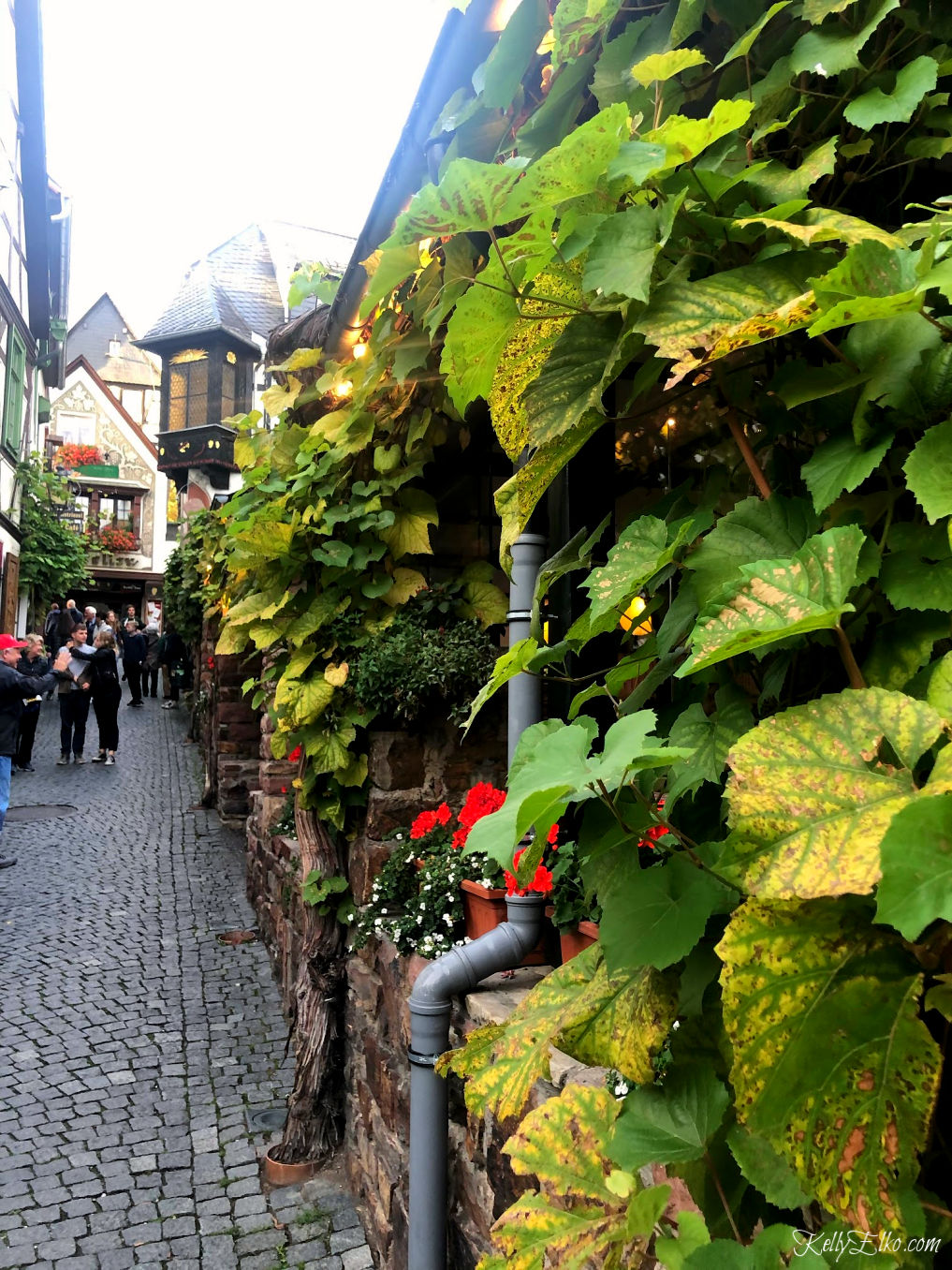 I was a little bit disappointed and didn't think there was much to do here (lots of touristy t-shirt shops) so we eventually took the scenic walk along the river back to our ship where it was time to dine!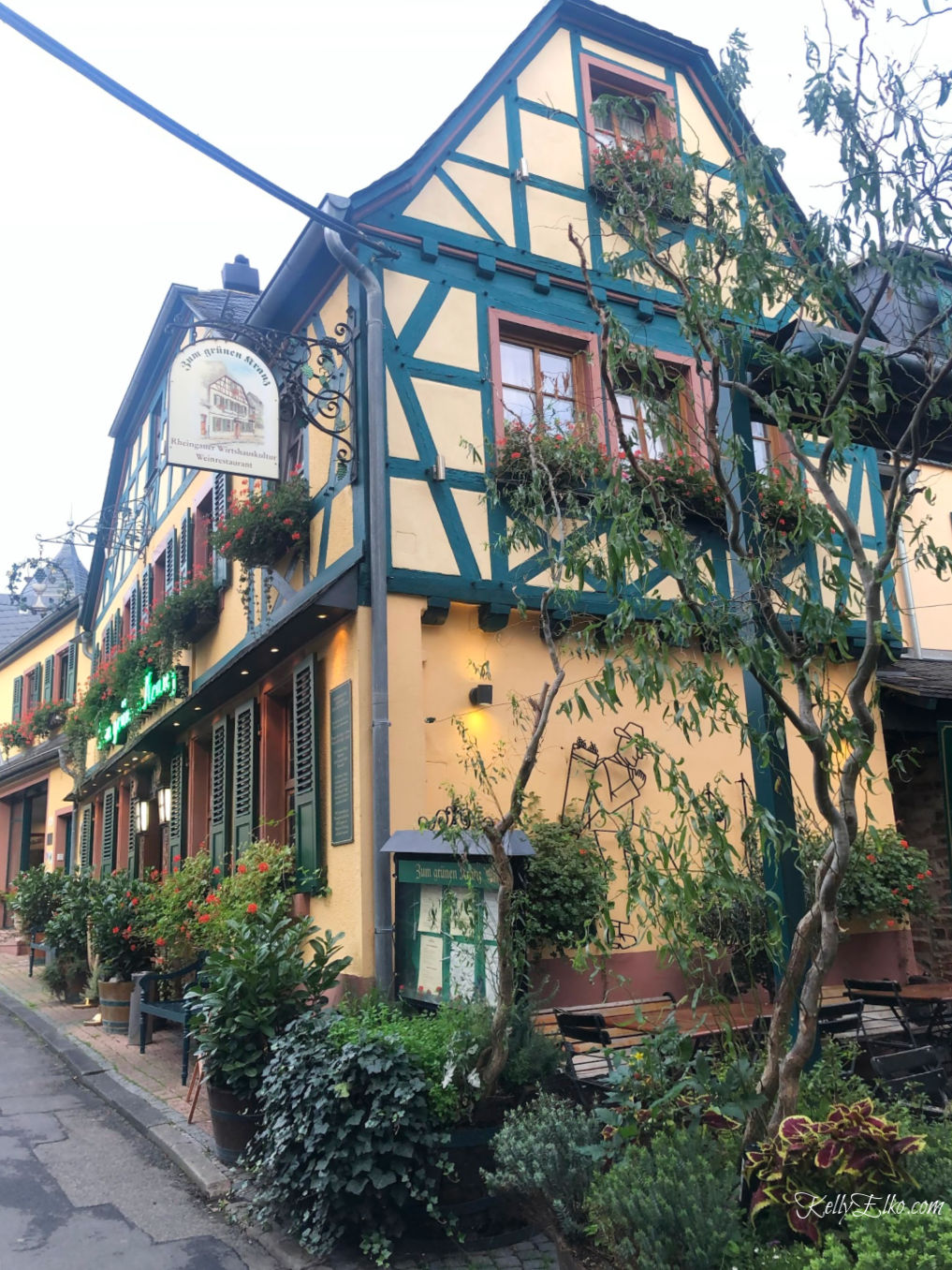 Wein is a universal language!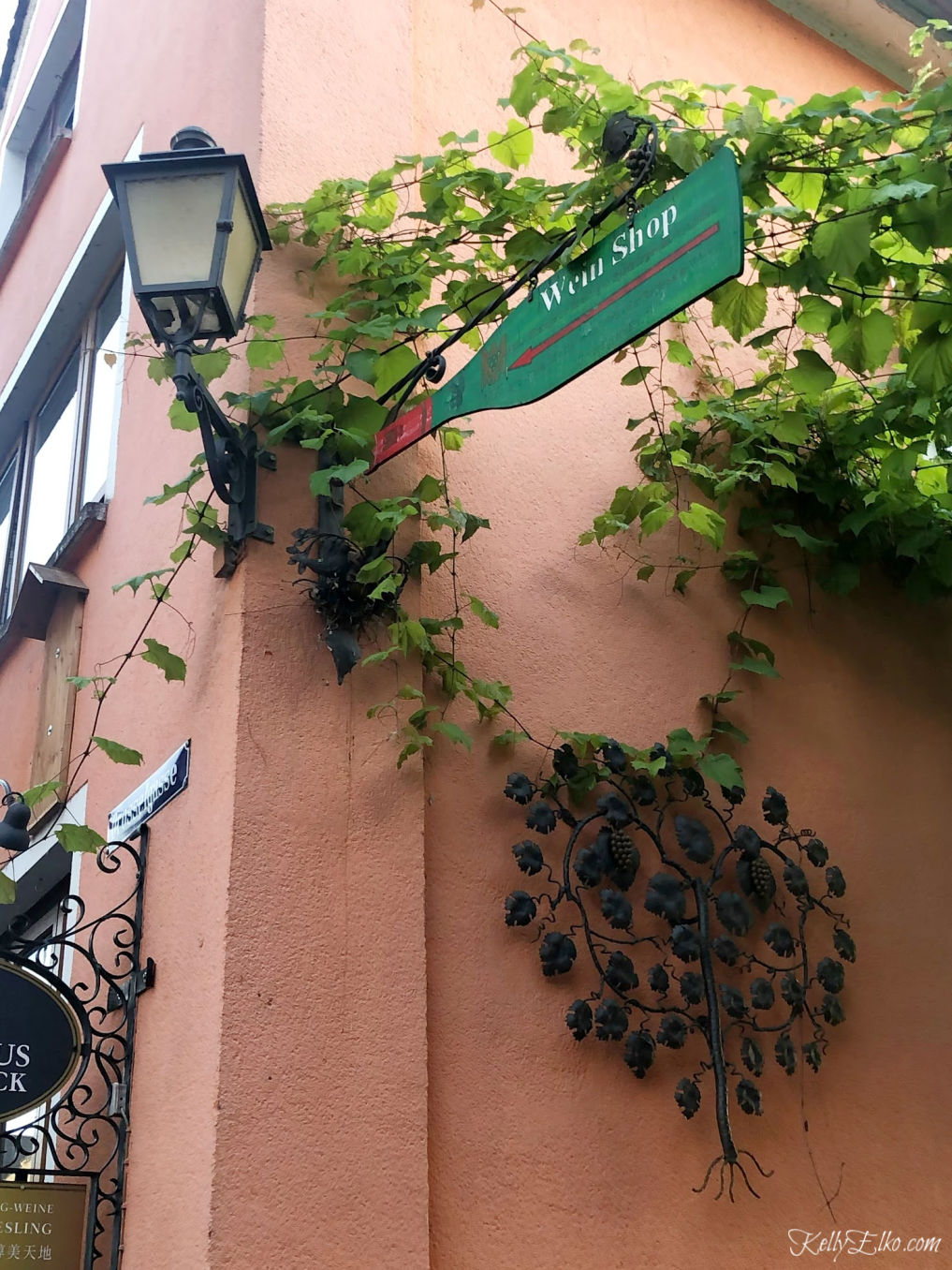 Cheers!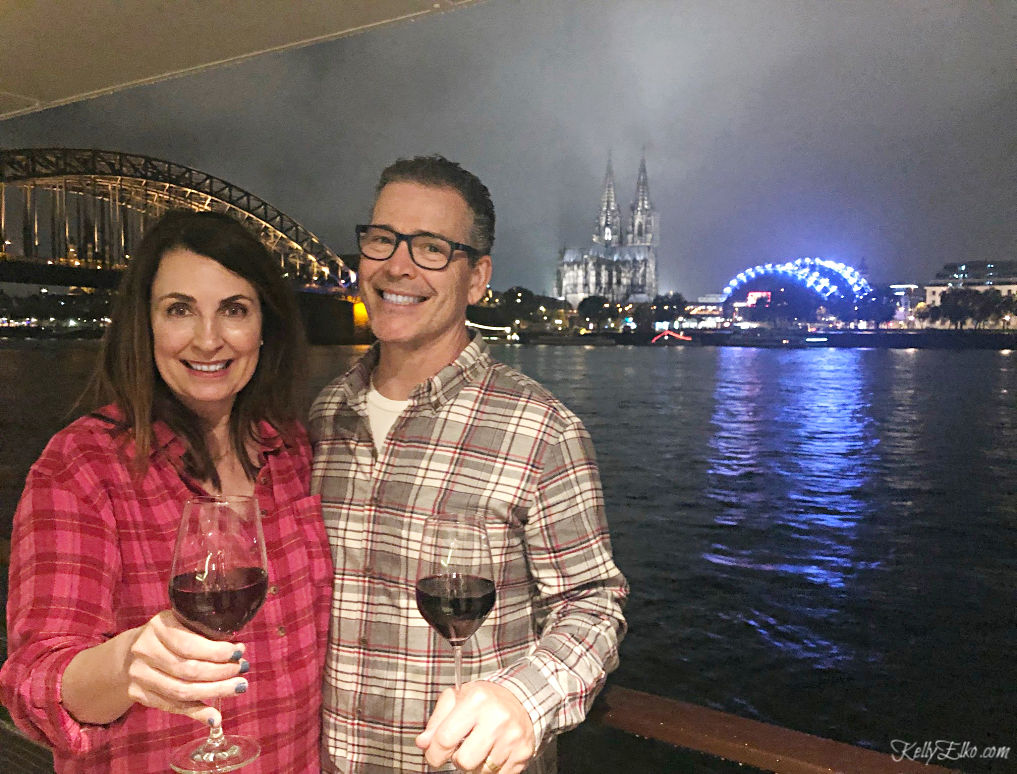 I'll be back soon with part two of our Viking River Cruise where I'll share more amazing sites including my favorite city that we visited! I'll share who we hung out with and an unbelievable blast from the past that we ran into on the ship!
P.S. I posted more in my Instagram Stories here including some great videos!
Have you ever been on a Viking River Cruise? Are you thinking of going on one? Feel free to ask questions or leave your reviews and tips in the comments.
My friend Diane wrote a great post about her Viking Cruise along the Seine from Paris to Normandy and you can read it here!