Why Everyone Should Commission an Original Piece of Art
If you think original art is only for the wealthy, I'm here to say anyone can own their own meaningful, unique piece of art. I am sharing my thoughts on why everyone should commission an original piece of art including my tips on how to find the best artist that can bring your vision to life at an affordable price!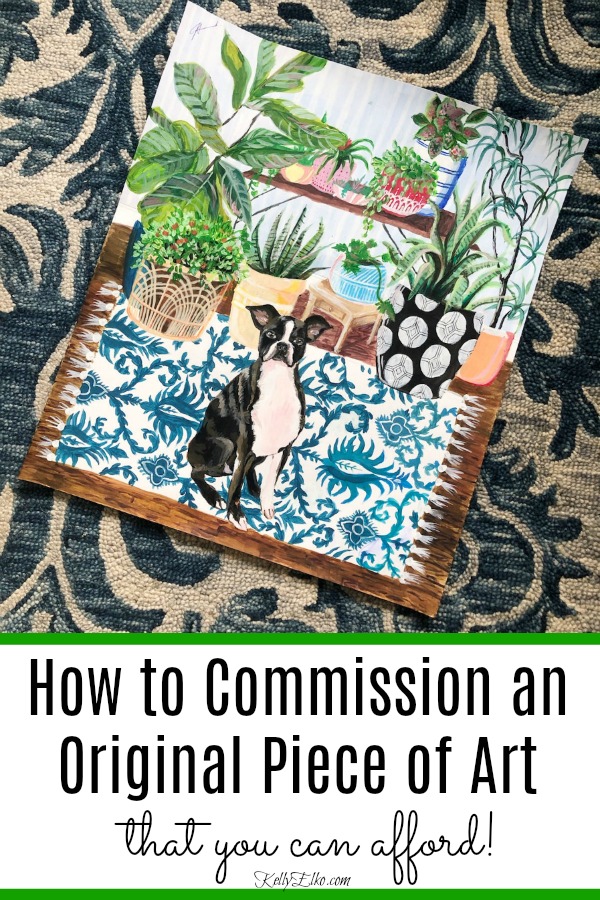 We've all done it. Walked into HomeGoods and bought a framed piece of art. It's easy and affordable. The problem is, you'll see it in everyone's home! I noticed that the things hung on my walls are unique. I've hung everything from vintage needle points to original photography to my basket gallery wall to old signs.
I decided it was high time I owned an original piece of art and if I'm going to own a piece of original art, it's going to be exactly what I want!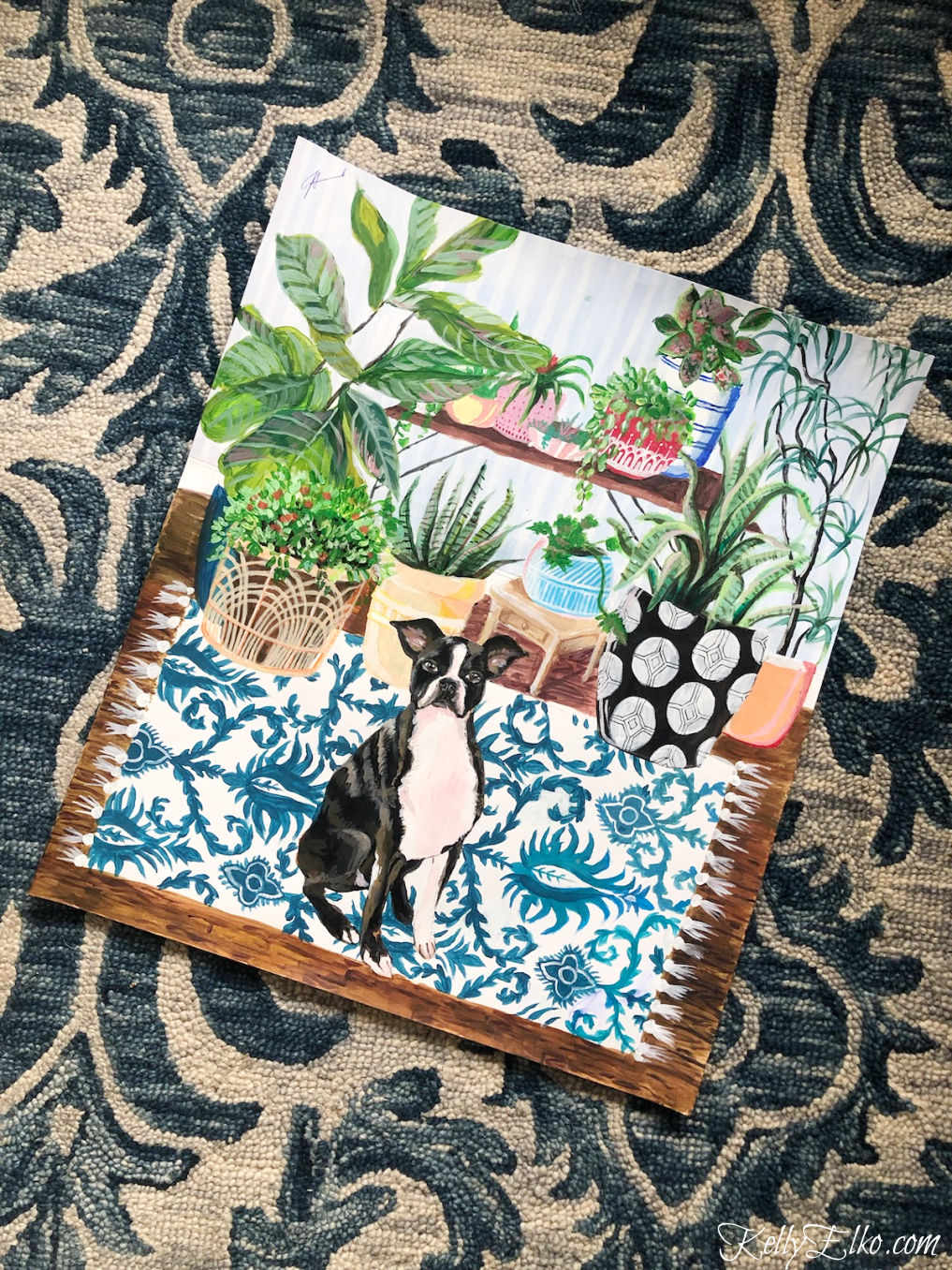 I'm lucky that my friend's daughter, Julia, is an amazing artist! She's a college student majoring in psychology but art is her passion. She created the seasonal chalkboard art you've seen on my mantel including this fall farmhouse scene and the wildly popular Santa on his sleigh. She even painted the mural on my dining room walls that you can see here.
When I saw this painting Julia did for her friend, I knew I had to have one of my little Sushi!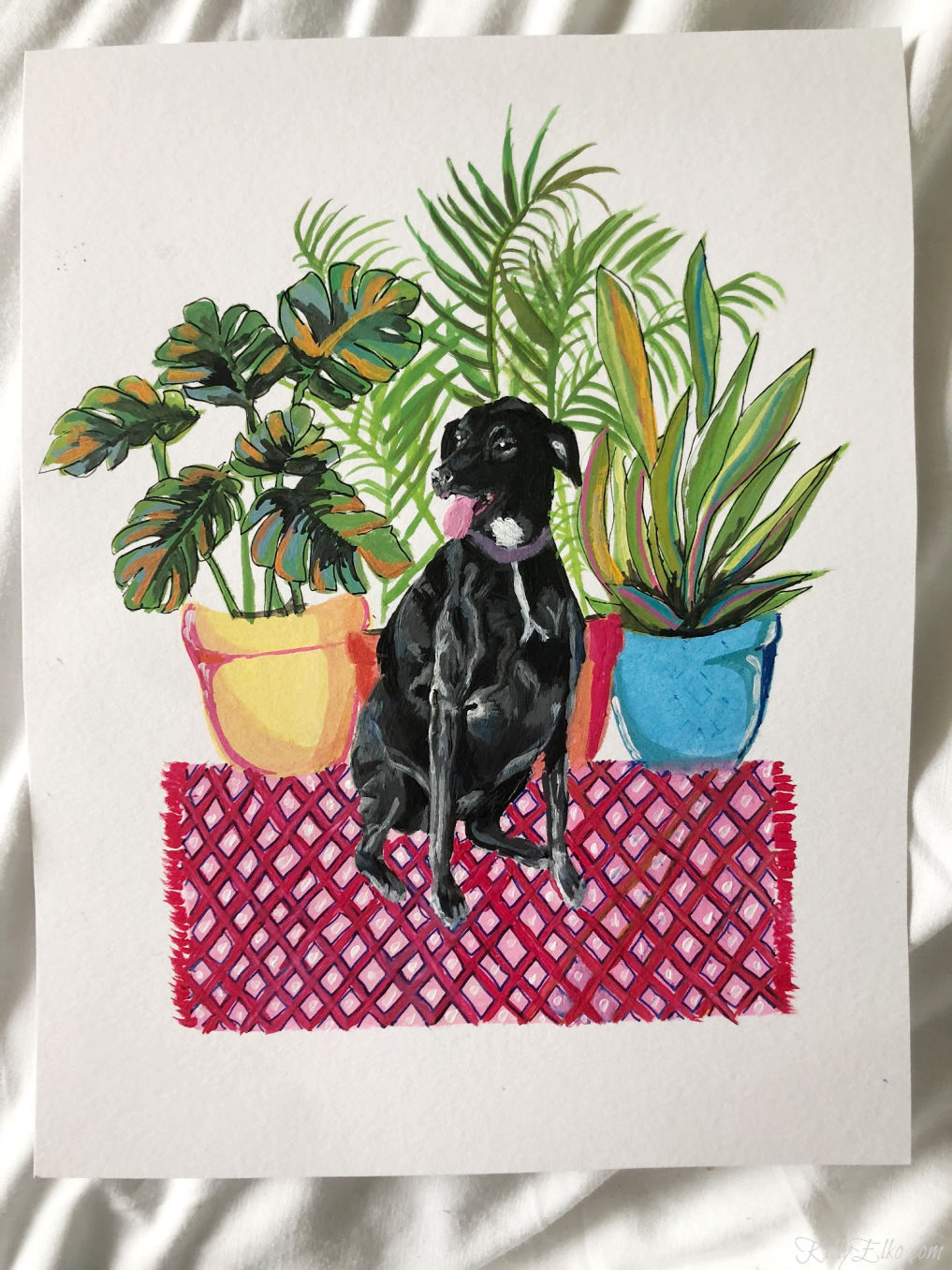 I wanted a colorful, plant and pattern filled scene with Sushi as the center of attention so I sent Julia some photos of Sushi, my favorite plants and my family room rug. I told her I wanted a large canvas and she recommended gouache (an opaque watercolor) on paper instead. She's the artist so of course I went with her suggestion!
To make sure everyone is happy with the end result, communication is key! I was thrilled that Julia involved me in the process and we were able to blend her talent and artistic knowledge with my vision. For instance, I did not want any negative white space like in the painting she did for her friend and instead asked her to make sure every square inch of my painting was filled with color! This is not the time to be vague about what you want.
I was excited when the project got underway and soon received a text with a few rough sketches and we agreed the first one was just the right scale.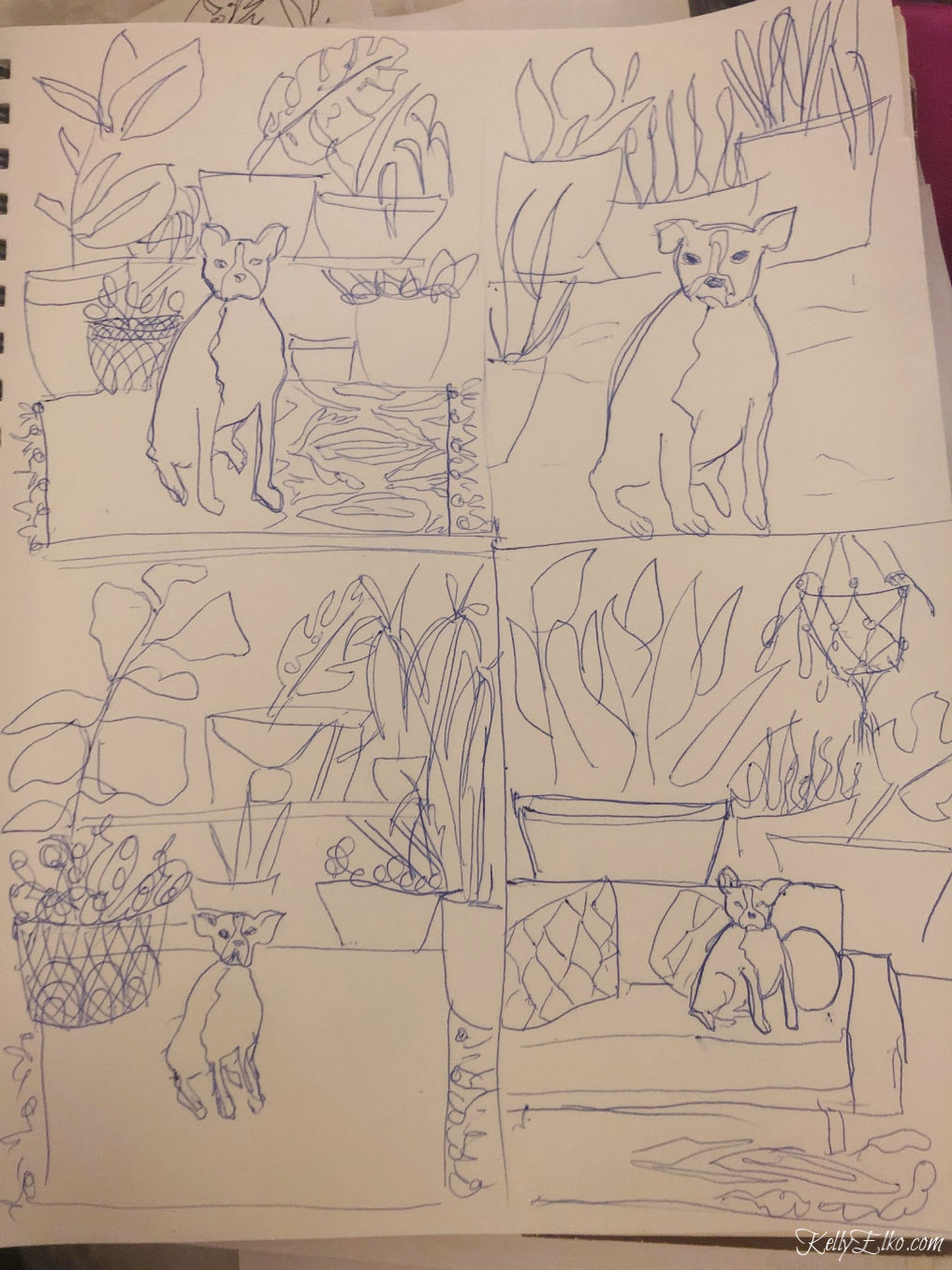 Next, she laid out a rough computer generated draft on her iPad to determine scale, color and placement. Don't be scared of the cartoonish, one dimensional nature of the photos below!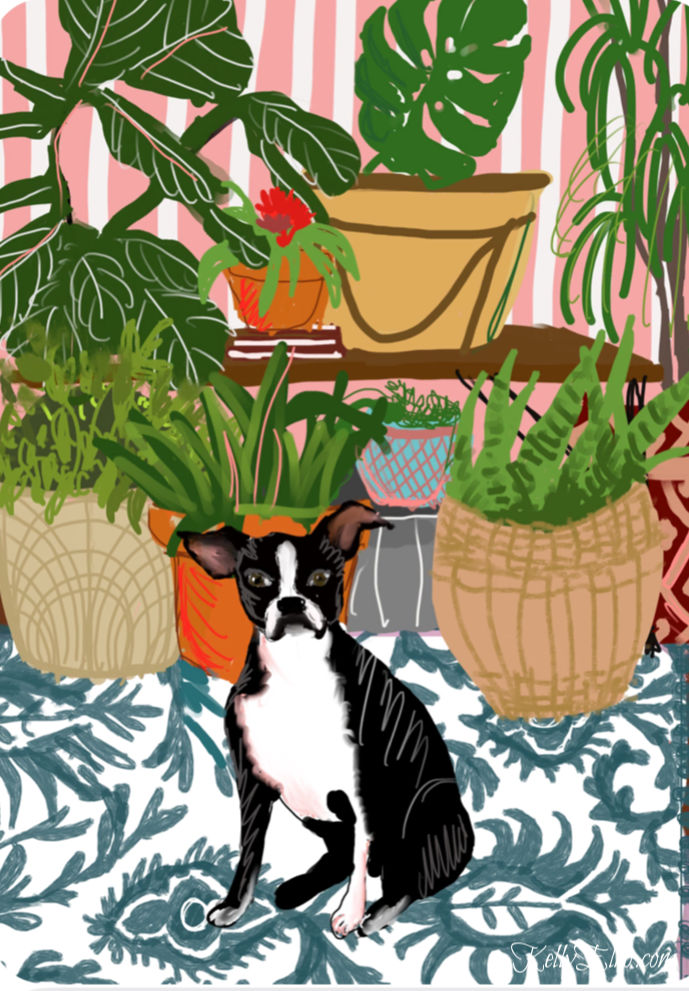 I told her I wasn't a fan of the pink background. This draft came next and I decided I liked the background stripes in the first draft but in blue like the second photo.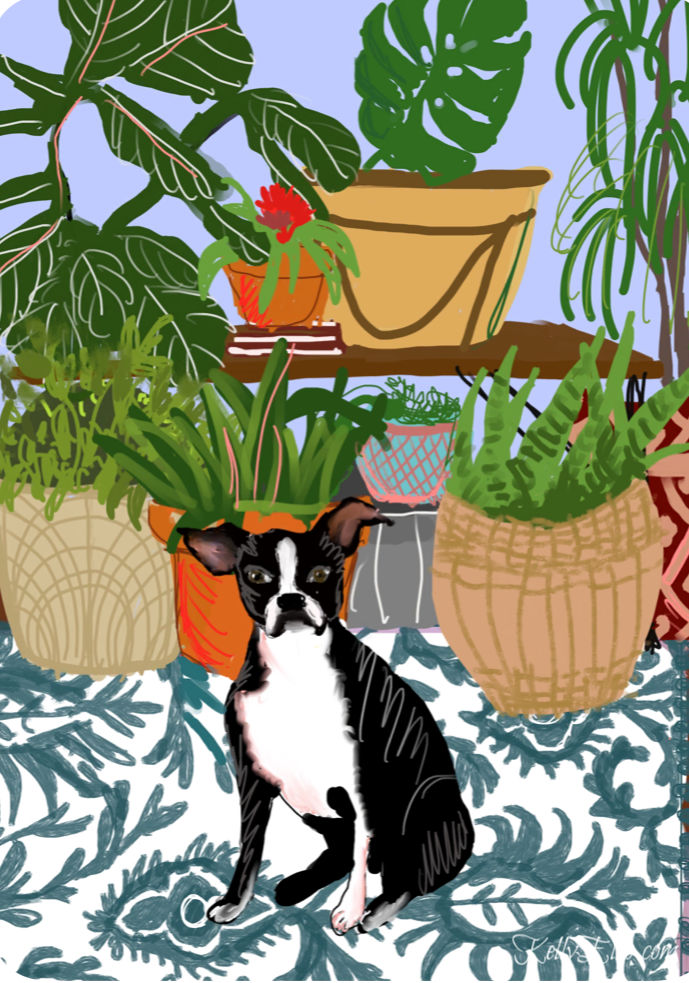 A sneak peek of Sushi came next including a perfect representation of her resting bitch face!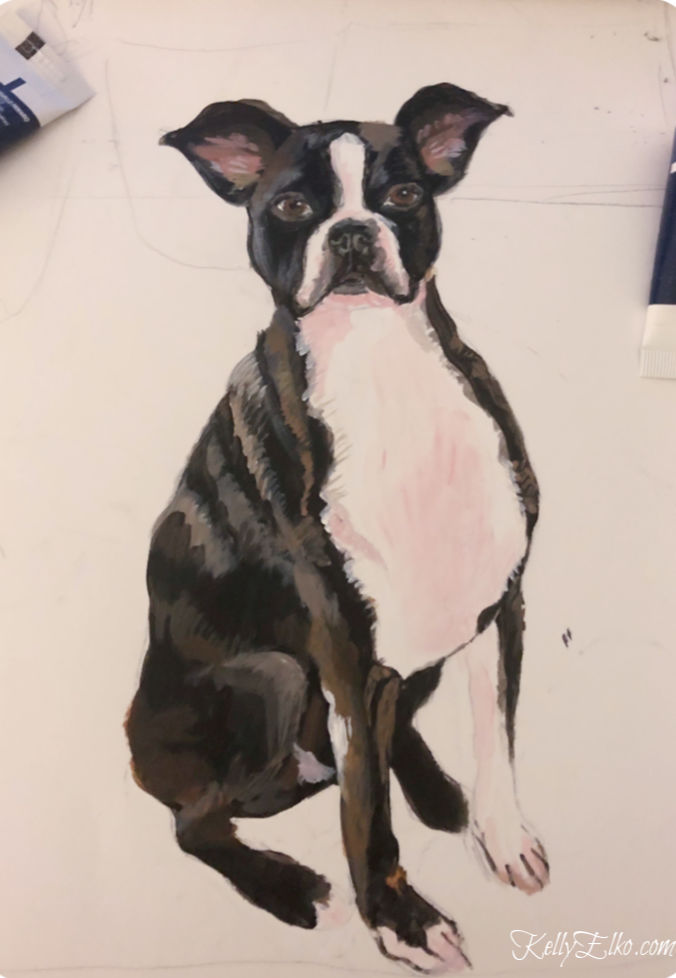 Then the color began!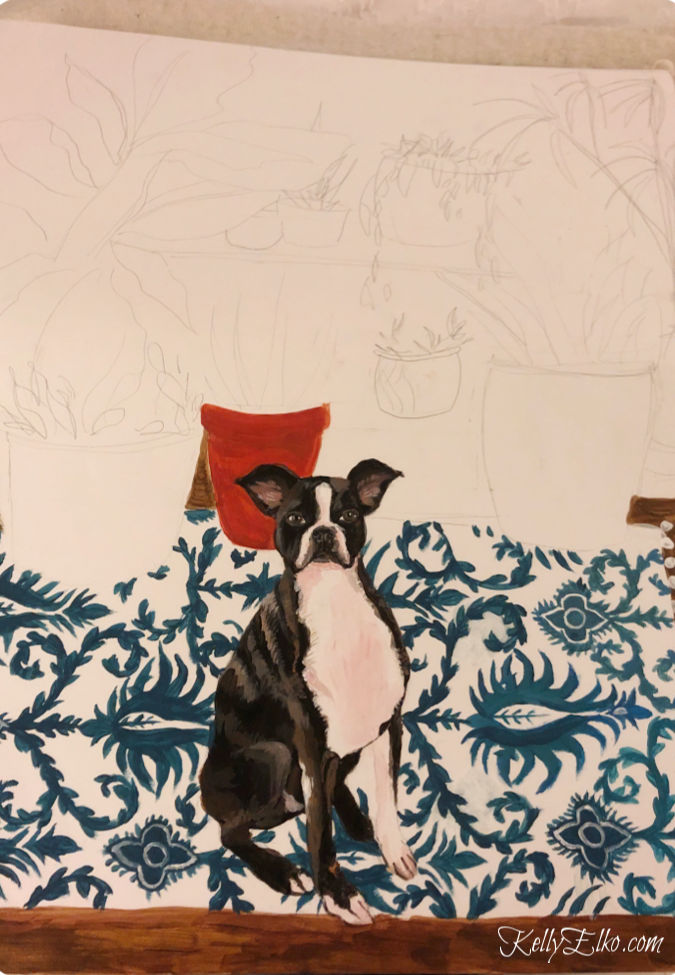 Almost there! I stopped by her house because I just had to see it in person. She said she just needed to add more detail to the pots and plants and asked if she could add her own creative spin so of course I said to go for it!
This is when it's important to give the artist creative license! Had she stuck to only the actual colors and patterns in the photos I sent her, the painting would not be nearly as fantastic as it turned out!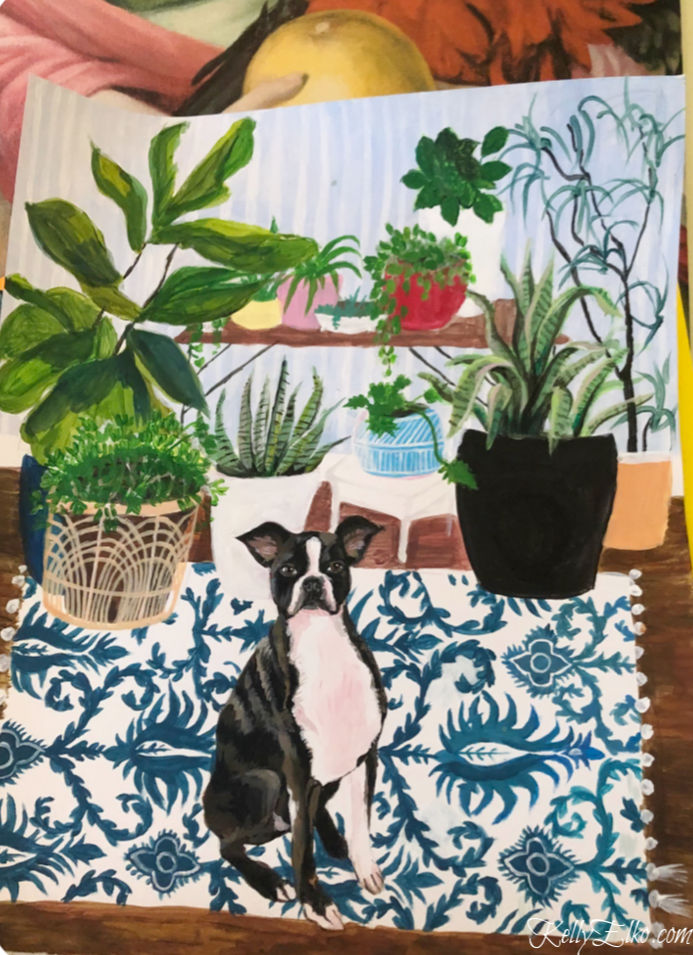 And add details she did! Julia delivered the finished painting to my house and I could not be more thrilled!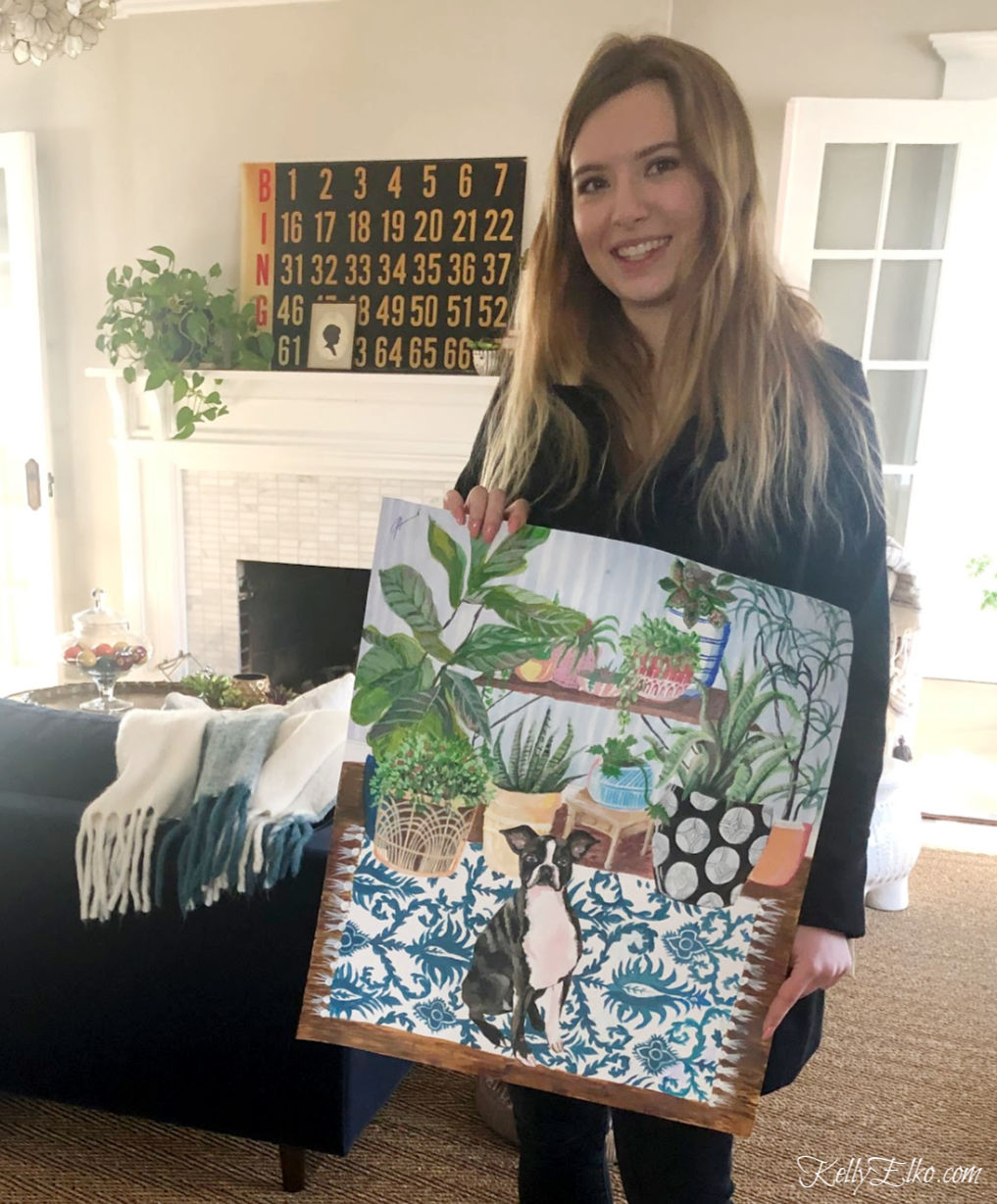 The true test is whether the super model approves.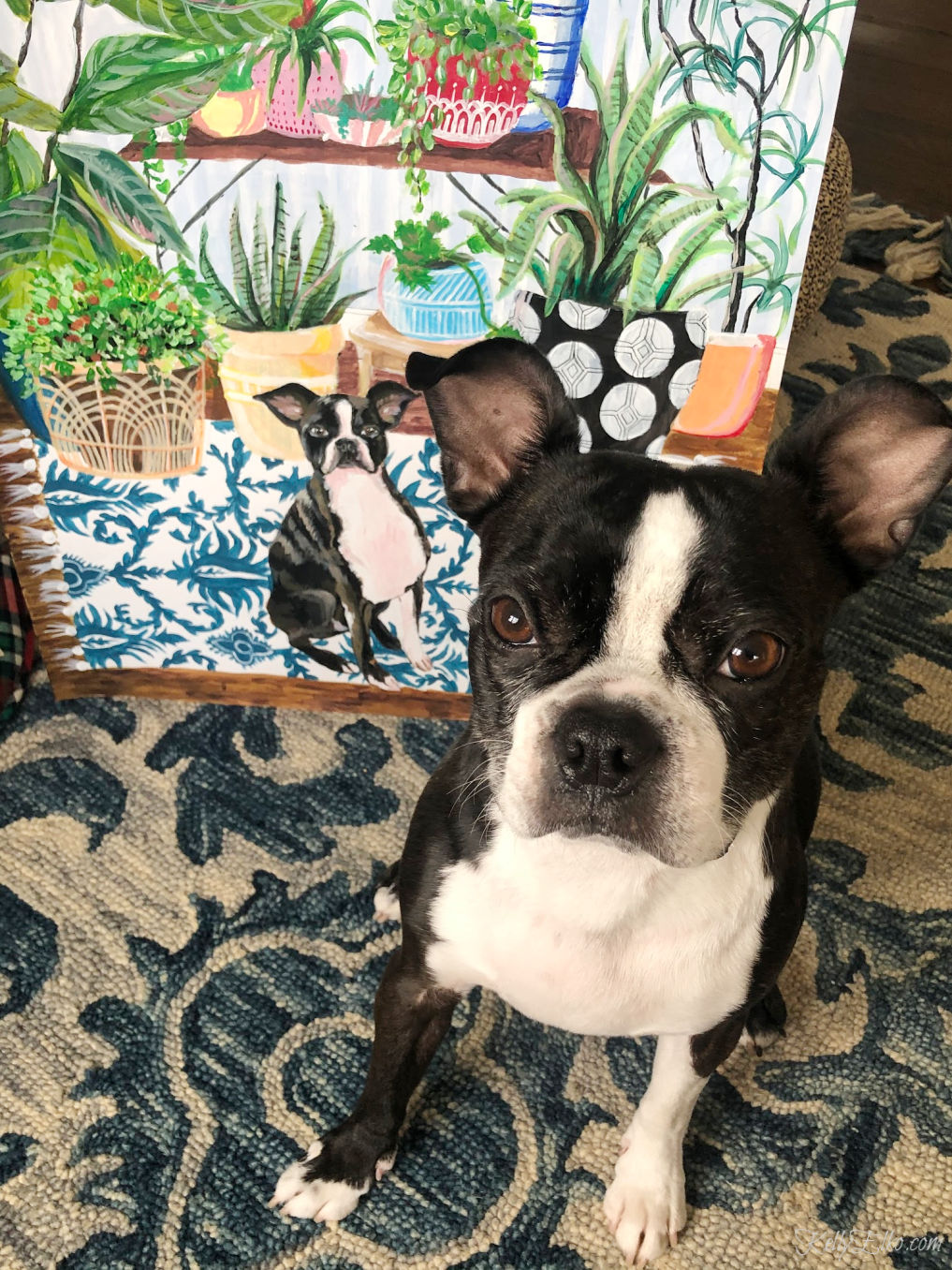 I just need to find the perfect frame and can't wait to hang it in a place of honor! To avoid the expense of custom framing, make sure the art is a standard size to fit into a ready made frame.
Commissioning this piece of art was so much fun and is such a win – win – win … for Julia, for me, and for Sushi!
If you are interested in having Julia create a masterpiece for you, let me know and I'd be happy to put you in touch with her.