Blue is a Neutral – New Blue Sofa
Update: I've had my Sven sofa for over a year and a half and I'm answering all of your burning questions that I get on a weekly basis. You can read up updated Sven Sofa Review here.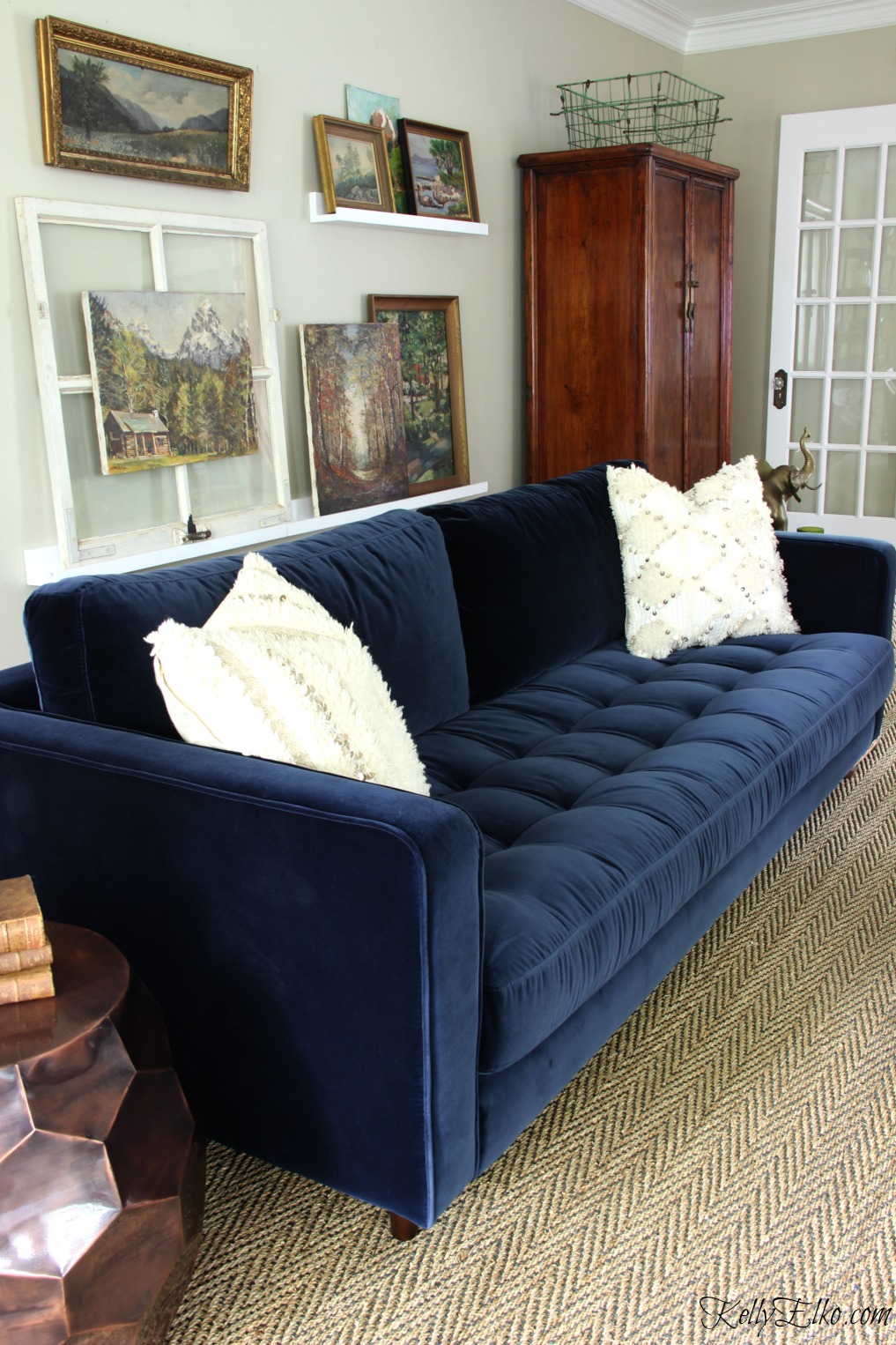 I'm shouting it from the rooftops …
I'M IN LOVE!
We enjoy lounging by the fire with a glass of wine and a good book. I love his witty personality and his sparkling blue eyes. He gets my humor and laughs at my lame jokes.
Meet Sven, my gorgeous new blue velvet sofa.
He completes me.
He's stolen my heart so I had to have the awkward break up conversation with my 20 year old camelback sofa that had seen much better days (don't worry, he's now living happily at a friends house and I can visit whenever the urge strikes). I wanted something sleeker and more modern but also curl up with a book comfy.
I had so much luck with my sunroom sofa from Article that I knew I had to collaborate with them again.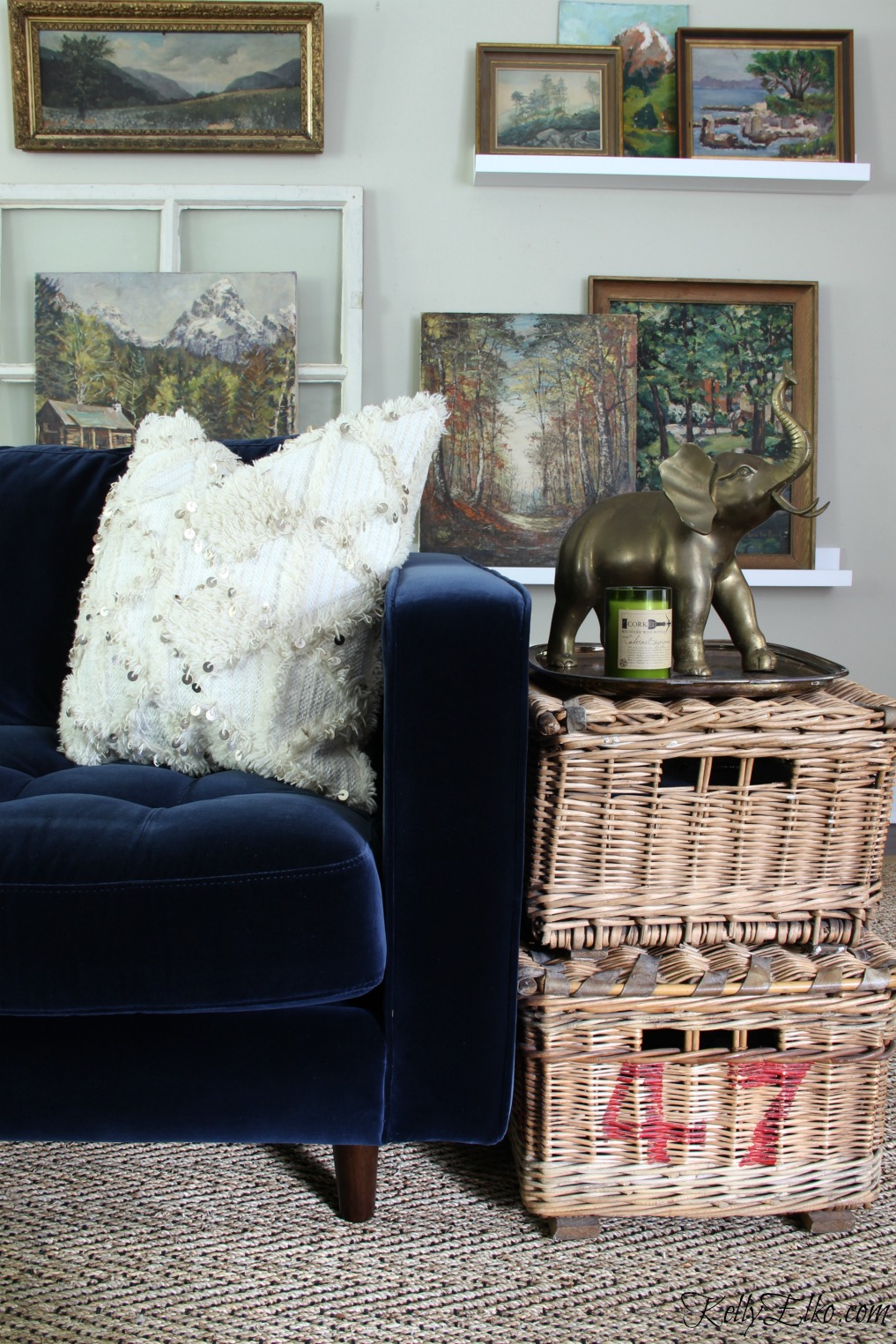 My style is an eclectic mish-mash of so may styles and I love being able to mix the clean lines of this mid century modern inspired sofa with all of my quirky finds.
Deciding between mint chocolate chip and rocky road is easier than it was for me to decide which color to choose. I was torn between the five velvet fabrics including a gorgeous ocean/teal, a stunning green and a couple of beautiful grays but in the end I decided to go bold with this navy fabric called Cascadia Blue.
Like your favorite pair of jeans that go with anything, I view navy blue as a neutral.
Mix it with any color and it will work.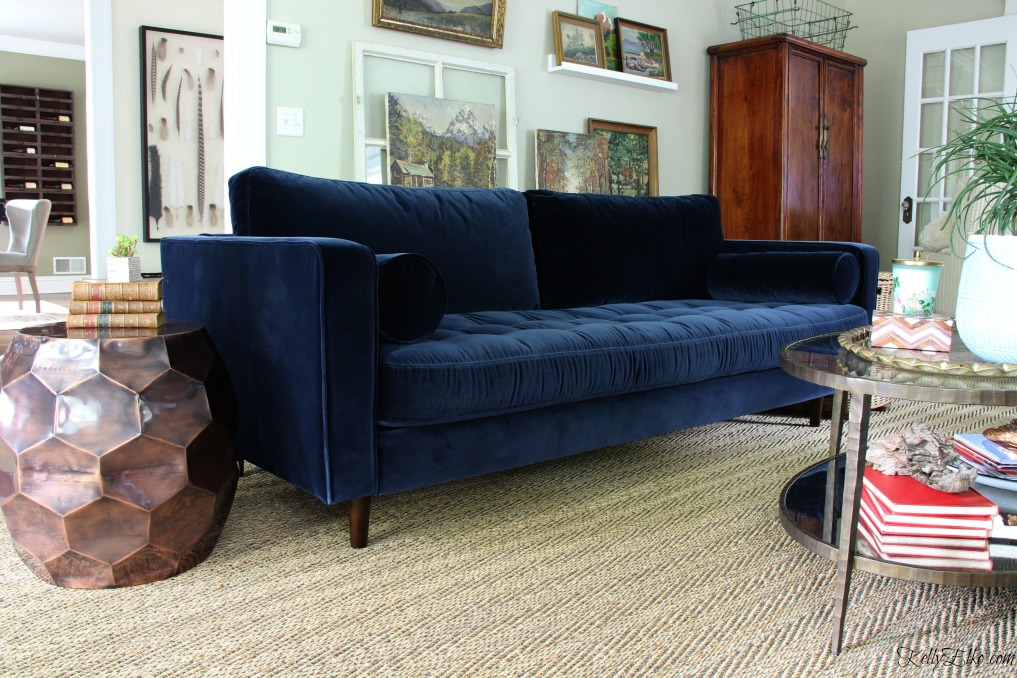 I love the pair of bolster pillows included with the sofa and the tufted seat cushion and I am going to have fun mixing pillows and throws.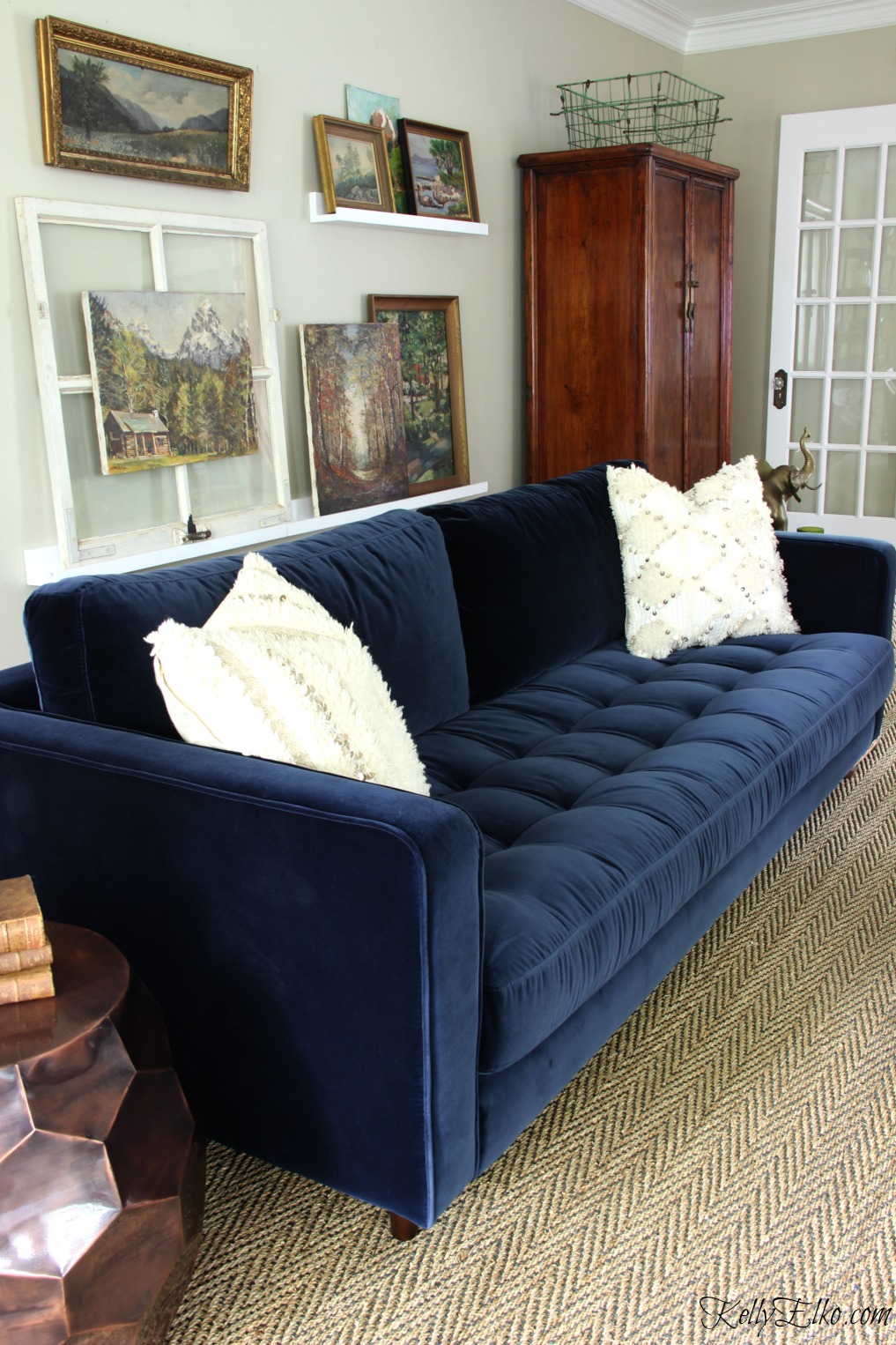 But the true test will be if it can withstand Sushi's critical eye.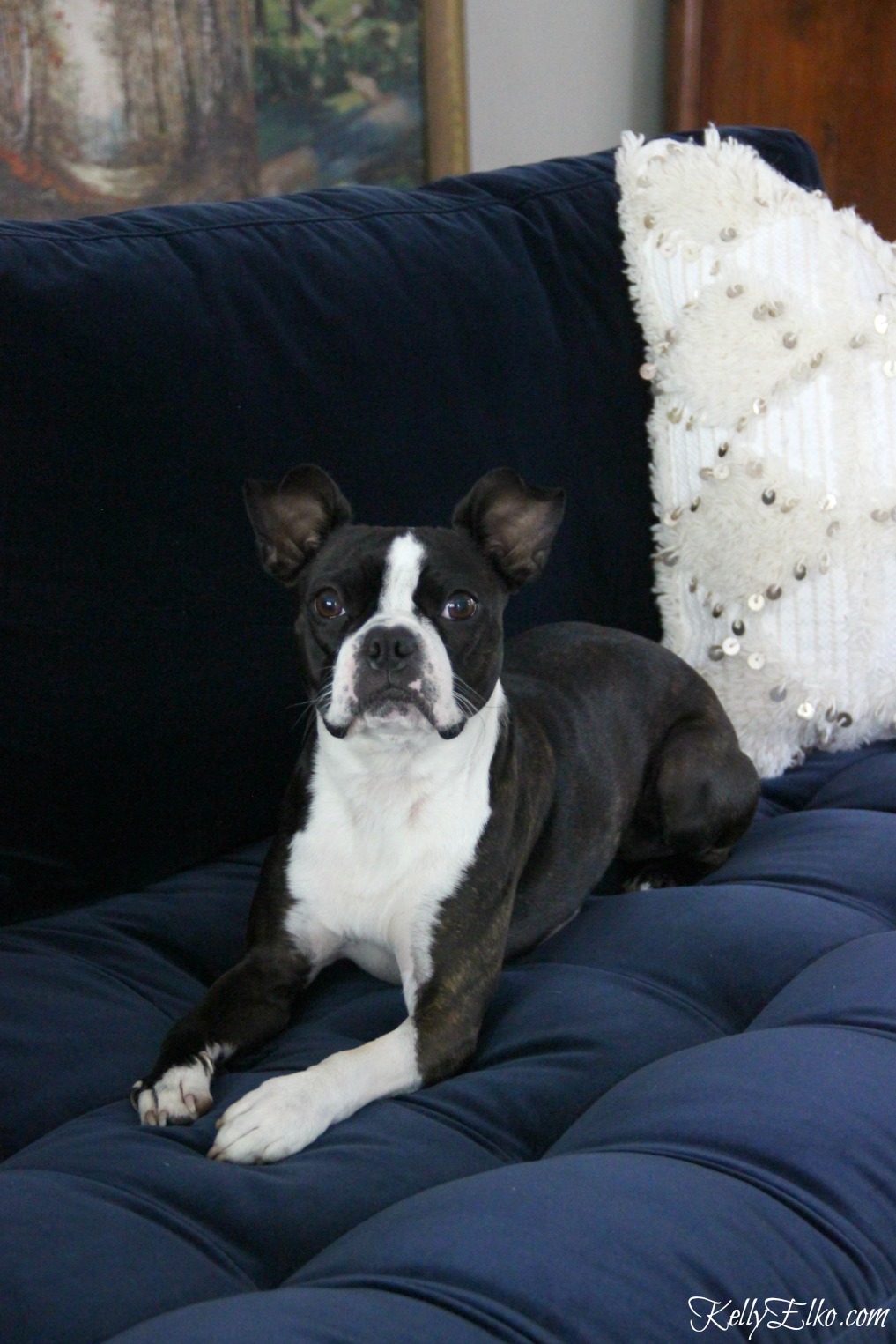 Looks like she may never leave!
Thankfully, my hubby and my girls love it too and I've been finding them curled up on the sofa reading or napping.
The prices are beyond reasonable, the selection is beautiful (they have chairs, tables, rugs and more) and I love their return policy (just make sure to notify them within 30 days and save the original box and Article will arrange to pick up the sofa for a very small fee).
I know it can be scary to buy a sofa online but I have been nothing but pleased with both of my Article sofas.
Make sure to read my Tips for Buying a Sofa Online!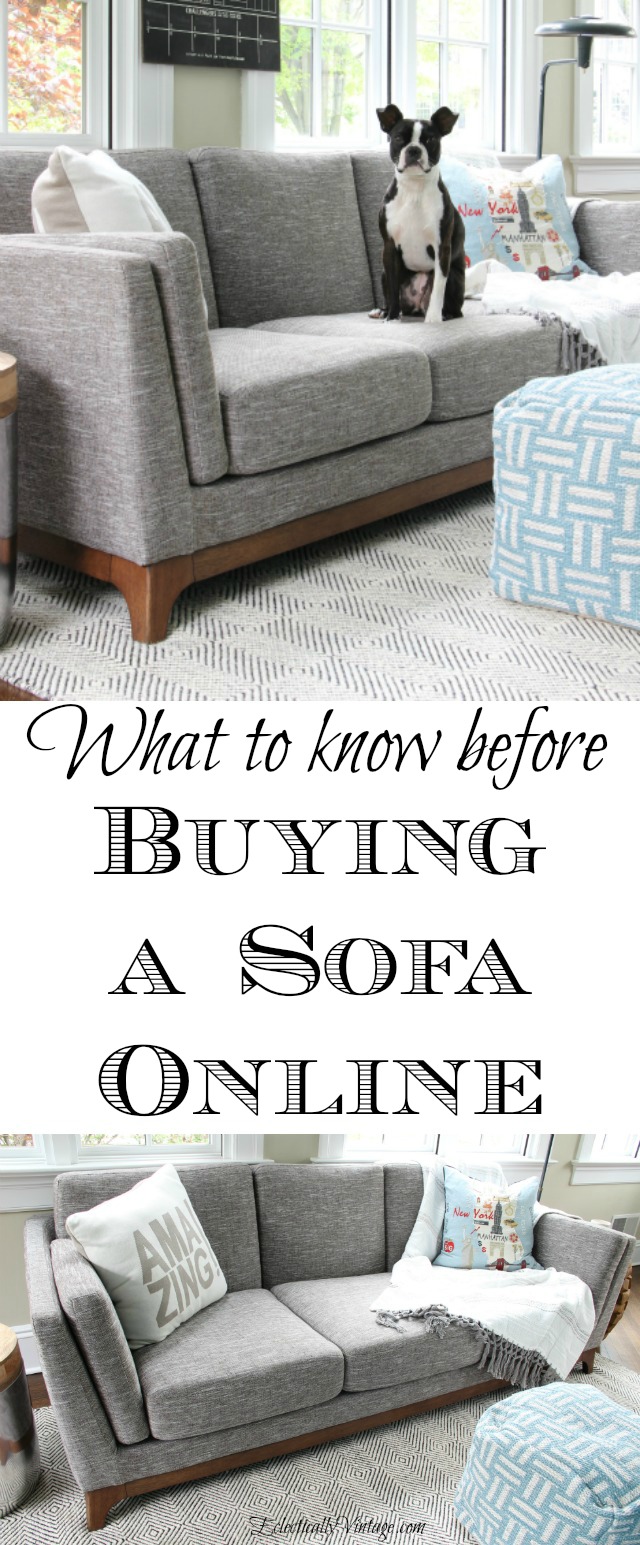 Disclosure: I have partnered with Article but only speak the truth. Thanks for supporting the brands that make this blog possible.