Endless Summer Hydrangeas – The Reblooming Hydrangea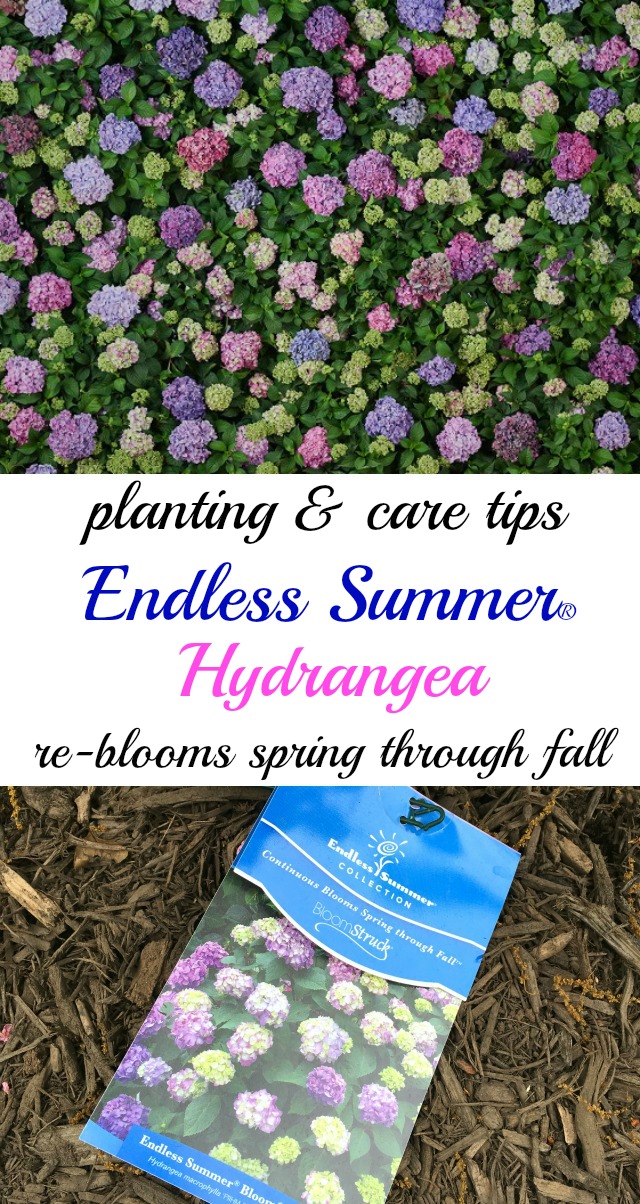 To know me is to know I love hydrangeas.
But for the last few years, my hydrangeas have not bloomed because the first year my husband let a "landscaper" prune my hydrangeas (I actually cried) at the wrong time of year and the other years spring frosts killed the buds.
So every year, I cross my fingers and promise the universe that I'll be a (relatively) good girl if my hydrangeas finally bloom.  So far, my pleas have fallen on deaf ears so I'm taking matters into my own hands and I'm planting Endless Summer® Hydrangeas. These babies bloom on old and new wood which means that even if mother nature wreaks havoc with spring frosts, they should still bloom.
post contains affiliate links
Just look for the hydrangeas in the bright blue pots! Endless Summer® Hydrangeas come in four varieties and I fell in love with BloomStruck® and can't wait for them to give me tons of gorgeous blooms.
Buy plants here – 1 gallon containers of Endless Summer Hydrangeas / 3 gallon containers of Endless Summer Hydrangeas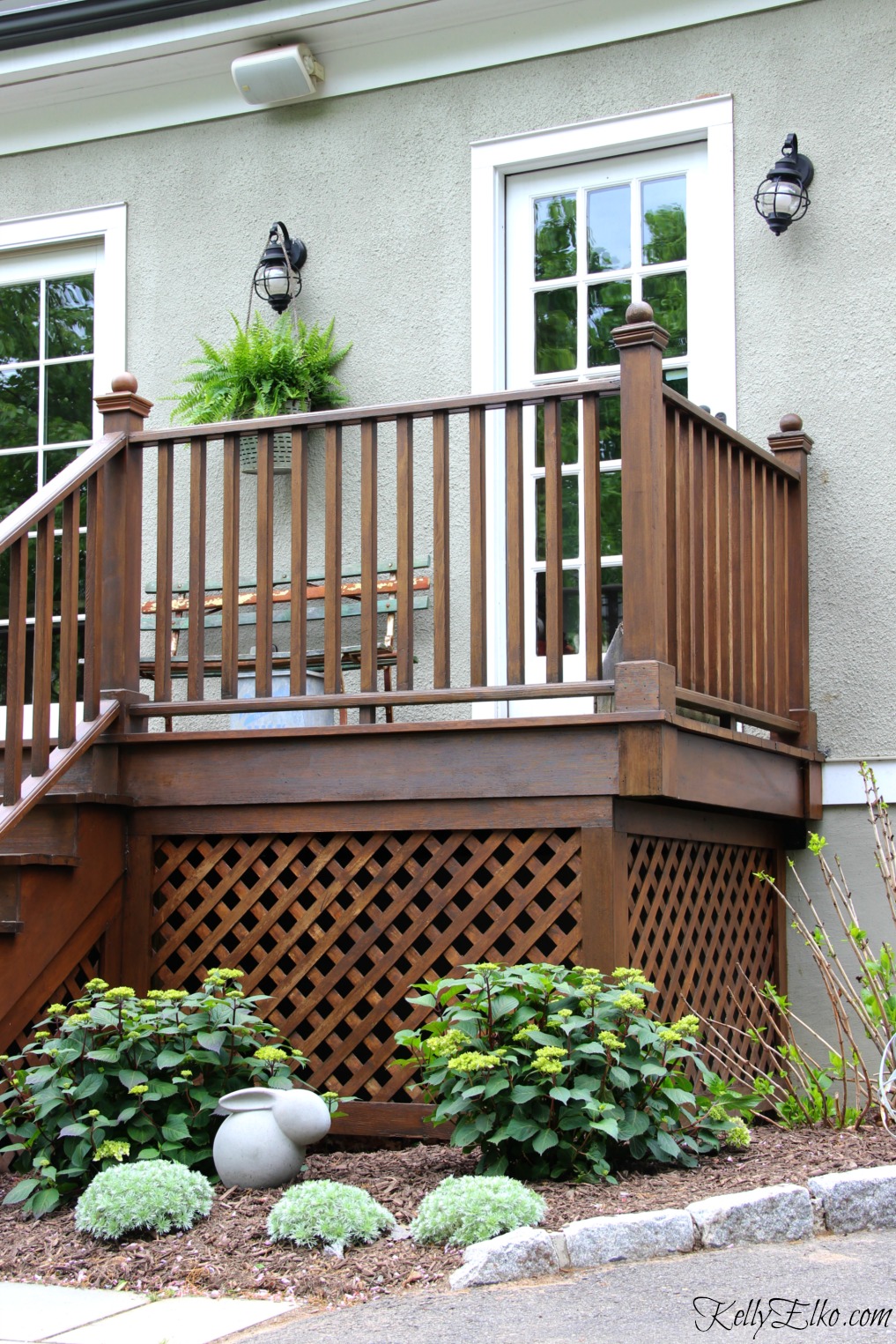 What sets these hydrangeas apart is that they rebloom from spring through fall unlike other hydrangeas that only bloom once or twice (or sometimes never in my case)!
My family enters and exits through our back door so we walk by this little garden bed right next to our back deck many times a day. It was in desperate need of some color and personality.
Here is the before and after (I removed a sad lilac that wasn't looking good). Don't be afraid to move things around your garden if they aren't performing well.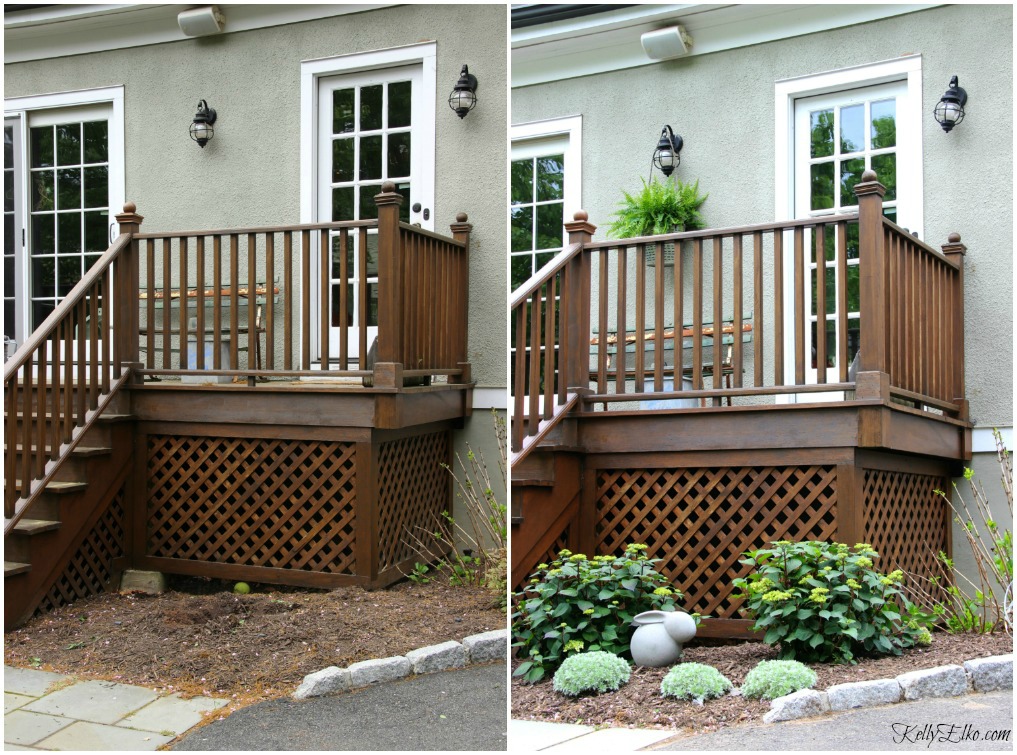 No guesswork since everything you need to know about planting your new hydrangea is right on the tag.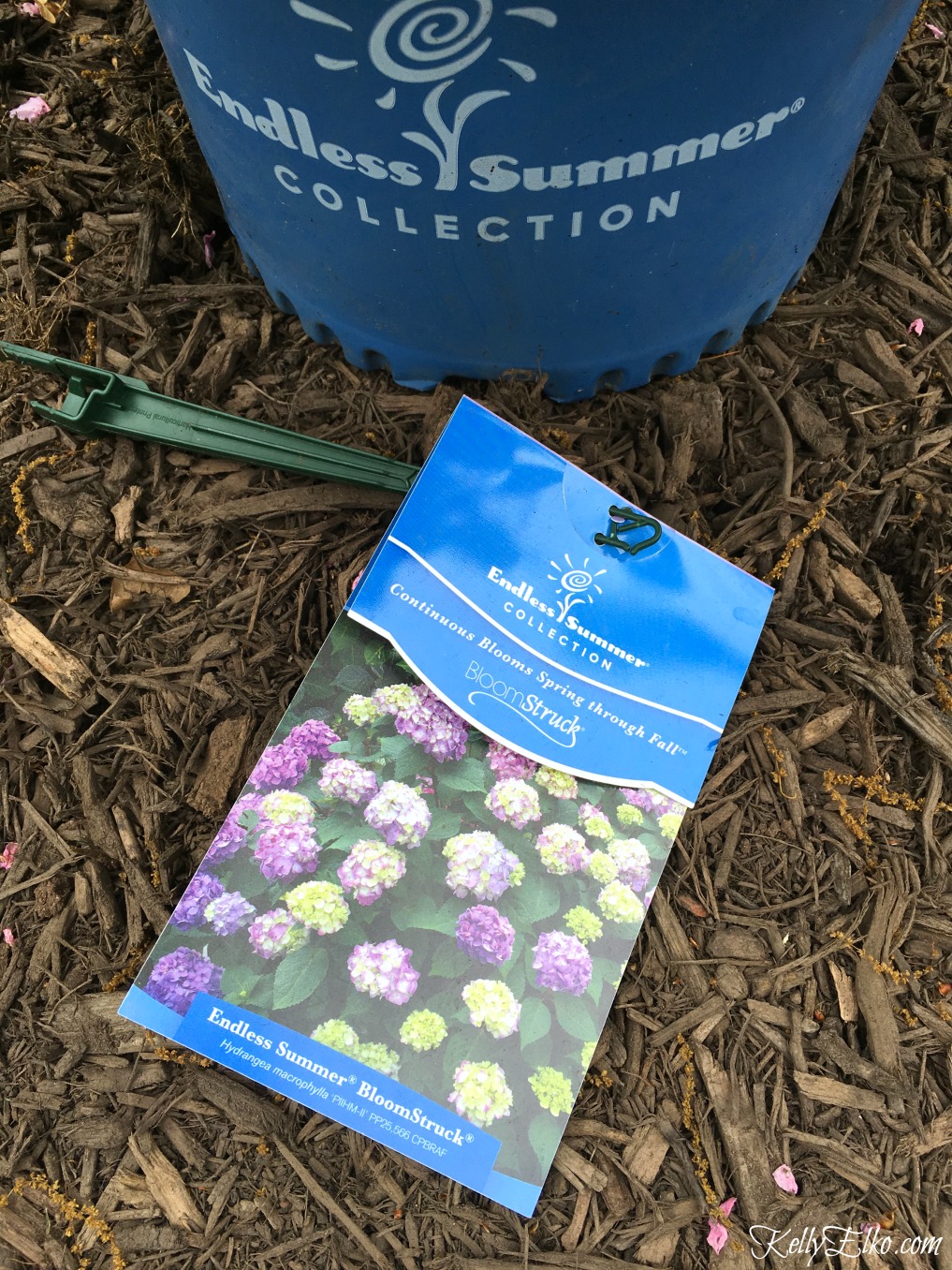 Endless Summer® Hydrangea Planting and Care Tips
Where to Plant
Morning sun and afternoon partial shade is best but the farther south you live, the less sun these plants can handle.
Buy plants here – 1 gallon containers of Endless Summer Hydrangeas / 3 gallon containers of Endless Summer Hydrangeas
How to Plant
Dig a hole as deep as the pot and about 1 1/2 the width of the pot.
If roots are tightly packed, loosen them with your fingers.
Add a slow release fertilizer to the hole.
Place hydrangea in hole making sure the place where the stem meets the top of the dirt is even with the ground (not above or below).
Add quality planting mix around the plant and pack tightly.
Add mulch.
Water
Hydra means water and your hydrangeas need it so make sure to do this every day especially during intense summer heat.
You may notice your blooms wilt in the afternoon sun but they should spring back once it cools down.
When to Prune
Although these hydrangeas bloom on both old and new wood, it's best to prune in the fall to ensure you get the maximum amount of blooms. Read my tips on When to Prune Hydrangeas here.
Planting in Containers
Why should the garden beds get all the fun? I decided to try something new and added another Bloomstruck® Hydrangea to a pot on my patio. Make sure to use good potting soil and add a slow release fertilizer when planting.
A few trailing flowers add interest and I love adding something unexpected like this seashell to my pots.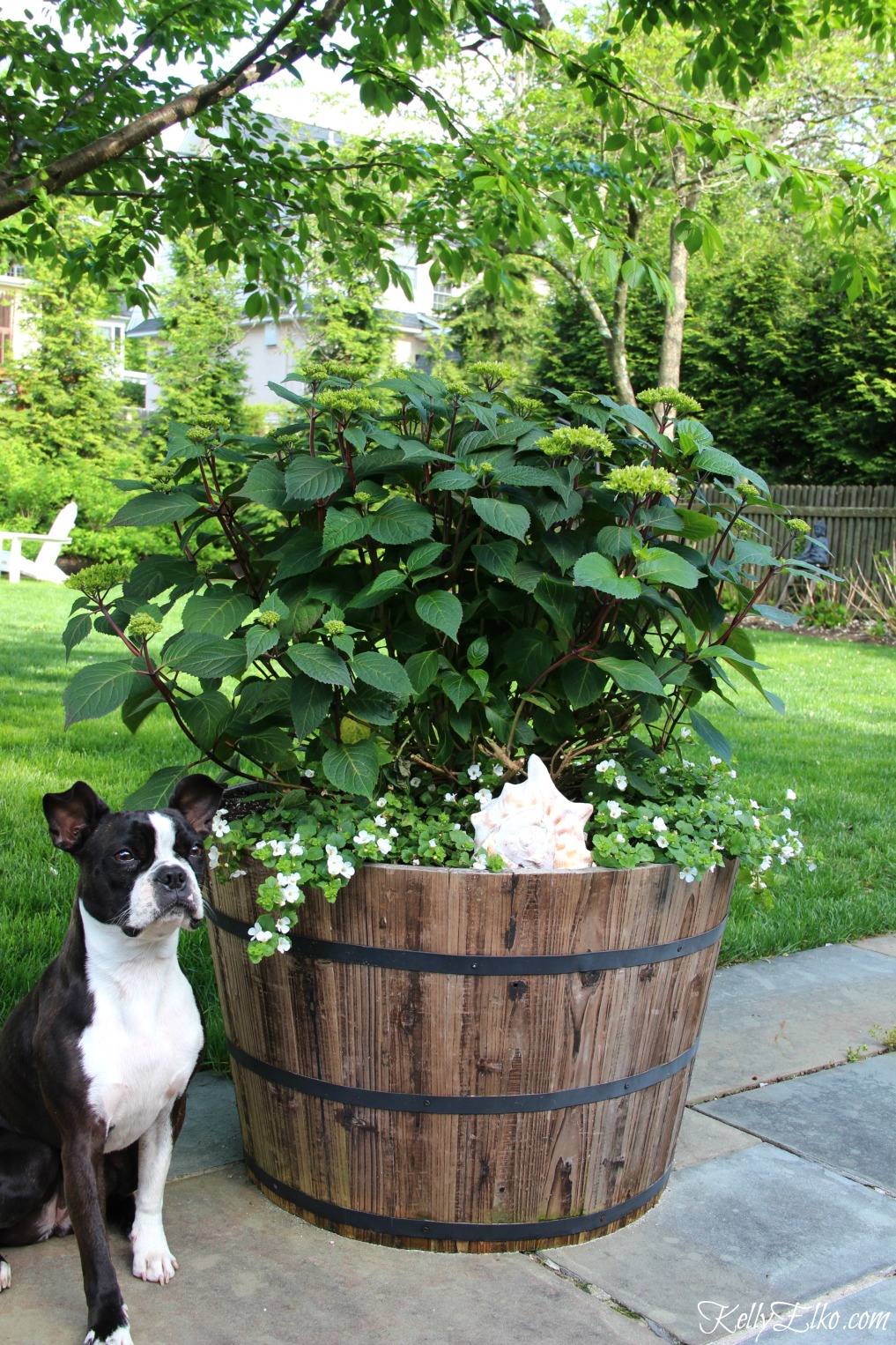 The flowers are just beginning to blossom giving me a hint at the color that awaits.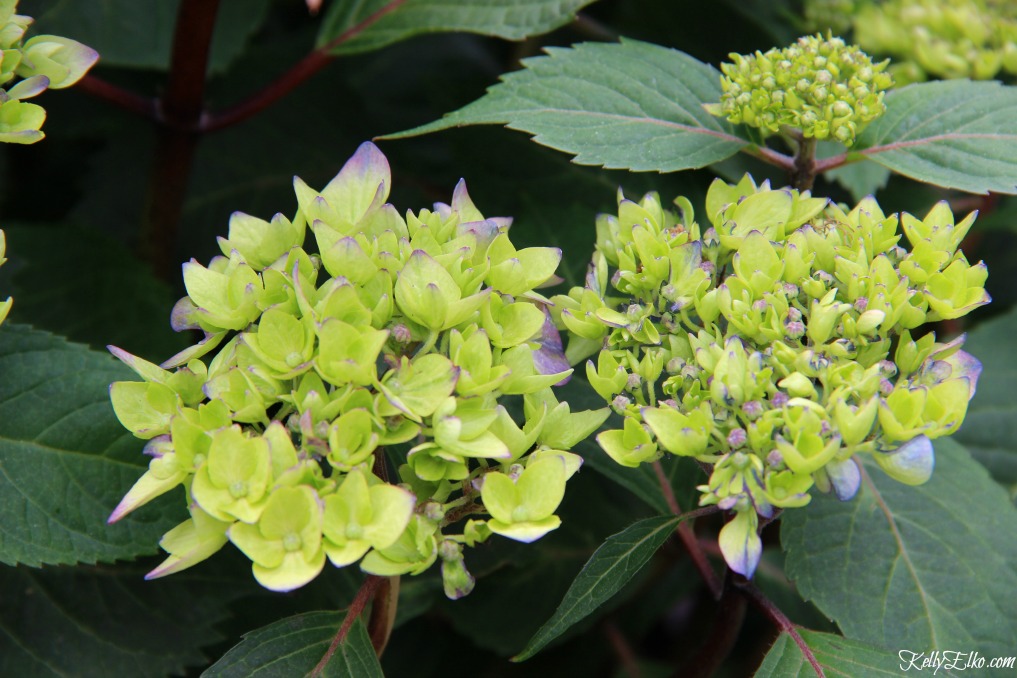 I get tons of questions about hydrangea care and I love that you can take the guesswork out of how to care for your Endless Summer® Hydrangeas by texting ENDLESSSUMMER to 73095. They will send care tips throughout the season (don't worry, they won't use your info for marketing purposes).
If you need me, I'll be on my patio enjoying my new plants and an ice cold margarita.
Want to know more about hydrangeas …