My Five Favorite Simple Gardening Tips
I'm sharing my five favorite simple gardening tips and tricks to help your garden flourish including favorite plants, unique containers, favorite garden tools and much more.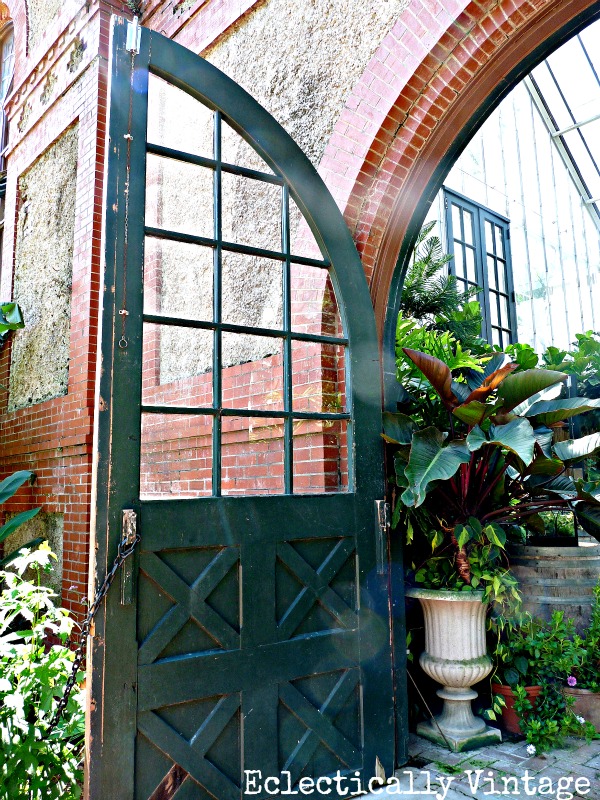 My friends call me the garden whisperer and it's a title I'll gladly take!
When I bought my 1903 house, the yard was an overgrown mess. Over time, I've been turning it into a showstopper that provides privacy as well as color and the best part is it requires minimal maintenance.
My Five Favorite Simple Gardening Tips
1) Favorite Plants
1 – Endless Summer Hydrangeas – bloom on old and new wood which means they will reward you with blooms from summer through fall and while my other hydrangeas often disappoint me, Endless Summer has not disappointed me.
Read my Endless Summer Hydrangea growing tips HERE
Tip: My favorite sun loving perennial is the show stopping Limelight hydrangea! Mine are HUGE – at least three times my height – after only a few seasons in the ground and will thrive in full sun (they make a beautiful hedge).
Read my Limelight Hydrangea growing tips HERE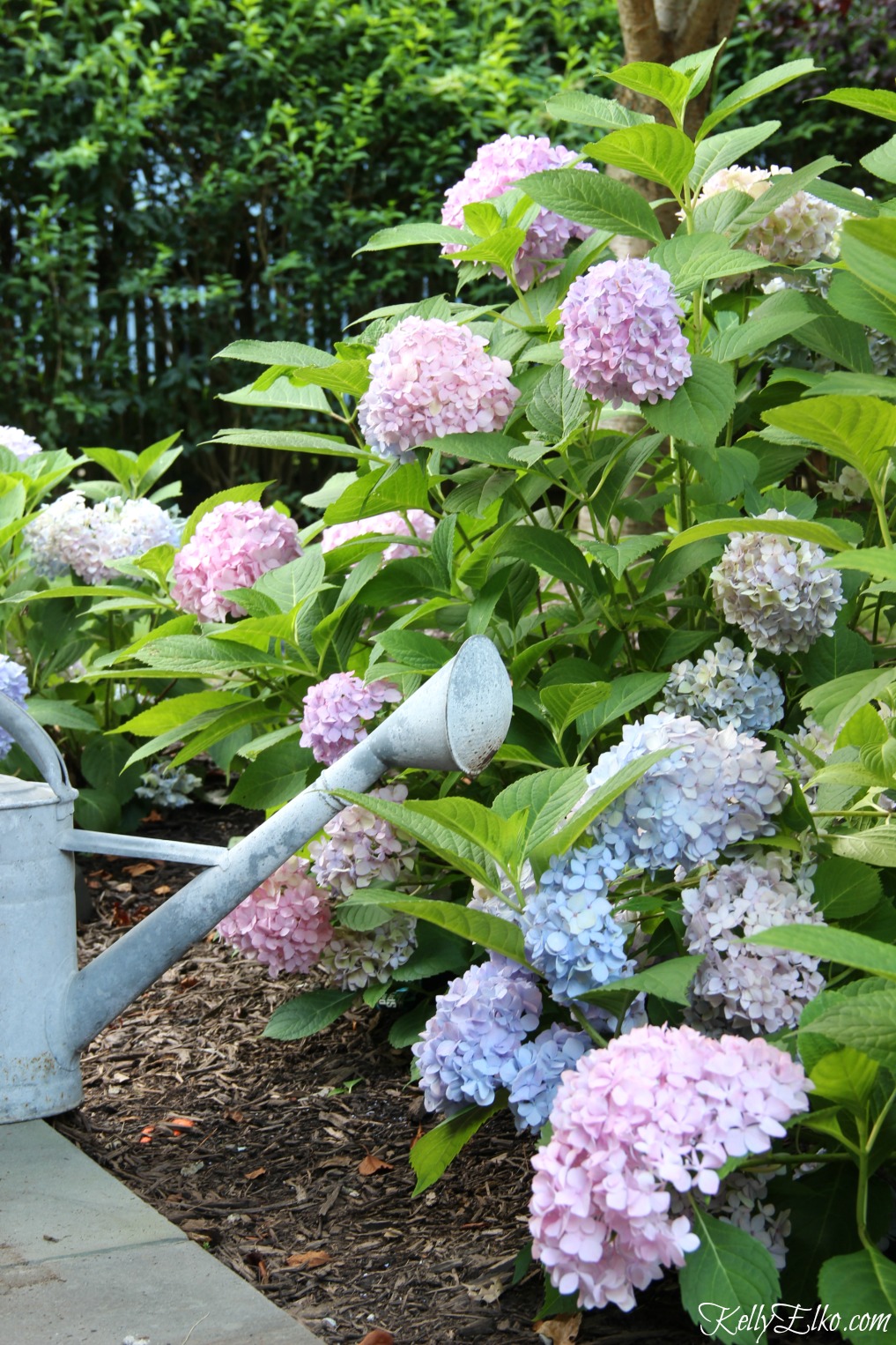 2 – Peonies – I planted three peony bushes a few years ago and every spring they reward me with a massive amount of blooms. While their growing season is just a couple of short weeks, they are the most stunning flower I've ever seen.
Read my Peony Planting and Growing Tips HERE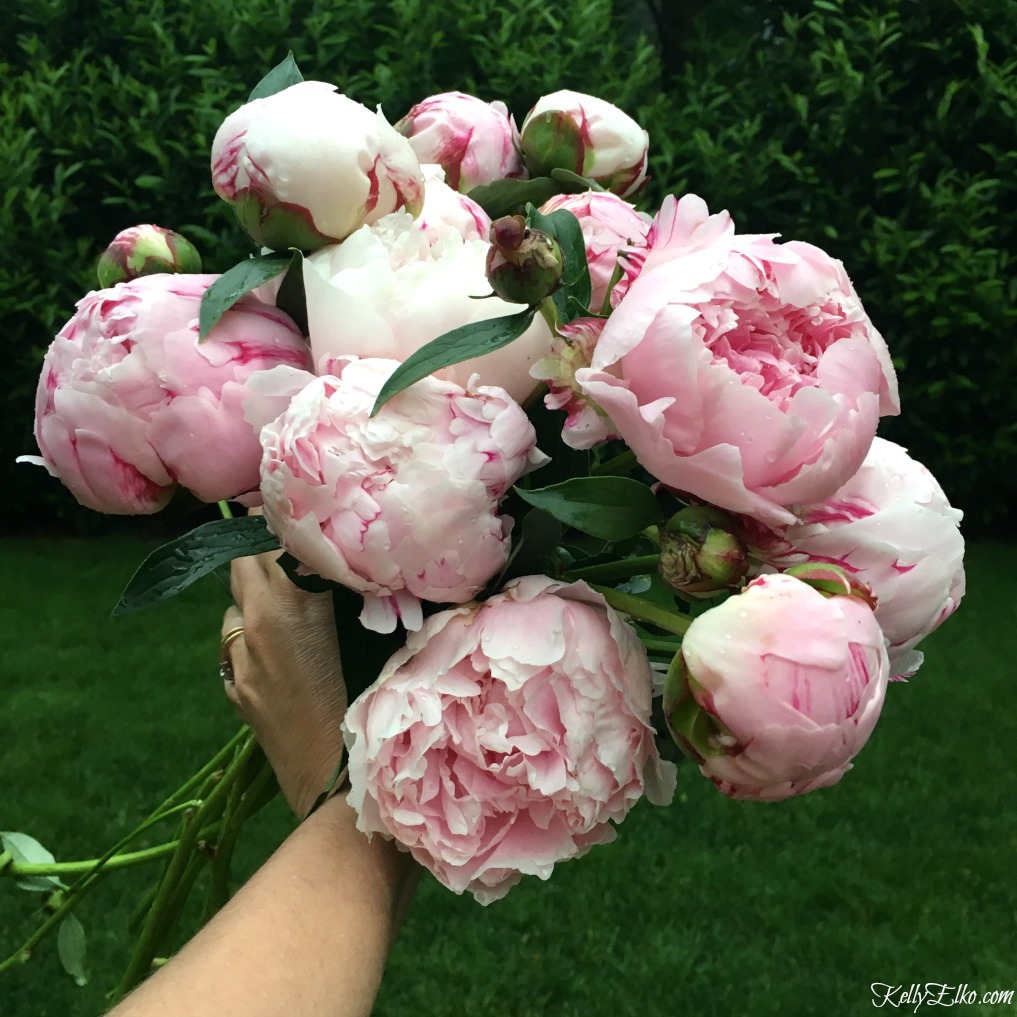 2) Favorite Containers
I like to think outside the pot when it comes to container gardening and love using thrift store and vintage finds like this huge metal container complete with a few old croquet mallets.
Tip: fill containers about half way with empty plastic water, milk or soda bottles so you don't have to use as much potting soil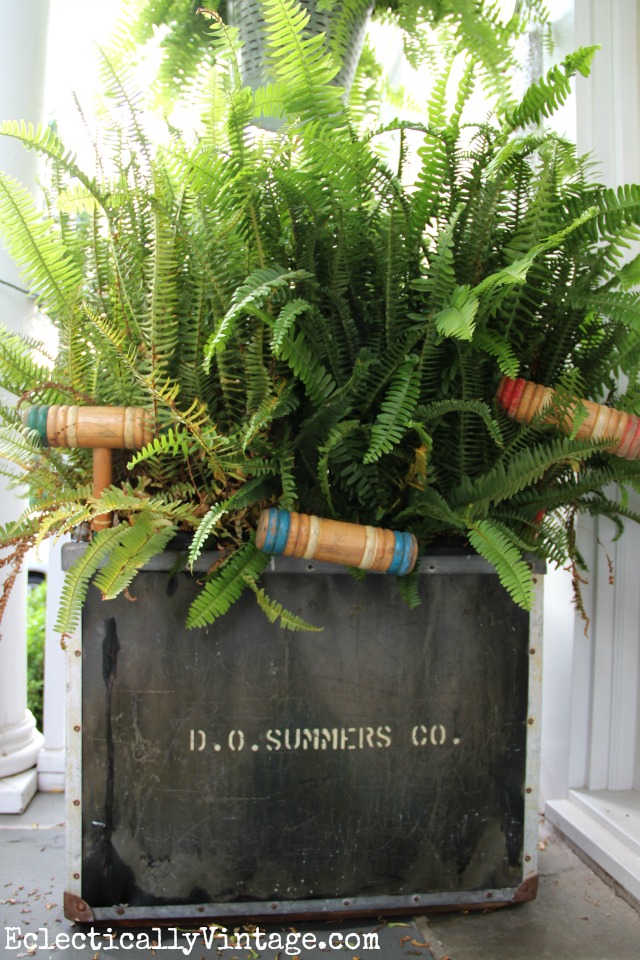 My favorite container was my dresser planter and you can read more about it HERE.
I LOVE digging through estate sale garages and basements and finding old galvanized tubs and mop buckets on wheels.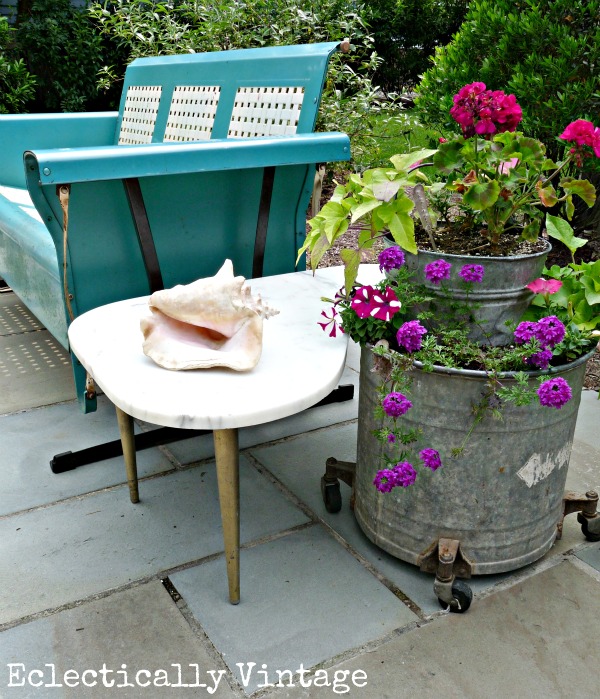 3) Favorite Garden Tools
1 – These Pruning Shears – every gardener needs a sharp, clean pair or pruning shears.
Tip: Clean your pruning shears after each use to make sure you don't spread diseases from plant to plant. Mix 1 teaspoon bleach to one gallon of water, scrub and dry completely.
2 – This Leaf Blower – I love it for "sweeping" the patio and cleaning up after a marathon potting session.
4) Favorite Potting Bench / Serving Cart
I love this Potting Bench that does double duty as a serving cart. It has tons of storage including two deep drawers, galvanized steel work surface and it's party ready when you're done potting.
Tip: Cover your potting bench with a barbecue cover to protect it from the elements.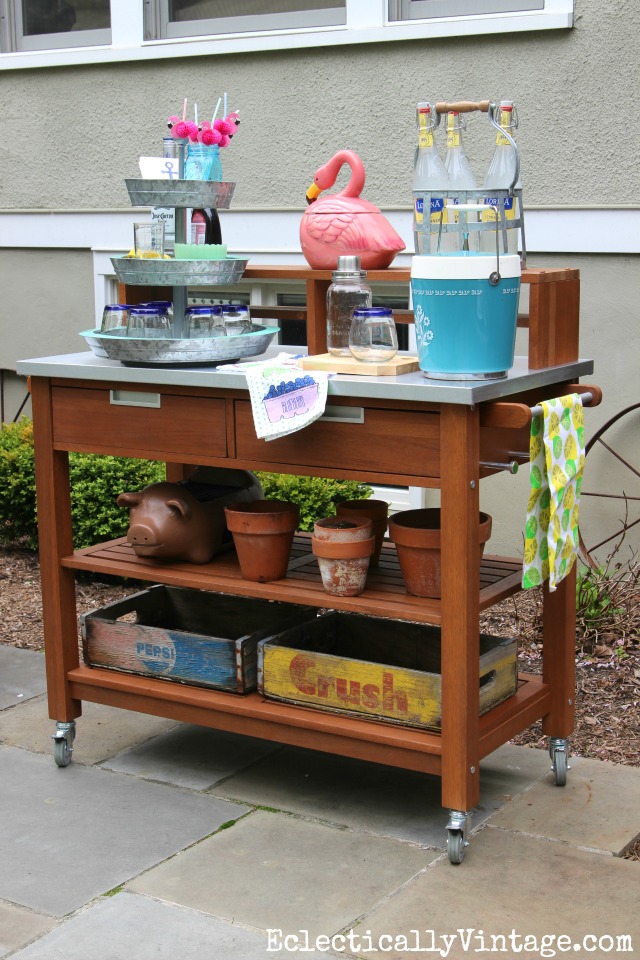 5) Favorite Flower Arranging Hack
Create a DIY flower frog using painters tape to help hold up your beautiful blooms and keep them from crushing each other.
Read more of my flower arranging tips HERE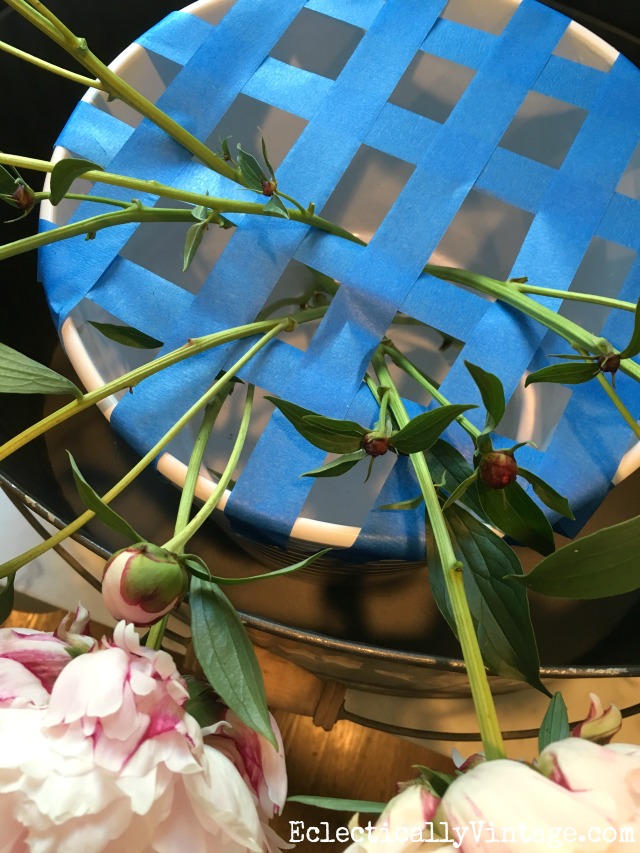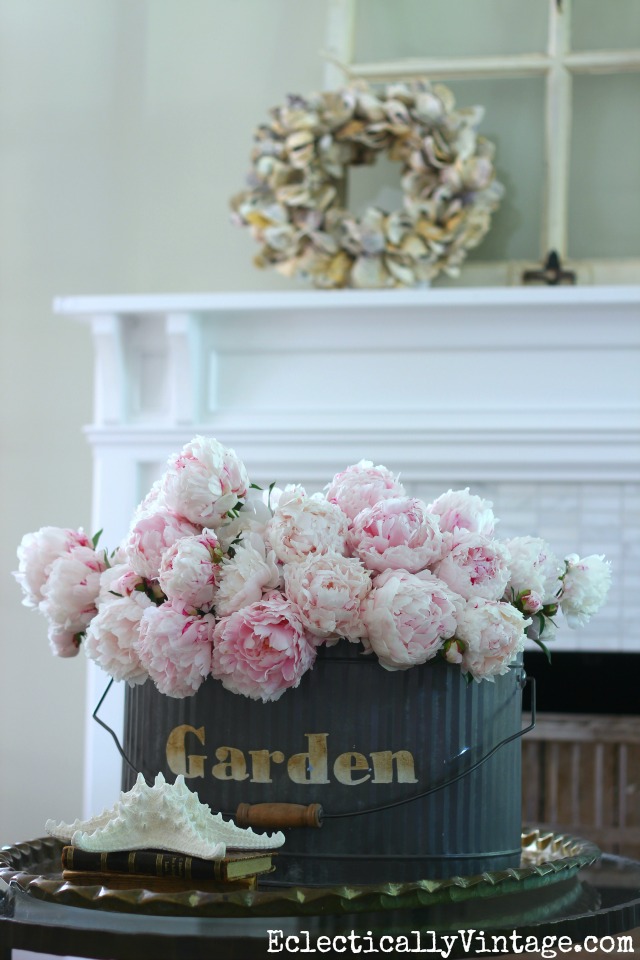 Want more gardening ideas …
Check out my Gardening Page HERE for tons of simple gardening tips and follow me on Instagram @kelly.elko to see more.