For those of you who saw my feature in Better Homes & Gardens this month, I hope you enjoyed it! For those of you who didn't, I'm sharing the full six page article and including some behind the scenes spoilers! It's fun to see my home in print and the icing on the cake is the great family photo, not to mention the adorable pic of Sushi in her little scarf!
Pic 1: We stood on my porch for about 45 minutes waiting patiently for the perfect lighting. Sushi was in the photo, wearing a cute little sweater, but they photo shopped her out!
Pic 2: The stylist added extra blue vintage ornaments from his personal stash to my feather tree.
Pic 3: Tons of pre baked cookies (some decorated and some plain), icing, baking sheets and bowls were brought in.
Pic 4: Fresh greens and one of my vintage Christmas cards were added to my mug rack.
Pic 5: While a couple of us ran out to pick up lunch, the photographer had a photo shoot with Sushi and was amazed at how good she was!
Pic 6: The stylist brought more vintage glass light bulbs to add to my collection and let me keep them!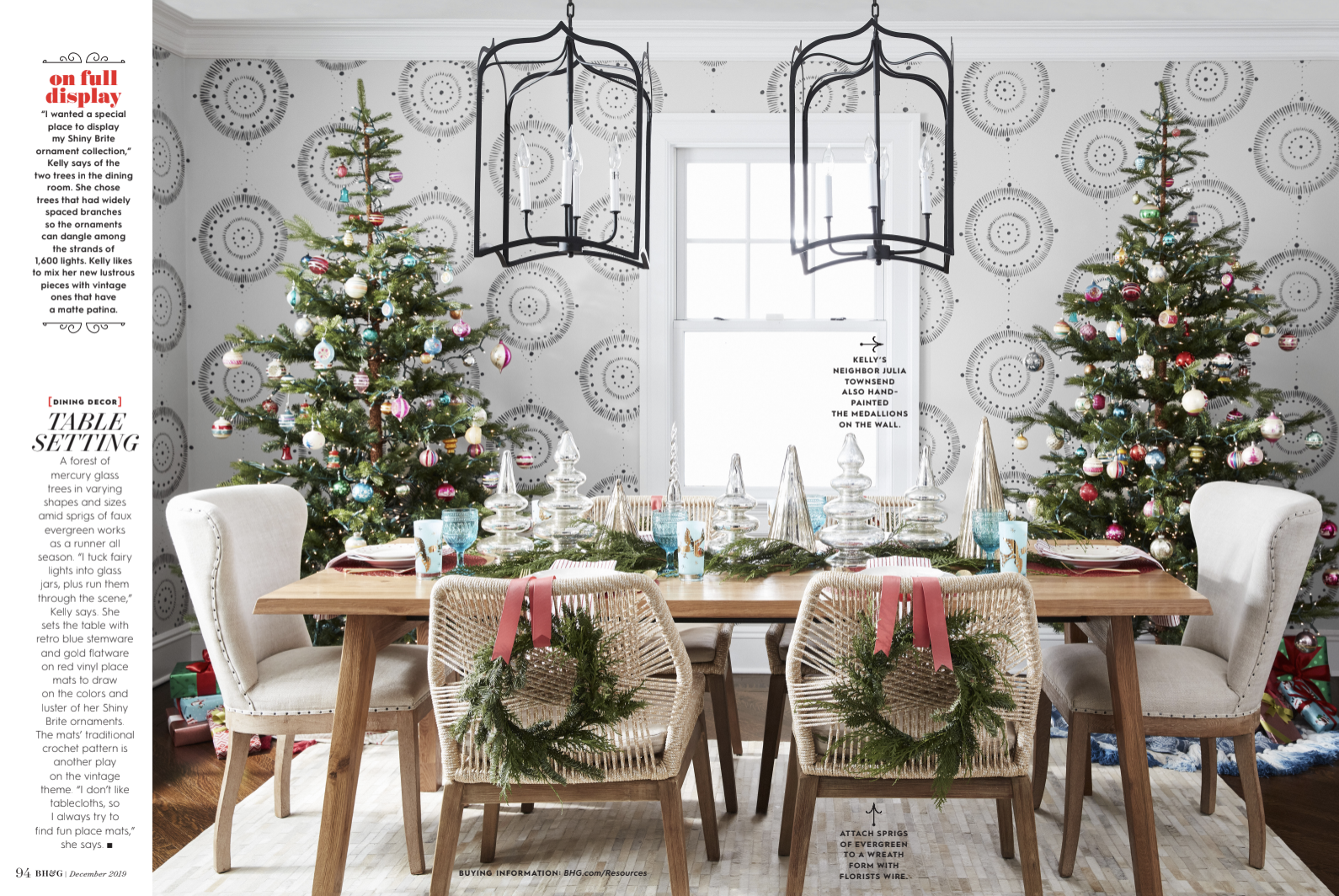 Dining Room: The editors asked if we could use my old rope chairs (I've since replaced them with a set of vintage Danish Modern chairs) but since I only have three (a leg broke off of one), they had to photo shop the fourth chair into the pic!
The stylist and I made the fresh evergreen wreaths the day of the shoot.
Tons of empty boxes were brought in, wrapped and placed under the trees.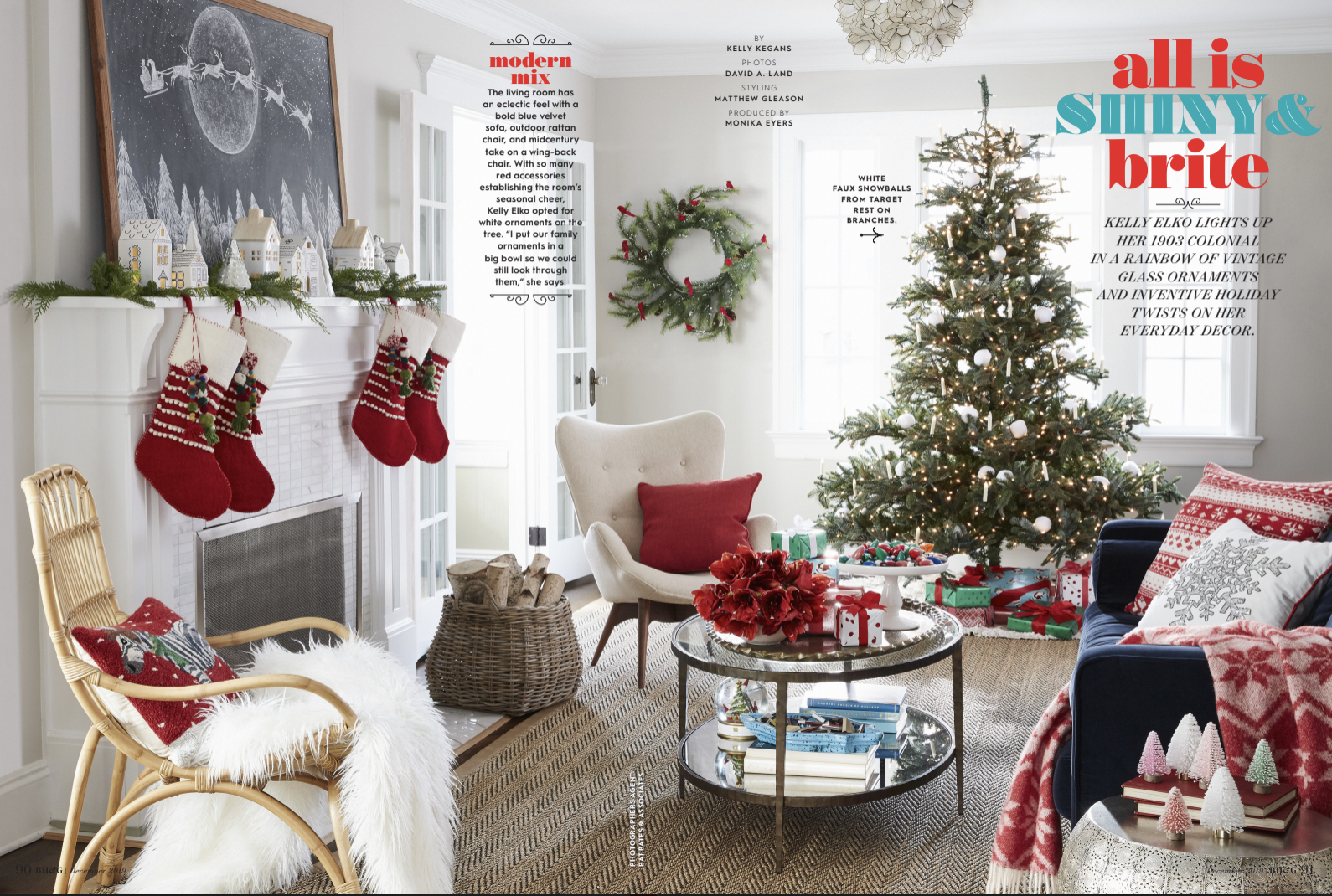 Living Room: With six of us at the shoot, you would think one of us would have remembered to light a fire! I finally realized it after all of the living room photos were taken, so they had to take more with the fire burning. For some reason, the fire isn't on in this photo.
When they wanted to replace my vintage snow shovel that was hanging on the wall with something else, I ran upstairs to pull this cardinal covered wreath out of my guest bedroom.
Some of the props they added to this room include the fresh greens on the mantel, the basket filled with logs, red Amaryllis flowers, and wrapped gifts.
© 2019 Meredith Corporation. All rights reserved. Reprinted with permission. Photographer: David Land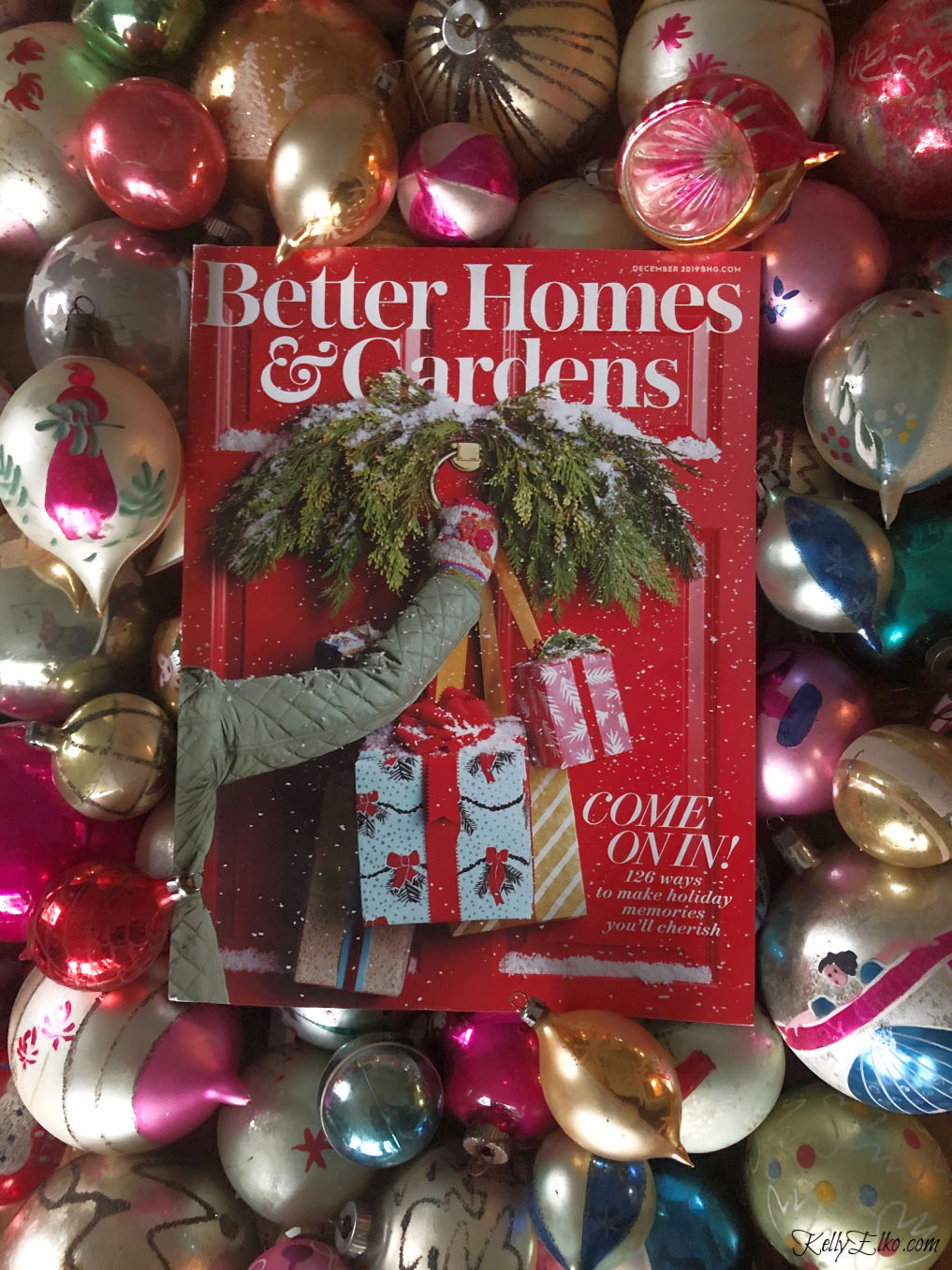 I hope you enjoyed this little behind the scenes tell all of my BH&G photo shoot!
Sushi is now demanding an agent.
See if you can spot more differences between the photos in the magazine compared to my …