Home Staging Before & After (My Sister's House)
I am so excited to share with you a first for me … staging a house to sell! Not just any house either, it's my sister's house! Oh and did I mention her house sold in a bidding war and she got 12% over asking price! So if you love a good home staging before after, you are going to love this!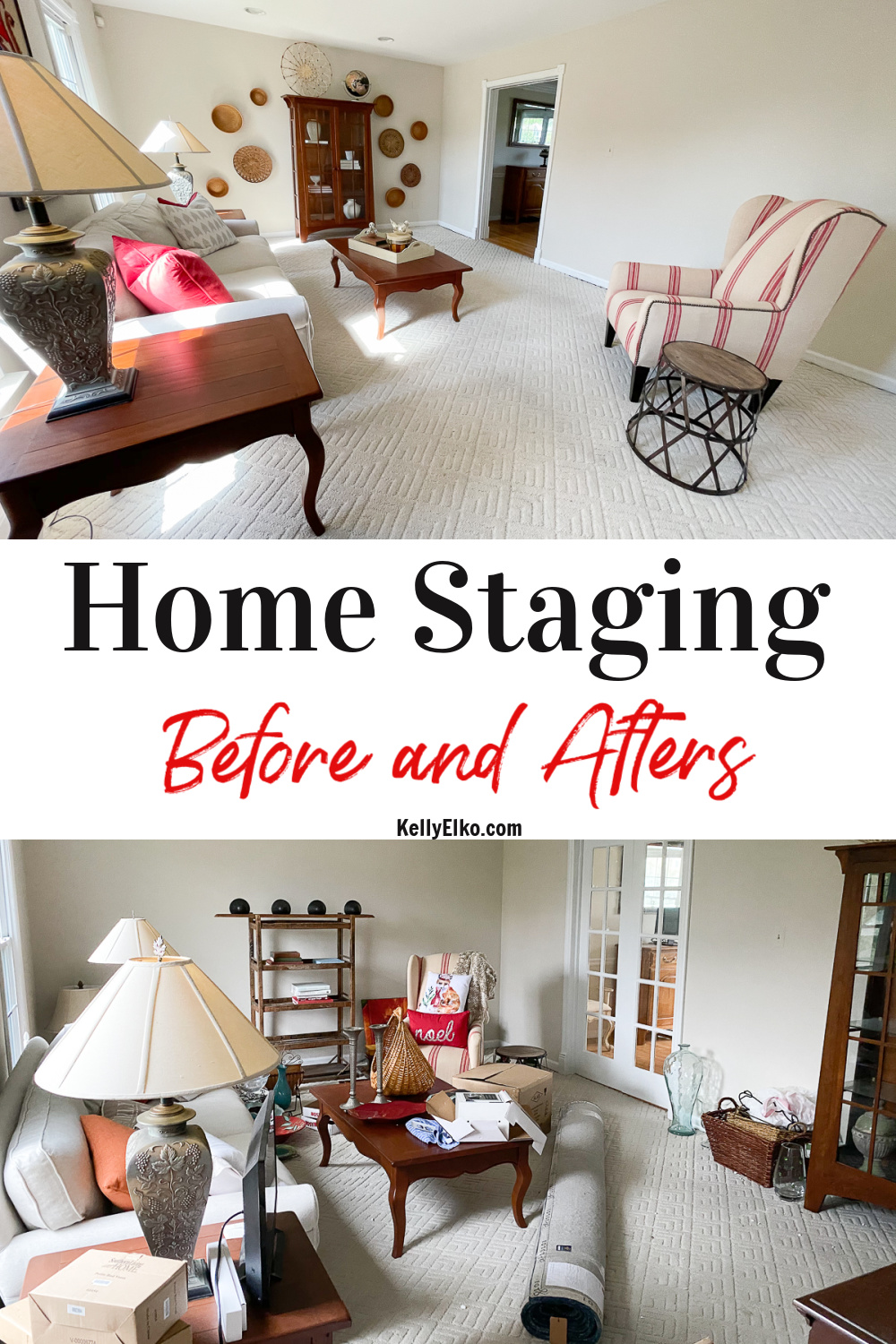 The goal of home staging is to improve the flow of a home, eliminate clutter, and make a home appear bigger and brighter. It means transforming a house into something that will appeal to the greatest number of buyers so it will sell quickly and for the highest price. According to the Real Estate Staging Association, homes that are staged before going on the market sell 73% faster, on average, than their non-staged counterparts.
This is one time when having a giant hoard of stuff really comes in handy! I loaded up my car with lots of art, accessories and furniture and off I went to take over my sister's house!
Before – Foyer
The foyer could use some pizazz and a wow factor to welcome guests.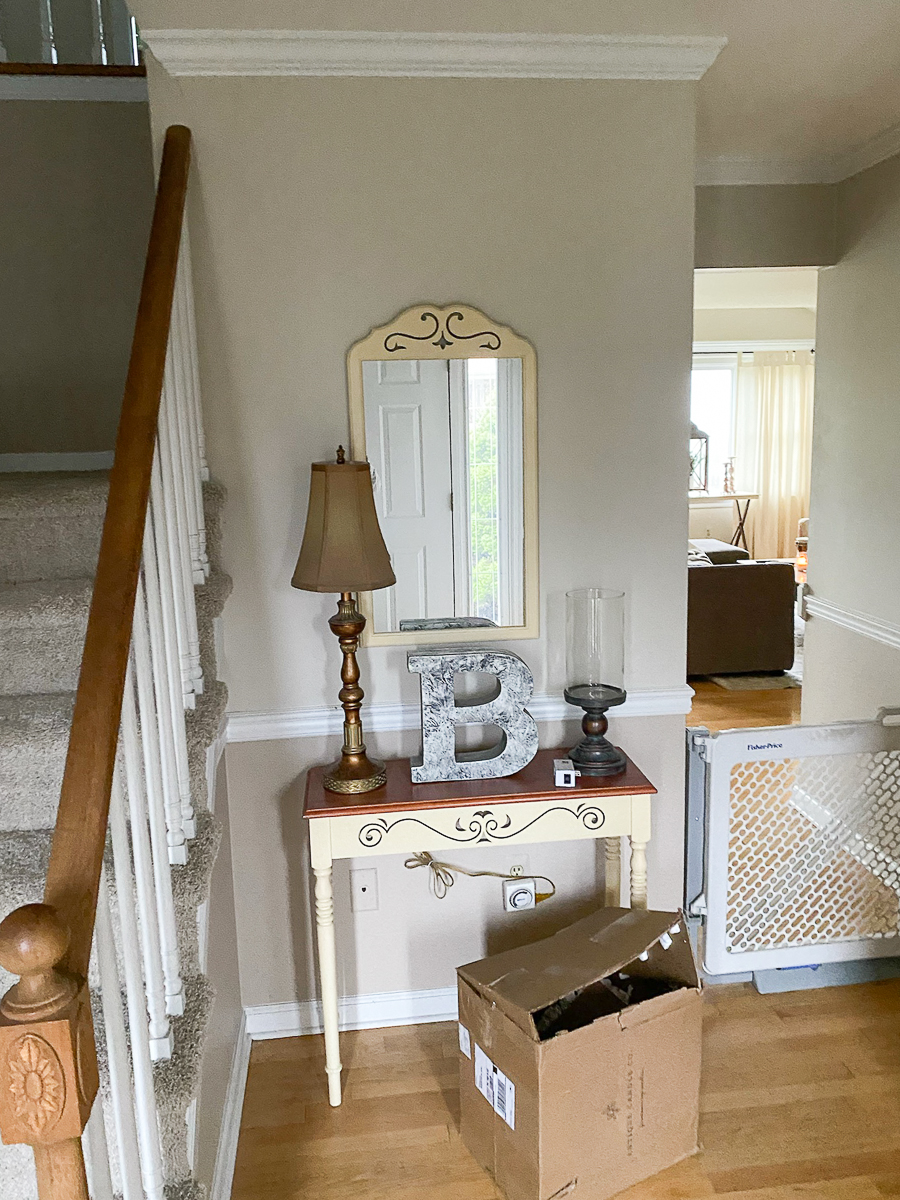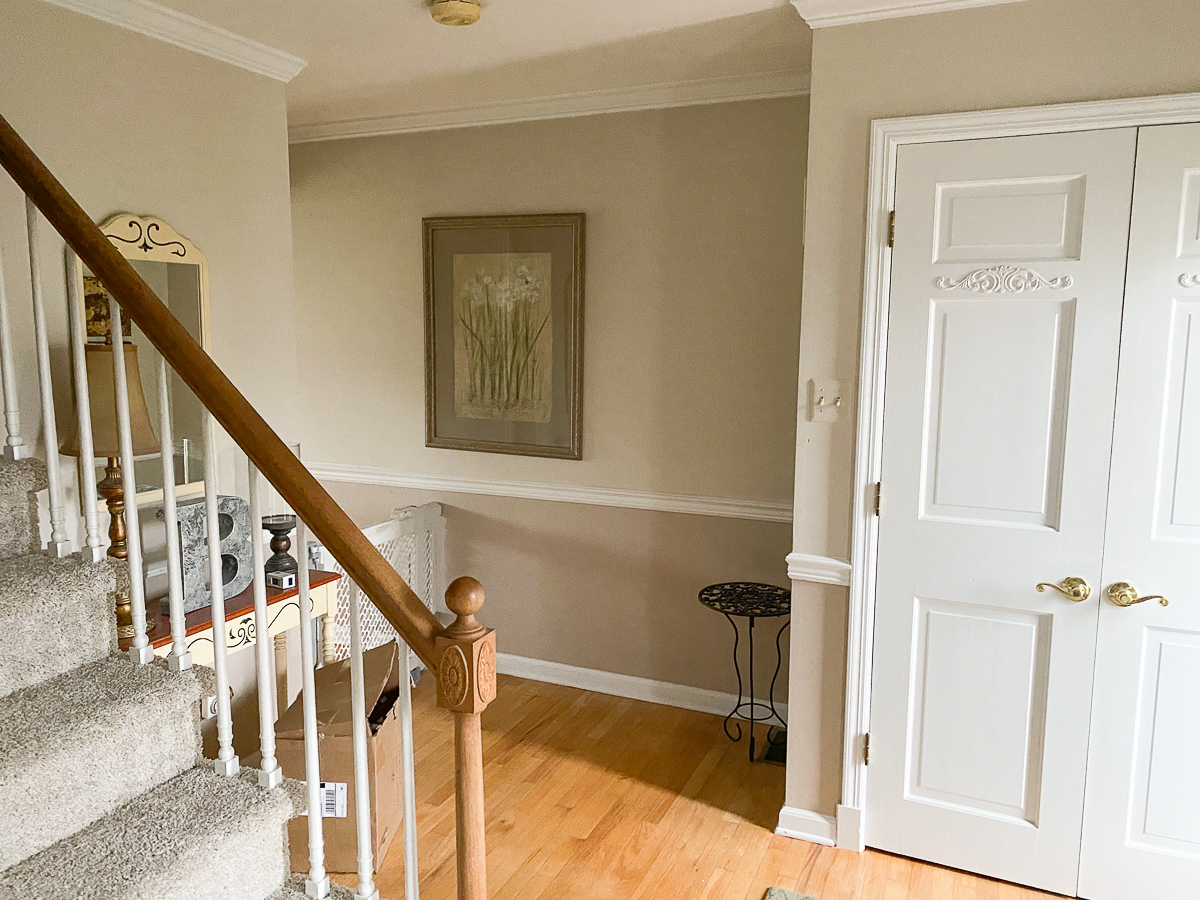 After – Foyer
Look closely at the photo to get a glimpse of my sister chasing her dog Jovie around the corner before she can make her escape!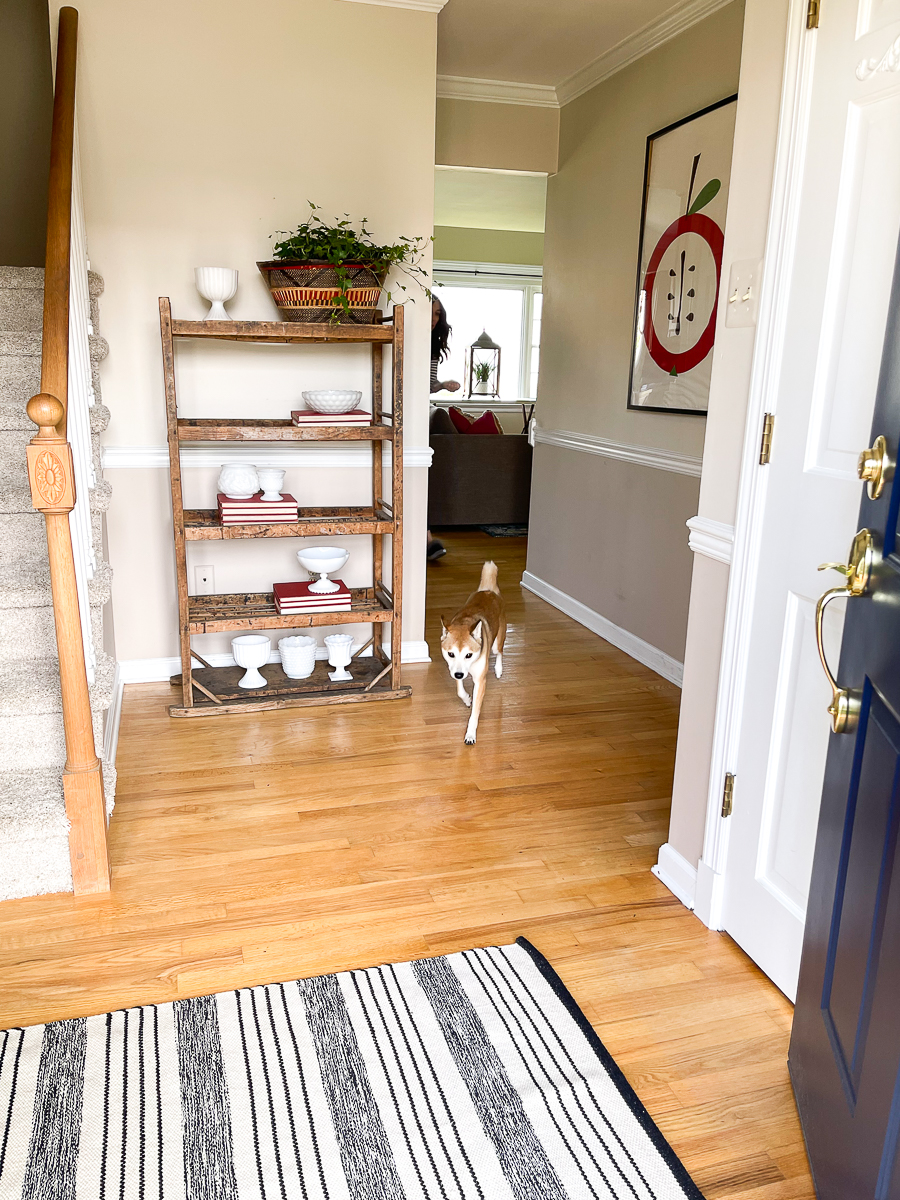 My sister scored that amazing antique rack on our trip to Brimfield flea market a few years ago but it was just languishing in her living room, cast aside with no real purpose. I added some of my vintage milk glass and old encyclopedias and of course a plant in a thrifted basket. A new rug ($25) and my apple art complete the look.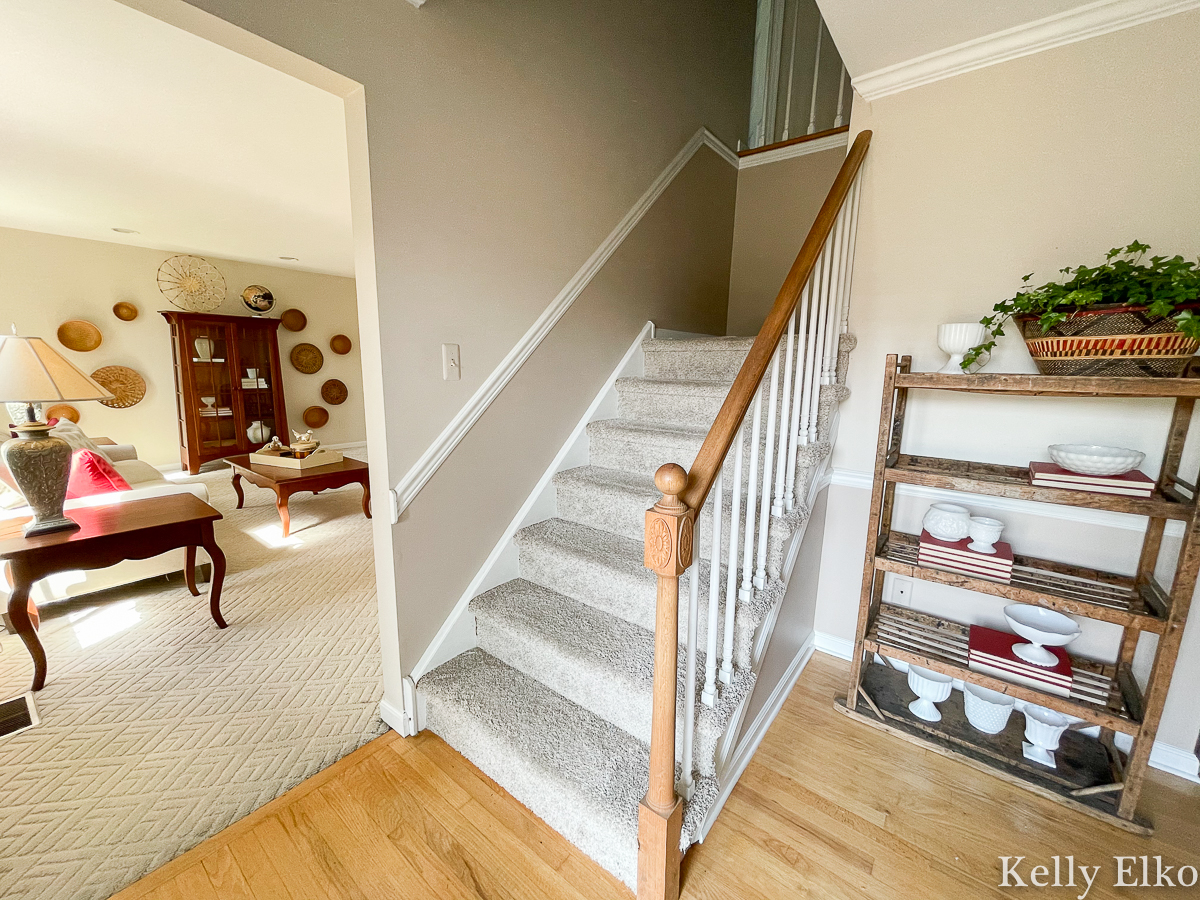 Before – Living Room
This room had become a dumping ground for all my sister's stuff so we cleared the clutter and did some furniture rearranging.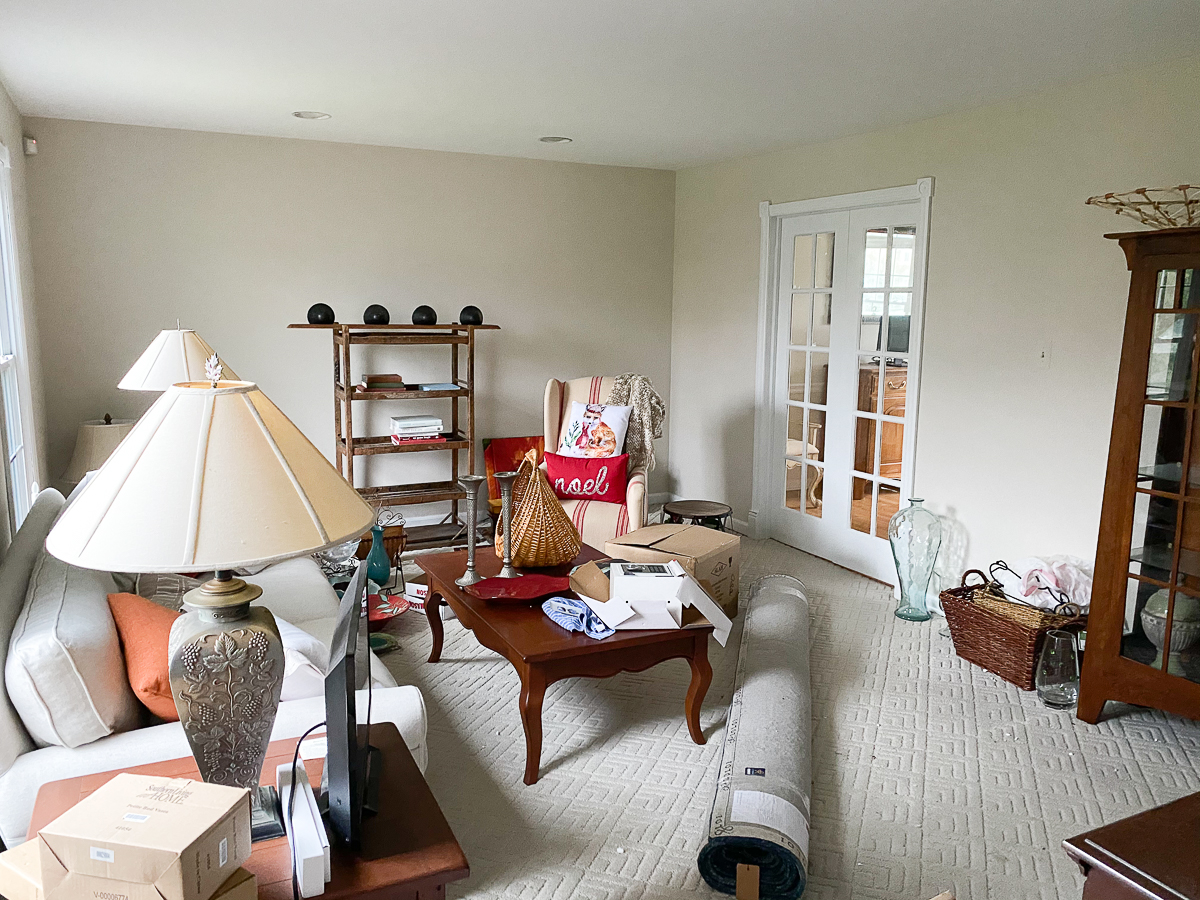 After – Living Room
When you enter the house and glance to your left, the first thing you saw before was underwhelming but I had an idea to make it a wow!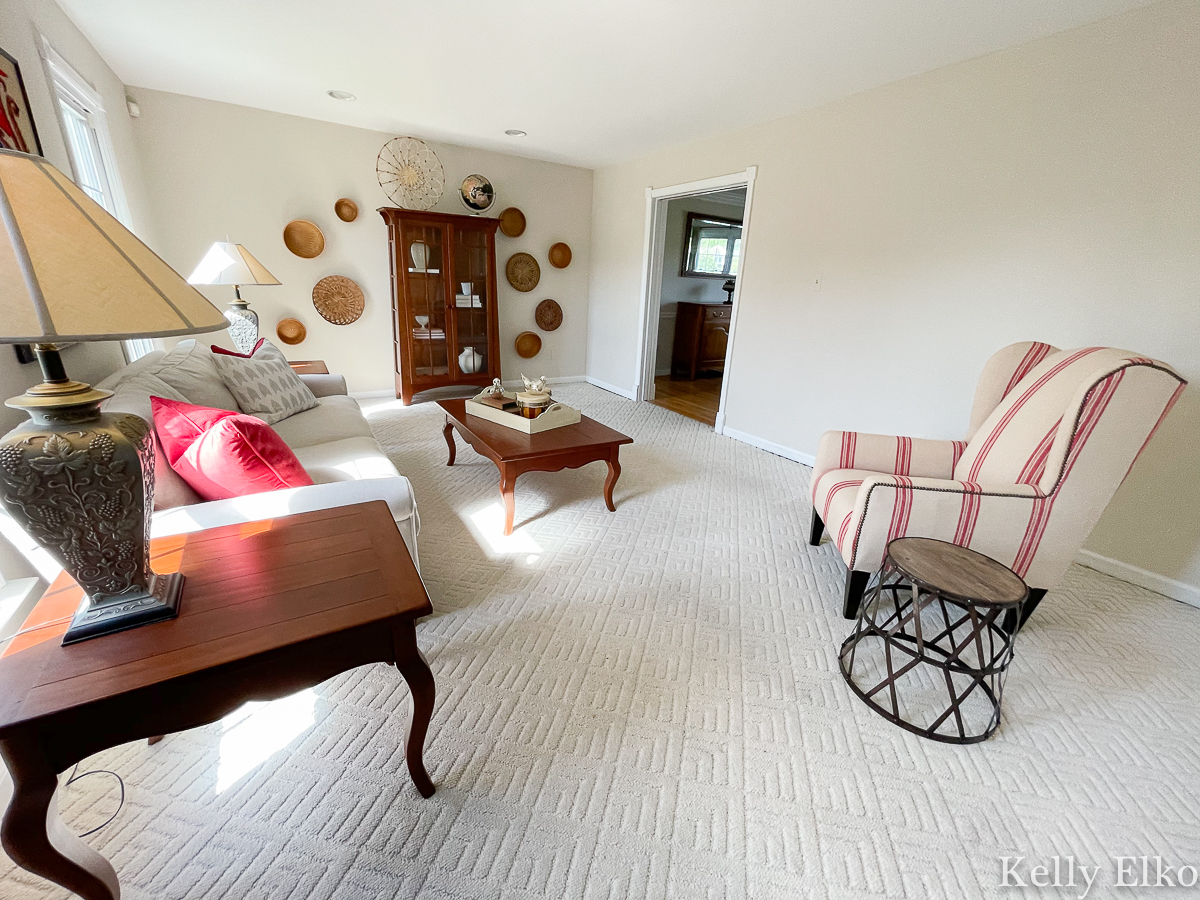 I moved the largest piece of furniture to the focal wall and created a thrifted basket gallery wall for less than $20. It was an inexpensive way to fill the wall and create a one of a kind look that's so on trend. I removed the contents of the armoire and added some books and white pottery for a lighter look.
Before – Living Room
I gave my sister my old dresser for her bedroom and her old one was sitting down here waiting to be donated so out that went.

After – Living Room
Less is more when it comes to furniture when staging a home and now the room looks twice the size as before! I added my vintage art and a few of my pillows for color.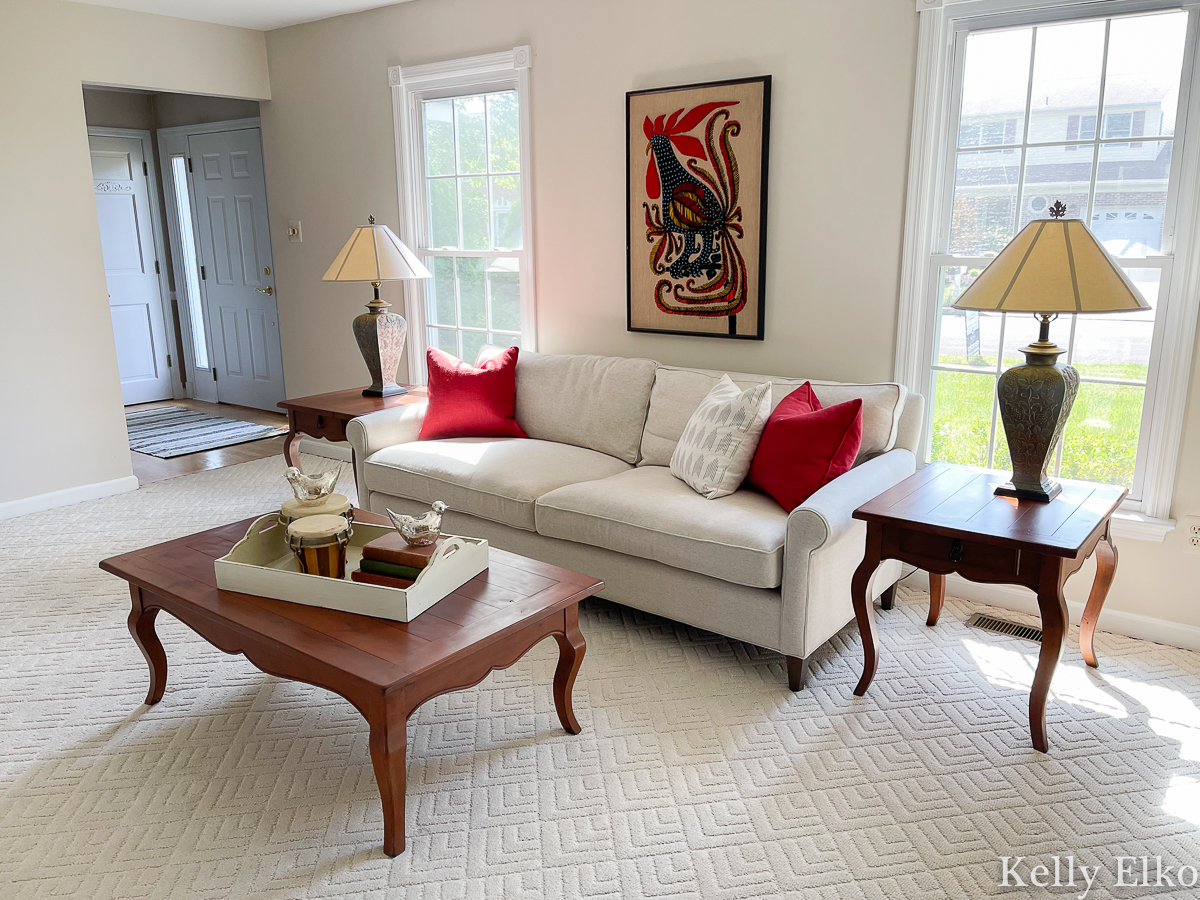 Before – Family Room
This room didn't need much and I wanted to make the fireplace even more of a focal point. I also needed to pare down the accessories.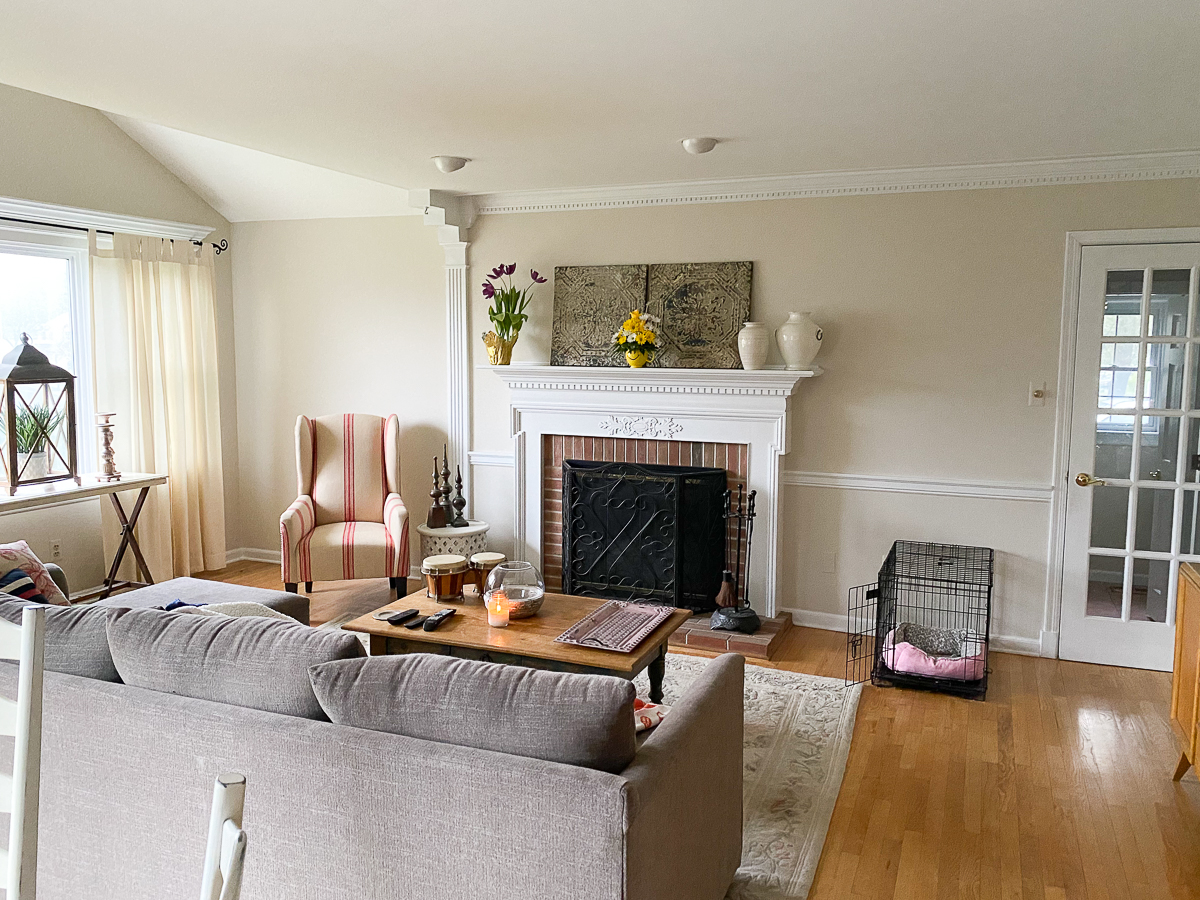 After – Family Room
I found this large, colorful rug ($300) to replace her tired old one and it really modernizes the room. Notice the accessories … less is more! I corralled a few things on a tray instead of having them scattered all over the table which created visual chaos. I added my Bingo sign for a pop of color and a small trunk in front of the fireplace plus a huge basket with a real palm tree.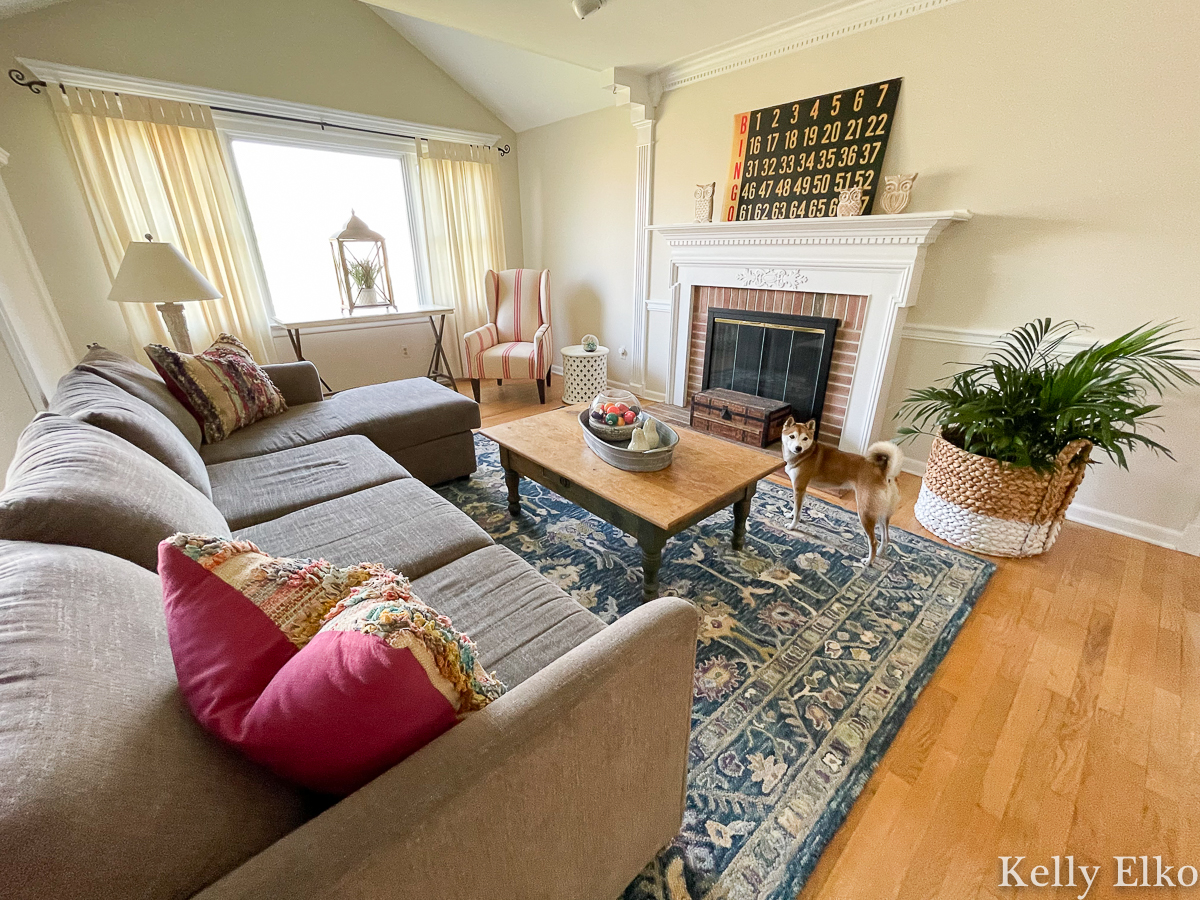 I removed the decorative fireplace screen and fireplace tools and replaced them with an old wooden box for interest. A couple of my colorful throw pillows and the room is done.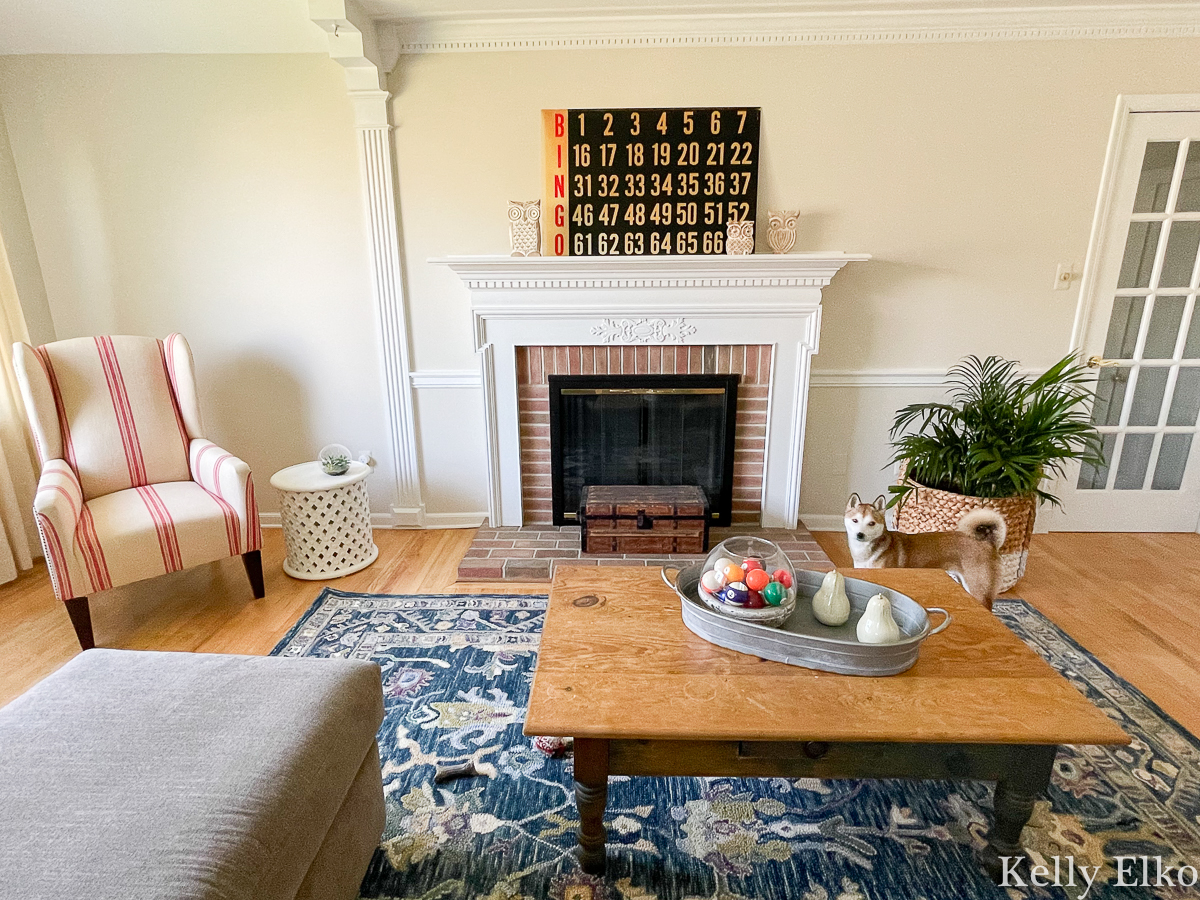 Before – Family Room
Way too many accessories cluttering up every surface.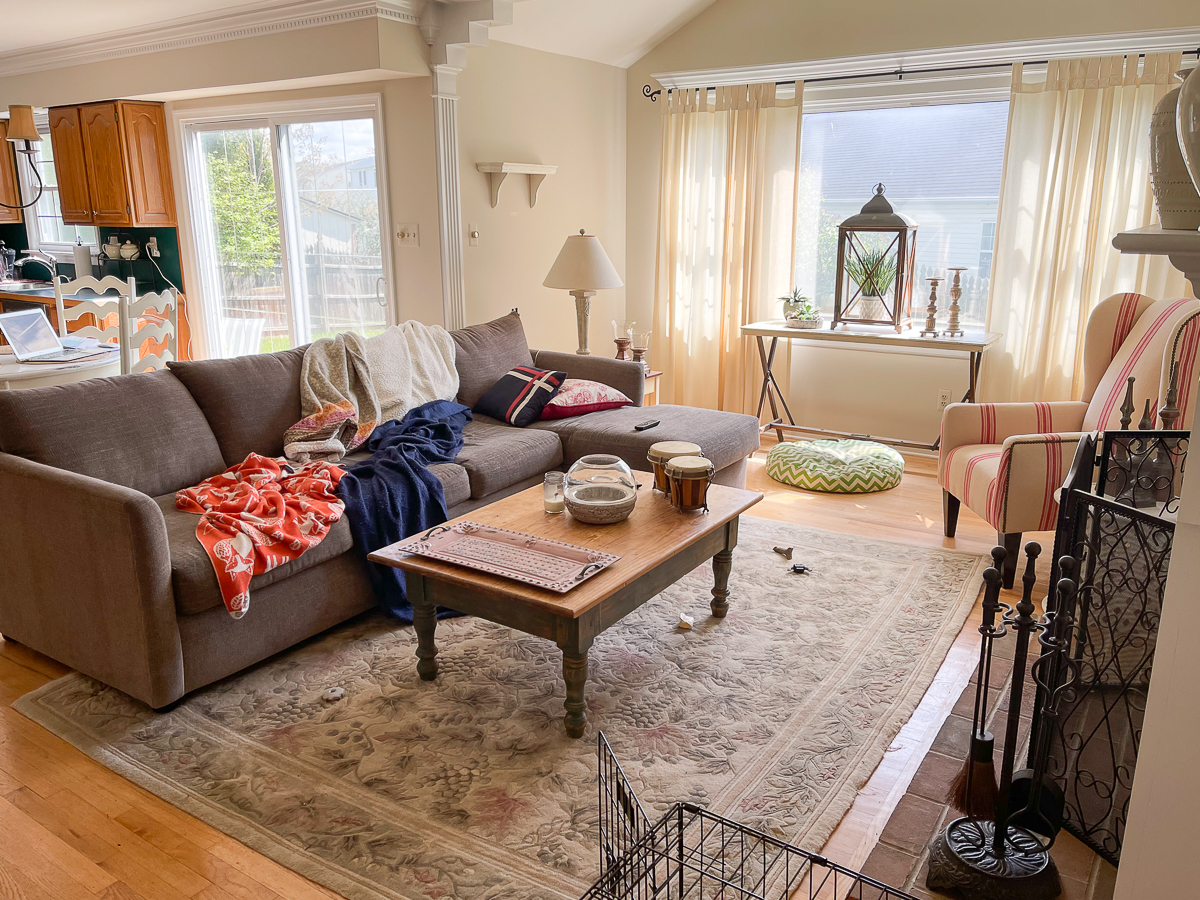 After – Family Room
I would have loved to remove the curtains or at least exposed more of the windows that hide behind them but my sister wasn't having any of that so I lost that battle! But I think it's important to NEVER cover a window to let as much light in as possible. Instead, hang curtains so that they cover the walls on either side of the window, not the window itself.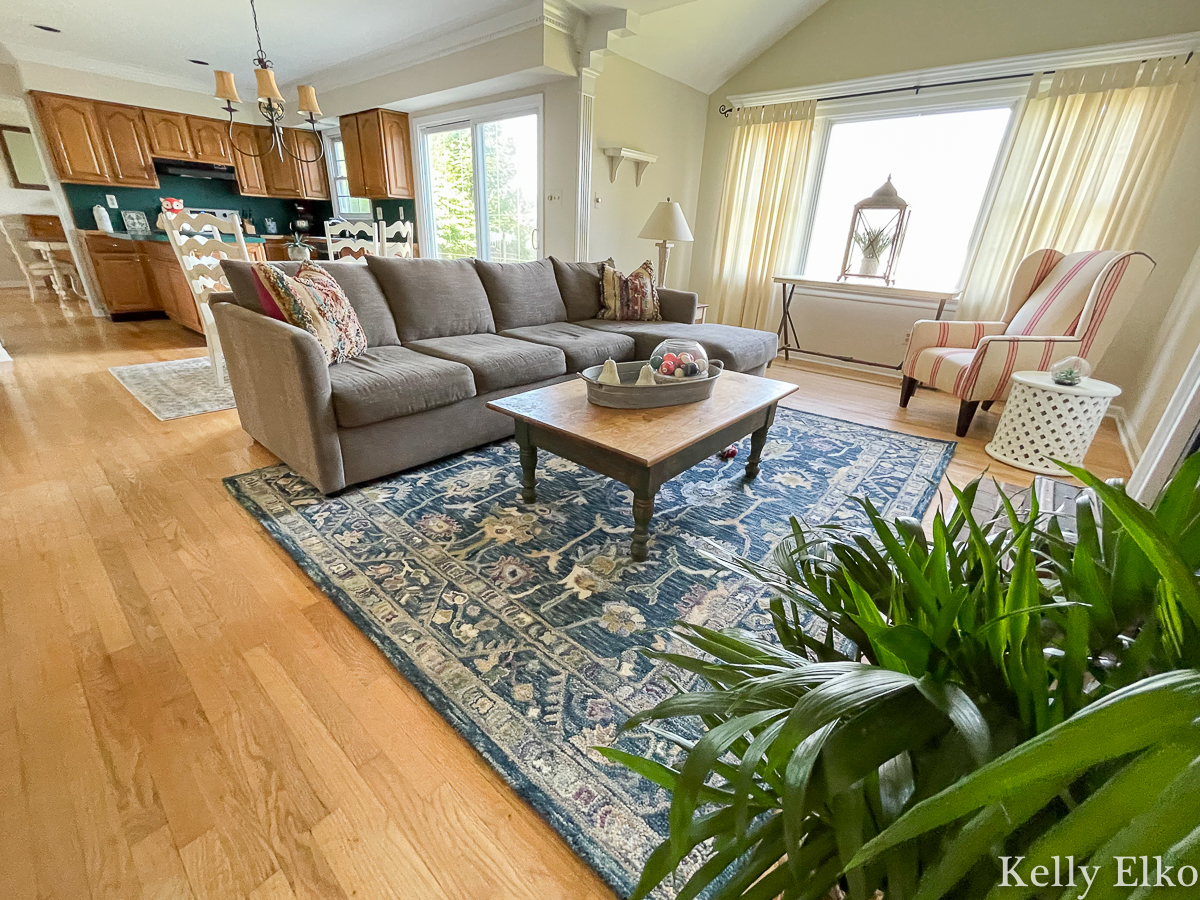 Before – Kitchen
My sister was in clean up and purge mode when I took these pics and as you can see, it needs a major decluttering with lots of stuff on the counters.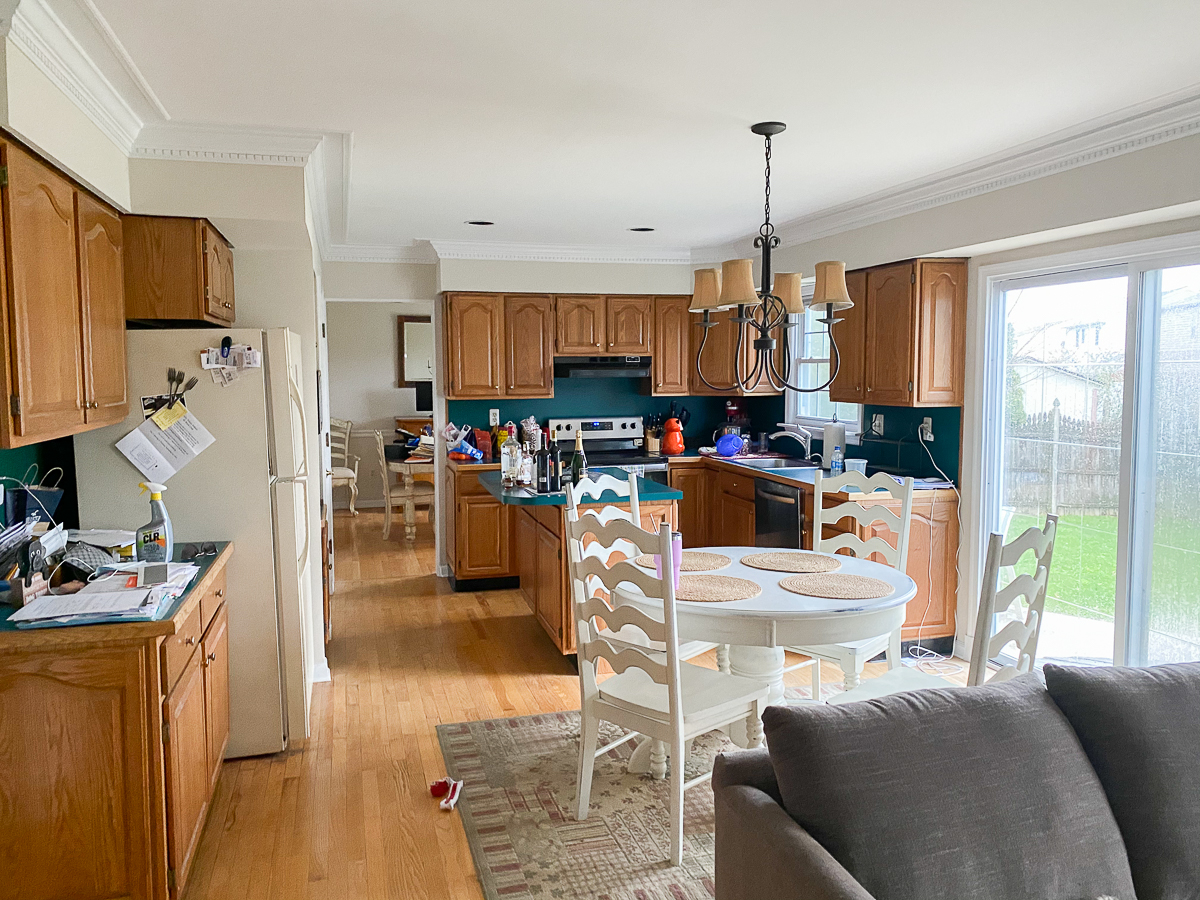 After – Kitchen
It's amazing what an inexpensive rug (only $55) can do to brighten up a space! I would have loved to remove the placemats but the table isn't in the best condition so my sister wanted to keep them so as not to draw attention to the table.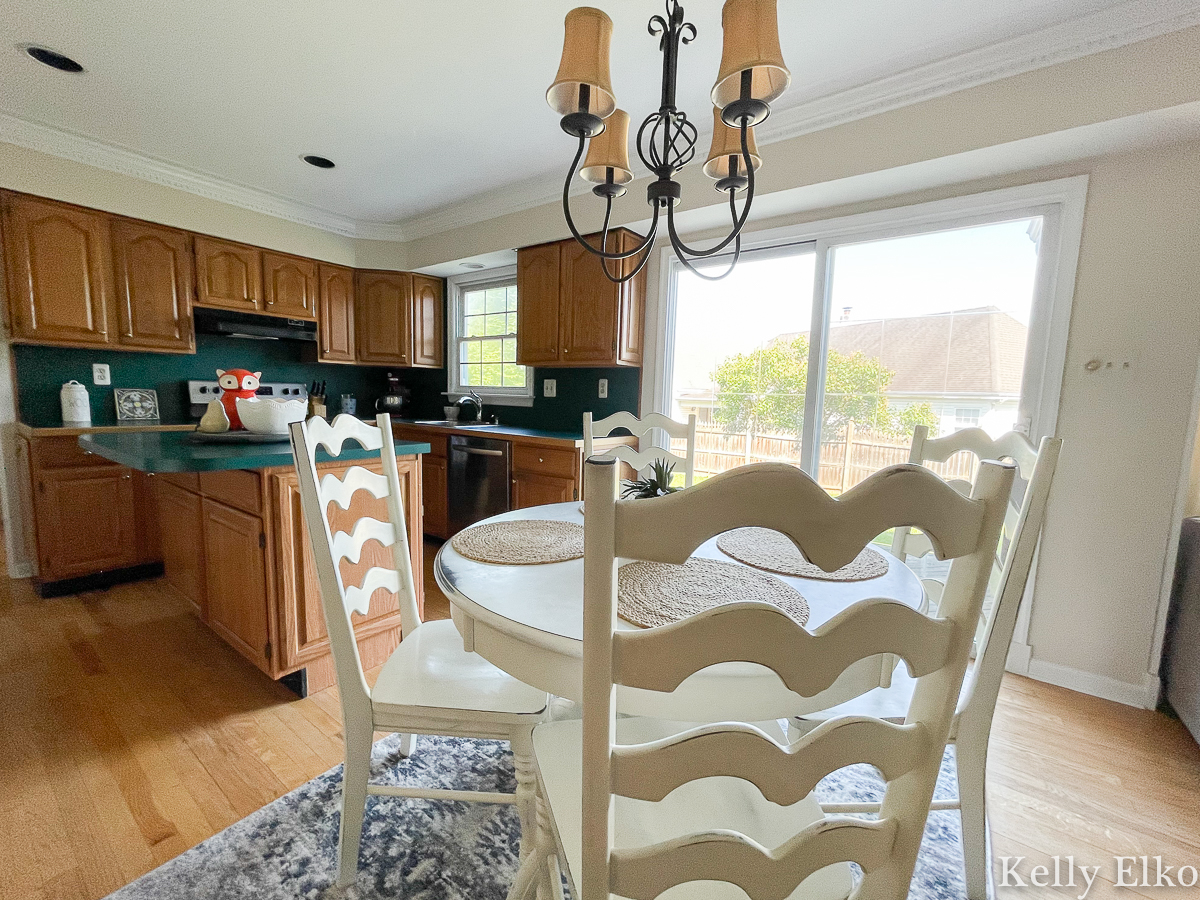 I had to get really bossy when it came time to removing stuff from the counters!
Before – Dining Room
Not much to do here but a few key things will make a big difference.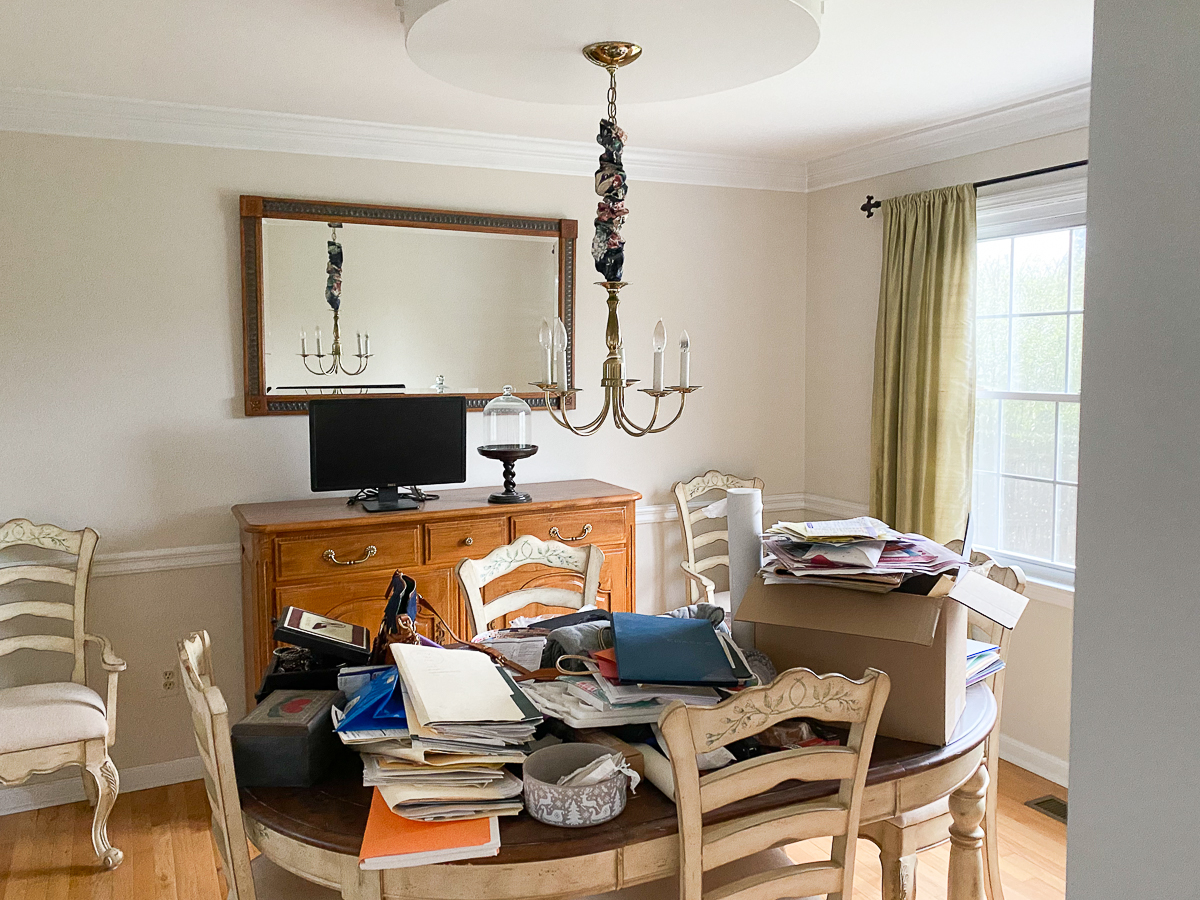 After – Dining Room
I removed the two chairs that were flanking the buffet and I added a piece of colorful art on the opposite wall (you can see the reflection in the mirror). I finally got my way, and may have heard angels singing, when my sister finally removed that piece of floral fabric covering the chandelier chain! There is nothing wrong with a bare table – no need to fill it with random stuff!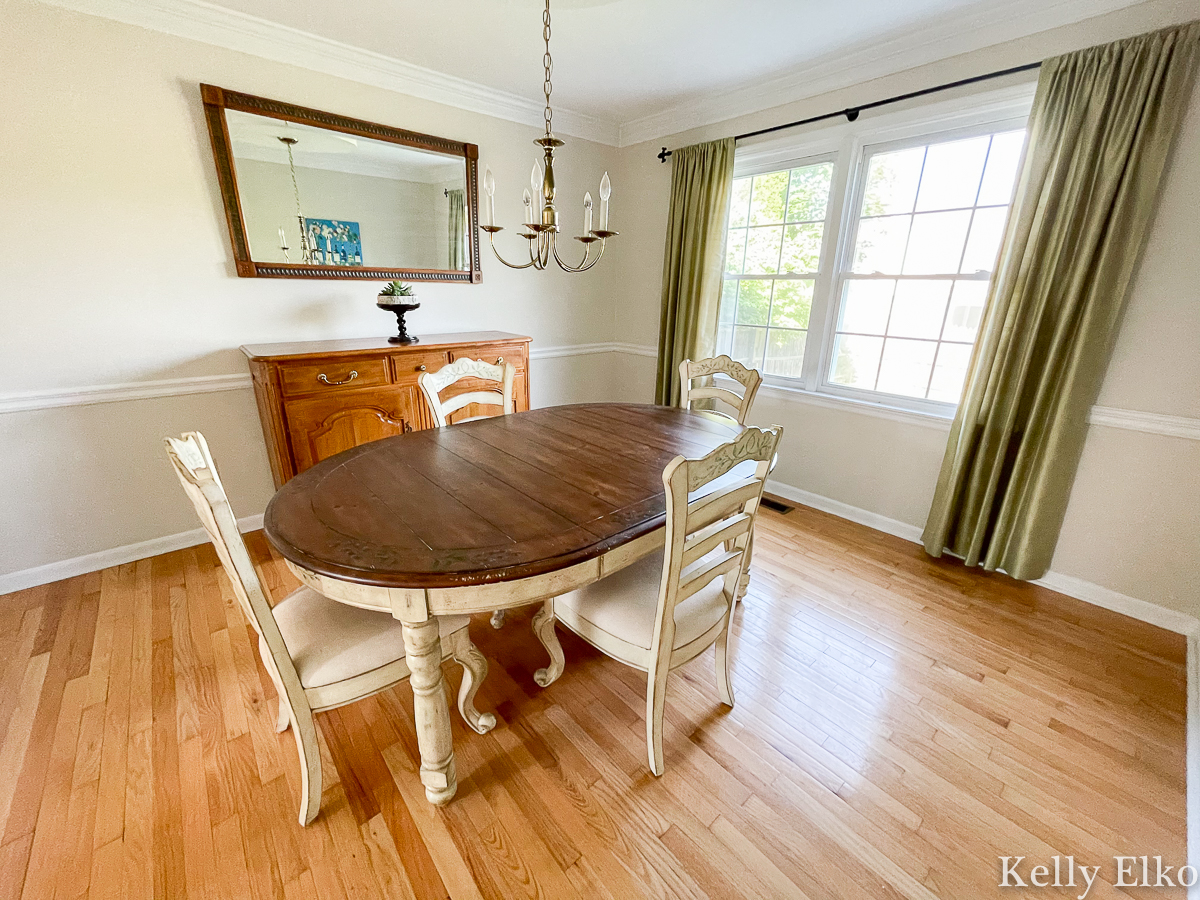 Before – Master Bedroom
I have my work cut out for me here! Let's not even discuss those curtains and the minuscule piece of art looking so naked and afraid over the bed.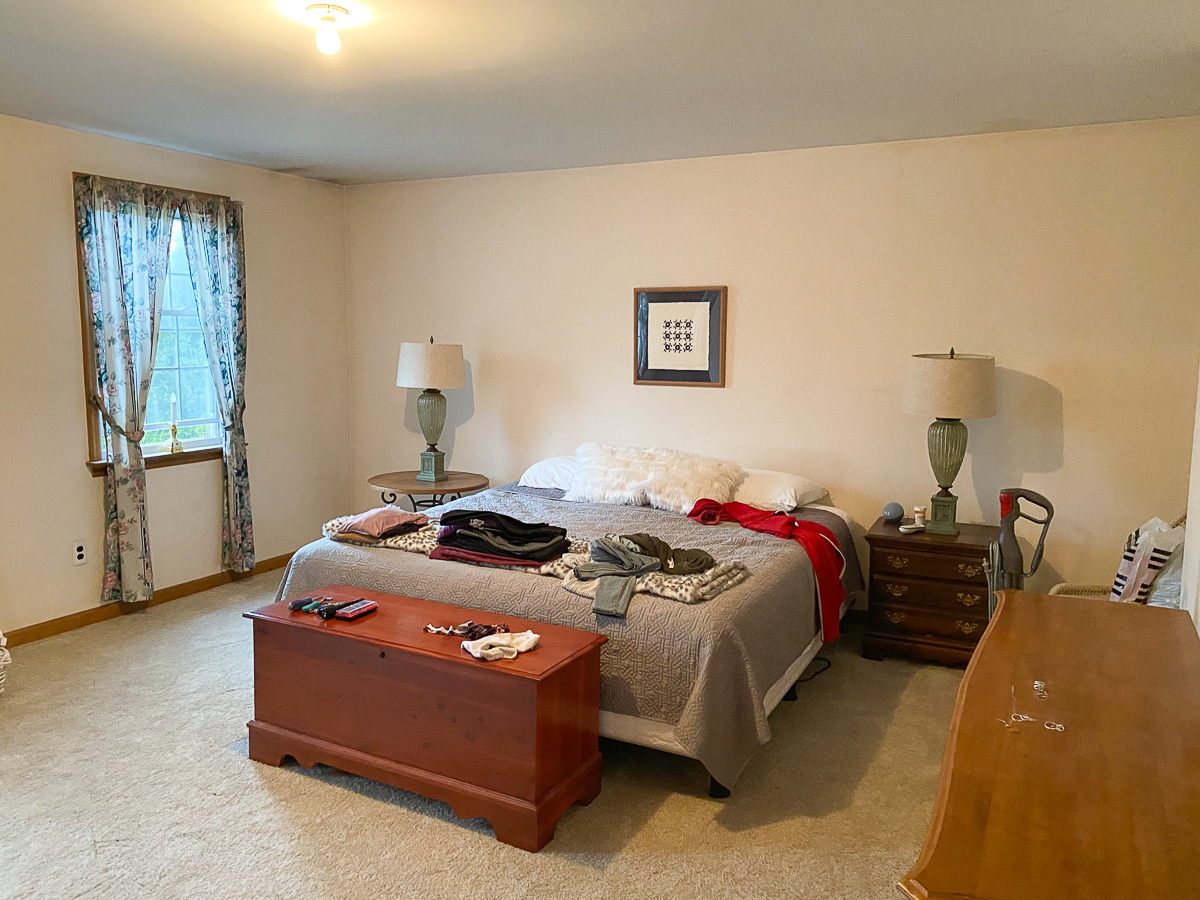 After – Master Bedroom
A fresh coat of paint made so much difference! To save time, I told my sister to paint the walls and ceiling the same color (Sherwin Williams Agreeable Gray). An inexpensive ceiling light replaces a bare bulb. I love trays and brought a wicker one to contain my sisters perfumes and my vintage blue vase completes the pared down look.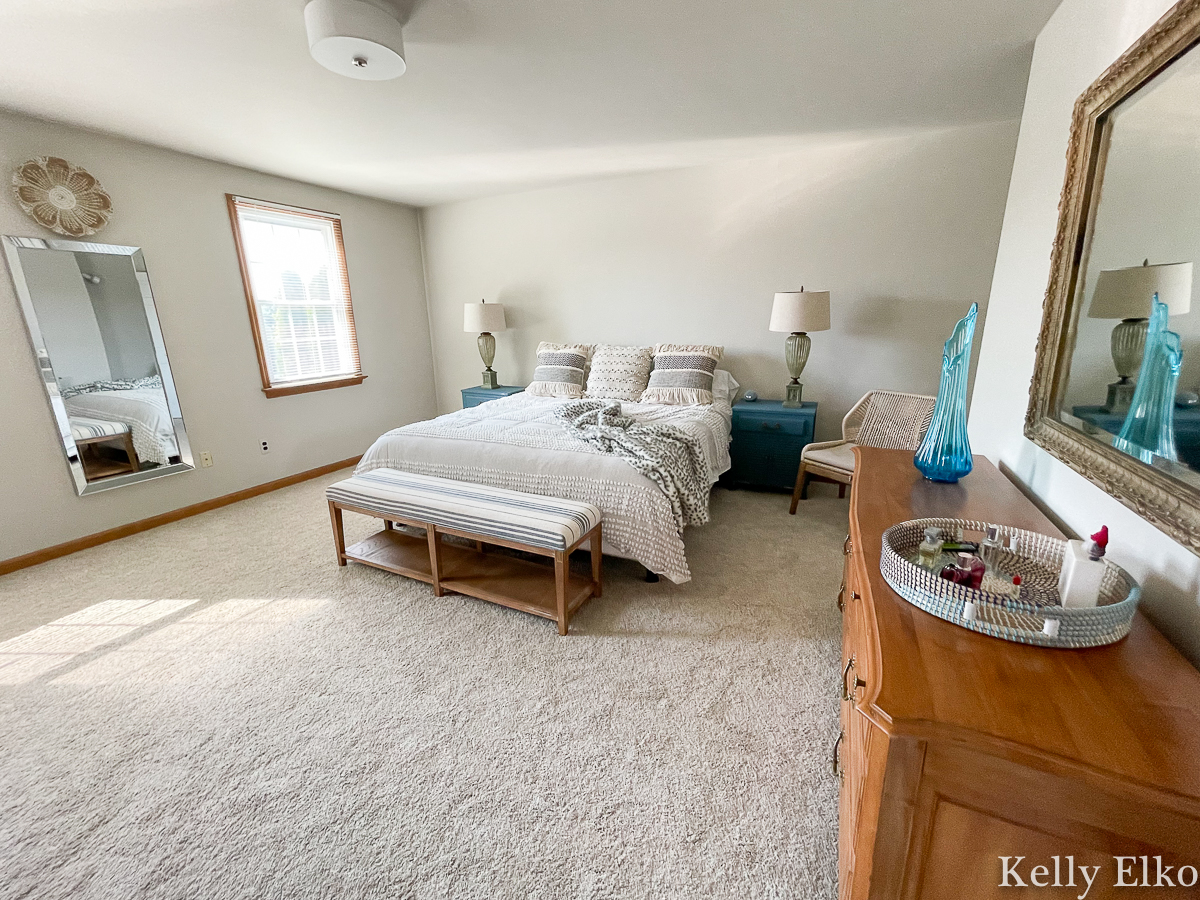 Before – Master Bedroom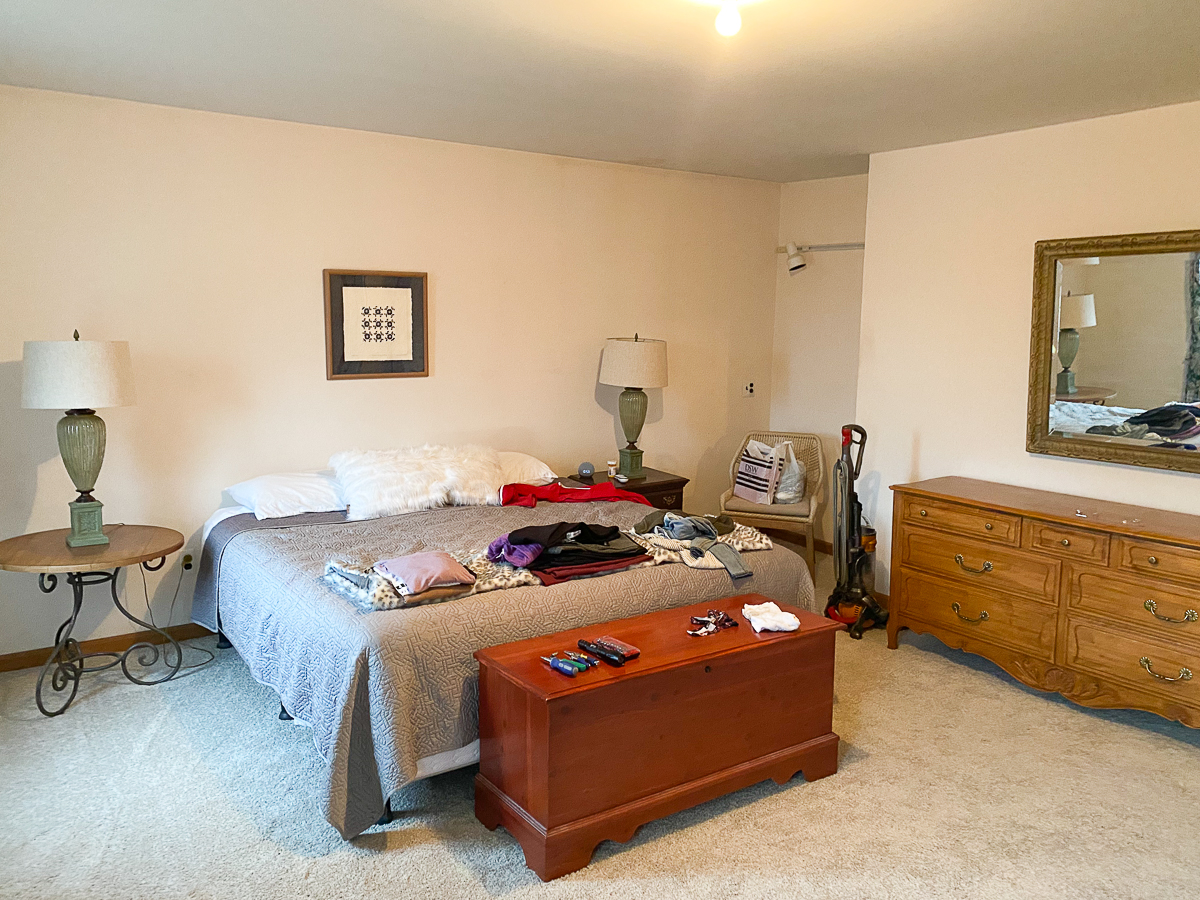 After – Master Bedroom
A new bench, bedding and full length mirror can go with her when she moves and they made a world of difference in making this bedroom warm and inviting.
In a perfect world, I would love to have had the trim painted white but once again, time was of the essence.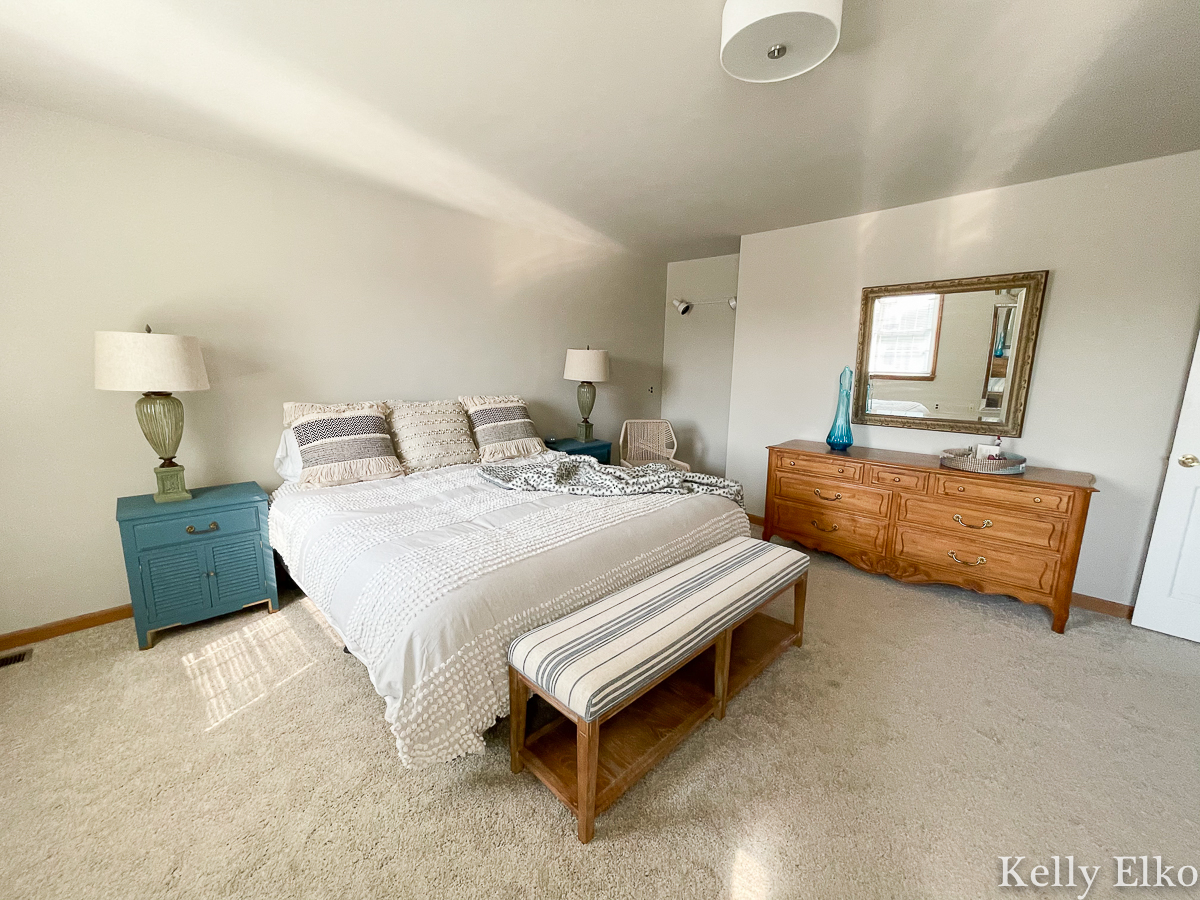 Remember the pair of vintage nightstands that I found on Facebook Marketplace for $30? Well, here they are in all their repainted glory adding a fun pop of color.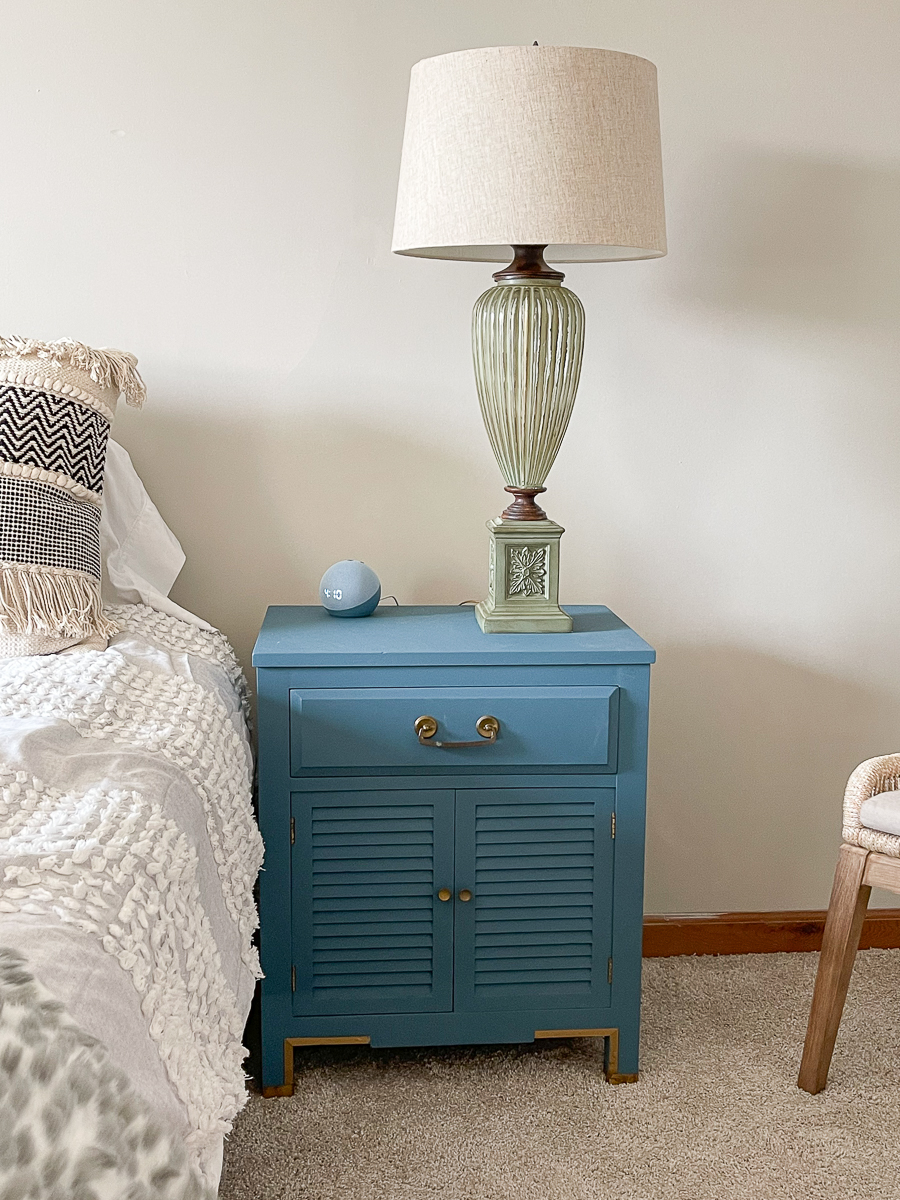 I fluffed bathrooms by adding fresh white towels, fluffy new bath mats and of course a couple of plants then removed almost everything from the counters because buyers really don't want to see your wet toothbrush!
So there you have it! My first stab at staging a home and I think it turned out great. More importantly, the house had multiple offers and have I mentioned it sold for 12% over asking price! My sister is thrilled and now we can focus on decorating her new place!
Love peeking inside other peoples homes?