Sunshine & Happiness – New Sunroom Sofa
Buying a sofa online can be intimidating. I'm sharing tips and tricks for buying sofa online so you can purchase with confidence and make sure you're getting a quality sofa.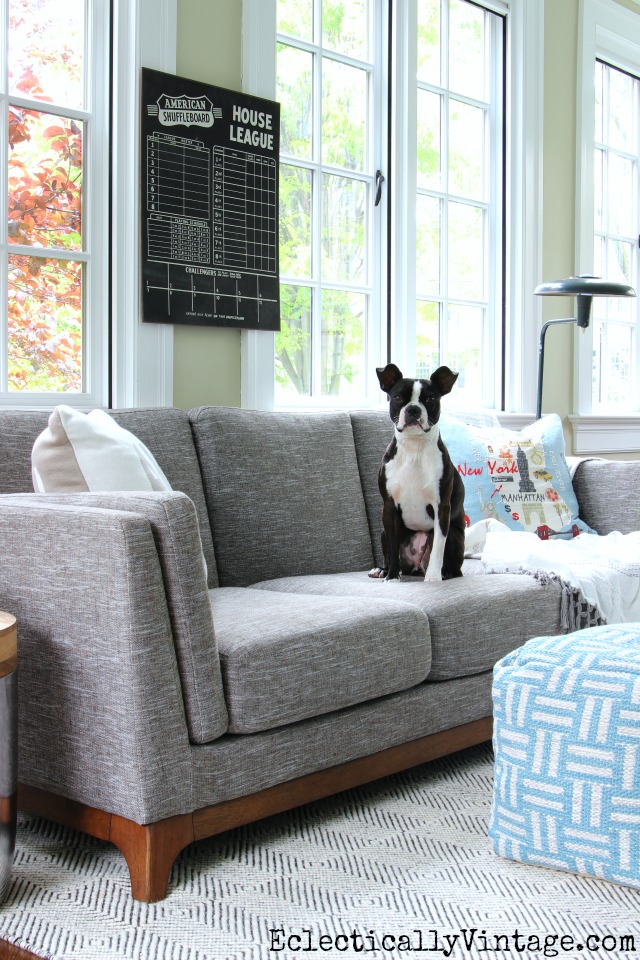 Sunshine and happiness …
rainbows and a new sofa.
These are the things that make me happy (in addition to ice cold margaritas and free finds on the side of the road).
Ever try to work with your old furniture in a new house.
It doesn't really fit but you put on a brave face (while crying inside) and make it work.
That's what was going on with my old sunroom sofa. It was huge – a sleeper sofa! It made the room feel cluttered.
While searching for a new sofa, I stumbled upon Article (they are sponsoring this post) and fell in love with their clean lined furniture selection – specifically the Ceni sofa.
I love an eclectic home and mixing styles and this sofa is the perfect blend of classic-modern.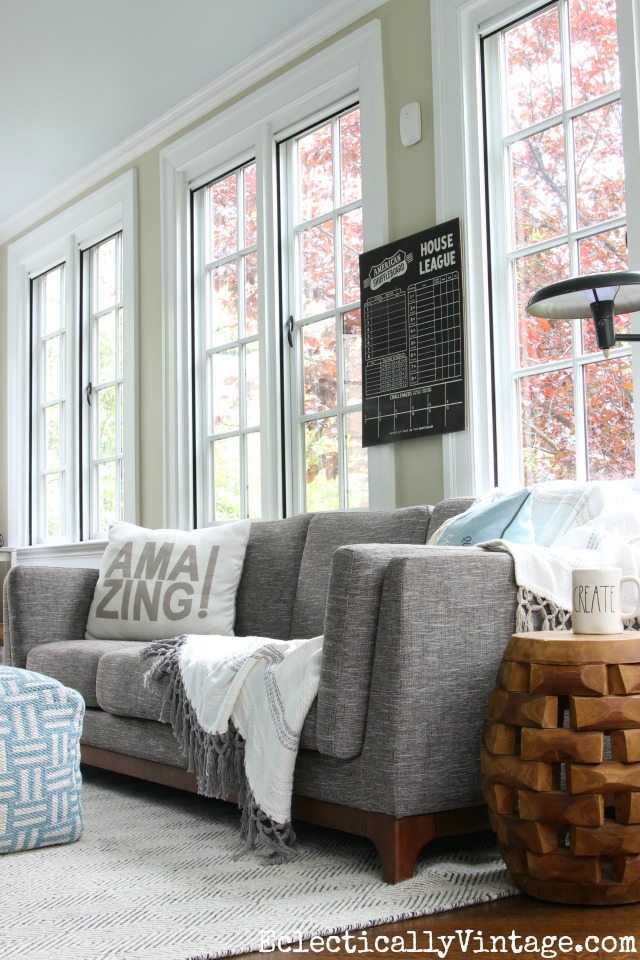 Let's face it – buying a sofa online can be scarier than watching Poltergeist alone, in the dark (remember the clown who pulled the kid under the bed)!
I'm taking the scary out of online sofa shopping …
Tips for Buying Sofa Online
Size – It's hard to visualize the scale of a sofa from a photo. Use a measuring tape or better yet, tape off the dimensions on the floor to get a better idea of how the sofa will fit into your room. Don't forget to measure height too – the back of the sofa and the arms (try moving similar height furniture in place for a good visual).
Construction – Know what you're buying! Is your sofa made with hard woods or particle board? Foam cushions (tight, firm seat cushions – maintains shape) or down (loosely filled – needs fluffing)? Don't expect a sink into seat if you are buying foam cushions and don't expect the cushion to retain it's tight shape if you opt for down.
Fabric – Know in advance the type of material used on the sofa so you can make an informed decision and determine cleaning methods.
Color – Look for close up shots of the fabric. My sofa is gray but has beautiful flecks of brown, black, white and gray threads running through it which makes it the perfect neutral that can go with warm or cool colors.
Reviews – So important! Read the reviews on the sellers website as well as third party reviews (Google "company + reviews") to find out what buyers are saying.
Delivery – Check out the delivery options and prices. Do you want the sofa set up in your house or do you want it delivered to your door where you will be responsible for getting it inside.
Timing – Need the sofa next week? Make sure your sofa is in stock and ready to ship.
Cost – Factor in total cost which includes purchase price (including tax if applicable), shipping and returns. I love that there is one flat shipping rate for an entire order from Article and you can return the sofa within 30 days (just pay the same shipping amount and make sure to return in the original packing materials).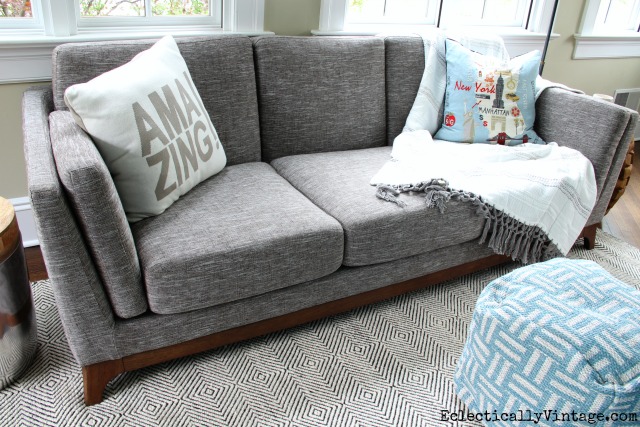 My favorite part is the solid wood base that wraps around the front, sides and back of the sofa. I also love the loose back cushions and the firmness of the sofa. It's very comfy (not a sink into sofa) while providing lots of support.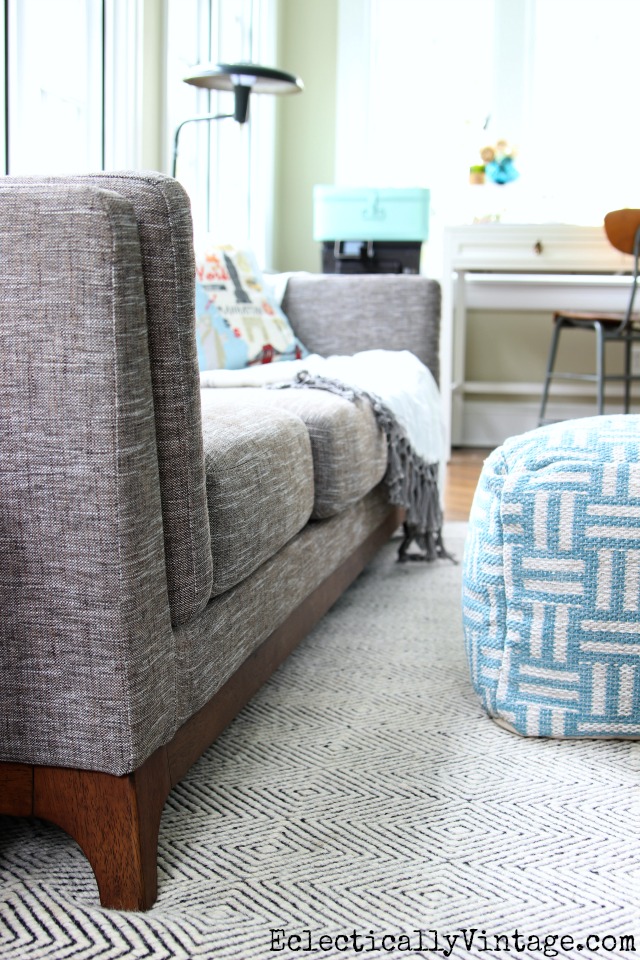 Why Article?
1) no middle man – they work with manufacturers to design unique styles then sell direct to you
2) one flat shipping rate to US & Canada of $49 to your door no matter how much you order (if you want in house delivery there are other shipping rates to choose from)
3) 30 day money back guarantee (just pay shipping and return fees and keep original packaging)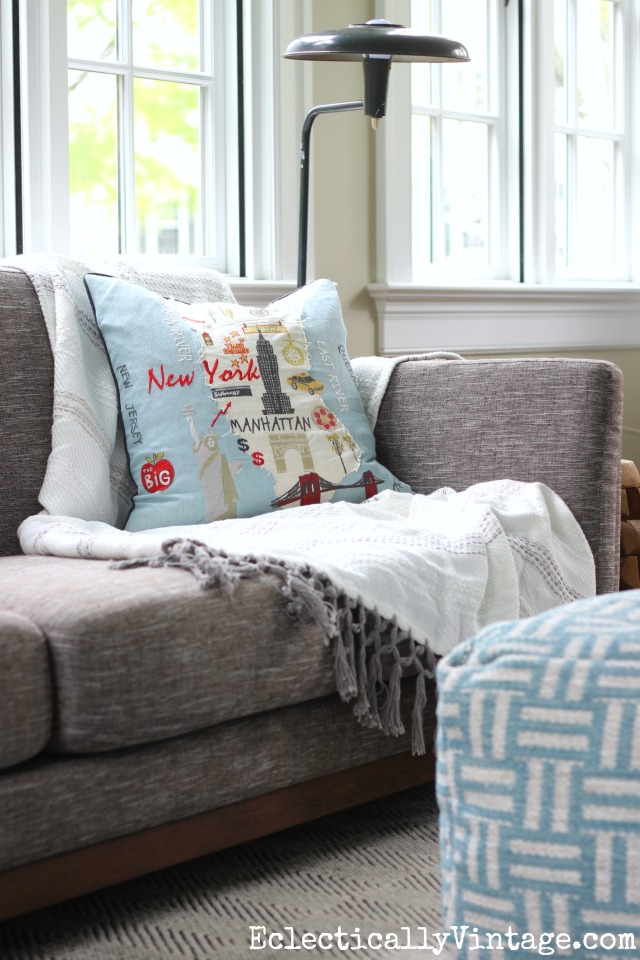 The true test is weather Sushi approves.
Relief! As you can she, she's just waiting for the remote so she can watch Lassie reruns.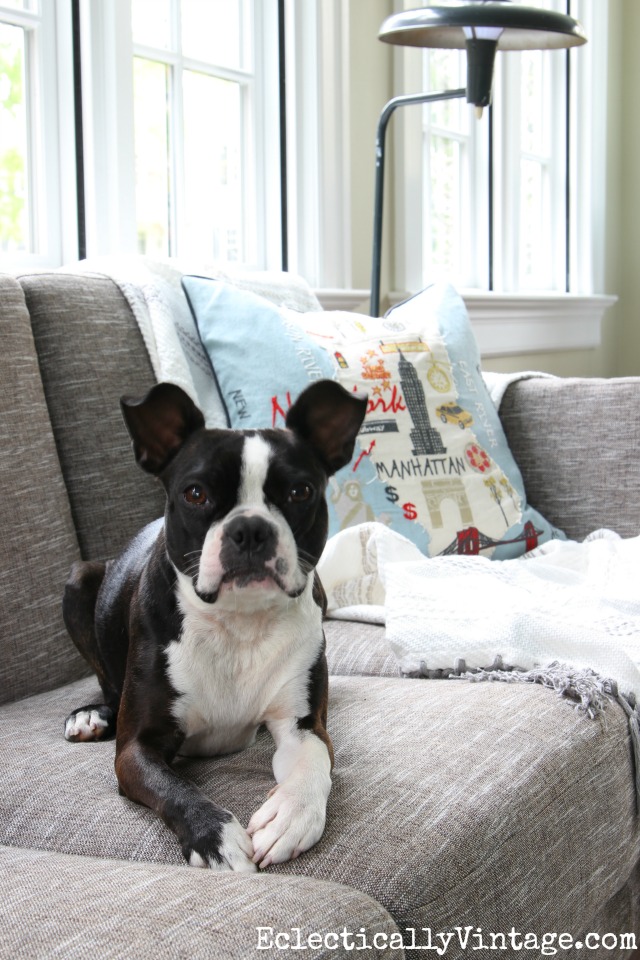 I'm really loving my new Article sofa and find myself wandering into the sunroom a lot more to cozy up with a cup of tea (ok, wine – don't judge).