Eclectic, Colorful, Vintage Spring Home Tour!
Longer, sunnier, warmer days call for celebration so I'm sharing my tips on how to decorate for spring. Welcome to my eclectic, colorful, vintage spring home tour where I'm mixing vintage and new, color and collections, plants and pattern, to inspire you to surround yourself with what you love. So if you're wondering how to bring spring into your home, this post should give you lots of creative ideas and inspiration!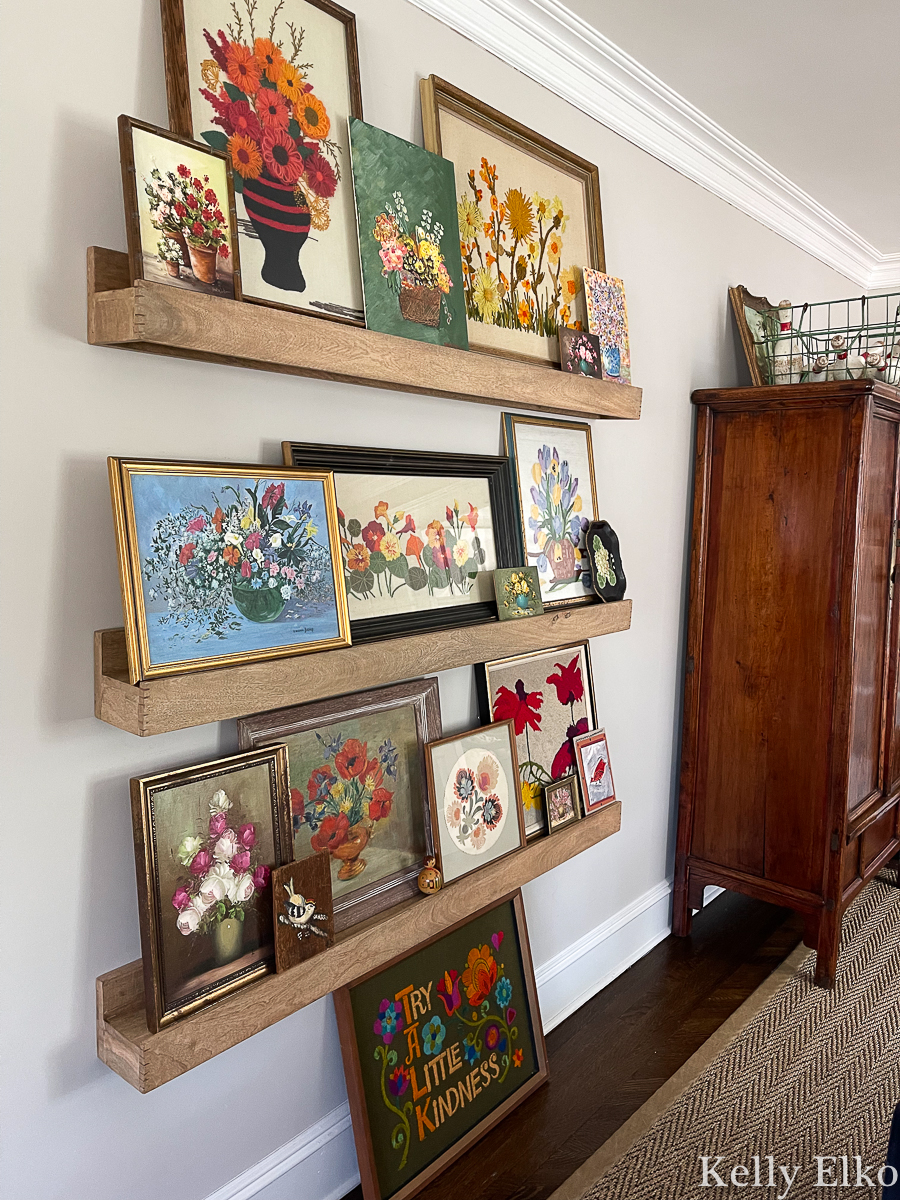 This quote really sums up how I'm feeling lately about taking care of ourselves and making our homes our sanctuaries …
I planted a garden … on my wall! When I think spring decor, I think flowers bursting into bloom. So what better way to decorate for spring than with flowers? But not just any bouquet will do … because vintage is always better.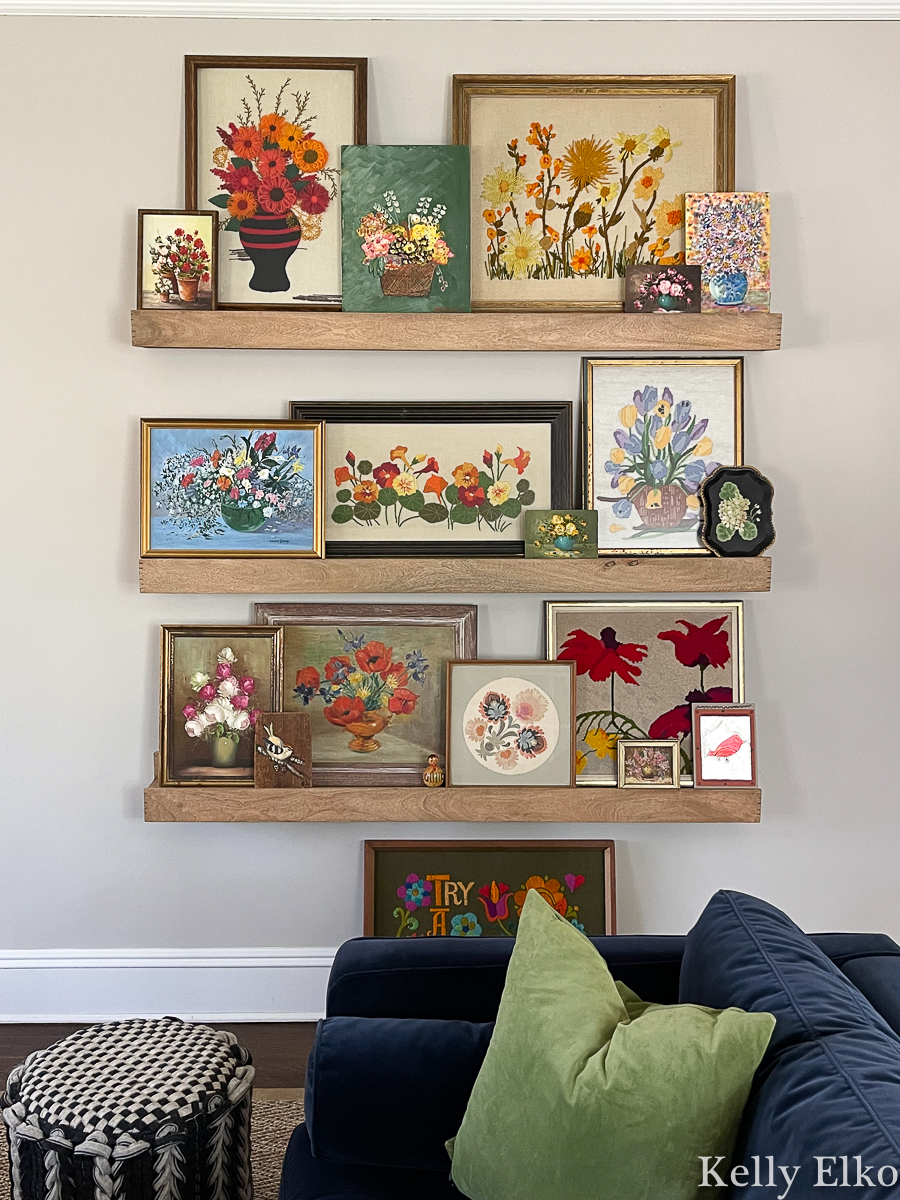 I packed away my collection of vintage landscape paintings and replaced them with all of my vintage floral art that I've been collecting over the years.
WOW what an impact these florals make when displayed together! The common theme of flowers unifies all the different colors and mismatched frames.
This post contains affiliate links which means if you make a purchase, I may earn a small commission at no extra cost to you.
Notice that the large, big ticket pieces (rug, sofas … I consider blue a neutral, coffee table, tile, paint) in my living room provide a neutral backdrop which makes it a cinch to switch out colorful art, accessories and throw pillows whenever the seasons change or the mood strikes.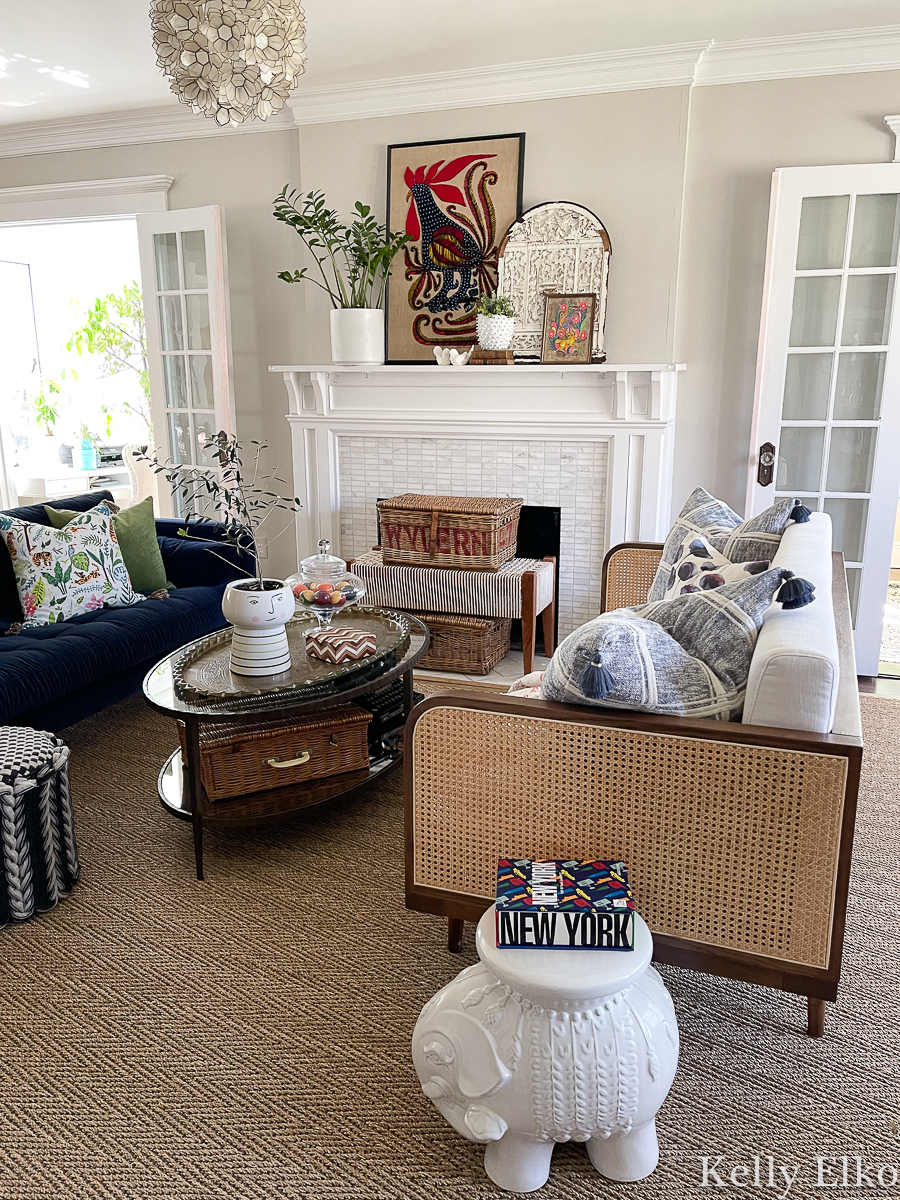 My love of vintage art can also be seen on the spring mantel where I paired a large crewel rooster from Chile with a colorful Mexican painting on bark.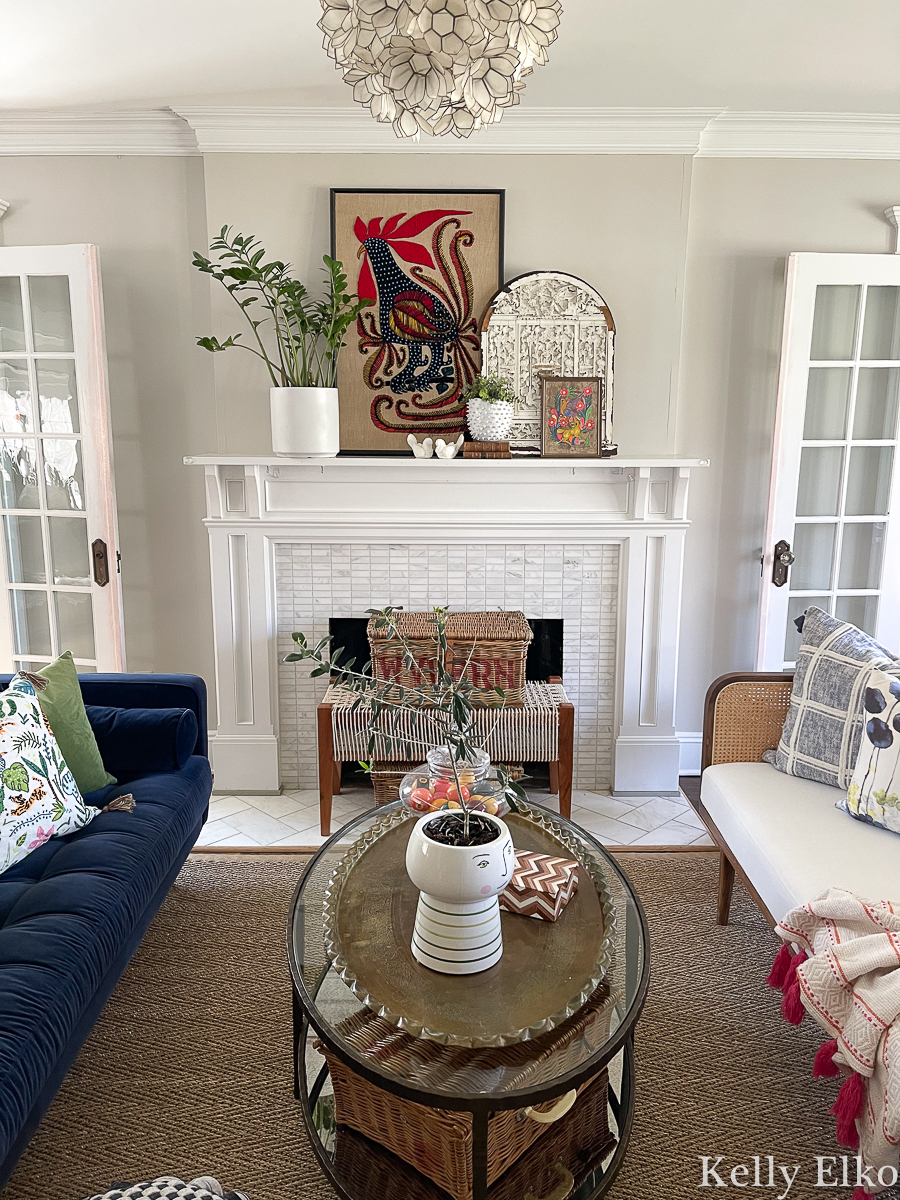 It's all about propping, layering, stacking and playing around with different looks until you come up with one that you love.
I love adding interesting architectural salvage pieces to my displays and was lucky to find this carved wooden piece that my neighbor gave me.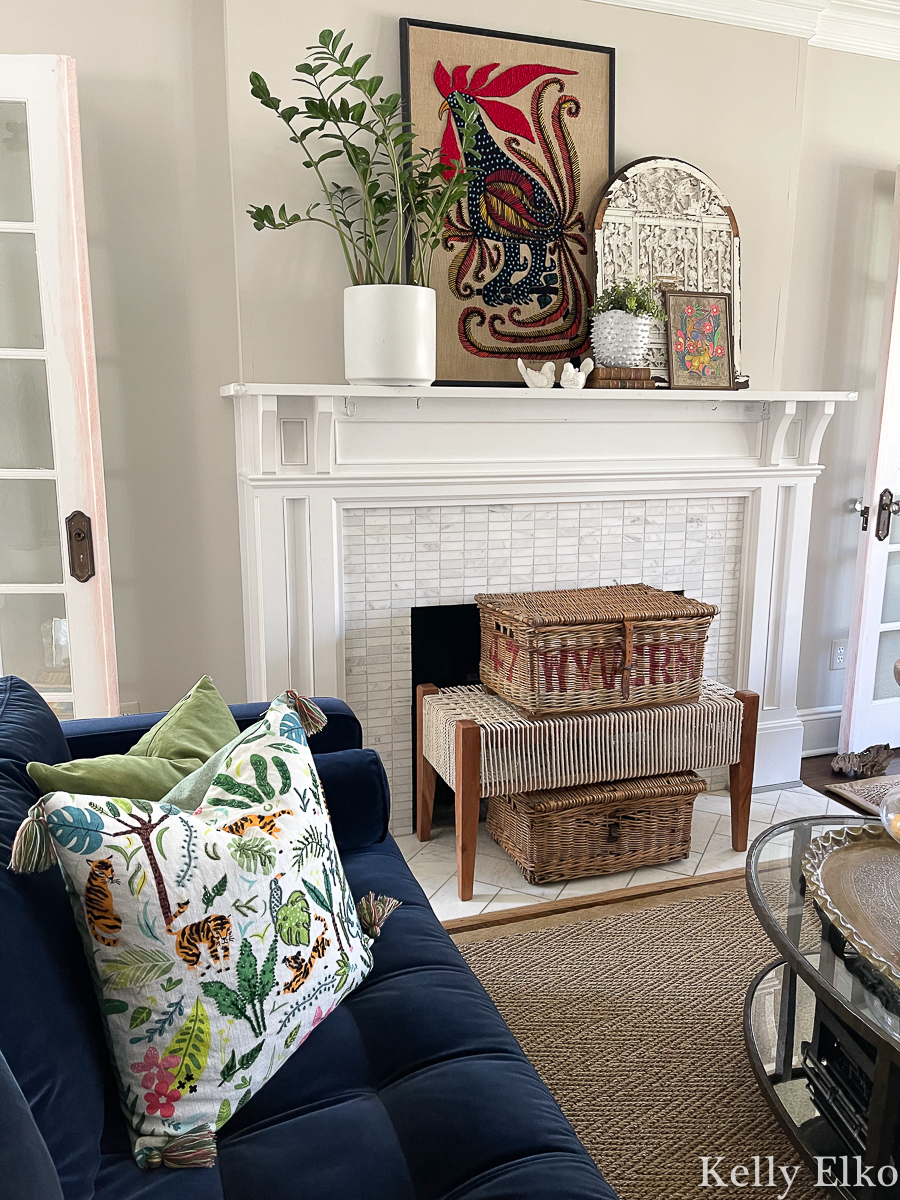 I couldn't resist pairing this tiger jungle print pillow (found at HomeSense) that adds a nice punch of pattern and helps lighten up the dark blue sofa. A woven bench and vintage baskets disguise the ugly fireplace hole while adding lots of texture.
Notice my cute little face planter on the coffee table? He's one of a whole collection that you can see more of HERE.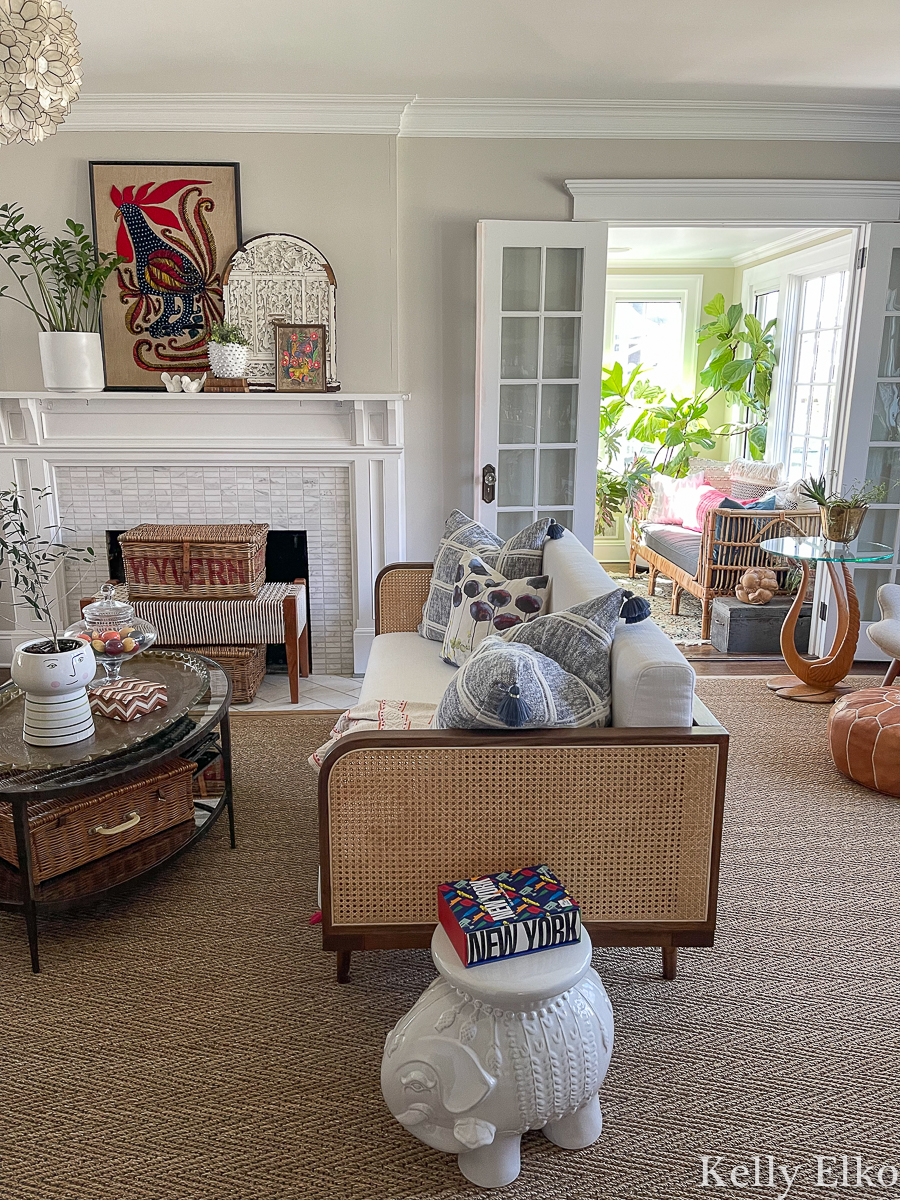 I'm a big believer in mixing and matching furniture so it's not all matchy-matchy and my cane sofa perfectly compliments the blue sofa.
I love using ceramic garden stools as little side tables/extra seating and this elephant stool is so much fun!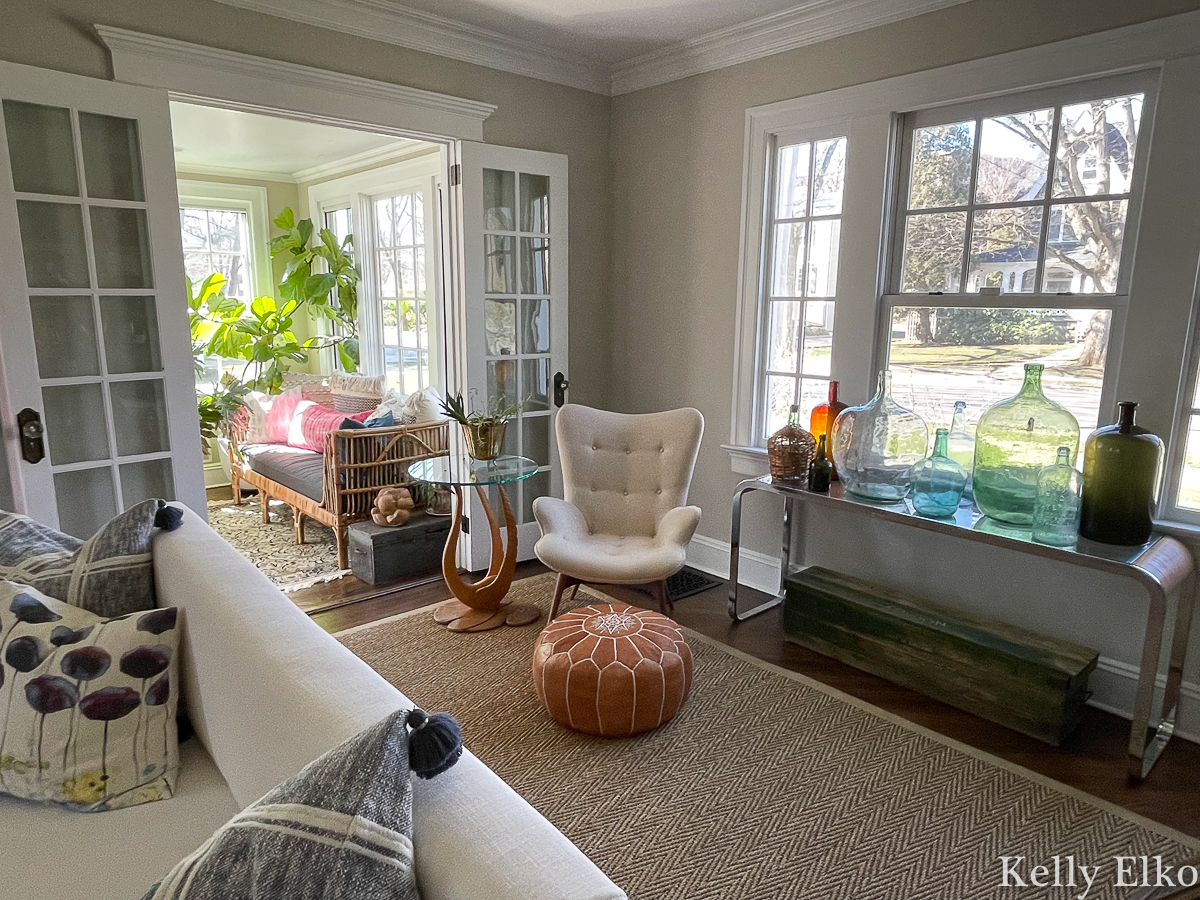 Another recent estate sale find was this glass-topped chrome and rattan console table that is perfect for displaying my vintage demijohn collection.
Fun Fact: when I cleaned out the brown bottle, I found a petrified mouse inside!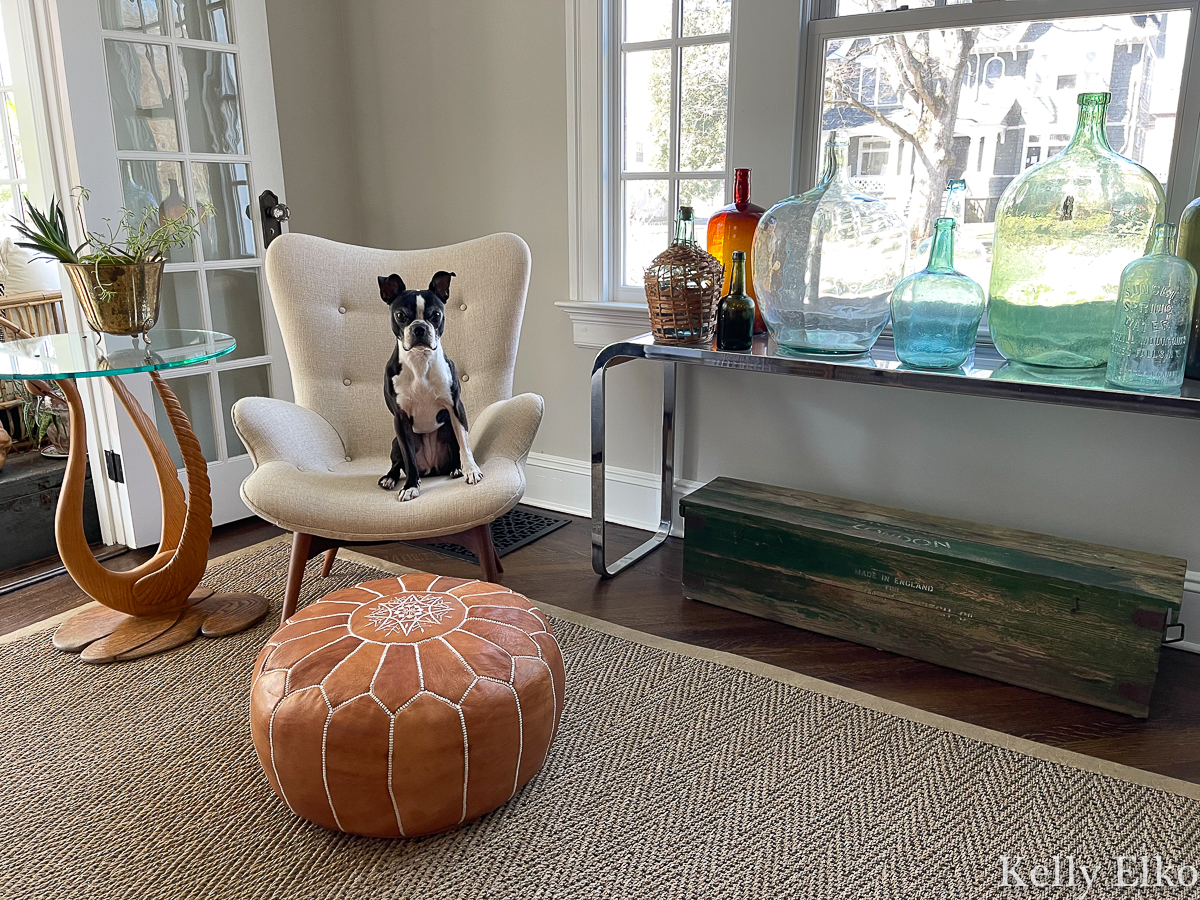 Remember when I asked you to look closely at the photos to spot the unique pieces? That vintage glass topped swan table is a favorite Facebook Marketplace find that I have never seen anywhere else.
Don't mind Sushi, the world's nosiest dog!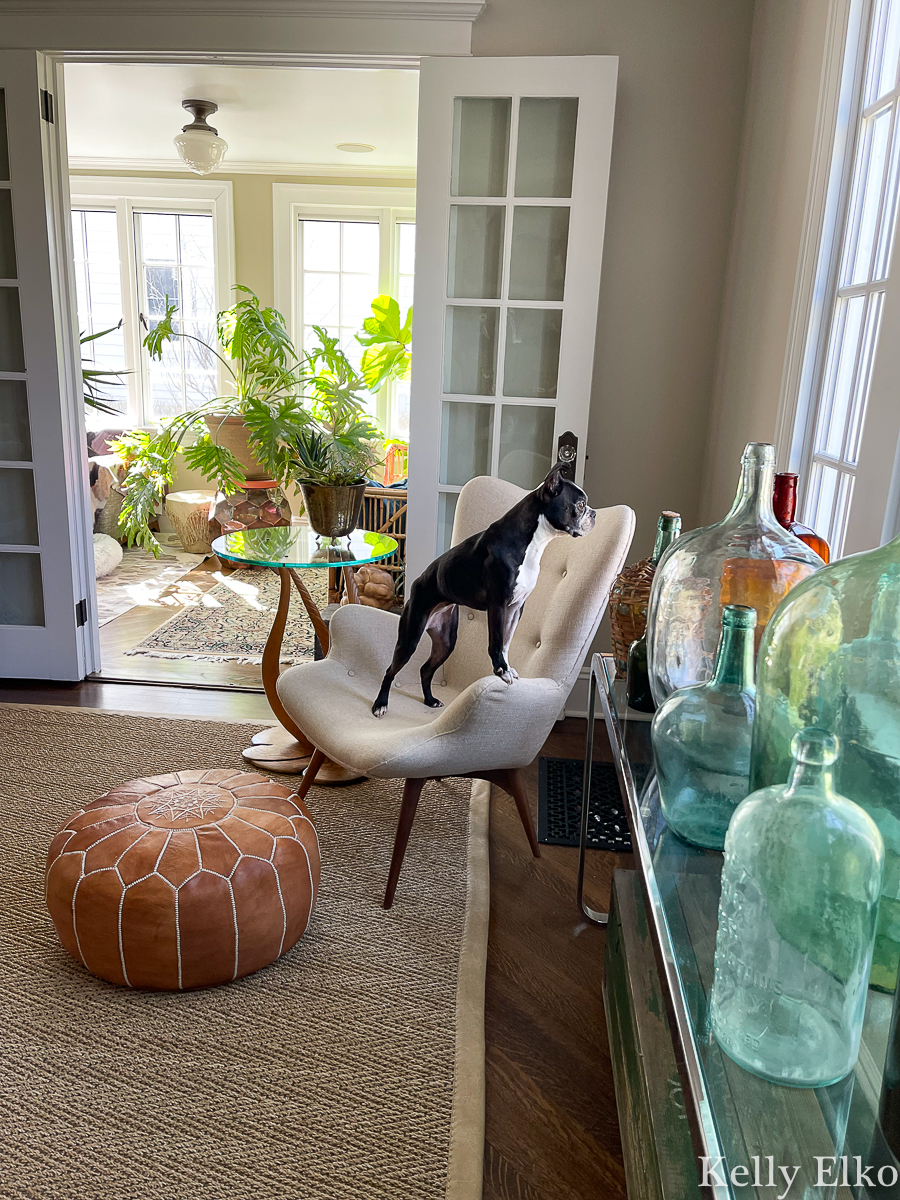 I really need to give you a full tour of my sunroom since it's my favorite room in the house! I just need to make a few updates and then I'll share!
One thing I'm loving is the addition of this rug that I've had since I got married! It languished in my basement for years and I love the way it warms up this room.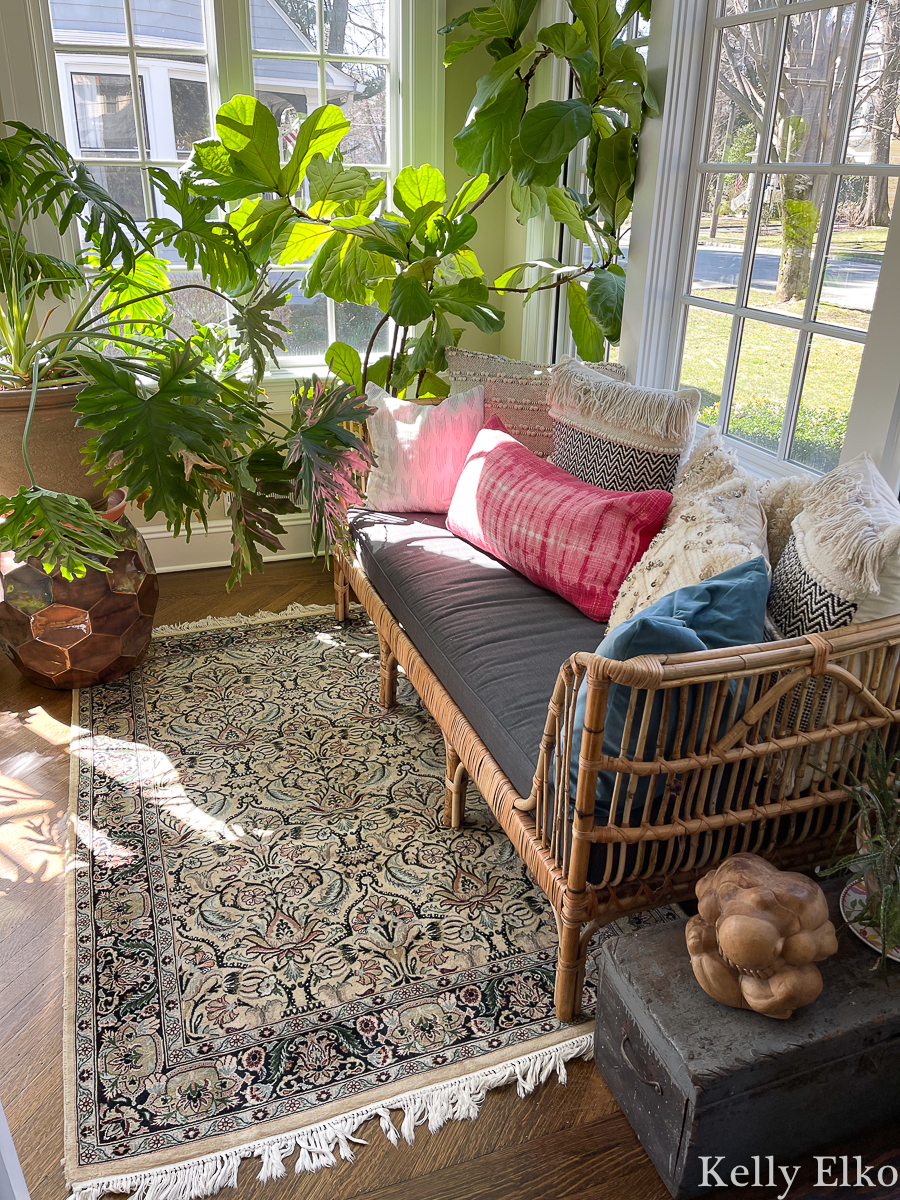 Not only am I addicted to art gallery walls, I'm also a sucker for a good plate wall and have way too many plates to show for it!
Since I love to switch things up, this wall mounted mug rack is the perfect solution for easily displaying plates, mugs, art, and anything else I can think of.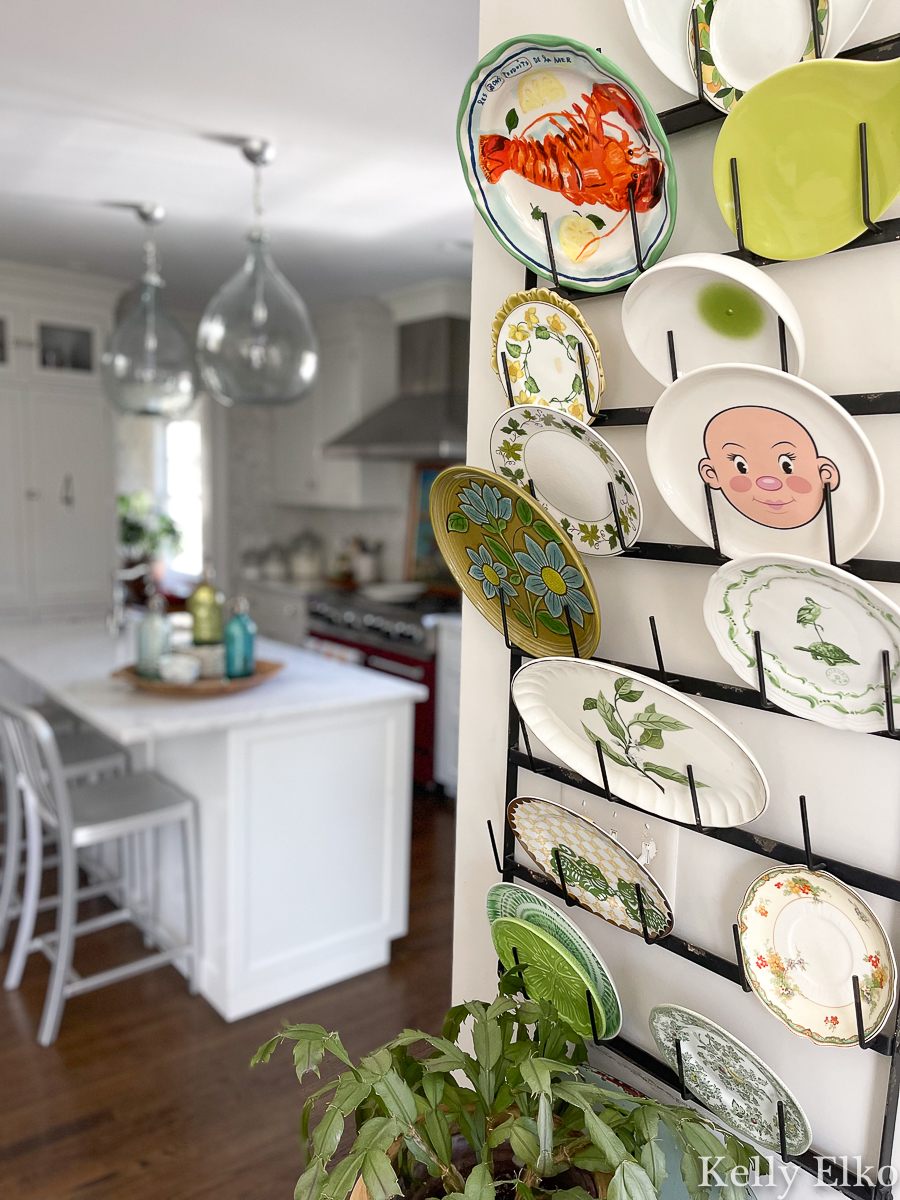 About half of the plates are vintage and half new but my favorite one is my latest thrift store find … the "Fred plays with his food" plate that reminds me one of my favorite childhood toys … Wooly Willy!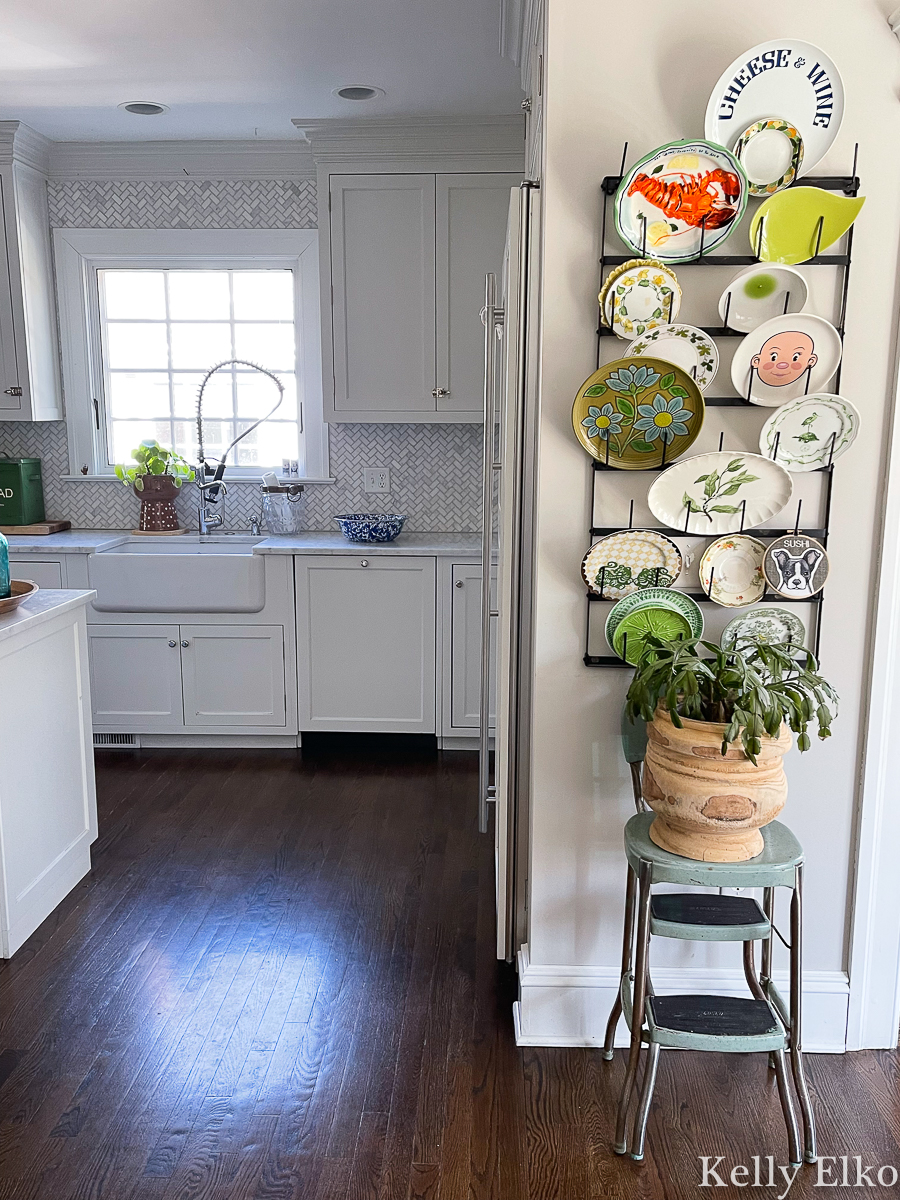 I love displaying every day objects like this stack of plates plus it's perfect for varying the height of these colorful old seltzer bottles. I bought mine 20 years ago for a steal and cannot believe the crazy prices now!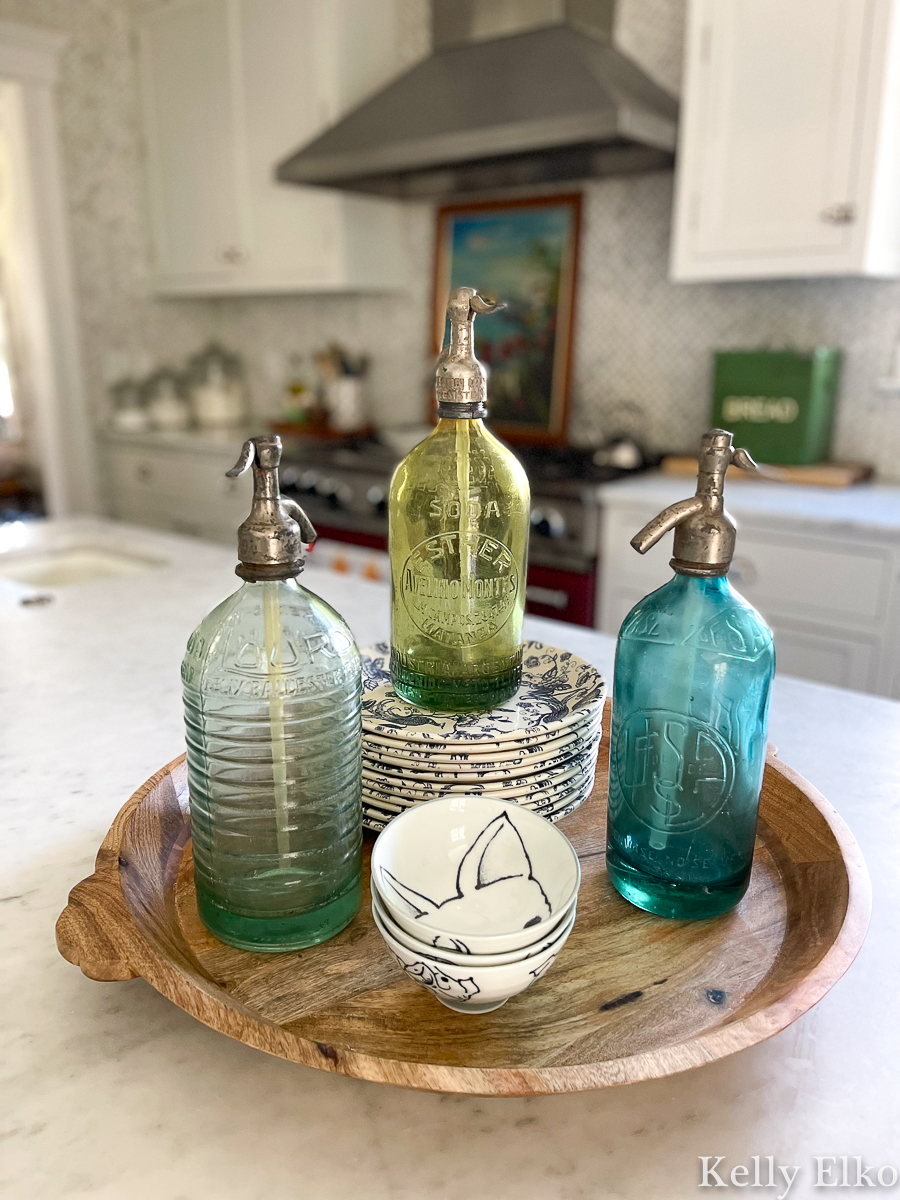 When displaying art in the kitchen, it's fun to think outside the box and go with something unexpected like a landscape or a portrait instead of the usual food themed art.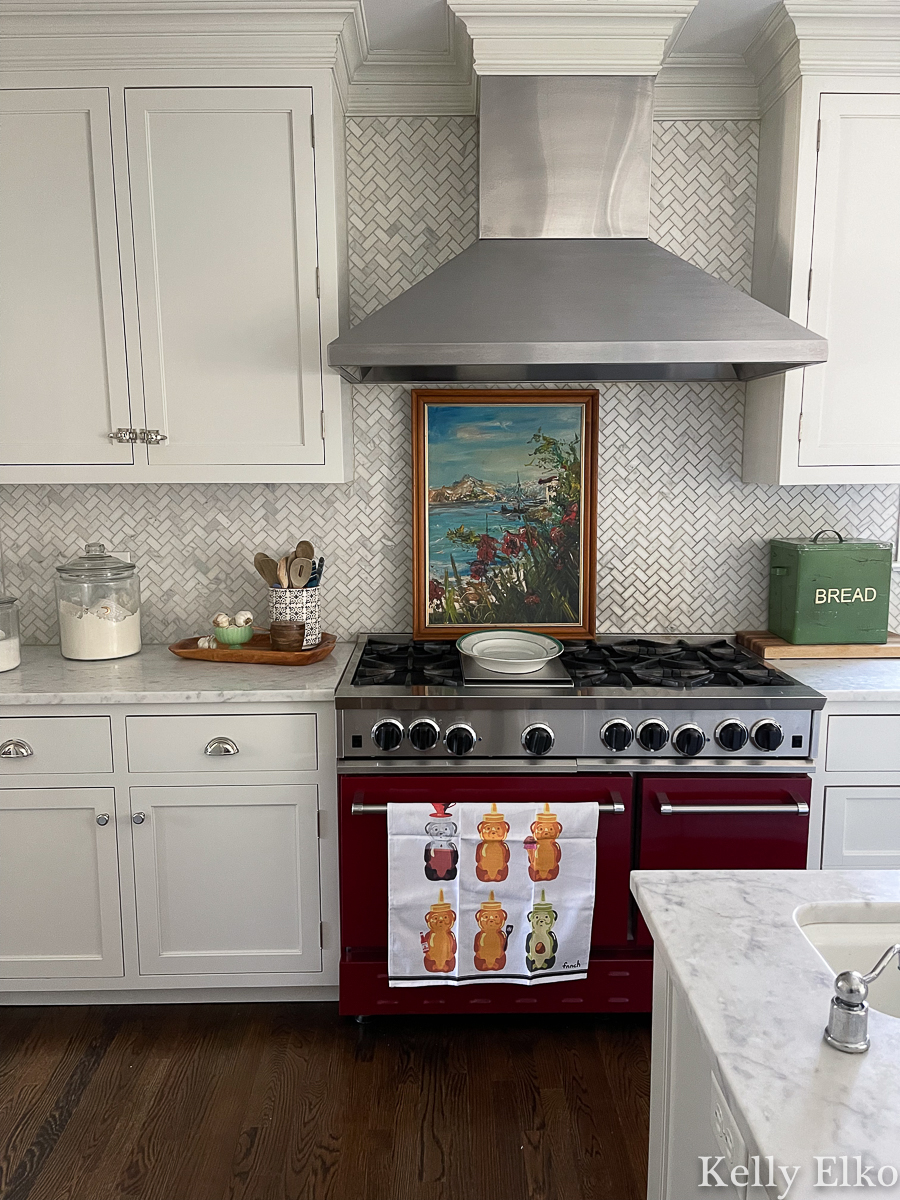 My family room got a pillow swap and some cute new accessories and my Fiddle Leaf Fig has more than doubled in size since it's near death experience a few years ago!
It's the simple things in life that make me so happy … a bunch of brightly colored tulips (or any fresh greenery), quirky vintage pottery, a pretty pink candle that smells amazing and a cute little $10 chick pillow to welcome spring and Easter.
Polish pottery candlesticks (but I like using them as vases!) give such attitude with their hands on their hips.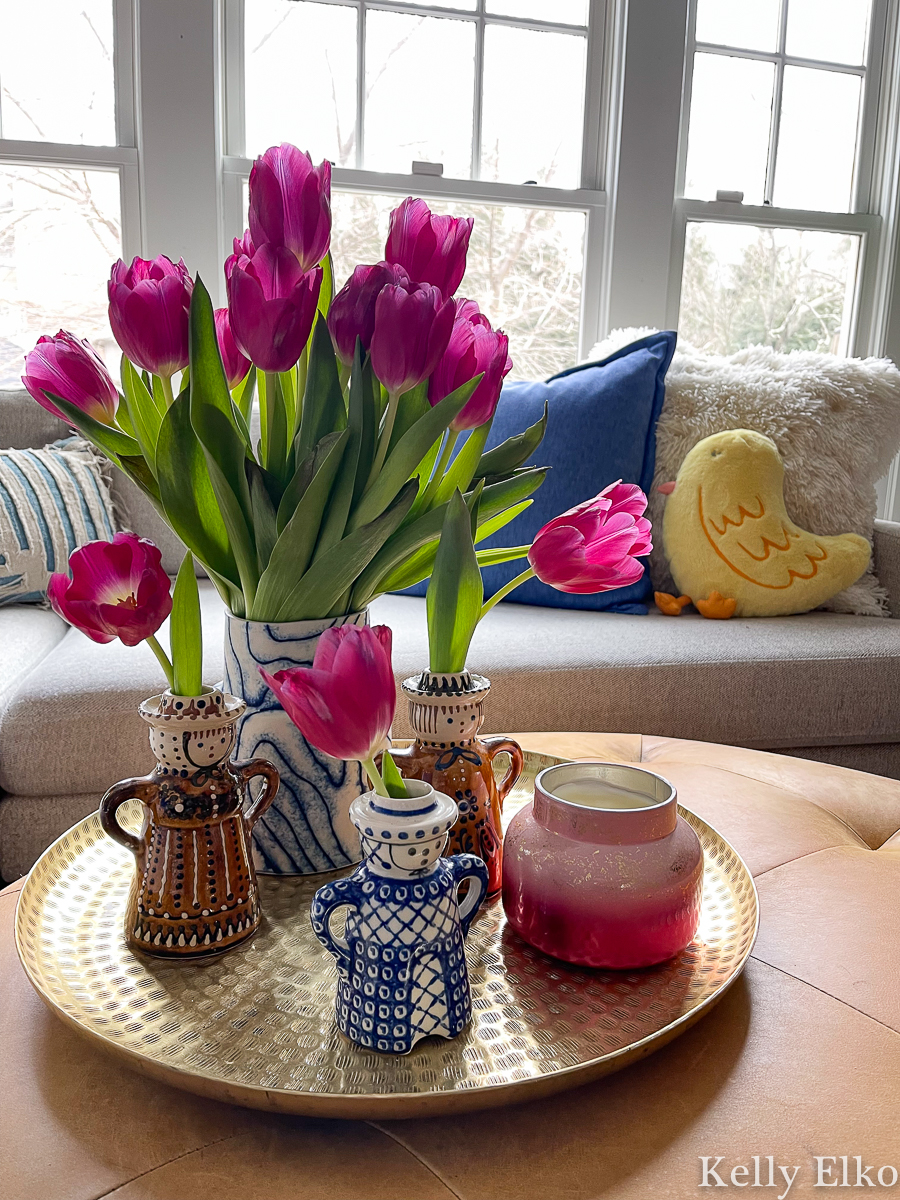 As you can probably see, I prefer eclectic style that lets me express myself fully and I hope you embrace your eclectic style in your own home.
And please remember …
Life is short, buy the flowers!
Don't Miss Last Year's Spring Home Here