Who remembers Troll dolls? I started collecting Trolls in the 1990's and stumbled across my wild haired collection when I was cleaning out my basement. I didn't have the heart to toss or donate them so I did the next best thing and repurposed them into the cutest, kitschiest little vintage Troll planter and vases. Plus I'm sharing some fun history of these adorable little creatures. Prepare to smile!
WARNING: This post contains graphic nudity!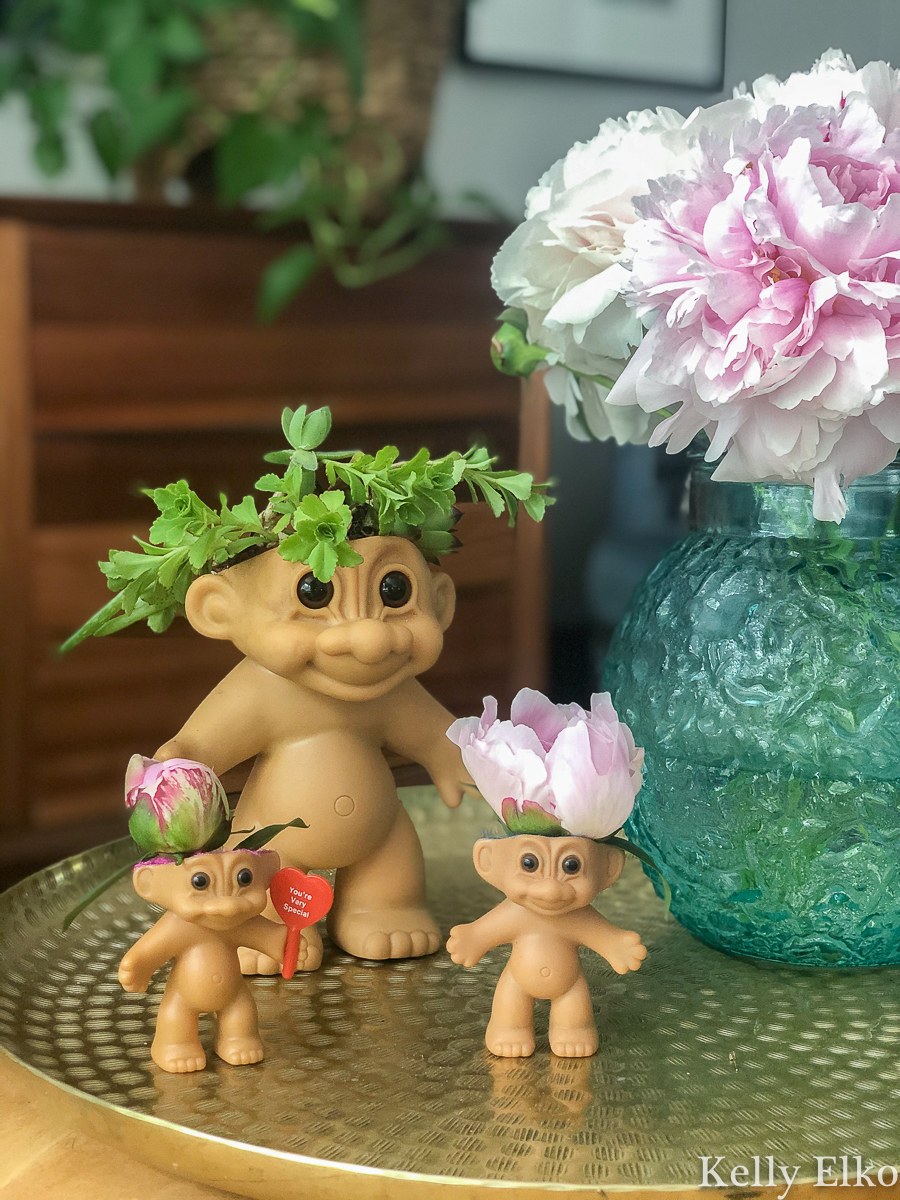 Troll dolls were created in 1959 by Danish fisherman and woodcutter Thomas Dam. He couldn't afford a Christmas gift for his daughter so he carved her a wooden doll. The local kids saw the doll and of course wanted one so Dam formed Dam Things and began producing plastic Good Luck Trolls (also known as Dam Dolls, Gonks, Wishniks, Treasure Trolls and Norfins). Original Danish Trolls have wool hair and glass eyes and were a huge hit in the early 1960's. In the decades to follow, different manufacturers began producing Trolls. Most Troll dolls are affordable but can you believe this little Troll with hand knitted clothes sells for over $300!
This post contains affiliate links which means if you make a purchase, I may make a small commission at no extra cost to you.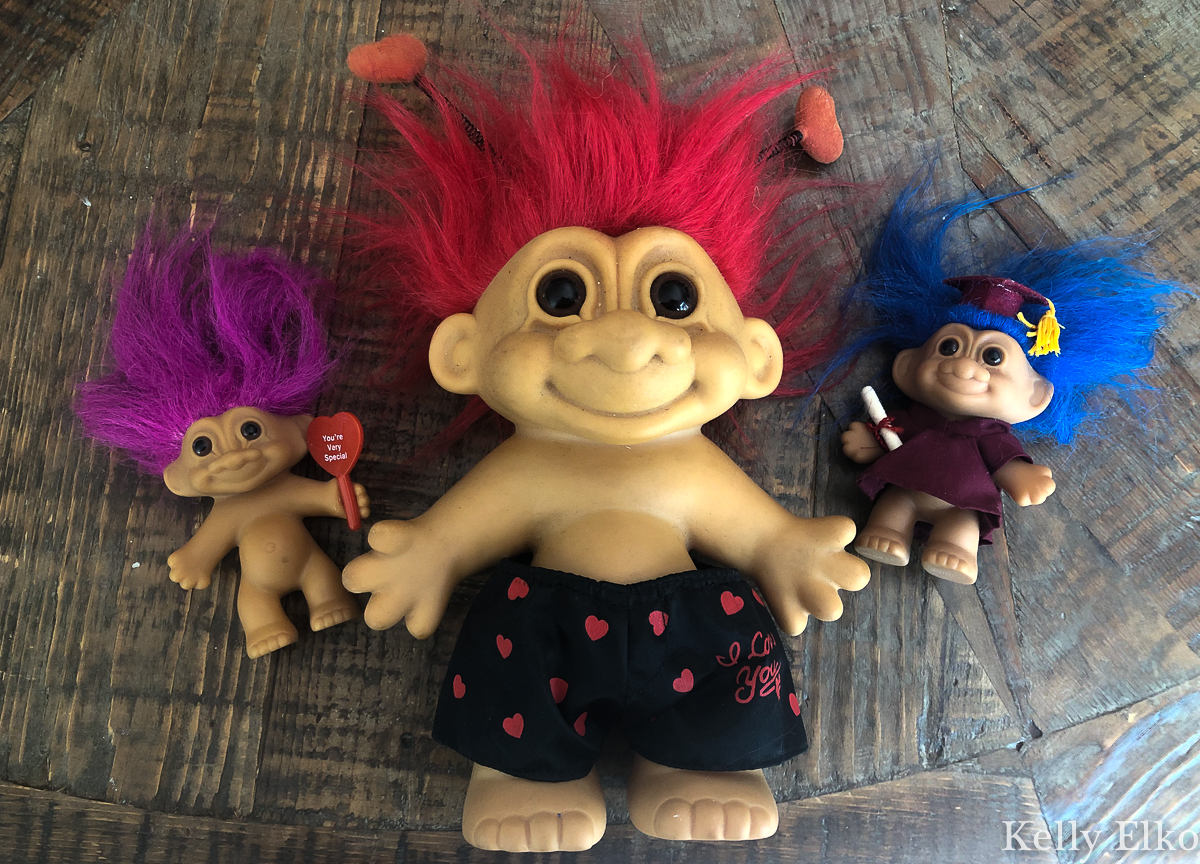 My Trolls were made by Russ in the 1990's. You can spot newer Trolls by their telltale bejeweled belly buttons!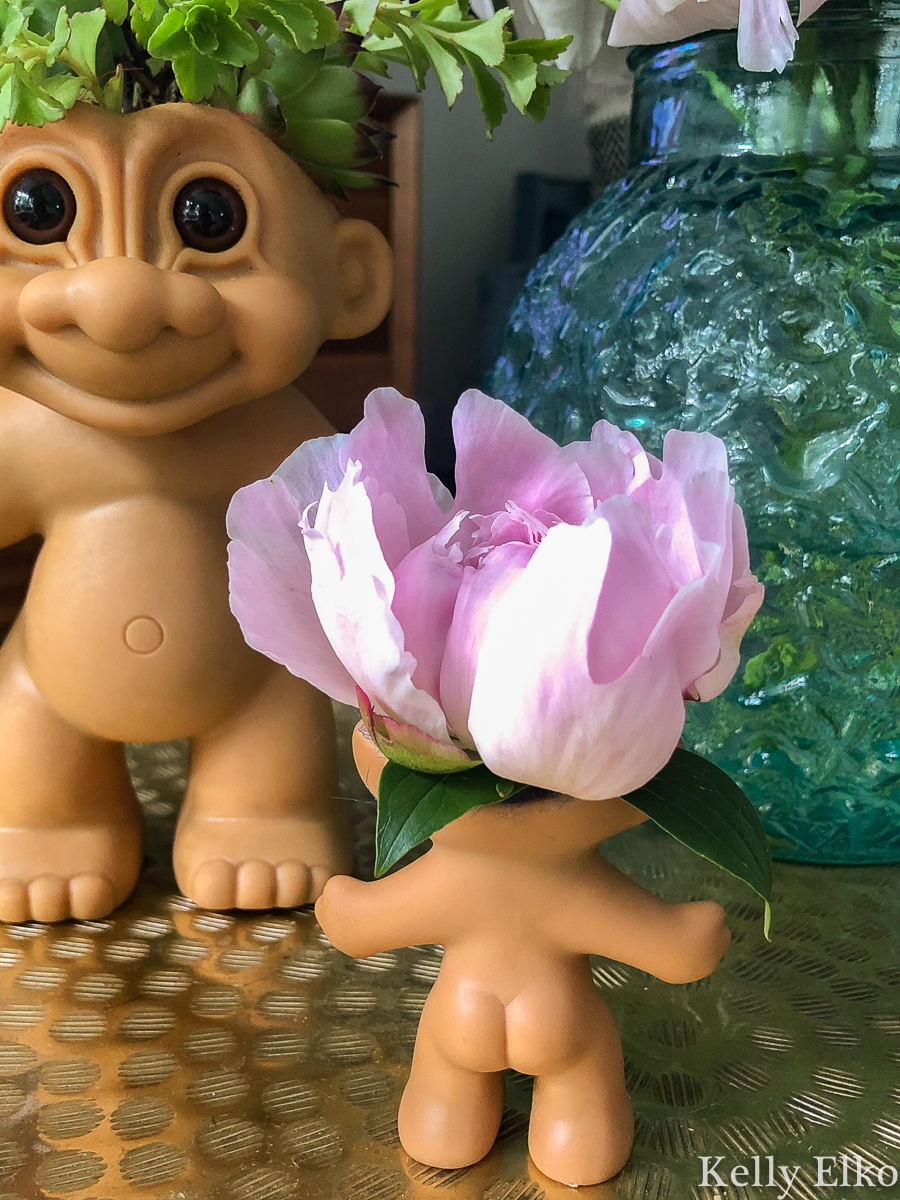 They are hollow inside so they make perfect planters and vases. I added some gravel to the bottom of the large Troll then potting soil. I dug up some rooted cuttings from my succulent planters and they make the perfect hair. If you've never grown succulents before, read these tips on the easiest succulents to grow. Water succulents sparingly and mist with water because they love humidity (I mist all of my houseplants with this water mister).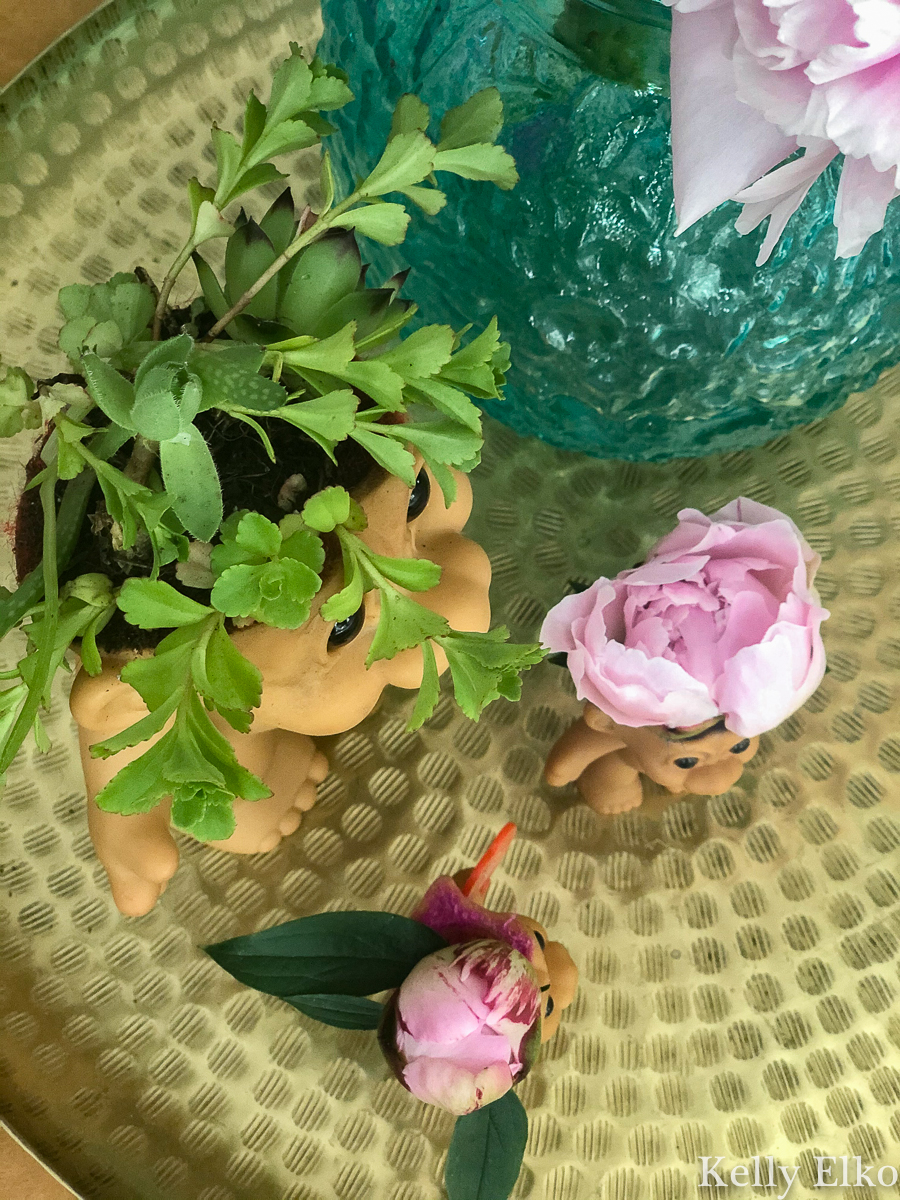 My small Trolls are tiny so instead of planting succulents, I thought they would make the perfect bud vases and their pink peony hairdos are so Troll worthy.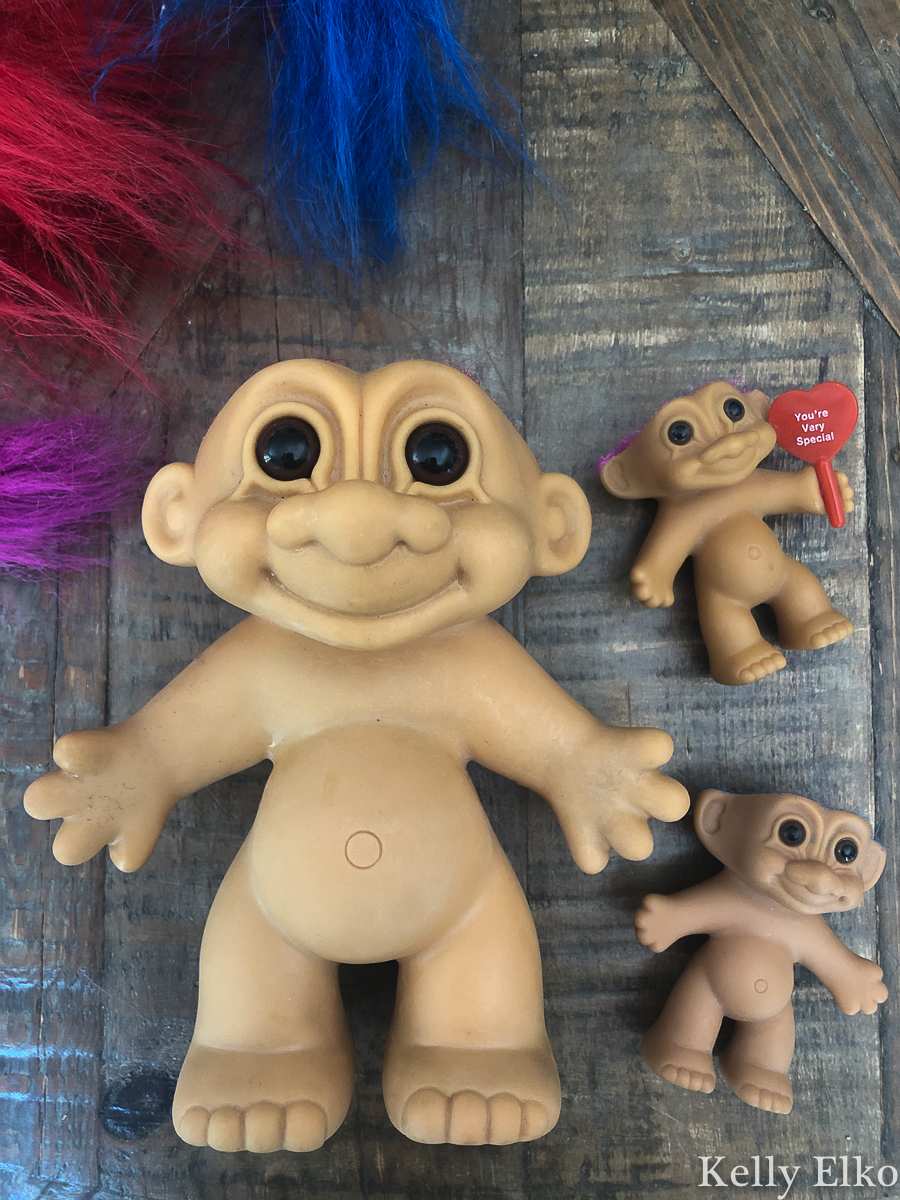 Warning … if you're squeamish, be sure to wear earplugs when yanking the hair from the Trolls scalps because they do tend to let out blood curdling screams.
If you love all things Troll, check out these fun ideas below (I especially love the addition of a wind swept Troll added into a seascape painting!).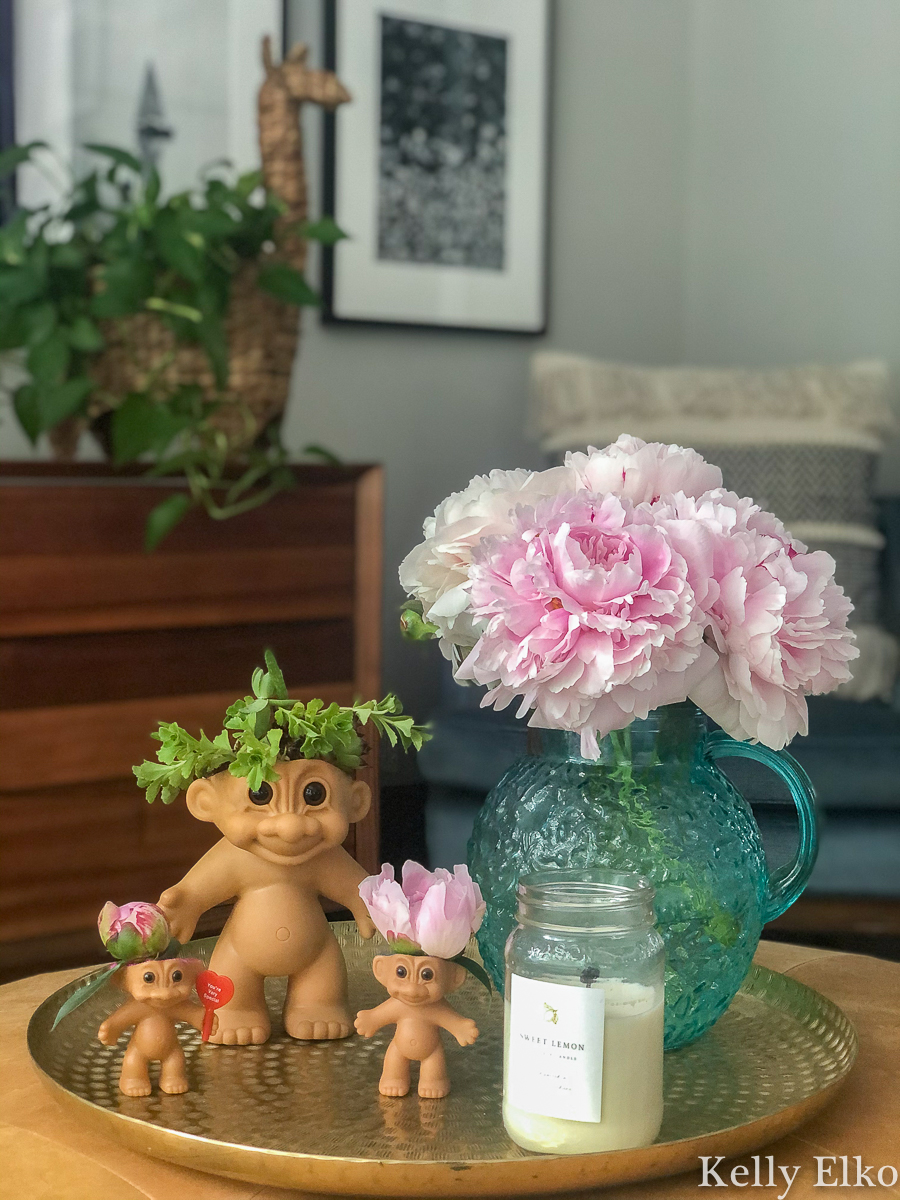 I knew saving my Troll dolls would come in handy 25 years later and proves that if you hold onto something long enough, it will eventually become vintage! This is why my basement is a hoarders delight which you can tour here.
If you don't fancy Trolls, you can always make these fun doll head planters. The guy with the goatee is my favorite!
Or you can buy a pre-made Troll succulent planter here!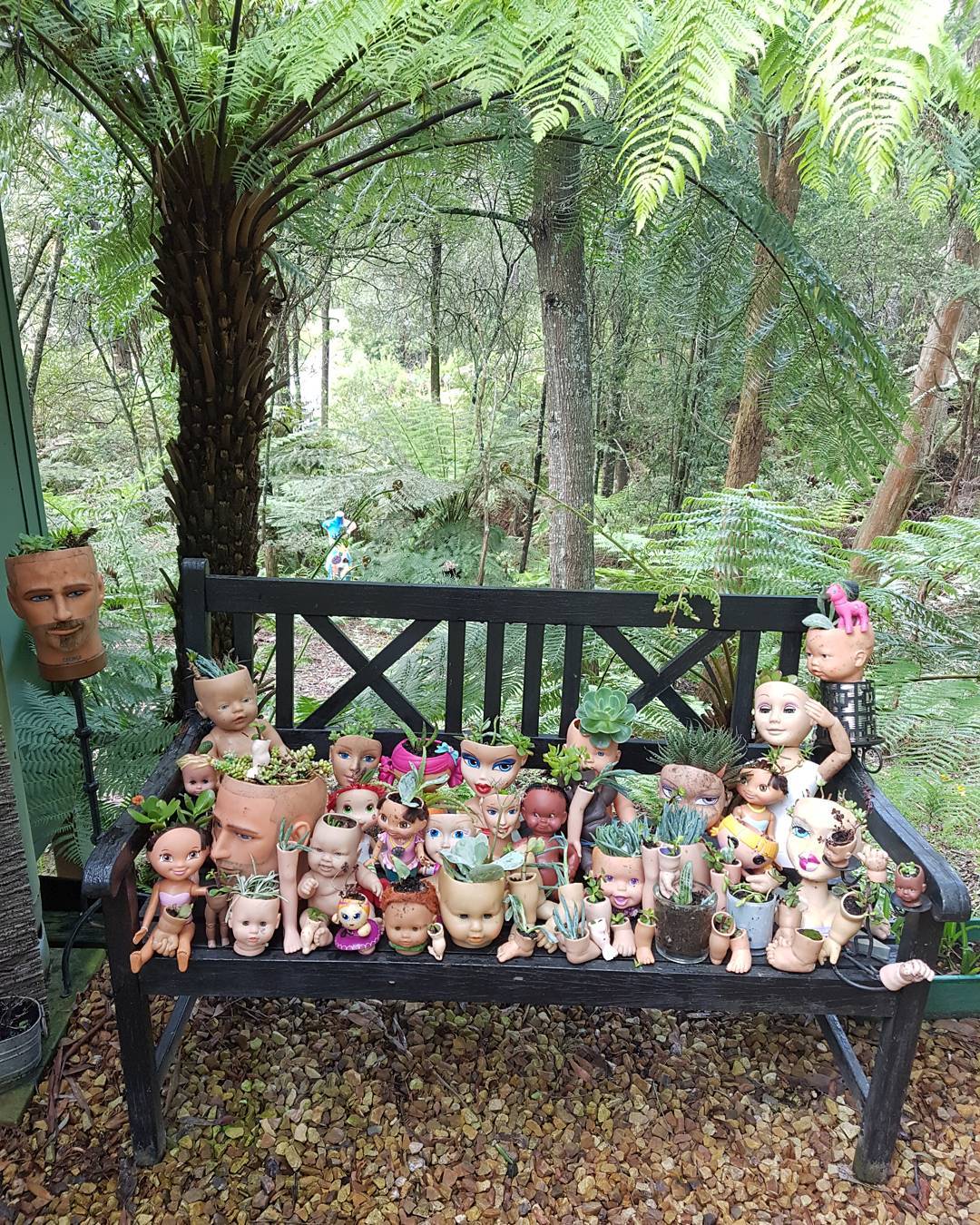 I'm a big believer in that every room should have something ugly or weird in it, something that makes you happy. These Troll planters definitely fit the bill and I couldn't be happier that I rescued them from a dark box in my basement!
If you love unique gardening ideas, check these out …