New Living Room Arrangement & Vintage Collections
Why didn't I think of this before? I've rearranged my living room in every conceivable way over the years but this time I think I finally got it right! Today, I'm sharing how to reimagine your furniture into a more welcoming arrangement that makes the most use of the space in the room. I'm also showing off how I styled some vintage collections and accessories found while shopping my house. If you have a hard to arrange, large or long room, or just need some decorating inspiration, my living room furniture arranging tips may help.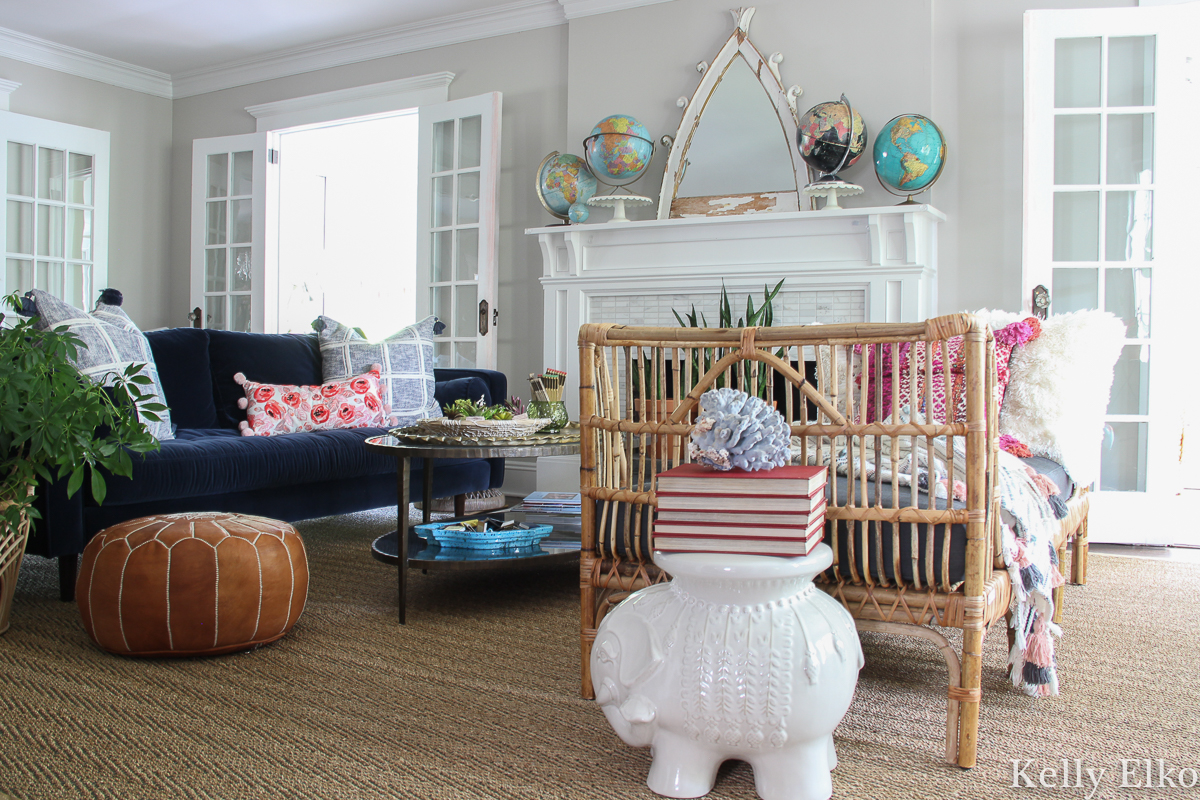 I loved the sofa facing the fireplace but felt it limited the amount of furniture I could place in this large space. I was looking for a way to make this large but long room cozier.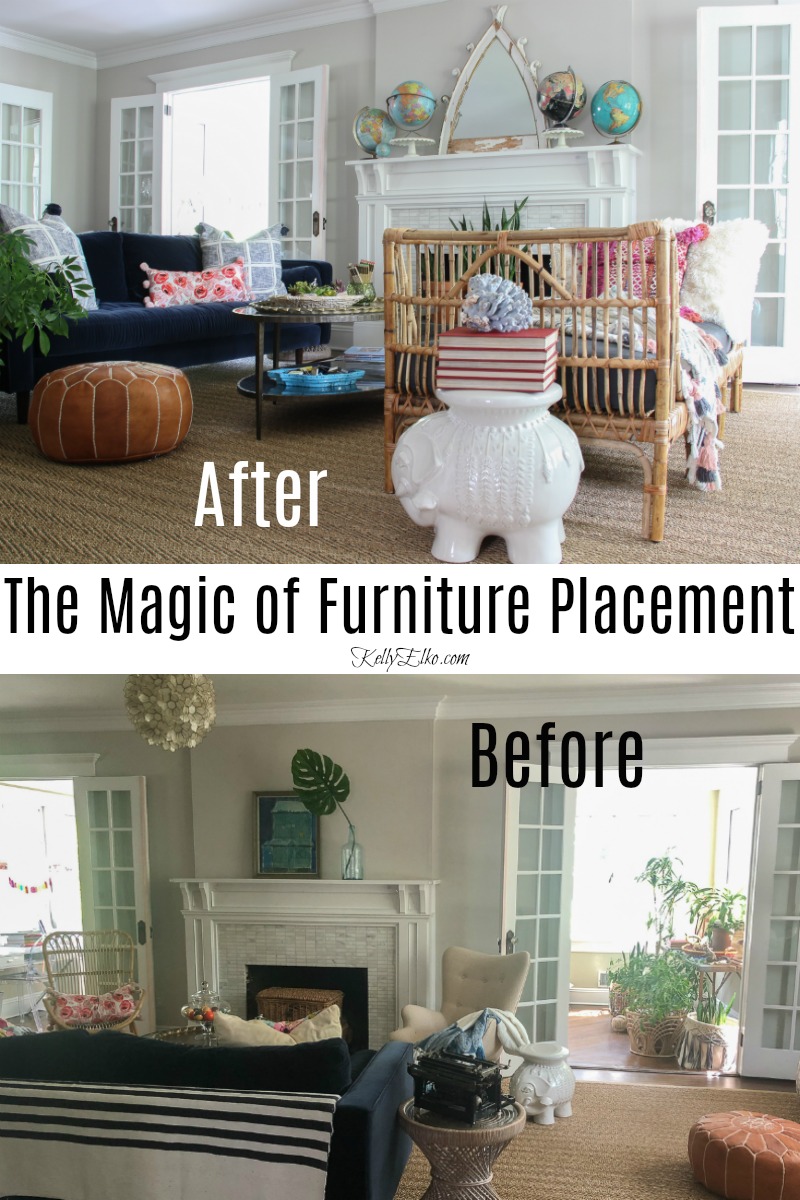 My living room sits smack dab in the middle of my house. It's surrounded by my foyer, sunroom and family room and has three sets of French doors and a large opening into the foyer. This makes furniture placement a challenge and I've definitely played musical furniture in this room over the years.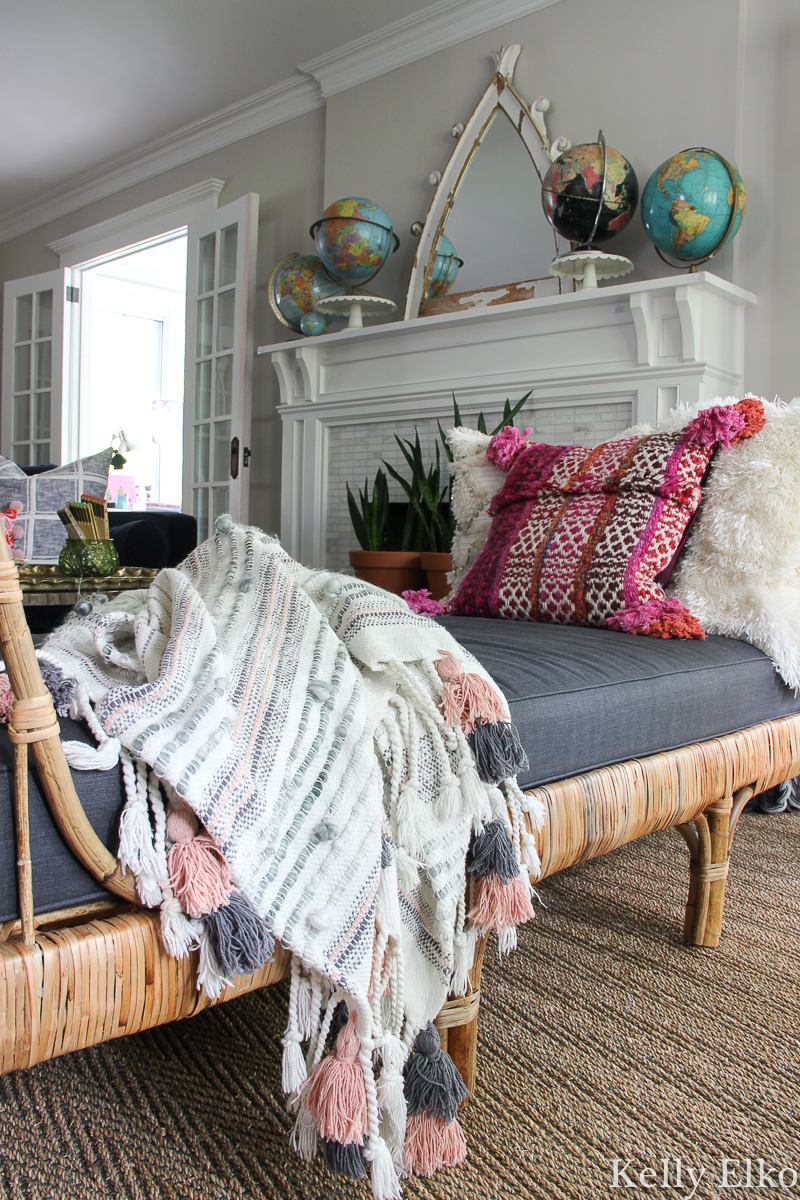 Years ago, I challenged myself to create three unique looks in this room and you can see them all if you click the link below. I hope this will give you even more ideas for arranging your furniture.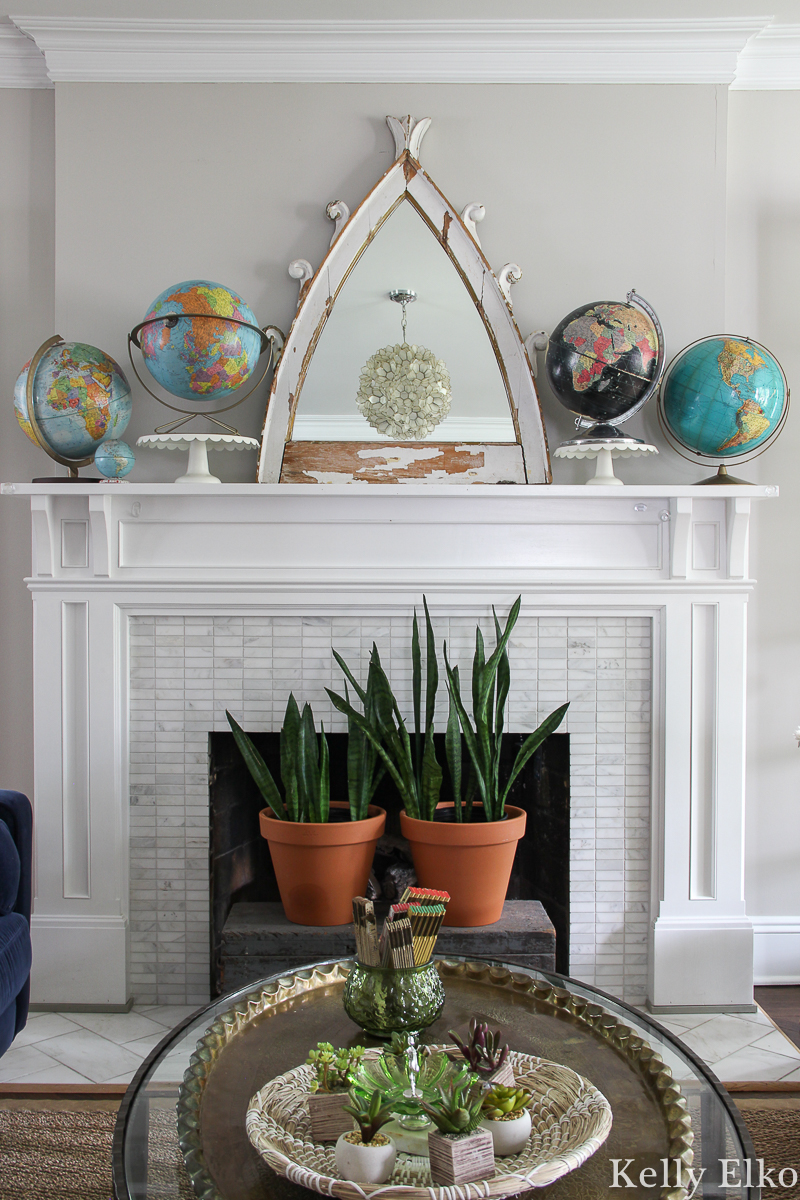 Since we're in a global pandemic, my guest room isn't being used so I brought down this mirror and put it on mantel. I encourage you to shop your house and consider moving furniture because you might just end up with a look you never thought of but love!
I couldn't fit my entire vintage globe collection on the mantel but if you look closely, you'll spot the others in another part of this room. My prize black oceans globe was a thrift store score.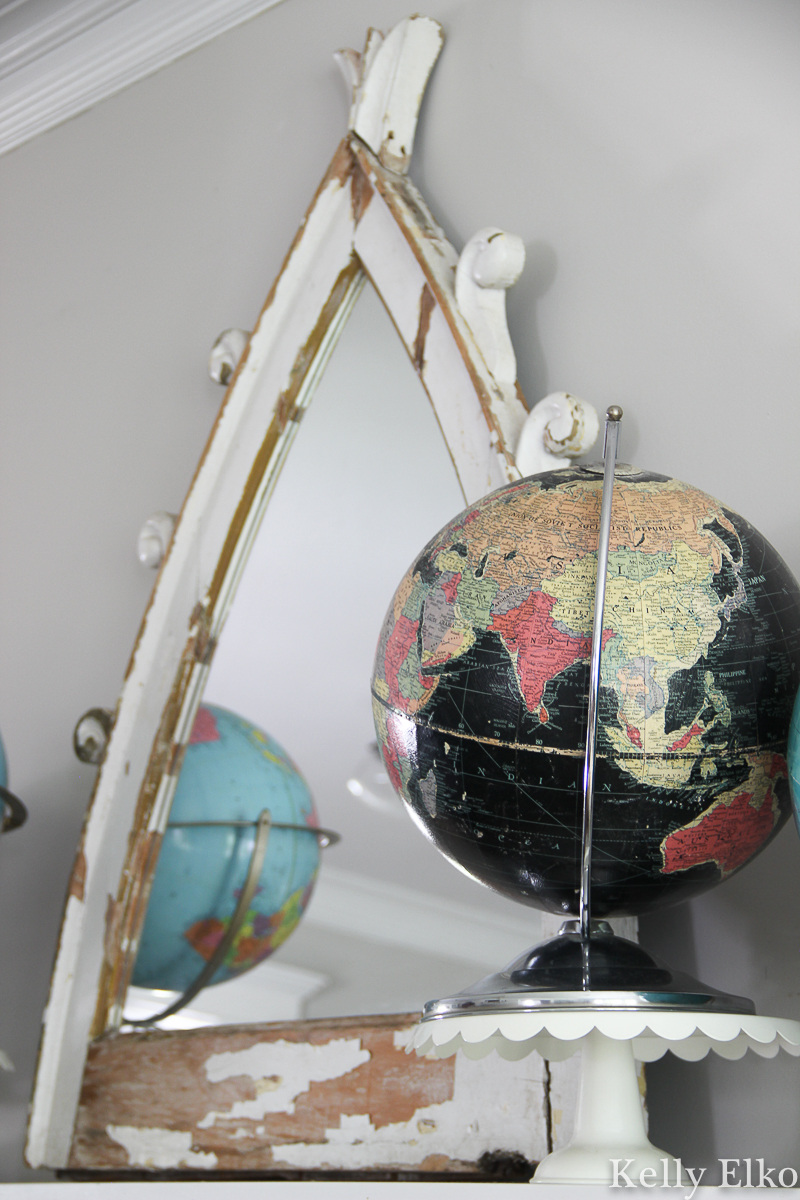 A few small side tables are perfect for resting a drink or a big chunk of blue coral (remember when I found it at the Downton Abbey Like Estate Sale?). The best part is that this little elephant garden stool can be used for extra seating if needed.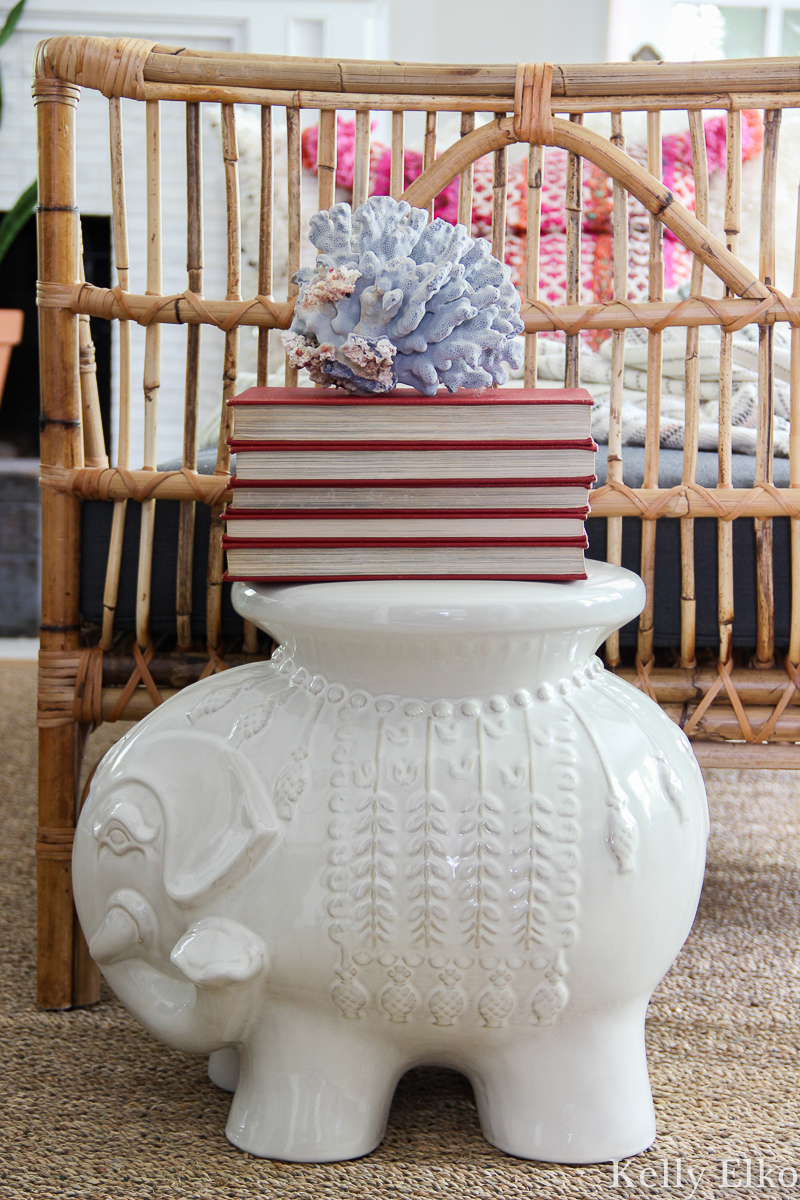 I love having this rattan daybed floating in the middle of the room. It's the perfect place to lounge with a book and anyone sitting here can choose to face either way for a different view.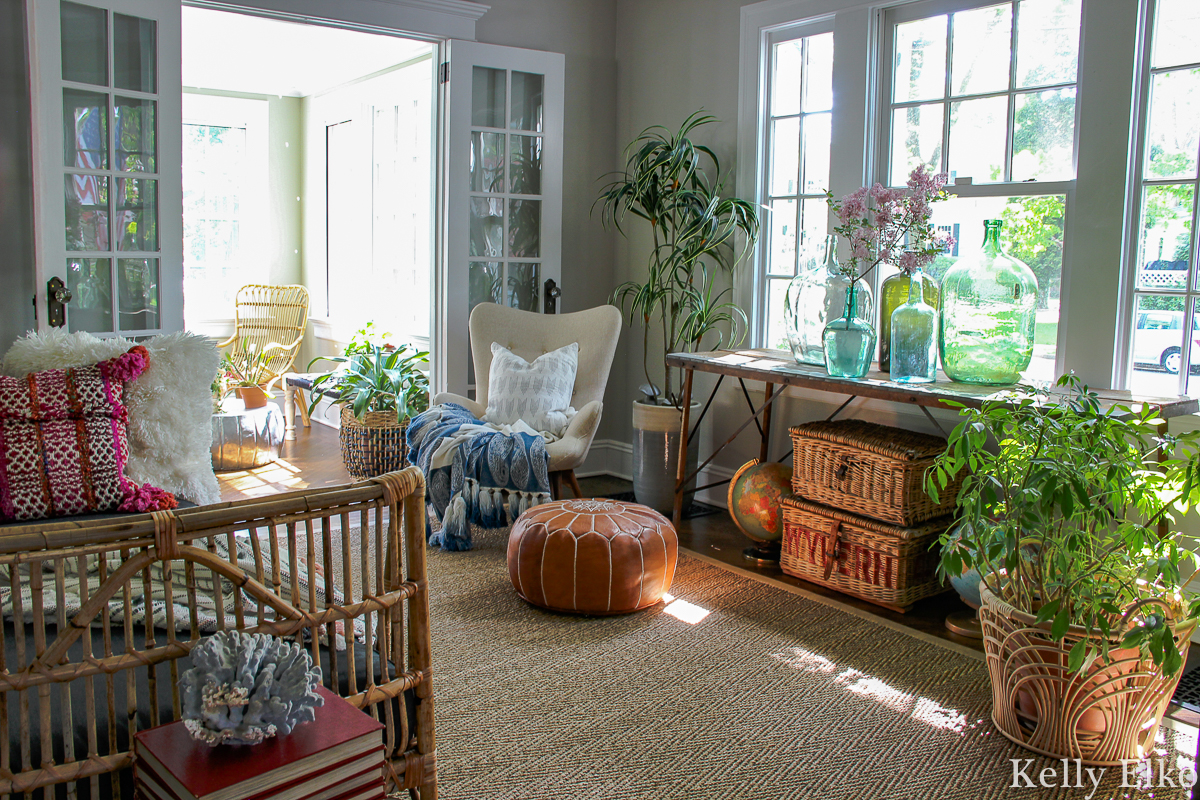 My antique wallpaper pasting table moved from the sunroom where it used to display my plant collection. I love the way the sunlight streams through my vintage glass demijohns.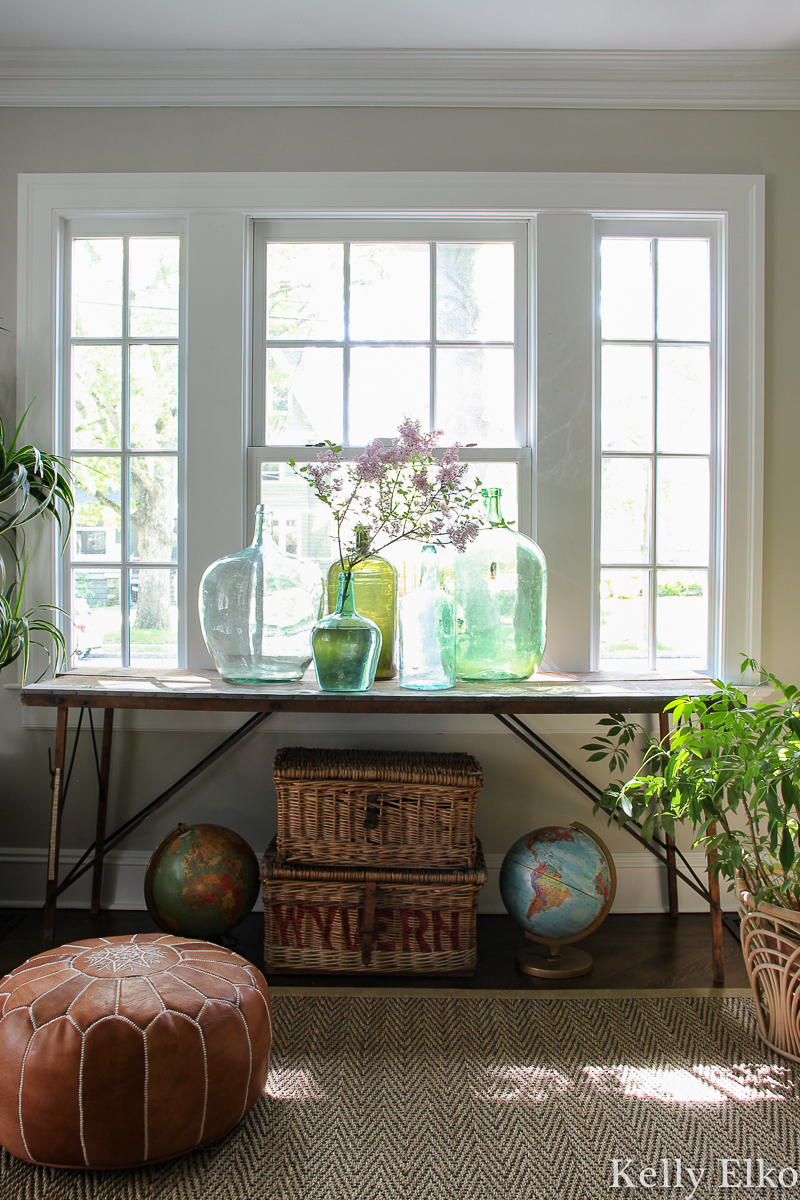 Lilacs plucked from my garden smell amazing!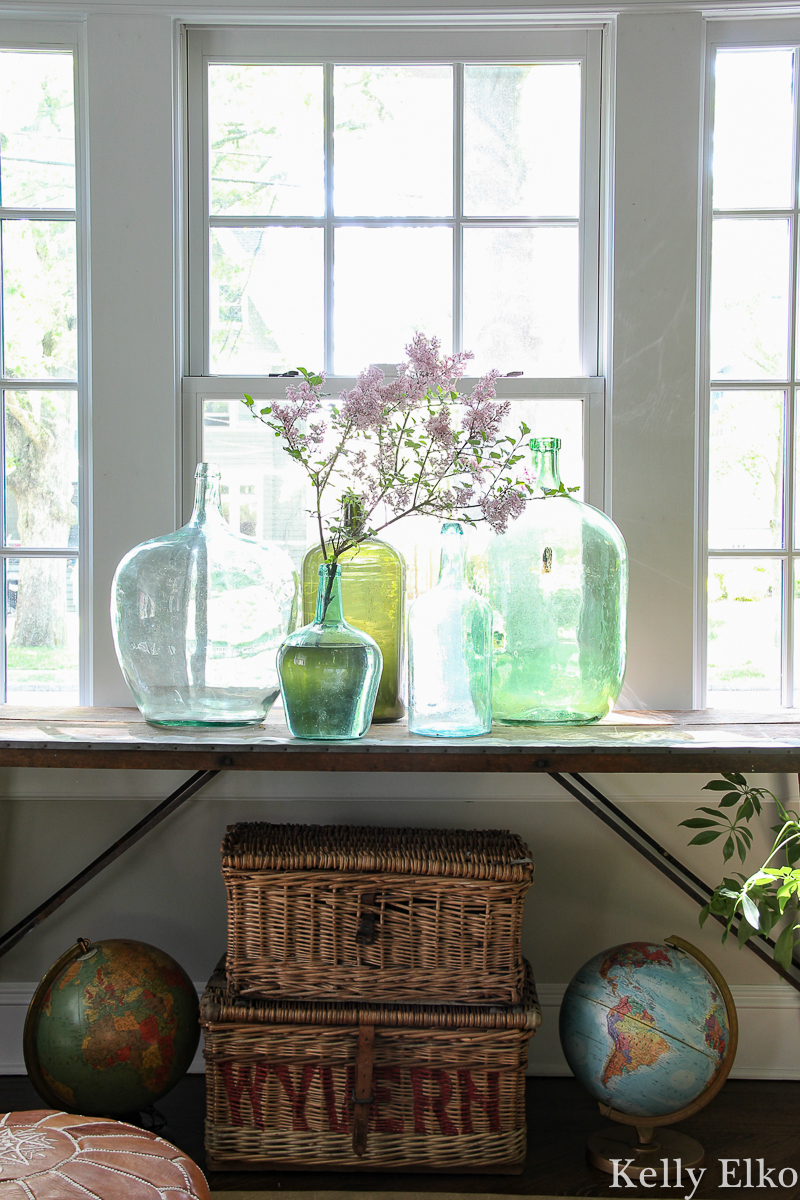 A cozy sitting area was created by having the sofa and daybed face each other. This also helps define the space and break up the long, narrow room.
Years ago, I did have my old, oversized sofa in this same spot but it was so HUGE and took up so much space that it felt cramped. Like Goldilocks and her porridge, this sofa in the most beautiful shade of blue velvet, is just right.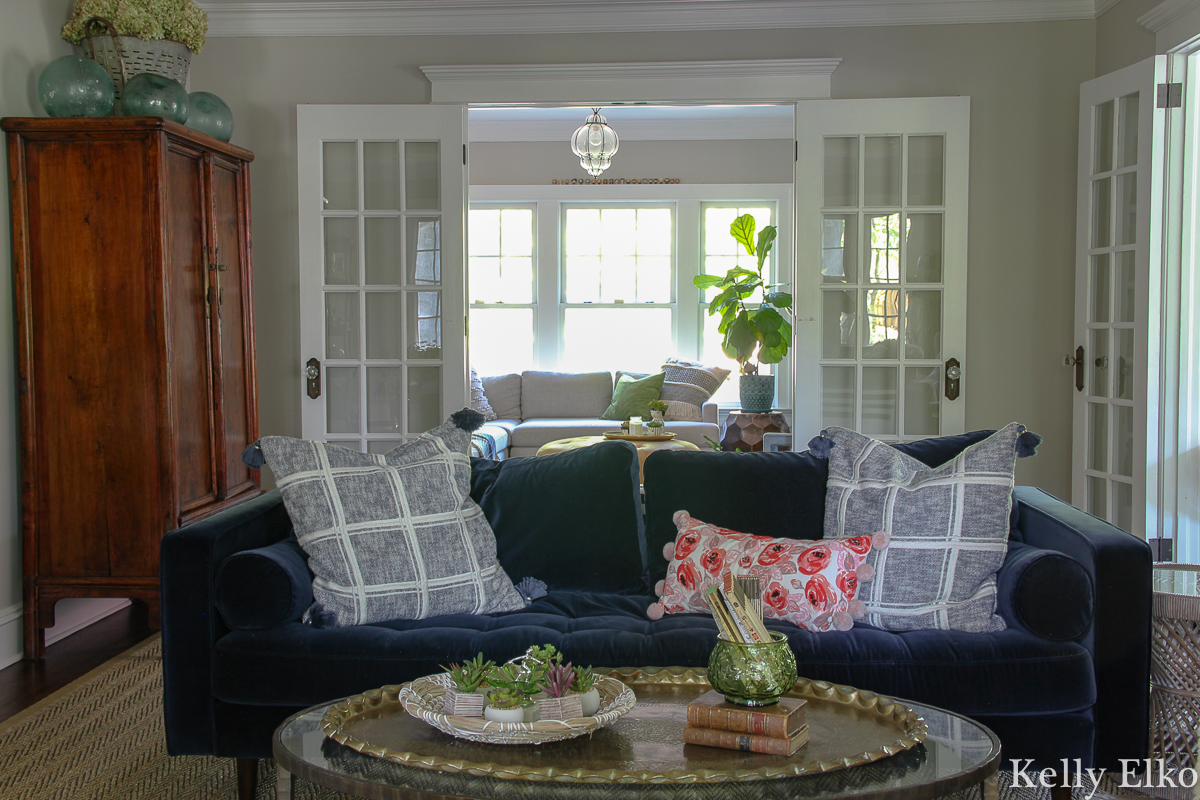 Now when we are seated here, we can look at our family photo gallery wall.
The bench from my foyer becomes the perfect "sofa table" and a tall armoire fills up a large, empty wall.

SHOP THE LOOK – CLICK ON THE PICS BELOW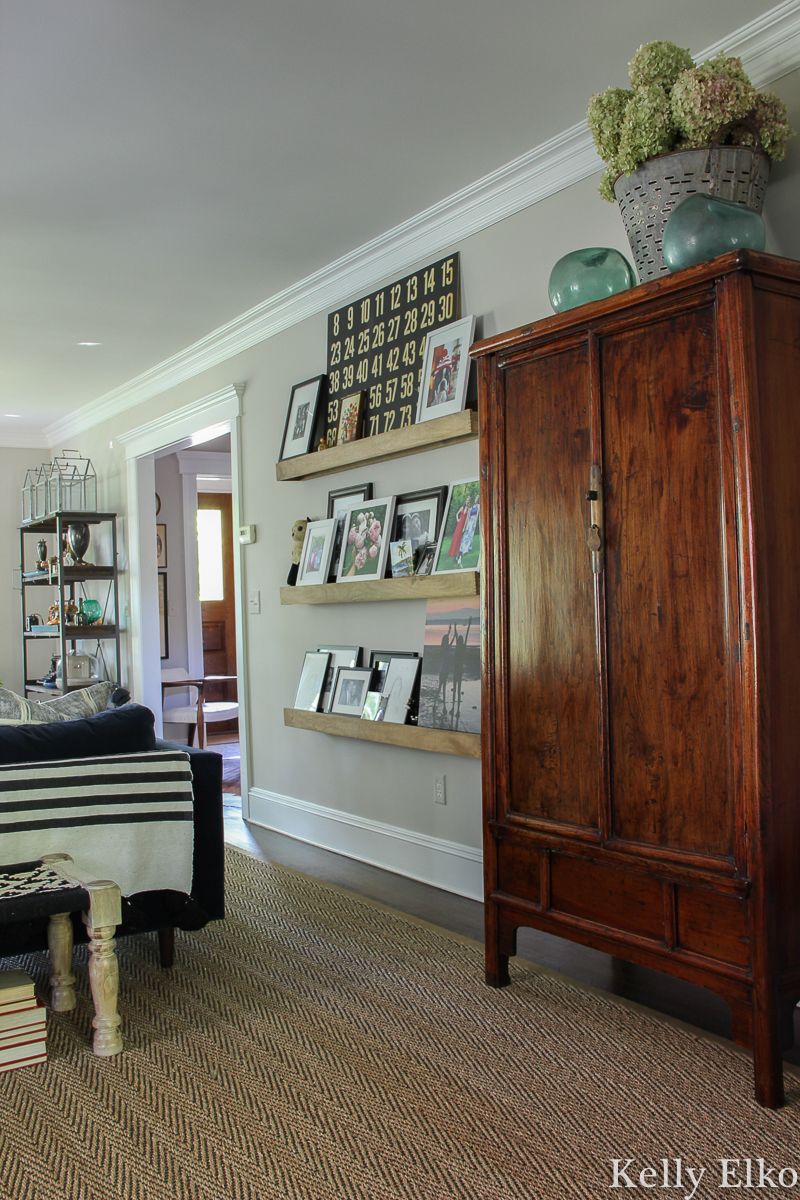 Throw a throw blanket on the back of a sofa for more color and texture. I love this huge tassel throw blanket that comes in lots of sizes (I've even used it on my king size bed)!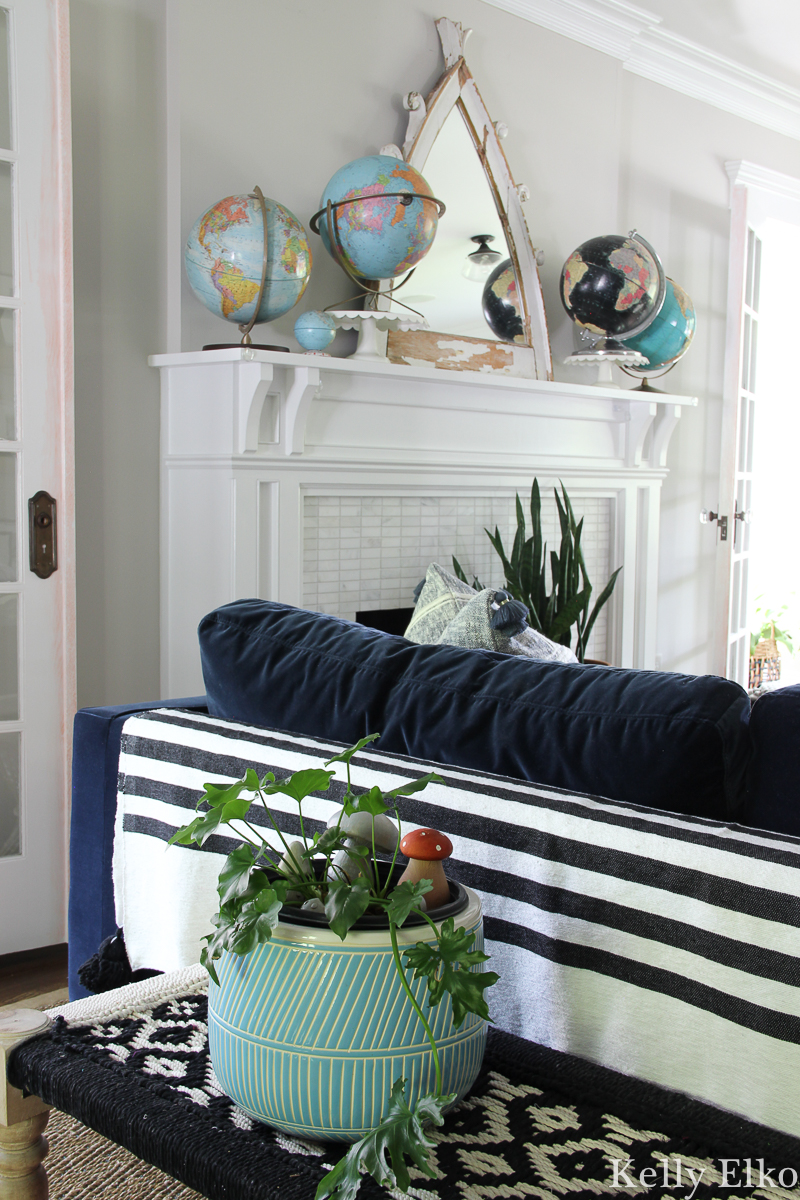 When I moved the furniture, I asked my family to live with it for a few days before they decided if they liked it or not because at first, they were not too thrilled. I am happy to report, everyone loves the new arrangement.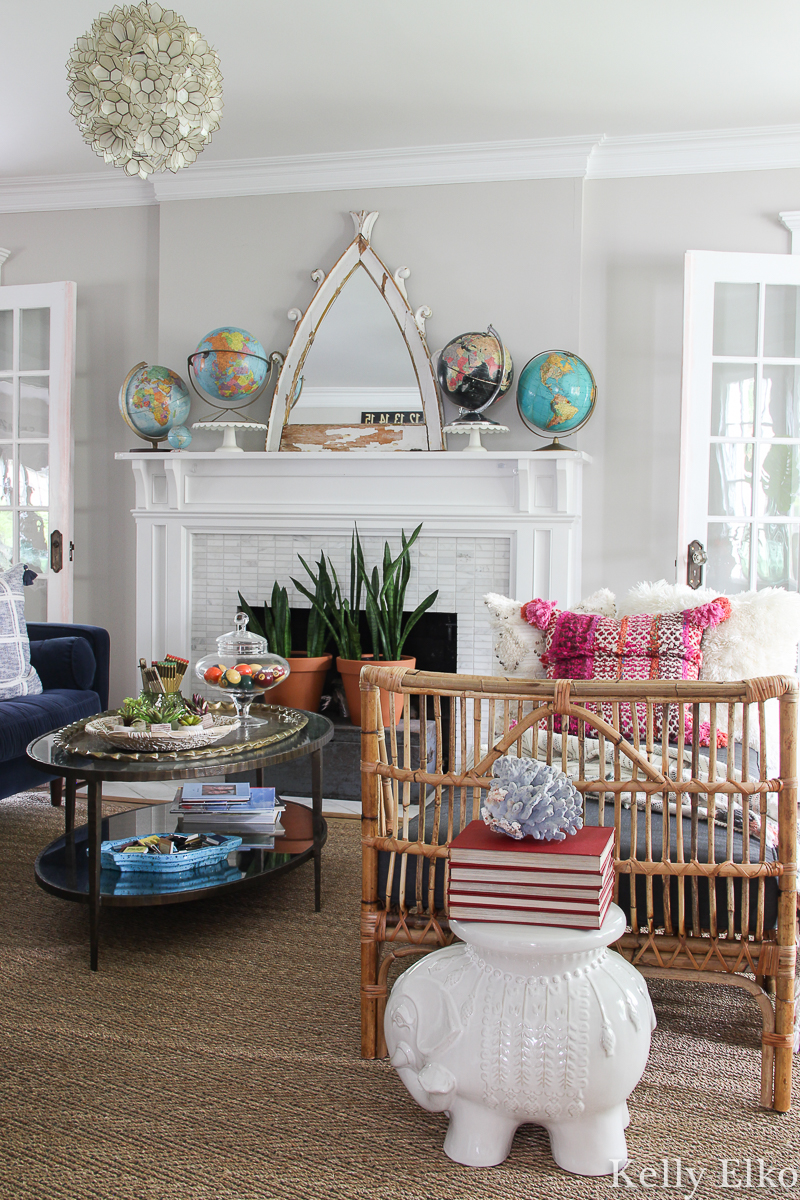 I'm really loving this new look and the flow of the room. Especially now, since we are spending so much time at home, it's a good idea to take a good look at our spaces and make sure they are functional while making us happy.
Source List: Click the links below to shop the look
Rug: Sisal Rugs Direct (you can read my tips on ordering a custom cut rug here) /
Blue Sofa & Rattan Daybed – Article / Glass & Brass Coffee Table / Elephant Ceramic Stool /
Moroccan Leather Pouf / Antique Wallpaper Pasting Table / Capiz Shell Chandelier /
Black & White Woven Bench (1/2 price)! / Vintage Globes / Vintage Glass Buoys / Moroccan Pillow /
Large Blue & White Tassel Pillows / Picture Ledges / Green Demijohn Bottles /
Live Snake Plants / Black & White Tassel Throw Blanket